MOTOCROSS ACTION'S WEEKEND NEWS ROUND-UP: TEAM USA, WEIRD MACHINES, GOERKE IS CANADIAN CHAMP & THE WORST BIKES

CANADIAN NATIONAL RESULTS FROM SAND DEL LEE… GOERKE DOMINATES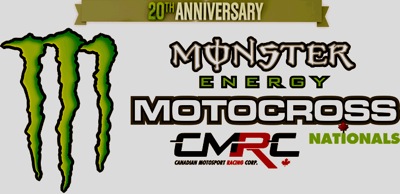 SAND DEL LEE RESULTS: 450 CLASS
1. Matt Goerke…2-1
2. Bobby Kiniry…1-3
3. Dusty Klatt…3-2
4. Josh Clark…4-4
5. Tim Tremblay…7-6
6. Tyler Villopoto..6-7
7. Gavin Gracyk…9-5
8. Shawn Maffenbeier…8-9
9. Liam O'Farrell…10-8
10. Morgan Burger…11-10
SAND DEL LEE RESULTS: 250 CLASS
1. Jeremy Medaglia…1-1
2. Kaven Benoit…3-2
3. Teddy Maier …2-3
4. Topher Ingalls…5-4
5. Brad Nauditt…8-6
6. Richard Grey…10-5
7. Jerry Lorenz…7-8
8. Parker Allison…6-9
9. Jared Allison…12-7
10. Spencer Knowles…9-10
450 CANADIAN NATIONAL POINTS STANDINGS
(After 8 of 9 events)
1. Matt Goerke…389
2. Bobby Kiniry…340
3. Dusty Klatt…274
4. Gavin Gracyk…220
5. Tyler Villopoto…205
6. Morgan Burger…184
7. Tyler Medaglia…182
8. Colton Facciotti…175
9. Jason Burke…165
10. Shawn Maffenbeier…125

250 CANADIAN NATIONAL POINTS STANDINGS
(After 8 of 9 events)
1. Teddy Maier…362
2. Jeremy Medaglia…343
3. Topher Ingalls…236
4. Jared Allison…231
5. Brad Nauditt…220
6. Parker Allison…197
7. Kaven Benoit…184
8. Spencer Knowles…177
9. Richard Grey…172
10. Dylan Kaelin…171
RYAN DUNGEY, BLAKE BAGGETT AND JUSTIN BARCIA WILL DEFEND AMERICAN HONOR AT THE MXDN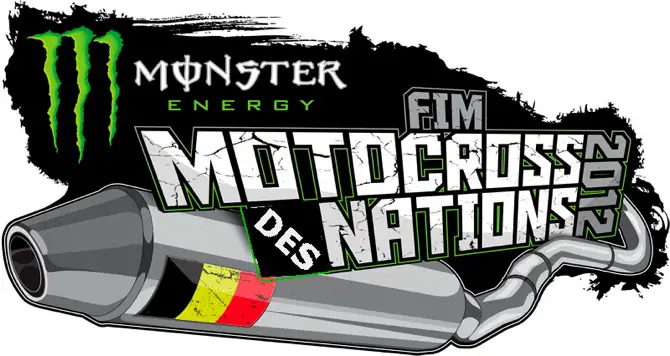 The FIM can thank us later for fixing all of the times they mistakenly spelled "des" so that it looked like "of." We were shocked that they don't value the traditions of the sport.
The U.S. team at the FIM Motocross des Nations on September 31, 2012, in Lommel, Belgium, will be Ryan Dungey, Blake Baggett and Justin Barcia. Roger DeCoster will manage the team in its hunt for a record 23rd Motocross des Nations Championship.
"We will have Ryan in MX1. Blake, who has excellent support for the 250cc bike from Mitch Payton, will be our MX2 rider, and Barcia will be our open class rider," DeCoster said. "This is a great team. They have proven that they are solid riders, especially in the sand, and the Lommel track is a very deep sand track."
Dungey, who returns for his fourth time to the Motocross des Nations, said he is thrilled for the opportunity. "It's a pleasure, and it's an honor to represent my country at the Motocross of Nations. Blake has a year of experience at the Motocross des Nations  and although it's Barcia's first year we do a great job of welcoming everybody. We're not racing against each other. We are racing with each other for one goal, and that's to win the Motocross des Nations. With Roger and the rest of the organizational team behind us, we have excellent support and all the support we need to win."
"I'm excited to go to Belgium and race," said Baggett, who is leading the points in the 250cc class in the Lucas Oil AMA Pro Racing Motocross Championship. "It will be cool and a life experience for sure. The atmosphere of this race is really big and crazy, but the best advice is what I got last year, just ride to your potential, race the track and don't worry about the thousands of European fans and the competition you've never raced before. If we ride the best that we can, there should be no problems of winning it. We'll just go over there and bring the trophy home."
"It's a little bit shocking, really. It's awesome," said Barcia, who is currently second behind Baggett in the 250cc class championship standings. "I've always dreamed of racing for the U.S. at the Motocross des Nations, and it's incredible. I'm speechless. To be picked for that team is just mind blowing. I'll be riding a 450, and that will be exciting. I practice on the 450 a lot, and I ride the sand really well. I've matured a lot in the past year, and I'm ready."
For Belgium native DeCoster, the 2012 Motocross des Nations will be a homecoming in more ways than one. Lommel is the same track where the U.S. team, also managed by DeCoster, won its first Motocross des Nations title in 1981.
"That's where we won the first time, 31 years ago," DeCoster said. "That first team of Donnie Hansen, Danny LaPorte, Johnny O'Mara and Chuck Sun was one of the youngest in history, and we are returning with another extremely young team. This will be a great Motocross des Nations. Being on the same track where we won the first time makes it very special."
OH YEAH! THE SWISS ANNOUNCE THEIR MXDN TEAM ALSO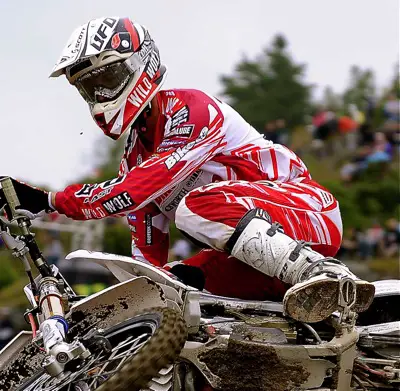 Arnaud Tonus.
Switzerland will be represented at the MXDN by Arnaud Tonus (MX1 class), Jeremy Seewer (MX2) and Valentin Guillod (MX3).
WEIRD MACHINES: YOU CAN RACE THE WRC RALLY CHAMPIONSHIP FOR PENNIES ON THE DOLLAR WITH FORMULA CROSS


This rally car is actually a kit car that using the running gear and engine from a Yamaha 450cc quad.
Would you like to race a World Rally car, but can't afford it? Think again. The rally car above is actually a Yamaha YZF450 Raptor quad that is modified by Rhys Millen Racing for Formula Cross. They want to start an inexpensive rally series for driver's who would like to get the thrills of rally racing without the exorbitant costs.

Formula Cross races could be held in parking lots, race car tracks or even motocross parks.
Formula Cross uses a quad as the donor vehicle and says that the complete rally car will only weigh 500 pounds Additionally, they are working on 700cc version and hope to hold a race series in the future. Since Glen Helen already holds rally events, offroad truck races, quad races and motocross races, it seems like sometime in the future, you could see a Formula Cross rally events there soon. Maybe this is where the next Sebastien Loeb, Marcus Gronholm or Rhys Millen will come from. The kit price is $7500 and the cars will begin shipping later this year. Their shop is at 17471 Apex Circle, Huntington Beach, California. For more info call (714) 847-2158 or go to www.formulacross.com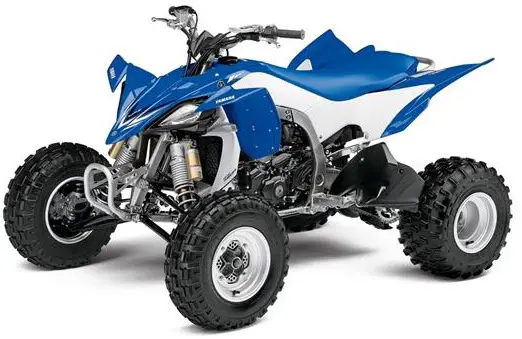 This is where you start…to get to a Formula Cross rally car.
See the Formula Cross video here:

WEIRDER MACHINES: DEUS EX MACHINA HUSQVARNA TE250…AND OTHER ODDITIES


The radiator came from a Kawasaki KLX. The tires are Heidenaus. The subframe was modified, not only to accommodate the new seat and tank, but to give the Husky TE250 a bobbed look.
Deus ex Machina is a custom motorcycle company that builds esoteric motorcycles from old machines and engines. They have shops in Sydney, Australia, Venice, California and Bali, Indonesia. Here are some of their many custom designs using a weird assortment of loaner engines. For more info go to deustemple.com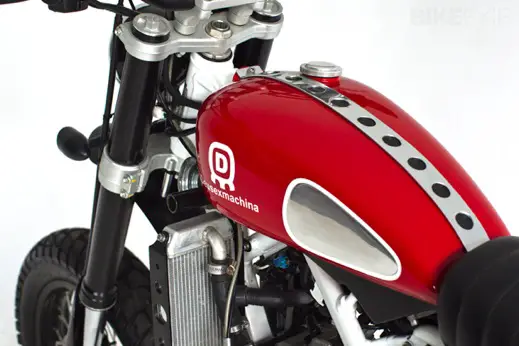 The custom metal tank is a homage to Steve McQueen's Husky. It is hand-made, inlaid and has a polished alloy belt holding it on.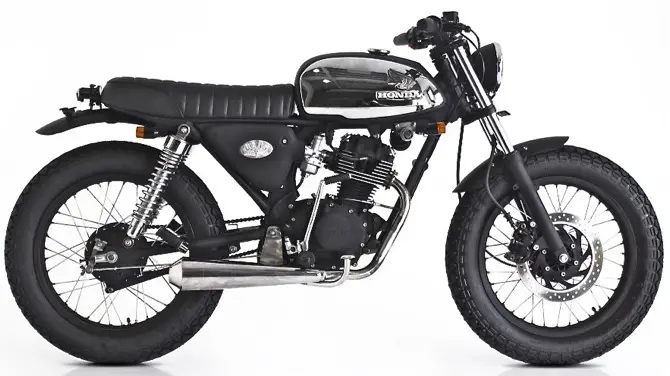 If you owned a 1976 Honda CB100, you don't have to junk it, you can turn it into something cool. This is Deus ex Machina's Smokey Joe.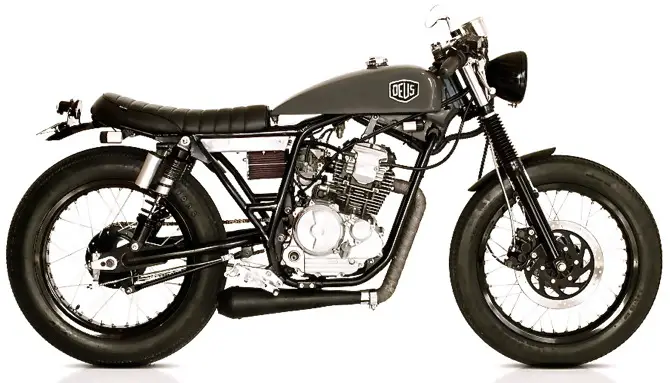 It looks like a flat track-based street bike, but the engine in Deus ex Machina's Cafe Scorpio is a dual-purpose Yamaha XT225 mill.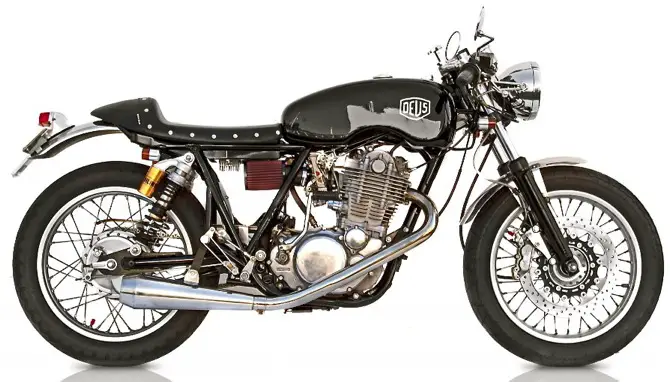 It started life as a Yamaha SR500TT, but once Deus ex Machina got their hands on it they turned it into something Gold Star-like.
SOUTHWICK NATIONAL RESULTS…ONLY THREE RACES LEFT IN THE 2012 CHAMPIONSHIP CHASE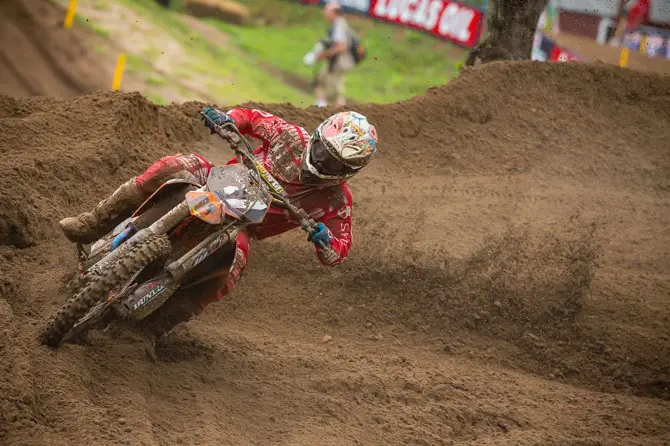 Malcolm Stewart finally got back near the front with a 6-7 at Southwick, but he's still 33 points out of the top ten and 233 points out if first. Photo Hoppenworld
SOUTHWICK RESULTS: 250 CLASS
1. Blake Baggett………3-1
2. Eli Tomac……………1-3
3. Ken Roczen………..4-2
4. Marvin Musquin……2-5
5. Justin Barcia………..7-4
6. Malcolm Stewart….6-7
7. Alex Martin…………8-6
8. Jessy Nelson……..5-11
9. Travis Baker……….10-10
10. Ryan Sipes………..12-12
SOUTHWICK RESULTS: 450 CLASS
1. Ryan Dungey…….1-2
2. Mike Alessi……….2-3
3. Broc Tickle………..6-4
4. Davi Millsaps…….7-6
5. Tyla Rattray………20-1
6. Mike Brown……….9-7
7. Josh Grant…………8-8
8. Andrew Short……5-11
9. Kyle Chisholm…….11-9
10. Tommy Hahn………3-35
250 NATIONAL POINTS STANDINGS
(After 9 or 12 races)
1. Blake Baggett…400
2. Justin Barcia…376
3. Eli Tomac…368
4. Ken Roczen…345
5. Marvin Musquin…294
450 NATIONAL POINTS STANDINGS
(After 9 or 12 races)
1. Ryan Dungey…430
2. Mike Alessi…345
3. Jake Weimer…290
4. Andrew Short…273
5. Broc Tickle…253

TY DAVIS TO BE INDUCTED INTO THE AMA MOTORCYCLE HALL OF FAME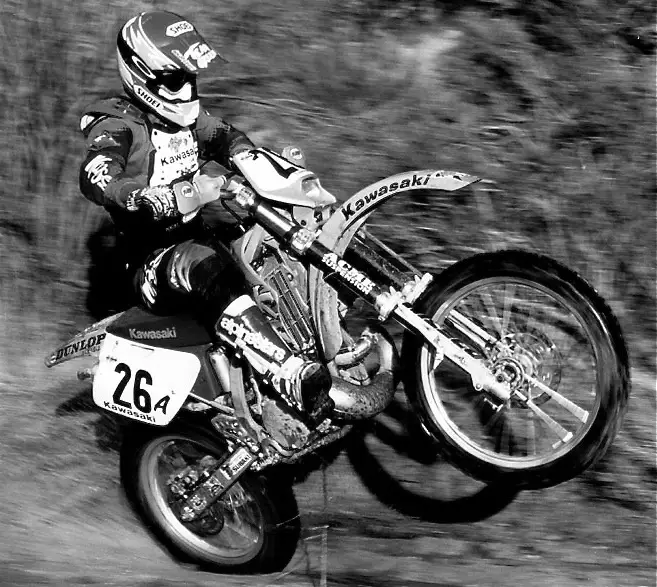 Ty Davis, one of the most versatile off-road motorcycle racers of the 1990s will be inducted into the Hall of Fame  on November 16-17.
 
"I just loved riding," Davis said. "I would just go out there and ride in circles. Did I want to become a racer? No. When they had races, I kind of shied [away] from it. But then when I finally started, around 12, I did okay. Then I did another race, and I was hooked. My dad, though, said it was too extreme to race desert and that I should race motocross, as he was trying to qualify for the International Six Day Trial (ISDT) team, so we didn't do much desert racing after that."
Davis developed into a top regional motocrosser and won the 1990 AMA Supercross 125 West Supercross Championship  (beating Jeremy McGrath). Davis pointed out of the 125cc class the next year and moved to the 250 class. "Mentally, I wasn't ready for the 250 class," said Ty. "I needed another year to mature in that class. I did it for year, and I just got tired racing week to week and not making any money. That's when ATK called, and offered me a bunch of money to win the White Brothers Four-Stroke Nationals." Davis won the 500cc and 600cc titles and then compete in the famed Baja 1000.
In 1993, Davis moved to Kawasaki. He won the Baja 1000 team four times. Then in 1995 and 1996, Ty won the AMA National Enduro Championship. He went on the win theAMA National Hare & Hound Championship in 1997, 1998 and 2002.
Today, Davis continues to run Zip-Ty Racing, sponsor factory teams and riders, and compete. He says he's honored to be recognized by the AMA Motorcycle Hall of Fame. Davis joins the late Rod Bush, Sue Fish, Jimmy Ellis, Brian Slark and Al Wilcox as a member of the AMA Motorcycle Hall of Fame Class of 2012.

RIDE FOR FREE AT GLEN HELEN AT THE "MTA RIDE DAY" ON MONDAY SEPT.10

MTA, the company that brings you the World Vet Championships and the World Two-Stroke Championships, doesn't think that they are doing enough to make you happy. So, in order to put a smile on every local SoCal racer's face they are going to have a free ride day on Monday, September 10, at Glen Helen Raceway. It will run from noon to 5 p.m. (that way the home schooled riders only have to skip a half day of not going to class instead of a full day). If a free ride day doesn't make you giggle, MTA will send "Employee of the Month" Mark Hall over to start your bike for you. Okay, you are hard to please, so MTA will also have a prize give-away and free raffle tickets will be handed out at the gate. Satisfied?
BEHIND THE SCENES OF TRAVIS PASTRANA'S NEW 3D MOVIE

WANNA RIDE THE 150SX? WHO DOESN'T? KTM MOTO TOUR COMING TO RED BUD ON SUNDAY, AUGUST 12


MXA is currently testing a 2013 KTM 125SX and 150SX for an upcoming issue. Does this look like fun? You can have the same amount of fun at Red Bud.

Join the KTM Ride Orange crew at Red Bud MX in Buchanan, Michigan, for its next stop on the 2012 Moto Tour to test ride the 2013 KTM SX model-line. Visit your local KTM dealer today to obtain a pass to demo ride the new 2013 KTM SX models at Red Bud MX on August 12, 2012. KTM will have the entire line-up of SX models available to test ride. The demo ride will be held at the national track at Red Bud MX. Sign-up will begin at 9 a.m. at the KTM semi truck and the demo rides will be from 10 a.m. to 4 p.m. All participants must show the appropriate Moto Tour pass at the entrance gate in order to participate in the demo ride. Interested participants can pick up a pass by visiting their local KTM dealer. Please visit www.redbudmx.com for directions to the track.

BRADY SHEREN EXPLAINS THE ATLAS NECK BRACE'S KEY FEATURES…WITH THE HELP OF WEIMER, MAIER, VILLOPOTO, BEATON, GOERKE & MEDAGLIA

SOUTHWICK NATIONAL STATS: YOU DON'T NEED TO BE THE AMAZING KRESKIN TO PREDICT THE OUTCOME


The Amazing Kreskin…ask your mother.
A quick glance at the 450 stats from the 2012 AMA 450 National Championships reveals that Ryan Dungey leads every category, while Blake Baggett and Justin Barcia trade back and forth between the four 250 categories. You don't need to be the Amazing Kreskin to predict that Dungey will win the 450 class and either Baggett or Barcia will take the 250 crown. Except that numbers sometimes lie…no matter how much hocus pocus you use.
450 CLASS STATISTICS
450 OVERALL WINS
1. Ryan Dungey……….6
2. James Stewart……..2
450 MOTO WINS
1. Ryan Dungey……….11
2. James Stewart………4
3. Mike Alessi…………..1
450 LAPS LED
1. Ryan Dungey……….152
2. James Stewart………68
3. Mike Alessi…………..43
4. Tommy Hahn…………1
450 HOLESHOTS
1. Ryan Dungey……….6
2. Mike Alessi………….4
3. Justin Brayton………1
4. Michael Byrne………1
5. Tommy Hahn……….1
6. Kyle Regal…………..1
7. Andrew Short……….1
8. Jake Weimer………..1
250 CLASS STATISTICS
250 OVERALL WINS
1. Blake Baggett………3
2. Eli Tomac……………3
3. Justin Barcia………..2
250 MOTO WINS
1. Blake Baggett………8
2. Eli Tomac…………….4
3. Justin Barcia………..4
250 LAPS LED
1. Justin Barcia………..99
2. Ken Roczen…………51
3. Blake Baggett………49
4. Eli Tomac…………….42
5. Marvin Musquin……12
6. Blake Wharton………6
7. Jessy Nelson………..1
8. Phil Nicoletti………….1
250 HOLESHOTS
1. Justin Barcia………..6
2. Wil Hahn……………..2
3. Marvin Musquin……2
4. Jessy Nelson……….2
5. Alex Martin………….1
6. Jessy Nelson……….1
7. Ken Roczen…………1
8. Ivan Tedesco……….1
YOU CAN'T SEE STEWIE RIDE AT SOUTHWICK THIS WEEK, BUT HERE HE IS AT COMP EDGE LAST WEEK


WHAT'S IN THE NEW MXA…HERE IS A SNEAK PEAK OF THE SEPTEMBER 2012 ISSUE


Jody tells what it was like to test the worst bikes ever made…and how he lived to tell the tale of the Black Widow.

Speaking of the worst bike ever made, how about a test of the one of the best bikes?Ryan Villopoto's factory Kawasaki KX450F?

Is the FIM corrupt? Why Mexico was a mistake? Who's to blame?

The 2013 KTM 250SX two-stroke just keeps throwing fuel on the two-stroke fire.
30 YEAR ANNIVERSARY: BRAD LACKEY'S 1982 500 WORLD CHAMPIONSHIP


MXA PRODUCT SPOTLIGHT: JOHN TALKS ABOUT KITE PERFORMANCE TRIPLE CLAMPS


"Dubya USA is very pleased to introduce Kite Performance billet triple clamps to North America. Manufactured in Italy, Kite triple clamps are available in the manufacturer's anodized colors and come with a steerer stem and rubber-mounted bar mounts in both 7/8-inch and 1-1/8-inch sizes. Kite triple clamps are available in stock offsets, adjustable heights and with two-position bar mounting. Kite supplies the Factory KTMs of Ryan Dungey, Ken Roczen and Marvin Musquin," said Dubya's John Anderson. $549.95?www.dubyausa.com or (714) 279-0200.

JEFFREY HERLINGS' CAR… AFTER THE RUSSIAN CRASH.. WE ASSUME IT LOOKED BETTER BEFORE, BUT YOU NEVER KNOW WITH FACTORY RIDER'S RENTA-CARS


Lucky to be alive.                                                                       Photo: Motocross Planet
BIRTHDAYS OF THE STARS… THE JAMMER WILL BE 61 ON TUESDAY


Aug. 10…John Dowd
Aug. 11…Jonathon Shimp

Aug. 11…Tyla Rattray
Aug. 12…Ivan Tedesco

Aug. 12…Steffy Laier                                             Photo: Ray Archer

Aug. 13…Ryan Villopoto
Aug. 13…Denny Stephenson

Aug. 13…Kevin Strijbos                                                 Photo: Ray Archer
Aug. 14…Brian Mason
Aug. 14…Terje Hansen

Aug. 14…Jim Weinert
MULTI-TASKER: CHAD REED TALKS ABOUT HIS TIME OFF FROM RACING… AND THROWS IN A SHOE COMMERCIAL AT THE SAME TIME

WILL THE RED BULL PRO NATIONALS TRY TO REPLACE THE YOUTHSTREAM WORLD CHAMPIONSHIP?


Everybody talks about it?except Red Bull. It could just be wishful thinking, but, Red Bull has invested heavily in its British-based Red Bull Pro National series and now, this weekend, the Red Bull series will leave England and venture onto the Continent for the first time. And, the Mill, Holland, race has attracted some Grand Prix names including Evgeny Bobryshev, Max Nagl, Kevin Strijbos, Marc de Reuver, Nicolas Aubin, Gert Krestinov, Elliot Banks-Browne, Neville Bradshaw, Glen Coldenhoff, Nathan Watson, Manuel Priem, Mike Kras, Shannon Terreblanche, Ceriel Kleincromhof and Jordan Booker. And, former two-time World Champion Steve Ramon will make his comeback to racing, Steve was badly injured last year, this weekend.
At the Red Bull Pro Nationals the 250 and 450 classes race together (MXDN-style) ? but are scored separately ? over two 30-minute motos (and the 250 riders hold their own).
PRO CIRCUIT KTM 250SXF/350SXF CLUTCH SPRING


Press release: A must-have item for any off-road motorcycle, the Pro Circuit clutch springswill increase the clutch life, prevent clutch slipping, and has improved engagement over a stock setup for any rider. Now available for select KTM models, these high-performance springs will help to keep engine temperature down. They are 15% stiffer than stock, prevent clutch slipping and are sold as a set for $69.95 (250SXF) and $79.95 (350SXF). For more info go to www.procircuit.com

2012 MOTOCROSS RACE SCHEDULE: WHAT'S LEFT & WHERE TO BE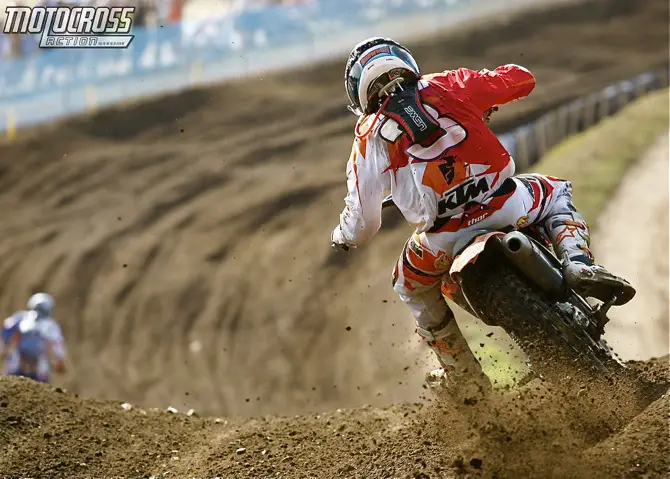 Mike Brown will be at Southwick. He needs a handful of points to keep National number 3.

AMA 250/450 NATIONAL MOTOCROSS CHAMPIONSHIP
August 11          Southwick                Massachusetts
August 18          Unadilla                   New York
September 1      Steel City                Pennsylvania
September 8      Lake Elsinore          California
AMA ENDUROCROSS CHAMPIONSHIP
September 15       Citizens Bank Arena               Ontario, CA
October 6              National Western Complex     Denver, CO
October 20            Comcast Arena                       Everett, WA
October 27             Idaho Center                          Boise, ID
November 17         Orleans Arena                        Las Vegas, NV
 
FIM MX1/MX2 WORLD MOTOCROSS CHAMPIONSHIP     
August 19             Matterley Basin        England
September 2         Lierop                      Netherlands
September 9         Faenza                     Italy
September 23       Teutschenthal          Germany        
 
FIM MX3 WORLD MOTOCROSS CHAMPIONSHIP
August 19              Matterley Basin           England
September  23       Teutschenthal             Germany
CMRC CANADIAN NATIONAL MOTOCROSS CHAMPIONSHIP
August 12   Sand Del Lee              Richmond, ON
August 19   Walton                        Walton, ON    
     
AUSTRALIAN NATIONAL MOTOCROSS CHAMPIONSHIP
August 19                Moree, NSW
August 26                Coolum, QLD
MAXXIS BRITISH MOTOCROSS CHAMPIONSHIP
August 27                    Manor Farm, Petersfield
October 7                    Little Silver, Exeter
RED BULL PRO NATIONALS
August 11-12            Mill, Holland
August 25-26            Hawkstone Park, Shropshire
September 22-23      Culham Park, Oxfordshire
2012 GLEN HELEN 24 HOUR ENDURANCE RACE
September 1-2…………………….Glen Helen, CA
2012 MOTOCROSS DES NATIONS
September 30 ……………………Lommel, Belgium
REM OCTOBERCROSS CHAMPIONSHIP
October 27………………………….Glen Helen, CA
MTA WORLD VET CHAMPIONSHIP
Nov. 3-4………………………………Glen Helen, CA
2012 PARIS SUPERCROSS
November 9-11……………………Paris, France
AUSTRALIAN SUPERCROSS CHAMPIONSHIP
October 13             Dubbo, NSW
October 27-28        Phillip Island, VIC
November 10        Toowoomba, QSL
November 17        Newcastle, NSW
     
2013 AMA SUPERCROSS SCHEDULE
Date                 Venue                              City
January 5……..Angel Stadium……………..Anaheim, CA
January 12…….Chase Field…………………Phoenix, AZ
January 19…….Dodger Stadium…………..Los Angeles, CA
January 26…….Oakland Coliseum……….Oakland, CA
February 2…….Angel Stadium…………….Anaheim, CA
February 9…….Qualcomm Stadium……..San Diego, CA
February 16…..Cowboys Stadium………..Arlington, TX
February 23…..Georgia Dome……………..Atlanta, GA
March 2…………Edward Jones Dome……St. Louis, MO
March 9………..Daytona Speedway……….Daytona, FL
March 16………Lucas Oil Stadium…………Indianapolis, IN
March 23………Rogers Centre……………..Toronto, Can
April 6………….Reliant Stadium……………..Houston, TX
April 13………..Metrodome……………………Minneapolis, MN
April 20………..CenturyLink Field…………..Seattle, WA
April 27………..Rice-Eccles Stadium………Salt Lake City, UT
May 4………….Sam Boyd Stadium…………Las Vegas, NV
2013 WORLD MOTOCROSS CHAMPIONSHIP SCHEDULE
Date                    Venue                    Country
March 10…Si Racaha………….Thailand
March 17…TBA………………….TBA
April 1…Valkenswaard…………Netherlands
April 14…TBA……………………TBA
May 12…Guadlajara…………..Mexico
May 19…Beto Carrero………..Brazil
June 2…Ernee…………………..France
June 9…Maggiora………………Italy
June 23…TBA……………………Germany
June 30…Uddevalla……………Sweden
July 14…Kegums………………..Latvia
July 21…Semigorje……………..Russia
August 4…TBA…………………..Czech Republic
August 11…TBA…………………Belgium
August 25…Matterley Basin…Great Britain
Sept. 8…TBA………………………Portugal
Sept. 15…St. Jean d' Angely…France
MXA PRODUCT SPOTLIGHT: OSCAR TALKS ABOUT THE POLISPORT FOLDING BIKE STAND


"The stand's portability makes it stand out. It's high-strength for capacity and weight. You can power-wash the stand while you are washing the bike to keep it looking fresh. The side panels can be customized and removed for access for oil changes. You can even write on them with a dry-erase marker," said Polisport's Oscar Azevedo. $89.95?www.polisport.com or your local dealer.
HERE IS A SPORT WHERE AN ELECTRIC MOTORCYCLE MAKES SENSE… GASGAS TXT-E


WHO'S WHO IN THE MOTOCROSS ZOO…POINTS STANDINGS FROM AROUND THE GLOBE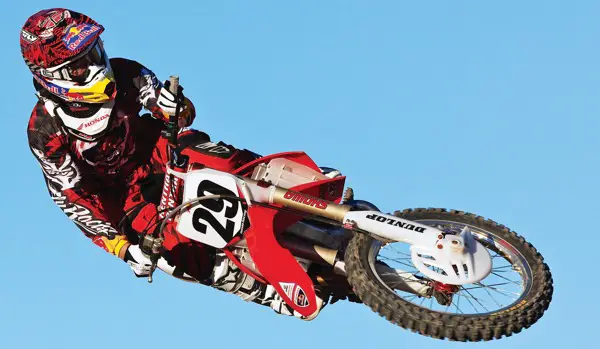 Andrew Short.
                                                                                                       
450 AMA NATIONAL POINTS STANDINGS
(After 9 of 12 events)
1. Ryan Dungey…430
2. Mike Alessi…….345
3. Jake Weimer…..290
4. Andrew Short….273
5. Broc Tickle………253
6. Josh Grant……..195
7. Justin Brayton…185
8. Kyle Chisholm…159
9. James Stewart…151
10. Brett Metcalfe…142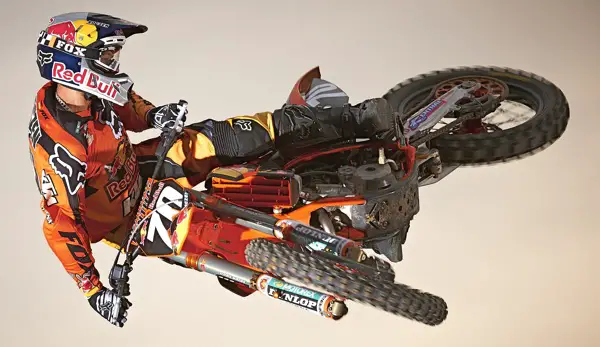 Ken Roczen.                                                                      Photo: Hoppenworld
250 AMA NATIONAL POINTS STANDINGS
(After 9 of 12 events)
1. Blake Baggett…….400
2. Justin Barcia……..376
3. Eli Tomac………….368
4. Ken Roczen………345
5. Marvin Musquin….294
6. Wil Hahn……………230
7. Blake Wharton……197
8. Jason Anderson…181
9. Jessy Nelson……..170
10. Travis Baker……..156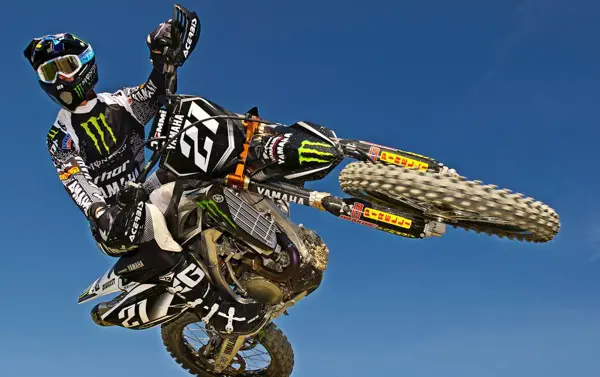 Gautier Paulin.                                                               

450 WORLD CHAMPIONSHIP POINTS STANDINGS
(after 12 of 16 events)
1. Cairoli, Antonio…………492
2. Desalle, Clement………462
3. Pourcel, Christophe…..435
4. Paulin, Gautier………….402
5. de Dycker, Ken…………368
6. Strijbos, Kevin…………..319
7. Boog, Xavier……………..306
8. Leok, Tanel……………….277
9. Goncalves, Rui………….273
10. Shaun Simpson……….223

Jeremy Van Horebeek.                                                                      Photo: Ray Archer

250 WORLD CHAMPIONSHIP POINTS STANDINGS
(after 12 of 16 events)
1. Herlings, Jeremy………….528
2. Searle, Tommy…………….471
3. van Horebeek, Jeremy….439
4. Roelants, Joel……………..367
5. Nicholls, Jake………………325
6. Tixier, Jordi………………….319
7. Anstie, Max………………….263    
8. Butron, Jose………………..241
9. Ferrandis, Dylan…………..233
10. Lupino, Alessandro……..214

450 CANADIAN NATIONAL POINTS STANDINGS
(after 8 of 9 events)
1. Matt Goerke……………389
2. Bobby Kiniry……………340
3. Dusty Klatt………………274
4. Gavin Gracyk………….220
5. Tyler Villopoto………….205
6. Morgan Burger………..184
7. Tyler Medaglia…………182
8. Colton Facciotti………..175
9. Jason Burke……………165
10. Shawn Maffenbeier…125
250 CANADIAN NATIONAL POINTS STANDINGS
(after 8 of 9 events)
1. Teddy Maier………..362
2. Jeremy Medaglia…343
3. Topher Ingalls……..236
4. Jared Allison……….231
5. Brad Nauditt………..220
6. Parker Allison………197
7. Kaven Benoit……….184
8. Spencer Knowles…177
9. Richard Grey……….172
10. Dylan Kaelin………171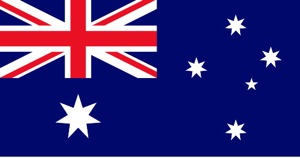 450 AUSTRALIAN NATIONAL POINTS STANDINGS
(After 7 or 10 events)
1. Josh Coppins……….415
2. Todd Waters………..407
3. Brad Anderson…….380
4. Lawson Copping….375
5. Cody Cooper……….336
6. Jake Moss…………..255
7. Jay Marmont……….254
8. Tye Simmonds…….234
9. Daniel Reardon……227
10. Daniel McCoy…….227
250 AUSTRALIAN NATIONAL POINTS STANDINGS
(After 7 or 10 events)
1. Luke Styke…………..421
2. Ford Dale…………..385
3. Josh Cachia……….368
4. Kade Mosig………..337
5. Adam Monea……..327
6. Cheyne Boyd……..319
7. Kirk Gibbs………….301
8. Justin McDonald…261
9. Scott Columb……..249
10. Lewis Woods……242

450 ALL-JAPAN POINTS STANDINGS
(after 6 of 9 events)
1. Akira Narita……………297
2. Hiroaki Arai……………239
3. Yu Hirata……………….227
4. Yohei Kojima…………190
5. Yoshitaka Atsuta……183
6. Makoto Ogata………..157
7. Yoshiki Inagaki……….138
8. Yutaka Hoshino………132
9. Kazumasa Masuda….126
10. Yoshiki Kitai………….118
250 ALL-JAPAN POINTS STANDINGS
(after 6 of 9 events)
1. Kei Yamamoto……..254
2. Yui Hoshino…………254
3. Takuya Mihara……..231
4. Masami Tanaka……217
5. Toshiki Tomita……..192
6. Jun'ya Takenaka….170
7. Takashi Saitoh…….144
8. Kouhei Ogawa…….143
9. Kouhei Ueda……….113
10. Takasi Okano…….112

450 BRITISH NATIONAL POINTS STANDINGS
(After 6 of 8 rounds)
1. Kevin Strijbos………388
2. Shaun Simpson……339
3. Matiss Karro………..308
4. Gert Krestinov………264
5. Martin Barr…………..243
6. Kristian Whatley……201
7. Jamie Law……………200
8. Stephen Sword…….198
9. Alex Snow……………186
10. Dorron Coutts…….170
250 BRITISH NATIONAL POINTS STANDINGS
(After 6 of 8 rounds)
1. Mel Pocock………………343
2. Elliott Banks Browne…327
3. Neville Bradshaw………271
4. Steven Lenoir…………..254
5. Nicolas Aubin…………..239
6. Graeme Irwin…………..239
7. Bryan MacKenzie……..235
8. Stuart Edmonds……….174
9. James Cottrell………….152
10. Lewis Tombs………….141
LAKE ELSINORE MOTOCROSS PARK OFFERS YEARLY GATE PASSES FOR $850


Press release: Lake Elsinore Motorsports Park is now offering monthly and annual unlimited ride passes, which will allow pass holders an unlimited number of practice sessions on any of the park's motocross tracks for one low monthly fee of $75.00, or a one time annual payment of $850.00.
To purchase a monthly or annual ride pass, visit the Lake Elsinore Motorsports Park website at www.racele.com, and choose either monthly or annual ride pass from the menu. Fill out the form with the required information and click "Register" to sign up! Once you have completed the registration process, you can show your drivers license at the gate to retrieve your ride pass card. Passes only apply to practice days, so normal gate and registration fees will still apply on special event days.