MOTOCROSS ACTION'S WEEKEND NEWS ROUND-UP: TONY CAIROLI FINALLY LOSES A RACE AFTER 16 STRAIGHT WINS


TONY CAIROLI FINALLY LOSES A RACE… IT'S BEEN A LONG TIME COMING



Ken DeDycker. Photo: Ray Archer

Kevin Strijbos beat Tony Cairoli in July of 2012. That was the last time the Italian lost a race until Sunday in Malagrotta, Italy. Cairoli was winning until he got a rock in his rear brake and had to slow until the rock fell out. When Cairoli slowed down, Ken De Dycker passed him for the win. De Dycker is Cairoli's KTM teammate and probably is allowed to beat Tony in the Italian Championships, but we doubt that team orders wouldn't prevail at a GP. Cairoli and DeDycker are tied for the Italian Championship after two rounds.
ITALIAN CHAMPIONSHIP RESULTS
1 Ken De Dycker…………..KTM
2. Tony Cairoli………………KTM
3. Evgeny Bobryshev…….Hon
4. David Philippaerts……..Hon
5. Steven Frossard……….Yam
6. Shaun Simpson…………TM
7. Joel Roelants……………Yam
8. Chicco Chiodi…………….Hon
9. Klemen Gercar………….Hon
10. Felice Compagnone…Suz

DAVI MILLSAPS AND ELI TOMAC WIN SAN DIEGO SUPERCROSS: NOT "SAND DIEGO" BY ANY STRETCH OF THE IMAGINATION
SAN DIEGO RESULTS: 450 CLASS
1. Davi Millsaps
2. Justin Barcia
3. Ryan Dungey
4. James Stewart
5. Chad Reed
6. Ryan Villopoto
7. Justin Brayton
8. Trey Canard
9. Andrew Short
10. Mike Alessi
Other notables: 11. Broc Tickle; 12. M. Goerke; 13. Matt Lemoine; 14. Weston Peick; 18. Josh Hill.
SAN DIEGO RESULTS: 250 WEST
1. Eli Tomac
2. Ken Roczen
3. Jason Anderson
4. Austin Politelli
5. Kyle Cunningham
6. Travis Baker
7. Zach Osborne
8. Tyla Rattray
9. Martin Davalos
10. Jessy Nelson
Other notables: 11. Joey Savatgy; 12. Josh Cachia; 14. Jean Ramos; 15. Cole Seely; 19. Malcolm Stewart.

THE BIG HAWKSTONE PARK PRE-GP SEASON WARM-UP RACE IS CANCELED DUE TO SNOW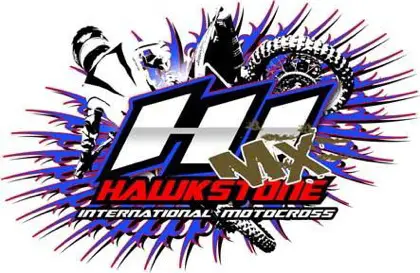 Due to the weather, this year's Hawkstone International has been canceled. The race was one of the few remaining international warm-up races before the GP's start in Qatar in three weeks. The pits were flooded from rain on Friday and with heavy snow forecast for the weeknd, the promoters decided to call it quits.


WHAT THE MXA WRECKING CREW WAS DOING THURSDAY AT GLEN HELEN


MXA test rider Daryl Ecklund waits patiently while John Basher shoots photos of one of the special bikes that we are testing for an upcoming issue.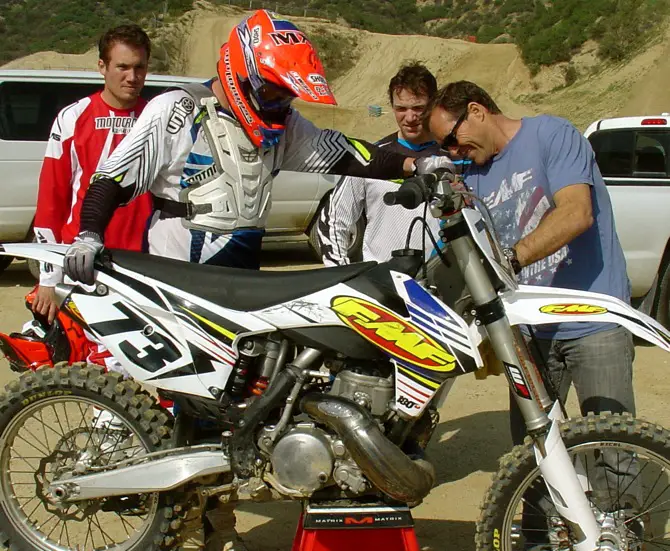 Meanwhile, on the other side of the track, MXA test rider Dennis Stapleton gets ready to spin some laps on another unique test bike…very unique.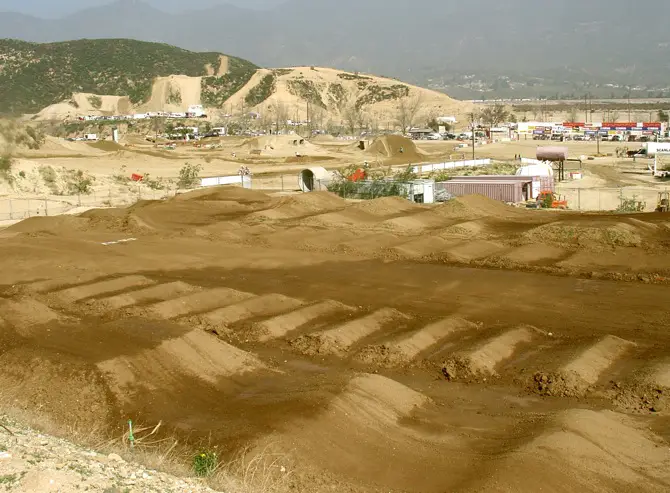 You might recognize the racetrack in the background as Glen Helen, but the one in the foreground is not open to the public.


JAMES STEWART PHOTO OF THE CENTURY


Photo: ESPN: The Magazine

FOX RACING A3 LE CHARGER RACEWEAR & BOOTS AVAILABLE


Click on the image to order this limited edition gear.
Jersey
-Limited Edition as won in by Ken Roczen at A3
-Forward design, clean details and traditional inspired graphics
-Moisture wicking main body fabric
-Micro Mesh back panel for cooling
-Articulated padded elbows
Sizes: S-XXL
Price: $54.95

Pant
-RAP (Rider Attack Position construction
-Durable 900D fabric
-Double Layer knee system (Leather outer/Kevlar inner)
-Quad stretch rear yoke
-Active stretch knee panels
-Vented TPR logos for increased airflow
Sizes: 28-38
Price: $169.95

Boots
-Instant comfort & support
-Patented Hinge & buckle designs
-Unrestricted interface with the bike
-5 Star Rating by MXA
Sizes: 9-13
Price: $549.95

ASKED THE MXPERTS: MOST COMMONLY ASKED QUESTION IN MXPERTS HISTORY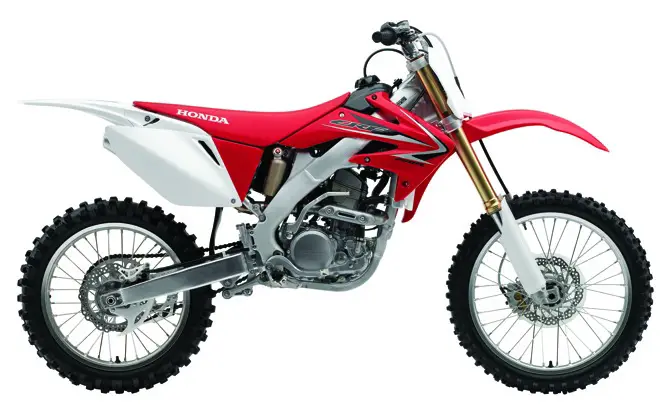 Dear MXA,
Can you help me jet my 2009 Honda CRF250? It bogs when I accelerate out of turns or land from jumps.
Here are the jetting changes we ran on our 2009 Honda CRF250. We ran the stock 185 main jet, but switched from the stock 42 pilot jet to a larger 45. We swapped out the NNSU needle for an NNWT (the Honda part number for the NNWT needle is P/N 16231-KRN-A31). Additionally, we replaced the stock 70 leak jet for a richer 60. The final step is to adjust the fuel screw for your local conditions.


MXA INTERVIEW: HUSQVARNA'S COREY EASTMAN ON THE 125 TWO-STROKE CHAMPIONSHIP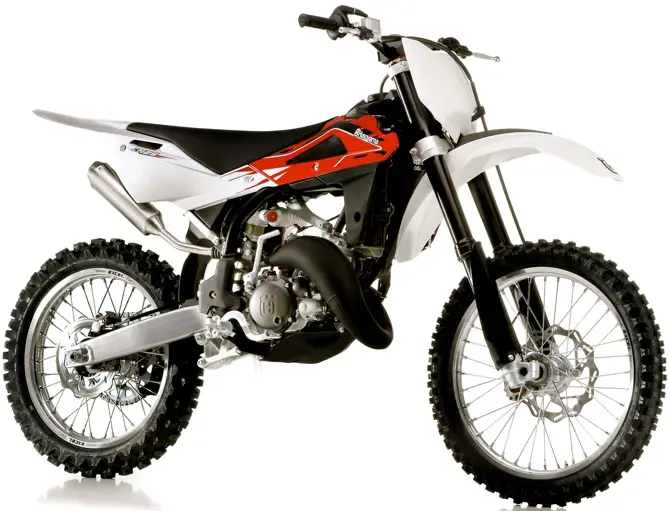 The 2013 Husqvarna CR125/144 retails for $6299.
MXA: THINGS ARE PROBABLY HECTIC OVER THERE WITH THE TRANSITION IN OWNERSHIP, BUT WHAT ARE THE PLANS FOR THE 125 PRO RACE AT THE WORLD TWO-STROKE CHAMPIONSHIP?
Corey: We are very excited about the future of Husqvarna and see the recent changes as good news. Our plans have not changed for the 2013 World Two-Stroke Championship. Husqvarna will sponsor the 125cc Pro race on April 7, 2013, at Glen Helen. Our sponsorship is quite unique in that we are providing 10 Husqvarna CR125 two-strokes to selected riders to race in the race. Each of our sponsored bikes will be handed out to test riders from the media, hop-up companies and our best dealers. They will get a CR125 from us in time to modify it in any way they want.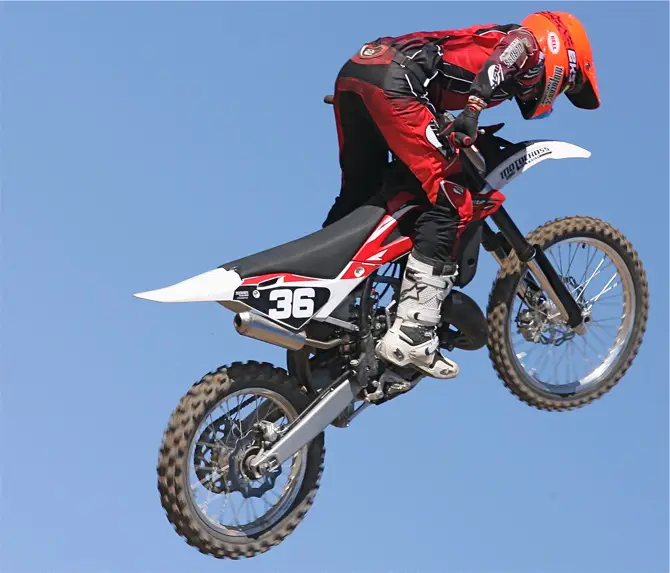 MXA will field three riders in the 125 Pro class at the 2013 World Two-Stroke Championships.
THIS ISN'T A HUSQVARNA-ONLY RACE OR AN INVITATIONAL, SO WHAT ARE HUSQVARNA'S GOALS?
No, it is not a Husqvarna-only race. It is open to any Pro rider on any brand of 125 two-stroke, and the displacement limit will be generously raised to allow KTM 150s, TM 144's or Husky CR125's (with the 144 kit installed) to race also. This wouldn't have made sense 10 years ago, but in today's market KTM sells more 150s than they do 125s, TM only imports the 144 and we give every CR125 buyer a free 144 top-end with the bike. Our goal is to promote Husqvarna, but also to show how much bang for the buck a rider can get out of affordable racing.
WE DIDN'T HEAR ANY MENTION OF A HUSQVARNA FACTORY 125 TEAM AT THE RACE. WILL THERE BE IN-HOUSE HUSKY GUYS? AFTER ALL, BOBBY GARRISON WON THE WORLD TITLE FOR YOU IN 2011.
We don't know yet. Although we would like our offroad riders, like Cory Graffunder and Andrew Delong, to participate, we are not actually fielding our own team, but instead fielding ten outside teams.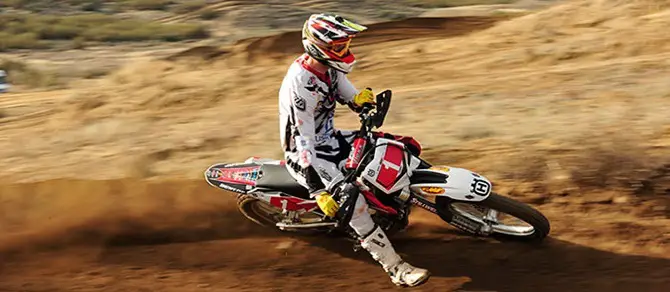 Cory Graffunder.
DO YOU THINK THAT OTHER MANUFACTURERS WILL ENTER RIDERS?
We hope so because we invite all the brands to come and race. We expect a strong KTM and TM effort, and we know that there are lots of YZ125 riders preparing right now. We'd like a Husqvarna to win, but what we really want is a packed gate of riders on every brand of two-stroke. Fun, low-cost racing has been forgotten in the desire to fill stadiums. We are looking to have fun.
ANYTHING ELSE?
Yes, the winner of the 125 Pro class at the World Two-Stroke Championships, regardless of what brand of bike he rides in the race, will be given a 2013 Husqvarna CR125 as a prize.


WORLD TWO-STROKE CHAMPIONSHIP POSTER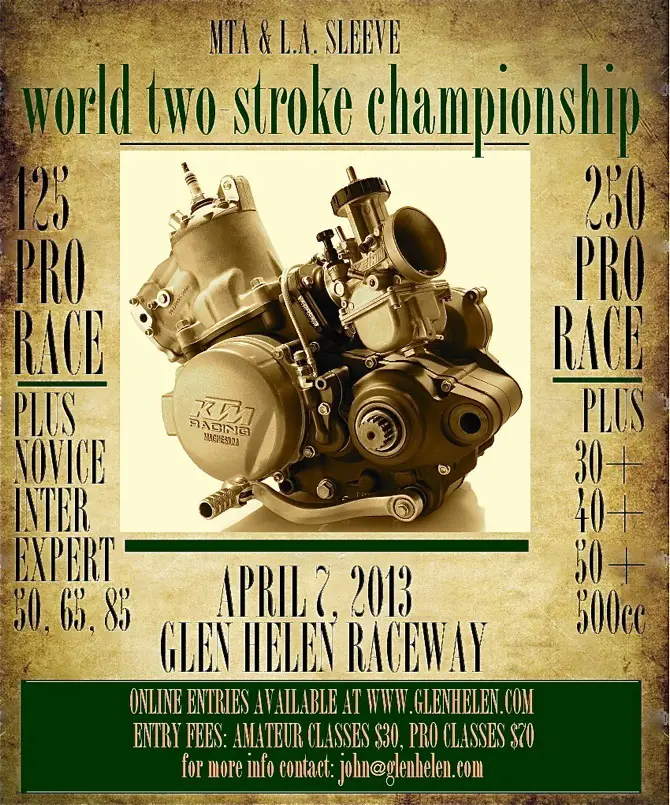 For more info go to www.glenhelen.com

JIMMY DECOTIS MAY HAVE MISSED HIS FIRST SHOT AT THE BIG-TIME WITH INJURY, BUT HE'S COMING BACK AS A PRIVATEER



CURRENT AMA 450 SUPERCROSS POINTS



(After 6 of 17 races)
1. Davi Millsaps (Suz)………….132
2. Ryan Dungey (KTM)………..113
3. Ryan Villopoto (Kaw)……….105
4. Trey Canard (Hon)…………..105
5. Chad Reed (Hon)……………..97
6. Justin Barcia (Hon……………83
7. Andrew Short (Hon)………….83
8. James Stewart (Suz)………..74
9. Justin Brayton (Yam)………..67
10. Broc Tickle…………………….57
Other notables: 11. Matt Goerke (56); 12. Jake Weimer (48); 13. Mike Alessi (40); 14. Josh Grant (40); 18. Weston Peick (29).

CURRENT AMA 250 WEST SUPERCROSS POINTS


(After 6 of 9 races)
1. Ken Roczen (KTM)…………..138
2. Eli Tomac (Hon)……………….121
3. Cole Seely (Hon)………………95
4. Jason Anderson (Suz)……….88
5. Kyle Cunningham (Yam)…….83
6. Martin Davalos (Kaw)…………82
7. Zach Osborne (Hon)…………..82
8. Joey Savatgy (KTM)…………..62
9. Christian Craig (Hon)………….62
10. Jessy Nelson (Hon)………….60
Other notables: 11. Tyla Rattray (58); 12. Austin Politelli (57); 14. Malcolm Stewart (46); 17. Josh Cachia (29); 19. Jean Ramos (21).

2013 AMA SUPERCROSS SCOREBOARD




DATE CITY 450SX 250SX
Jan. 5 ? Anaheim 1………..Davi Millsaps……..Eli Tomac
Jan. 12 ? Phoenix………….Justin Barcia………Eli Tomac
Jan. 19 ? Anaheim II………Ryan Villopoto……Eli Tomac
Jan. 26 ? Oakland………….Ryan Villopoto……Ken Roczen
Feb. 2 ? Anaheim III……….Ryan Dungey……..Ken Roczen
Feb. 9 ? San Diego………..Davi Millsaps……..Eli Tomac
Feb. 16 ? Arlington…………??
Feb. 23 ? Atlanta……………??
Mar. 2 ? St. Louis………….??
Mar. 9 ? Daytona……………??
Mar. 16 ? Indianapolis…….??
Mar. 23 ? Toronto…………..??
Apr. 6 ? Houston……………??
Apr. 13 ? Minneapolis…….??
Apr. 20 ? Seattle……………??
Apr. 27 ? Salt Lake………..??
May 4 ? Las Vegas………..??
Points leaders: 450?Davi Millsaps, 250 West?Ken Roczen

THIS WEEK'S BIRTHDAY BOYS (AND TWO GIRLS)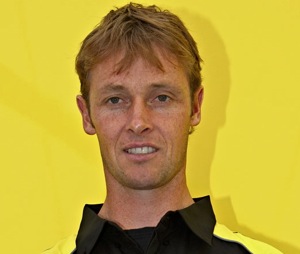 Feb. 8…Daryl Hurley
Feb. 8…Rich Taylor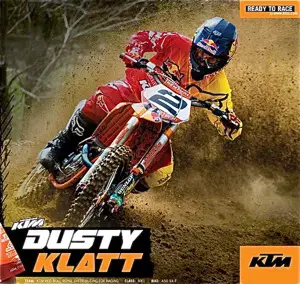 Feb. 8…Dusty Klatt
Feb. 9…Jaime Lilly
Feb. 10…Dave Feeney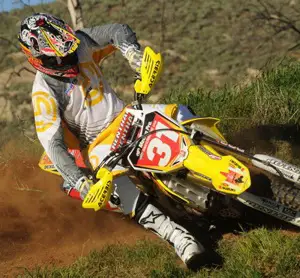 Feb. 10…Rodney Smith
Feb. 10…Evan Laughridge
Feb. 10…Jeremy Chaussee
Feb. 10…Russell Bobbitt

Feb. 11…Geoff Fox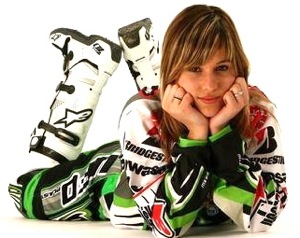 Feb. 11…Livia Lancelot

Feb. 11…Sebastien Pourcel
Feb. 11…Kristin Anderson
Feb. 12…Abraham Lincoln

Feb. 12…Mike LaRocco
Feb. 12…Lisa Akin Wagner

Feb. 13…Gavin Gracyk
Feb. 13…Jeromy Buehl
Feb. 13…Chris Wheeler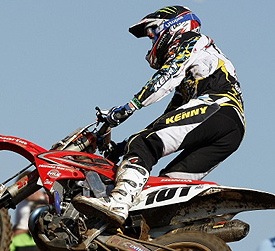 Feb. 13…Mickael Pichon
Feb. 14…Sam Gammon
Feb. 14…Tom Carson

PHOTO WITHOUT A CAPTION


ASK THE MXPERTS: SINGLE-SIDED NO-LINK SPRING RATE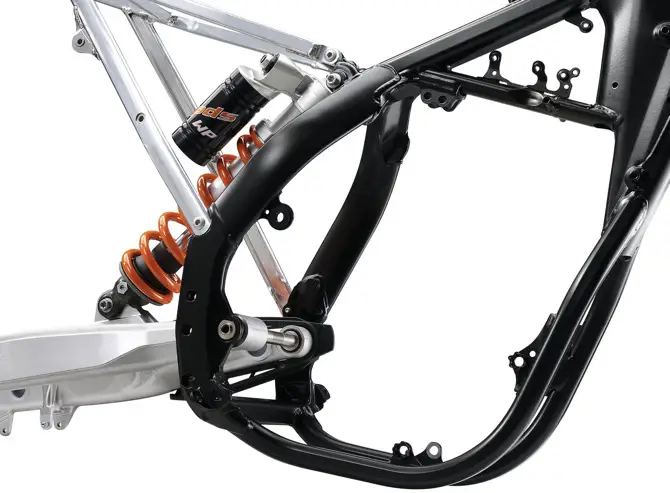 Dear MXA,
What shock spring do you recommend for the no-link 2009 KTM 450SXF? I weigh 185 pounds.
On the 2009 KTM 450SXF we removed the stock 7.2 kg/mm shock spring and ran a 7.6 kg/mm spring. This is a good mod for any 2009-2010 KTM 450SXF rider who is fast or weighs more than 175 pounds.


JOSH CACHIA'S AMA SUPERCROSS VISIT IS OVER THIS WEEKEND: WHAT HE THOUGHT ABOUT RACING IN THE USA


2013 AMA SUPERCROSS TV SCHEDULE

Date………..Event………………….TV network…………….Time
Feb. 16…Dallas…………….Speed…………….9:30 p.m. (Eastern)
Feb. 23…Atlanta……………Speed…………….7:30 p.m. (Eastern)
Mar. 3…..St. Louis…………CBS/Speed……..Noon (Eastern)
Mar. ?…..Daytona………….Speed…………….7:30 p.m. (Eastern)
Mar. 16…Indianapolis ……Speed…………….7:30 p.m. (Eastern)
Mar.23….Toronto…………..Speed…………….8:00 p.m. (Eastern)
Apr. 4……Houston…………Speed……………..9:30 p.m. (Eastern)
Apr. 14….Minneapolis…….CBS/Speed……..Noon (Eastern)
Apr. 21….Seattle……………CBS/Speed……..Noon (Eastern)
Apr. 27….Salt Lake………..Speed…………….9:30 p.m. (Eastern)
May 4……Las Vegas………Speed……………10:00 p.m. (Eastern)

IS THIS THE "TEAM OF THE YEAR?" ROCKSTAR ENERGY SUZUKI WITH DAVI MILLSAPS AND JASON ANDERSON


NEW AUSSIE RULES FOR THE 2013 AUSTRALIAN NATIONAL CHAMPIONSHIP SERIES



There will be some rules changes for the 2013 Australian National Motocross Championships?which start on April 14, but don't end until September 1. Here are the rules changes for 2013.
POINTS STRUCTURE: Points will now be awarded back to 30th position, a further 10 back than in previous years. First will get 35 points, second 32, third 30, fourth 28, fifth 26 and sixth 25 points. The points will decrease by one point with each position to 30th.
RACE FORMATS: In previous years Australia has had multiple moto formats, but for 2013 they will adopt the tradtional two-moto format. The 450 and 250 motos will be 30 minutes plus one lap, while the under 19-year-old Development class (MXD) will be 20 minutes plus one lap.
TWO-STROKE/FOUR-STROKE: The 450 class is open to 255cc to 450cc two-strokes and 450cc four-strokes. The 250 class is open to 250cc two-strokes and four-strokes. The MXD class is open to 250cc two-strokes and four-strokes.
TICKET PRICES: Ticket prices are fixed by the sanctiuoning body and are the same at every round as follows: $30 (Adult), $15 (Children 5 to 15), $70 (Family of two adults and two children).
TECH INSPECTION: Tech inspection will be self administered by theh rider and his team, but random checks will be made in the waiting zone by the organizer.
POLE POSITION: A brand-new 450 Super Pole session has been introduced for 2013 as well. At the conclusion of timed qualifying the top five riders will return to the start line. Each rider will be fitted with a GoPro camera, when directed they will do one flying lap, the result of that flying lap will determine the top five positions for qualifying. Championship points will be issued as follows: First 5, second 4, third 3, fourth 2, fifth 1. Prize money for the fastest qualifier will be $500 per round.
HELMET EJECT: All riders must fit a Helmet Eject system to the helmet.
ENTRIES: A maximum of 50 entries will be accepted in each class, however round one will have 80 positions in MXD (Under 19s) and there will be two non-qualifying races.
ENTRY FEES: Entries for the 450 class are $245 Aus ($251 US), 250 class $235 Aus ($244 US) and MXD $215 Aus ($223 US).
2013 AUSTRALIAN NATIONAL CHAMPIONSHIP SCHEDULE
Apr. 14…Raymond Terrace,NSW
Apr. 28…Murray Bridge, SA
May 5……Wonthaggi, VIC
May 19….Broadford, VIC
June 2…..Conondale, QLD
July 14…..Appin, NSW
July 28…..Hervey Bay, QLD
Aug. 11…Swan Hill, VIC
Aug. 25…Toowoomba, QLD
Sept.1…..Coolum, QLD