MOTOCROSS ACTION'S WEEKEND NEWS ROUND-UP: WE HAVE A NEW WORLD CHAMPION, IRONY AT MIAMI MX PARK & OTHER INFO TO FILL YOUR VAST RESERVOIR OF WORTHLESS KNOWLEDGE

PHOTO OF THE DAY: MOTOCROSSERS ARE GOOD PEOPLE


Former AMA National Pro Jon Ortner was winning the Over-50 Expert class at Glen Helen this weekend when he saw a rider trapped under his bike. Ortner threw his bike down and ran back to help the fallen rider. By the way, the bike he threw down was a brand-new Yamaha YZ450F. For every stupid act by a rider, there are a hundred good deeds. Kudos to Ortner.
WEIRD TWIST AT MIAMI MOTOCROSS PARK: RIDER STRUCK BY LIGHTNING

According to CBS Miami: Miami MX Park was holding a ride day rally to protest the counties requirement that they pay the Miami Dade Fire Department to be on site whenever the park is open. Then, at the ride day a rider was reportedly struck by lightning while exiting the track at the Miami Motocross Park, Saturday. Witnesses said the riders were leaving the track when lightning struck.  "There was no warning and in a split second, it just hit like that," said Dustin Whitehead. "We saw the lightning and the guy fell from the bike," added Nicholas Stankov, a motocross instructor. "My first reaction was to run to him, but I remembered we had the fire department there and I slammed on the door and said ?somebody got hit please go it's an emergency!'" When paramedics got to Alfonzo, witnesses said a fellow rider was already doing CPR. Alfonzo was airlifted to Jackson Memorial Hospital. Family members said he was stable Saturday night.
The park says the county started requiring fire trucks and paramedics be present at the park and the park has to pay for it (and cannot use any other medical service or EMTs). Park officials say the park may have to shut down because of the expense. Many of the riders were at the park Saturday in a show of support.
                                          
BRETCALFE CLINCHES CANADIAN 450 NATIONAL CHAMPIONSHIP

450 RIVERGLADE RESULTS
1. Brett Metcalfe (Kaw)………..3-1   
2. Bobby Kiniry (Yam)…………1-4
3. Tyler Medaglia (KTM)………4-2
4. Jeremy Medaglia (Yam)…..6-3      
5. Teddy Maier (Kaw)………….5-5
6. Liam O'Farrell (KTM)……….7-6
7. Kyle Keast (Yam)…………….8-9
8. Morgan Burger (Yam)………12-8
9. Cole Thompson (KTM)…….2-DNF  
10. Ryan Millar (Hon)…………..14-7
CANADIAN 450 NATIONAL POINTS STANDINGS
(After 8 of 9 races)
1. Brett Metcalfe…………………365
2. Bobby Kiniry…………………..289
3. Jeremy Medaglia…………….256
4. Tyler Medaglia ………………255
5. Teddy Maier…………………..241
6. Gavin Gracyk…………………189
7. Morgan Burger………………176
8. Brock Hoyer…………………..172  
9. Ross Johnson……………….129
10. Cole Thompson…………..123
                                           
TEAM ADRIAENSSEN GETS CLOSER TO WORLD SIDECAR CHAMPIONSHIP WITH THREE RACES LEFT


Etienne Bax and Kaspars Stupelis won in Estonia, but are 101 points behind Ben Adriaenssen with only 150 points left in the season. Photo: Citzen Journal
WORLD SIDECAR RESULTS: KIVIOLI, ESTONIA
1. Etienne Bax / Kaspars Stupelis………………..1-1
2. Ben Adriaenssen / Ben van den Bogaart……2-2
3. Jan Hendrickx / Elvijs Mucenieks………………4-3
4. Vaclav Rozehnal / Marek Rozehnal……………3-5
5. Maris Rupeiks / Haralds Kurpnieks…………….5-4
6. Henrik Soderqvist / Joe Millard………………….6-6
7. Andy Burgler / Martin Betschart…………………7-10
8. Lucas Cerny / Radek Musil……………………….9-9
9. Bjorn Roes / Bruno Kaelin………………………..14-7
10. Jan Visscher / Jeroen Visscher………………..8-13

WORLD SIDECAR POINTS STANDINGS
(after 9 of 12 races)
1. Ben Adriaenssen / Ben van den Bogaart……402
2. Etienne Bax /Kaspars Stupelis………………….301
3. Jan Henrickx /Elvijs Mucenieks………………….290
4. Janis Daiders / Lauris Daiders…………………..271
5. Vaclav Rozehnal / Marek Rozehnal…………..232
6. Maris Rupeiks / Haralds Kurpnieks……………231
7. Valentin Giraud / Nicolas Musset………………217
8. Andy Burgler / Martin Betschart………………..199
9. Stuart Brown / Josh Chamberlain……………..194
10. Jason Van Daele / Tim Smeunix…………….182
                                           
OHLINS CIRKUS OF SPEED ON SEPTEMBER 28


Ben Wolfe.

Ohlins USA Suspension "Cirkus of Speed" features crazy customs, hot rods and exotics, motorcycles, cars, V-Twins, race bikes, street bikes and dirt bikes.The Second Annual editionof the Cirkus of Speed isSaturday, September 28, 2013, in Hendersonville, North Carolina.
 
Tthis year's event in Hendersonville features "police rodeo" star Ben Wolfe of Lock & Lean, performing precision motorcycle riding. Featured displays include the NHRA Top Dragster of Matt Cooke, the first production models from American-made Motus motorcycles, Triumph bikes, a custom Honda Grom, Cycle World's cover bike, Ohlins Harley demo rides, live music, food, race car shake-rig demonstrations, motorcycle suspension seminars, and more. For information go to www.ohlinsusa.com or call toll free: 800-336-9029.
                                           
LORETTA LYNN AMA NATIONAL AMATEUR CHAMPIONSHIP RESULTS



Open Pro Sport……………..Matt Bisceglia
250 Expert…………………….Matt Bisceglia
450 Expert…………………….Luke Renzland
250 Intermediate (Stock)…Jordon Smith
250 Intermediate (Mod)…..Aaron Plessinger
450 Intermediate (Stock)…Aaron Plessinger
450 Intermediate (Mod)….Tyler McSwain
Two-Stroke…………………..Jerry Robin
Over-25………………………..Timmy Ferry
Over 35…………………………Robbie Reynard
Over 40…………………………Keith Johnson
Over 45…………………………Trampas Parker
Over 50…………………………Kevin Foley
Schoolboy (12-16)………….Ryan Surratt
Schoolboy (14-16)………….Ryan Surratt
College…………………………Josh Cartwright
Women…………………………Mackenzie Tricker
Girls (12-16)…………………..Hannah Hodges
Girls (9-11)……………………Jazzmyn Canfield
Mini Sr (Stock)……………….Joey Crown
Mini Sr (Mod)…………………Joey Crown
                                           
CZECH 450 GRAND PRIX RESULTS: TONY CAIROLI LOSES
1. Clement Desalle…1-1
2. Kevin Strijbos…2-4
3. Evgeny Bobryshev…5-3
4. Ken de Dycker…3-6
5. Antonio Cairoli…4-7
6. Joel Roelants…7-11
7. David Philippaerts…6-10
8. Jeremy van Horebeek…19-2
9. Shaun Simpson…10-8
10. Tanel Leok…9-9
                                           
CZECH 250 GRAND PRIX RESULTS: HERLINGS CLINCHES TITLE
1. Jeffrey Herlings………1-1
2. Christophe Charlier….4-2
3. Aleksandr Tonkov……3-4
5. Alessandro Lupino…..2-8
5. Jordi Tixier………………5-5
6. Dylan Ferrandis……….7-7
7. Jake Nicholls……………9-6
8. Petar Petrov…………….8-10
9. Jose Butron…………….26-3
10. Dean Ferris……………15-9
                                           
450 WORLD CHAMPIONSHIP POINTS STANDINGS


(After 14 of 17 races)
1. Tony Cairoli………………….643
2. Clement Desalle…………..553
4. Ken De Dycker……………..514
2. Gautier Paulin………………465
5. Kevin Strijbos……………….437
6. Tommy Searle………………404
7. Jeremy Van Horebeek…..351
8. Max Nagl………………………314
9. David Philippaerts…………245
10. Evgeny Bobryshev………238
                                           
250 WORLD CHAMPIONSHIP POINTS STANDINGS


(After 14 of 17 races)
1. Jeffrey Herlings…………692
2. Jordi Tixier……………….515
3. Jose Butron……………..436
4. Christophe Charlier……405
5. Glenn Coldenhoff………377
6. Dean Ferris………………359
7. Jake Nicholls…………….345
8. Alessandro Lupino…….294
9. Max Anstie……………….282
10. Petar Petrov……………262
ANDREW SHORT SIGNS TWO-YEAR DEAL TO STAY AT BTO KTM


Andrew Short.
Andrew Short has signed to race the BTO Sports KTM 450SXF through the 2015 season. "We are very excited to continue our relationship with Andrew," said team co-owner Forrest Butler. "He is a great rider and real professional to work with, as well as a great addition to the teams growing success with the KTM brand. As an entire team, we look forward to the next two years with Andrew." For more info visit www.btosports.com.
                                           
USED IT, ABUSED IT, TESTED IT: HJC RPHA-X HELMET

Until the RPHA-X, HJC's most expensive offroad helmet retailed for $145. Not any more! The RPHA (Revolutionary Performance Helmet Advantage) is a matrix of carbon fiber, aramid, fiberglass and organic non-woven fabric that retails for $349.95. With the RPHA series, HJC cut the weight to 2.93 pounds.
VERDICT: HJC achieved their goals with the RPHA-X. (1) It is light. (2) It it offers premium features. (3) It uses high-tech construction techniques. (4) It meets the mid-line price target. (5) It is viable option for a motocross racer. $349.99 (solid white), $354.99 (matte black), $359.99 (graphics) ? (562) 407-2186 or www.hjchelmets.com.
                                           
THIS WEEK'S BIRTHDAYS: MIKE BELL TURNS 56
Aug. 1…Frankie Latham
Aug. 1…Broc Hepler 1986
Aug. 1…Vince Arimitsu

Aug. 4…Mike Gosselaar

Aug. 4…Jay Marmont 1983

Aug. 5…Andy Jefferson 1961

Aug. 5…Eric Geboers
Aug. 7…Todd Jendro
Aug. 7…Scott Myers 1968

Aug. 7…Max Nagl 1987
Aug. 7…Jeff Willoh

Aug. 8…Mike Bell 1957
Aug. 8…Kyle Bentley
                                           
SDI ROTATING PSF FORK AIR VALVES


For more info go to www.suspensiondirect.com or call (714) 464-2050.
                                           
USED IT, ABUSED IT, TESTED IT: KITE/EXCEL WHEELSET BY DUBYA

Kite's billet aluminum, anodized hubs are manufactured in Mandello Del Lario, Italy. Dubya is also the Talon hub importer which gives them two price ranges. We laced our Kite hubs up to Excel A60 rims, which are 15 percent stronger than Excel's Signature Series rims, but would have been just as happy with DID STX rims (which cost the same). Kite stainless steel, double-butted spokes tied the pieces together.
VERDICT: Kite wheels are used by Ryan Dungey, James Stewart, Ken Roczen, Davi Millsaps and Antonio Cairoli and the hubs are available in red, black, blue, green and orange, for both full-size bikes and minibikes. The spokes can be order in the same colors. These aren't just Xeroxed billet components, Kite's weight, options, colors, sponsored riders and price make them a major player in the wheel world. The prices vary based on your rim and spoke choices ? www.dubyausa.com or (714) 279-0200.
                                           
THE SILLY SEASON EURO-STYLE: WHO'S GOING WHERE?


Tony Cairoli.                                  Photo: Massimo Zanzani
With the exception of a few riders, most of the U.S. teams are fairly well set. Honda, Kawasaki, KTM and Suzuki will have the same riders from 2013 in 2014. Ever since Eli Tomac decided to stay at Geico Honda, the U.S. silly season cooled off. Chad Reed's Honda contract expires, but Chad will still have a ride at TwoTwo Motorsports ? only the brand of bike is unsure. Josh Grant's JGR contract is up also. Apart from these two name players, there are a few changes occurring in the 250 class, but nothing unexpected. Meanwhile, in Europe there are moves afoot.

Jordi Tixier.                                  Photo: Eay Archer
Jeffrey Herlings, Antonio Cairoli, Ken De Dycker and Jordi Tixier will all be at the KTM team again in 2014.
Spanish rider Jose Butron signed a two-year deal to stay at the KTM Silver Arrows team.

Max Nagl.                                  Photo: Massimo Zanzani
Despite a lack of results, Max Nagl and Evgeny Bobryshev still have a year to go on their Honda contracts. Now, Honda has announced that Max Nagl will not participate in this weekend's Czech Republic Grand Prix because he has been diagnosed with Epstein-Barr.
Roman Febvre currently rides for the Jacky Martens-owned KTM team and will ride for the Jacky Martins-owned Husqvarna team in 2014. Martens will get full factory support for his Husqvarnas from KTM.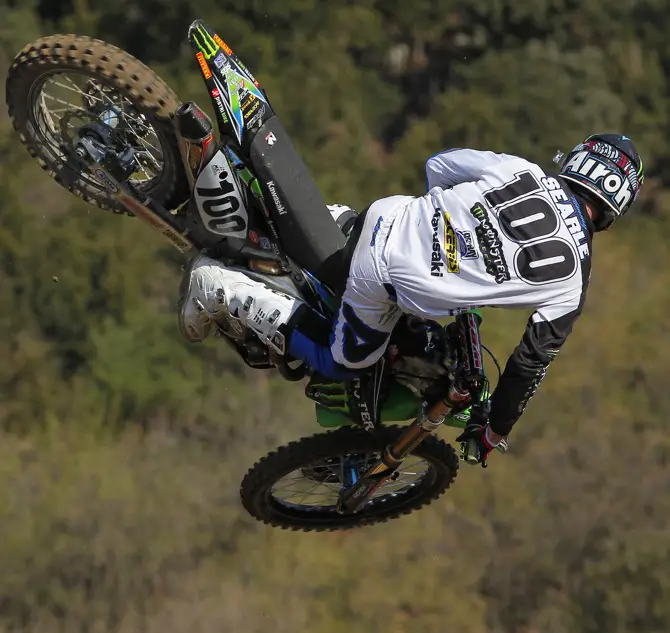 Tommy Searle.                                  Photo: Massimo Zanzani
CLS Kawasaki will have Arnaud Tonus and Alessandro Lupino in the 250 class and Tommy Searle looks like he will remain with them in the 450 class. Searle was looking around, but didn't find what he wanted.

Gautier Paulin.                                  Photo: Massimo Zanzani
Gautier Paulin will remain at Kawasaki Racing. In late breaking news, Gautier Paulin will miss the Grand Prix of the Czech Republic because of the concussion he suffered at the German road race Grand Prix…oops, we mean the German Motocross Grand Prix.
Dean Ferris is most likely to stay with the Steve Dixon Yamaha team in 2014, but will move to the 450 class.

Clement Desalle.                                  Photo: Massimo Zanzani
The big unknown is Clement Desalle. His Suzuki contract is up and both the team and Clement might be looking for a change. Once considered to be the only man who could beat Cairoli, he hasn't lived up to that promise (Gautier Paulin is now that man). We think Desalle could stay at Rockstar Suzuki or move to Yamaha. The Monster Yamaha has to make a decision about the future of Steven Frossard who has missed the last two seasons with injuries?French rider Milko Potisek has been filling for Frossard while Steven has been out after foot surgery.
Christophe Charlier has extended his existing contract with the Yamaha Grand Prix team. The soon-to-be 22-year-old Corsican is one of just two riders to beat Jeffrey Herlings in a moto during the first 10 rounds of the 2013 campaign to-date.
Husqvarna is giving its 250 team to Jacky Martens, and he might be looking for a second 250 rider, while the ICE1 team will run the Husky 450 team and needs two riders. Currently both of ICE1's KTM 450 riders are injured, and Xavier Boog will miss the rest of the season. There was a rumor that Tyla Rattray would sign with Husky for 2014.
                                           
WORKS CONNECTION & MATRIX CONCEPTS SPONSORSHIP PROGRAMS ACCEPTING RIDER RESUMES

Works Connection is now accepting new rider, and currently sponsored rider, resumes for the 2014 season. Works Connection's Rider Support Program is in its 24th year and is actively looking for riders to be a part the program. Support levels range from Beginner up through the National level. The program is open to riders of all disciplines including, but not limited to, Motocross, Supercross, Off-Road, Flat Track, Hill Climb, Supermoto, Speedway, Endurocross, Trials, ATV and action sport athletes. Click www.hookit.com/members/works01/ and apply for your sponsorship today. Deadline to apply is 12/31/13.

Matrix Concepts and 1.7 Cleaning Solutions are now accepting applications for the 2014 Team/Rider Sponsorship Support Program. Join Stewart, Tomac, Villopoto, Brayton, Short, Canard and Barcia along with the 30 top teams in Motocross and get your products customized like the top teams. We have spots open for riders of all ages, skill levels and bike sizes. Resumes are now being accepted through these three websites www.matrixracingproducts.com, www.hookit.com or www.MXSponsor.com
                                           
MEMORIES OF THE WAY WE WERE


This is the Showcase page from the February 10, 1977, issue of Cycle News. All we can say is "Everything is sano at Miller Mano."

                                           
IRELAND CHOOSES ITS MXDN TEAM…SORT OF


Martin Barr.
The Motorcycle Union of Ireland announced its team for the 2013 Motocross of Nations at Teuschenthal, Germany, on September 29. Well, they almost named the team. The riders chosen are 25-year-old Martin Barr in the 250 class, 21-year-old Graeme Irwin in the 450 class and 24-year-old Stuart Edmonds will also be on a 450. However, Irish team manager Laurence Spence says that he wants to keep an eye on Gary Gibson as a possible replacement for Stuart Edmonds. Spence said, "Gary Gibson is very much in the running for a place, whichever rider we take I know they will give 100 percent."
                                           
ASK THE MXPERTS: WHAT MAKES A ROLLS-ROYCE BETTER THAN VOLKSWAGEN?

Dear MXA,
    What makes a Hinson clutch better than the stock clutch? It seems that the factory could do what Hinson does.
It does seem that way, doesn't it? But, they don't. The cost of a production bike equipped with a clutch as good as a Hinson clutch would cost hundreds of dollars more on the showroom floor. Hinson uses aircraft-spec aluminum, starts with a billet of the alloy and CNC-machines it into the basket, pressure plate and inner hub. All the parts are hard anodized, special oil holes are machined in and tolerances are as close as possible. For cost efficiency, a stock clutch is made from less expensive cast parts. The closest any manufacturer comes to producing a high-end clutch system is KTM.
                                           
KNOW SOMEONE WHO WANTS TO LEARN HOW TO RIDE? OR SHARPER THEIR SKILLS? CALL MOTOVENTURES

MotoVentures offers training and riding almost every week, all year around, usually on the weekends, but often on weekdays too. They also offer Level 1, 2 and 3 classes, MX101 classes, trials riding, private or corporate groups, a two-day Idyllwild dual-sport ride, and their Kid's summer and spring 2-Day Dirt Bike Day Camps.
MotoVentures will provide the bike or you can bring your own. Level 1 training is for beginners, Level 2 is for people who can ride, but want to brush up their skills. Level 3 is for more advanced riding, MX101 is for learning the basic skills of motocross racing. MotoVentures also does trials schools. Check out the calendar below and see all the summertime fun for kids of all ages.
 
August 6 – 7………..Kids 2-Day Dirt Bike Day Camp
August 10…………..Level 3 training
August 16…………..Level 3 training
August 20 – 21…….Kids 2-Day Dirt Bike Day Camp
August 22 – 23…….Idyllwild 2-day dual sport ride
August 23…………..MX101 training
September 13……..Level 3 training
September 20……..MX101 training
October 18………….Level 3 training
October 18………….MX101 training
October 25………….Trials riding
Oct 31 – Nov 1……..Idyllwild 2-day dual sport ride
Call or email Gary LaPlante at (877) 260-6686, email at [email protected] or go to www.motoventures.com
                                           
2014 AMSOIL ARENACROSS CHAMPIONSHIP

January 3-5…………………….Worcester, MA
January 10-12…………………Baltimore, MD
January 18-19…………………Louisville, KY
January 25-26…………………Greensboro, NC
January 31-Feb. 2……………Milwaukee, WI
February 7-9……………………Sacramento, CA
February 14-16………………..Nampa, ID
February 21-23………………..Reno, NV
March 1-2……………………….Tulsa, OK
March 7-9………………………..Albuquerque, NM
March 14-16…………………….Hidalgo, TX
March 29-30 ……………………Salt Lake City, UT
                                           
ATLAS BRACE TECHNOLOGIES INTRODUCES THE TYKE NECK BRACE


Press release: The Atlas Tyke is our little pride and joy. Extreme sports require agility and mobility, even at 5 years old…so we created the Atlas Tyke. This is not an adjusted adult brace ? it is a custom-built product that is specifically engineered to conform to the proportions of our small children who are just starting out. The Atlas Tyke fits a small child just like the adult brace fits a full-size adult, and even though the product is a miniature version of the adult brace it still preserves the innovative features of its bigger counterparts to create unmatched performance for your little tyke.
Features include: (1) A specifically re-engineered entry system also doubles as the Emergency Removal System, and can be completed in 3 seconds with a simple push of a button. (2) Custom-built lightweight back supports that feature a break/fold away design. (3) Reversible rear washer system allows the back supports to have 2 adjustment positions to fine tune sizing. (4) Simple, flexible, open frame design makes the Atlas family the only high end non-rigid, most comfortable braces on the market.


(5) Flexible leaf spring design chest supports work like suspension during Hyper-Flexion impacts. (6) Dual pivoting back and chest supports provide added surface area to help transfer impacts around the spine and sternum. (7) Two mounting options out of the box. Options include full chest strap, or use of front strap for mounting a chest protector (Strap comes with a pre-drilled hole). (8) Two Color choices, black or white. (9) The suggested retail is $199.90. For more info visit www.atlasbrace.com
                                          
LET'S WASH THE MEMORIES OF LAST WEEK'S FLAT, BARREN, SPIRITLESS GERMAN GP AWAY WITH PHOTOS OF REAL MOTOCROSS ACTION


Motocross isn't about fans putting their fannies in plastic seats a 100 yards away from the action. It's about hardcore motocross enthusiasts pushing up against the snow fence to feel the speed.

Motocross is about rooting your favorite rider on by getting so close to the track that he can see your fervor, like these French fans are doing for Dylan Ferrandis at Ernee.

Yes, a road race infield does have better parking, paved pits and grandstand seating, but it lacks soul. Real motocross has soul and the sanctioning bodies should be trying to magnify the true essence of motocross ? by no stretch of the imagination is that achieved by half-hearted dirt road racing. Let's not chase fans that we don't have at the expense of the ones who put the sport on the map.

Here's an idea of how to "grow the sport." Let's cut down the trees and put in a parking lot. Then, cover it with dirt and race on it.

The AMA, FIM, Youthstream and MX Sports should hold the sport's premier motocross showcases on tracks that highlight the majesty of motocross ? not the closeness of a freeway. To hold races at less than the best tracks short changes the traditions, history and beauty of the sport. Photos by Ray Archer and Massimo Zanzani

                                           
USED IT, ABUSED IT, TESTED IT: WORKS CONNECTION PRO LAUNCH START DEVICE

Instead of a retractable, spring-loaded button, the Works Connection Pro Launch uses super-powerful magnets to lock the forks down. The magnets retract the hook as soon as the forks are compressed. Because of its lever-style mechanism and chamfered engagement point, the Pro Launch glides over the receiver on the way down and catches on the way up. The MXA test riders could to set the Pro Launch device by themselves?something we could never do with spring-loaded holeshot devices.  
VERDICT: Forget about all previous holeshot devices. The magnetic Works Connection's Pro Launch raises the bar far beyond the old-school button-style devices because it is easier to engage, foolproof to release, nevers snags and comes with everything you need to install it (including the drill bit). $109.95 ? www.worksconnection.com or (800) 349-1475.