MOTOCROSS ACTION'S WEEKEND NEWS ROUND-UP: WESTON IN FINLAND, CHAD IN OZ, WEIMER IN PARIS, RICHIER IN STUTTGART, PLUS ADAM CIANCIARULO INJURED
        ADAM CIANCIARULO INJURED: WILL HAVE SHOULDER SURGERY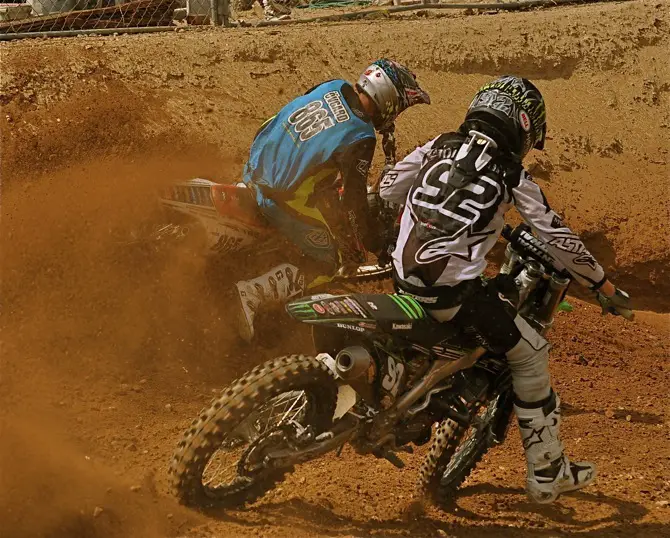 Adam Cianciarulo (92).                 Photo: Dan Alamngos
When Jody was going the starting line at REM this weekend he stopped to chat with Mitch Payton for a second. During the conversation about that day's race Mitch said that Adam Cianciarulo hurt his shoulder on Friday and would be having surgery soon.
        WESTON PEICK SWEEPS FINNISH SUPERCROSS WITH FASTEST TIME, HEAT WIN AND MAIN EVENT VICTORY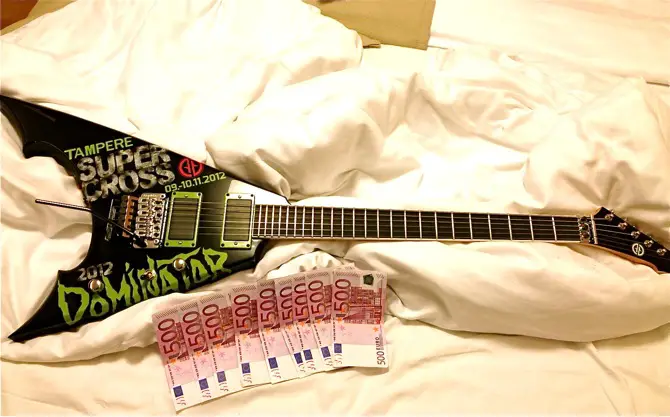 Weston's loot lays ON his hotel room bed after winning the Lampere Supercross.

LAMPERE SUPERCROSS RESULTS:
1. Weston Peick…Suz
2. Harri Kullas…Suz
3. Toni Eriksson…KTM
4. Marko Kovalainen…Yam
5. Rikard Hansson…KTM
6. Teemu Lehtinen…Kaw
7. Miika Oinonen…KTM
8. Riku Rouhiainen…Yama
9. Priit R"tsep…KTM
10. Valtteri Malin…KTM
        CHAD REED WINS MUDDY TOOWOOMBA SUPERCROSS, BUT IS JUST THIRD IN THE POINTS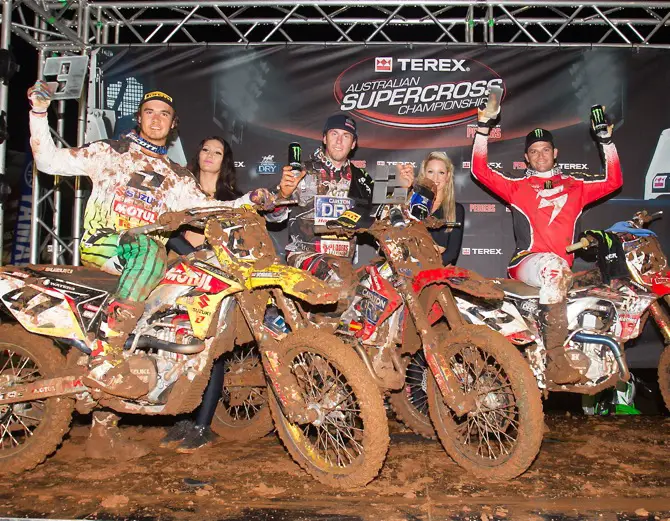 Chad (left) celebrates with Ben Townley (center) and Todd Waters. Next stop? The shower. Photo: Rice Photos
TOOWOOMBA RESULTS 450 CLASS:
1. Chad Reed
2. Ben Townley
3. Todd Waters
4. Jay Marmont
5. Daniel McCoy
6. Cheyne Boyd
7. Lawson Bopping
8. Jake  Moss
9. Beau Ralston
10. Tye Simmonds
TOOWOOMBA RESULTS 250 CLASS:
1. Ryan Marmont
2. Kade Mosig
3. Gavin Faith
4. Steven Clarke
5. Kim Ashkenazi
6. Luke Clout
7. Taylor Potter
8. Corey Lucas
9. Scott Coloumb
20. Nick Sutherland
AUSTRALIAN 450 SUPERCROSS POINTS STANDINGS
(After three of four rounds)
1. Jay Marmont…65  
2. Daniel McCoy…58  
3. Chad Reed…50  
4. Todd Waters…50  
5. Lawson Bopping…50  
6. Jake Moss…49  
7. Tye Simmonds…41  
8. Cheyne Boyd…40  
9. Ben Townley…35   
10. Billy MacKenzie…35  
AUSTRALIAN 250 SUPERCROSS POINTS STANDINGS
(After three of four rounds)
1. Gavin Faith…70  
2. Ryan Marmont…61  
3. Kade Mosig…55  
4. Steven Clarke…54  
5. Scott Coloumb…40  
6. Luke Clout…38  
7. Gerand Stapleton…37  
8. Kim Ashkenazi…34  
9. Nick Sutherland…33  
10. Taylor Potter..27
        PARIS RESULTS: XEROX COULDN'T HAVE SCRIPTED NIGHT ONE AND TWO BETTER

PARIS SUPERCROSS: OVERALL RESULTS
1. Jake Weimer…………..1-1-2
2. Eli Tomac………………2-2-1
3. Justin Brayton…………3-3-3
4. Cedric Soubeyras…..5-5-4
5. Wil Hahn………………..6-7-6
6. Cyrille Coulon………..7-6-7
7. Kyle Chisholm………..4-4-14
8. Fabien Izoird…………10-8-5
9. Charles Lefrancois….8-9-9
10. Christophe Martin…15-10-8
Other notables: 13. Gregory Aranda (13-14-15); 15. Eric Sorby (12-12-23); 19. Jack Brunell (16-20-21); 24, Christophe Pourcel (9-13-DNF).
10. Fabien Izoird…Suzuki
Christophe Pourcel's Saturday get-off video


        EUROS WIN BOTH NIGHTS AT STUTTGART SUPERCROSS: FLORENT RICHIER TAKES OVERALL VICTORY

FRIDAY RESULTS
1. Mickael Musquin
2. Florent Richier
3. Jason Thomas
4. Dennis Ullrich
5. Tyer Bowers
6. Vince Friese
7. P.J. Larson
8. Gareth Swanepoel
9. Ben Lamay
10. Joaquim Rodriques
SATURDAY 450 RESULTS
1. Florent Richier
2. Filip Neubauer
3. Dennis Ullrich
4. Vince Friese
5. Joaquim Rodriques
6. Tyler Bowers
7. Mickael Musquin
8. Jason Thomas
9. Teddy Maier
10. Cole Siebler
        ANOTHER BIG WEEKEND FOR KTM AS THEY SWEEP THE MOTO3 PODIUM AT FINAL MOTOGP OF THE YEAR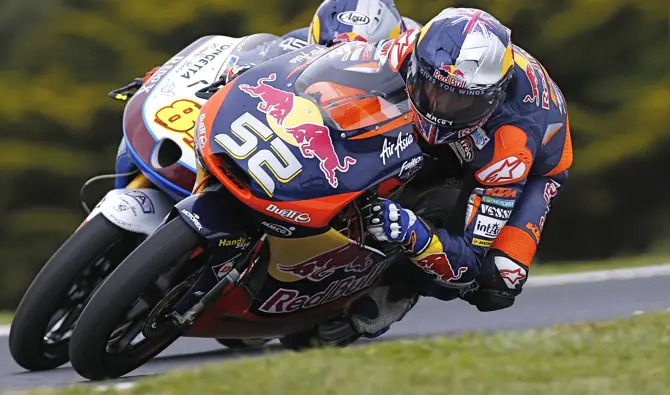 Danny Kent.                                                                                   Photo Gold & Goose

The Red Bull KTM Ajo road race team celebrated a three-way podium in the final race of the Moto3 GP season in Valencia, Spain, on Sunday with Danny Kent of Britain stealing victory from new World Champion Sandro Cortese in the final corner. Fellow KTM rider Zulfahmi Khairuddin, who set a lap record, was third.
        HOUSE PARTY! INSIDE BLAKE WHARTON'S HOUSE… ONCE HE FIGURES OUT HOW TO GET IN

        INTERNATIONAL FLAVOR: WORLD VET PHOTO MOMENT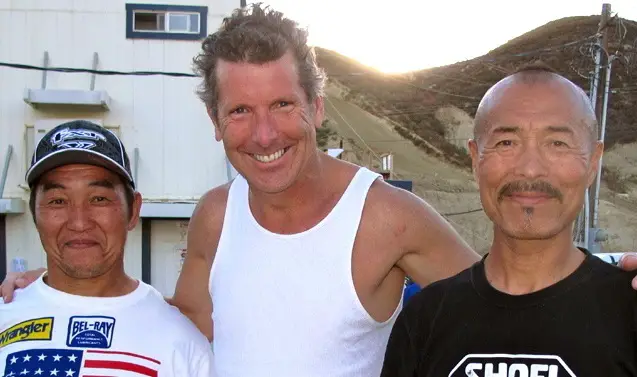 Sato, Ortner and Ida.                                                Photo: Eri Takahashi
The World Vet Championship had riders from 20 different countries, but the atmosphere was old-school friendly. Here, American Jon Ortner, who finished third in the Over-50 Expert class, hangs out with Chandler Sato (left) and 1986 Japanese 125 National Champion Isao Ida (right). Ida was fourth behind Ortner. Chandler Sato, who rides in tribute to Danny "Magoo" Chandler, was 17th.
        GRAND PRIX OF THAILAND PROMO VIDEO… WITH NO IMAGES OF THAILAND

JDR/ J-STAR/KTM TEAM TO BE LED BY MALCOLM STEWART AGAIN


Josh Cachia's only U.S. race was at the Lake Elsinore National…we all remember his crashes.

The JDR/J-Star/KTM Racing Team is excited to announce its three-rider team for the 2013 Supercross and motocross racing seasons. The riders, Malcolm Stewart, the 2011 Rookie of the Year, will be joined by Aussie Josh Cachia and Joey Savatgy. Theyw illall race the  AMA 250 West Supercross series. Stewart and Savatgy will then move on to race the 2013 Lucas Oil Pro 250 Motocross Championship Series, while Cachia returns to Australia to compete overseas.
MATRIX CONCEPTS MOVES TO ALL-NEW BUILDING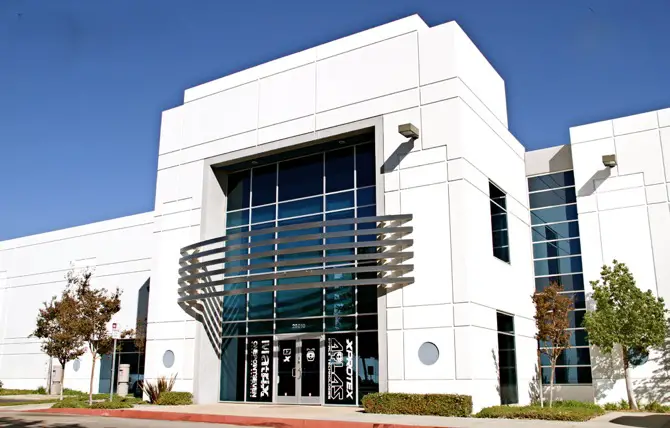 Matrix Concepts' new facility is A16,000 sq. ft. building which houses all administrative, product development, marketing, sales, customer service, and warehousing departments of Matrix Cocnepts and 1.7 Cleaning Solution. The new address is 20810 Industry Dr., Valencia, California, 91355 (just off Hasley Canyon Road).  A new customer showroom will be completed by December 1, 2012, that will display the complete line of products. In celebration of the move Matrix Concepts would like to give everyone 10% off at www.MatrixRacingProducts.com for the rest of November, just enter coupon code, "NEWBUILDING "
        THE STORY BEHIND THE EDISON DYE MOTOCROSS LIFETIME ACHIEVEMENT AWARD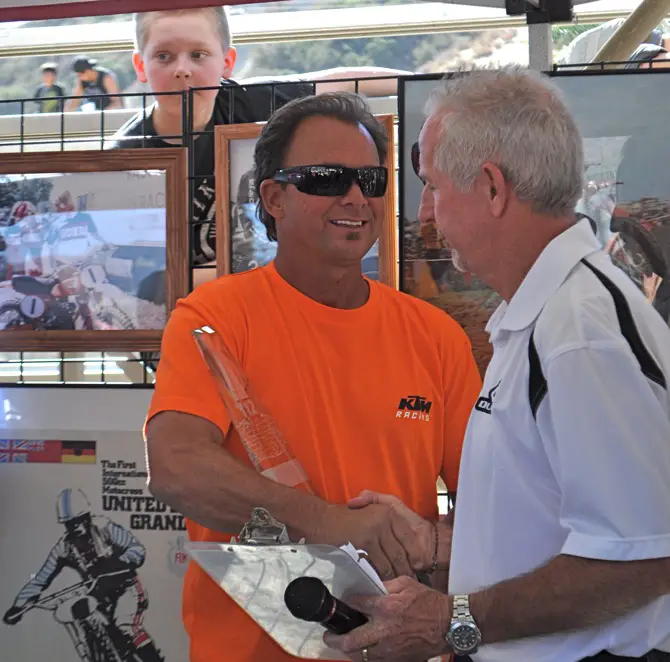 Marty Smith receives his Edison Dye Lifetime Achievement Award from Tom White, while a young fan watches from over the wall.
By Tom White

This last weekend, the MTA World Veteran Motocross Championship celebrated its 28th anniversary. The event, held at Glen Helen Raceway in San Bernardino, California, hosted almost 900 riders from 19 countries as they competed to be the fastest older rider in the world in their respective age and skill classes. Riders had to be at least 25 years to compete in this prestigious event, but most were in the 40s, 50s or 60s.
As the founder of the event and working with Glen Helen owner Bud Feldkamp, we decided in 1997 to honor a person or persons that had made the most significant contribution to the sport of motocross in America at the annual Vet event. That first year Roger DeCoster received the award.  It is very hard to argue that he didn't deserve the recognition as his contribution to the sport is unmatched.  In 1998 Rick Johnson received the award which was then simply named the Motocross Lifetime Achievement Award. The inspiration to name the award after Edison Dye would soon come.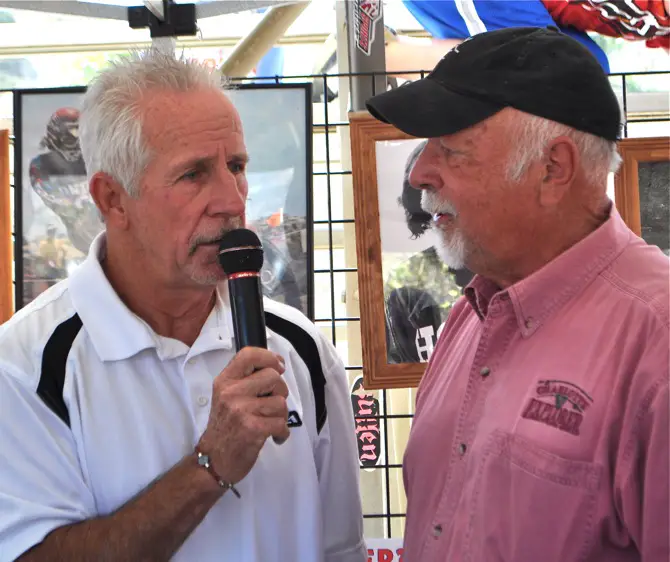 Glen Helen owner Dr. Bud Feldkamp (right) showed up to watch his Walk of Fame grow by one marble plaque.
Fortunately, after almost 25 years away from the sport he started, Edison Dye would start to get the credit for bringing the sport of motocross to America. That started at the 1999 World Veteran Motocross Championships when he was brought out onto the track in a limousine and presented the Edison Dye MX Lifetime Achievement Award in front of thousands of appreciative fans. That same year Edison Dye was inducted into the AMA's Motorcycle Hall of Fame. In the citation the AMA recognized that he imported the bikes, he convinced the top riders in the world to race in a fall series that became the Inter-Am, and he almost single-handedly caused the sport to grow in America at an unprecedented rate.  In 2001, Edison Dye received the Mickey Thompson Lifetime Achievement Award in front of a sold out Anaheim Supercross crowd.  
Edison Dye passed away on May 10th, 2007.  It was his 89th birthday and according to his daughter,  Shirley, getting the recognition for his accomplishments as a motocross pioneer in his later years added several years to his life!
The legends that have received the Edison Dye Motocross Lifetime Achievement award are a who's who of motocross in America and the world. Award winners include Torsten Hallman, Bruce Brown, the 1981 Motocross Des Nations team of Donny Hansen, Chuck Sun, Danny LaPorte, and Johnny O'Mara, plus Gary Jones, Jeff Ward, Stu Peters, Joel Robert, Bob Hannah, Brad Lackey, Tony DiStefano,  Broc Glover, and David Bailey. 

Signing autographs (left to right). The fans lined up to get a moment with Marty Smith, Chuck Sun, L.A. Chief of Police Charlie Beck, Lars Larsson and Sue Fish.
This last Sunday, during intermission and track maintenance, three-time AMA National Champion Marty Smith was presented the prestigious award. A special exhibit was set up by the Early Years of Motocross Museum with period machines similar to what Marty rode in his championship years. MXA's Jody Weisel, RacerX's Davey Coombs, and MX Files Todd Huffman all contributed photo's from Marty's career along with other memorabilia. Marty was joined in the presentation by his mechanics from the Honda days, Dave Arnold and Jon Rosenthael. Los Angeles Police Chief and motocrosser Charlie Beck helped present the award and acknowledged Marty's contribution to the sport that has been a major part of his life since 1968. Marty's parents Al and Joan Smith were present as well as Marty's wife and childhood sweetheart, Nancy.
Marty shared with the crowd his first-ever race at Carlsbad Raceway and blamed his dad on forgetting to turn the gas on for the bike quitting on the first lap. Marty was 14 at the time and just 2 years later won the AMA 125cc National Championship. I asked Marty what it was like to be a National Champion and still in high school. Marty commented, "I was so busy with school, training, and racing, I didn't have time to appreciate everything that was going on in my life!" Both Jon R and Dave Arnold had a lot of fun catching up on stories about working with Marty and both commented about his "over-whelming" natural talent.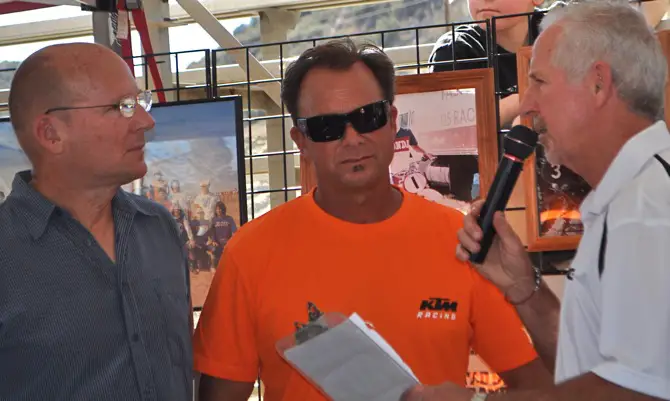 Honda team manager Dave Arnold, Marty Smith and Tom White.
The presentation ended with Ms. Glen Helen Paula Richling presenting Marty with the crystal glass Edison Dye Award. A permanent marble will be placed this next week on Glen Helen's famed "Walk of Fame."  As in the past, a unique poster was created, this time by artist – Mark Borzak to commemorate the event and only 100 copies were signed for the fans that were quickest to join the long line. AMA Hall of Famers and past Edison Dye Lifetime Award winners Broc Glover, Gary Jones, Chuck Sun, 2012 AMA Hall of Famer Sue Fish, Hall of Famer Lars Larsson, Gary Chaplin, and pioneer Bill Silverthorn joined Marty, Dave Arnold, Jon Rosenthiel, and Chief Charlie Beck for the signing. It was a great day and a fitting tribute to a great champion – Marty Smith!
        WITH FOUR DAYS LEFT ON eBAY THIS AL BAKER FMF STICKER IS UP TO $122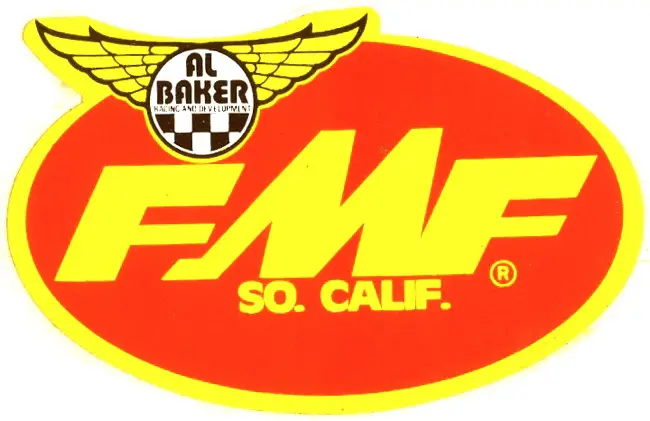 For a short period of time in the 1980s, FMF changed hands several times before returning to Uncle Donnie Emler. The late Al Baker ran it for awhile and this sticker is up for auction on eBay…for $122.
        THANK YOU! THE STUPID SUPERCROSS AND SUPERCROSS LITES NAMES ARE HISTORY?INTRODUCING 450SX AND 250SX


It had to happen sooner or later, but when dealing with bureaucrats it is normally later. So, after years of the ridiculous class names (Supercross and Supercross Lites) the powers that be have finally come to their sense and point the engine size in the names. The new names are 450SX and 250SX. Kudos to whoever made this happen?because under the old system the man who the 2012 AMA 450 Supercross Championship was technically the "AMA Supercross Supercross Champion," while the 250 winner was the "AMA Supercross Lites Supercross Champion."
        WHAT'S TYLA GONNA DO? HERE IS THE ANSWER


Tyla Rattray will return to the Pro Circuit team (as his bike at the Pro Circuit race shop this week proves). Tyla will race the 250 Supercross series and the 450 Nationals.

        RYNO'S RACE! RYAN HUGHES VIDEO OF HIS WORLD VET VICTORY

        WHAT YOU CAN DO WITH A SPARE HONDA CR500 ENGINE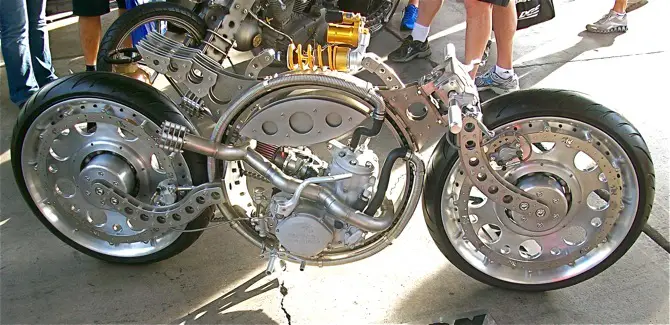 Apart from the CR500 engine, the rest of this bike is a marvel and a mystery. We are not sure, but it looks like the inner ring of the round frame rides on ball bearings between it and the outer ring. You gotta love the seat.

The engine is a CR500 with a cooling system that pumps the hot water through flex tubing back to the top end (sans radiator).

The four-stroke-style exhaust pipe splits into twin pipes, a la the 2013 CRF450, while the mufflers are just four round discs placed the end of the open pipes.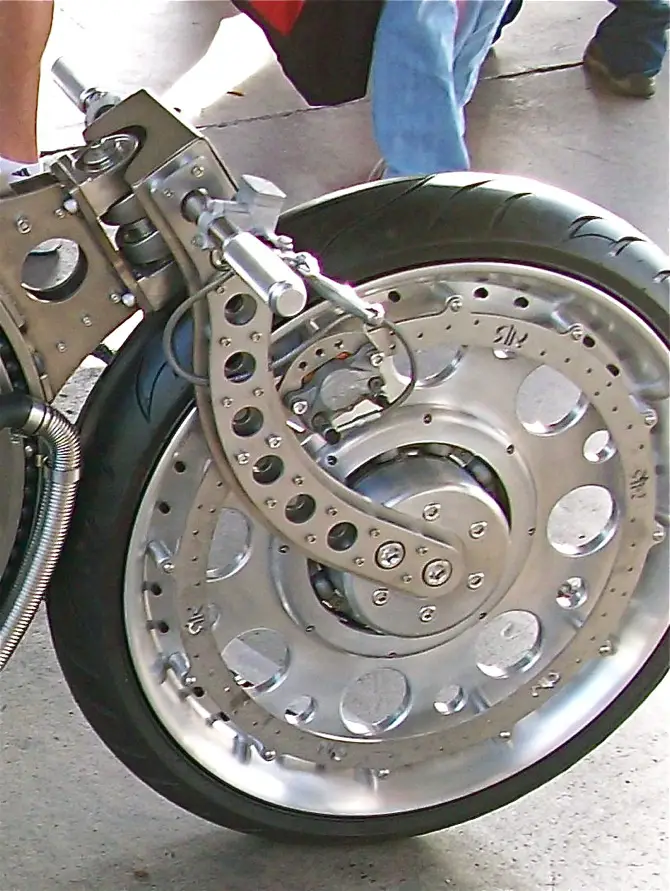 The forks are rigid, but maybe, just maybe, they rotate with the frame. The front rotor is massive, as are the front wheel bearings.
        REM MOTOCROSS TO HOLD RARE SUNDAY RACE ON NOVEMBER 18…MARK YOUR CALENDAR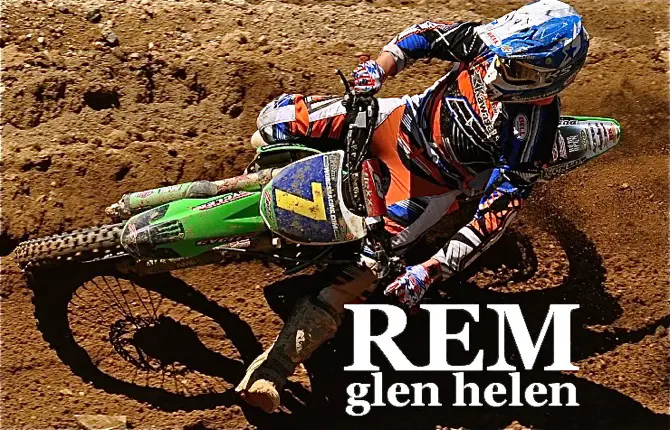 In a very rare event, REM Glen Helen will race on the REM track on Sunday, November 18 (because Glen Helen is hosting a giant Mud Run on Saturday, November 17, that uses the whole park). If you have missed racing at REM because it was always on Aaturday, now is your chance to be there or be square. For more info go to www.remsatmx.com
WHAT THE MXA WRECKING CREW IS UP TO…


After a busy four days at the World Vet Championship last week, the MXA wrecking is back testing bikes again…as this pair of 2013 TM two-strokes proves.

        MORE ON THE SUZUKI BANKRUPTCY FRONT: JUDGE MAKES DECISION…MOSTLY ABOUT THE AUTO PART OF THE BUSINESS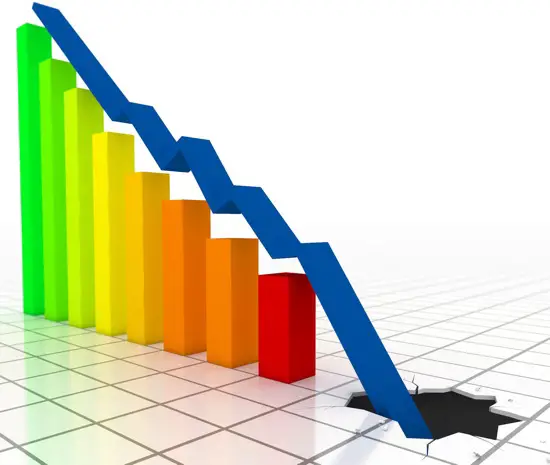 American Suzuki received approval to borrow $45 million to shut auto dealerships in the US and revamp boat and motorcycle sales under bankruptcy protection (on November 5, Suzuki filled for bankruptcy protection). Suzuki hopes to avoid the long court battles that always follow when an auto company shuts down and leaves its dealerships hanging. Suzuki will offer its 216 dealers cash payments in the following 10 days if they agree to scrap their franchise agreements. Currently there are more than 4000 Suzuki vehicles unsold, which dealers have the right to send back to the manufacturer. Analysts estimate that Suzuki will have to pay dealers about $50 million. U.S. Bankruptcy Judge Scott C. Clarkson offered Suzuki interim authority to borrow as much as $100 million, the final approval to be offered in the following weeks. If dealers agree to voluntarily end the contracts by November 30th, the company will offer them half of what they are owned by the distributor in 10 days. Suzuki will continue to sell marine, motorcycle and all-terrain vehicles through separate dealers.

        THE VIEW OF PIKE'S PEAK OUT OF THE CANOPY OF THE MXA SBACH 342 THUNDERBOLT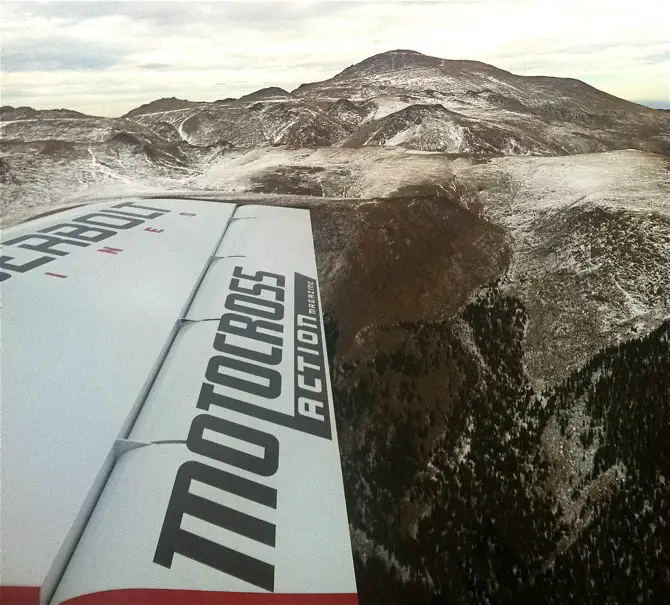 Pike's Peak in the background.
There are a lot of sponsorship packages in the world, but as you can see on the wing of air show pilot Doug Jardine's Sbach 342 Thunderbolt aerobatic airplane?MXA has one of the most unique. Doug races motocross in his spare time and is friends with Jody and Feets Minert, who both also fly aerobatic airplanes, although not as well as Doug. It was only natural for "Motocross Action" to appear on Doug's plane at air shows across the USA. You might have seen Doug fly at both the Glen Helen AMA Nationals and the USGP. For more info go to www.dougjardineairshows.com. See him fly in the video below.
        STAY ABREAST OF ALL THE RULES: 2013 AMA SUPERCROSS RULE CHANGES

Here is a list of the AMA Supercross rule changes for 2013 (all the previous 2012 rules stay in place):
(1) In 2013 the sound limit will be 115 dB at two-meters-max, but in 2014 the sound limit will reduced to 112 dB. The test will be conducted with the clutch engaged. Class 1 and Class 2 sound meters will get a 2 dB correction factor…which means 114 dB. Plus, there is an additional 1 dB correction if the temperature is below 50 degrees (and 2 dB if below32 degrees).
(2) Data logging is now legal, but the information cannot be transmitted in real time. The AMA Chief Inspector can look at downloaded info at any time. GPS may be used for lap timing and track mapping only (and the antennas cannot be mounted on the front number plate).
(3) Every rider must submit to an ImPact concussion test before his entry will be accepted.
(4) Pit speed limits are reduced from 10 mph to 5mph.
(5) Tech inspectors can request that a bike be disassembled at any time during an event (not just at the end of the race).
(6) Bikes used in timed qualifying are considered the rider's race bike and must be used in the race.
(7) In case of a restart (after more than 3 laps, but less than 90 percent of the total distance), there will be a staggered restart with the riders in the positions they were in on the lap before the red flag. Riders may not overtake the rider in front of them until they pass the designated starting line. Any rider who does overtake another rider will be demmed to have jumped the syart and will be penalized at least two places in the final results.
(8) The official finish line is the uppermost leading edge of the finish line obstacle.
(9) The flashing red lights mean no jumping of a series of jumps. For 2013, this also means on the sighting lap and cool down lap.
(10) If a rider or riders have qualified in the top 40 but are unable to participate in the evening program, an alternate rider that qualified outside of the top 40 may be allowed into the heat races. This will be done starting with the 41st qualifier until all positions for the evening program are filled. But, they are only officially in the program when the "three minutes before the 30 board" call from the race director. If a top 40 riders shows up before the three minute call, the alternate must leave the starting grid.
        MXA PRODUCT SPOTLIGHT: 100% EYEWEAR


Atsuta.


Bowen.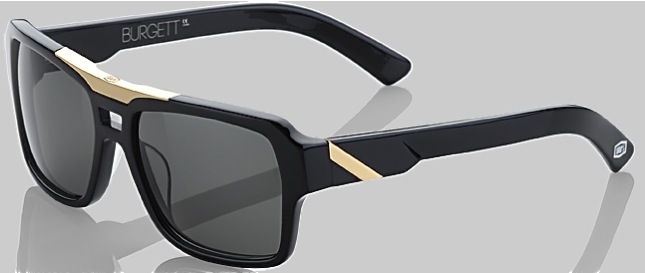 Burgett.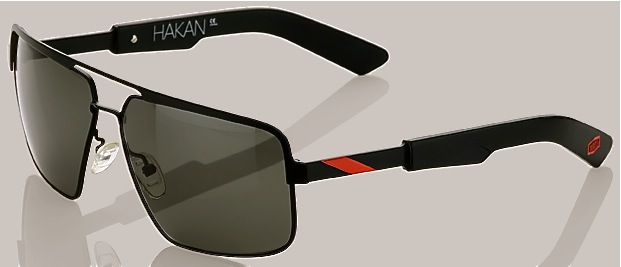 Hakan.


Heikki.
For more info go to www.ride100percent.com
        ALL-NEW ARENACROSS FORMAT FOR 2013: TWO MAINS, INVERTED STARTS & A RACE TO THE CHAMPIONSHIPS SHOWDOWN


Feld Motor Sports has revealed a variety of unique and exciting format changes that are set to make the 2013 Amsoil Arenacross series more unpredictable than ever.
(1) An entirely new championship points structure will be introduced, deviating from the traditional points system, Amsoil Arenacross competitors in all classes will now compete on a single point system. Championship points will be awarded in one-point increments with a main event winner earning 16 points and reducing per position through the remainder of the field.
(2) Another new and non-traditional format change will be the introduction of two 12-lap Main Events, each paying separate championship points. Gate selection for main event 1 will be determined by a riders' heat race results. For main event 2, gate selection will be based off the finishing order from the first main event, but also presents a unique and exciting twist. A random drawing following the first main event will determine whether zero, eight, or 16 competitors will invert their gate selections.
(3) The Amsoil Arenacross will also showcase head-to-head bracket racing for the first time ever in 2013. The top four finishers from the Arenacross Class Heat Races will have an opportunity to compete for an extremely valuable championship point. These top finishers will be placed into an eight-rider bracket, using individual lap times to determine seeding. Riders will then be eliminated via two-lap head-to-head matchups until only one man is left standing.
(4) The most significant change is the inaugural Race to the Championship that will be introduced in 2013. The stage will be set through the first six rounds of the season. Then the top 10 Arenacross Class point standings position will begin at the seventh round to race for the title. The current points leader at the conclusion of the sixth round will earn the top seed in the Race to the Championship.
        THE "CHAD REED REPLICA" PRO CIRCUIT T-5 & TI-5 ARE READY TO SHIP



        THIS WEEK'S BIRTHDAY BOYS…THE PARTY MIGHT NOT BE TOO WILD AT FATHER BAZ'S HOUSE


Nov. 9…Paul Boudreau
Nov. 10…Pat Lio
Nov. 10…Cooper Webb
Nov. 11…Richie Owens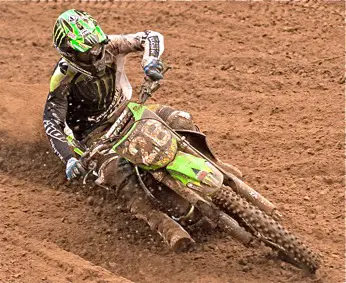 Nov. 12…Tyla Rattray
Nov. 12…Paul Currie


Nov. 13…Evgeny Bobryshev
Nov. 14…Clark Stiles
Nov. 14…Shaun Palmer


Nov. 14…Eli Tomac
Nov. 14…J.C. Waterhouse    
Nov. 14…Dustin Nelson


Nov. 15…Kurt Nicoll
        WHAT'S LEFT IN THE 2012 RACING SEASON? HOW ABOUT PARIS, QUEENSLAND, VEGAS & DAY IN THE DIRT

2012 PARIS SUPERCROSS
    November 9-11……………………Paris, France
2012 AUSTRALIAN SUPERCROSS CHAMPIONSHIP
    November 17………………………Newcastle, NSW
AMA ENDUROCROSS CHAMPIONSHIP
    November 17………………………..Las Vegas, NV
WINTER OLYMPICS
    November 19-24………………….Gatorback, FL
DAY IN THE DIRT
    November 23-25………………….Glen Helen, CA
2013 LORETTA LYNN AMATEUR CHAMPIONSHIP
    July 29-Aug. 3, 2013………………….Hurricane Mills, TN
2013 AMA SUPERCROSS SCHEDULE
    January 5……………………………Anaheim, CA
    January 12………………………….Phoenix, AZ
    January 19………………………….Los Angeles, CA
    January 26………………………….Oakland, CA
    February 2…………………………..Anaheim, CA
    February 9…………………………..San Diego, CA
    February 16………………………….Arlington, TX
    February 23………………………….Atlanta, GA
    March 2……………………………….St. Louis, MO
    March 9……………………………….Daytona, FL
    March 16……………………………..Indianapolis, IN
    March 23……………………………..Toronto, Can
    April 6………………………………….Houston, TX
    April 13………………………………..Minneapolis, MN
    April 20………………………………..Seattle, WA
    April 27………………………………..Salt Lake City, UT
    May 4…………………………………..Las Vegas, NV
2013 250/450 WORLD MOTOCROSS CHAMPIONSHIP SCHEDULE
    March 2………………………………..Qatar
    March 10………………………………Thailand
    April 1…………………………………..Holland
    April 14…………………………………Italy
    April 21…………………………………TBA
    May 5…………………………………..Portugal
    May 19…………………………………Brazil
    May 26…………………………………Mexico
    June 9………………………………….France
    June 16………………………………..Italy
    June 30………………………………..Sweden
    July 7……………………………………Latvia
    July 14………………………………….Russia
    July 28…………………………………Germany
    August 4……………………………….Czech Republic
    August 18……………………………..Belgium
    August 25……………………………..Great Britain
    September 8………………………….TBA    
2013 MOTOCROSS DES NATIONS    
    September 29………………………..Teutschenthal, Germany
        IS HIGHLAND BACK…AGAIN? LET'S HOPE THEY MAKE IT THIS TIME


Highland engines.
The start-up Highland Motorcycle Company has been on an off again…and was built from the remains of the original Swedish branch. The Tulsa company failed after  founder Mats Malmberg and two top executives died in a 2010 plane crash. According to sources, Highland is ready to start up production again. This time with a bike called the "Street Tracker" (claimed to be available in January 2013). Highland originally wanted to build 450cc dirt bikes for motocross, dual sport and enduro use. They even had a quad planned. Now Highland is billing themselves as an engine manufacturer with singles and twins offered for sale. Go to www.ushighland.com to delve further into the details.
        PHOTO OF THE WEEK: PRINCE CHARLES ON A HARLEY


No, he didn't ride it, but he did sit on it for a charity event. Photo: Daily Mirror 
        KTM RECALLS ALL OF ITS 250, 350 & 450 EXC AND XC FOR A FUEL LINE FIX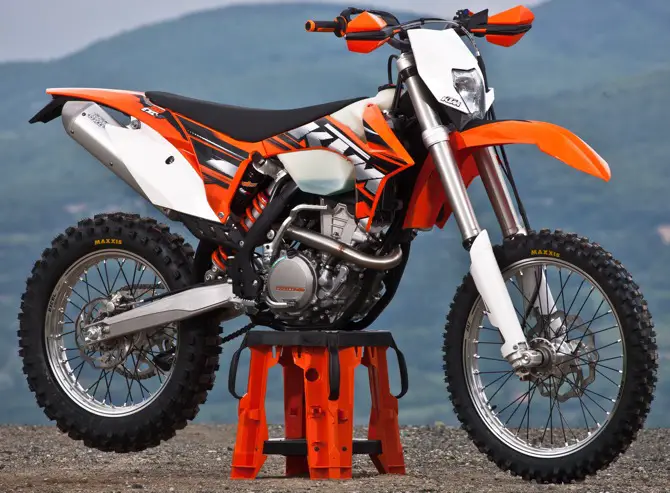 2013 KTM 350EXC-F.

KTM has commenced the recall of around 7000 motorcycles on specific models listed below with EFI (Electronic Fuel Injection) of the model year 2012/2013 because of a possible leak in the fuel hose due to a manufacturing process defect on the part of the supplier. To date there have been no reported incidents with regard to this recall.  A problem which may occur in the supplier's manufacturing process can lead to a fuel leak in the bends or the ends of the affected fuel hose. Because of this possible process defect, KTM is exchanging the molded fuel hose on all of the affected models.  
 
Customers who have taken delivery of motorcycles affected by this situation are being personally informed in writing. In addition, there is also the opportunity to check online if the motorcycle in question is affected by the recall action. The recall information is available in the "Service" area of www.ktm.com and can be seen by entering the complete (17 digit) chassis number and the motorcycle's delivery certificate number, which is located on the upper right corner of the delivery certificate. The replacement of the fuel line is to be exclusively carried out by specially trained, authorized official KTM dealers. It takes about 30 minute and is naturally guaranteed and free of charge.
The affected American models are:
    2012 KTM 350EXC-F
    2012 KTM 350XCF-W
    2012 KTM 450EXC
    2012 KTM 500EXC
    2013 KTM 250XCF
    2013 KTM 250XCF-W
    2013 KTM 350EXC-F
    2013 KTM 350XCF-W
    2013 KTM 350XC-F USA
    2013 KTM 450EXC
    2013 KTM 450XC-W
    2013 KTM 450XC-F
    2013 KTM 500EXC
    2013 KTM 500XC-W
        GOT FOUR MINUTES? SEE THE COMPLETE 2012 AMA NATIONALS IN LESS TIME THAT IT TAKES TO PUT GAS IN YOUR BIKE