MOTOCROSS GRAND PRIX OF THAILAND: RINSE AND REPEAT – THAILAND REPLICATES QATAR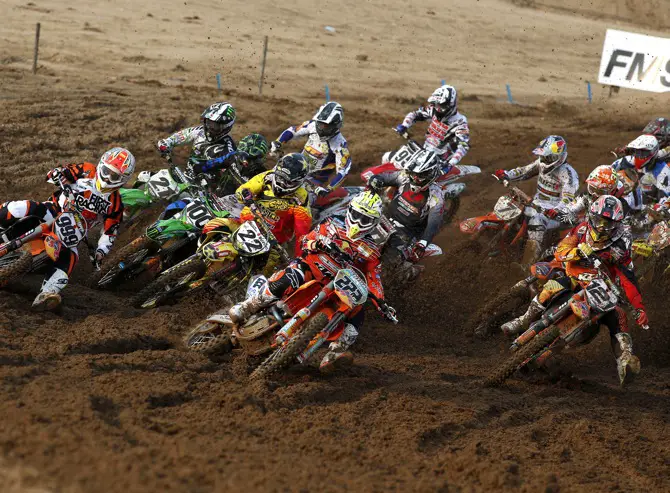 That's all she wrote. Cairoli (222) gets the holeshot and the fans head to the concession stand for a beer. Ray Archer
Tony Cairoli (450) and Jeffrey Herlings (25) won both motos of their respective classes (although there were only three motos) to win the Thai Motocross GP. After winning their first motos, the two classes were combined into the 250/450 Super Final, which was won by Tony Cairoli in front of Gautier Paulin and Clement Desalle. Jefrey Herlings was the first 250 rider in fourth. He was also the only 250 rider in the top ten against the 450 riders. All in all, only six 250 riders made the top 20. The Super Final format will not be used again this year until Mexico and Brazil ? and most of the riders and teams are happy to return to the regular two-moto per class format at the next race. For all practical purposes the grand experiment of the Super Final is not workig (no matter how much spin is put on it. It should never be adopted for all the GPs in the future. It was only put in to the overseas races because there are barely enough riders making the treks to fill the gates (so, combining the two classes avoids the embarassment of half-full gates, for at least one of the three motos). No outside company will sponsor a 250 team that finishes 14th overall in the high-profile combined moto (yet claims to be third in their class). Why not? There is no return on investment to being a back marker…and the two Super Finals so far prove that only Jeffrey Herlings can run with the 450s (and he gets all the publicity anyway). Following the GPs of Qatar and Thailand, the factory teams now return to Europe where action will resume on the Easter weekend in Valkenswaard, Netherlands, a track where Herlings and Cairoli are known to excel in its soft sand.
GAUTIER PAULIN'S PASS ON CLEMENT DESALLE FOR SECOND IN THE SUPER FINAL

Tony Cairoli said, "It was a good weekend for me and I was happy to take both races today. It was a difficult race for everyone because of the heat, but you have to manage your energy and know your body, especially for the second motos when you start to get tired. The second race was better for me because the track wasn't so bumpy and the best part of the weekend is that we got the red plates."
Jeffrey Herlings said, "I had two good starts and I showed after the first race that I am the man to beat this year in MX2. I almost got a podium in the Super Final and I hope that's going to happen this year. I'll be working towards that."
Clement Desalle said, "To be on the podium again is oaky. Luckily I leave this GP without much pain. I was scrubbing and caught my foot on the ground. My body was not going the same speed as my bike and I ended up like Superman. It was a really big crash but I was able to get up and finish the moto. I had a scratch and some stitches but was happy that I didn't have an injury. The medical staff did a great job and it's nice to know we have that kind of good facility right next to the track. The track itself was too new, but I enjoyed the end of the first moto and also the second because more lines came up."
Kevin Strijbos said, "A very bad weekend I think. My speed was okay, but I didn't feel good on the track during both days. I had a good start in the first moto but struggled to find my rhythm and many riders passed me. I dropped from fifth to 12th and then fought back to seventh, so at least I recovered a little bit. I missed the start completely in the second race and was far behind. It was sketchy with the 250s in the Super Final. Last week I had a good start and it seemed okay but this time inside the pack I thought it was crazy. I did okay but it was difficult to pass. To come home 10th in MX1 is bad and I think I have to forget this GP, go home, rest and work towards Valkenswaard."
Evgeny Bobrysheve said, "In the first race I had such a good start, and came to the inside with Tony. After half a lap he made a little mistake, so I passed him and I was feeling good with the track, while finding some nice lines. I pulled away a little, but I made a mistake, as I hit a rock in the track, which made me lose the front. The crash broke my rhythm, but I was still in third and everything was going fine, with a good speed. In the last few laps I felt so hot, which made it really hard to concentrate. I knew Desalle was coming, so I tried to increase the speed a bit, but that was a mistake. My body was tired, and I didn't listen like I normally do. I tried too hard and gave everything I had left, so when I hit an impact on the front in the last few laps, I had no power left, and I felt really dazed. I went into a corner and ran on, stalling the bike . I was so hot and trying to kick the bike, but by the time I managed to get going, I was a long way back. I was completely empty after the race and feeling a little confused with being so hot."
 

Joel Roelants said, "The plan to was to get every point that I could in the first two GPs. In Qatar I finished 15th and 12th and here was 10th and 7th so I think things are going upwards and I'm happy about that. I know I have to give myself a bit more time. We have three weeks before Valkenswaard and I will make some good progress physically. I think I'm around 75% now, so to take seventh place is OK. If I'm fitter, then I know I can do better."
Steven Frossard said, "My weekend was not good and I didn't feel so well. I've been sick and couldn't ride like I wanted. Add to that two bad starts and it was a difficult day. The heat is hard enough to deal with when you're 100% but when you're ill it is a real struggle to make good results. I will do everything to be ready for the next GP."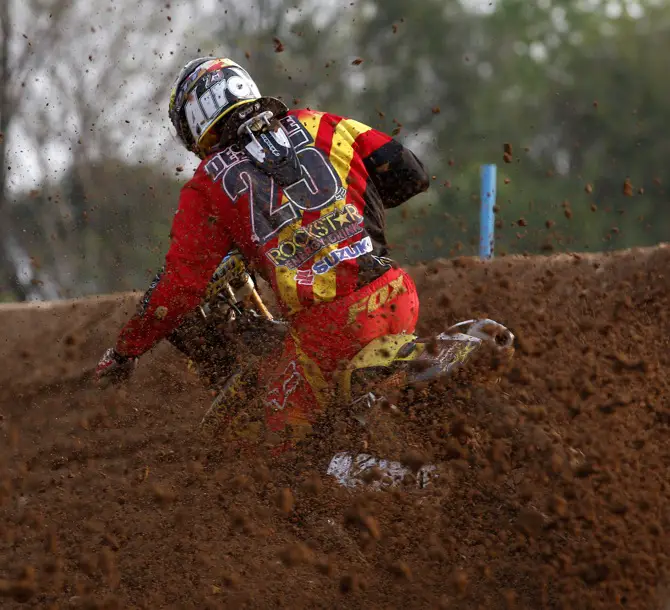 Clement Desalle won last week and finished third this week. Clement is eight points adrift of Cairoli.
RESULTS: GP OF THAILAND
250/450 SUPER FINAL RESULTS
1. Tony Cairoli
2. Gautier Paulin
3. Clement Desalle
4. Jeffrey Herlings (250)
5. Tommy Searle
6. Rui Goncalves
7. Xavier Boog
8. Joel Roelants
9. Steven Frossard
10. Ken De Dycker
11. Romain Febvre (250)
12. Kevin Strijbos
13. Evgeny Bobryshev
14. Christophe Charlier (250
15. Tanel Leok
16. Davide Guarneri
17. Alessandro Lupino (250)
18. Jose Butron (250)
19. Dean Ferris (250)
20. David Philippaerts

Kevin Strijbos had an uneventful trip to Thailand. He finished 9th in the 450 class and 12th in the Super Final.
450 CLASS OVERALL RESULTS
1. Tony Cairoli
2. Gautier Paulin
3. Clement Desalle
4. Tommy Searle
5. Ken De Dycker
6. Rui Goncalves
7. Joel Roelants
8. Steven Frossard
9. Kevin Strijbos
10. Xavier Boog

Jeffrey Herlings already has an 18 point lead in the 250 title chase after two races. Ray Archer
250 CLASS OVERALL RESULTS
1. Jeffrey Herlings
2. Romain Febvre
3. Jose Butron
4. Christophe Charlier
5. Alessandro Lupino
6. Dean Ferris
7. Glenn Coldenhoff
8. Jordi Tixier
9. Max Anstie
10. Julien Lieber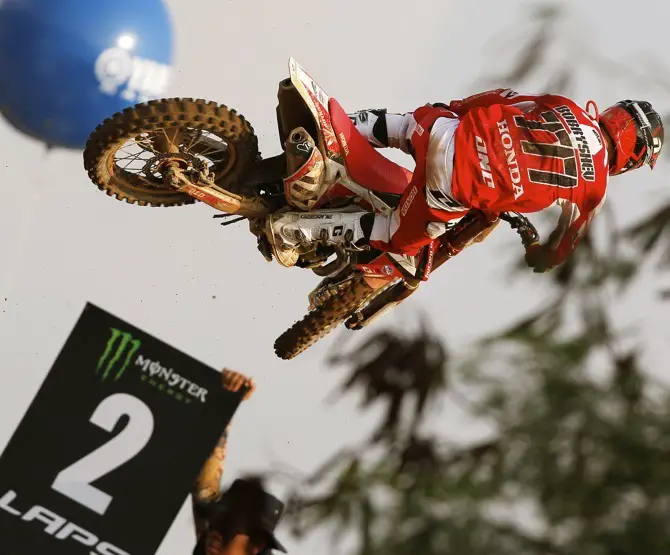 Bobryshev was all that the Honda World team had after Max Nagl got sick, but the Russian couldn't handle the heat. Evgeny is now eighth in points and an alarming 48 point back after only two races.
450 WORLD CHAMPIONSHIP STANDINGS
(After 2 of 18 races)
1. Cairoli………….95
2. Desalle………...87
3. Paulin…………..78
4. De Dycker…….70
5. Searle…………..64
6. Strijbos…………55
7. Goncalves…….52
8. Bobryshev……..47
9. Frossard………..47
10. Boog……………41

Jordi Tixier was ninth in the 250 class and is seventh in the points. Ray Archer
250 WORLD CHAMPIONSHIP STANDINGS
(After 2 of 18 races)
1. Herlings……..100
2. Febvre…………82
3. Ferris…………..69
4. Charlier………..65
5. Coldenhoff……63
6. Butron………….60
7. Tixier……………57
8. Lupino………….56
9. Lieber…………..47
10. Nicholls………26