MOTOCROSS INDUSTRY NEWS, PRESS RELEASES & HAPPENINGS
CHUCK SUN RACING IN CHINA
Chuck is in China. We hope nobody speaks Chinese to the American born racer with a Chinese surname.
Hey Jody,
I'm in China racing the Chinese Xinfeng Enduro. Placed second today in Endurocross format to determine start position of three-day race this weekend. Keep ya posted!
Chuck
SPANOS BARBER JESSE & CO. INVESTS IN TROY LEE DESIGNS & ANNOUNCE DAVE BERTRAM AS CEO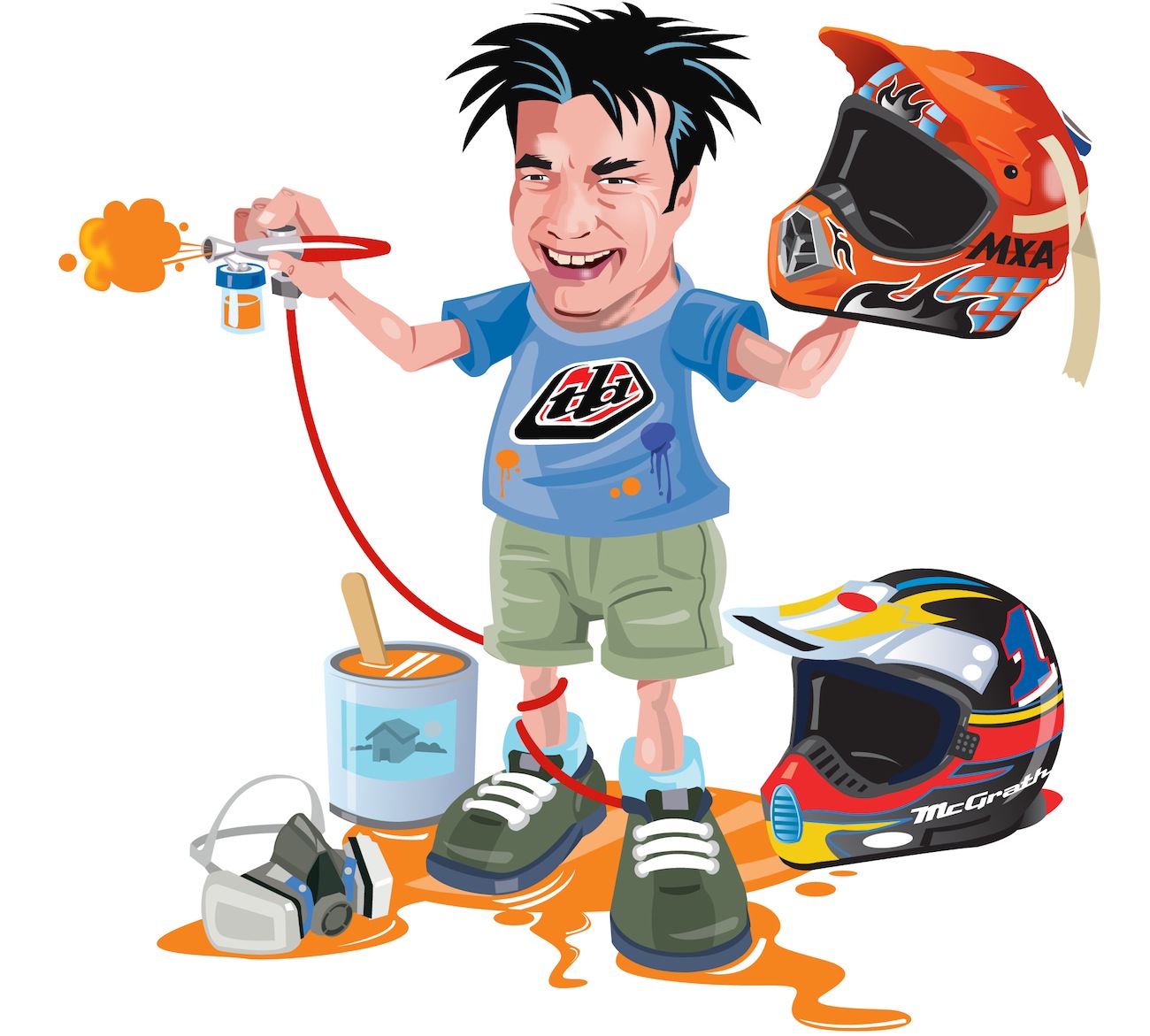 Press release: Spanos Barber Jesse & Co., a private investment firm with offices in the San Francisco Bay Area and Dallas, announced that it has completed an investment in Troy Lee Designs, a leading provider of off-road motorcycling and mountain biking gear and apparel based in Corona, California. Founder, Chairman and Chief Design Officer, Troy Lee, has retained a significant ownership stake in the company and continues to lead TLD's design efforts.
"It is a privilege to partner with Troy and to be entrusted with helping him realize his vision for growing the company," said Tom Barber, Managing Director at SBJ.  "Troy is a design legend and has built a truly exceptional brand, having earned the trust and respect of the best racers in the world as well as racing enthusiasts for over 30 years.  We look forward to working with Troy to protect and build on that legacy."
In addition, TLD has named Dave Bertram as Chief Executive Officer.  Dave previously served as Founding Chairman and Chief Executive Officer at Cycle Gear, the largest multi-channel retailer of apparel, parts and accessories for motorcycles and all-terrain vehicles in the U.S.  Under his leadership, Cycle Gear grew from a local retailer with three locations to a national chain with 112 stores in 34 states.  Dave also enjoyed a 10-year career as a professional motorcycle racer where he won two National Titles, five International Gold Medals and 10 state championships.  "I have always admired Troy and the TLD brand," said Dave. "I'm thrilled to partner with Troy and SBJ as we work to unlock the brand's full potential while remaining true to its heritage."
DAN FITCH ON MOOSE'S 30TH ANNIVERSARY HUSKY FC450 BIKE BUILD
2017 CANADIAN NATIONALS RACE SCHEDULE
Press release: Stallybrass Promotions Inc. is pleased to announce the series schedule for the 25th Anniversary of the CMRC-sanctioned 2017 Rockstar Energy Drink Motocross Nationals presented by Motovan. Coming off the most successful year of racing in the two featured classes, with record breaking attendance and a line-up of world class pro motocross athletes that was second to none, the 2017 is promising to take yet another step forward.
Positive changes were made to the schedule in '16 that resulted in a dramatic increase in series attendance. To continue with the theme of positive change, the second round of the series will now be held at the Blackwater MX Track in Prince George, British Columbia. Prince George is the largest market in Northern BC that is packed with off-road motorcycle and motorsport racing enthusiasts. The Blackwater track, located less than 15 minutes from the city, is a natural terrain track laid out on the side of a mountain with an excellent view for spectators of the entire track.
Mark the dates on your calendar! The 2017 Rockstar Energy Drink Motocross Nationals will feature a summer full of the most intense motocross racing you will ever experience live. For more details, visit www.mxnationals.ca.
2017 ROCKSTAR ENERGY DRINK CANADIAN CHAMPIONSHIP
June 4……………………Whispering Pines, BC
June 11………………….Blackwater, BC
June 18………………….Wild Rose, AB
June 25………………….Moto Valley, SK
July 9…………………….Gopher Dunes, ON
July 16…………………..Ulverton, QC
July 23…………………..Pleasant Valley, NS
July 30…………………..Riverglade, NB
Aug. 6…………………….Deschambault, QC
Aug. 13………………….RJ Motosport, ON
PRO CIRCUIT'S 12 DAYS OF CHRISTMAS SALE STARTS TODAY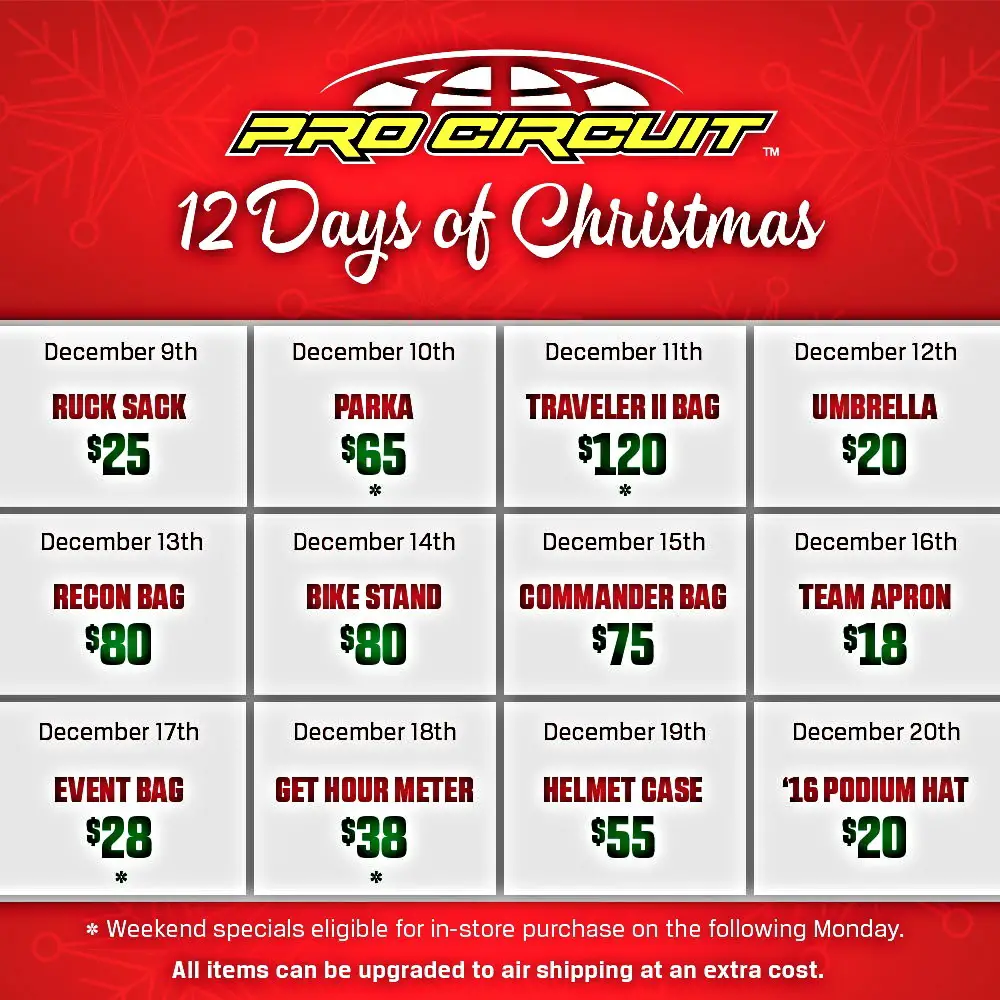 For more info go to www.procircuit.com
AMA APPOINTS KEVIN CROWTHER AS DIRECTOR OF RACING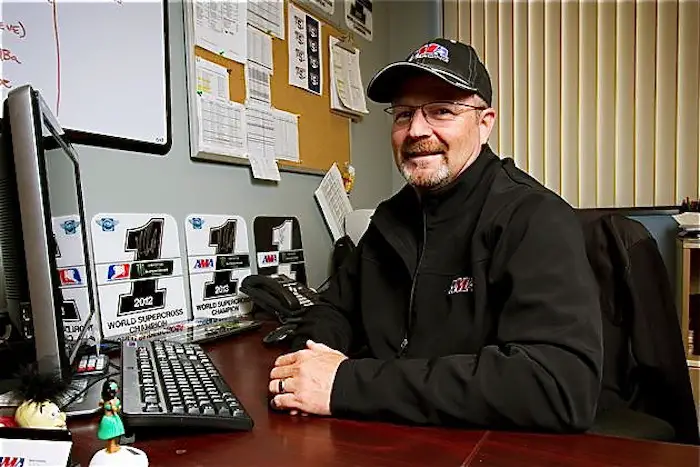 Press release: The American Motorcyclist Association has appointed Kevin Crowther as the association's director of racing. Crowther, who vacates the position of director of Supercross and pro racing relations, will oversee all AMA amateur and professional competition operations, including maintaining his management responsibilities with respect to AMA Supercross. In addition to serving as director of Supercross and pro racing relations, Crowther has been the AMA's director of technical development and the chief technical inspector for the AMA Superbike Championship Series. By virtue of his positions with the AMA, the U.S. affiliate of the Fédération Internationale de Motocyclisme, Crowther also has served in various roles for World Superbike, MotoGP, MXGP and the Motocross of Nations.
Crowther replaces outgoing AMA Director of Racing Bill Cumbow, who has held the position since 2014. Cumbow, who will maintain an advisory role with respect to day-to-day operations, has been a key member of the AMA racing staff since 2006 and was instrumental in the 2014 effort to shepherd the promoting responsibilities for the AMA Superbike Championship to MotoAmerica. Cumbow will continue his AMA responsibilities with respect to MotoAmerica and the FIM.

"Since Christmas morning in 1971 when I found a 1971 Yamaha Mini Enduro under the tree, motorcycles have always been a big part of my life, and I'm excited to continue that journey in this new role," Crowther said. "I will put forward all of my experience to guide the AMA's racing department into the future. We have a strong, efficient and experienced racing staff, and we will work hard with our promoting and operational partners to continue to better serve our racing members across all disciplines, from trails to Supercross." For more info go to www.americanmotorcyclist.com.
HOW TO SUBSCRIBE & GET MXA FOR FREE: WE ACTUALLY PAY YOU $9.00
Interested in getting a new bike this year? The January 2017 issue of MXA is on the news stands now and includes the long-awaited 2017 MXA 250 Shootout. You should be reading MXA, and if you subscribe now you get a $25 gift certificate from Rocky Mountain ATV/MC which more than pays for your subscription.
Do you subscribe to MXA? You should. We know that you think that print magazines are dead and that the internet will fill the void, but most of the stuff in the current issue of MXA won't appear on the web for several months, if at all. Luckily, you can get all of MXA on your iPhone, iPad, Kindle or Android by going to the Apple Store, Amazon or Google Play. Better yet get the Digital desktop version at https://hi-torque.com/product/motocross-action-digital-edition/ for $9.99 a year.
The MXA test riders prefer the print version and not just because it is delivered by a uniformed employee of the U.S. Government, but because right now you can get 12 issues for $15.95 and a free $25 Gift Card from Rocky Mountain ATV/MC. That means that there is a profit to be made in this deal for you. For the Print magazine go to: https://hi-torque.com/product/motocross-action/
FINAL REM RACE OF 2016 ON DEC. 17
The longest motocross series in the world, one that started 11 months ago and doesn't culminate until December 17, Glen Helen's 40-race long REM series is down to the final race on December 17, 2016. For more info about REM Motocross go to www.remsatmx.com.
KURT CASELLI RIDE DAY TODAY AT GLEN HELEN
The 4th Annual Kurt Caselli Memorial Ride Day presented by Rocky Mountain MC/ATV IS Saturday, December 10th, 2016. Join the Kurt Caselli Foundation for a great time with family and friends. Festivities include: Glen Helen National Track, Caselli Team Challenge race, Off-Road Loop With Timed Special Test, Kids Only Practice On The Main Track, Pee-Wee Track, Great Raffle Prizes & Give Away's and Live Auction. For more info go to www.kurtcaselli.com.
2017 MTA WORLD TWO-STROKE CHAMPIONSHIP AT GLEN HELEN ON APRIL 15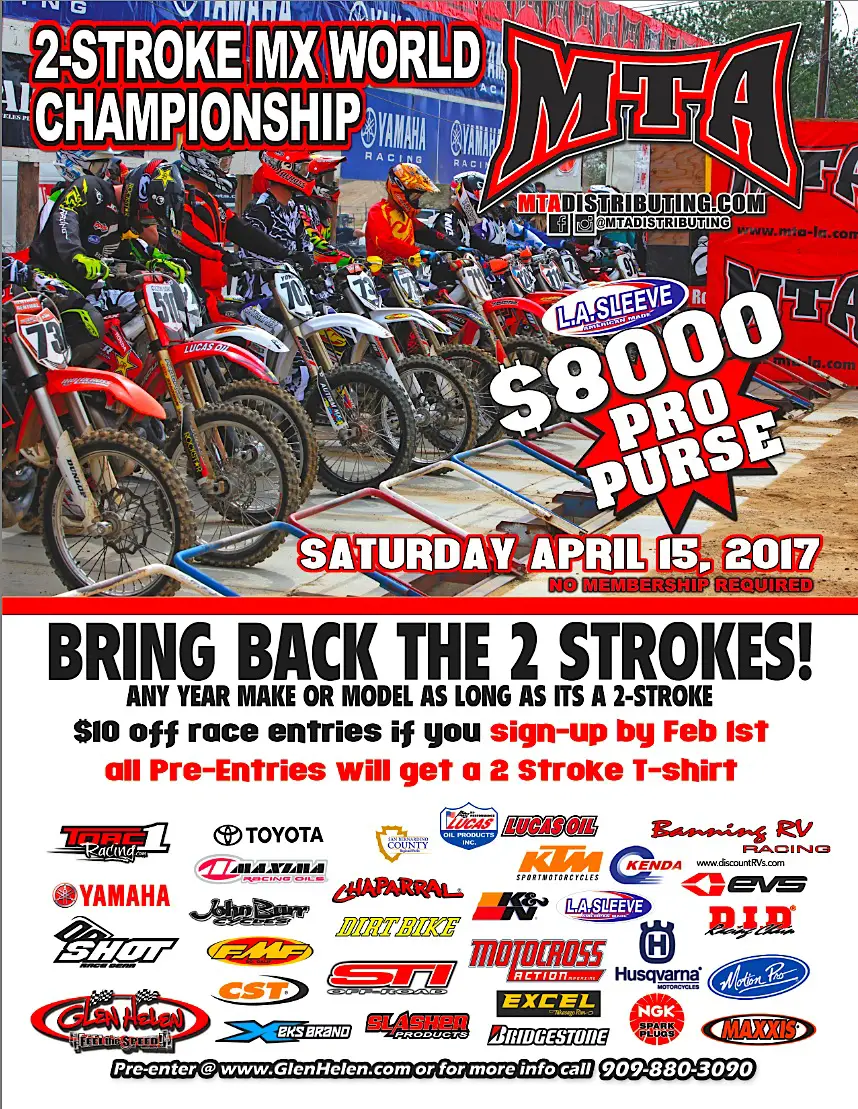 For more info go to www.glenhelen.com.
PRO CIRCUIT KTM 350SXF/450SXF ALUMINUM THROTTLE TUBE
The Pro Circuit throttle tube is CNC-machined from aircraft-quality aluminum, which is much stronger than the OEM plastic material. Pro Circuit also ensures a smooth twist by reducing friction with a Teflon coating on each throttle tube. Slide a Pro Circuit throttle tube on your new KTM and experience the buttery throttle twist for yourself. The retail price is $69.95 at www.procircuit.com.