MOTOCROSS INSIDER: THAT WAS THE WEEK THAT WAS
FLY FORMULA HELMET
Fly Racing introduced their all-new Formula helmet this past week. It has Conehead technology to dissipates impact forces more effectively than traditional EPS helmet liners, a lightweight 12K carbon fiber shell with 12,000 carbon filaments per band, Fly's own proprietary Visor Control Release System that allows the visor to release under certain types of impacts, True Functional Ventilation allows the air to come in through multiple air intake vents and then sucks through multiple exhaust vents, seven strategically-placed maze-like cells in the EPS liner that compress during a linear impact or shear during a rotational impact.
These energy cells are made of RHEON, an "active" strain-rate sensitive material that efficiently absorbs and dissipates energy as it deforms.
SAN DIEGO LIME-GATE
After the rainy San Diego Supercross riders began to notice chemical burns on their arms, chest and backs (dermatitis) from the San Diego dirt, which had been mixed with lime to help dry it out. Meanwhile the mechanics discovered when the tried to clean their bikes that the aluminum parts were corroded from the effects of the lime. The damage to both bikes and bodies was unacceptable, and both the AMA and Feld were immediately on damage control (not bike or body damage, but their reputation). Here is what Feld said about the use of a caustic chemical on the race track: "Prior to the qualifying rounds and main events, they removed the protective tarp and applied a drying agent, a lime and sand mixture, to treat two areas on the track to try and remove moisture from the dirt. This process has been used safely for decades at Supercross to dry dirt and thereby reduce the risk of accidents for the riders. It appears that the unprecedented amount of rain on Saturday prevented the lime from mixing with the soil as usual. This resulted in splashing of the riders and their bikes, which may have caused skin irritation to some riders and damage to their bikes."
HUNTER LAWRENCE TO SIT OUT PART OF 250 EAST SERIES
One of the high-profile signings for this year was Hunter Lawrence. The you Australin rider had made a name forhimself in the 250 Grand Prix series, but always planned to come to America. Geico Honda signed him to a long-term deal to race the 2019 AMA 250 East Supercross series and 250 Nationals. Unfortunately, Hunter won't be racing at Minneapolis after hurting his previously broken collarbone practicing. He will miss a few rounds, if all goes well, but should be healthy by the Nationals.
JUSTIN HILL TO SIT OUT MINNEAPOLIS SUPERCROSS WITH RIB INJURIES

Justin Hill crashed in San Diego and went to the hospital that night out of concern that he might have a punctured lung. That proved to be false, but he did suffer serious enough rib injuries that he will not take part in Saturday night's 450 Supercross in Minneapolis. Justin is current 16th in 450 AMA points and 67 points out of first place
IS DEAN WILSON THE SMARTEST PRIVATEER IN SUPERCROSS?
After having knee surgery last year, Dean Wilson didn't get a factory ride for the 2019 Supercross season. No surprise, he didn't get a factory ride a couple years ago after having double knee surgery. But Dean never gives up, back in 2017 he got a Yamaha YZ450F and started the 450 Supercross season as a privateer. Within four races, he got a fill-in ride at Rockstar Husqvarna. This year, Dean was without a ride again. But he didn't stay at home. He got a bike from Rockstar Husqvarna, but without any money or transportation and went racing. Surprise! After five races he got promoted to the factory Husqvarna team to replace the injured Jason Anderson. Dean proves that the best way to get a factory fill-in ride is to race. Dean said,"I am really excited to be back with the Rockstar Energy Husqvarna team. They have been a great help with my privateer effort. I am looking forward to putting in good results and making everyone proud."
MXA FASHION STATEMENT: PRO CIRCUIT STRIKE BACKPACK
The Strike Backpack is manufactured by Ogio and has over 10 storage compartments for your school supplies, laptop, iPad, or even an extra set of clothing. Bold new graphics have been created for the new bag and iconic team logos come embroidered for a nice finishing touch. The Strike Backpack has a padded interior laptop compartment, two zippered external side pockets, lLarge front zippered slash pocket, fleece-lined electronics pocket, internal mesh pocket with deluxe organizer, mesh back panel for ventilation and ergonomic shoulder straps with sternum strap. The retail price is $74.95 at www.procircuit.com or call (951) 738-8050.
2019 MINNEAPOLIS SUPERCROSS TRACK MAP: IT'S GOT A ROOF

JEFFREY HERLINGS…IF, IF, IF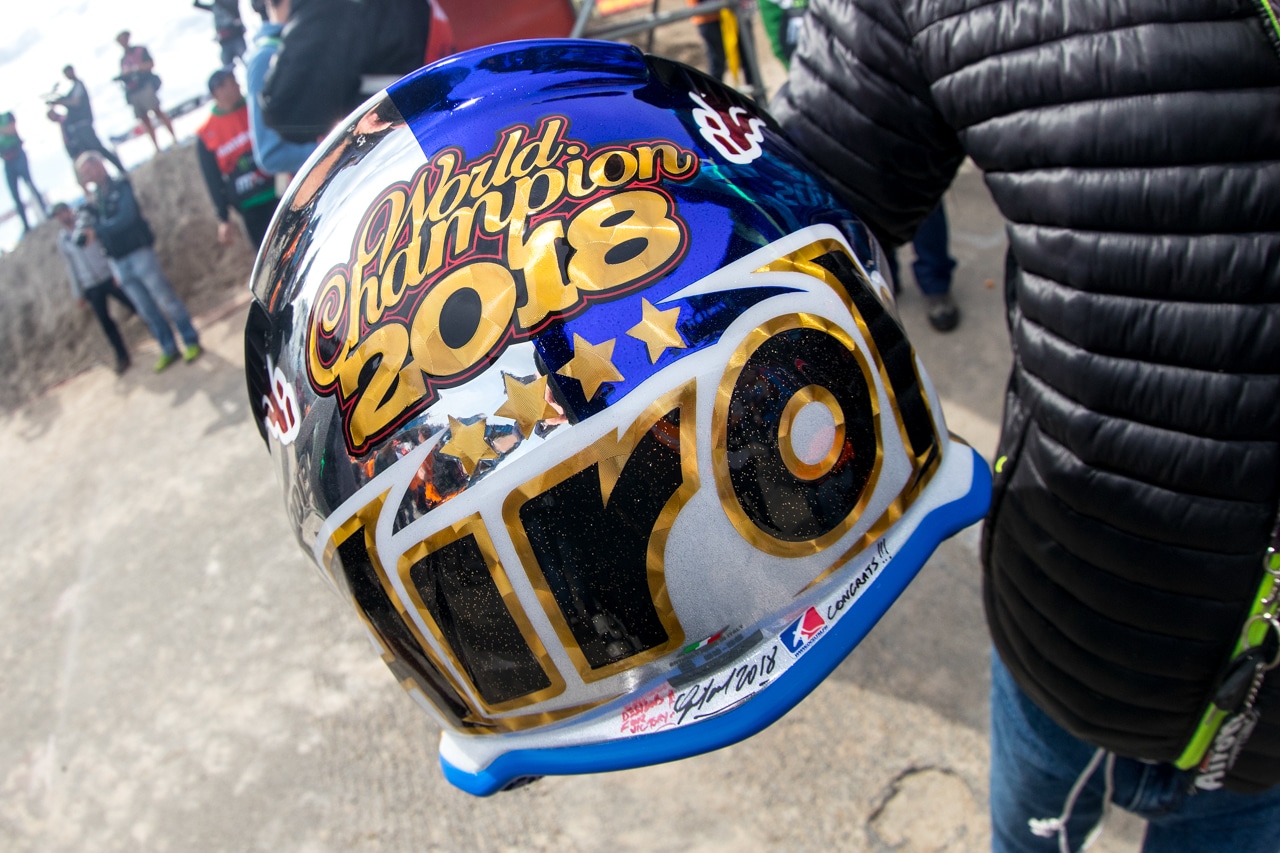 Jeffrey Herlings broke his foot just five weeks before the 450 World Championships are scheduled to start in Argentina. According to KTM, Jeffrey will not be healthy enough to race in Argentina—and will miss the start of his 450 World Championship title defense. But, don't forget that he started the 2018 season injured, missed a race and came back to win the World Championship by over 50 points. Now that he's injured again, and his doctors are unsure of how many races he will miss, Jeffrey has been drumming up interest on the internet of him switching from the MXGP series to the AMA Nationals (which start 11 weeks after the March 3rd Argentinian GP). That is a long shot. Jeffrey will not be coming to the America unless he misses the first four GP races (Argentina, England, Holland, Italy). KTM thinks that he could make up that many points and defend his crown.
WISECO & FASTHOUSE TO SPONSOR THE 2019 WORLD TWO-STROKE CHAMPIONSHIPS ON APRIL 20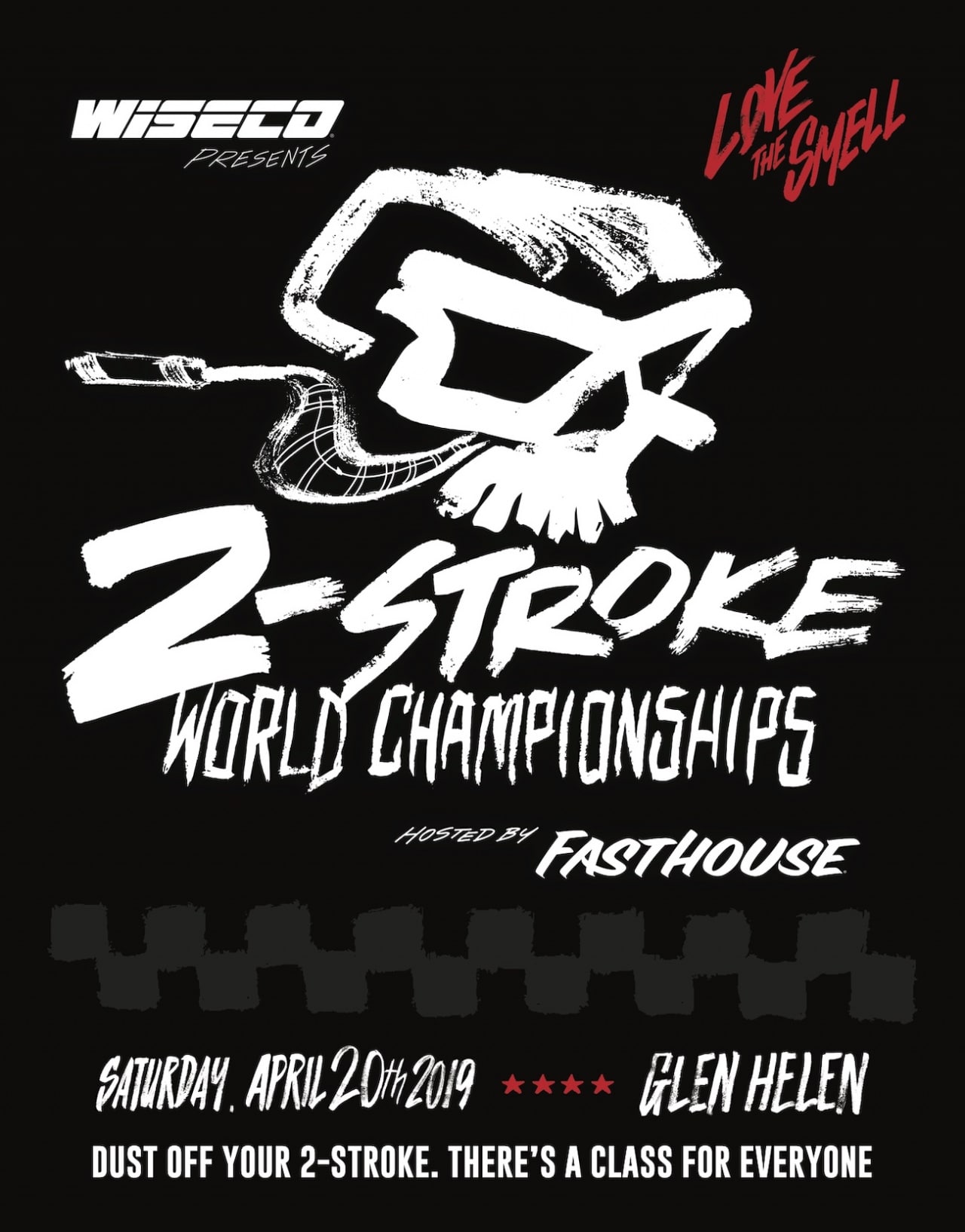 This is a sponsorship deal that makes a lot of sense for both Wiseco and Fasthouse. Wiseco is one of the most famous piston manufacturers in the world and made their bones building two-stroke piston kits. For them, and their product line, the World Two-Stroke Championship is a natural fit. In the case of associate sponsor Fasthouse, they have been supporters of the two-stroke race for years—sending teams led by Sean Collier and other riders every year. This tie-in makes sense as the World Two-Stroke Championship not only draws a big crowd of racers, but gets lots of internet and magazine coverage. For more info go to www.glen helen.com.
ZACH IS BACK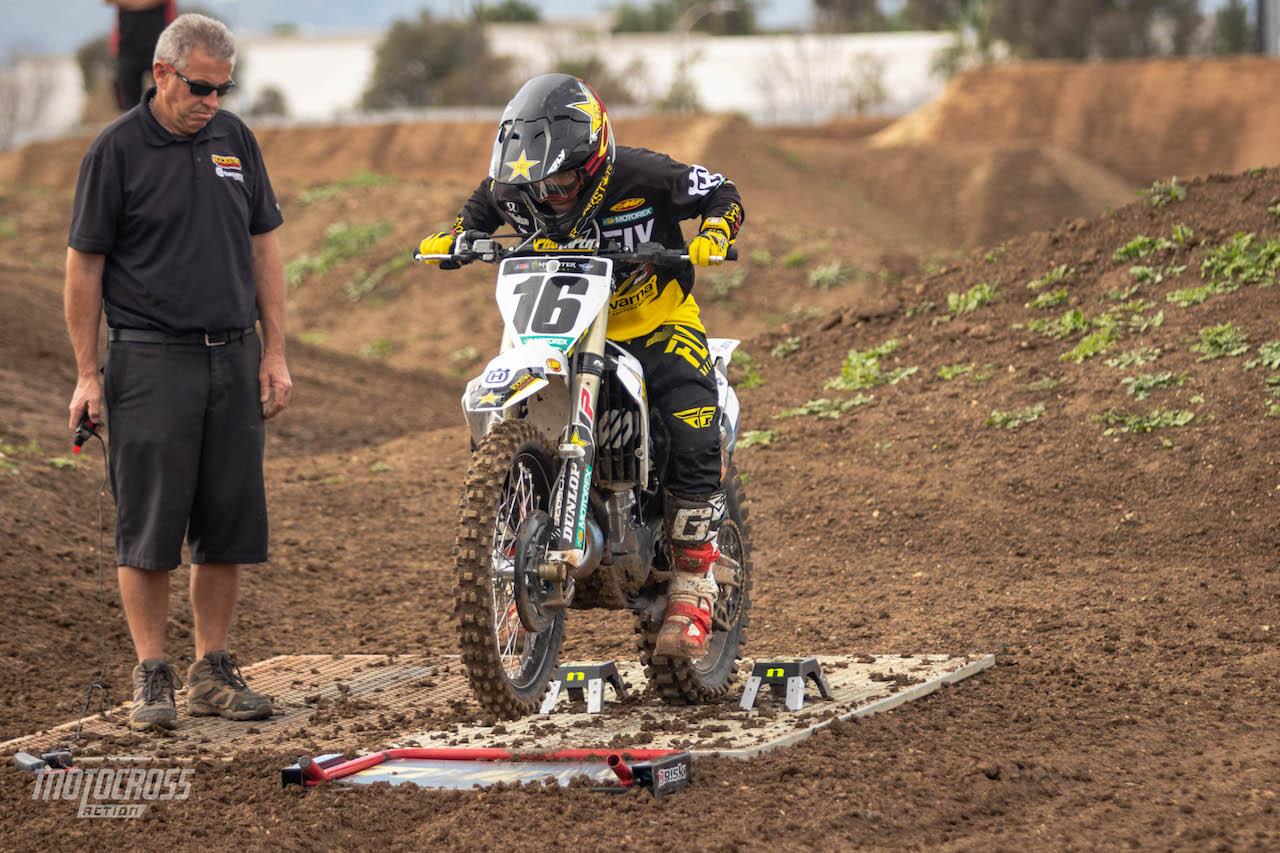 Zach Osborne, the two-time 250 East Supercross Champion and one-time 250 National Motocross Champion will be at Minneapolis this weekend for his AMA 450 Supercross debut. Before the 2019 season started Zach crashed and broke his collarbone. Zach had surgery on January 4th to remove the old plate and six screws and put in new ones.  Zach Osborne said: "It feels great to be back on the bike and operating at 100%! I'm really happy with where I'm at and I look forward to being on the gate in Minneapolis!"
WHAT'S INSIDE THE NEW MOTOCROSS ACTION MAGAZINE?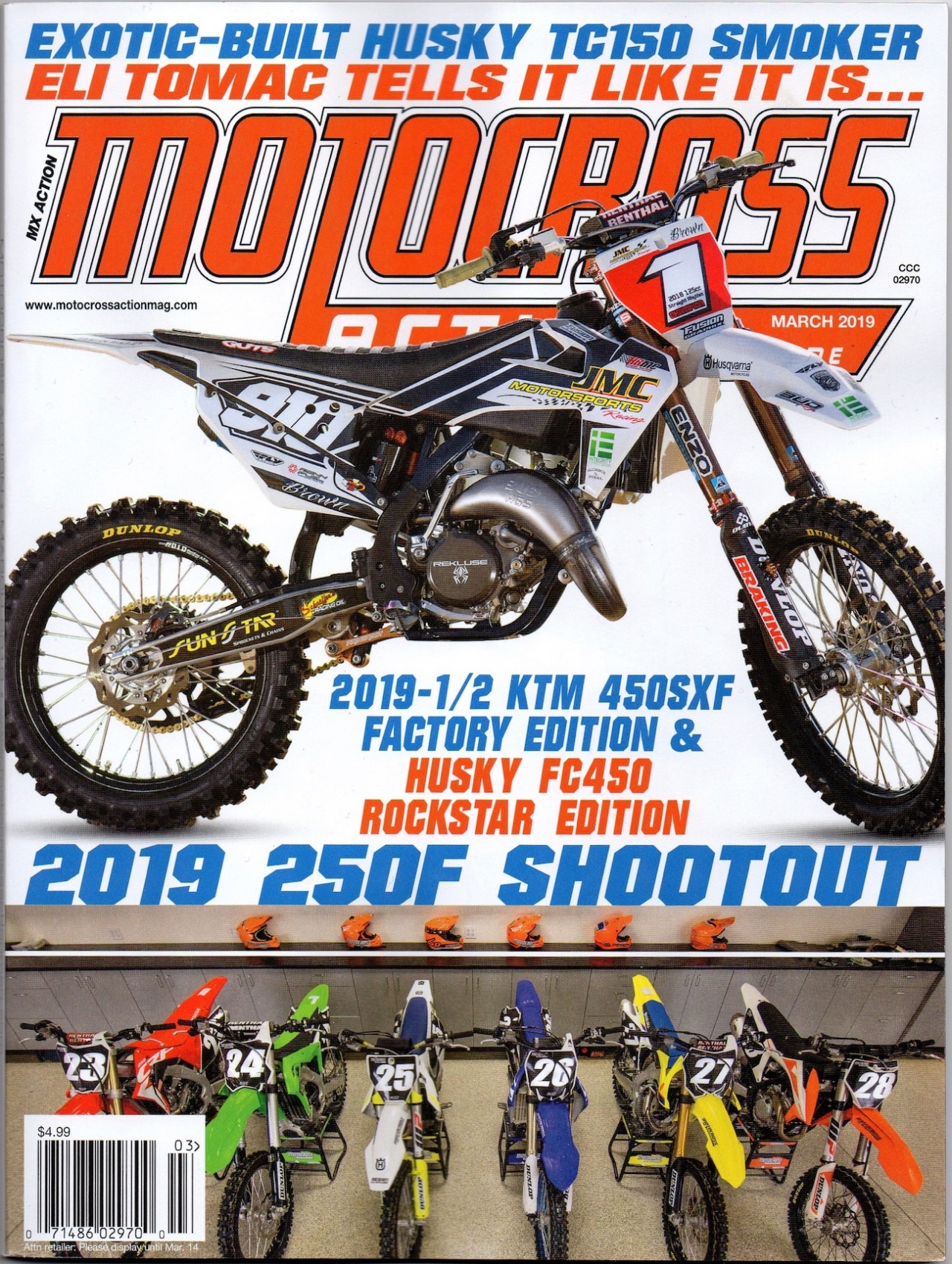 The March issue of MXA comes out this weekend. It includes an 18-page 250 Shootout (with all we learned  over the last six month), a 2019 Husqvarna FC350 test, a 2019 Yamaha YZ250 two-stroke test,  a test of Carson Brown's Straight Rhythm winning Husky TC150, a test of the 2019 Honda CRF250 and a story about what it was like to ride James Stewart's 2002 Yamaha YZ450 (not to mention a close-up look at the MZ 350 Type 653 Gelandsport and an Eli Tomac interview).
MXA PRODUCTS SPOTLIGHT: ARAI MX-V HELMET
The Arai MX-V is the perfect choice for motocross racers and comes in a special Justin Barcia Replica version (above). Every Arai helmet has a simple organic shell shape called the R75 Shape concept. The absence of exaggerated edges or protrusions on the shell is not a lack of creativity, but a commitment to maintaining the integrity of the shell with real world impact performance.
R75 Shape Concept: The R75 concept mandates a rounder, smoother shell to enhance the ability of the helmet to both disperse and distribute impact energy. Arai believes that no helmet can manage all potential impact energy, therefore avoiding or diverting potential impact energy with a rounder smoother shape should be a key function of a helmet. This is why R75 is one of the most important in-house standards at Arai.
Super Complex Laminate Construction (SCLC): The latest aerospace fibers, with 30% more strength in extension & bending resistance than standard fiberglass comprises the majority of the SCLC shell. This "Super Fiber" provides incredible flexibility and strength, which maximizes shell integrity. A specially designed "mechanically expanded fiber mat," sandwiched between the inner and outer layers of Arai´s proprietary Super Fiber Laminates, is used to reinforce and bond these two Super Fibre layers without adding significant weight to the helmet. For more information go to www.araiamericas.com
WHAT THE MXA WRECKING CREW WAS UP TO THIS PAST WEEK

Although we feel for riders back east this winter, who are suffering not only from blizzards and incredible cold snaps, but also from TV weathermen giving every rain storm a hurricane-like name (when did this start?), SoCal has suffered from a series of low-pressure zones drifting down from Alaska and dropping one year's worth of rain in one month. By this time last year, REM had held six races at Glen Helen since New Year's Day (and SoCal had accumulated 2 inches of rain. This year SoCal has acumulated 17.5 inches of rain. This year, REM did not hold a single race in January—every one they had scheduled was rained out. How can a motocross race be rained out — isn't this a "rain or shine" sport? Actually, Glen Helen is located in a river bed at the bottom of a 15-mile canyon (that rises 2000 feet above the track). When it rains, the road into the track is cut in half by the water rushing downhill. You can't get in…and if you do get in, you can't get out.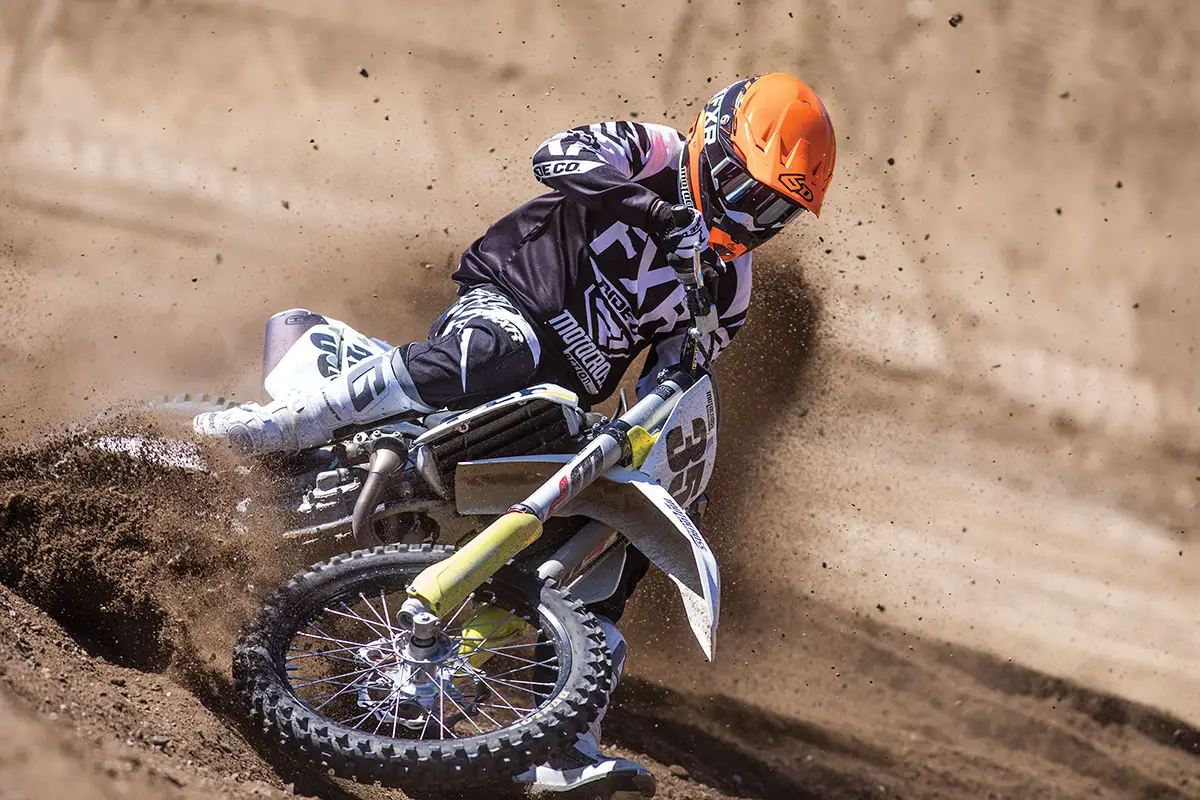 The MXA test riders have managed to test between thunder storms, but for the most part we have stayed in the workshop, built project bikes and covered the Supercross series. This Saturday's weather calls for more rain, but we don't believe the weatherman. This weekend we are covering all the bases as Daryl Ecklund and Josh Mosiman are going to the Minneapolis Supercross, Dennis Stapleton is going to the Mammoth Mountain Qualifier at Pala, while Jody and the rest of the gang are going to the REM Glen Helen race (rain or shine).
REM GLEN HELEN THIS WEEK, SATURDAY, FEBRUARY 9
For more info go to www.remsatmx.com.
WHO'S WHO IN THE AMA SUPERCROSS ZOO?
CURRENT AMA 450 SUPERCROSS POINTS STANDINGS
(After 5 of 17 rounds)
1. Eli Tomac (Kaw)…106
2. Marvin Musquin (KTM)…102
3. Ken Roczen (Hon)…102
4. Cooper Webb (KTM)…98
5. Blake Baggett (KTM)…80
6. Dean Wilson (Hus)…80
7. Justin Barcia (Yam)…74
8. Aaron Plessinger (Yam)…66
9. Chad Reed (Suz)…65
10. Cole Seely (Hon)…65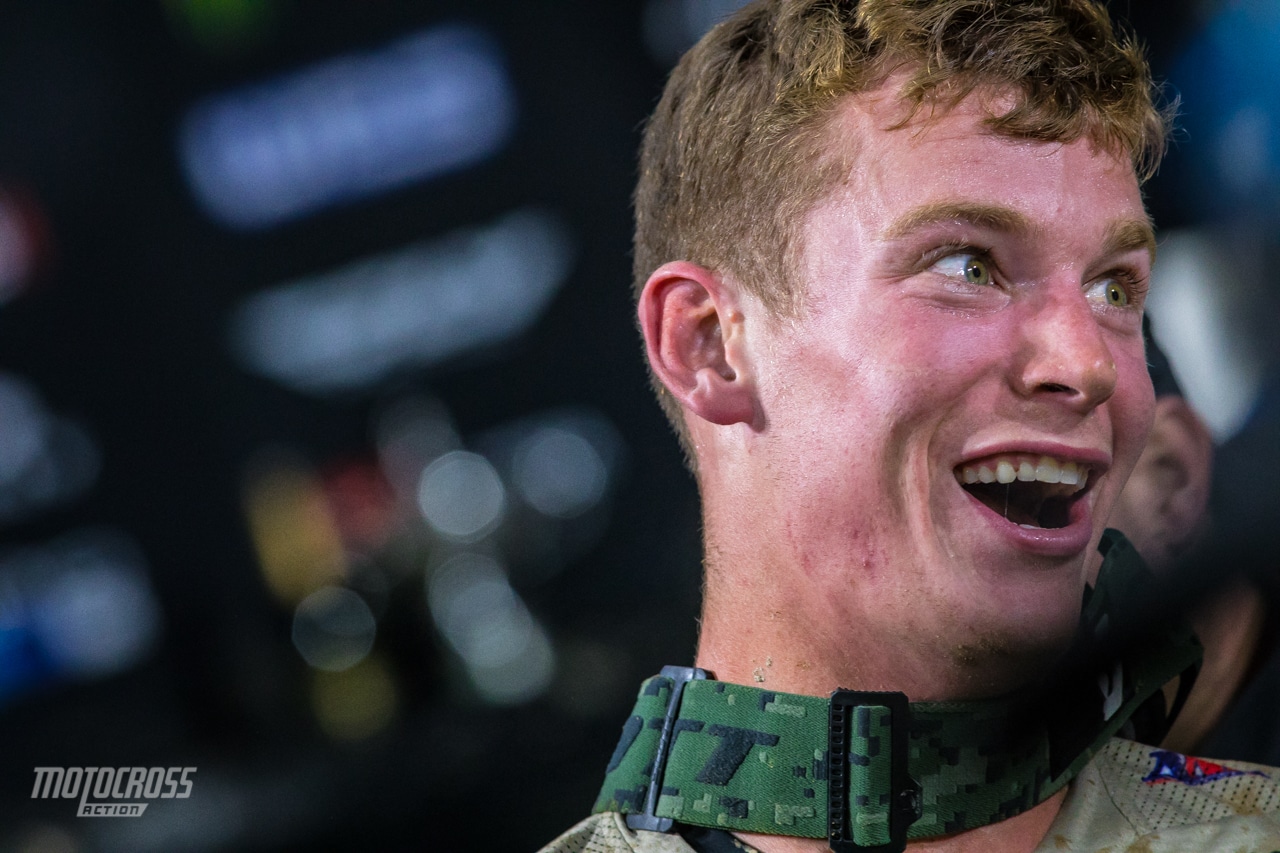 CURRENT AMA 450 SUPERCROSS POINTS STANDINGS
(After 5 of 10 rounds)
1. Adam Cianciarulo (Kaw)…114
2. Shane McElrath (KTM)…106
3. Colt Nichols (Yam)…104
4. Dylan Ferrandis (Yam)…102
5. R.J. Hampshire (Hon)…75
6. Jimmy Decotis (Suz)…73
7. Cameron McAdoo (Yam)…72
8. Garrett Marchbanks (Kaw)..71
9. Chris Blose (Hus)…70
10. Jess Pettis (KTM)…66
MXA PRODUCT SPOTLIGHT: MX ENGINE STAND
This universal engine stand is easy to use and affordable for the shop or shade tree mechanic. The MX Engine Stand will hold any engine from a race bike, mini bike, quad or kart. The fully adjustable engine stand will secure a small 50cc engine to a large 650cc engine. The bench mounts will stabilize the engine for proper torque during work. When the job is complete, simply lay arms flat and store in the toolbox. The retail price is $119.5 at www.mxenginestand.com or call (513) 720-3620.
ATLANTA SUPERCROSS AUTOGRAPH SESSION ON MARCH 1 AT MOUNTAIN MOTORSPORTS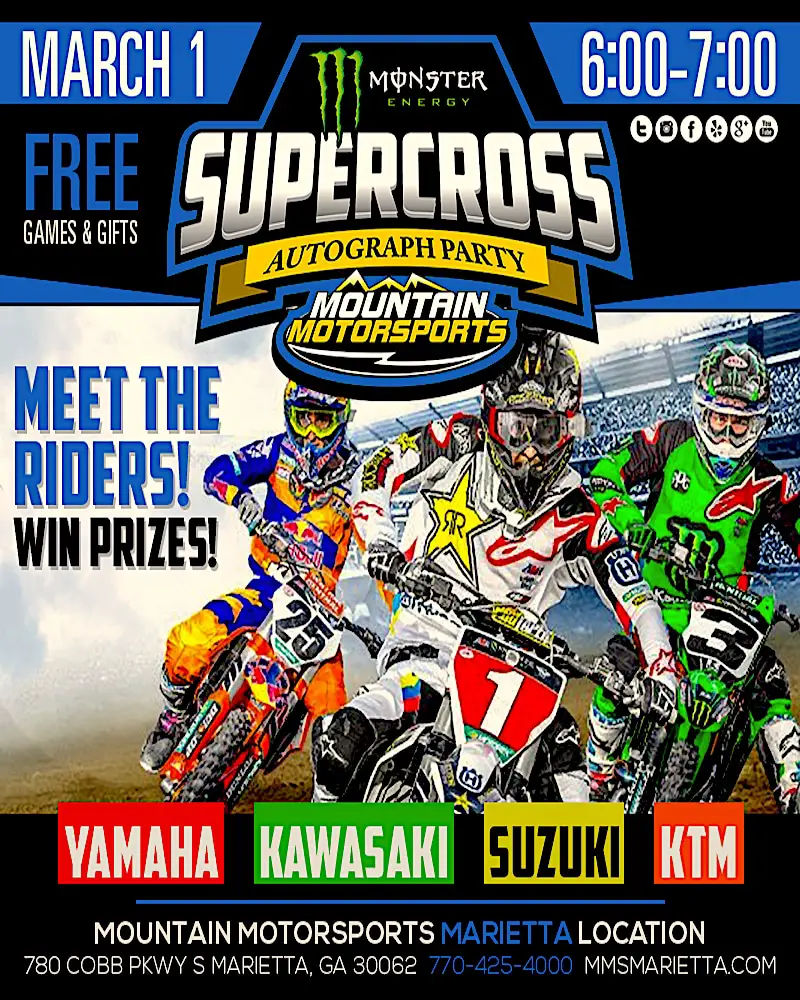 The day before the Atlanta Supercross Mountain Motorsports in Marrietta, Georgia, will be hosting the Suzuki, Yamaha, Kawasaki and KTM teams on Friday, March 1 at 6:00 p.m. For more info go to www.mmsmarietta.com