MOTOCROSS MID-WEEK REPORT
#WHIPITWEDNESDAY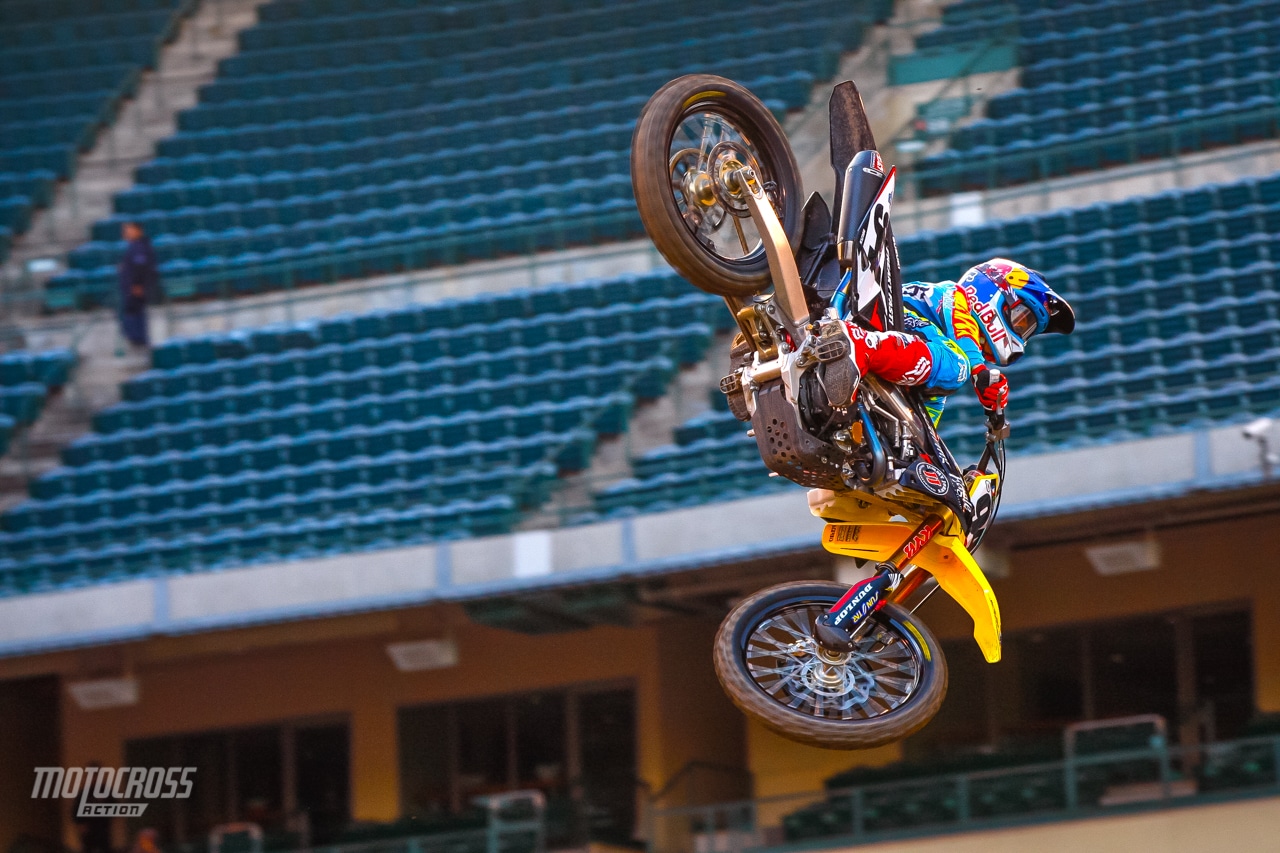 Rider: Ken Roczen
Focal length: 300
Exposure: 1/320 sec
F-stop: f/4.5
ISO: 640
Photographer: John Basher
TWO-STROKE SPOTLIGHT: CURT WINTER'S JAPANESE BLEND

I was initially worried about featuring the "Two-Stroke Spotlight," because I was unsure whether Mid-Week Report readers would submit photos and descriptions of their bikes. Fortunately, my inbox has been flooded with awesome two-strokes. Thanks for taking the time to send over info on your prized iron. I have to give a special nod to Curt Winter, who deservingly earned this week's honor with his Yamaha/Suzuki/Honda amalgamation. Take it away, Curt.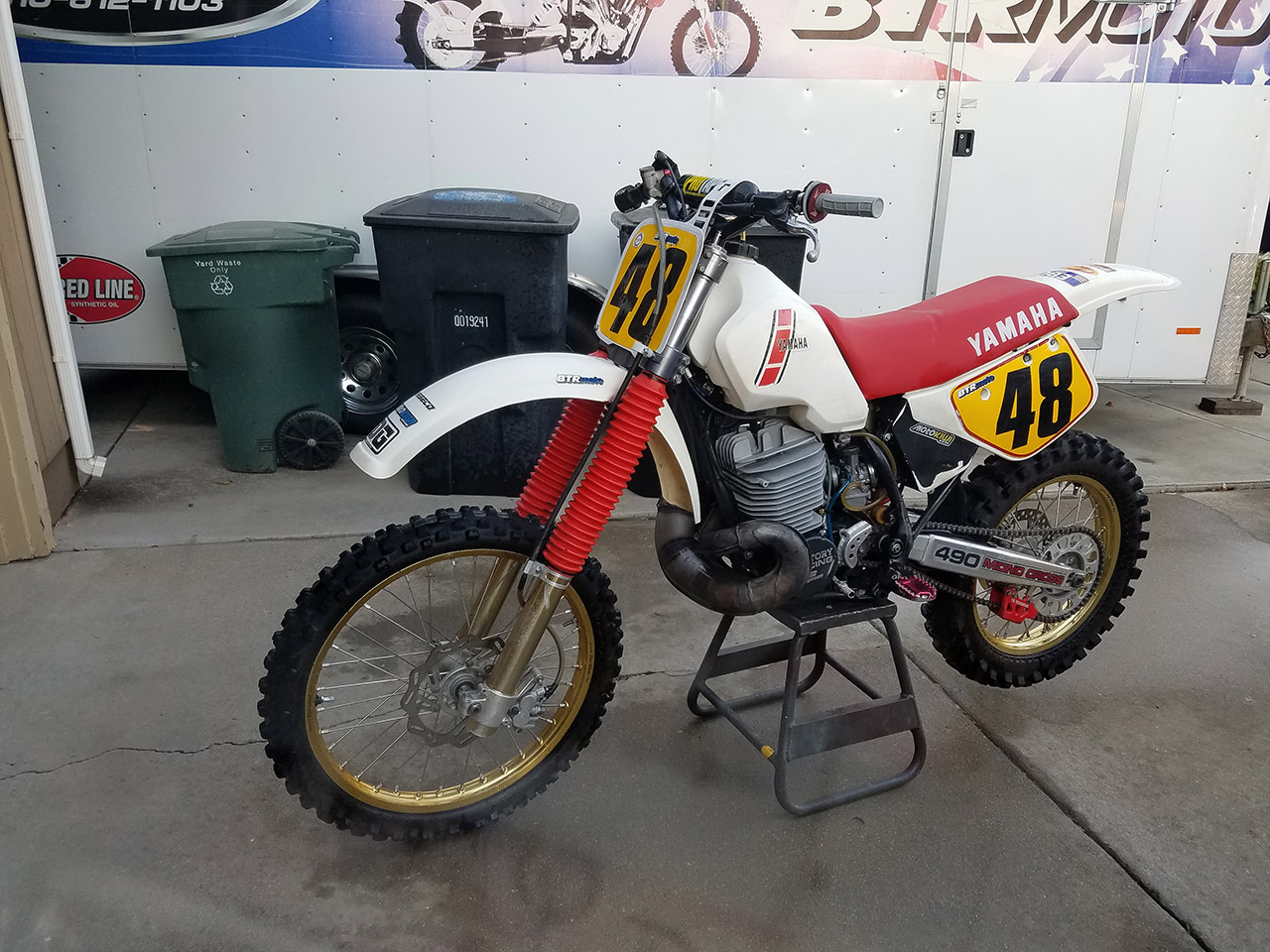 "Hi MXA, I saw your article on the Honda CR500 AF. I've built and owned several of those and have always been a Honda guy, but I wanted something different. 500 AFs are everywhere, so I built something different. I bought a well used 1987 Yamaha YZ490, stripped it down to the frame and started the build. I graphed on rear suspension from a 2007 Honda CRF250, including the rear disc brake. In an effort to retain the old school look I opted for a set of 1997 Suzuki RM250 forks. I rode and raced it for a while, but never really liked the shortcomings of the Yamaha motor. For that reason I installed the complete top end from a 1984 Honda CR500 (air-cooled) on a 1990 CR500 lower end and slapped that motor in the YZ chassis. Now it's got a motor worthy of the better suspension. I currently race it against modern bikes and have a blast. Truth be told, I was surprised how well it worked."
Editor Note: If you would like your bike to be featured in the "Two-Stroke Spotlight," please email me at [email protected]. All I ask is that you give a breakdown of your bike and a detailed description of the thing. Please also send a few photos of your steed. By submitting your bike for the "Two-Stroke Spotlight," you agree to release all ownership rights to the images and copy to MXA. 
MXA MX FANTASY LEAGUE// WIN A BETA 300RX SMOKER & OTHER PRIZES
MXA is doing an 11-round Pro Motocross Fantasy League where the fan with the most points at the end of the season will win a 2023 Beta 300 two-stroke! To add to that, we will be giving out prizes each round to the fan who scores the most points! We have prizes from Nue Tech, O'Neal, Maxxis, Wiseco, MotoMuck, Boxo Tools, Ride Engineering, Acerbis, Viral Goggles, FMF, Guts, Blud, Phoenix Handlebars and Funnel Web Filter. As an added bonus just for signing up, we will send you a 25% discount code to BLUD lubricants. Click HERE to sign up now.
MX FANTASY FOX RACEWAY GIVEAWAY // BOXO MOTOBOX 103-PIECE SET—$840 VALUE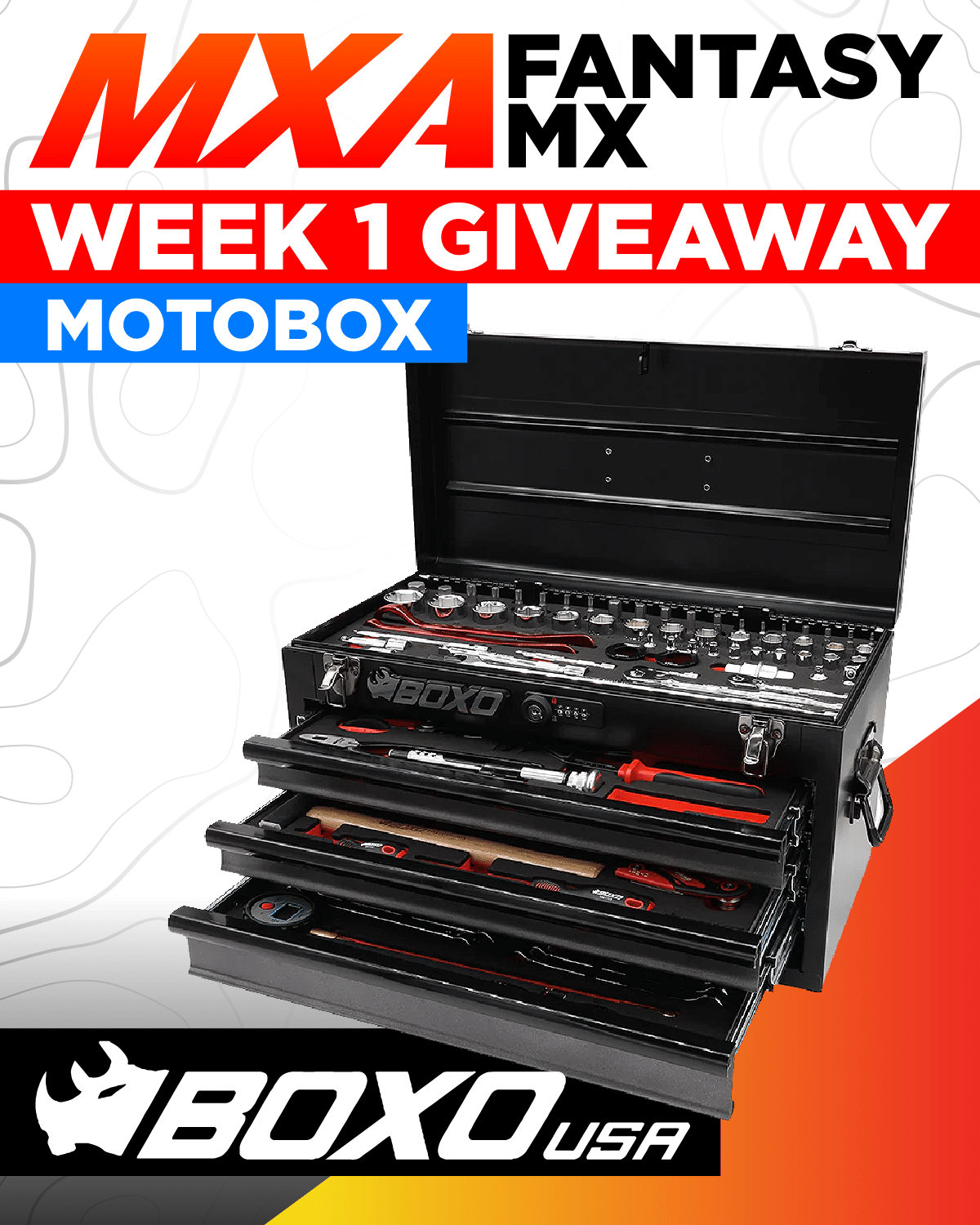 The fan with the most points after the first round at Fox Raceway will win a 103-piece Boxo USA MotoBox toolbox. Makesure to join and create your team through our partners over at Fantsizer to create your team.
THE MAKING OF A CHAMPION: HUNTER LAWRENCE
MXA MOTO TRIVIA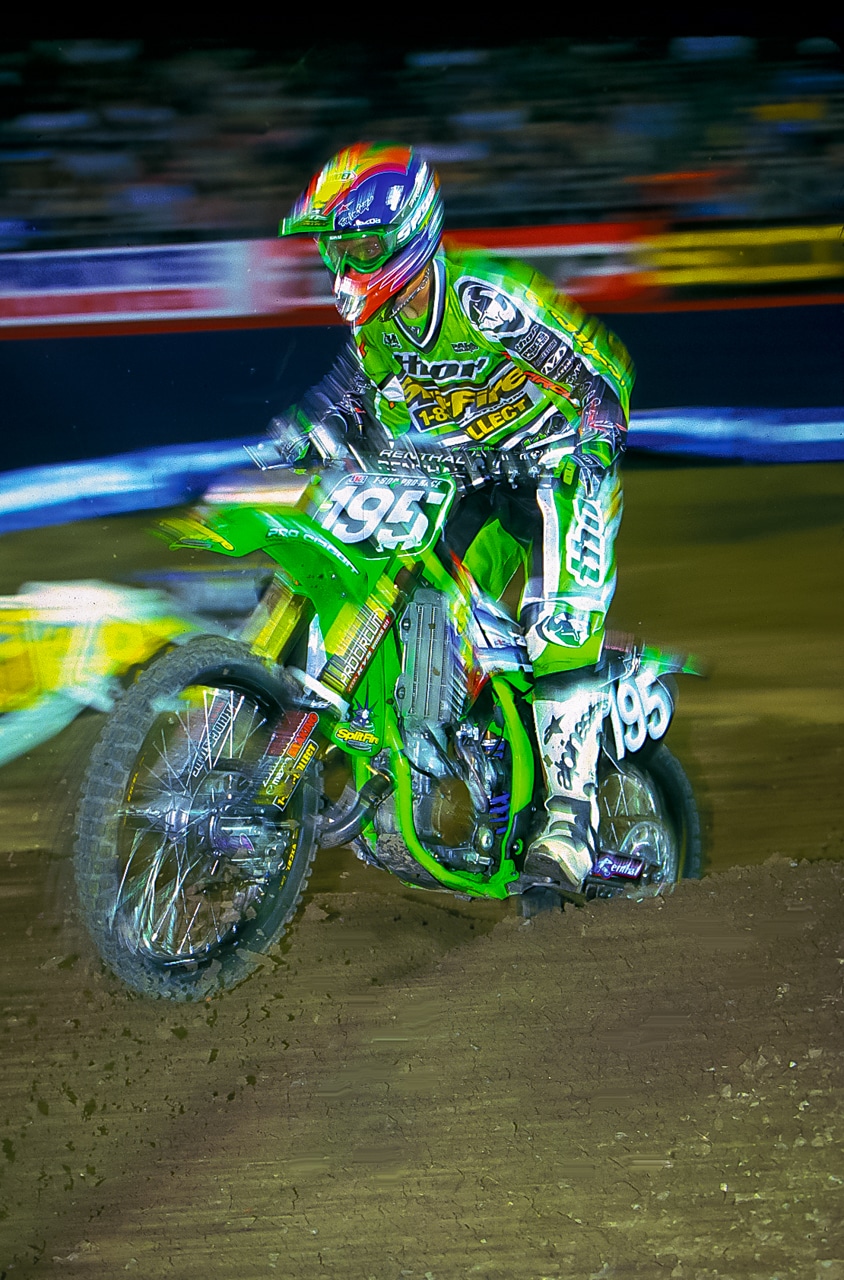 Who is this racer and what year was it taken? Answer at the bottom of the page.
QUOTE OF THE WEEK // COPPER WEBB IS BACK FROM INJRY & RACING THE NATIONALS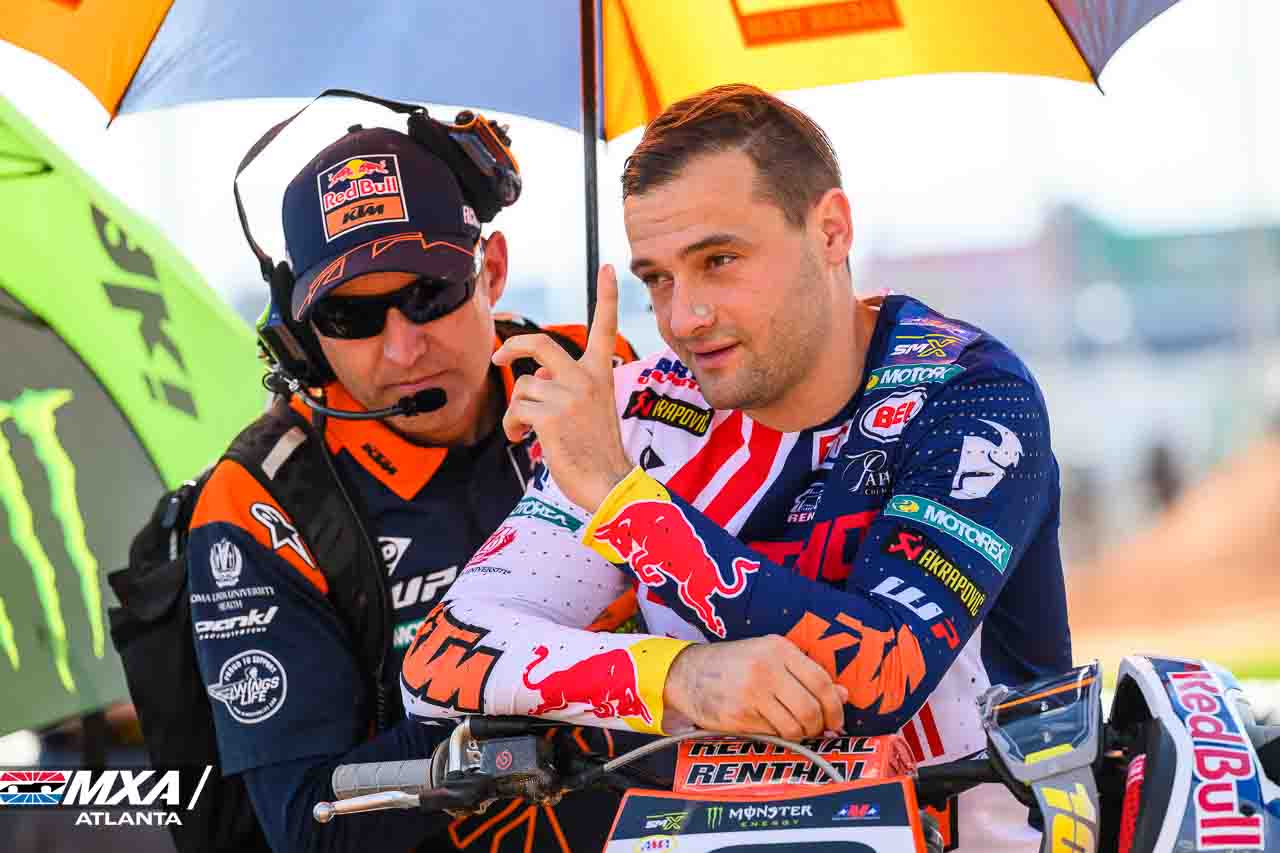 "I'm extremely excited to be lining up for the Pro Motocross series. I didn't compete outdoors last year, so this will be my first time racing it since 2021. I'm super grateful for the team and I to be able to do it together and get back behind the gate. After my crash in Nashville, I've been able to take some time off and get fully healthy, cleared, and ready to go. Hopefully, I have some great results with the Red Bull KTM team this summer, we'll see where it puts us and I can't wait to see the fans again – I'm looking forward to getting back behind the gate!"

WHO'S LEFT TO RACE THE FIRST ROUND AT PALA THIS WEEKEND?
SUPERCROSS CELEBRATES $1M FUNDRAISING MILESTONE BENEFITING ST. JUDE CHILDREN'S RESEARCH HOSPITAL
Brain Deegan signing a guitar for the St. Jude fundraiser. 
Press Release: Thanks to the generosity of racers, teams, industry partners, and fans, Monster Energy AMA Supercross is pleased to announce it has surpassed the $1 million fundraising milestone in support of the lifesaving mission of St. Jude Children's Research Hospital®: Finding cures. Saving children.® This milestone marks seven years of commitment to St. Jude families.
The partnership between Feld Entertainment and St. Jude Children's Research Hospital kicked off in 2017, when Feld Entertainment and Supercross legend Ryan Dungey launched the initiative within the Supercross community.
"Every new bridge that Supercross and St. Jude Children's Research Hospital cross together just opens my eyes to how meaningful and impactful this relationship is and can be. I'm looking forward to a long-continued partnership in the future," said Dave Prater, Vice President of Supercross.
Over the course of each season, the Supercross community supports St. Jude through an annual text-to-donate campaign, online auction, and special moments with patients and their families. The auction is launched each year on the heels of an annual race dedicated solely to the kids at St. Jude. Round 14, of the 2023 season, which took place at MetLife Stadium in East Rutherford, NJ served as the annual race in which athletes and teams featured St. Jude patient-inspired artwork on their jerseys, gear, and bike graphics. These one-of-a-kind items were then donated to the auction where 100% of the proceeds went directly to supporting St. Jude and its families.
Because of fundraising through partnerships like this, families never receive a bill from St. Jude for treatment, travel, housing, or food – so they can focus on helping their child live. The 2023 Love Moto Stop Cancer text-to-donate campaign raised an impressive $92,789 throughout the season while the online auction raised an additional $137,290 in just two weeks. Supercross is the only entity outside of Country music to use their own community-wide slogan – Love Moto Stop Cancer. Moto is short for Motocross which embellishes both disciplines of Motocross and Supercross. The spike in donations is a direct result of Supercross' commitment to St. Jude and this year's one-of-a-kind campaign. Donors who pledge $19 or more per month receive an exclusive Love Moto Stop Cancer T-shirt, routinely worn by all the sport's top athletes.
What an incredible milestone to celebrate with our friends at Feld Entertainment and Supercross — all in the name of coming together to help kids around the globe," said Richard C. Shadyac Jr., President and CEO of ALSAC, the fundraising and awareness organization for St. Jude. "We are so grateful for these amazing partners and their loyal fans in the New York and New Jersey area and around the world who give back to help the 400,000 kids globally who will get cancer every year."
For more information about Supercross and ways to support St. Jude please visit Supercrosslive.com/stjude.
THE GREATEST DEAL IN MOTOCROSS! SUBSCRIBE TO MXA & GET A $25 ROCKY MOUNTAIN CREDIT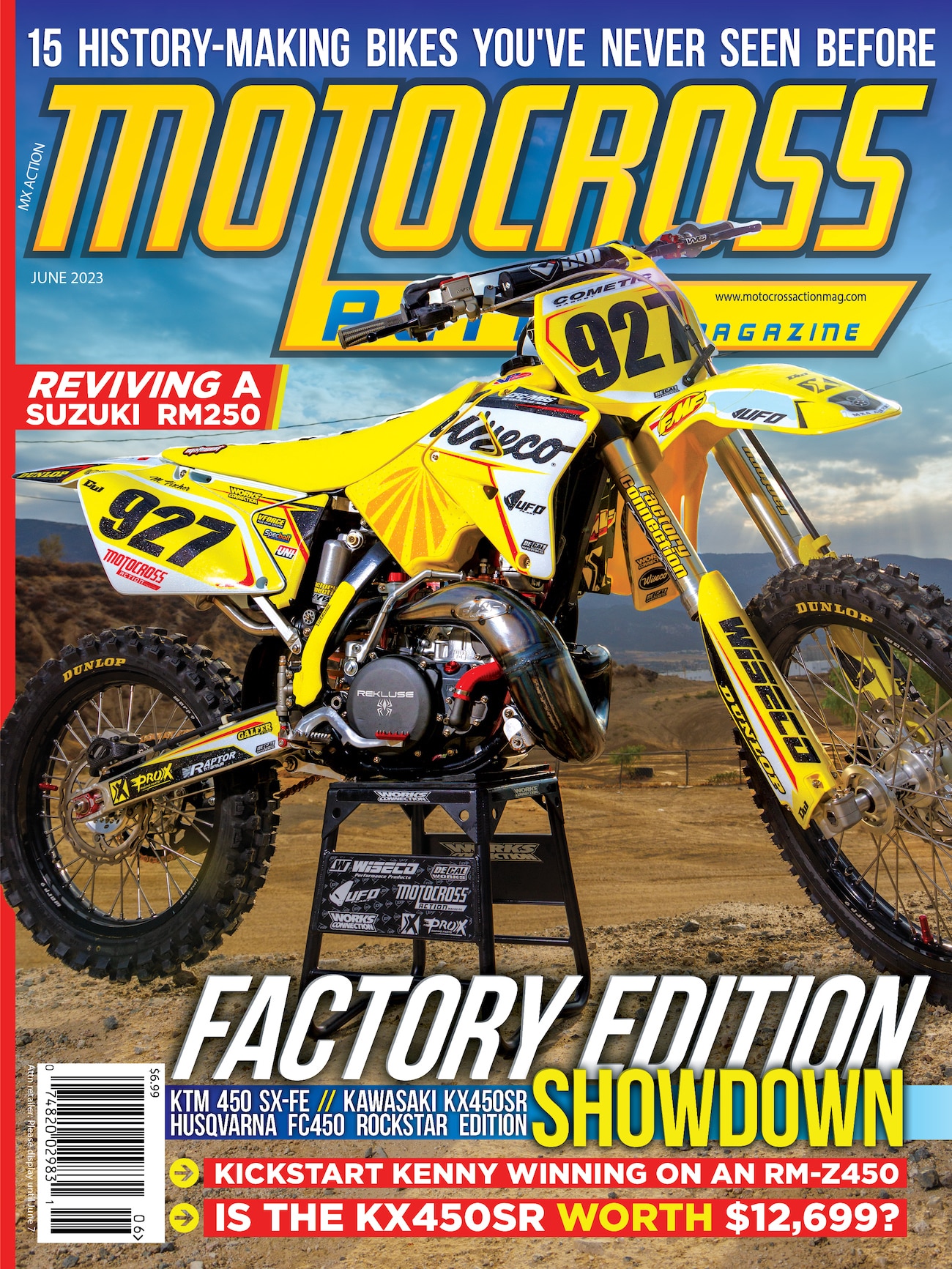 This is the cover of the June 2023 issue of  MXA. Inside are full-length tests of the  2023 Kawasaki KX450SR Special Racer, 2023-1/2 KTM 450SXF Factory Edition, 2023-1/2 Husqvarna FC450 Rockstar Edition, plus a retro test of the 2007 Honda CR125 and a total remake of a 20-year-old 2003 Suzuki RM250 two-stroke . You'll also find an interview with Harry Everts, where he explains why he signed a factory contract that said if he won a World Championship the brand would pull out of racing., plus a look back at a night that will be talked about for years to come when "Kickstart Kenny" won an AMA Supercross on a Suzuki RM-Z450 (and brought his bike's kickstarter to the podium with him). Also inside, Alex Martin explains the relationship between lifting weights and getting arm pump, Twisted Development's Jamie Ellis explains what it's like to build Ken Rozen's engines, and a close-up look at Bob Hannah's 1976 Yamaha OW27 (the one with the radiator on the triple clamps). There is so much more inside. You'll never know how much you have missed if you don't subscribe. Plus, you can subscribe without costing you anything!
Did you know that you can subscribe to MXA at absolutely no cost to you—because when you subscribe you receive a Rocky Mountain ATV/MC credit for $25 towards anything in their massive inventory. Plus, you will get all the content in the 12 monthly issues of Motocross Action magazine delivered to you home by a uniformed U.S. government employee. Don't miss any more four-stroke tests, two-stroke tests, retro tests, race coverage, new tech or product tests….most of which never appear on the internet. And, don't forget, the $25 credit from Rocky Mountain ATV/MC that will more than cover the cost of your subscription. To subscribe call (800) 767-0345 or Click Here
KURT CASELLI FOUNDATION FUNDRAISER AT MOTO DOFFO WINERY ON JUNE 10
For more info go to  www.kurtcaselli.com
Press release: Troy Lee Designs/Red Bull/GASGAS Factory Racing will welcome Caden Braswell alongside Michael Mosiman in the opening four rounds of the upcoming 2023 Pro Motocross Championship! Beginning with Round 1 of the season in Pala, California, this Saturday, May 27, Braswell will be equipped with our GasGas MC 250F Factory Edition in the 250MX category.
Braswell was the 2022 Nicky Hayden AMA Motocross Horizon Award recipient following the AMA Amateur National Motocross Championship at Loretta Lynn's Ranch, where he won the 250 Pro Sport overall as part of the GASGAS amateur program last year.
The 19-year-old from Shalimar, Florida, gained experience at the professional level during the 2023 AMA Supercross Championship, earning a season-best Main Event result of 10th at Atlanta in the 250SX East category. He will turn his attention to the outdoors upon returning to GasGas.
MXA SWAG: MXA'S OG LOGO TRUCKERS HAT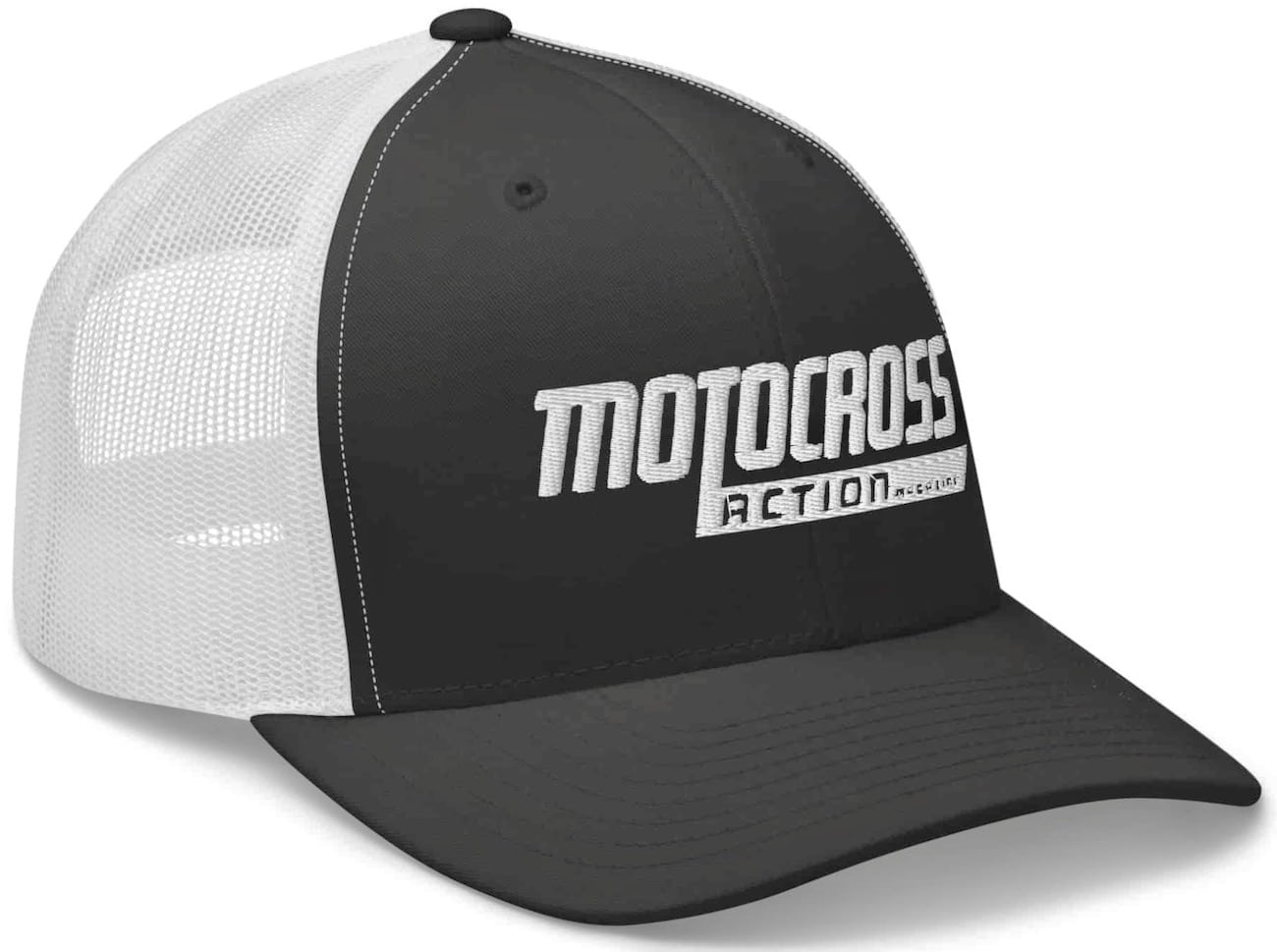 Elevate your status as a classic motocross fan with MXA's OG Logo Truckers Hat in Black, Red, Khaki, Black/White and other colors.  The retail price is $25. See more color options or order by Clicking Here.
FORGOTTEN BIKES: THE HONDA CRF450 PROTOTYPE
The Honda CRF450 prototype that Ryan Hughes tested for Factory Honda. 
2023 INSIDE THE PRO BIKES 
---
MOTO TRIVIA ANSWER: Billy Payne racing in 1999 on a PC KX125.