MXA'S WEEKEND SCUTTLEBUTT RUNDOWN
MXA'S 2017 GEAR GUIDE: WHAT WE WORE ON THE 2017 KTM 350SXF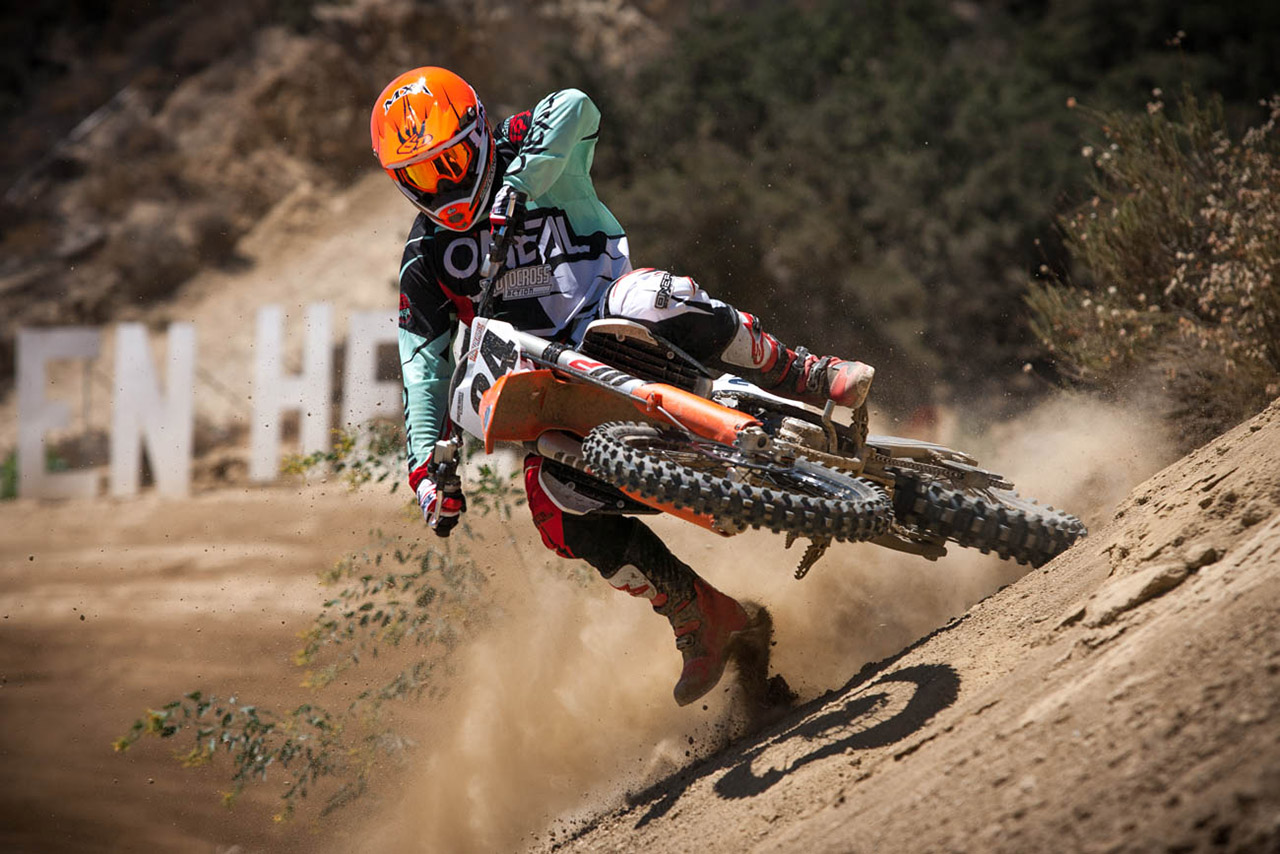 PANT: O'Neal Hardwear Flow Jag
JERSEY: O'Neal Hardwear Flow Jag
GLOVES: O'Neal Jump Hardwear Jag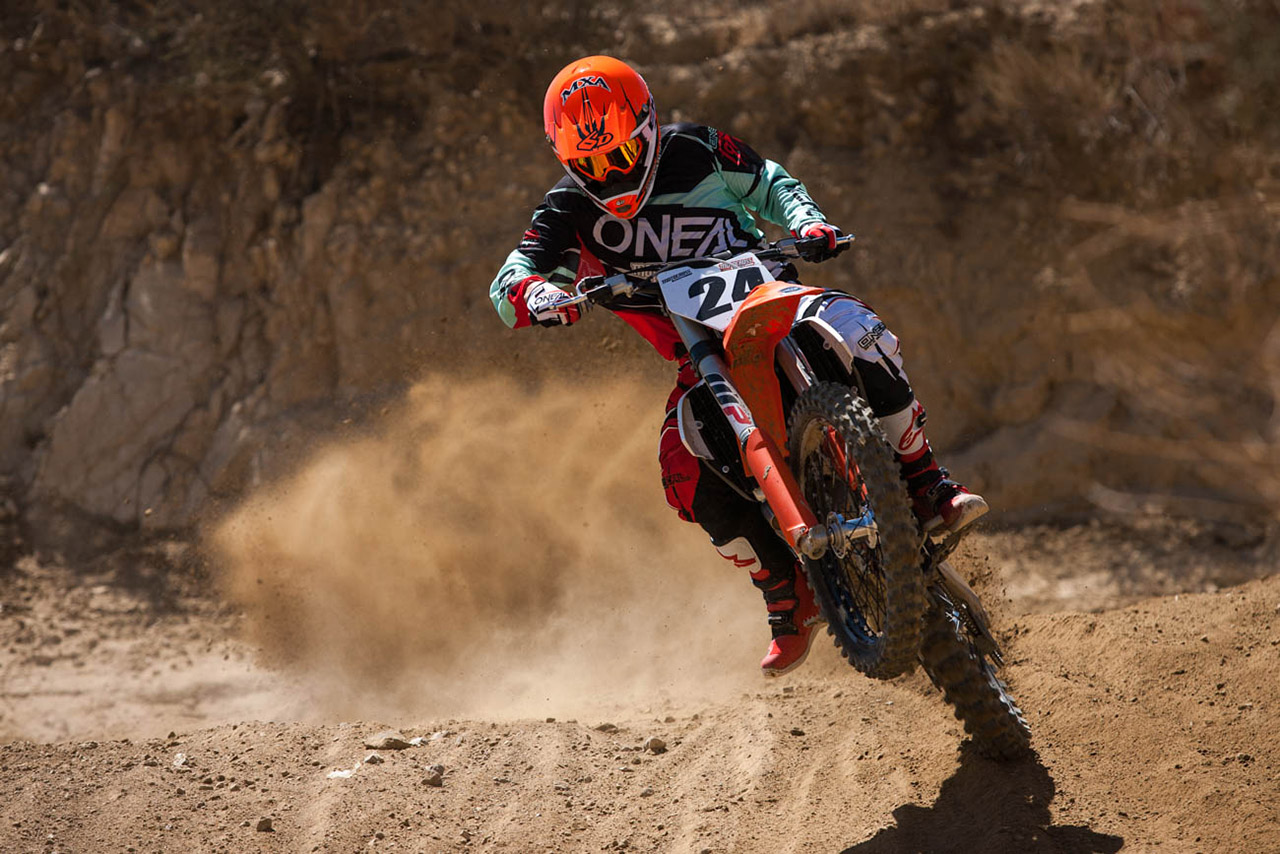 HELMET: 6D ATR-1 (custom painted)
GOGGLES: Eks Brand EKS-S Flo
BOOTS: Alpinestars Tech 5
GREG ALBERTYN TO RACE 2016 WORLD VET CHAMPIONSHIP AT GLEN HELEN
Glen Helen press release: Following immediately on the heels of former MXGP racer Josh Coppins, Daryl Hurley, Daryll King, Kurt Nicoll and Javier Garcia Vico signing up for the World Vet Motoctoss Championship, World and AMA National Champion Greg Albertyn will be joining in the fun on Nov. 5-6. Albee urt his shoulderpracticing last week, but hopes to be ready by the weekend. For more info go t0 www.glenhelen.com.
RYAN VILLOPOTO TO RACE SUPERCROSS…IN AUSTRALIA

AUS-X press release: Ryan Villopoto will be joining Chad Reed and Cooper Webb at the final rounds of the 2016 Australian Supercross Series in Sydney on Nov. 12-13.
MXA TEST RIDER PHOTO OF THE WEEKEND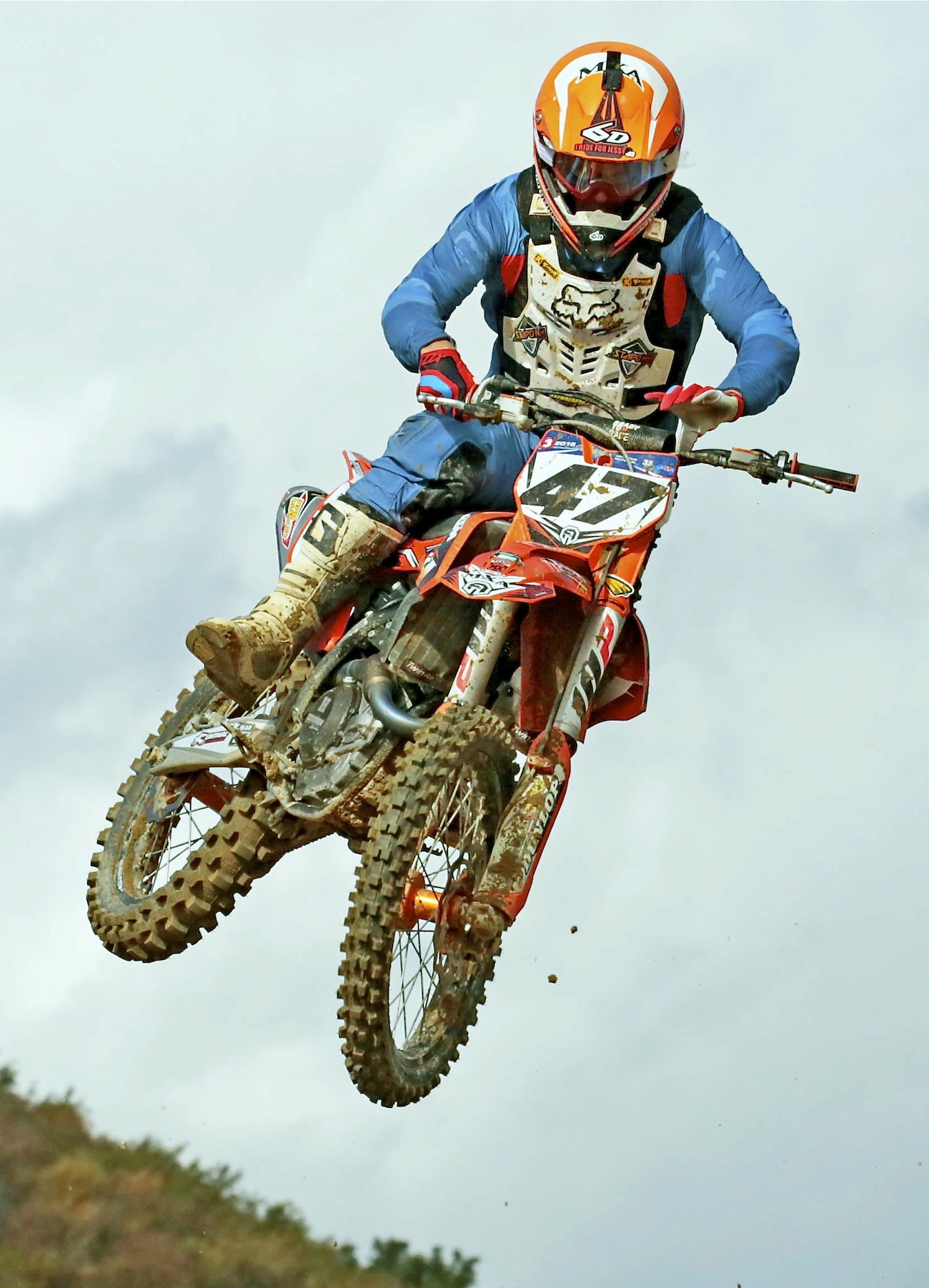 We don't know what MXA test rider Dennis Stapeton is trying to adjust in the middle of the Pro race at Saturday's REM Octobercross race. It certainly isn't his hydraulic clutch. Photo: Rick Stuelke.
JON ORTNER'S ZACA STATION RIDING SEMINAR
For more info contact Jon Ortner at (805) 895-5390 or email to [email protected]
GLEN HELEN'S DR. BUD FELDKAMP TO BE INDUCTED IN HALL OF FAME TONITE


On Monday, October 31, 2016, the Off-Road Motorsports Hall of Fame will inducted Glen Helen's Dr. Bud Feldkamp at the South Point Hotel and Casino in Las Vegas. To a whole generation of off-road racers, the combination of Dr. Bud Feldkamp and Malcolm Smith represented the pinnacle of the sport in the late 1970's. In his blue and white Funco SS II (aka The Belray Bullet), Bud Feldkamp not only posted overall wins in two Baja 1000's, three Baja 500's and two Mint 400's, but he also earned two consecutive desert championships, along with two Bilstein Madonna awards. Since motorcycles were Bud's first passion and ultimately what brought him to desert racing, it is fitting that he has taken that passion to Glen Helen Raceway where, as president, he has created a world class off-road venue, hosting such events as the AMA U.S. Motocross Nationals, FIM U.S. Grand Prix of Motocross and Lucas Oil Off Road Racing Series. This year's inductees also include land use advocate Don Amador, Trackside Photo's Jim Ober, five-time Baja 1000 winner Larry Ragland, and racing team innovator Tracy Valenta.
LA. POLICE CHIEF CHARLIE BECK FRACTURES HIS PELVIS

Los Angeles Police Chief Charlie Beck, diehard motocross racer, crashed while trail riding in the Tehachapi Mountains north of Los Angles on Saturday. He was riding with some friends when he fell on a rocky trail and fractured his pelvis. He remounted his bike and rode back to truck, then drove himself to the hospital. Beck became the Los Angles police chief in 2009, but refused to give up racing motocross and is often seen racing at SoCal's local tracks. He says that he will be able to get back to work almost immediately.
ARE BSA & JAWA MAKING COMEBACK?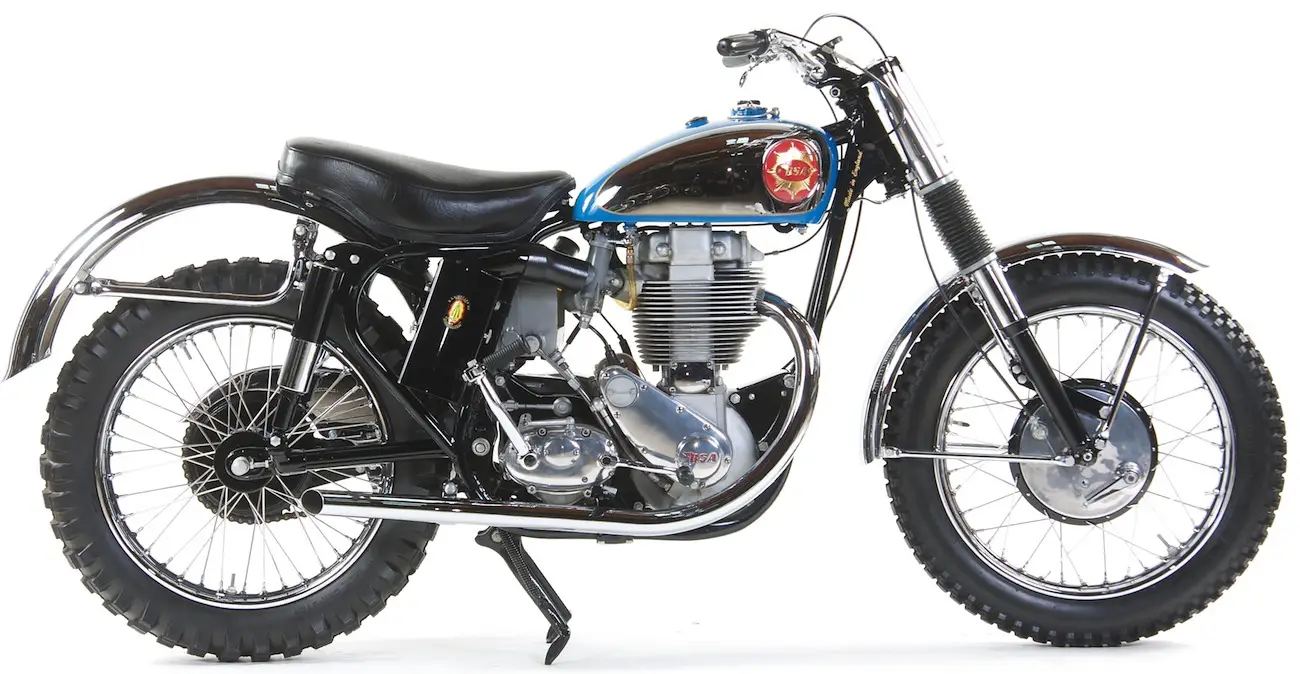 Classic BSA Catalina Scrambler.

The Indian firm Mahindra has acquired 100% of BSA Company Limited for $4.1 million through a subsidiary named Classic Legends Private Limited. The $4 million purchase price seems outlandish, given that BSA licensing only returned $34,000 in apparel and marketing deals in 2015. Mahindra is part of a growing trend for Indian-based companies to revive old brands for markets in Southeast Asia, South America and through partnerships with established Big Six companies (most notably KTM and Bajaj).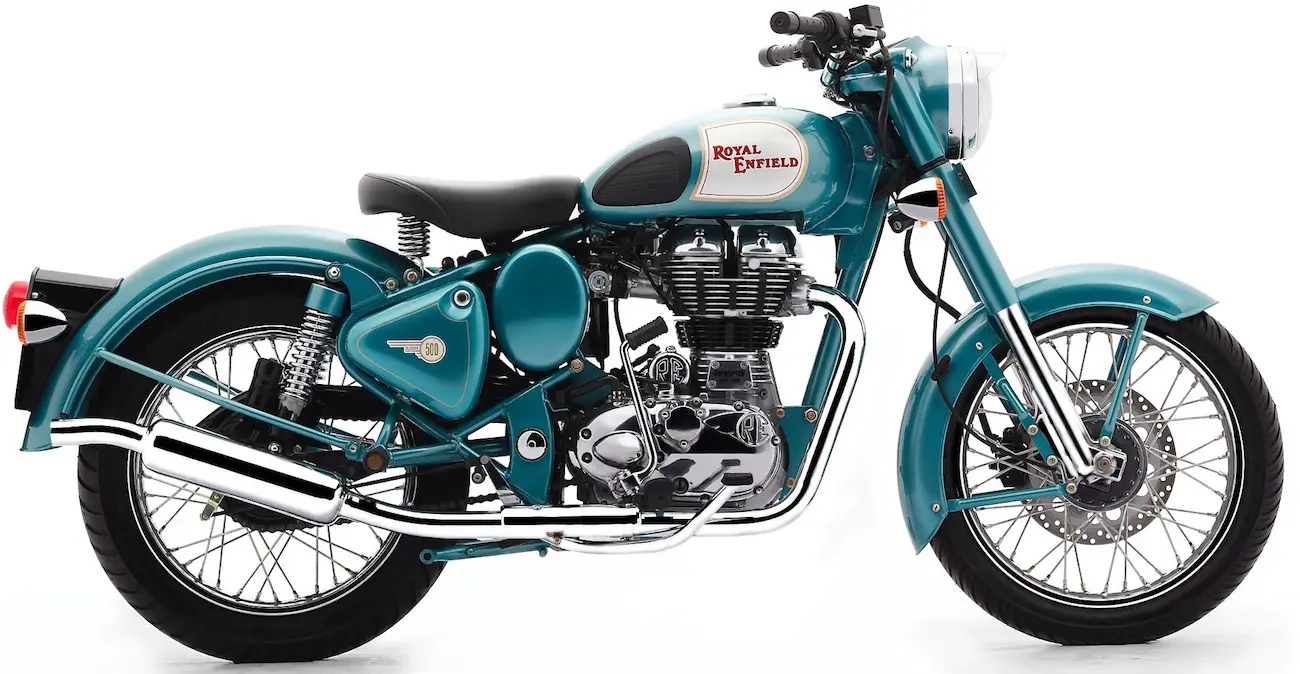 Indian-made 2016 Royal Enfield.
The best known former British heritage brand to be produced in India is Royal Enfield. From 1901 to 1970 Royal Enfield was a famous British marque. It sold millions of motorcycles and owning a Royal Enfield was considered to be a status symbol. They even licensed their designs to other countries, including India, which produced copies of several famous Royal Enfield models, most notably the Bullet, for the Commonwealth market. Then, during the decline of the British motorcycle  business in 1970, Royal Enfield went out of business. Except, no one noticed that the Indian licensee kept right on producing Royal Enfields in the droves. Today, 46 years after Royal Enfield folded in England, the Indian firm sells 300,000 Royal Enfield machines a year—with most customers preferring to buy the classic old-school Enfield instead of the newer looking models. You can learn more about Royal Enfields in the USA by going to www.royalenfield.com/usa/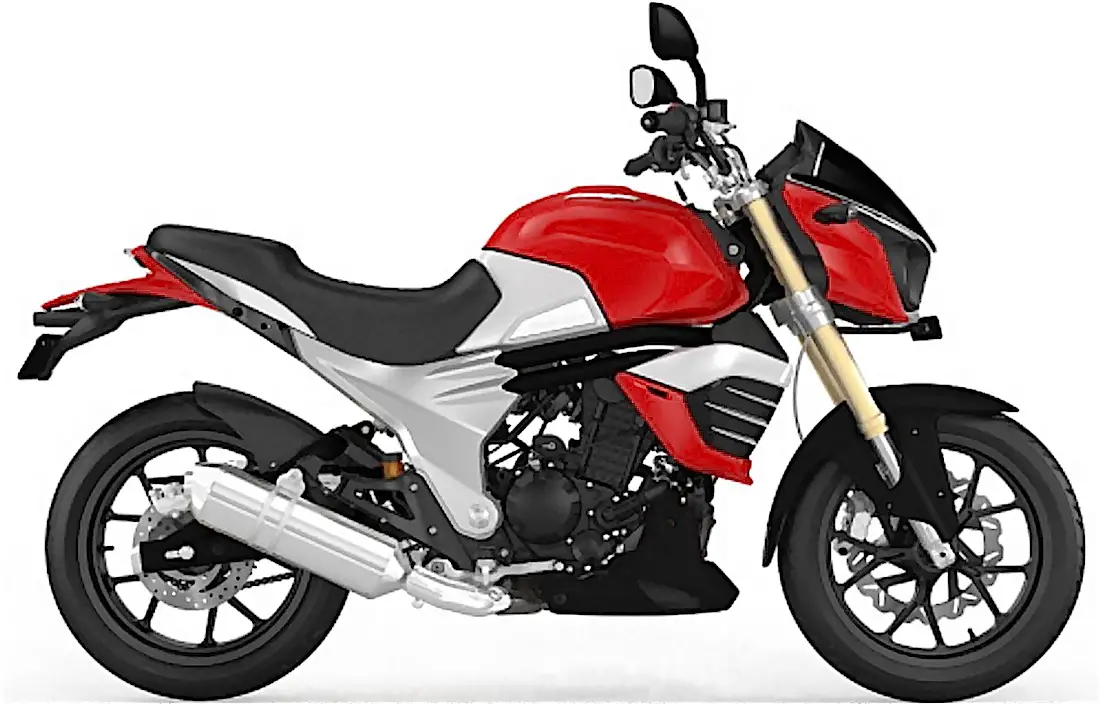 2016 Mahindra 300 Mojo.

Mahindra wants to follow in Royal Enfields' footsteps. The BSA purchase enables Mahindra to acquire all of BSA's marketing and merchandising products globally, and begin producing BSAs for the world market. Mahindra already makes scooters, commuter motorcycles and the 300cc Mahindra Mojo motorcycle. In 2015 Mahindra purchased a 51% stake in Peugeot motorcycles. It is reported that Mahindra also has its sights set on Norton and signed license agreement for the iconic Czech Jawa brand. According to sources at Mahindraa, they will build Jawa motorcycles at its facility in Pithampur, within the next two years.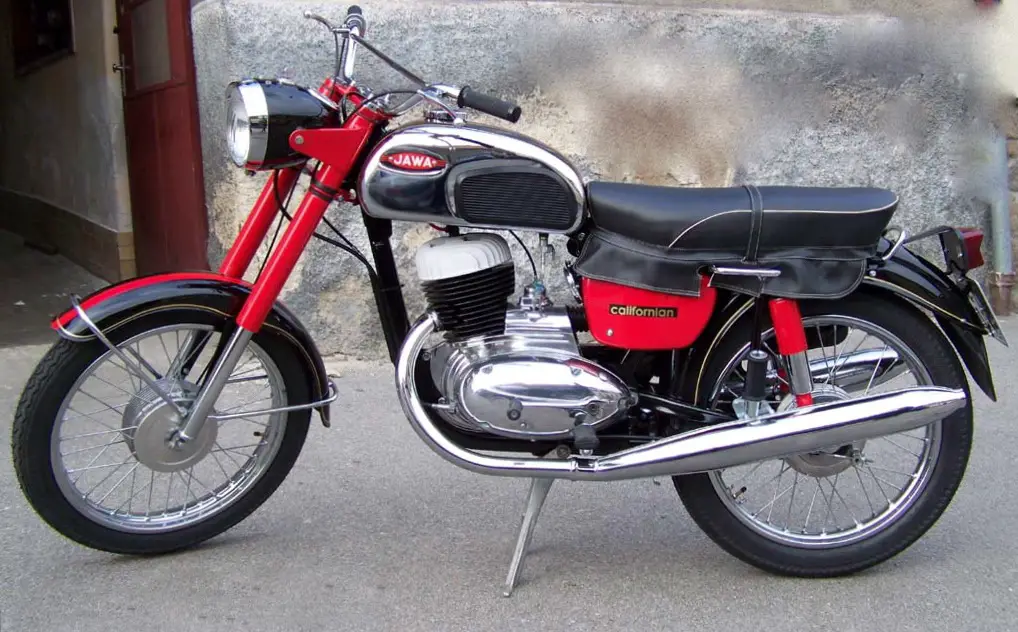 The Jawa Californian was the Czechs most popular street bike world-wide. It was available in 250 and 350cc versions.
Jawa has history in India as far back as 1950 and still have a following for their rugged designy. Original Indian production was handled by Jawa India Ltd. in the early 60s. Earlier models were manufactured in Czechoslovakia and bore the CZ Jawa emblem on the side of the fuel tank. Jawa India Limited stopped production in 1996.
PRO CIRCUIT 2017 KTM & HUSQVARNA 250 TWO-STROKE PIPES
Pro Circuit press release: At Pro Circuit, we're committed to providing our customers the best two-stroke exhaust products. For over 35 years, we've built championship winning two-stroke pipes and silencers for all kinds of makes and models. Our latest release includes $249.95 Works and $249.95 Platinum pipes.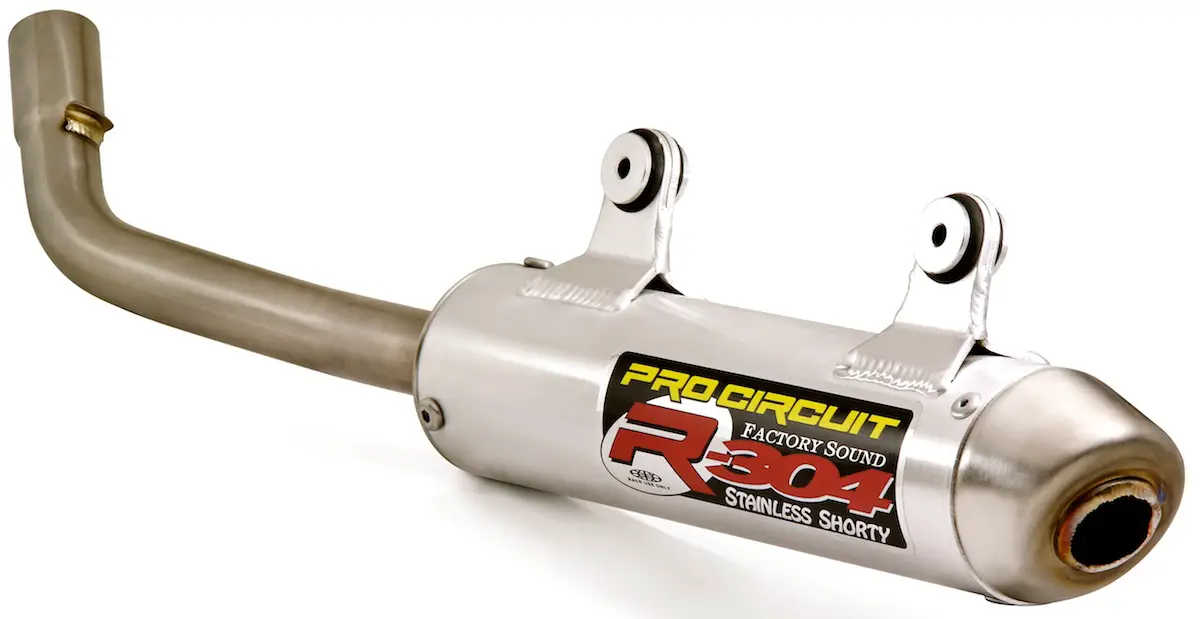 Plus the $329.95 Ti-2 kevlar silencer, $134.95 R-304 silencer, $134.95 304 silencer and $159.95 Type 296 spark arrestor silencer for the 2017 KTM/Husqvarna 250 and 300 models that offer significant performance and horsepower gains across the entire RPM range. Bolt on a championship winning Pro Circuit pipe and silencer and be ready to smoke your competition. For more info go to www.procircuit.com.
REDLABEL CUSTOM GRAPHICS FOR FACTORY HUSQVARNA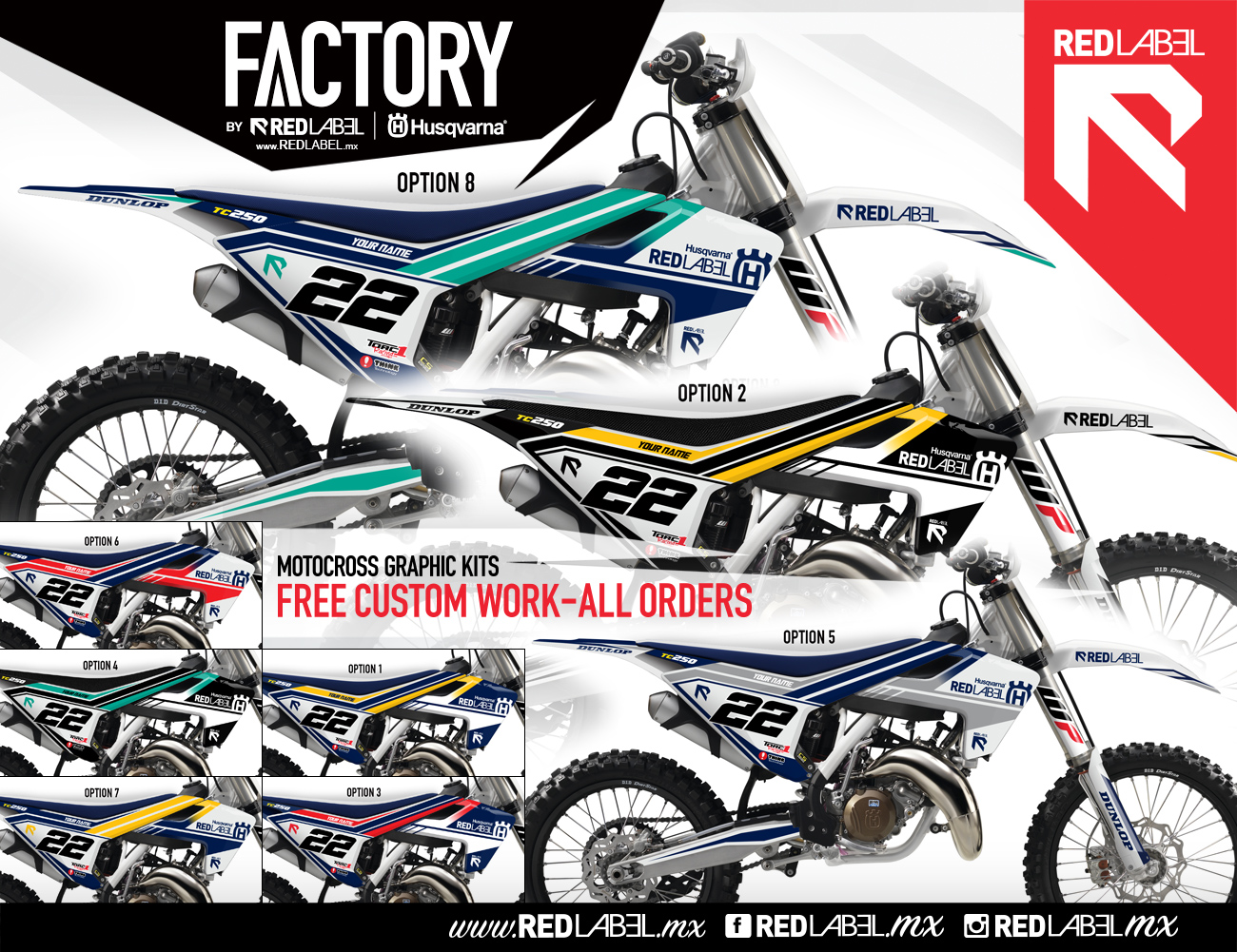 RedLabel press release: RedLabel Custom Graphics is proud to release a New Factory Husqvarna Line of Custom Graphics. REDLABEL has 8 Color Options to start with and then you can customize your kit from there, for free. Free custom work for every order at www.redlabel.mx. Full Custom Bike Bike Kits are $189 which includes Free custom work, free hub stickers and free mini plates with every order. Use coupon code "Red Label 10-Off" to get a 10% discount on your first RedLabelCustom Graphics Kit.
MALCOLM SMITH RACING HARD PARTS COLLECTION HAS T-HANDLES

Malcolm Smith press release: What's in your tool box? A claw hammer, dried-out JB Weld and an old ratchet with half the sockets missing isn't going to cut it when you finally get around to that routine maintenance you put off all summer long! While the legendary Malcolm Smith might have been able to beat Baja and stay on gold medal pace at Six Days with nothing more than bailing wire, duct tape and a plug wrench, the rest of us need some real tools to get the job done. Enter Malcolm Smith Racing Hard Parts T-Handles.
"While T-Handles may not be the greatest invention since sliced bread, try working on a bike without them," says Malcolm Smith Racing Hard Parts brand manager Jason Gearld. "T-handles definitely belong in your tool box!" Durable chrome vanadium construction and a full range of metric sockets make this tool set a must for any dirt biker, he adds. "The mass of a T-Handle creates a flywheel effect to more efficiently spin the wrench, while the handle itself offers added leverage to break loose stubborn nuts and bolts," says Gearld. "Deep six-point sockets in the most common sizes should make it possible to make just about any repair short of splitting the cases."
Features for the MSR Hard Parts T-Handles include: Chrome vanadium tool steel construction for corrosion resistance and durability. Includes 6, 8, 10, 12, 13, 14 and 17mm socket sizes, as well as #3 Phillips. Comes with heavy duty vinyl carrying case. MSRP $46.95.Click here for more details go to www.msracing.com.
DUBYA USA OFFERS VINTAGE, WHEELS, SPOKES AND RIM LINES

Dubya USA press release: Dubya USA is pleased to announce the expansion of their Vintage wheel building/restoring and custom spoke manufacturing services. Dubya USA has a wide variety of rim and spoke options and has the capability to cut and thread butted or straight spokes to fit any wheel. Hubs can be powder coated, painted, Cerakoted or simply sand blasted. Call Dubya USA for pricing and options at (714) 279-0200..
ROBBY BELL WINS WORCS CHAMPIONSHIP FOR THIRD TIME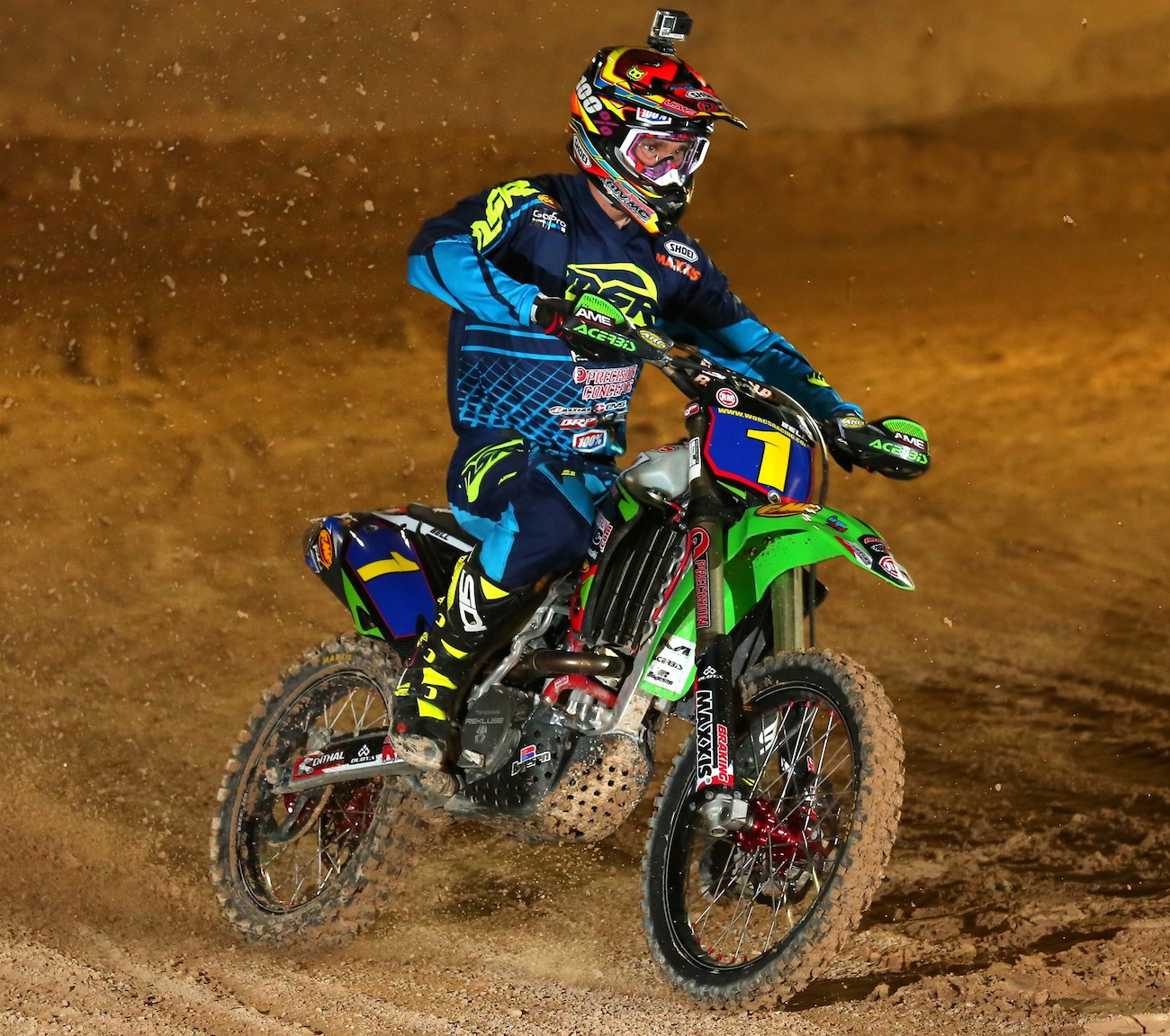 Robby Bell won two races, finished in the top 3 five times and was never out of the top ten. Photo: Harlan Foley
WORCS press release: If the Rocky Mountain MC World Off-Road Championship Series Presented By Maxxis and Dirt Bike gave out an adversity award, Robby Bell would have earned it in spades this season. He overcame nagging injuries, mechanical issues and even becoming a new dad to win his second consecutive Pro Motorcycle championship. Bell finished third in the season finale at Buffalo Bill's Resort and Casino to clinch his third WORCS Pro title. Eric Yorba won the race, ahead of Justin Wallis. Justin Seeds and Michael Del Fante completed the top five.
After suffering major facial injuries last year, he had surgery this year on his jaw and then broke his collarbone while practicing. He even became a new dad. And yet, nothing seemed to slow his charge. After winning the first two races of the season, Bell went on to record another five podiums. Ronny said, "I've been losing a lot of sleep due to nervousness over this round," explained Bell. "This is a huge weight off my shoulders. We worked our butts off for this championship. This was a tough year. We had some mechanical and health issues. We persevered. I'm so proud of my team. I'm proud of my wife, and I'm having a great time being a new dad."
ROCKSTAR HUSQVARNA EXTENDS PARTNERSHIP WITH TWIN AIR THROUGH 2019

Husqvarna press release: Husqvarna Motorcycles are pleased to announce the extension of their partnership with Twin Air – the world's leading air filter and performance accessories manufacturer. The agreement will see the majority of Rockstar Energy Husqvarna Factory Racing teams benefit from the solid support of the world-known firm throughout the 2017, 2018 and 2019 seasons. The extension of Twin Air's technical partnership with Husqvarna Motorcycles will see the Rockstar Energy Husqvarna Factory Racing teams in the U.S. and Worldwide motocross, enduro and rally racing – with the exception of Rockstar Energy Husqvarna Factory Racing MX2 team – use the Dutch firm's products to further enhance the performance of their racing machines
Pieter Does,  General Manager of Twin Air said, "Twin Air is very proud to align itself with the legendary Husqvarna Motorcycles brand. Our new three year agreement to supply the Rockstar Energy Husqvarna Factory Racing teams worldwide with Twin Air products shows our commitment to expand our current working relationship with the Husqvarna OEM product line. We're looking forward to many successful years ahead."
CHRIS ALLDREDGE SIGNS WITH BPRMX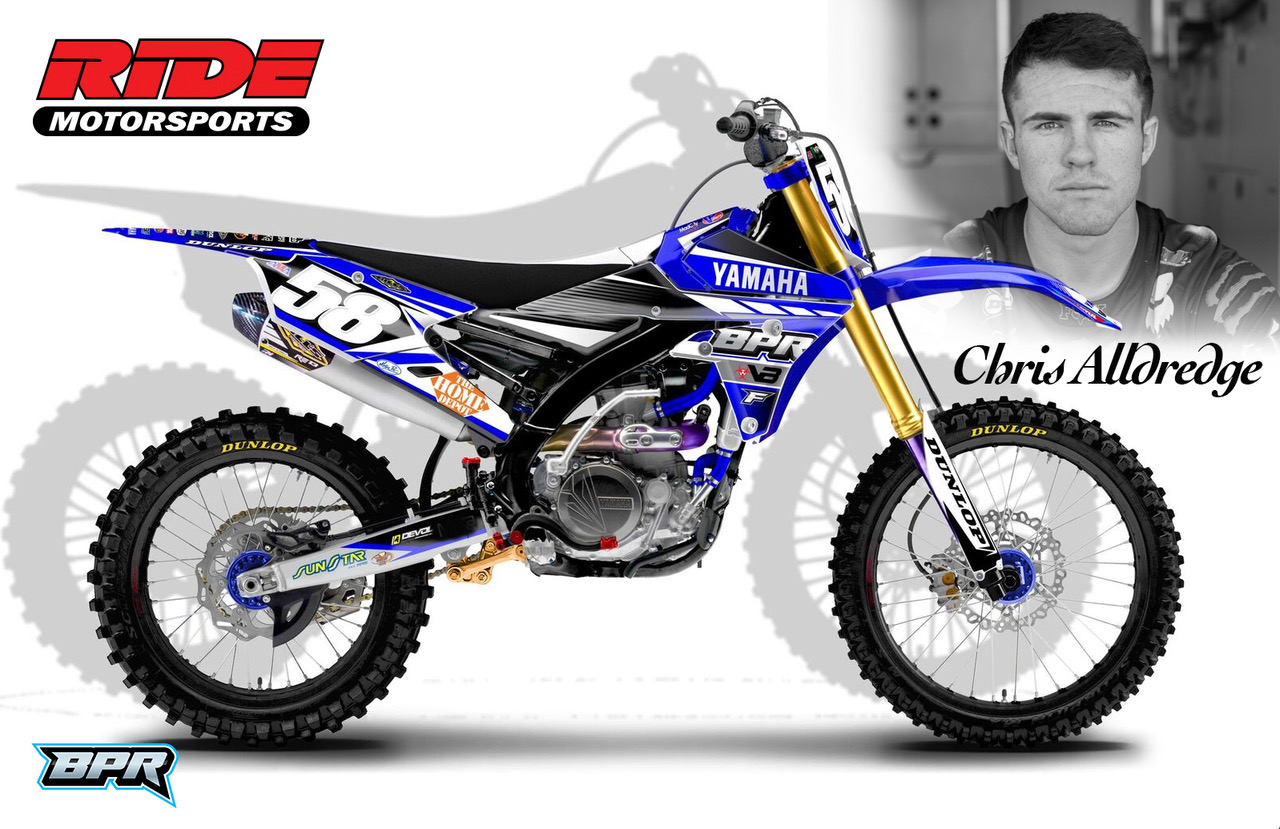 BPRMX Home Depot Yamaha press release: BPRMX Home Depot Yamaha press releaseis proud to announce Chris Alldredge has joined the team for the 2017 season. Alldredge had this to say, "I'm super excited to be getting back on Yamaha's with the Barn Bros Racing Team this coming Supercross season. After riding the Yamaha motorcycle for most of my amateur career, it's nice to be back on the bike that I had so much success on. And I can't thank the Barn Bros team enough for giving me another opportunity to show the Supercross world what me, and the team, are capable of doing." For more information, visit www.bprmx.com. 
2017 PRO TAPER SPONSORSHIP NOW OPEN
ProTaper press release: From kids on KTM 50s to Senior Class racers in their 50s, now is the time to get the holeshot on your 2017 racing season. ProTaper is proud to announce the opening of our 2017 Sponsorship season! Now is your chance to become a member of ProTaper's racer support program. "Our products are race proven and champion-approved," says Brand Manager Paul Perebijnos. "From the Micro Handlebars run on the KTM Junior Supercross minis to the Fuzion and EVO bars used by professionals like Jason Anderson and Jeremy Martin, ProTaper has your bar needs handled." But ProTaper has plenty more to offer when it comes time to upgrade your riding experience, including grips, sprockets, chains and brake pads. And did we mention colors?
"ProTaper is proud to sponsor top athletes around the globe in Supercross, MXGP, EnduroCross and the Off-Road arena. Top pros including Jason Anderson, Jeremy Martin, Colton Haaker and Max Nagl all pick ProTaper." ProTaper not only sponsors professional athletes but racers of all levels from grassroots local level amateurs to national and world champions. "We encourage all racers who want to give ProTaper a positive representation both on and off the track to submit a request for sponsorship." The gate drops on ProTaper Racing's 2017 Sponsorship Program now through the end of November. To be considered for the 2017 ProTaper sponsorship program, please choose from ONE of the following methods to apply:
· Submit a digital application through MxSponsor at: http://mxsponsor.com/companies/pro-taper
· E-mail your complete resume with your contact information, including your results for the past two seasons, career highlights, and your upcoming race calendar to: [email protected]
· Mail your complete resume with results for the past two seasons, career highlights, and your upcoming race calendar to:
ProTaper Rider Support
1621 Alton Pkwy Ste. 100
Irvine, CA 92606