MOTOCROSS SCUTTLEBUTT & TASTY INSIDER MORSELS
JERSEY WARS: WHO INVENTED THE COMPRESSION JERSEY?


AXO's two-piece, compression, Team Issue motocross jersey…from 2008.
While several motocross gear companies are in a squabble over who invented the latest generation of tight fitting compression gear, normally expressed in a tighter fitting jersey made from a Spandex-enhanced material, but that squabble is a total waste of time. Worst of all, it shows how little some clothing companies know about the motocross gear business. How so? They are claiming to have come up with a unique idea, when they are really late to the party. The original motocross compression gear was introduced by AXO over 9 years ago. AXO's 2008 Compression Team Issue gear was designed by Kenny Safford and was the first motocross jersey to incorporate a two-piece compression design. Part one was the skintight, long sleeve, Lycra and Spandex Compression jersey. Part two was the Team Issue vest, which is basically a tight-fitting basketball jersey that you wore over the Lycra undershirt.
When the MXA wrecking crew tested the AXO Compression Team Issue jersey we were divided. Half of the test riders felt like their muscles were less fatigued and recovered faster because of the compression, while the other half felt uncomfortable in the skintight jersey. However, all test riders agreed that on a cold day the AXO Compression jersey was much warmer than a conventional loose-fitting jersey. Of course, the corollary of that benefit was that on warm days it was hotter. AXO's Lycra undershirt had mesh sides to allow air in (and the Team Issue vest was sleeveless). The under-jersey was white, while the sleeveless outer jersey came in red, blue, black or blue/yellow. It should be noted that in hot weather one test rider said that when you started to sweat "it felt like you were wearing a snake skin." The AXO Compression Team Issue jersey retailed for $44.99. AXO dropped the idea when it didn't sell very well.
NEWS FROM KEN ROCZEN: OPEN & HONEST WITH HIS FANS

ANAHEIM II RACE RESULTS: SHAKE-UP IN THE 450 POINTS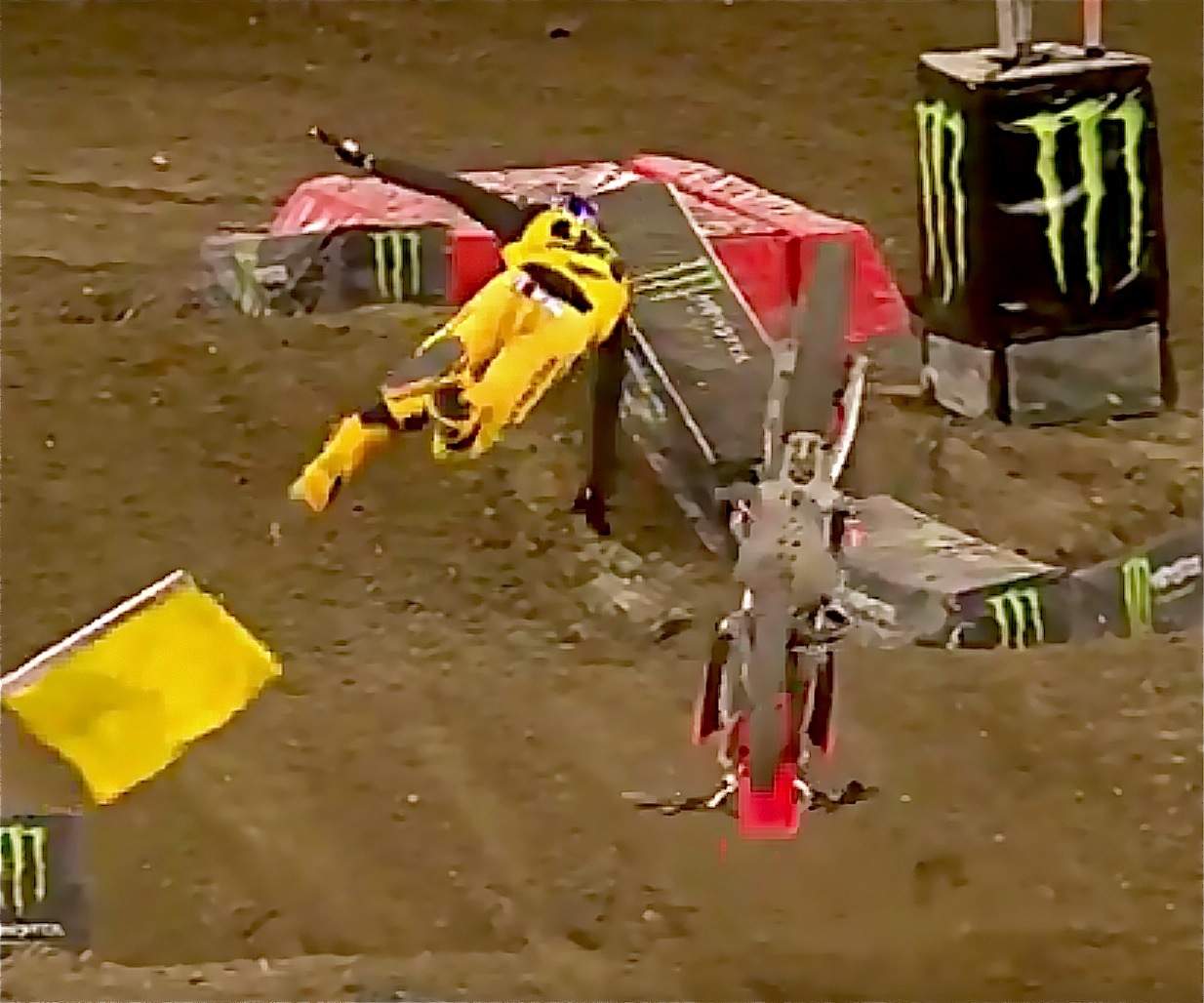 Ken Roczen's Flying W at Anaheim 2. Ken has been feast or famine over his Supercross career. He chalks up wins in a flurry and then goes down in flames. When he's winning he looks unbeatable, but you have to stay healthy to win Championships.
450 class
1. Ryan Dungey…KTM
2. Marvin Musquin…KTM
3. Cole Seely…Hon
4. Cooper Webb…Yam
5. Weston Peick…Suz
6. Josh Grant…Kaw
7. Chad Reed…Yam
8. Eli Tomac…Kaw
9. Davi Millsaps…KTM
10. Blake Baggett…KTM
With Roczen's broken arm, Cole Seely inherits the mantle at Team Honda. Cole is currently tied for third with Kenny (7 points ahead of Eli Tomac and 11 points behind Marvin Musquin).

2017 AMA 450 SUPERCROSS POINTS STANDINGS
(After 3 of 17 rounds)
1. Ryan Dungey (KTM)…69
2. Marvin Musquin (KTM)…62
3. Ken Roczen (Hon)…51
4. Cole Seely (Hon)…51
5. Eli Tomac (Kaw)…44
6. Weston Peick (Suz)…43
7. Davi Millsaps (KTM)…39
8. Josh Grant (Kaw)…37
9. Jason Anderson (Hus)…36
10.  Cooper Webb (Yam)…36
Justin Hill had no pressure at Anaheim 2. He simply rode away from the pack.
250 West class
1. Justin Hill…Kaw
2. Aaron Plessinger…Yam
3. Shane McElrath…KTM
4. Austin Forkner…Kaw
5. Martin Davalos…Hus
6. Jimmy Decotis…Hon
7. Dan Reardon…Yam
8. Tyler Bowers…Yam
9. Josh Hansen…Hus
10. Jeremy Martin…Hon
Shane McElrath has two wins out of three tries, but his points lead is only 6 points over second and 7 points over third. The 250 West series is 0ne-third over.
2017 AMA 250 WEST POINTS STANDINGS
(After 3 of 9 rounds)
1. Shane McElrath (KTM)…70
2. Aaron Plessinger (Yam)…64
3. Justin Hill (Kaw)…63
4. Martin Davalos (Hus)…54
5. Austin Forkner (Kaw)…47
6. Jimmy Decotis (Hon)…42
7. Jeremy Martin (Hon)…40
8. Tyler Bowers (Yam)…33
9. Dan Reardon (Yam)…32
10.  Phil Nicoletti (Suz)…26
THE SIX-YEAR CALIFORNIA DROUGHT ERASED IN ONE MONTH OF RAIN

This is today's radar map for California, but it could have been the radar map for half of the days in January. It should be noted that California rainstorms become Midwest snow storms a few days later.

The rain storms pummeling California have been the strongest to hit California since 2010. Over the last four months Los Angeles has gotten over 14 inches of rain. That is 216% more than the usual rainfalls on record. The current snowpack, which is where the bulk of water to fill reservoirs and rivers in the Spring thaw comes from, is 163% above normal levels. Rain levels in the state are already at 80 percent of the normal amount of yearly rainfall (and it is still January). The bureaucrats don't want people to think that the drought is over, but rain would seem to be an indicator that the drought chances have lessened. It should be noted that SoCal is a very dry place, where strangely enough the government lets water run out to sea unabated. Rain in SoCal doesn't effect the drought much one way or the other—since SoCal's water comes largely from Northern California and the Sierra snowpack.
All of this rainfall is impressive, and good in the long run, but for motocross racers it has been a disaster as race after race has been canceled as the tracks have been flooded, roads to them closed and racers bored to death sitting at home looking out their windows. REM Motocross, the nation's most prolific race organization, which holds 40 races a year, canceled, rescheduled and canceled again it's final two races of December, then squeezed it's "Day After The Night before Race" between rain storms on January 8th—and has been unable to hold any races since. They have high hopes, based on weather forecasts, that this Saturday's January 28th race will be held in sunny conditions.
Every track, especially those in low lying areas, like Lake Elsinore, Pala, Milestone, flood easily. And since these tracks are basically practice tracks, with few races, they suffer the most from weekday storms that stop people from coming to ride. Californians have never raced in the rain, not because they don't want to, but because the historical SoCal tracks (Carlsbad, Saddleback and Indian Dunes) had layouts that were not conducive to people getting in or out. Carlsbad was down at the bottom of a ravine and the long clay road was impassable in a rainstorm. Saddleback's clay dirt would turn to ice in a rainstorm and riders would be trapped in the pits on the hilly track. Indian Dunes had a river running through it. Thus, it wasn't the condition of the track that stopped racers from riding in the rain, it was the roads into the tracks that squelched the deal. Since then, even though those tracks are gone now, the riders will not show up when it rains.
PHOENIX SUPERCROSS ON FOX SPORTS 1 ON SATURDAY, JANUARY 28

Check your local listing for times in your region. Be forewarned that Oakland will be on Fox Sports 2 on February 4. The only other Fox Sports 2 race is Daytona on March 11.

THE MOST GEOGRAPHICALLY DIVERSE 250 WEST FIELD EVER

Austin Forkner was 4th at Anaheim 2, but 1st from the "Show-Me State."
The top ten in Anaheim 2's 250 West final was unique for one fact — the top 10 riders were from 10 distinctly different states or countries. The riders from first to 10th were from Oregon, Ohio, North Carolina, Missouri, Ecuador, Massachusetts, Australia, California, Colorado and Minnesota.
SATURDAY NIGHT'S PHOENIX SUPERCROSS TRACK MAP
WANT A COPY OF "INSIDE TRACK"? FLY, DRIVE OR WALK TO GLEN HELEN'S FRONT GATE

Glen Helen has it's own magazine, called Inside track. It gives the readers all the inside scoop on Glen Helen's major events for the 2017 season, as well as articles by Tom White and Jon Ortner. The 2017 Glen Helen event calendar is also included. Everyone who passes by through Glen Helen portal can get one for free…just ask.
SPAIN'S REDSAND INTERNATIONAL WAS CANCELED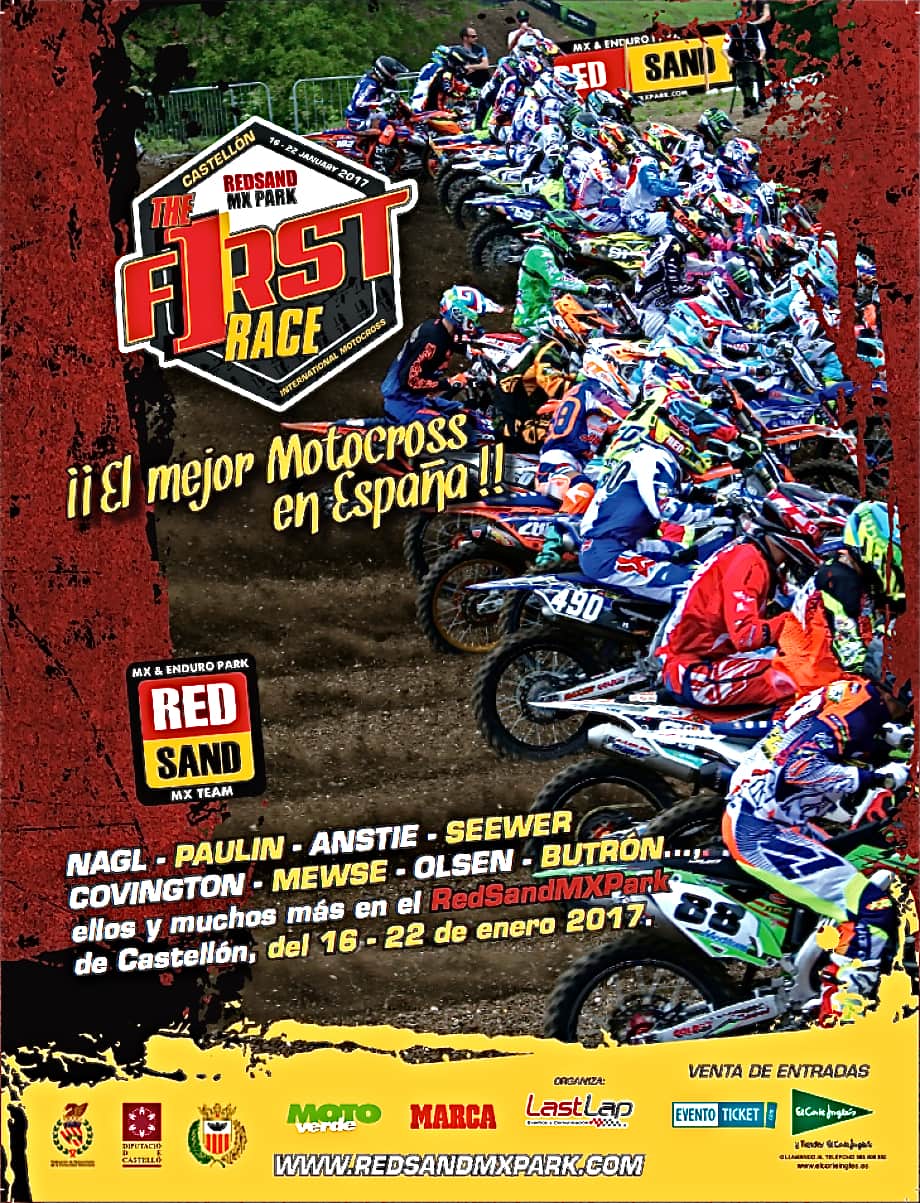 After massive expenditures by the race promoters (and teams who traveled to Redsand MX Park in Spain to race), the first international race of the 2017 was canceled this past weekend because of torrential rain. Whether it will be rescheduled remains to be seen. RedSand MX Park's Juanjo Gimeno posted this on Facebook: "The first race – is suspended, the heavy rains yesterday and tonight have left accesses, paddock and circuits in a critical state. At the moment trying to get out of the paddock to the pilots who were unable to leave last night.  A very hard decision, but it's the only one that can be taken."
IN-THE-CRATE HONDA CR250 TWO-STROKES UP FOR BID AT MECUMS LAS VEGAS AUCTION JAN. 25-28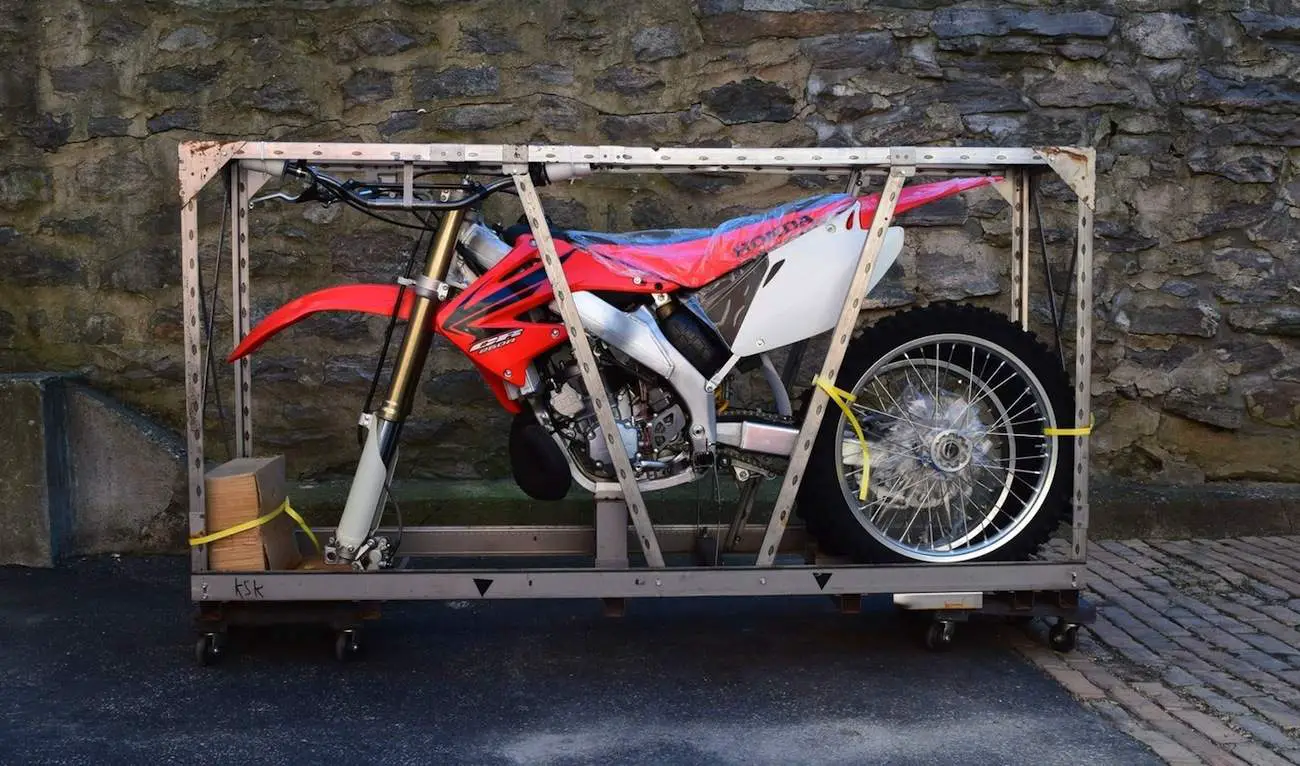 An extraordinary offering of Japanese rarities is set to draw attention at the world's largest vintage and antique motorcycle auction, the 26th annual Mecum Las Vegas Motorcycle Auction, slated for Jan. 25-28, 2017, at South Point Casino & Hotel in Las Vegas. More than 350 motorcycles from the who's who of Japanese motorcycle manufacturers will cross the auction block when Mecum returns to Las Vegas at the end of this month. Among featured Japanese motorcycles up for auction are a trio of new-in-crate 2007 Honda CR250s (Lots S22, S23and S24), the 1977 Suzuki MX factory racer that Gerrit Wolsink won the United States Grand Prix at Carlsbad with that year (Lot S182), and a 1976 Yamaha OW72 (Lot F173) raced by Kenny Roberts, one of about 30 OW72 Yamaha factory racing engines built.
Doors open daily at 8 a.m., with the auction beginning at 1 p.m. on Wednesday, Jan. 25, and at 9 a.m. on Thursday, Friday and Saturday, Jan. 26-28. Portions of the event will be broadcast on NBC Sports Network from 4-10 p.m. PST on Tuesday, Jan. 31. A live stream of the entire auction will be presented at www.Mecum.com.
U.S CUSTOM CRACKS DOWN ON ILLEGAL ENGINES & VEHICLES AT THE L.A. PORT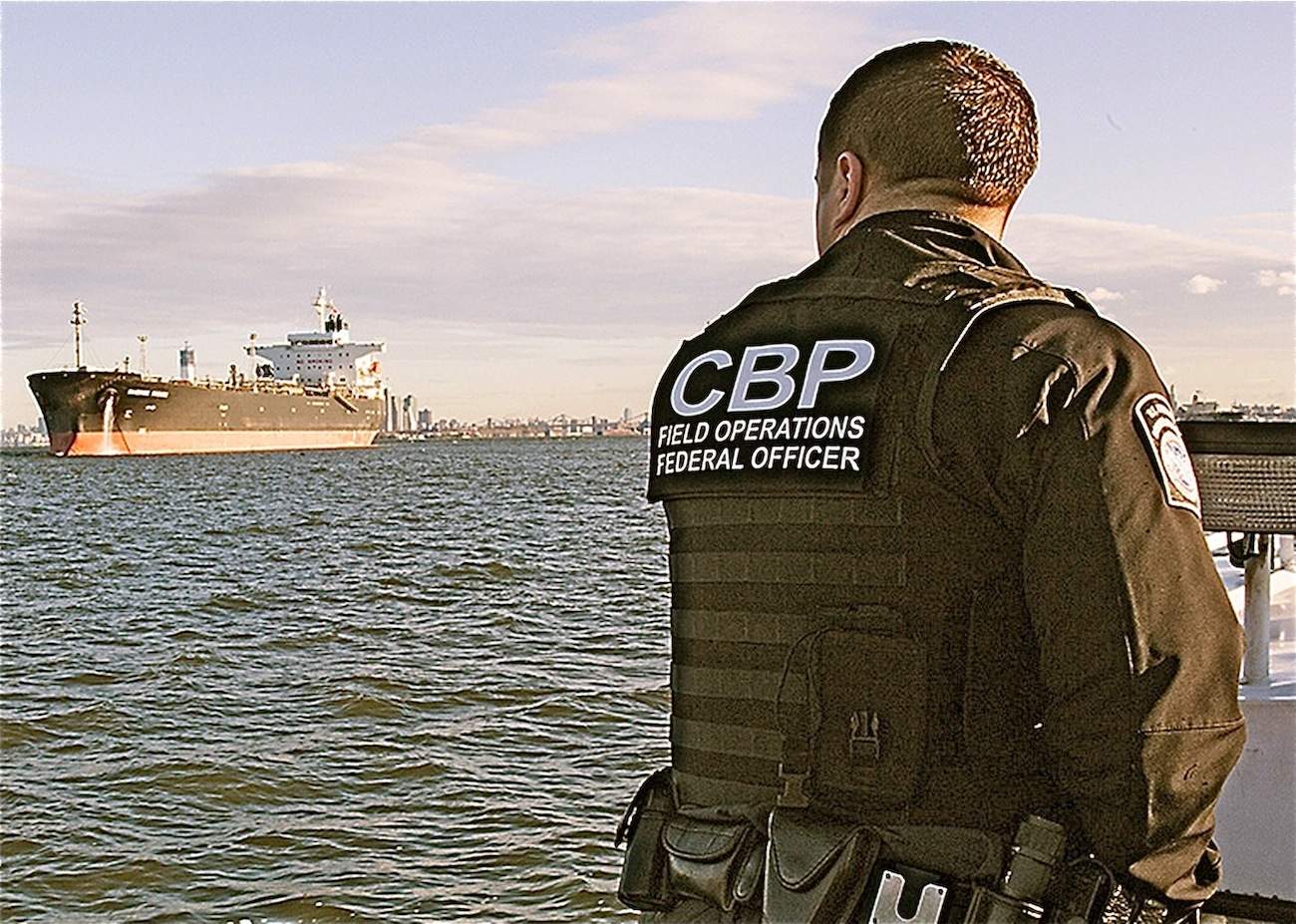 The EPA and U.S. Customs announced $217,998 in fines and more than 5325 items seized or denied entry to the United States. These included foreign-made engines,  scooters, ATVs, chainsaws and construction equipment without proper emission controls. The EPA has been conducting regular inspections at California ports of entry since 2014. The focus has been on engines, vehicles and pesticides. Mobile sources, such as on-road and off-road vehicles, are one the largest sources of air pollution in California and account for approximately 20% of PM2.5 (fine particulate matter up to 2.5 microns in diameter) and 83% of nitrogen oxide emissions.
A RANDOM LIST OF SEIZED OR DENIED CONTAINERS
Yamagin Tsusho Company Limited: Imported six mini-trucks from Japan. The mini-trucks did not have the proper certificates for their evaporative emissions componentss. The company was required to ship the mini-trucks out of the United States and pay a $65,000 penalty.
Pacific Rim International West: Imported 104 all-terrain vehicles (ATVs) from China that contained catalysts not matching their description in the import application. The company was required to ship the ATVs out of the United States and pay a $30,000 penalty.
Vitacci Motorcycles: Imported 457 ATVs from China. The ATVs contained catalysts not matching their description in the import application. The company was required to ship the ATV's out of the United States and pay an $18,000 penalty.
Ming's International: imported 1105 two-stroke spark ignition engines from China without the proper certification requirements. The company was required to ship the engines out of the United States and pay a $13,898 penalty.
Xcalibur Inc: Imported 148 motorcycles from Taiwan. The motorcycles contained catalysts not matching their description in the import application. The company was required to ship the motorcycles out of the United States and pay a $13,300 penalty.
JMC Motors LLC: Imported 12 ATVs from China without the proper certification requirements and containing catalysts not matching their description in the import application. The company was required to ship the ATVs out of the United States and pay an $8800 penalty.
Lil Pick Up, Inc.: Imported 1051 ATVs in 13 separate shipments from China, that lacked the proper certification requirements. The company was required to ship the ATVs out of the United States and pay a $7000 penalty.
Spira4U Co. Ltd.: Imported 10 motorcycles from China. The motorcycles contained catalysts not matching their description in the import application. The company was required to ship the motorcycles out of the United States and pay a $6500 penalty.
MXA HIT PARADE: PRO CIRCUIT'S 2017 T6 & TI-6 KTM & HUSKY EXHAUSTS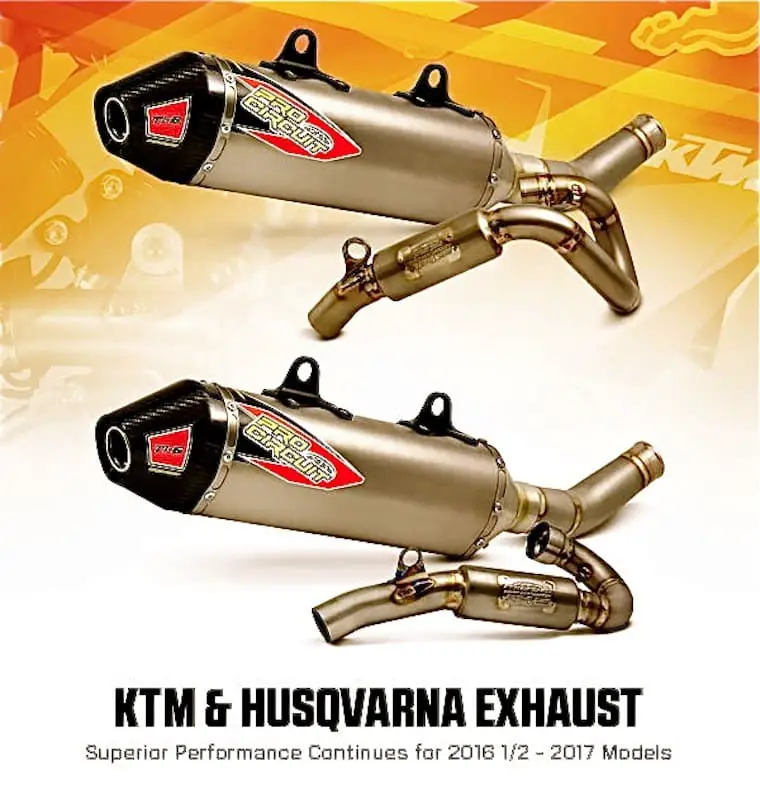 Pro Circuit is excited to roll out its new T-6 and Ti-6 line of exhaust systems for the 2017 KTM 250/450 SXF, 2016 1/2 Factory Edition and 2017 Husqvarna FC 250 models. Every Pro Circuit exhaust system is designed and manufactured in the USA and is the perfect choice for KTM and Husqvarna riders everywhere looking for an increase in performance for their motorcycle(s).
T-6 PRO TITANIUM EXHAUST SYSTEM: $999.95
The Ti-6 Pro Titanium Exhaust System is designed to provide improved performance plus meet the sound requirements for AMA/FIM Pro level competition. Chosen by factory teams and privateers alike for AMA/FIM Supercross and National Motocross racing.
T-6 TITANIUM EXHAUST SYSTEM: $999.95
The Ti-6 Titanium Exhaust System is designed for both closed-course and off-road racers. It's the ideal system for AMA Amateur events or any rider or racer looking for winning performance, legendary durability and a professional look. The Pro Circuit Ti-6 System is equipped with a removable USFS approved spark arrestor, making it easy to alternate between off-road and closed-course racing.
T-6 STAINLESS STEEL EXHAUST SYSTEM: $779.95
The T-6 Stainless Steel Exhaust System is designed for both closed-course and off-road competition. Constructed from high strength stainless steel and aluminum, the T-6 offers the same improved performance as our Ti-6 System. The T-6 System is a great way for riders or racers looking for winning performance, legendary durability and a professional look but at a lower price. In addition, the T-6 System is equipped with a removable USFS approved spark arrestor making it easy to alternate between off-road and closed-course racing.
T-6 STAINLESS STEEL SLIP-ON SILENCER: $464.95
The T-6 Stainless Steel Slip-On Silencer is for riders looking for an inexpensive, easy-to-install, durable performance silencer that can bolt right onto their stock head pipe. The T-6 Slip-On is constructed of stainless steel and high quality aluminum for increased durability. The T-6 Slip-On is a great option for any rider looking for an increase in performance on a small budget. A removable USFS approved spark arrestor is included to make it easier to alternate between off-road and closed-course racing.  www.procircuit.com
MXA HIT PARADE: O'NEAL RACING HARDWEAR JAG GEAR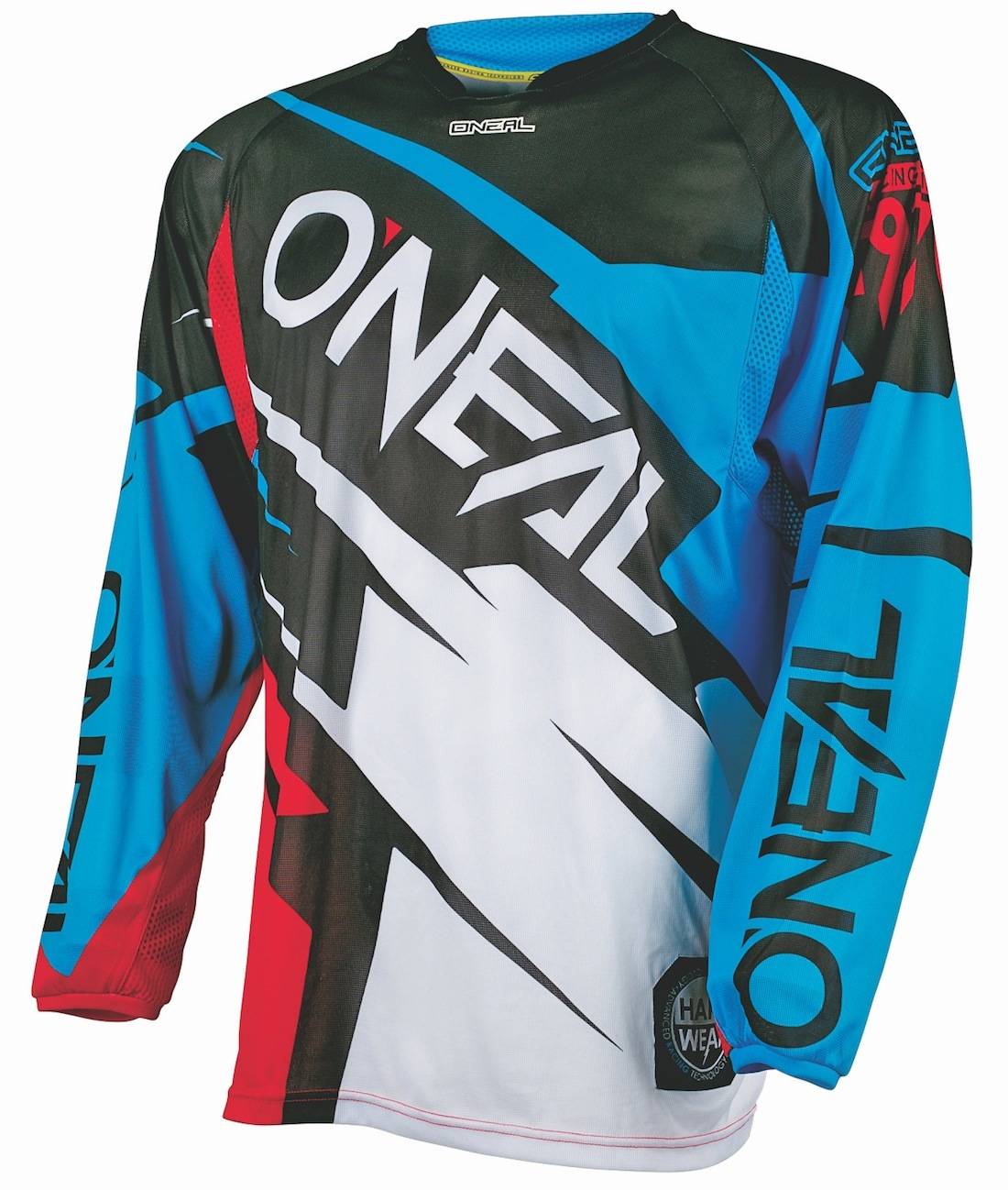 "The O'Neal Hardwear jersey has undergone a complete redesign for 2017. It's the lightest and most technical Hardwear jersey ever. Utilizing our new 'Pro-Lite' performance fabric, we were able to drop the weight a remarkable 6 ounces! Additionally, all-over venting is a standard feature for those hot days. Larger hole, closed-cell venting on the cuffs and underarms allows air in and keeps dirt out. O'Neal's Hardwear pant is lightweight without sacrificing unsurpassed durability.¬†With its 360-degree belt, accordion-style knees and leather heat shields, the Hardwear pant is loaded with features. Our new Jag graphic uses one pant color that matches four different jersey colorways. It's a great way to stay looking fresh.—O'Neal Racing's Marina Peters.
$169.99 (pant), $54.99 (jersey)—www.oneal.com or (800) 326-6325.
MXA HIT PARADE: FOX RACING V3 HELMET
"Our premium level Fox V3 helmet has been trusted and worn by more Supercross Champions in the past two decades than any other brand. Key features include a Multi-Directional Impact Protection System (MIPS), soft density EPS liner cap, Dri Lex comfort liner,multi-composite shell construction technology,three shell and four EPS sizes for a precise fit,and a dual-density inner EPS liner. There are also 14¬†intake and four exhaust vents for breathability. Designed in California, the Fox V3 helmet is built to exceed ECE 22.05 and D.O.T certifications. Check one out at your local Fox dealer and see why Champions like Ryan Dungey and Ken Roczen put their trust in the V3.—Fox Racing's Kobi Iseri.
$449.95—www.foxracing.com or (888) 369-7223.
MXA HIT PARADE: MOBIUS BRACES X8 KNEE BRACE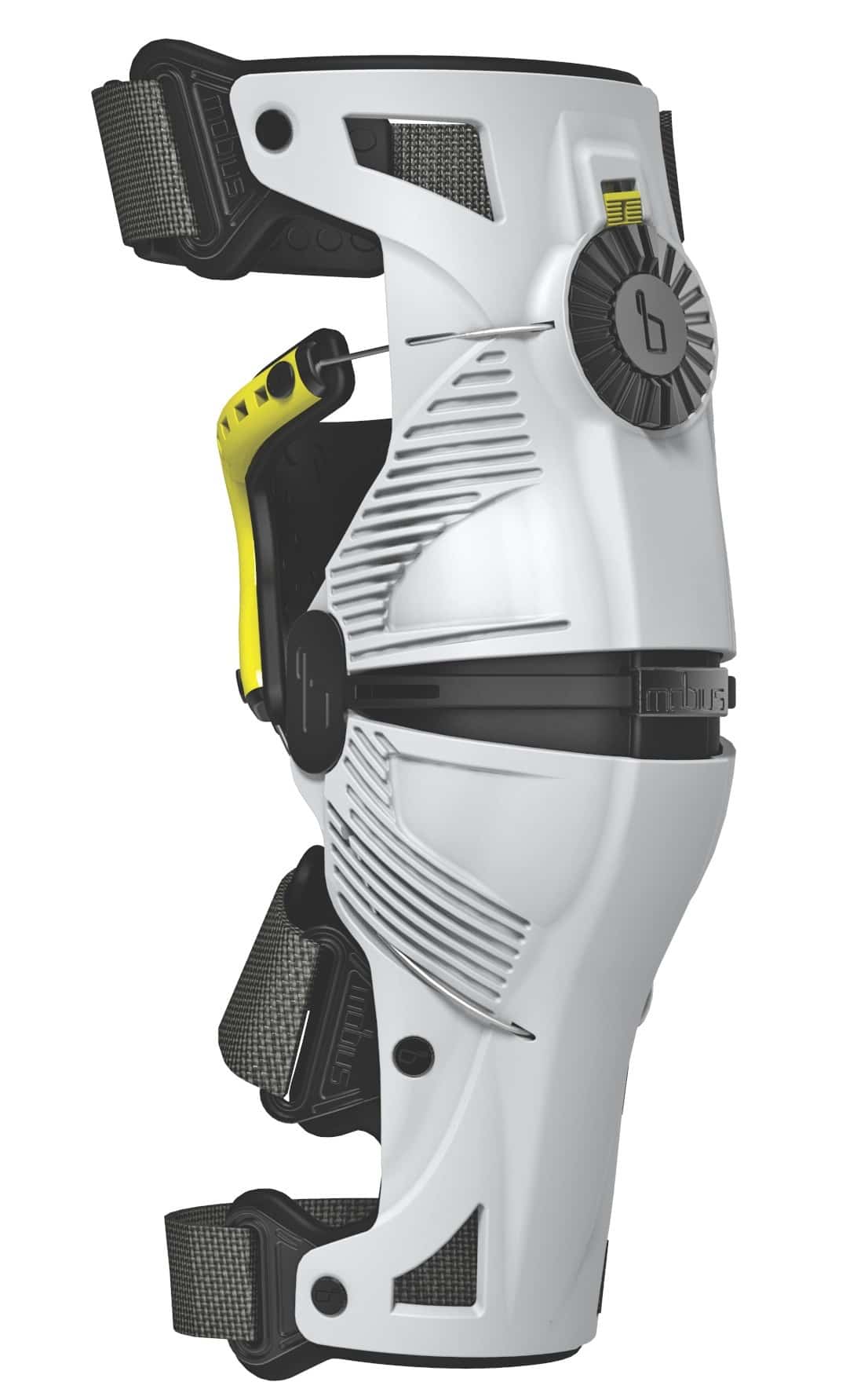 "New sizes of the Mobius X8 knee brace are now available. More than seven years of research and development have yielded the sport's most revolutionary knee brace. Innovative technology such as the CCRS (Continuous Cable Routing System) is seamlessly integrated throughout the brace for unparalleled support and protection. The CCRS reinforces crucial knee ligaments by resisting excessive movement and progressively tightening under extreme loads. The brace adjusts to the perfect fit with a simple turn of an aluminum dial, and numbered straps ensure proper protection. A supportive tendon back plate comfortably grips the back of the rider's knee, providing unbeatable security and natural flexibility. Developed with the sport's premier athletes, the X8 knee brace is changing the game of knee brace technology.—Mobius Braces' Scott Watanabe.
$599.95 (pair)—www.mobiusbraces.com or (208) 928-7850.
MXA HIT PARADE: TM DESIGNWORKS "FACTORY EDITION SX" CHAIN GUIDES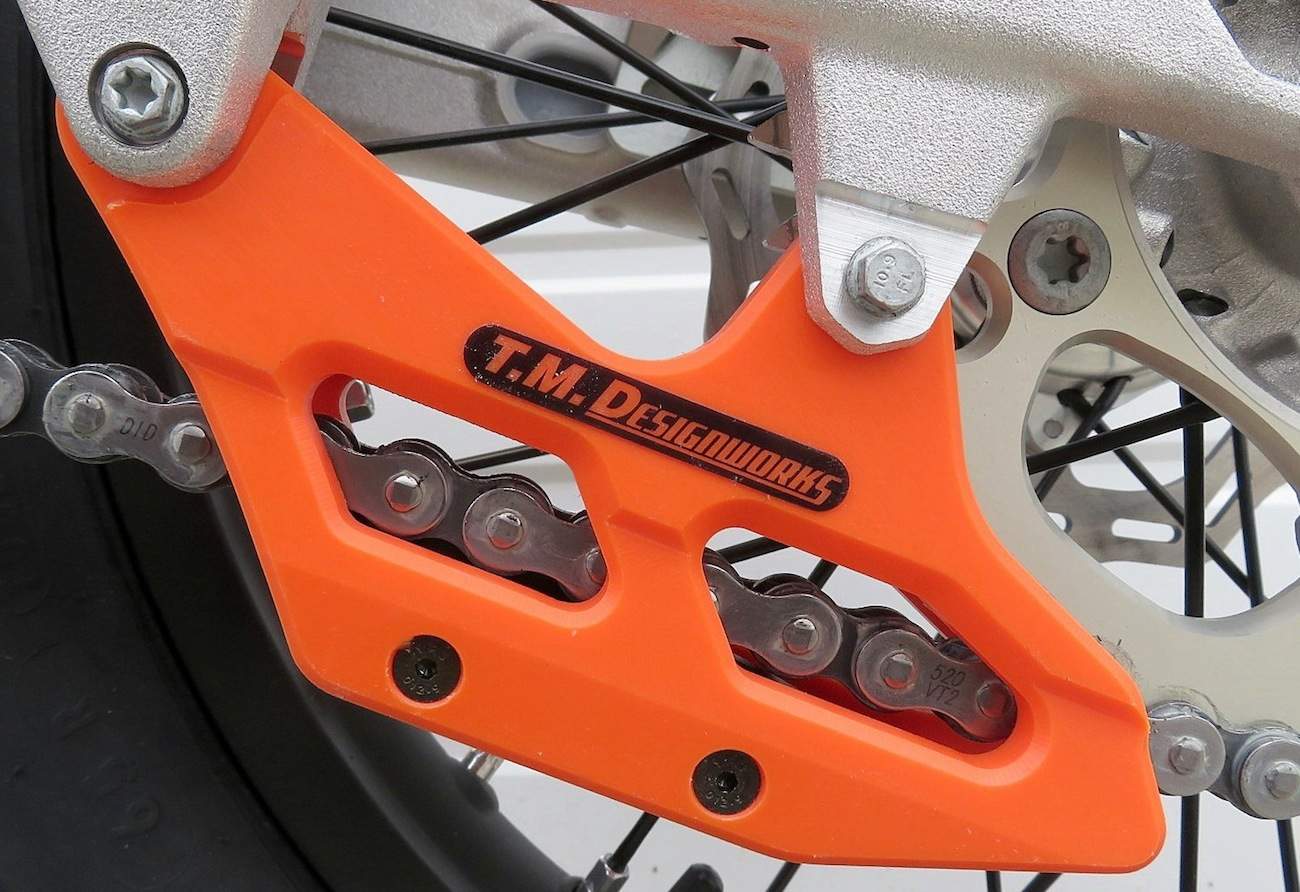 The 2017 "Factory Edition SX" version of the popular TM Designworks chain guides are lighter than both stock chain guides and TM Designworks' 2016 GP MX chain guides. Thenew chain guides feature a slimmer profile, increased ground clearance, impact memory, multiple colors, reduced surface drag and ae chain guide body is realigned to accept stock gearing (and up to two teeth more in rear sprocket size). This is an AMA Supercross and National tested product that retails for only $79.95 retail.The new KTM/Husqvarna/Sherco model costs $89.95 and comes in black, orange, Husky blue, Swedish blue and Sherco purple-blue.
www.tmdesignworks.com or call (514) 772-4161.
HOW TO SUBSCRIBE & GET MXA FOR FREE: WE ACTUALLY PAY YOU $9.00
Interested in getting a new bike this year? The January 2017 issue of MXA is on the news stands now and includes the long-awaited 2017 MXA 250 Shootout. You should be reading MXA, and if you subscribe now you get a $25 gift certificate from Rocky Mountain ATV/MC which more than pays for your subscription.
Do you subscribe to MXA? You should. We know that you think that print magazines are dead and that the internet will fill the void, but most of the stuff in the current issue of MXA won't appear on the web for several months, if at all. Luckily, you can get all of MXA on your iPhone, iPad, Kindle or Android by going to the Apple Store, Amazon or Google Play. Better yet get the Digital desktop version at https://hi-torque.com/product/motocross-action-digital-edition/ for $9.99 a year.
The MXA test riders prefer the print version and not just because it is delivered by a uniformed employee of the U.S. Government, but because right now you can get 12 issues for $15.95 and a free $25 Gift Card from Rocky Mountain ATV/MC. That means that there is a profit to be made in this deal for you. For the Print magazine go to: https://hi-torque.com/product/motocross-action/
ALTA REDSHIFT ELECTRIC BIKES SIGNS THREE SoCAL DEALERS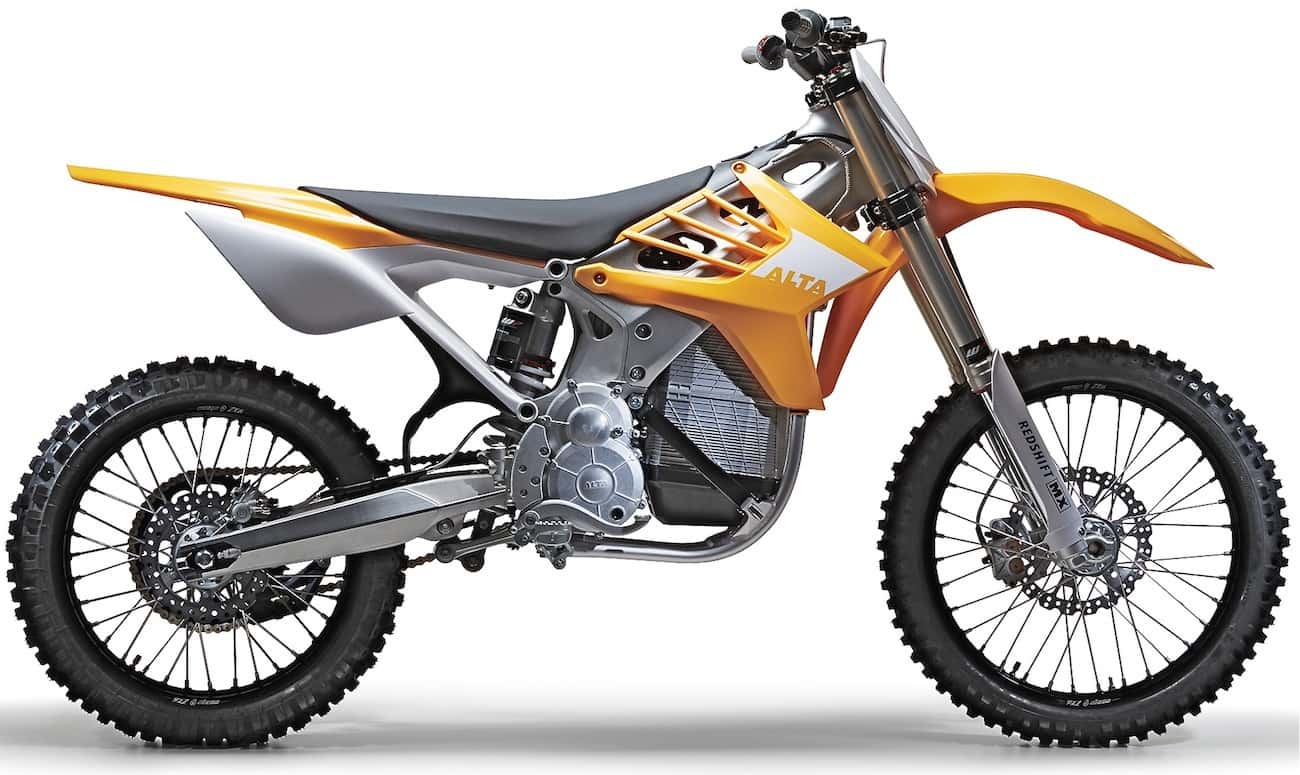 Alta Motors has added three new Southern California dealerships to its dealer network: Beverly Hills Motorcycles, Moto Forza and GP Motorcycles of San Diego.Alta  officials said, "These 3 dealers are the latest additions to our team and they will be delivering Redshifts to customers who have been patiently waiting on the reservation list. They will also be hosting demos on a rolling basis, so come see the Redshift at the dealer closest to you."
Beverly Hills Motorcycles is located at 428 N. La Cienega Blvd., Los Angeles, CA 90048.
Moto Forza is located at 572 N. Tulip Street, Escondido, CA 92025.
GP Motorcycle of San Diego is located at 3617 India Street, Suite B, San Diego, CA 92103.
HOW IS YOUR TWITTER GAME GOING? UP IT BY FOLLOWING MXA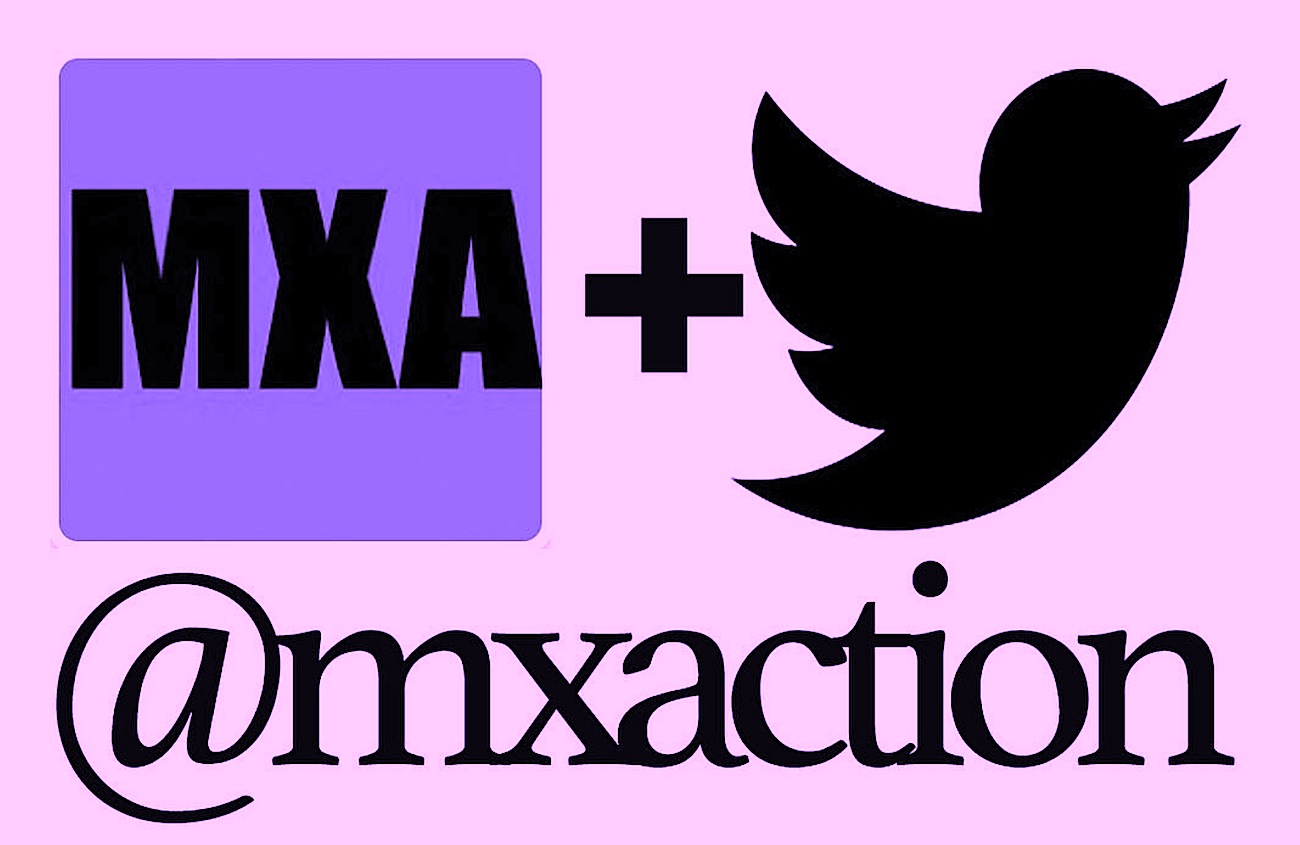 Follow us to see fresh content every day at www.twitter.com/MXAction or on twitter at "MXAction"