MOTOCROSS SCUTTLEBUTT, INSIDER INFO & MUNDANE STUFF
MXA'S KTM CRANK NUT WARNING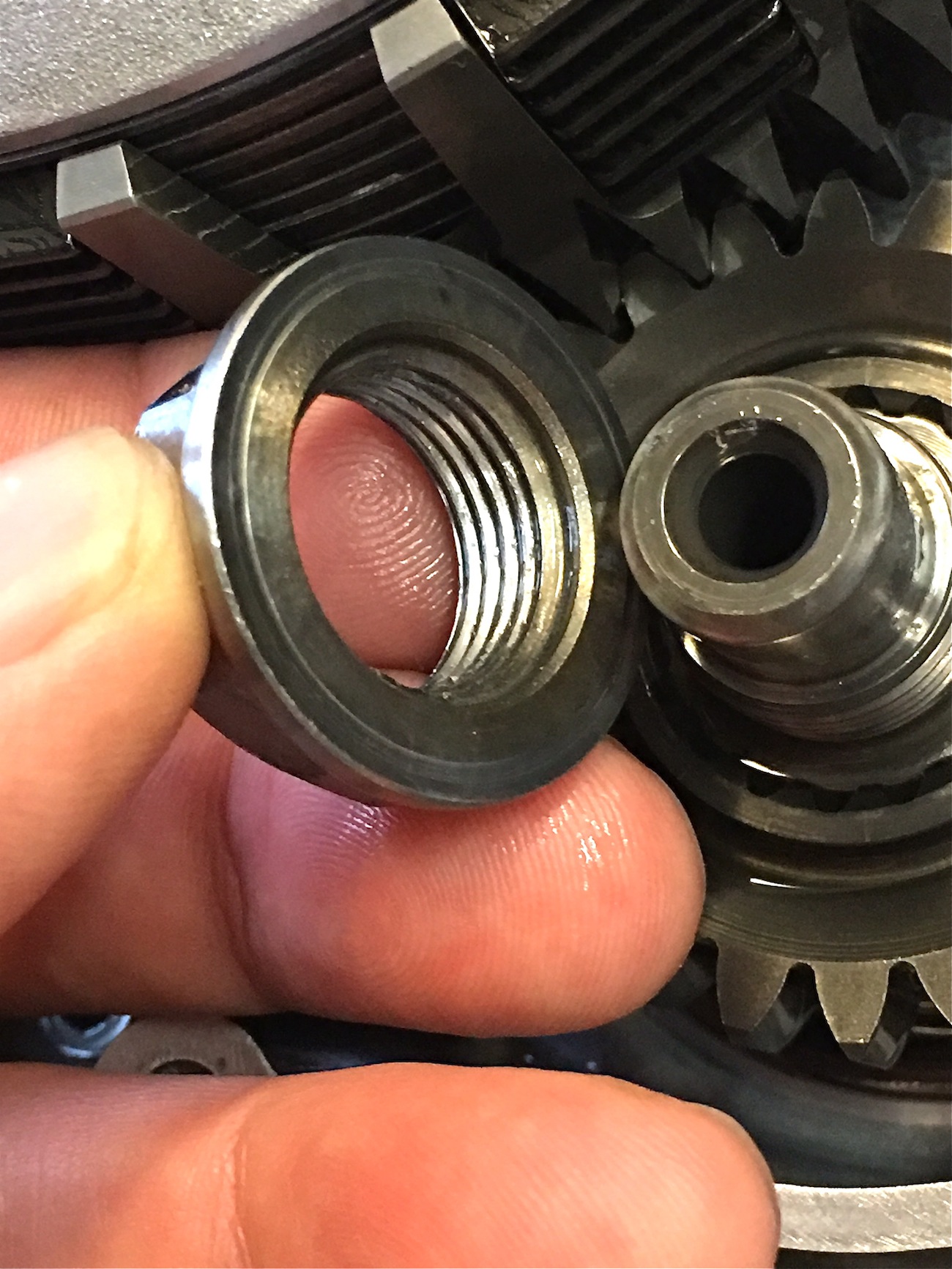 The offending nut.
Last weekend at the REM races, N2-Dirt's Brian Bolding found five KTM 350SXF's with loose crank nuts on the clutch side. This nut cannot fall off the end of the crank, but it can spin against the case, wear enough aluminum away to clog the oil lines and even allows the snap ring and crank seal to walk out. We recommend that you check the nut on the end of the your KTM 250 or 350 crank — it does require draining the water and removing the impeller to get to. The first signs are some strange engine noises, followed by the cam chain tensioner's hydraulic lines getting clogged and eventually a ton of aluminum in your oil filter (you may have to cut the oil filter open to see it). We talked to KTM and expect a KTM dealer bulletin to be sent out. This only affects KTM 250SXF and 350SXF engines and not the 450SXF.
HOW MANY MXA TEST RIDERS? 2017 HONDA CRF450 TEST
Dennis Stapleton moves heaven and earth at Monster Mountain.
MXA is nothing if not thorough. As the test on the 2017 Honda CRF450 continues unabated, the MXA guys are busying putting in lap after lap in search of valuable setup info. How many MXA test riders does it take? Enough to get the opinion of Pro, Intermediates, Novices and Vets. Here is a shortlist of the test riders that MXA has employed so far—and we aren't done with the testing yet..
Tye Hames rockets around a corner on the 2017 Honda CRF450.
Jody Weisel spent his fair share of time on the CRF450 before passing it on to the next set of test riders.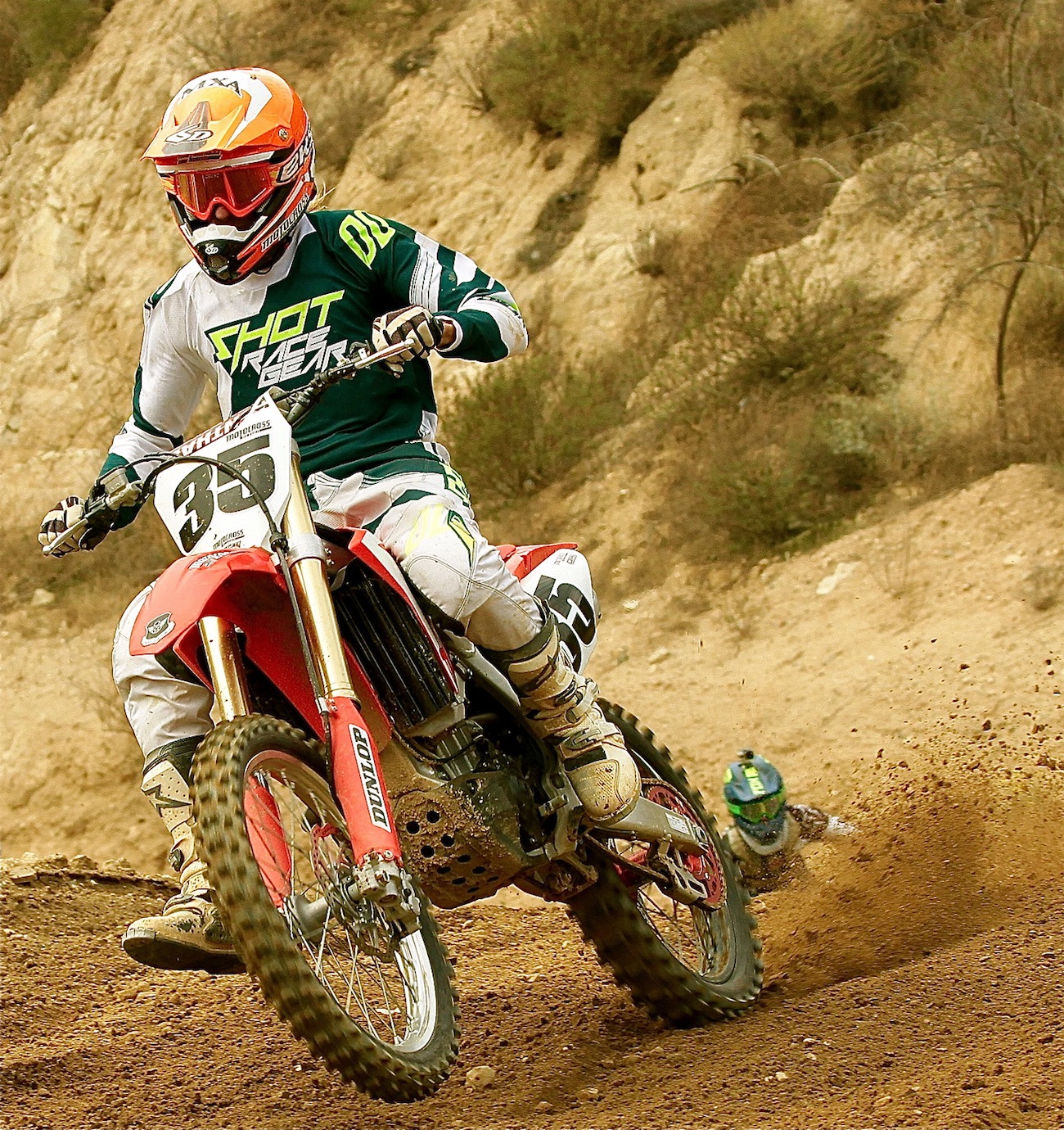 Randel Fout put in back-to-back motos last weekend to get extra time on some new suspension and gearing settings.


John Perry was one of four riders to race the 2017 Honda CRF450 at the World Vet Championships.
Aussie Dan Alamangos rails the CRF450 through the loose dirt at REM.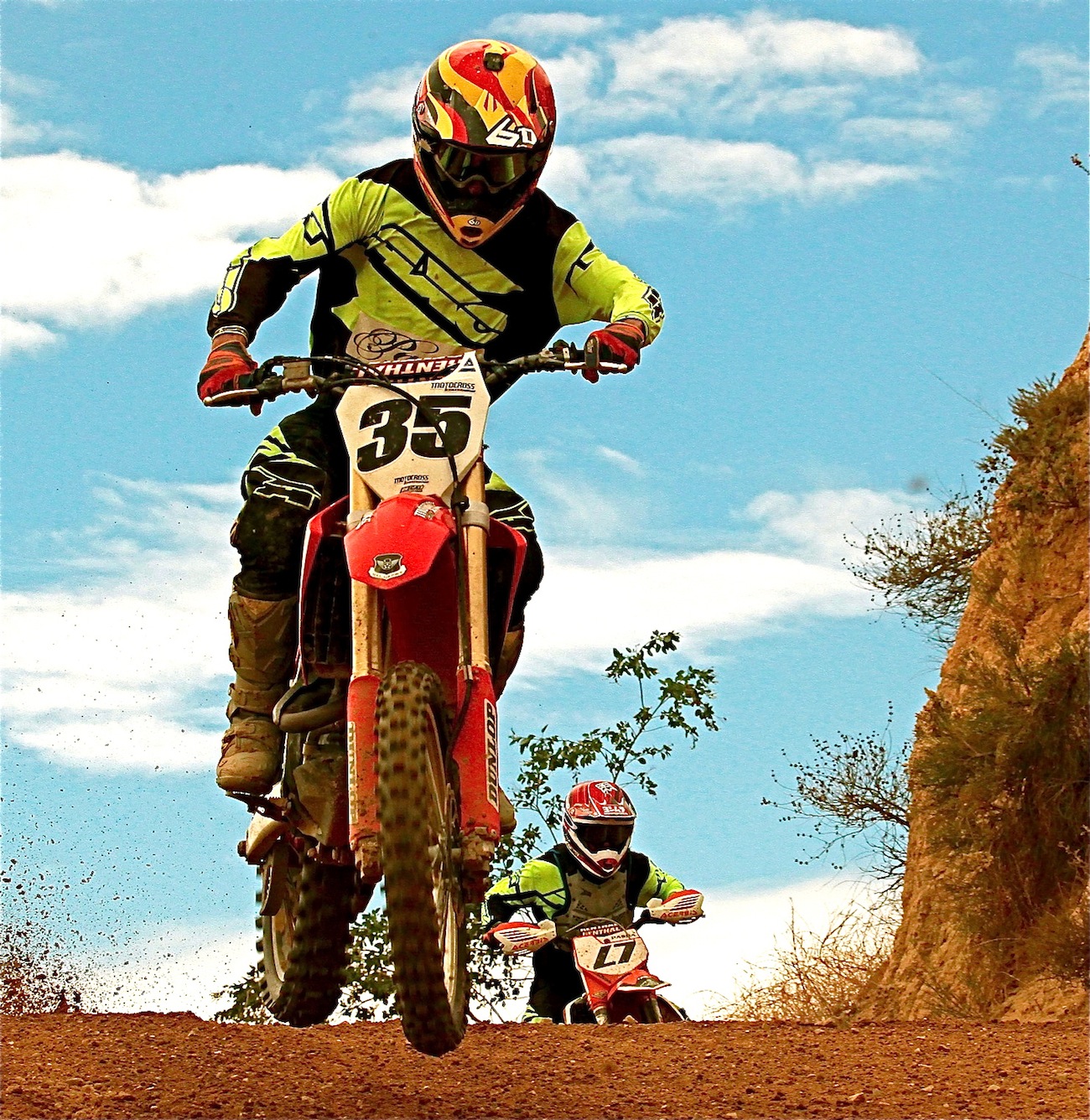 David Cincotta raced the 2017 CRF450 at Glen Helen last weekend.
Ron Shuler spent some time on it so that he could help his dad did a headstart at ESR suspension..
2017 HUSQVARNA WORLD CHAMPIONSHIP ON MARCH 4-5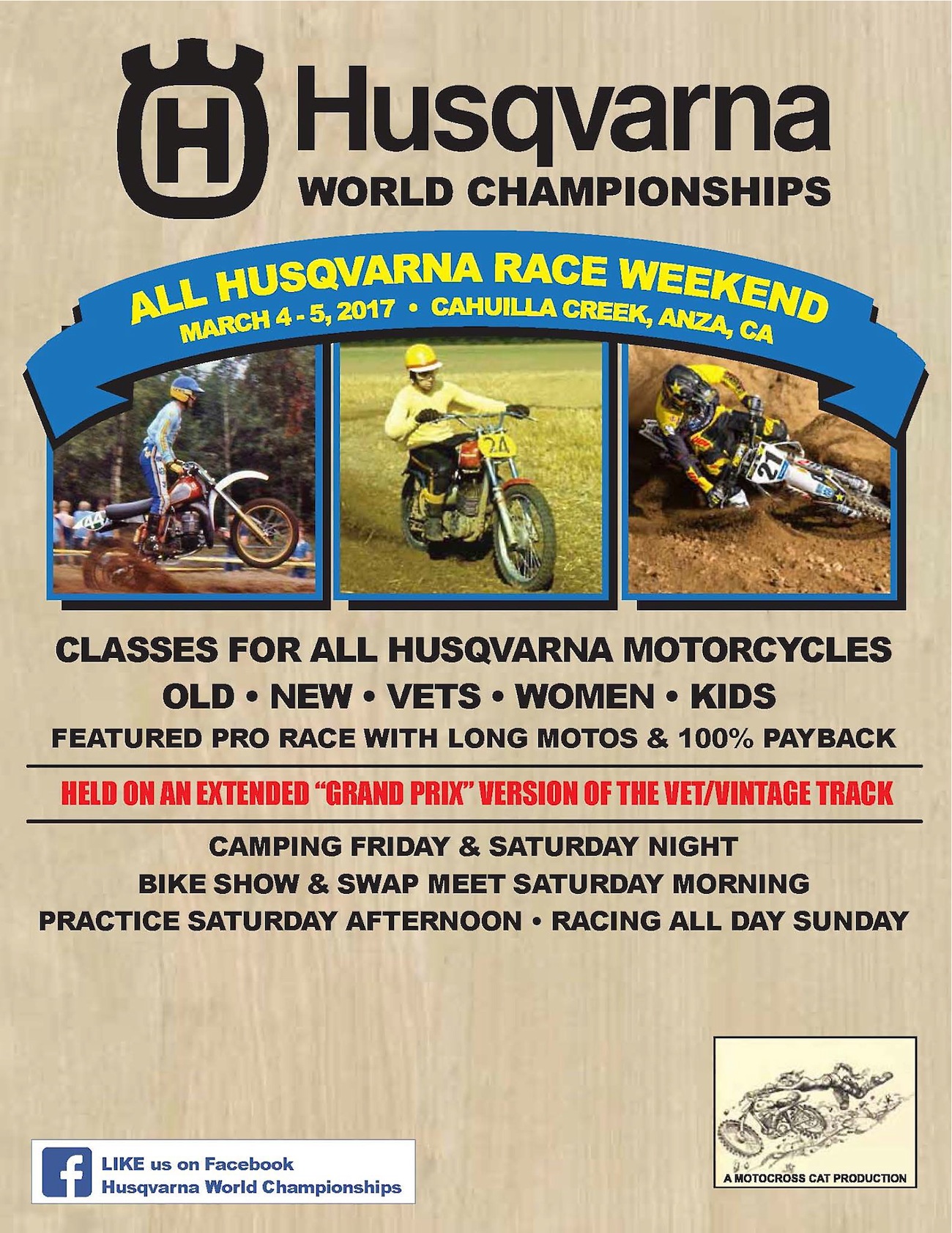 Classes for new Huskys, old Huskys, young Husky riders & old Husky riders at Cahuilla Creek in Anza, California.
WHAT STEWIE HAD TO SAY ABOUT HIS FUTURE PLANS

James on the Yamaha YZ450F—joy ride or future deal? Even James doesn't know. Photo: Collin Speckner
Following the release of photo of James riding a Yamaha YZ450F at his compound, hinting that he had plans to race a YZ450F again, James released a statement through Instagram this week that stated his intent, but also left doubts about whether he'll be on the line at Anaheim 1. Here is what James said:
"It's been a struggle with putting things together for next year with so many sponsors pulling out of MX and a deep pool of great riders and lack of rides. That being said, I've been working on trying to make things happen because I'm not ready to retire. I still have wins in my future, so hopefully I'll be on the gate soon. If that's in the next six weeks, that will be great, but whenever it is, I'll be looking forward to being with the people I love…. Real talk, outta everything—wins, money, fame and traveling, the one thing that keeps me going is my fans because otherwise after this year and the offseason struggles, I would be done! But I'm not, so just wanna thank you for keeping the candle lit. So thank you guys for the love, I definitely see it!!! Also everyone of my sponsors that have and still continue to support me, a big thank you to all of you. It's not a sponsorship anymore…. it's family."
YAMAHA ANNOUNCES 2017 CONTINGENCY PROGRAM
Yamaha Motor Corporation, U.S.A., is proud to announce that its bLU cRU Supercross/Motocross/Off-Road Racing Contingency Program returns for 2017 with several new enhancements, including a total payout of $4.6 million for the highly popular rider support program. For 2017, Yamaha Contingency support has been extended to bLU cRU riders competing in three additional motocross series — including the AMA District 34 Ultimate Series, Junior Moto-X Indoor Amateur Motocross, and the Ohio "Buckeye Series" — and two additional off-road racing events — including the Full Gas Sprint Enduro Championship and Louisiana Cross Country Series.

"We're pleased to be able to continue offering Contingency support to Yamaha bLU cRU racers for 2017, and also to expand the Program to support Yamaha bLU cRU riders in five additional racing series," commented Mike Guerra, Racing Department Manager for Yamaha. "And, in addition, our increased support of Yamaha bLU cRU riders competing in the American Flat Track racing series shows Yamaha's strong commitment to the thoroughly American sport of dirt track racing.
"All bLU cRU Contingency money will be paid directly to the riders' reloadable bLU cRU Debit Card. In addition, each bLU cRU rider will receive a $45 credit on www.bLUcRUswag.com, as well as discounts on Yamaha GYT-R parts and accessories." For complete details on how to register, along with specific information on which racing series, events, and classes are included, visit the Off-Road Racing Contingency page of the Yamaha Motor Corporation, U.S.A., Website by clicking here.
PRO CIRCUIT "BLACK FRIDAY" SALE THIS FRIDAY FROM 7:00 A.M. TO 4:00 P.M.


For more info go to www.procircuit.com
WHO WON WHAT THIS PAST WEEKEND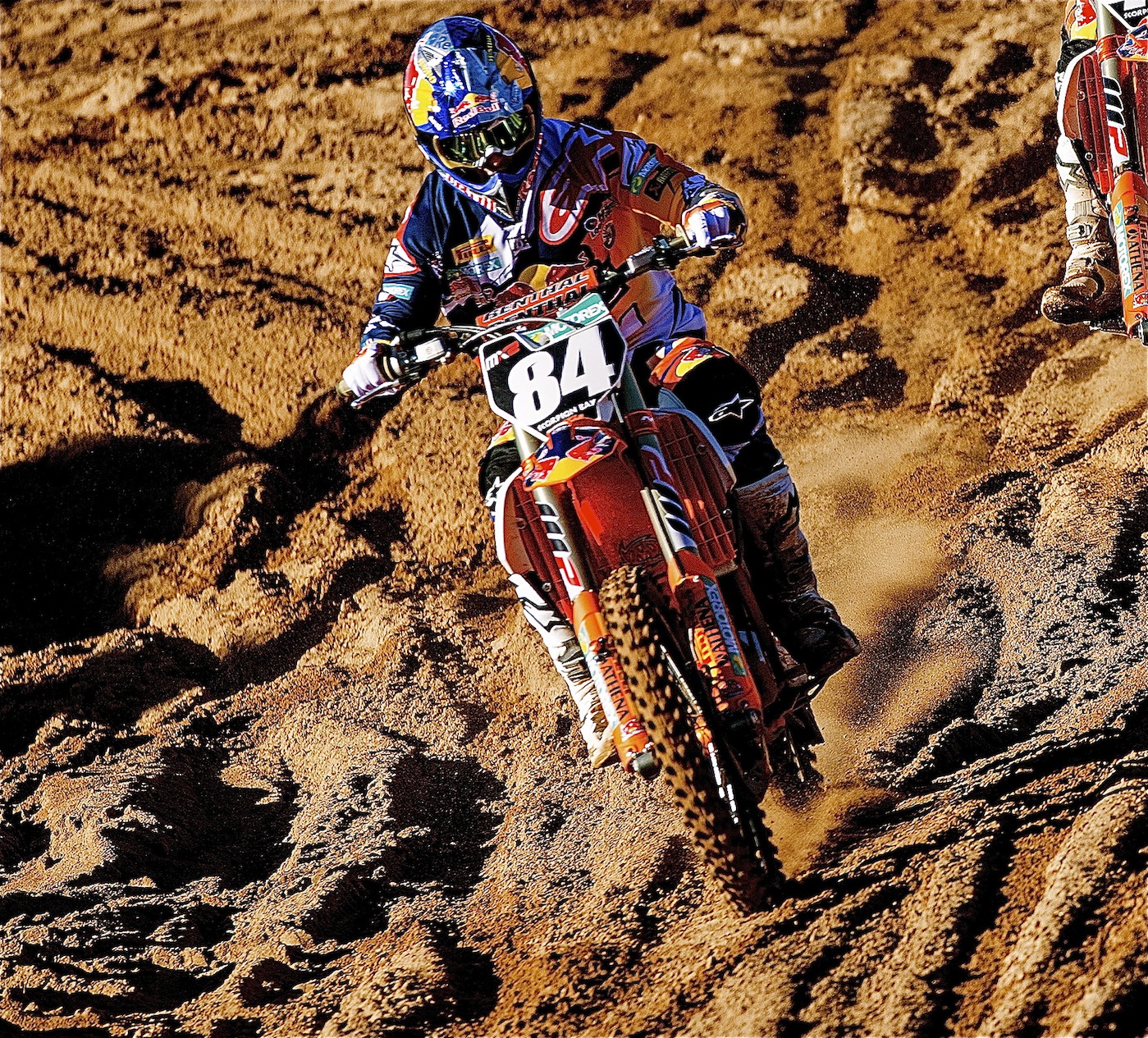 No one on the planet can ride sand like Jeffrey Herlings.
RED BULL KNOCKOUT BEACH RACE: Jeffrey Herlings dominated the Red Bull Knock Out beach race in Scheveningen, Holland. Herlings grabbed the lead on the opening lap and started to pull away immediately. During the almost two hour race, Jeffrey opened a gap of more than two minutes on second place Nathan Watson. Third was Dutchamn Glenn Coldenhoff. Steve Ramon finished fourth with Axel van de Sande, who won last year, in fifth.
RESULTS: 2016  RED BULL KNOCK OUT
1. Jeffrey Herlings
2. Nathan Watson
3. Glenn Coldenhoff
4. Steve Ramon
5. Axel van de Sande
6. Maxime Renaux
7. Camille  Chapelière
8. Victor Brossier
9. Daymond Martens
10. Timothee Florin
Colton Haaker celebrates with his Husqvarna.
AMA ENDUROCROSS FINAL: Husqvarna's Colton Haaker earned the 2016 AMA EnduroCross Championship with a second place finish to KTM's Cody Webb at the season ending race in Ontario, California. It was the first AMA title for Haaker, who had a strong season with five wins and three second place finishes. SRT Racing backed Cory Graffunder had a great night to finish third in the race on his KTM.  "Winning the championship is awesome even though I crashed a few more times tonight than I wanted to," said Haaker. "Really, nobody would expect me to come out here and charge with so much on the line, but I'm always trying to push myself and I did that tonight. It's what pushes me and it worked out for the championship even though going hard had me crash a few more times than I wanted."
FINAL 2016 AMA ENDUROCROSS CHAMPIONSHIP POINT STANDINGS
1. Colton Haaker………..201
2. Cody Webb…………..192
3. Ty Tremaine………….127
4. Mike Brown…………..126
5. Kyle Redmond………116
6. Cory Graffunder…….111
7. Max Gerston…………104
8. Noah Kepple………..100
9. Trystan Hart………… 97
10. Geoff Aaron…………90
Justin Brayton has always been the king of the off-season Supercross events, but this year he focused on Australia. Here, he is waiting in the tunnel in Tasmania.
TASMANIAN RHYTHM-X: American Justin Brayton won the inaugural Tasmanian Rhythm X event—winning both the Supercross and straight rhythm events. Brayton, who was crowned the 2016 Australian Supercross Champion a week ago, edged out Wil Hahn in both Tasmanian events to win $30,000 in prize money. Justin Brayton said, "It felt awesome, the fans were incredible. The track was amazing, it's a world-class track. I had a blast. I expected the win, but you never know and especially with Rhythm X one mistake can ruin your whole run. I hope I can come back next year, I'd love to return."
KTM/HUSQVARNA RECALLS 1200 MOTORCYCLES FOR MASTER CYLINDER ISSUE

KTM North America has recalled 1200 KTM and Husqvarna closed-course/competition off-road motorcycles. On the affected bikes, the front brake master cylinder can malfunction, which can pose a crash hazard. This recall involves model year 2017 KTM brand and Husqvarna motorcycles brand closed-course/competition only motorcycles. Five KTM models are being recalled: 150 XC-W, 250 XC-W, 300 XC-W, 350 SX-F and 450 XC-F. Three Husqvarna models are being recalled: TC250, TX300 and FC350. No incidents or injuries have been reported in connection with the recall.
Customers to whom the affected motorcycles have already been delivered are being informed by a personal letter and are asked to immediately contact an authorized KTM dealer to arrange an appointment for replacement. In addition, customers can check online in the "Service" area of the KTM website to determine if their motorcycle is affected by this recall. The check and replacement of the hand brake cylinder will be carried out at no cost to motorcycle owners, but must be performed by authorized KTM dealers only.
HONDA'S NEW 2017 REBEL 300 SINGLE & REBEL 500 TWIN

Honda press release: Offering a fresh take on custom cool, the Rebel 500 and Rebel 300 mix old- and new-school style and are engaging and fun to ride, with an outlook geared toward firing the imagination of a younger generation of riders. Development for the Rebel 500 and Rebel 300 began in the U.S., with the objective of referencing a timeless look while also introducing a forward-thinking, contemporary style all their own. Accessible, fun to ride and easy to live with, the models go their own way but are also blank canvases, ready for whatever their owners' imaginations have in store.
Simple and raw, Honda's new Rebel models are exercises in straightforward, minimalist design where every detail matters. Low, lean silhouettes are crowned by iconic fuel tanks, aggressively raked front ends and fat tires on large-diameter wheels, along with a stamped-steel rear fender and narrow frame body, resulting in stripped forms that express offbeat individuality from every angle. The evocative round, glass headlight sits up high in a die-cast aluminum mount, the speedometer is a compact dial with negative LCD display and blue backlight, and the ignition is housed below the left side of the fuel tank. Everything that can be is blacked out.
With a 471cc parallel twin, the Rebel 500 has strong bottom-end torque and a smooth, linear power delivery, while the Rebel 300 is powered by a peppy 286cc single cylinder engine. In both cases, the bikes' riding positions are relaxed and neutral, with arms gently outstretched and feet dropping straight down to the mid-mounted pegs. Tentative Rebel 300 price: $4399. Tentative Rebel 500 price: $5999.  Availability: April 2017.
NICOLETTI & BISCELGIA SIGNS ON AS SUZUKI 250 SQUAD

Phil Nicoletti will race the JGR Suzuki RM-Z250 in the 250 East class and then switch to an RM-Z450 for the outdoors.

Suzuki press release:  Suzuki Motor of America, Inc. (SMAI) today is proud to announce the signing of Phil Nicoletti and Matt Bisceglia to ride RM-Z250s during the 2017 Supercross season as part of the newly formed JGRMX Suzuki team. Nicoletti, a long-time JGR team member, is eager to race the Suzuki RM-Z250 and compete for podiums and wins during the Supercross season before transitioning to the RM-Z450 for the Motocross season. Bisceglia, no stranger to the RM-Z250 as he competed on one last year during Supercross, is looking forward to building on his Toronto SX podium as he works his way up the podium ladder in 2017. Matt will continue to ride the RM-Z250 when the season goes Outdoors in May.
"The launch of JGRMX Suzuki has been very exciting for Suzuki, and with Justin Barcia's podium performance in his debut race at Bercy-Lille on the RM-Z450 last weekend, anticipation is high for the start of the Supercross season" said Kerry Graeber, Vice President, MC/ATV Sales and Marketing for SMAI. "Suzuki is focused on re-energizing its 250 class platform, and the addition of a strong effort between JGRMX and Suzuki, with assistance from Yoshimura R&D, will allow us to compete for championships in the near future."
"We are looking forward to having a 250 effort this year as part of our team," said JGRMX Team Owner Coy Gibbs. "This is the perfect opportunity for riders who feel they have some unfinished business in the class like Phil and other riders like Matt who are looking for a stepping stone into the 450 ranks in the coming years."
HUSQVARNA VIDEO "LEARNING FROM THE MASTER " WITH GRAHAM JARVIS
PRO TAPER INTRODUCES CUSTOMER HOTLINE & TECH SUPPORT PROGRAM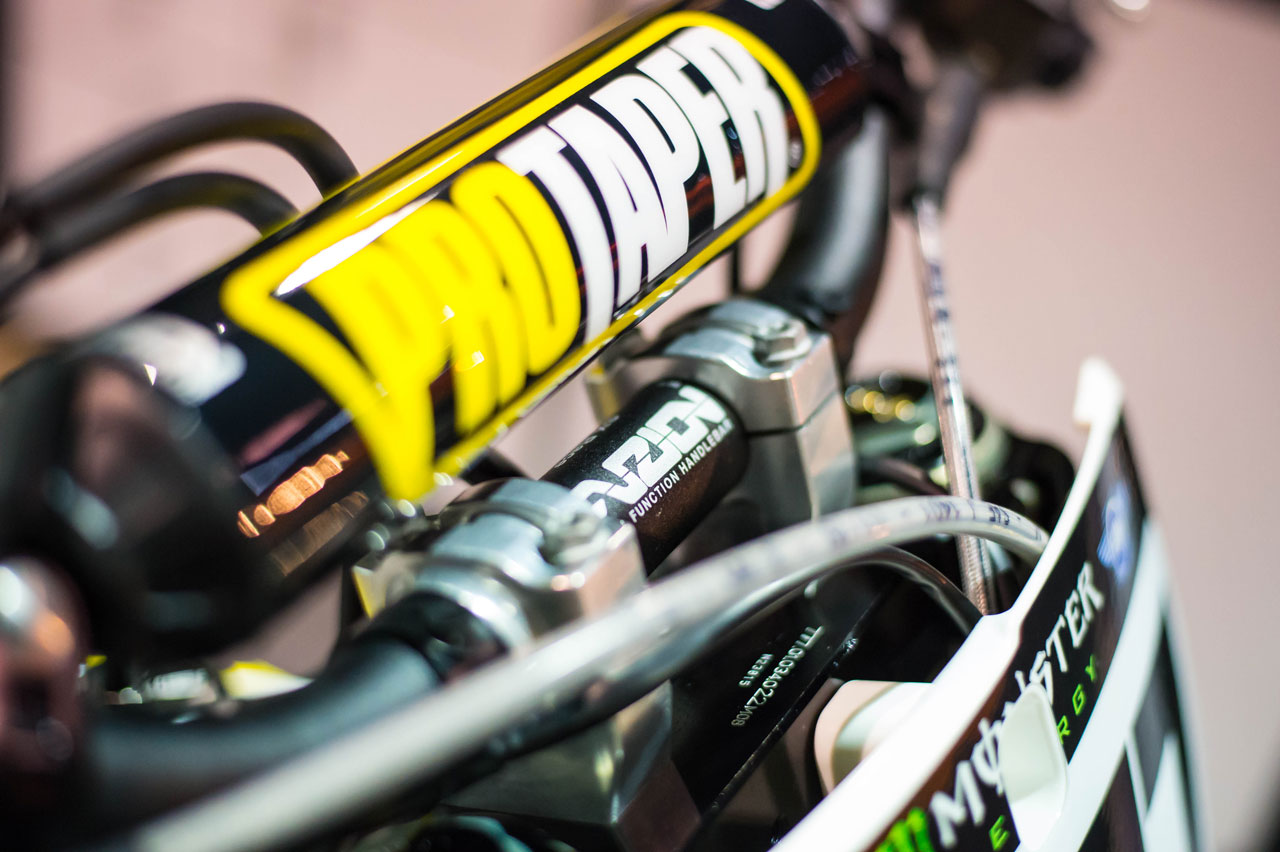 Pro Taper press release: Since 1991 when ProTaper revolutionized the moto market with the introduction of the 1-1/8" Taperwall handlebar, the brand has been focused on enhancing the riders' experience. Coinciding with the just released 2017 digital catalog is ProTaper's new customer service hotline and an expanded tech support program. "ProTaper prides itself on our race proven and champion-approved technological advantages on the track," says Brand Manager Paul Perebijnos. "So it was time to up our game on the customer support side so that we can provide the best possible customer service experience." This is not some off-shore call center, but a dedicated team of U.S.-based CSR professionals.
"We had some issues with incoming calls and emails disappearing into cyberspace in the past, however we now have a dedicated CSR team answering the phone and a tech team an e-mail away," he adds. Call 951-736-5369 to speak to a live person during business hours or e-mail [email protected]. Further enhancing the ProTaper experience, the digital catalog can be readily browsed online or downloaded with nearly 100 pages packed with everything from grips, levers/perches, throttle tubes, foot pegs, sprockets, chains and more. "The index of product applications in the catalog enables you to dial in your bike like the pros, from Max Nagl to Colton Haaker. When it's time to upgrade your riding experience, turn to innovations from ProTaper," says Perebijnos. See the entire collection of ProTaper's race-proven products in the 2017 catalog: http://online.fliphtml5.com/lxnd/gxac/#p=1
FORMER 125 CHAMP MICKAEL MASCHIO REUNITES WITH KAWASAKI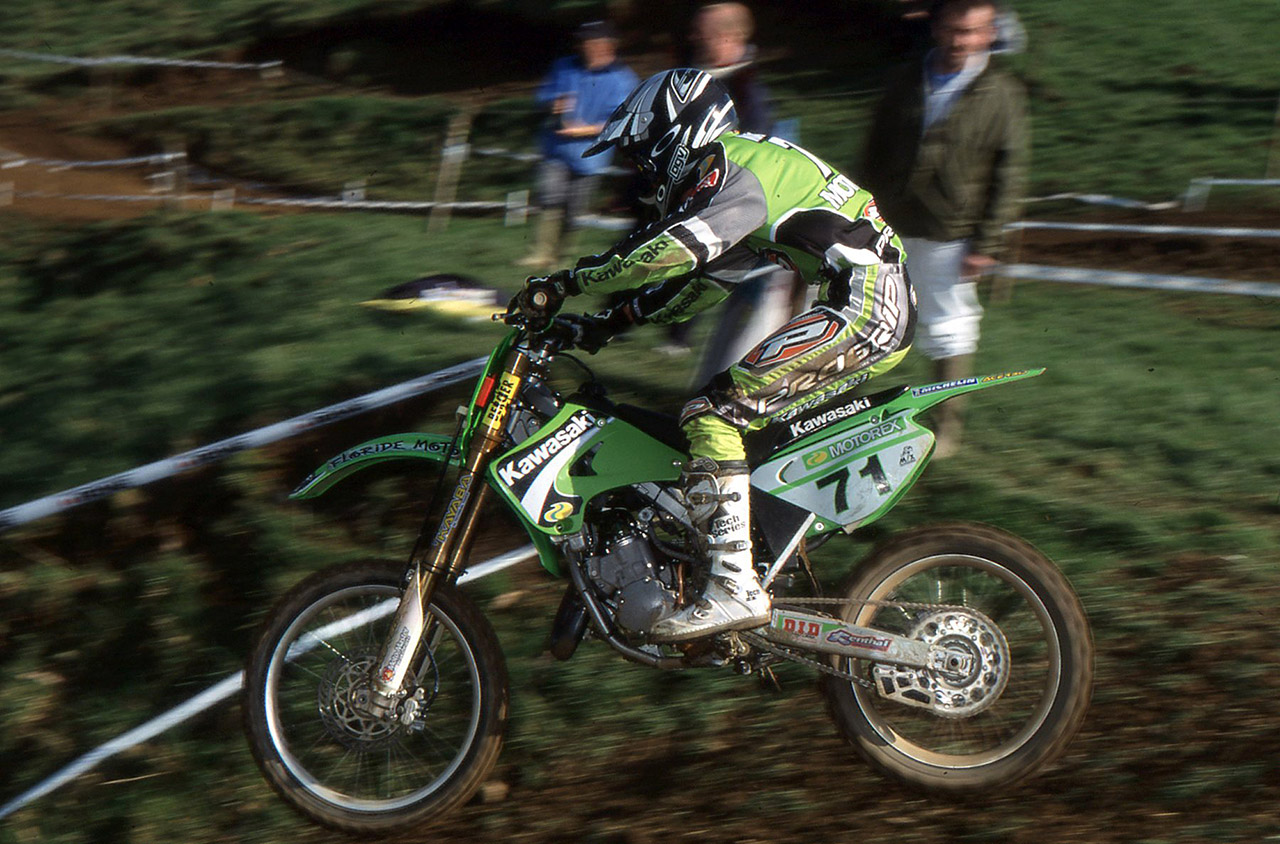 Mickael Maschio back in the day on his KX125.
Kawasaki MX2 press release: 2002 FIM 125 World Champion Mickael Maschio has joined the Monster Energy Kawasaki MX2 Racing Team for 2017. Mickael said, "Earlier this year I had the opportunity to see Stephen Rubini practicing,  and I offered him some advice and help; the relationship was so good that I came to Spain to coach him. I wanted to find a good ride for his future, and of course I spoke with Kawasaki where I still know many people from my racing time."  One discussion led to another and Mickael was signed by Monster Energy Kawasaki MX2 team owner Jean Jacques Luisetti to start a training program of the Kawasaki MX2 riders Petar Petrov, Adam Sterry and Stephen Rubini. "I'm really excited to work with Kawasaki again. I raced for several brands in my career, but I got my world title with Kawasaki. For me this company is different than the others; the human relations are stronger here than in any other," said Mickael.
CHRISTIAN CRAIG'S 6D HELMET PROMO VIDEO FROM PARIS-LILLE
FOURTH ANNUAL KURT CASELLI RIDE DAY ON DEC. 10



On behalf of the Kurt Caselli Foundation we are very excited to announce the 4th Annual Kurt Caselli Ride Day in partnership with FMF Racing, KTM, Rocky Mountain ATV/MC, and Glen Helen Raceway. This event with the support of Kurt's fans and industry has been a huge part of the success of the Foundation and the safety initiatives we have been able to provide. Our mission statement "Protecting And Supporting The Lives Of Offroad Riders" is so fitting because of the support we receive from all of you. We look forward to seeing everyone on December 10 at Glen Helen.
Location: Glen Helen
Date: Saturday, December 10th
Time: Gates open at 9am
Entry: $25 Gate Fee "Day of event"
Pre-entry: $20 Purchased prior here and have a special VIP line
Info: www.kurtcaselli.com
L.A. SLEEVE'S "WHEN YOU NEED A VALVE JOB" TUTORIAL VIDEO