MOTOCROSS: THE STRAIGHT UP FACTS HEADING INTO MILLVILLE
By Broc Bridges
1. Eli Tomac rode to his third consecutive and fourth overall victory on the season by going 1-1 in Southwick. The win was his ninth career 450MX Class overall victory and 23rd 450MX Class podium.
2. Tomac now has 34 career wins, one shy of Kevin Windham on the all-time list. The win was also Kawasaki's 109th 450MX Class victory, which is second only behind Honda.
3. Tomac has now earned back-to-back moto sweeps at Southwick. He went 1-1 in 2016 as well.

4. Kawasaki hasn't won Millville since 2008 (James Stewart). Tomac has won Millville in the 250MX Class three times from '12-'14. Can he break Kawasaki's Millville slump?
5. Blake Baggett nabbed his fifth podium of the season and eighth podium of his career with his 2-2 showing in Southwick. Baggett has finished in first or second in exactly half of the motos this season (7/14).
6. Dean Wilson continues to have his best season since his 250MX Championship run from 2011, as he finished 6-3 in Southwick for a third place overall. The third place overall finish was his first podium since the last round from that championship season in 2011, when he went 1-1 at Pala Raceway.
7. Wilson's 6-3 finish pushes him closer to the top three in points, as he sits by himself in fifth behind an injured Jason Anderson and banged up Marvin Musquin.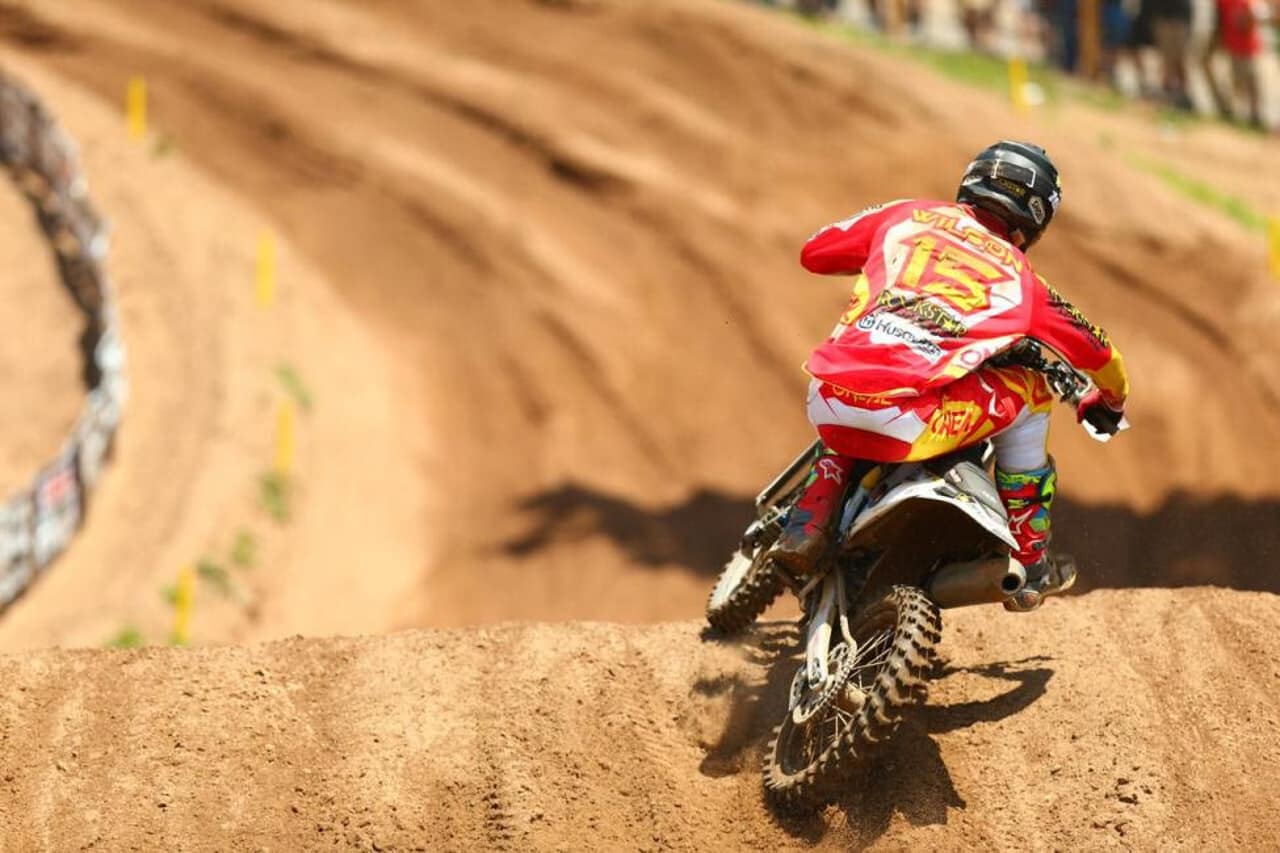 8. Wilson's podium kept Husqvarna's 450MX Class podium streak alive at six races.
9. Baggett and Wilson are the only two 450MX Class riders to have a top-10 finish in all 14 motos .
10. For the sixth consecutive race two European brand bikes were on the podium in the 450MX Class.
11. Cooper Webb earned a 450MX Class career best fourth place overall finish, going 3-6. It was his second career top five finish, his first coming in High Point earlier this season where he went 6-5.

12. Martin Davalos rode to his first career 450MX Class top five finish with a 7-4 ride in Southwick. He had finished eighth overall in Tennessee for his previous career high. Davalos finishing fifth also meant that three of the top five finishers were riding European brand bikes.
13. Cole Seely had his best ride of the season going 5-5 and finishing sixth overall. He tied Davalos for fifth in points with 32, but Davalos beat him by one position in the second moto to take the fifth spot.
450 CLASS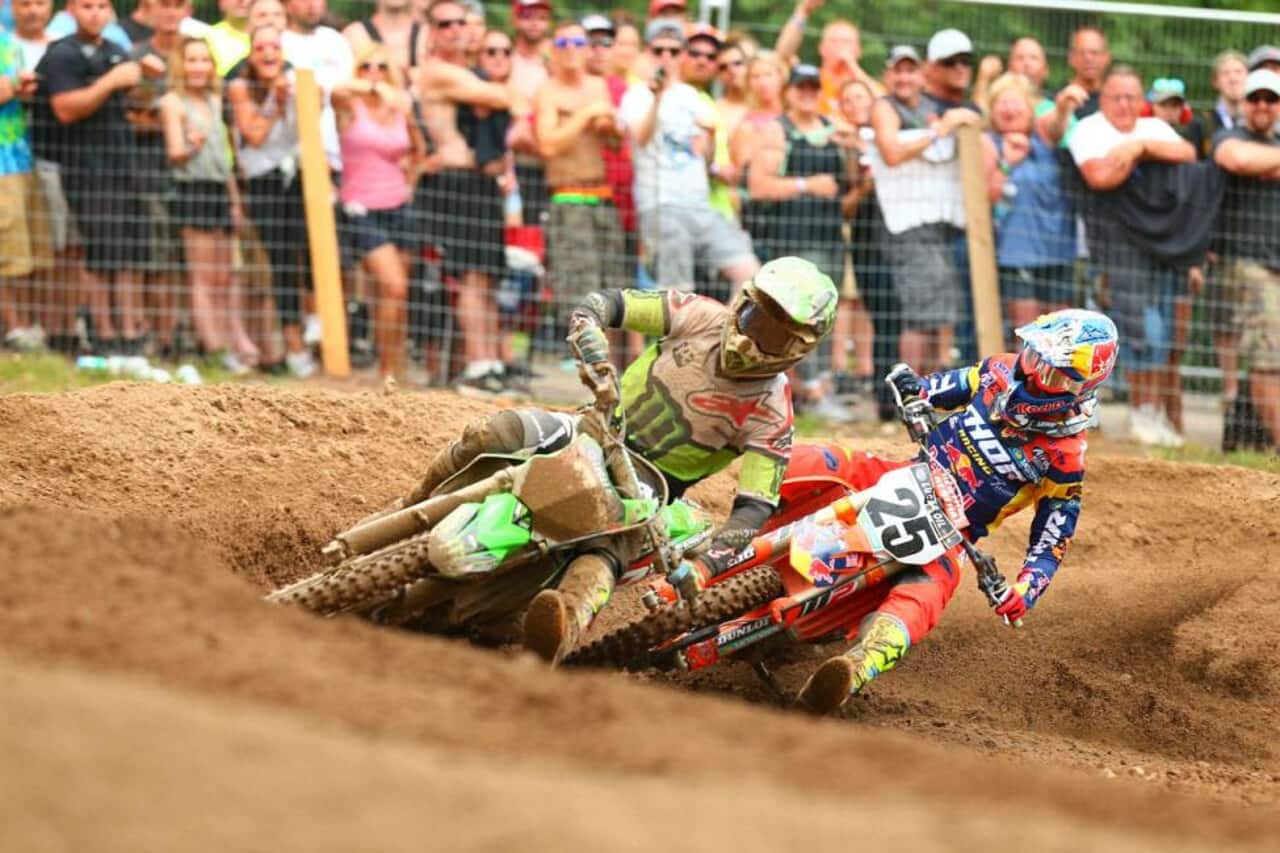 450MX Class points update: Tomac (291) Baggett (272) Musquin (219) Anderson (216) Wilson (198)
450MX Class overall wins update: Tomac (4) Baggett (2) Musquin (1)
450MX Class moto wins update: Tomac (8) Baggett (2) Anderson (2) Bogle (1) Musquin (1)
450MX Class overall podiums update: Anderson (5) Baggett (5) Tomac (4) Musquin (4) Wilson (1) Grant (1) Tickle (1)
450MX Class moto podiums update: Tomac (11) Baggett (10) Musquin (7) Anderson (6) Grant (4) Ferris (1) Bogle (1) Webb (1) Wilson (1)
250 CLASS
Zach Osborne went 2-1 in Southwick en route to his fourth win of the season. It is the second time this season he has earned back-to-back overall victories as well. Osborne has not finished worse than fifth in a moto this season and has a top two finish in seven of the last eight motos.
Dylan Ferrandis took the checkers in moto one, but fell short of an overall by losing to Osborne in the second moto. It was his second moto win of the season, his first since the second moto of Glen Helen. The overall podium he earned was also his first since Glen Helen, where he finished 9-1 for a third place overall finish.
Alex Martin went 3-3 for the second consecutive round, and now has a top five finish in all but two motos on the season. It was his third consecutive overall podium and fourth on the season.
250MX Class points update: Osborne (301) A. Martin (256) J. Martin (247) Ferrandis (199) Savatgy (195)
250MX Class overall wins update: Osborne (4) Savatgy (1) J. Martin (1) Plessinger (1)
250MX Class moto wins update: Osborne (6) J. Martin (3) Ferrandis (2) A. Martin (1) Plessinger (1) Savatgy (1)
250MX Class overall podiums update: Osborne (6) A. Martin (4) J. Martin (4) Plessinger (3) Ferrandis (2) Savatgy (1) Forkner (1)
250MX Class moto podiums update: Osborne (10) J. Martin (7) Plessinger (6) A. Martin (5) Forkner (5) Ferrandis (3) Cianciarulo (3) Savatgy (2) Harrison (1)