MOUNTAIN MAN: JON ORTNER'S PERSONAL SEARCH FOR MAMMOTH BEARS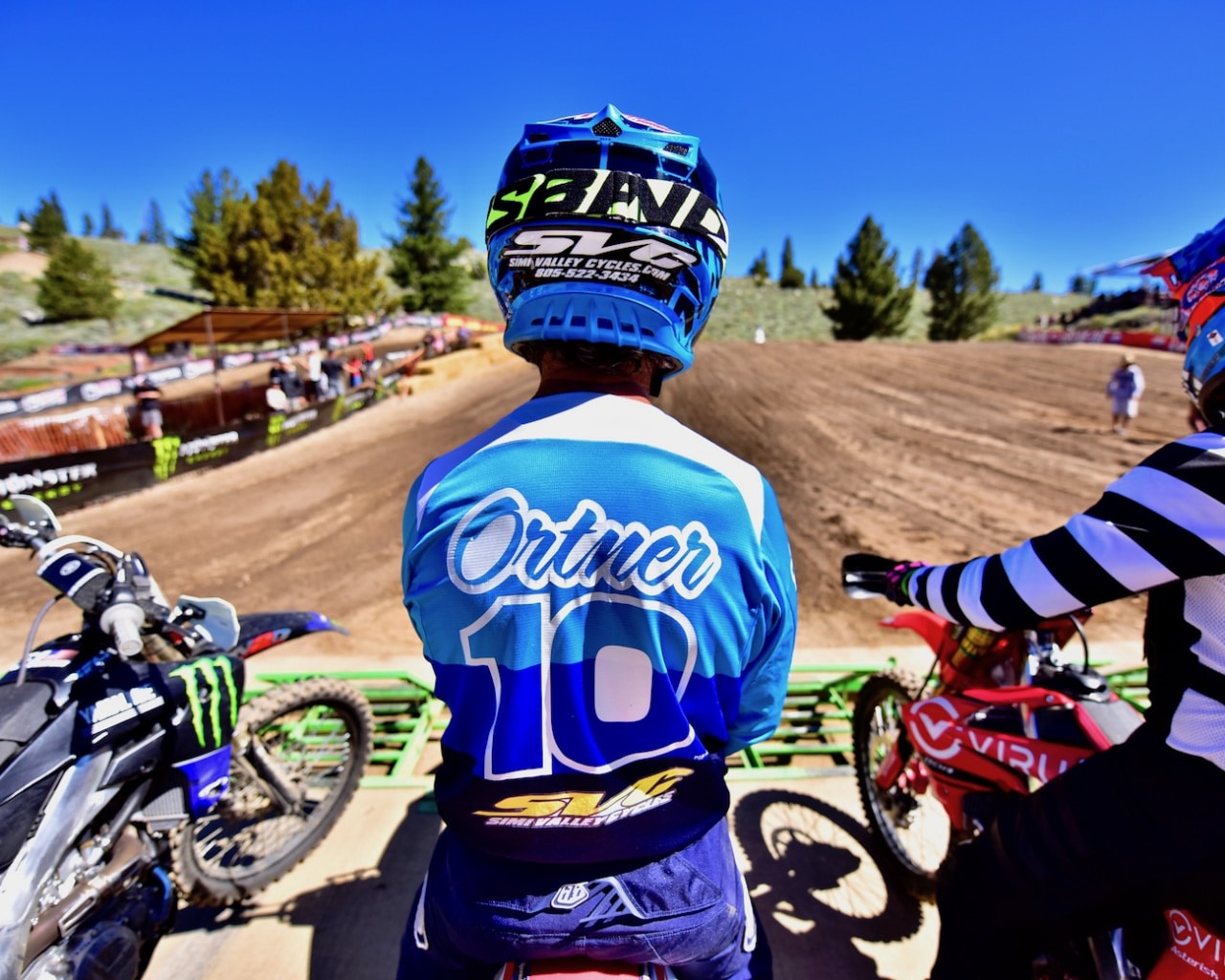 Jon Ortner (10) on the line at the 2019 Mammoth Mountain Motocross. Photo: Mad Moose Media
By Jon Ortner
Back in 1979, I raced Mammoth Motocross as a 17-year-old 125cc Novice, with a history of a grand total of four motocross races under my belt. During that fourth race of my young career, I broke my leg racing at Indian Dunes. The 1979 Mammoth Mountain was my first venture back to racing motocross. I was an inexperienced racer and very frightened of the starting gate that was filled with 40 racers. During qualifying and the main I would let the entire gate leave the starting line, then I would chase them—amazingly, I managed to ride into the top ten . I won a plaque, with a 9th overall finish. The following year in 1980, I raced the 125cc Pro class and throughout the 80's, I raced various years in the 125, 250, and 500cc Pro classes. In those years, the bear trophy did not exist. Some 30 years after my first Mammoth Motocross adventure, it seemed like a fun idea to head back to the mountain and give it a go on my Simi Valley Cycles/Cole Racing/Twisted Development/Factory Connection Yamaha YZ450F.
Even the drive up to Mammoth is beautiful — as long as you forget the first 100 miles of desert.
With both my camera and motorcycle ready for action, Santa Barbara's Tim Trager kindly loaned me his mountain home in Mammoth Lakes for the weekend. My good friends at Simi Valley Cycles and Twisted Development secured an entry for me to race the 2019 Mammoth Mountain Motocross through the good people at 2x Promotions. Lori at Mammoth Motocross provided press credentials. I was entered for the weekend's festivities with two motos on Saturday and two motos on Sunday.
Jeremy McGrath won the Over-40 Pro class.

But, best of all for Jeremy, was sharing the experience with daughter Rhowan.
The Forest Service allows a total of four hundred vehicles inside the track area, so with the small pit being full, I parked a few miles down the mountain and rode my motorcycle up the gravel road to the track. Simi Valley Cycles had their professional services tent set up as Yamaha ambassadors, right next to Twisted Development Racing's camp, so that's where I pitted. I was in good hands—surrounded by great mechanics, people and positivity.
The Caper Clan (left to right) Catherine, John, Iris, Jim O'Neal (Iris' father) and Christine.
Duane and Shirley Kubes of Simi Valley Cycles help a lot of motocross racers in SoCal. It's appreciated.

Friday morning the pits were a buzz of energy with riders changing gearing, mapping, suspension settings and tires. I started to get nervous about untested adjustments. Gee, I did not want to change anything on my bike. I love how it worked at REM Motocross. I didn't even want to change my Dunlop tires. They had six races on them and I had won five of those events. So, I didn't change a thing and refused to consider any changes until I rode some laps with what I was used to closer to sea level.
It's not all work at Mammoth Mountain. Twisted Development's Jamie Ellis spent the longest day of the year on the lake with son James and daughter Jordyn.
My bike was awesome in Friday's practice! The track was brutally rough and it was everything I could do to simply stay on two wheels and motor by guys that were swapping and swerving. I felt good. Shoot, I felt like three bucks. I knew the top ten overall finishers of each class would receive a groovy carved wooden bear as a trophy. My idea was to ride around with the guys in the top ten, earn a bear, and along the way shoot motocross photographs in the spectacular blue mountain air.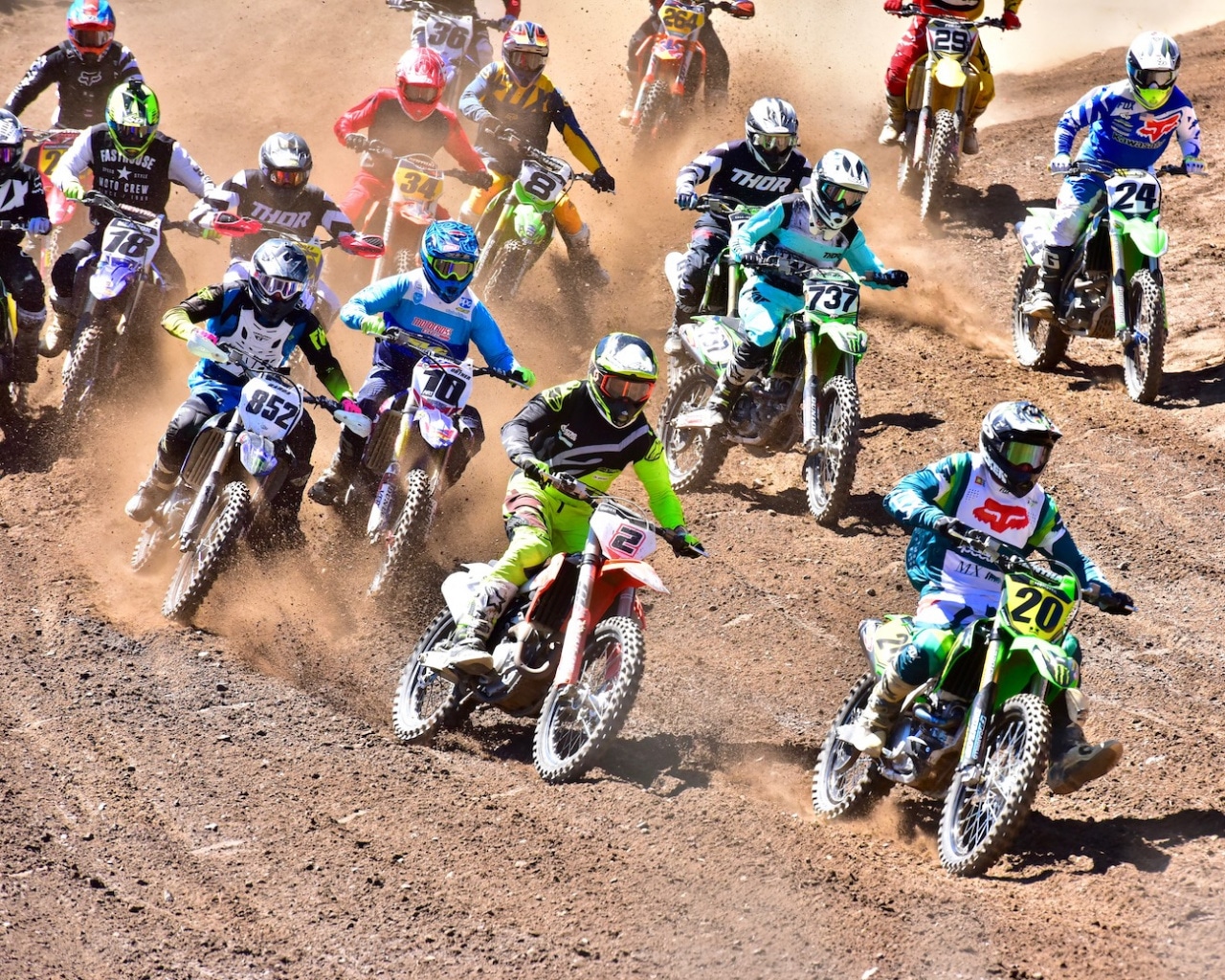 The start of the Over-50 Pro race. Jeff Matiasevich (20), Kurt Nicoll (2), Kevin Barda (852), Jon Ortner (10), Loren Pochirowski (737), Robert Engel (24), Ed Heacox (18), Rick Ellis (34) and Donald Boespflug (8). Kurt would win all four motos. Photo: Mad Moose Media

Saturday's first moto was a shocker. I got a good start, but everyone was in a hurry. Guys were flying by me like I was parked. Jeff "Chicken" Matiasevich holeshot, although soon after Kurt Nichol disappeared with the lead. Drey Dircks and Kevin Barda were gone with him. Craig Davis and Pete Murray went racing by me. And, I couldn't breath. The first three laps I was hyper ventilating, actually hyper breathing, trying to get enough air into my system. The guys just schooled me, and I rolled to an eighth place finish.
Alan Jullien (70) was 13th in the Over-40 Pro class.
Climbing the Mountain. Photo: Mad Moose Media
For Saturday's second moto, I figured out what I had to—it was simple, I had to pick up the pace. That idea went south when I tried to ride where there was no place to go on the first lap. I smashed into the back of three riders and ended upside down under my bike. I don't mind a good crash as much as I hate getting dirty. So, after wiping my jersey and pants off, scraping the dirt off my gloves, and straightening my helmet visor, I pushed the cool electric start button on my Yamaha and started chasing guys down. A 13th overall for the day was horrific. Yet, I mathematically had a chance of improving the results on Sunday and still making the top ten overall.
Dunlop's Damon Meyers changes the tires on Jon Ortner's Simi Valley Cycle Yamaha YZ450.
Riding practice Sunday morning, I felt much more comfortable on the mountain, and on the track. But, I could feel my bike drifted under acceleration, and in the corners I was sliding radically towards the track edges. My tires were smoked. Fortunately, Dunlop's Damon Meyers was posted up in the pits for Dunlop tires. He suggested the excellent MX33 front and rear for me to use. He suggested the 120/90 x 19, instead of my preferred 120/80 x 19 dimension. I decided to go with Damon's recommendations.

Gary Sutherlin (324) won the Over-30 Pro class and celebrated with daughter Cheyenne. She loved being on the podium while dad was being interviewed.
With zero practice on this new tire profile, I realized that it would be important for me to expect the unexpected. Sure enough, in Sunday's first moto, as I reached the very top of the massive uphill start, when I went to lay the bike low on an inside line, I completely underestimated the effect the new tire dimension would have. For the first half of the race I had to learn to become more pro active at turn-in with my cornering, literally lifting, then pulling the handlebars over to initiate the turn.
For those who haven't been to the Mammoth Motocross in a few years, the tree in the "Jon Miller Tree Turn," has grown considerably with the passing of time. Photo: Mad Moose Media

The second half of the moto I focused on how far over in a corner I could lean the bike without the back end breaking loose. As much as I cared to push it, the tire never let me down. That moto result was 10th at the checkered flag.
Twisted Development's Jamie Ellis (left) and Dunlop's Jay Clark (right).
Between motos, I thought of the confidence the new Dunlop tire combination was giving me. Early in the fourth and final moto, Pete Murray and Drey Dricks quickly passed me. I focused on how my bike was handling. I started shifting to fifth gear on the biggest and roughest downhill. The rear tire was absorbing the braking bumps exceptionally well, allowing my Factory Connection suspension settings to do their work. And, my confidence grew as I was able to carry more speed into the outside line at the bottom and lay the bike over harder, while keeping the race momentum moving forward.

When the oil cover O-ring failed on Mike Monaghan's YZ250X two-stroke, Simi Valley Cycle's Gary Garner jumped in and fixed it in time for Mike Monaghan to get fifth overall in the Over-60 Experts.
Great Britain's Kurt Nicoll had a perfect weekend in Mammoth.
That final moto was my best of the weekend. And, that eighth place finish put me in the top ten overall—ninth. Hah, the same result as 30 years ago. But, instead of racing a bunch of wild and inexperienced kids, this weekend was spent racing a bunch of wild, experienced, Vet Pros.
MXA's Dennis Stapleton was fifth overall in the Over-30 Pro class.
Am I going back next year? Heck yeah!!! Now, I have a full year of preparation, looking forward to the entire Mammoth Mountain experience. And, for 2020, my focus will be a little more on racing the track, as opposed to just riding the track. I believe there are more bears in my future.
Jon Ortner's bears. One for 8th on day one and one for 9th overall for the weekend's four motos.
Special thanks everyone who helped me. 2X Promotions and Mammoth Motocross for getting me on the starting line. The amazing crew at Simi Valley Cycles/Cole Racing/Twisted Development/Factory Connection for their support and help with my YZ450F. And, I love my sponsors—Troy Lee Designs, X Brand Goggles, Gaerne Boots, Faster USA Wheels, Galfer Brakes, Dunlop Tires, Dirt Bike.TV, Magik Kustom Graphics, FCP Racing, Supersprox USA, Pasha Racing, Vertex Pistons, The Racers Edge, MotoSeat and AME Grips. And, of course a nod to the legends of REM Motocross and Motocross Action Magazine!