MTA WORLD VET CHAMPIONSHIP PHOTO GALLERY – BATTLING IT OUT IN THE MUD
Photos by John Basher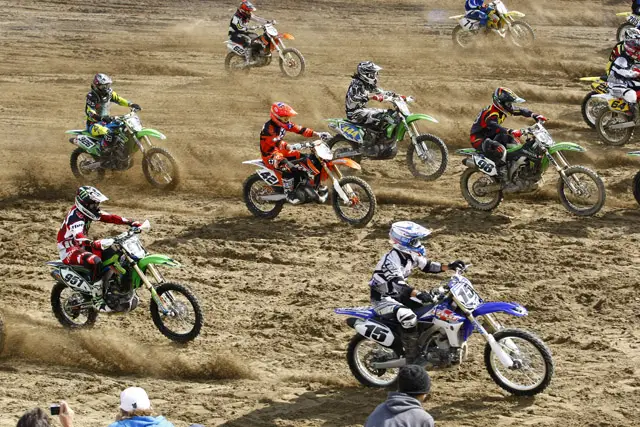 The 40 Pro class blasts towards Talladega on Saturday. Doug Dubach (15) would get the holeshot in front of Steve Thinger (951), Willy Musgrave (42), Mick Cook (98) and the rest of the pack.

Kurt Nicoll made his annual pilgrimage to the World Vet Championships to try his hand against the world's best 40 year olds. Kurt scored 5-3 moto results on the day after a poor start in the first moto. Nicoll netted third overall for his efforts.

Sporting JT gear, Ronnie Lechien had top five speed in the 40 Pro class, but came away seventh overall on the day (with 6-8 moto scores).

Despite a downpour on Friday and early Saturday morning, the track crew hustled to make the World Vet circuit as good as the dirt would allow. There were deep dry ruts on Saturday and muddy deep ruts on Sunday. Do you see a pattern forming?

Doug Dubach (15) was the big man on campus in the 40 Pro class. He came away victorious once again for his 462nd World Vet title (okay, maybe his 19th title).

Gordon Ward wouldn't accept defeat and charged to the bitter end in the second moto in hopes of catching Dubach. It was all for naught, but the friendly racer still came away second overall on the day.

The cumulative age of (from left) Gordon Ward, Doug Dubach and Kurt Nicoll might be older than the Declaration of Independence, but these guys sure can twist the throttle.

When the gate dropped for the first 30 Pro moto, it was Mark Tilley (check out his roost on the right side of this photo) that grabbed the holeshot in front of Ryan Hughes (4), Timmy Weigand (33), Doug Dubach (15) and the rest of the 20 rider field.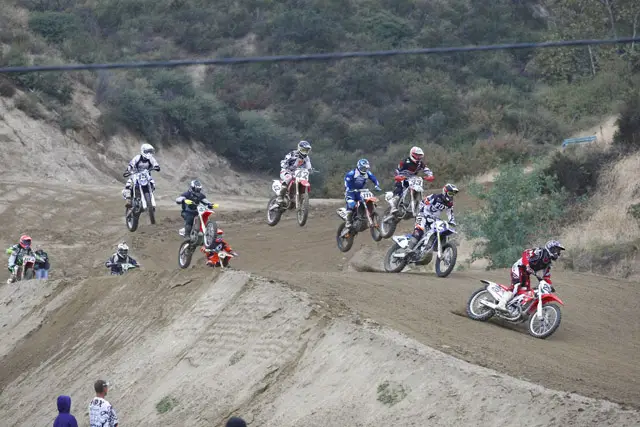 Shortly after this photo was taken Ryan Hughes (4) pushed past Mark Tilley (25) for the lead. It was the only challenge that Hughes would see all day.

At the eleventh hour MXA tester Dennis Stapleton decided to throw his name into the ring. Dennis finished fifth overall on the day (6-5 scores), packed up his van, and headed back to NorCal in preparation for a world racing tour that will take him to Dubai, the Philippines, and several other countries.

Here's proof that Ryan Hughes was an animal in the 30 Pro class. Who needs ruts when you twist the throttle as hard as Ryno?

(From left) Mark Tilley, Doug Dubach and Dennis Stapleton were in a dogfight in the first moto. Dubach would pass both riders en route to 4-2 moto scores for third overall.

Timmy Weigand (33) pulled off a last-lap pass on Ryan Dudek (42) in the second moto for third place. More importantly, it bumped Weigand up to second overall in the 30 Pro class.