MWR | 2018 CR125, A1 TALK, ARENACROSS RESULTS

#WHIPITWEDNESDAY
Rider: Josh Grant
Photographer: Daryl Ecklund
Date: January 6, 2018
Event: 2018 Anaheim 1 Supercross
Photographer: Daryl Ecklund
Lens: 300mm f/2.8
Focal length: 300mm
Exposure: 1/2000sec
F-stop: f/3.5
ISO: 1000
TWO-STROKE SPOTLIGHT: KALE ERICSON'S 2007 KAWASAKI KX300

"I have been building my 2007 Kawasaki KX250 two-stroke for some time now. I built it into a 300cc to add some serious power. The list of mods is almost endless. Thank you and love your magazine!" –Kale Ericson.
Editors Note: Please keep those submissions coming. If you would like your bike to be featured in the "Two-Stroke Spotlight," please email me at [email protected]. All I ask is that you give a breakdown of your bike and a detailed description of the build. Please also send a few photos of your steed. By submitting your bike for the "Two-Stroke Spotlight," you agree to release all ownership rights to the images and copy to MXA. Please don't email me spam or try selling me Taylor Swift concert tickets or email me spam. Happy submitting your smoker.
NEW-AGED HONDA CR125 TWO-STROKE
We had one of are fans over in Denmark send over a photo of a build he is working on. A CR125cc engine stuffed in a 2018 Honda CRF450 chassis. We would love to ride this thing!
2018 450 SHOOTOUT VIDEO | WE GIVE YOU THE RANKING 1ST THROUGH 6TH


51FIFTY ENERGY DRINK YAMAHA RACE TEAM SEEKS FULL-TIME MECHANIC
Are you a mechanic looking to get into the industry? Here is your chance.
Position: Entry Level Race Team Mechanic, Full Time
Location: Murrieta, Ca – Requires some travel
The 51FIFTY Energy Drink Yamaha Race Team is seeking a full-time mechanic for their race shop in Murrieta, Ca. This position will require the assembly and maintenance of practice bikes for team riders Kyle Chisholm and Hayden Mellross for the duration of the 2018 Supercross season. Applicant must be comfortable with some travel as mechanics will travel to and from practice tracks on riding days and will attend select West Coast Supercross rounds. Basic motorcycle knowledge is mandatory as this is an entry-level position. Please contact [email protected] apply.
THEY SAID IT | ANAHEIM 1
Ken Roczen– "Earlier, I said if I win, get third, or fifth, it doesn't matter and I'll be happy, but when I came off the track, it did matter to me. I really wanted to win. I was bummed because halfway through, I had the speed and was catching those guys, but I made a mistake where I scrubbed and dragged my boot on the ground and almost crashed. I was riding a little tight and tried to shake it off, but towards the end I tried to just keep it smart. I didn't want to do anything stupid because there's a lot of racing left. The more I think about it, fourth place isn't too bad. We could've had a way worse night, and I really think without that mistake I would've been on the podium. There were some nerves on the line just due to lack of experience starting with 20 riders. I kind of messed up both times and just dumped the clutch, so I was pretty far back in the main event, which was a little sketchy. I think if I had gotten a better start, my night would've been even better. I'm happy to be here and excited to keep racing."
Cole Seely– "It's a typical thing to say after Anaheim 1, but it's good to get the first one out of the way. I think nerves got the best of some of us. I wasn't really stoked on how I rode. My bike felt good but I was pretty tight. I kind of let other riders dictate my pace, so I was kind of bummed. With it being the first one, I can take all these things in, learn from them, and move on to the next one."
Kyle Chisholm– "A top 10 is a good way to start the season for me. We've all worked really hard during the off-season, and to log a solid finish like that is definitely a step in the right direction. I'm looking forward to building on this throughout the year."

Adam Cianciarulo– "Tonight we got off to a good start and it's nice to get some good points. I can't be overly stoked on third because I know I'm capable of more, but I was pretty nervous being a part of the very first race of the season for the first time and all the nerves that come with that. I think we are in a good spot for the rest of the season."
Joey Savatgy– "Anaheim is one of those races where you feel especially good when you leave healthy and with a solid result. With all that could go wrong at an opening race like an injury or bad finish, I felt like we put in a good ride overall and have things we can use to build off of for next weekend. We'll go home and put in the work to come back even stronger in Houston."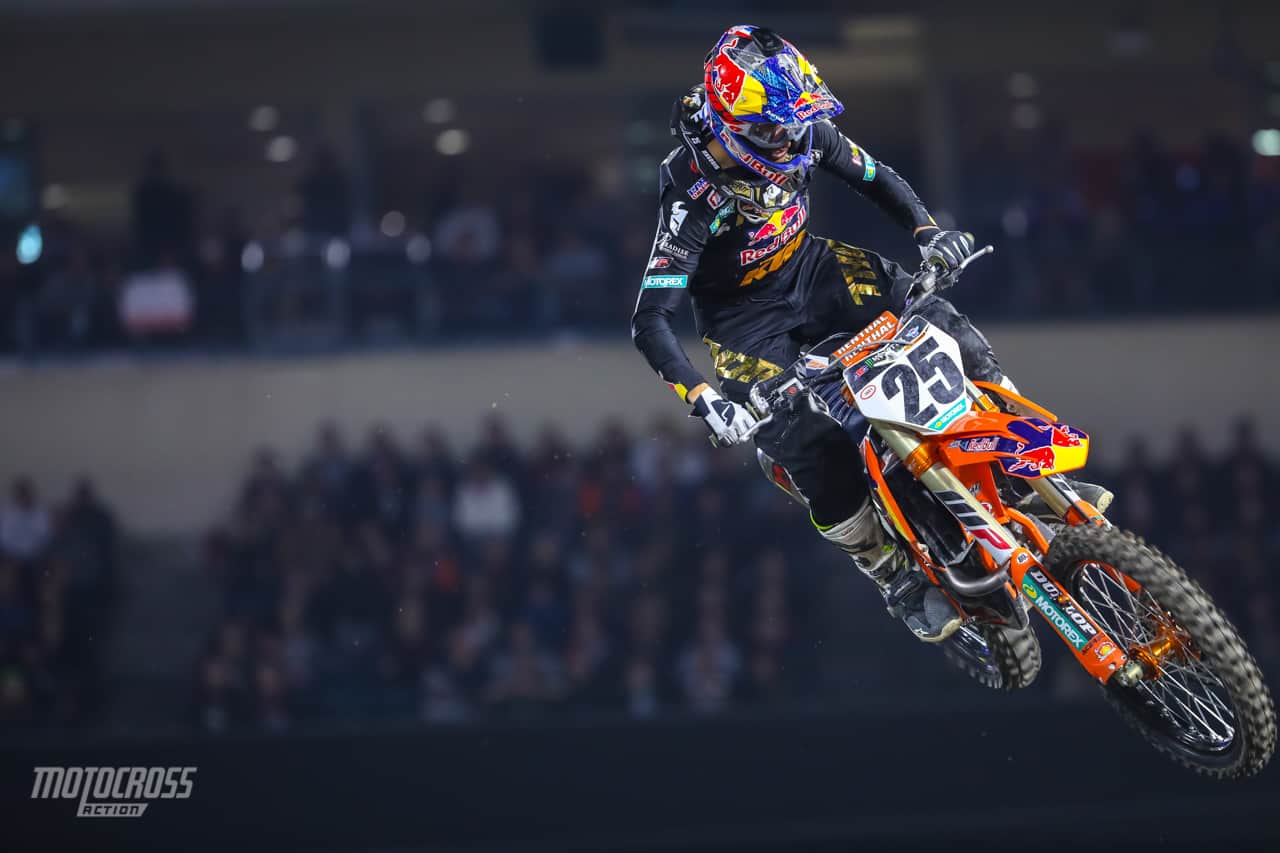 Marvin Musquin– "To win tonight definitely was not expected. It was a difficult day, but I tried to stay calm, and I guess we made it happen."
Shane McElrath– "This is a big year," McElrath said at the post-race press conference. "The West Coast has got a lot of competition from a lot of teams, too. I've never really felt that much nerves."
Weston Peick– "The day went pretty well. Obviously, I had the Anaheim 1 jitters, since it was the first race of the new year. There was a lot going on with all of the team changes. I felt pretty comfortable in practice. The qualifying times weren't a true reflection of how I was feeling on the track, because everyone was so close in speed. I'm the type of rider who does better in race situations, anyway. I had a decent start in my heat race and ended up fifth. I killed it off the start in the main event and came through the first turn in fourth. I passed up to third and was feeling good, but then I made some rookie mistakes and let a couple of guys by me."
Justin Hill–  "Being the fastest qualifier was a good start to the season. Unfortunately, I tightened up in the main event and rode like a dummy. You can't win races when gripping the bike like a gorilla. I was trying to push too hard on the track and making uncharacteristic mistakes. I was trying to make up time in spots where you really couldn't make up time. I needed to chill out, and I think that's a result of rustiness from being away from racing for a while. I'm excited to work hard this week and fix those mistakes."

PRO CIRCUIT 2017 AND 2018 KX250F AIRBOOTS
Available now while supplies last, Pro Circuit's 2017 and 2018 airboots used by the Pro Circuit race team and others. The Pro Circuit airboot will improve the performance of your KX250F. Designed to optimize the KXF's intake track, the Pro Circuit airboot seeks to optimize the "intake wave" so as to increase the airflow into the motor and consequently increasing horsepower.
The Pro Circuit airboot mounts on the same as the OEM airboot, including the second injector on the airboot. Pro Circuit has a version to fit the 2017 KX250F and another to fit the 2018 KX250F. Limited inventory on hand.
Please visit www.procircuit.com for more information on this and other Pro Circuit products. If you are going to the Adelanto GP for the first round of BIG 6 GP Series make sure to stop by and say hello. Pro Circuit will be there.
ARENACROSS RESULTS–ROUND 1 | DAYTON, OHIO
Gavin Faith took the first win of the season.

AMSOIL Arenacross 250AX Class Main Event Results
1. Gavin Faith, Duncombe, Iowa (1-1)
2. Travis Sewell, Westville, Ind. (4-2)
3. Jacob Hayes, Greensboro, N.C. (3-3)
4. Jace Owen, Mattoon, Ill. (5-4)
5. Chris Blose, Phoenix, Ariz. (2-9)
6. Gared Steinke, Woodland, Calif. (6-5)
7. Daniel Herrlein, Bethesda, Ohio (7-6)
8. Cody Van Buskirk, Harvard, Ill. (9-8)
9. Lane Staley, Chillicothe, Ohio (14-7)
10. Kyle Bitterman, West Pelzer, S.C. (8-14)
Garrett Marchbanks. 
AMSOIL Arenacross AX Lites East Class Main Event Results
1. Garrett Marchbanks, Coalville, Utah
2. Heath Harrison, Silverhill, Ala.
3. Isaac Teasdale, Robbinsville, N.C.
4. Jared Lesher, Ball Ground, Ga.
5. Kyle Bitterman, West Pelzer, S.C.
6. Richard Jackson, Holdenville, Okla.
7. Jordan Bailey, Orlando, Fla.
8. Josh Mosiman, Menifee, Calif.
9. Dylan Rouse, Florence, Ken.
10. Jeremy Hand, Mantua, Ohio
MOOSE RACING 2018 SPRING COLLECTION
M1.3 BOOT
-Chassis is constructed with polyurethane coated synthetic leather that is abrasion resistant and flexible
-Reinforced TPU shin, ankle, and fot plates are engineered to improve stability without sacrificing mobility
-Heavyweight suede leather inner calf guard improves abrasion and heat resistance
-Rigid steel shank reinforced sole eliminates flex and provides superior foot support
-Polyurethane plastic closure strap with metal buckle is adjustable and secure
-Internal soft EVA foam reinforced in impact areas improves comfort
-Multi-layer synthetic rubber outsole is long lasting and provides superior grip
-Polyester inner lining wicks moisture
Tested and certified according to European standard EN 13634:2015
XCR GOGGLE
-Soft multi-density foam with fleece backing improves comfort, provides excellent moisture management and seals out dirt
-Optically pure polycarbonate lens with scratch resistant and anti-fog coating
-Large eye port for maximum viewing
-Injected polyurethane frame is flexible and durable
-Ventilated frame drives out heat and perspiration
-Outrigger system designed to create a consistent seal and balanced fit
-Elastic strap with tacky silicone print secures goggle
-Integrated nose guard for maximum roost coverage
-Tested and certified according to European standard EN 1938:2010
M1 JERSEY
-Semi-ventilated polyester
-Custom V-neck collar design
-Quick drying fabric removes moisture away from the skin to keep you dry and comfortable
-Non-restrictive durable stretch mini cuffs
-High-quality sublimated graphics
-Available in sizes SM – 3X
M1 PANT
-High denier polyester chassis with double and triple stitched seams
-High-quality sublimated graphics
-Oversized knee area with full grain genuine leather inner panels
-Reinforced high denier polyester seat panel
-Pre-bent ergonomic pant design
-3-point waist adjustment system allows you to fine tune fit
-Available in sizes 28" – 42"
JOIN MXA'S SNAP CHAT FEED

If you are a Snap Chat user then add us to your stories. Get sneak peaks of everything moto. Our Snap Chat name is motocrossaction. Or just take a Snap of the picture above and it will add MXA automatically to your feed.
EVS LAUNCHES 2018 PRODUCT LINE & NEW WEBSITE
Press Release: EVS Sports, the leader in premium protection products for the last
30 years, is pleased to introduce our 2018 catalog and an all-new, easy to navigate website.
The 2018 line-up features our innovative knee brace designs and the most complete head to toe
protective product offering in the industry: knee & elbow guards, race collars, roost deflectors,
ballistic jerseys, TUG base layers, MX helmets, MX socks, MX gloves and a full youth MX line.
EVS has a product for every rider and every situation.
The complete 2018 product offering can be seen on our new, interactive website. We now offer
a significantly improved user experience with enhanced product specifications and exploded
detail views. In addition, we have improved the checkout process and made searching more
user friendly and efficient.
Experience the new EVS website for yourself at: www.evs-sports.com
Download the 2018 EVS Catalog Here
TALK MOTO WITH MOTO MINDED PEOPLE. JOIN MXA'S FACEBOOK GROUP CHAT

We love everything moto and want to bring all moto junkies together into one place to share their two cents, ideas, photos, bike fixes, bike problems and much more. To check it out first you must need to or already have a Facebook account. If you don't, it isn't much work and you could even have an alias so nobody knows it is you. To join click HERE. After you request to join we will accept your request shortly after.
CLASSIC PHOTO
Ricky Carmichael and James Stewart during press conference in 2005 Anaheim 1 before the big mud race.