MWR | 2005 SEASON OPENER MUD RACE & 2018 HONDA CRF250 TESTED

#WHIPITWEDNESDAY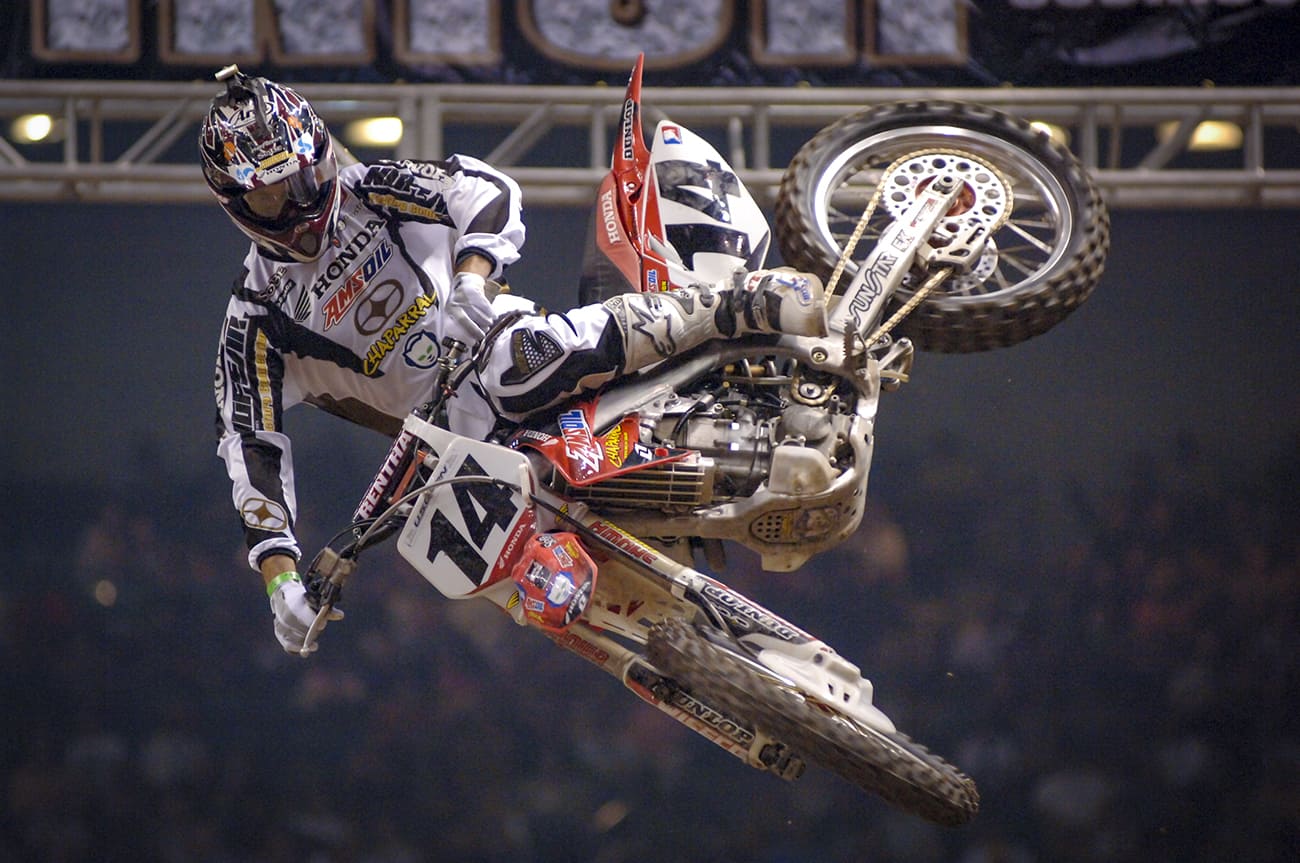 Rider: Kevin Windham
Bike: 2005 Factory Honda CRF450
Race: 2005 U.S Open of Supercross
Lens: 70-200mm
Focal length: 200mm
Exposure: 1/500th
F-stop: 2.8
ISO: 800<
TWO-STROKE SPOTLIGHT: JOHAN VREUGDENHIL'S 1985 HONDA CR80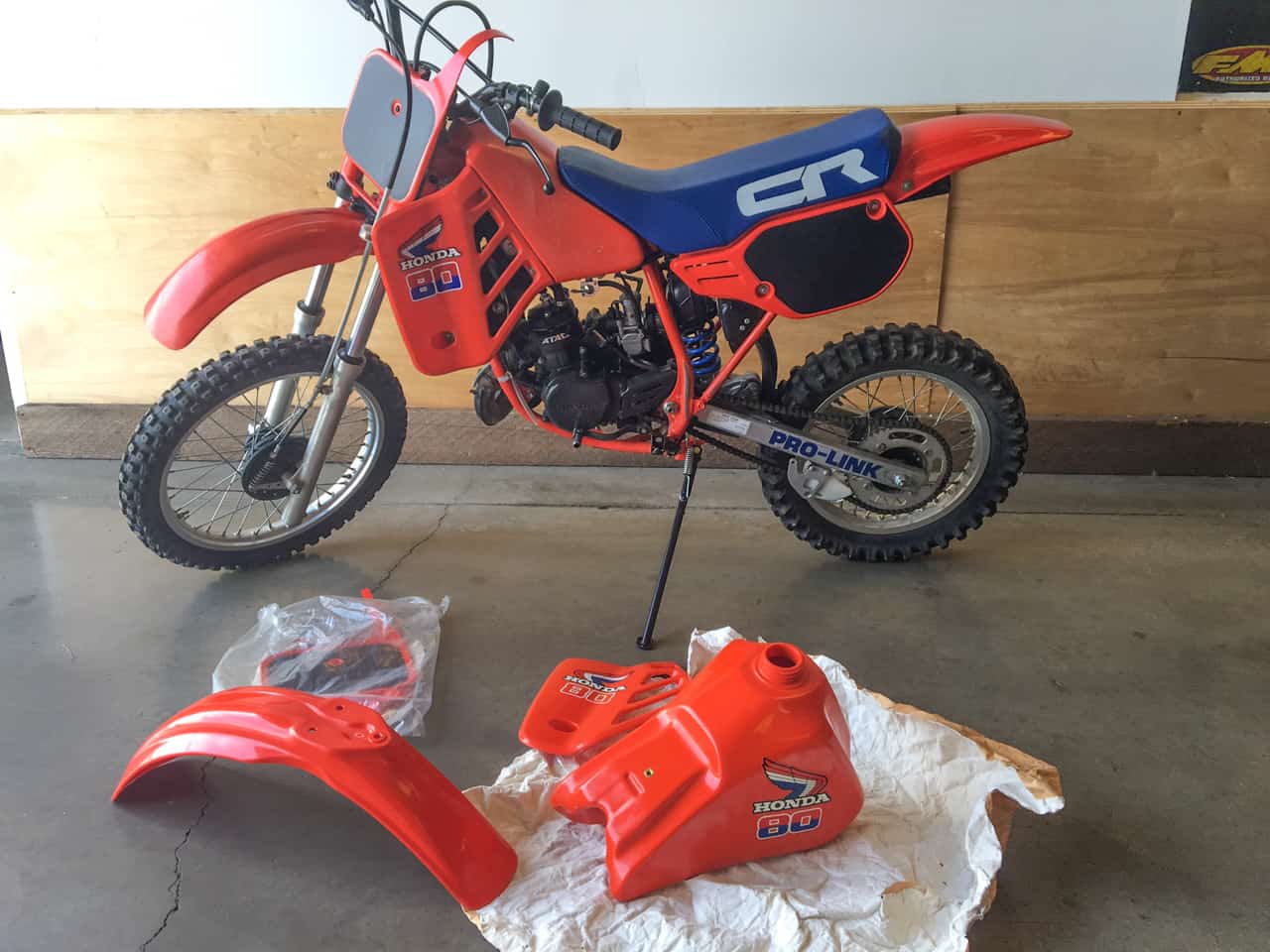 "I found this 1985 Honda CR80 that had the OEM front tire and piston. The kid who owned it crashed it and the bike sat for decades. The crank seal gave way and that preserved the bike until I bought it for a few hundred bucks. Found the CEET seat cover on eBay, as well as NOS new, never used, original old Honda plastic. Fuel tank, fenders, panels, pegs, side stand, cables, exhaust pipe.
Virtually any bolt or OEM honda part I could find new was purchased from around the world which cost a pretty penny when added up. As of right now I am only missing a new right side rear panel. The bike runs very well. I rode it as a pit bike and on dirt roads without abusing it. Am already twice the weight it's designed for but it's an awesome toy."–Johan Vreugdenhil
Editors Note: Please keep those submissions coming. If you would like your bike to be featured in the "Two-Stroke Spotlight," please email me at [email protected]. All I ask is that you give a breakdown of your bike and a detailed description of the build. Please also send a few photos of your steed. By submitting your bike for the "Two-Stroke Spotlight," you agree to release all ownership rights to the images and copy to MXA. Please don't email me spam or try selling me Taylor Swift concert tickets or email me spam. Happy submitting your smoker.
ZACH OSBORNE COMMENTS ON MXDN
Zach  gave it all he had. As you can see he ditched his goggles and still finished respectably. Team USA finished 9th overall.
"I was happy to be back racing on familiar British soil. I did my best in the qualifying moto and was happy to get away with the win. Then on Sunday my performance was good. I didn't get a good rhythm in the opening moto and following a small crash I had to settle for 10th at the line. In the second moto I felt much better and managed to make some good passes in the last few laps for third. I'm satisfied with second overall in the MX2 class. For Team USA it was a tough weekend but I am sure we will come back fighting for next year." –Zach Osborne
SHOEI HELMETS JOINS MTA DISTRIBUTING
Shoei's new VFX-Evo helmet. 
Press Release: Shoei Helmets announced today that, effective yesterday, October 1st 2017, Shoei has added MTA Distributing Inc. as an additional distribution channel for the U.S. market, giving its U.S. dealers two sources from which to obtain Shoei products for resale. Helmet House, Inc., Shoei's longtime distributor in the U.S., will continue to serve as a distributor of Shoei premium helmets.
This change comes about after careful consideration of the U.S. retail marketplace and is expected to increase brand awareness, as well as enhance Shoei's longstanding position within the motorcycle industry.
"The addition of another U.S. distributor will open up new opportunities for Shoei to expand. We cannot rely on our superior helmets to sell themselves. We must also align ourselves with key distribution channels to ensure that our premium helmets are represented to the appropriate level throughout the U.S.  We look forward to this new partnership with MTA and believe their sales force will represent Shoei well." – Mr. Kenichiro Ishida – President of SHOEI CO., LTD. Japan
"This has to be one of the proudest moments in MTA's history. We have been working very hard to add quality brands to our portfolio and Shoei has to be the crown jewel. The MTA dealers and their customers are the real winners here, and we look forward to being able to fulfill their Shoei needs along with our other fine products." – Mr. Greg Blackwell – President of MTA Distributing Inc. U.S.

CRASH SEQUENCE: DENNIS STAPLETON ON HUSKY FC350

MXA PRODUCT SPOTLIGHT: EVS F1 ROOST GUARD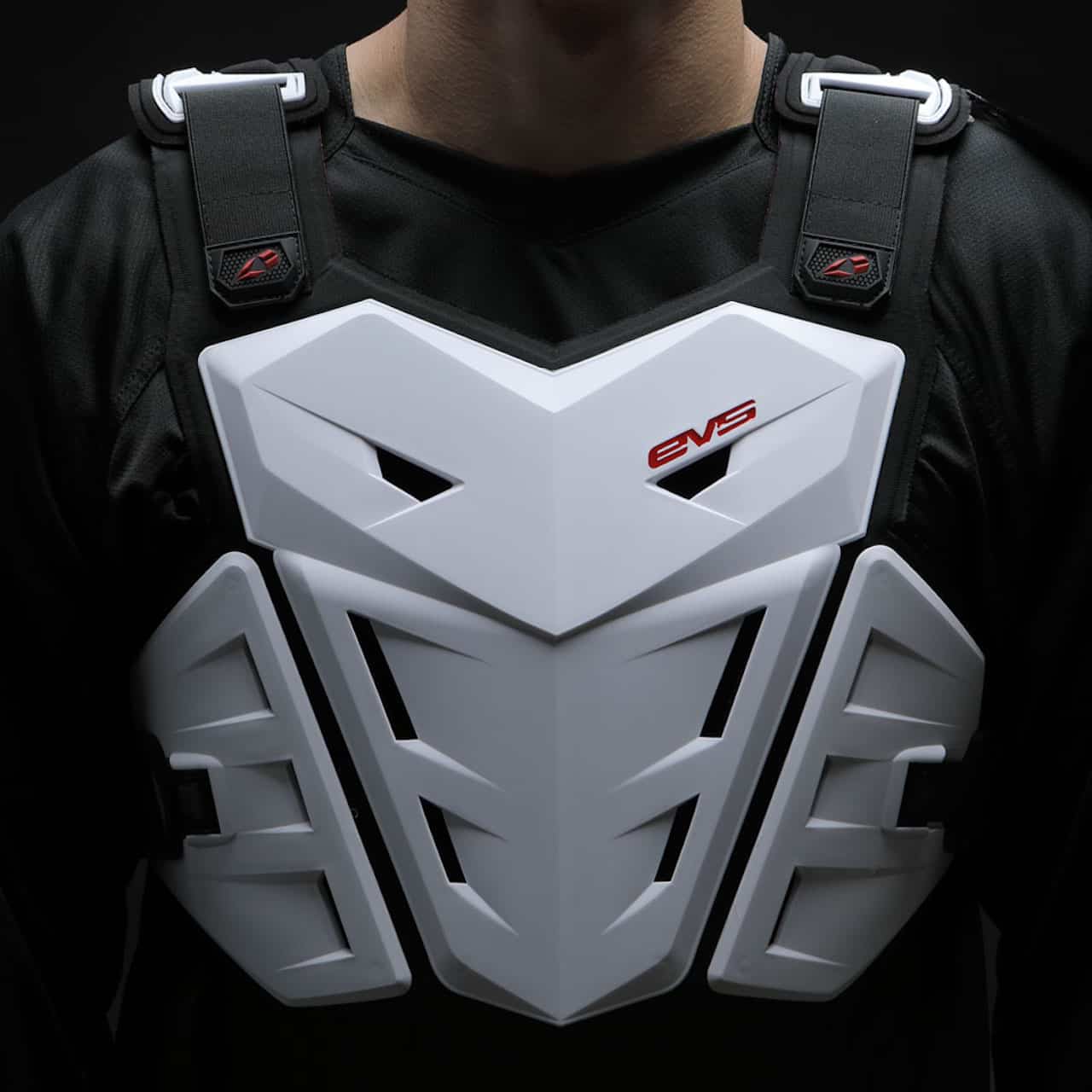 The F1 Roost Guard is a lightweight, form fitting chest protector designed to hug your body as you ride. The back panel is removable for customization in any riding situation.
– Lightweight impact resistant injection molded construction
– Adjustable shoulders & removable back plate
– Click-Tec front closure system ensures adjustability and secure fit
– Multiple vents and air channels offer maximum ventilation
– Neck brace compatible design
– Plush biofoam liner
Visit www.evs-sports.com to check out the $75.00 F1 Roost guard or call (800) 229-4387 for for info.
SPY PHOTOS: GEICO HONDA CAUGHT TESTING THE 2018 CRF250 
The Geico Honda team leaning all they can about the all-new Honda CRF250. 
Last Thursday at Glen Helen the Geico Honda team had a few of the all-new CRF250s being tested. Both Jeremy Martin and Chase Sexton were going back and forth from their 2017 CRF250 race bikes to the 2018 CRF250. From the sound and looks of it they liked their 2017 race bikes more than the all-new 2018 bike. That is not unusual. With an all-new bike a team virtually has to start testing from square one. Not sure if they will be racing this bike next weekend at Monster Cup, but we are sure all the bugs and weight will be ironed out by the opening Supercross round at A1.
Chase Sexton on his 2017 CRF250 race bike.
Chase on the 2018 Honda CRF250.
Jeremy Martin on his 2017 CRF250 race bike. 
Jeremy on the 2018 Honda CRF250. 
The Geico team has already put Showa A kit forks on with race wheels, Pro Taper bars, Arc levers and a Yosh exhausts. 
Here is a better view of the right hand side of the bike. 
The Geico crew at work. 
2018 MXA 450 SHOOTOUT SNEAK PEAK
Today is the day we are conducting our 2018 450 shootout. Maybe we are late to the party, but the MXA wrecking grew had to iron out the bugs of all the updated bikes before we did so. This is like our race big, and we have been training for months, not days. Look for the full write up of MXA's 450 Shootout in the January issue of MXA. 
2005 MUD RACE OPENER AT ANAHEIM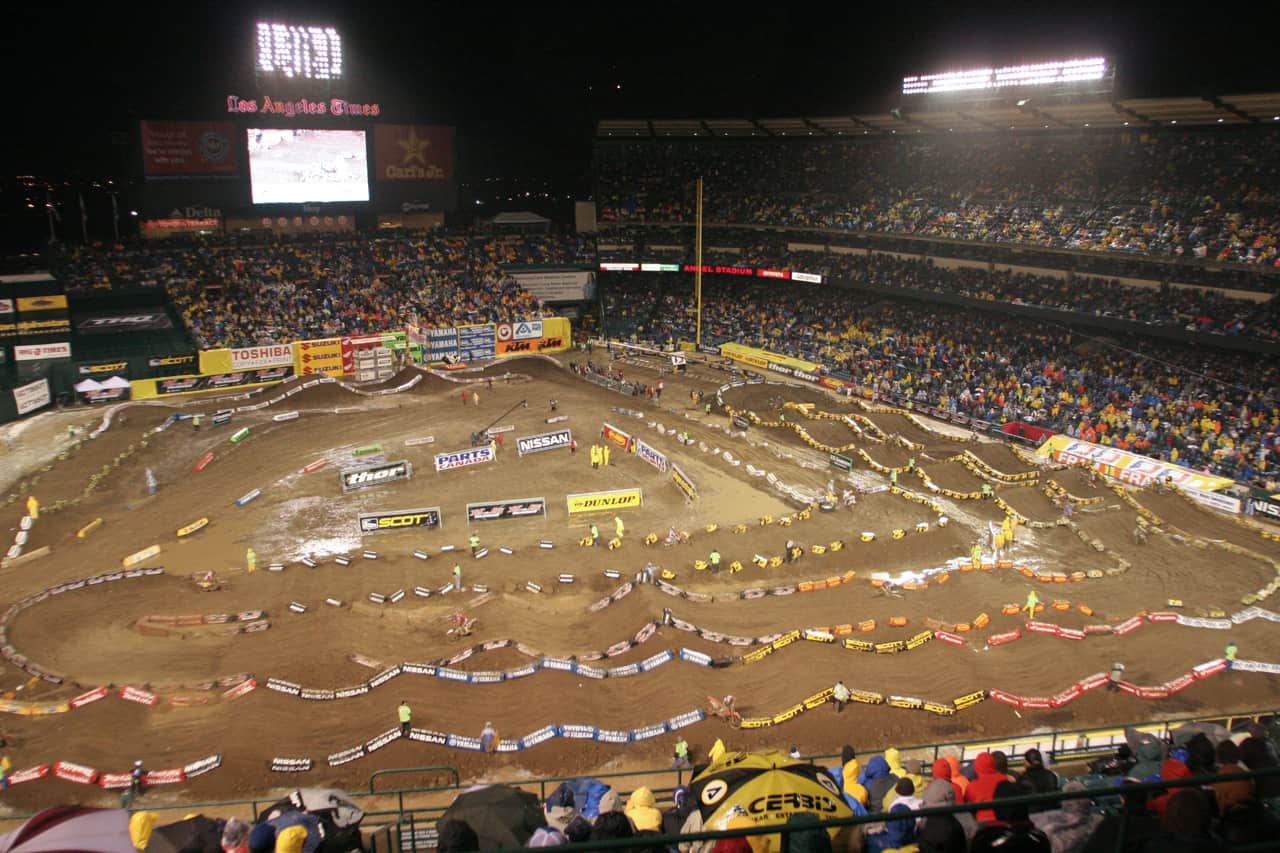 From up in the stands the track didn't look to bad.
Do you remember the opening round of the 2005 Supercross series at Anaheim? It was James Stewart debut in the 450 class on a Factory Kawasaki KX250. It was one of the muddiest races ever seen. Ricky Carmichael went down numerous times. Kevin Windham won the race while teammate Mike LaRocco finished 2nd. Chad Reed's bike overheated and Jeremy McGrath finished last. What a crazy race for a season opener. Here are a few photo to refresh your memory of the epic event.
Coming into the first corner off the start it was Kevin Windham, Ricky Carmichael and James Stewart in a powerslide leading the charge.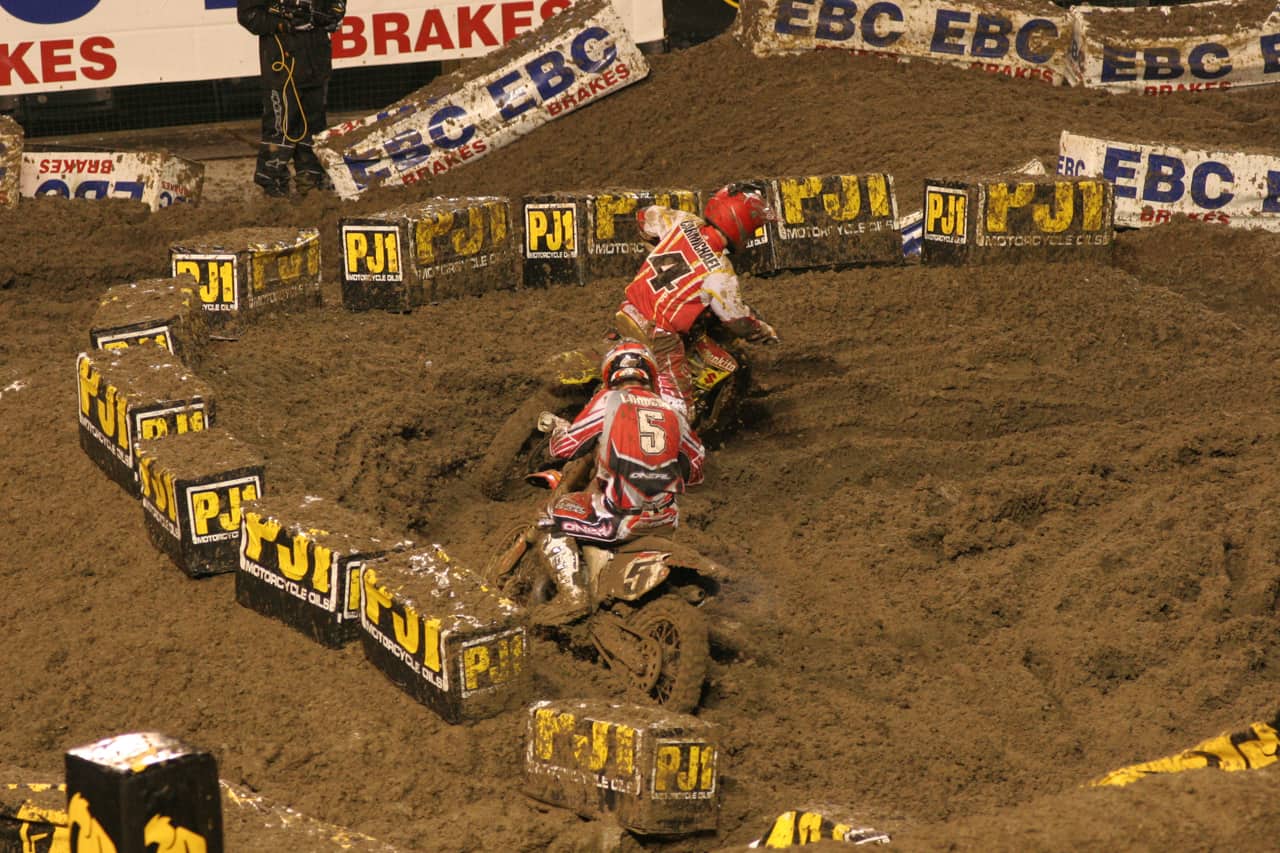 Ricky Carmichael lead, but guys like Mike LaRocco took advantage when Ricky was on the ground.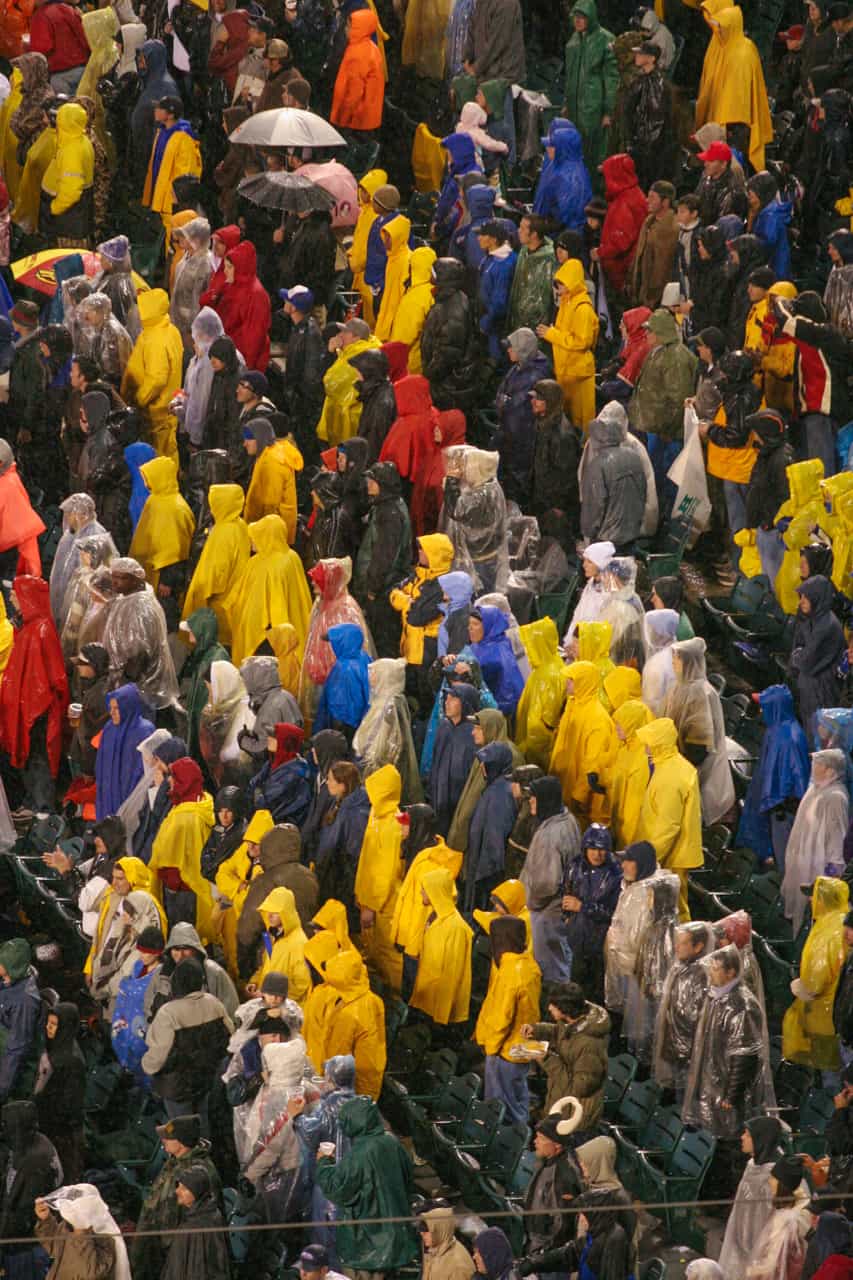 The fans came prepared.
Ricky down the first time while in the lead. 
What a mess. Carmichael leads Windham and Stewart on opening lap. 
James Stewart down in front of the mechanics area. 
Chad Reed picks up his overheated Yamaha YZ250. 
Which way is the right way?
Travis Pastrana trying to get going.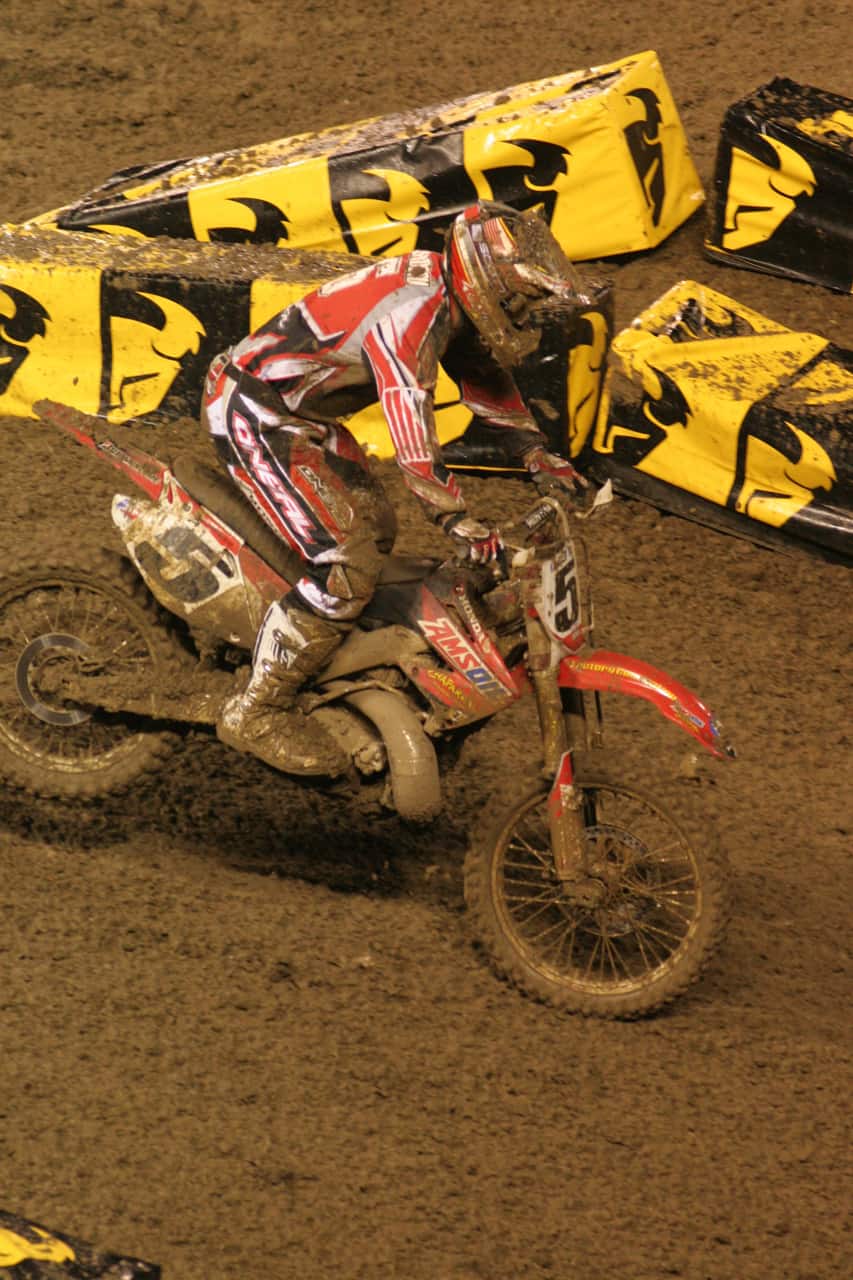 Mike LaRocco just stayed on two wheels to get on the podium. 
 Carmichael (1st), Windham (2nd), Reed (3rd) and Stewart (who is on the ground).
Kevin Windham was the winner that night by just staying consistent. 
2005 A1 450 MAIN EVENT RESULTS
1. Kevin Windham
2. Mike LaRocco
3. Ricky Carmichael
4. Sebastien Tortelli
5. James Stewart
6. Nick Wey
7. David Vuillemin
8. Jeff Gibson
9. Ernesto Fonseca
10. Travis Pastrana
11. Heath Voss
12. Tyler Evans
13. Michael Byrne
14. Joe Oehlhof
15. Damon Huffman
16. Chad Reed
17. Antonio Balbi
18. Kyle Lewis
19. Robbie Reynard
20. Jeremy McGrath
JOIN MXA'S SNAP CHAT FEED
If you are a Snap Chat user then add us to your stories. Get sneak peaks of everything moto. Our Snap Chat name is motocrossaction. Or just take a Snap of the picture above and it will add MXA automatically to your feed.
CLASSIC PHOTO: IVAN TEDESCO'S 2005 PRO CIRCUIT KX250F
TALK MOTO WITH MOTO MINDED PEOPLE. JOIN MXA'S FACEBOOK GROUP CHAT

We love everything moto and want to bring all moto junkies together into one place to share their two cents, ideas, photos, bike fixes, bike problems and much more. To check it out first you must need to or already have a Facebook account. If you don't, it isn't much work and you could even have an alias so nobody knows it is you. To join click the Facebook link. After you request to join we will accept your request shortly after.