MWR: 2018 450 SHOOTOUT, 2009 A1 PRESS DAY & 1990 RMX250

#WHIPITWEDNESDAY
Rider: David Vuillemin
Bike: 2005 Yamaha YZ250
Lens: 400mm
Focal length: 400mm
Exposure: 1/200th
F-stop: 5.6
ISO: 200
TWO-STROKE SPOTLIGHT: ERIC HUFF'S 1990 SUZUKI RMX 250
"I have a 1990 Suzuki RMX 250 that I recently restored.  I had the graphics made by LCG graphics out of Carlsbad, CA.  I wanted the bike to look like a replica Bob Hannah edition RM250, so that is why it says RM250 instead of RMX. Overall this bike was in decent condition when I purchased it. Cosmetically, I have replaced the gas tank, fork guards, rear fender and front number plate. Mechanically it has a new top end, FMF fatty pipe, reeds, chain and sprockets, tires, grips, cables, but what really brought this bike to life was the purchase of a Keihin PWK Air stryker 38mm Carburetor.  This bike was completely transformed from a blubbering 250 to having useable power throughout. It has been a work in progress, but overall I am very pleased with it. Thanks for looking." –Eric Huff Reynolds Station, KY.
Editors Note: Please keep those submissions coming. If you would like your bike to be featured in the "Two-Stroke Spotlight," please email me at [email protected]. All I ask is that you give a breakdown of your bike and a detailed description of the build. Please also send a few photos of your steed. By submitting your bike for the "Two-Stroke Spotlight," you agree to release all ownership rights to the images and copy to MXA. Please don't email me spam or try selling me Taylor Swift concert tickets or email me spam. Happy submitting your smoker.
MXA'S 2018 450 SHOOTOUT BLOOPERS
Sure it is cool to be involved in a 450 shootout. You pose in front of the camera and wear brand new gear while six manufactures tend to your every need. You feel like a factory rider, but to make the six rider cut you better be ready to lay it all on the line. With that come crashes, butt whips and saves. The one to crash the most tries the hardest. Right? This year it was MXA test rider Brian Medeiros that won the most crashes award. 
The best shots are usually made just before the crash. Brian lays one in hard for Daryl Ecklund's camera. 
Here is Brain's buddy Justin Muscutt in the same corner trying to out-due him. You decide who laid it over best. 
"Give me your best whip," said Daryl. This is what he got. Maybe he heard butt whip instead?
Hey Brian, nice one legger. 
"Give me your best scrub," said Daryl. He is leaned over but not sure if the outside leg should be that far away from the bike? 
Third time is a charm, Brian. 

JUSTIN BOGLE READY FOR MONSTER CUP ON HIS JGR RM-Z450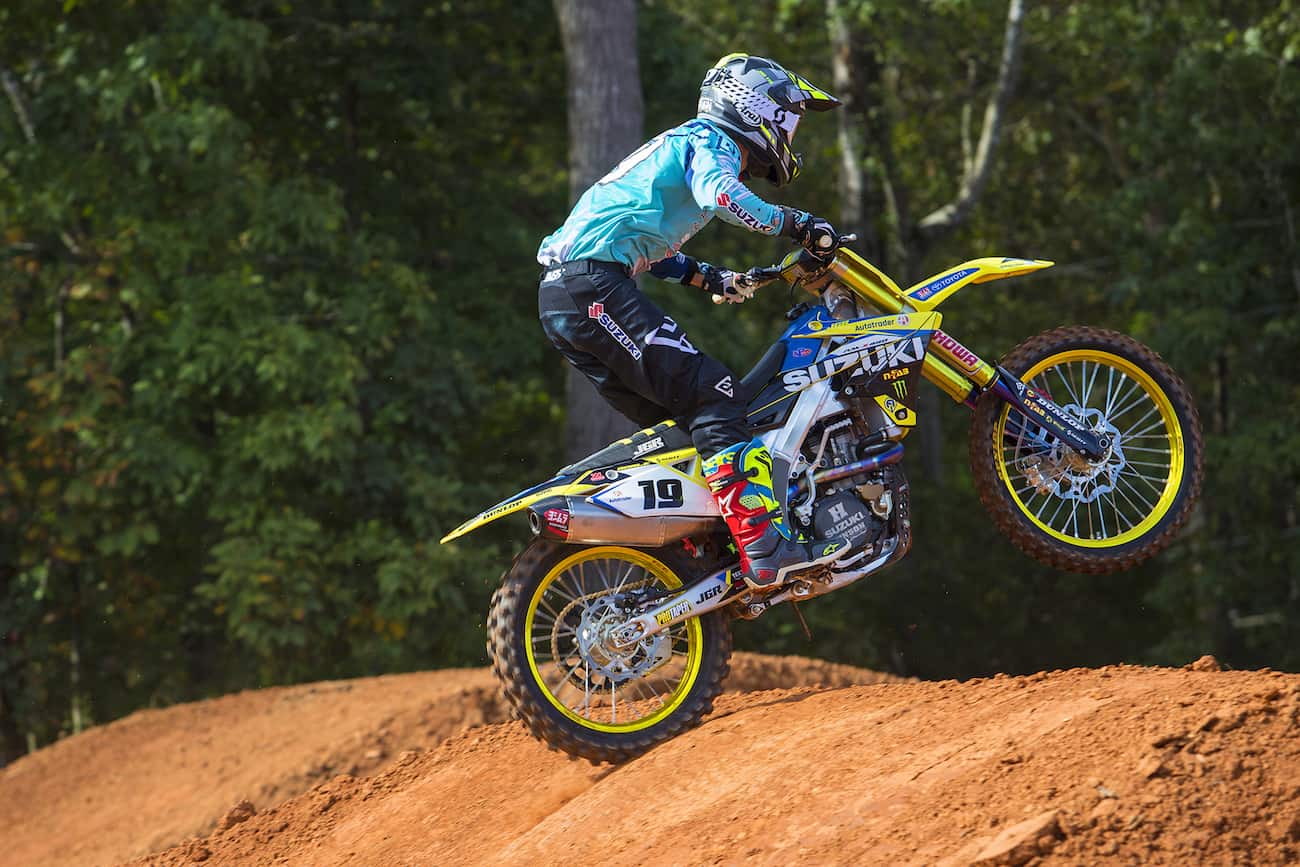 The Oklahoma native will debut the all-new 2018 Suzuki RM-Z450, while mechanic Ben Schiermeyer will be spinning the wrenches on the #19 machine.
2009 A1 PRESS DAY
Chad looking over his shoulder on his them new steed on a cloudy Anaheim day. 
With Ricky Carmichael out of the picture, James Stewart injured by round two, Ryan Dungey getting his feet wet and Ryan Villopoto still in the 250 class for the 2008 Supercross season, Chad Reed took the reigns of the series to the number one plate. For 2009, Chad Reed switched from blue to yellow displaying his number one plate. Ryan Villopoto stepped up to the big boy class with a lot of hype behind him. James Stewart came back from his knee injury and won every overall in the outdoor series with his confidence high going into the 2009 Supercross series.
Chad shows off his Championship ring. 
A1 Press Day in 2009 was a high pressure day for the riders. A lot of unknowns, a lot of nerves and a lot of talk. But in the end it would ultimately came down to a battle between James Stewart and Chad Reed with James winning the series by 4 points over Chad.
James Stewart chats with the press. 
The year prior Kevin Windham came in second behind Chad Reed in points.
In Ryan Villopoto's first year in the 450 Supercross class Ryan captured 3 podiums, 2 race wins and finished 6th in points. 
2009 was Broc Hepler's first Supercross race on a 450. Unfortunately for Broc he crashed and broke his collarbone in practice. He then returned a few weeks later and crashed hard again in San Diego  This was his last year racing Professional. 
James aboard his San Manuel Yamaha YZ450F. James finished last at A1 and came back to win the championship. He hasn't won a title since. 
Ivan Tedesco laying one down for the press. 
Tim Ferry on his factory KX450F. 

Ryan Villopoto's other bike. 
Ryan Dungey on press day on his factory Suzuki RM-Z250. 
Jake Weimer on a Pro Circuit KX250F. 
Justin Brayton on a Muscle Milk KTM 250SXF.
Remember when Jägermeister was the title sponsor of the MDK KTM team and Travis Preston rode for them? 
JOIN MXA'S SNAP CHAT FEED
If you are a Snap Chat user then add us to your stories. Get sneak peaks of everything moto. Our Snap Chat name is motocrossaction. Or just take a Snap of the picture above and it will add MXA automatically to your feed.
TALK MOTO WITH MOTO MINDED PEOPLE. JOIN MXA'S FACEBOOK GROUP CHAT

We love everything moto and want to bring all moto junkies together into one place to share their two cents, ideas, photos, bike fixes, bike problems and much more. To check it out first you must need to or already have a Facebook account. If you don't, it isn't much work and you could even have an alias so nobody knows it is you. To join click HERE. After you request to join we will accept your request shortly after.
CLASSIC PHOTO
Steve Banning on a 1981 Honda CR125. Notice the odd looking number plate. What was Honda thinking?