MWR: CR500AF, 2018 TM 125 & 450FI, BIG NEWS FROM CHAD REED

#WHIPITWEDNESDAY
Photographer: Daryl Ecklund
Rider: Alex Martin
Lens: 70-200mm
Focal length: 200mm
Exposure: 1/1600th
F-stop: 5.6
ISO: 250
TWO-STROKE SPOTLIGHT: HOGAN HAEBER'S HONDA CR500AF
The CR500AF after its resurrection. 
"I've wanted to build a CR500AF since I was probably 16 years old. I finally had the chance when I was 20, so I bought a 2006 rolling chassis from a buddy with the intentions of someday building a 500AF. Tore it down to the frame and waited patiently until I found the right CR500 power plant. Finally found a good 2000 CR500 great running bike. Pulled the engine and began the swap.
Piecing the engine together. 
I ordered a CR500 conversion kit and got started. I cut the "Y" piece, got the engine bolted in with the swingarm bolt, got the head stay mounts all together, mocked up the new Billet Y piece and began trimming the rest of the frame to fit.  The engine fit and I liked the placement. I did the necessary, but simple exhaust mods. Fitted the aftermarket over sized radiators (which was probably my biggest challenge)m finished the air box mod, and assembled the bike again with a ton of aftermarket and performance goodies. It was an incredibly fun and challenging build. I'd love to build another in the near future."– Hogan Haeber from Roseburg, Oregon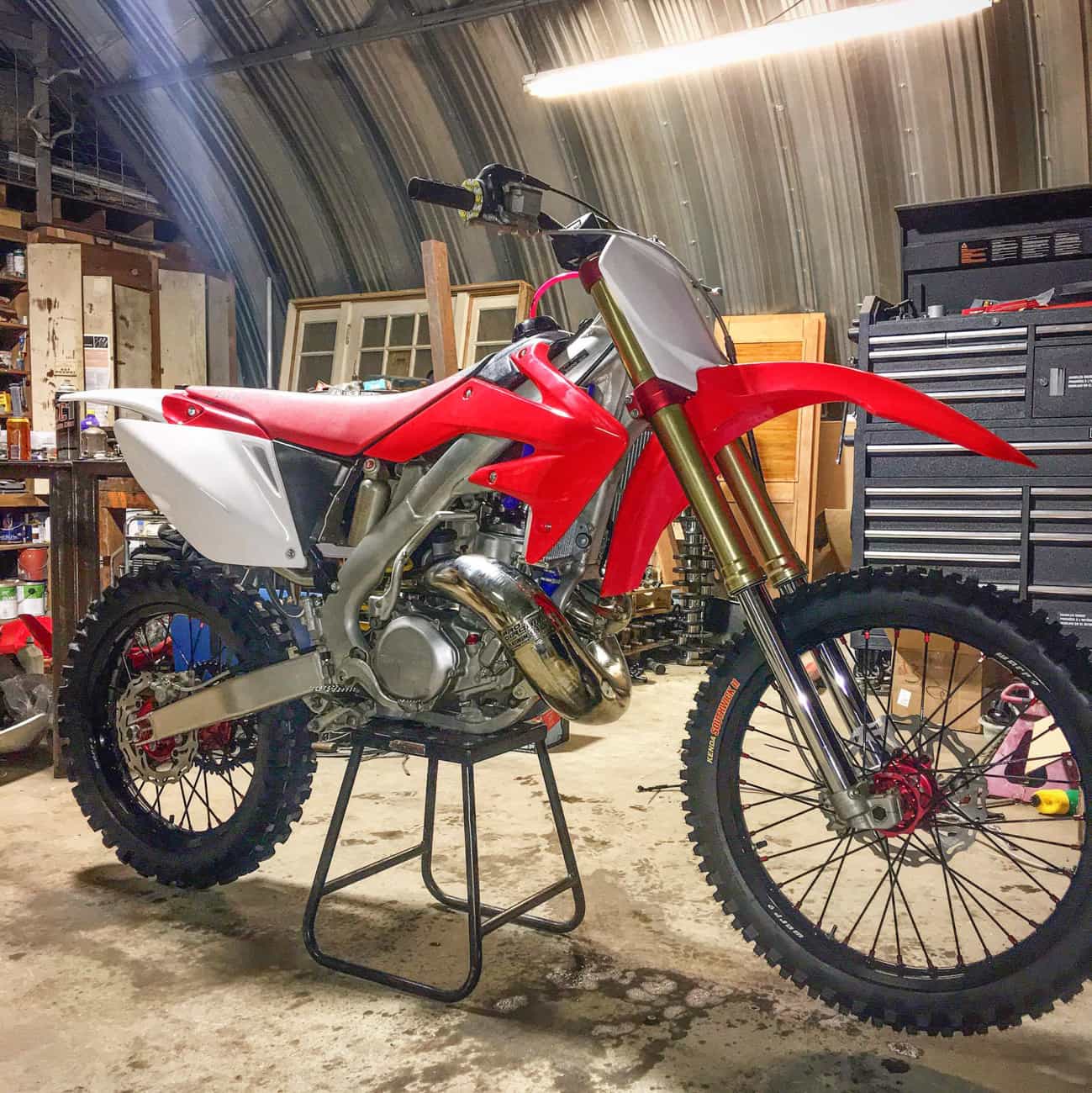 He went from red to green. 
The beautiful hand made Pro Circuit cone pipe. 
Editors Note: Please keep those submissions coming. If you would like your bike to be featured in the "Two-Stroke Spotlight," please email me at [email protected]. All I ask is that you give a breakdown of your bike and a detailed description of the build. Please also send a few photos of your steed. By submitting your bike for the "Two-Stroke Spotlight," you agree to release all ownership rights to the images and copy to MXA. Please don't email me spam or try selling me Taylor Swift concert tickets or email me spam. Happy submitting your smoker.
MXA PRODUCT SPOTLIGHT: PRO CIRCUIT STRAW HAT
Press Release:  Days at the track can be brutal with the sun bashing down on you, so make sure you have the Pro Circuit Straw Hat handy to help protect yourself from the sun's beating rays. The Pro Circuit Straw Hat features a wide brim for sun protection, a woven Pro Circuit patch on the front and an adjustable drawcord for a snug fit. Head to the track on the hottest of days with this straw hat knowing you will be shaded in style! www.procircuit.com $20.95.
KYLE PETERS JOINS THE JGRMX TEAM
Kyle Peters is no stranger to the JGR team. He filled  in for Phil Nicoletti during the 2017 season. 
Press Release: The Autotrader/Yoshimura/Suzuki Factory Racing Team is pleased to announce an agreement with Kyle Peters for the 2018 Supercross season. Kyle Peters will be a familiar face around the Autotrader/Yoshimura/Suzuki Factory Racing 250 team semi this upcoming year, as the 24-year-old filled in at three rounds of the 2017 Monster Energy AMA Supercross 250 Eastern regional series. The friendly Greensboro, N.C. native finished inside the top ten at every race during his short stint. Since turning Pro in 2011, Peters has earned podium and top-five finishes in Supercross. Kyle's talent, experience and professionalism are vital assets to a race program that is revamping its 250 factory effort.
Kyle Peters. 
"I have always wanted to ride for a factory team, and I'm so thankful to get the opportunity with the Autotrader/Yoshimura/Suzuki Factory Racing Team. What makes it more special is that JGRMX is based in my home state of North Carolina," stated Kyle Peters. "I was fortunate enough to ride for the team during several rounds of the 2017 Monster Energy AMA Supercross 250 Eastern regional series. The crew members and I immediately hit it off. In the past few months I have been wearing out [team manager] Jeremy Albrecht's cell phone, calling to see if he had a slot open. I am beyond excited that things worked out. I can't wait to put in the effort and make 2018 the best year of my career yet."

Jeremy Albrecht, the Autotrader/Yoshimura/Suzuki Factory Racing team, was easily persuaded into selecting Kyle Peters for a coveted position on the 250 team. "First and foremost, Kyle Peters is a really good kid. Having worked with him for a few races this year, I learned that Kyle is the type of rider who understands what needs to be done on the racetrack. He wants to succeed. Off the track, he has an easy-going demeanor and gets along with everyone in the rig. Kyle also understands the importance of maintaining strong relationships with sponsors."
Kyle will be number 76 and ride the West Coast series with now teammate Jimmy Decotis.
Kyle Peters will join Jimmy Decotis and 2017 Monster Energy AMA Supercross 250 Western Regional Champion Justin Hill on the Autotrader/Yoshimura/Suzuki Factory Racing 250 Team for 2018. There is one slot is left to fill. Expect an announcement in the coming weeks. For more team news, please visit www.jgrmxraceteam.com.

EKS BRAND GOGGLES ACCEPTING RESUMES
The EKS Brand Rider Support Program is in its 8th year and is actively looking for riders to be a part the program. Support levels range from C class riders all the way up through National level racers. The program is open to riders of all disciplines including, but not limited to, Motocross, Supercross, Off-Road, Flat Track, Hill Climb, Supermoto, Speedway, Endurocross, Trials, ATV, Mountain bike and action sport athletes. Join the likes of Broc Tickle, Freddy Noren, Josh Strang, Russell Bobbitt, Sammy Halbert.. etc… just to name a few.
Click on www.eksbrand.com and go to "contact us" or send a small resume to [email protected].
CHAD REED TO RIDE A HUSQVARNA FOR 2018 SUPERCROSS SEASON
Chad Reed last Saturday night announced at the Red Bull Straight Rhythm that he will be riding a Husky FC450 for the 2018 Supercross series. By the sounds of it he will be riding for himself again. 
NITRO CIRCUS KIDS BIKES
Hyper 16″ Nitro Circus Motobike kids' bike.
Press Release: Little ones will ride off to exciting adventures on this 16-inch Moto Hyper Nitro Circus Bike. It features motocross-style fenders with authentic Nitro Circus graphics and a motocross saddle seat that adds some extra style to this riding machine. It is built with a steel oversized frame, a steel handlebar, 16-inch rims and knobby tires. This kids' moto bike also has standard size pedals and front brakes for an easy way to stop. With only one speed, there are no complicated gears. Training wheels are included for beginners who are still learning to ride. This 16-inch Hyper Nitro Circus bike can support up to 100 pounds. It is easy to assemble.
Hyper 16″ Nitro Circus Motobike Kids' Bike:
16″ rims
Single-speed
Authentic motorcycle saddle and Nitro Circus graphics
Suspension frame
Knobby tires
Retailing at $79.00
Only available in Walmart stores and Walmart.com 
Hyper 20″ Nitro Circus BMX kids' bike.
The 20-inch Hyper Nitro Circus BMX Bike features alloy platform BMX pedals for pulling off the most awesome tricks and micro-drive front and rear sprockets for a smooth ride, even off-road. This Micro Drive BMX bike has a rotor up front for 360-degree handlebar rotation and thereby lets you experiment with various stunts more confidently. Decked out in a mean paint job, BMX biking has never been as fun or easy as on the 20-inch Hyper Nitro Circus BMX Bike. The boys' BMX bike's sturdy build and design makes it perfect for bikers just learning the ways of dirt biking and more experienced cyclists as well. Its multi-surface tires are highly versatile and thus aid your ride on all terrains with enhanced grip and control.
Hyper 20″ Nitro Circus BMX Kids' Bike, Matte Black:
Micro-drive front and rear sprockets
Alloy platform BMX pedals
Rotor for 360-degree handle bar rotation
Multi-surface tires
Retailing at $99.00
Only available in Walmart stores and Walmart.com
WHAT THE MXA WRECKING CREW IT UP TO
We just got our hands on our first 2018 two-stroke of the year. The TM MX125. Our test riders ripped it up this last Thursday at Glen Helen, literally.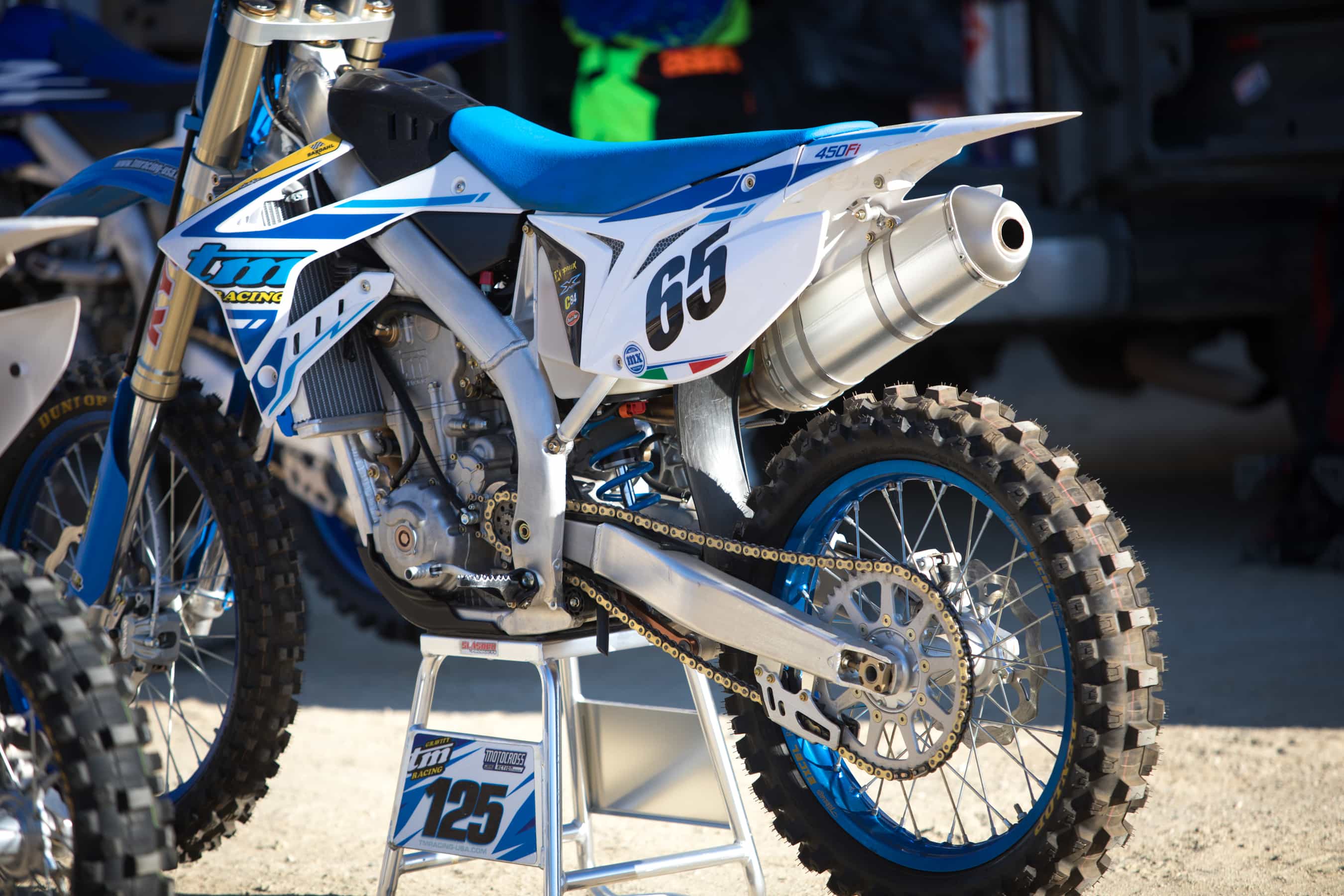 We tested the TM MX450-FI a few years ago. For 2018 it still looks the same, but many updates have been made. 
The brand-new TM MX125 gets soil tested by our Pro tester and crasher Brian Medeiros. He crashed at least four times in an hour to get the shots. Thanks Brian for putting it all on the line for the shot. 
Here's our other crash dummy, Justin Muscutt. He is not quite on Brian's level, yet. He needs some more practice. 
Wow! Justin, that was a close one. 
When Brian gets it right, it is nothing but pure gold. 
Justin at speed on the Italian 450. 
Justin getting the big 450 low. 
TM importer Ralf Schmidt (middle) somehow has a smile on his face after the boys just soil sampled his bikes numerous times. 

JOIN MXA'S SNAP CHAT FEED

If you are a Snap Chat user then add us to your stories. Get sneak peaks of everything moto. Our Snap Chat name is motocrossaction. Or just take a Snap of the picture above and it will add MXA automatically to your feed.
MOOSE RACING QUALIFIER FOOTPEGS
Yep, Moose makes foot pegs. They make an awesome line of hard parts. 
Two-piece light weight footpeg design
CNC machined aluminum alloy construction
Extra wide replaceable stainless steel footplate providing the rider with ultimate grip
The stainless steel footplate also sits inside a rubber damper helping to absorb shock
Use your OEM springs
Available in black only
www.mooseracing.com $102.95
MXA EXCLUSIVE VIDEO: 2018 KTM 250SXF
TEAM GAERNE ACCEPTING RESUMES
Team Gaerne is accepting resumes for sponsorship of the 2018 riding season. Backed by over 50 years of innovation and Italian craftsmanship, Gaerne stands as one of the leading global motocross boot suppliers. Our Rider Support Program was created to help moto enthusiasts like you achieve your riding goals. In this upcoming season, Gaerne is looking for riders of all ages and experience levels who are dedicated to stepping up and showing out, while enjoying the ride with the comfort and support of #gsonmyfeet. We invite you to apply for our Rider Support Program through one of the following methods: Visit http://gaerneusa.com/sponsorship to submit a digital inquiry. Email your updated resume, complete with contact information, career highlights, plans and interests to: [email protected] Digitally submit your updated resume through http://mxsponsor.com/companies/gaerne
TALK MOTO WITH MOTO MINDED PEOPLE. JOIN MXA'S FACEBOOK GROUP CHAT

We love everything moto and want to bring all moto junkies together into one place to share their two cents, ideas, photos, bike fixes, bike problems and much more. To check it out first you must need to or already have a Facebook account. If you don't, it isn't much work and you could even have an alias so nobody knows it is you. To join click HERE. After you request to join we will accept your request shortly after.
CLASSIC PHOTO: K-DUB & MXA

Kevin Windham reading MXA back in 2004.