MWR | DO YOU HAVE TO WIN TO A GET A TITLE? DUNLOP MX33 INTRO & MORE
#WHIPITWEDNESDAY
Rider: Josh Hanson
Bike: 2010 Pro Circuit KX250F
Location: Kawasaki Supercross test track
Lens: 300mm f/2.8
Focal length: 300mm
Exposure: 1/1250sec
F-stop: f/6.3
ISO: 250

TWO-STROKE SPOTLIGHT: RICK EMERSON'S 1996 HONDA CR250 & 2016 AF CR500
1996 Honda CR250 Jeremy McGrath replica.

"Hello, loved reading your 1996 Honda CR250 two-stroke Tuesday story. I included some of my rippers to show you guys." –Rick Emerson.
Rick's AF Honda CR500. 
Editors Note: Please keep those submissions coming. If you would like your bike to be featured in the "Two-Stroke Spotlight," please email me at [email protected]. All I ask is that you give a breakdown of your bike and a detailed description of the build. Please also send a few photos of your steed. By submitting your bike for the "Two-Stroke Spotlight," you agree to release all ownership rights to the images and copy to MXA. Please don't email me spam or try selling me Taylor Swift concert tickets or email me spam. Happy submitting your smoker.
TRAVIS PASTRANA IS GOING TO REPLICATE 3 OF EVEL KNIEVEL JUMPS ON AN INDIAN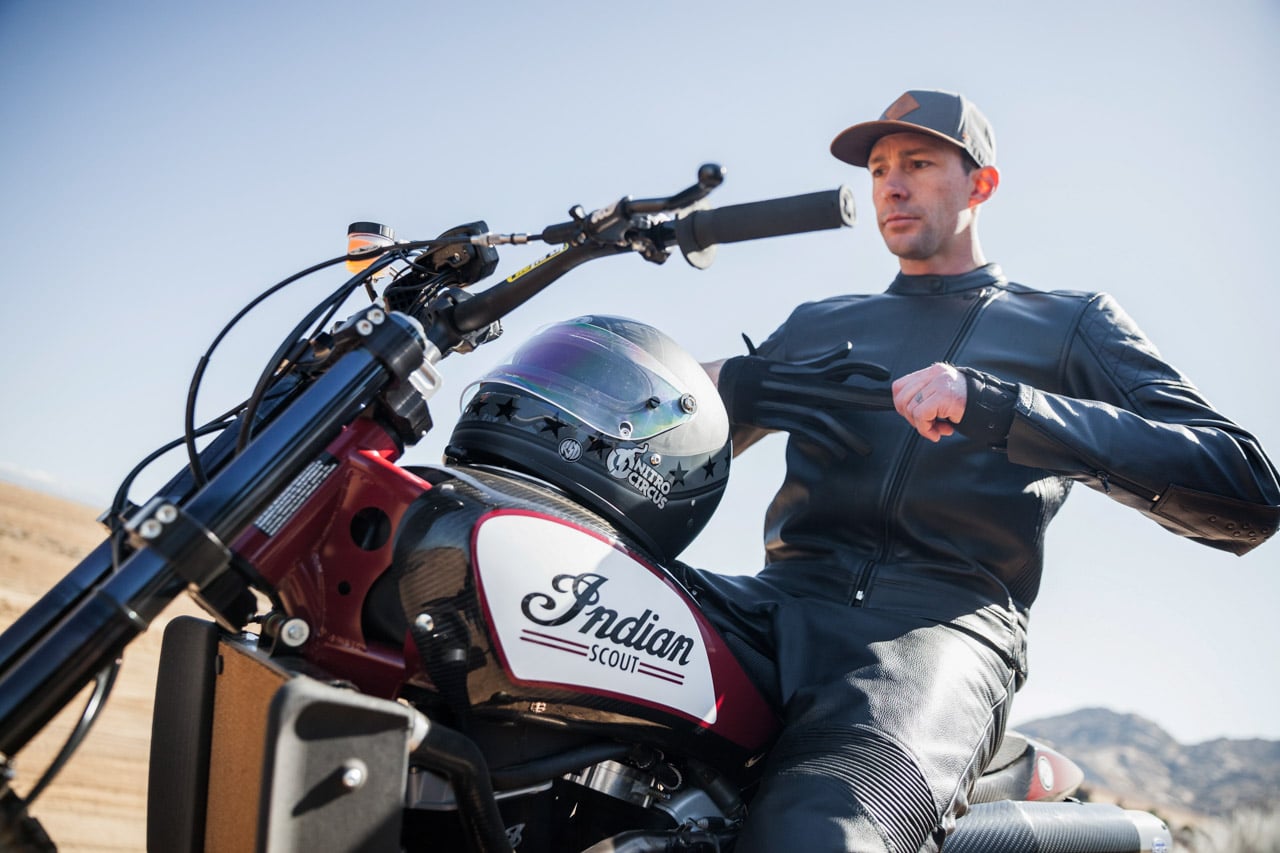 Travis and his Indian Scout. 
Travis Pastrana: "It was extremely important to use a motorcycle similar to the ones Evel jumped. The Indian Scout FTR 750 is just that, a modern-day evolution of the flat track motorcycles of the past," said Pastrana. "It has the power I need and handles well, but I'm only going to have a few days to get comfortable on it, not to mention I've never jumped a V-twin before. I've got my work cut out, but we're used to going big at Nitro Circus, so we'll make it happen."
The Indian Scout FTR750 is far different from the lightweight motocross bikes you would typically find Travis Pastrana jumping. The engine of the FTR750 features a powerful 750cc 53-degree V-Twin and utilizes 43mm conventional front suspension with an adjustable Ohlin's mono-shock on the rear. Introduced in the American Flat Track racing series in 2017, the Indian Scout FTR750 secured 14 victories along with the manufacturer's and rider's championship in its first year of competition.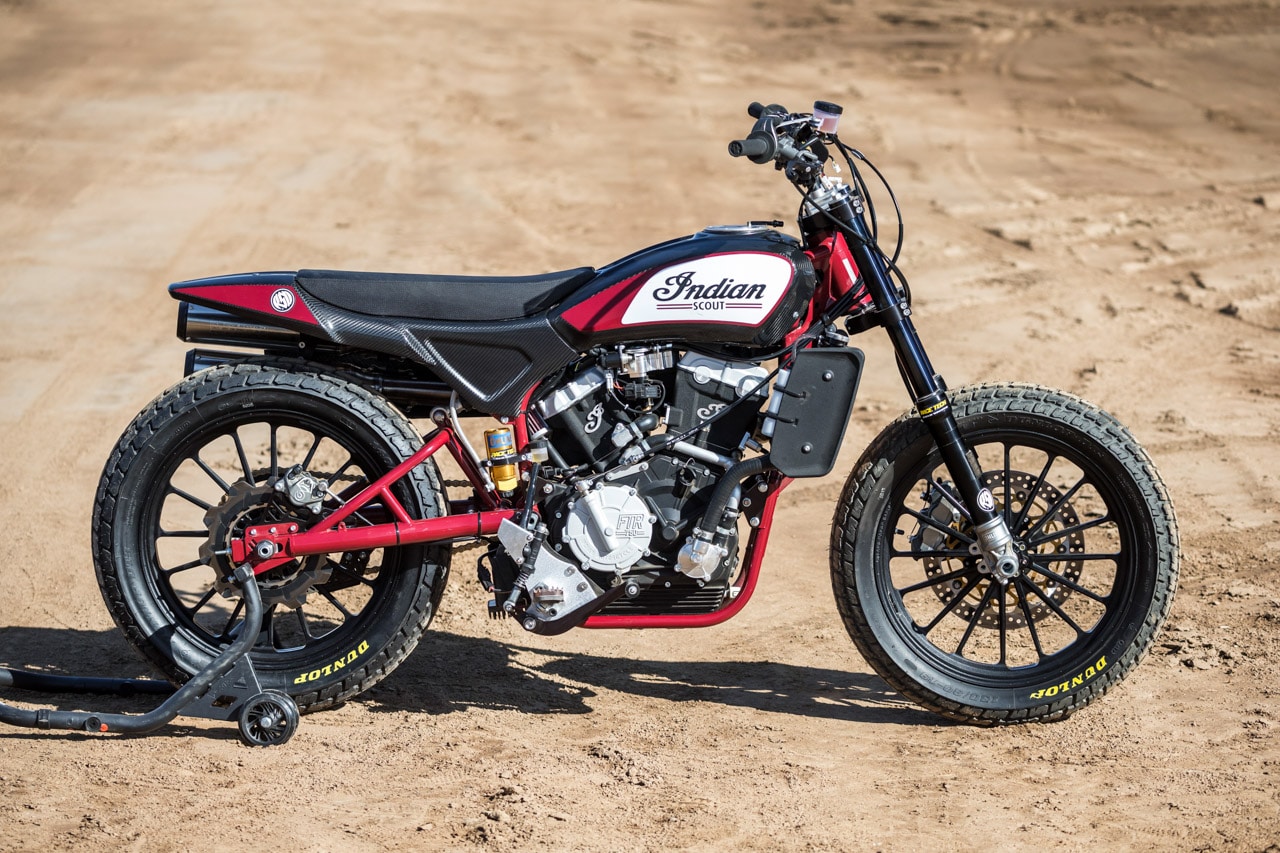 This is the Indian Scout bike that Travis will be making the jumps on.
"We couldn't be more excited for Travis to be piloting the Scout FTR750 as he looks to make history by recreating three of Evel Knievel's most historic jumps in a single evening," said Reid Wilson, Senior Director, Marketing and Product Development for Indian Motorcycle. "Evel Knievel is truly a global icon, and we're proud to be a part of this incredible event that pays homage to his legacy in such grand fashion."
Will Travis Pastrana successfully complete all three jumps on the Indian Scout FTR 750? Tune-in to History on Sunday, July 8th at 8PM ET/ 5PM PT to find out.
TAG METALS TO SUPPORT 2018 AMA NATIONAL PROS FOR 250 & 450 OUTDOOR
Tag Metals was relaunched earlier this month by Group 6 USA and we are pleased to announce a Special AMA Professional Rider Sponsorship Program for the 2018 250 & 450 Outdoor National class riders.
We know how expensive professional racing can be, so, we have developed a FREE Tag Metals Handlebars & Grips Pro Package along with very special Pro pricing on Sprockets and Chains for the National outdoor season.
Email: Your name, hometown, list of sponsors, and short paragraph on yourself, list of the outdoor National events you will ride this years and attach a picture of your Pro license, email to: [email protected]

Space is limited so apply today! We have a preset budget and when it gone it's gone! For more Tag Metals information please contact us at mailto:[email protected] or telephone (661) 253 1592. Visit us at: www.tagmetalsracing.com

HERE ARE THE RIDER THAT WON TITLES WITHOUT WINNING THE MOST RACES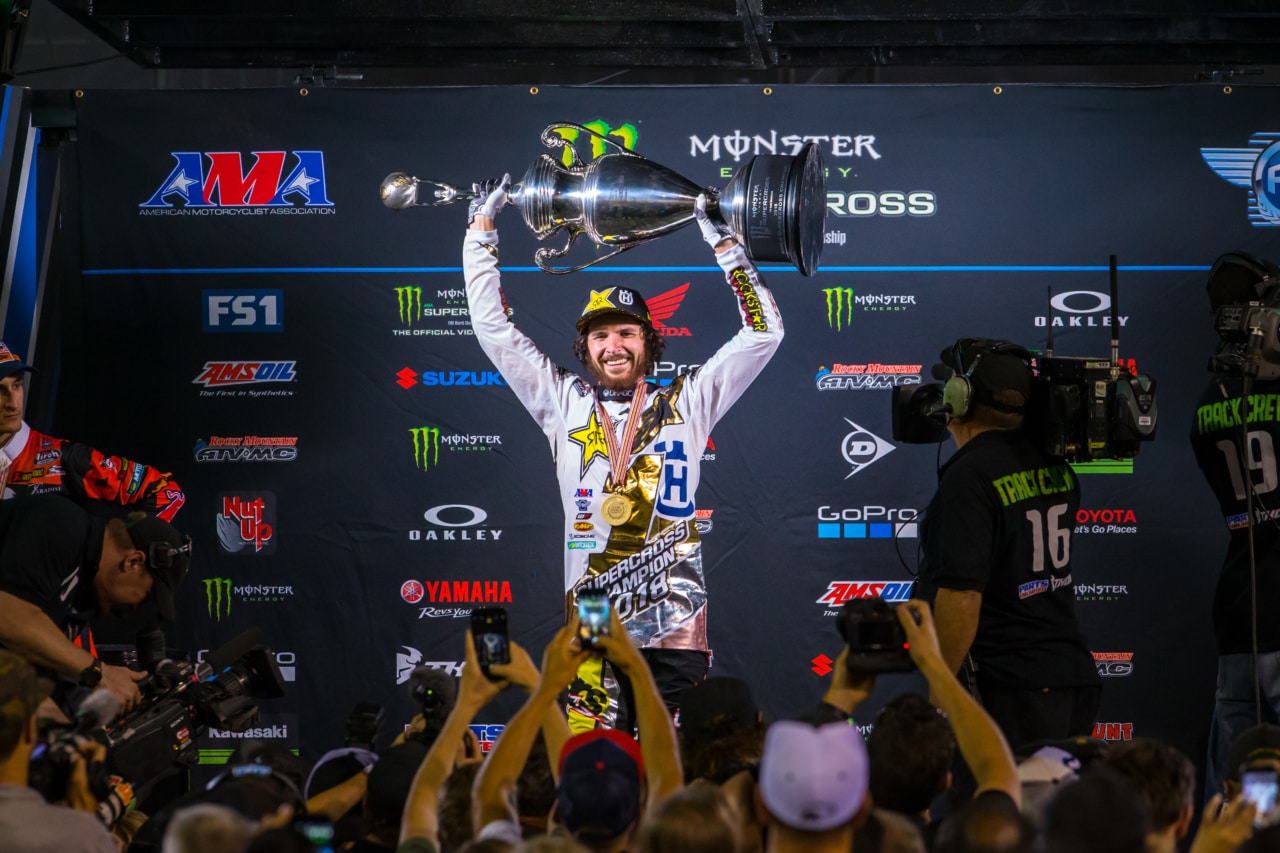 Jason Anderson.
By Ben Bridges
| | | | | | | |
| --- | --- | --- | --- | --- | --- | --- |
| Year | Champion | Wins for Champ | Most Wins | Wins | Final Standing | Difference in Wins |
| 76 | Weinert | 1 | Ellis | 2 | 3 | 1 |
| 82 | Hansen | 4 | Barnett | 4 | 2 | Tie |
| 83 | Bailey | 3 | Hannah | 5 | 5 | 2 |
| 85 | Ward | 1 | Lechien | 3 | 3 | 2 |
| 87 | Ward | 5 | Johnson | 7 | 2 | 2 |
| 89 | Stanton | 5 | Johnson | 5 | 9 | Tie |
| 90 | Stanton | 4 | Bayle | 5 | 2 | 1 |
| 92 | Stanton | 3 | Bradshaw | 9 | 2 | 6 |
| 06 | Carmichael | 6 | Stewart | 8 | 2 | 2 |
| 10 | Dungey | 6 | Villopoto | 7 | 4 | 1 |
| 17 | Dungey | 3 | Tomac | 9 | 2 | 6 |
| 18 | Anderson | 4 | Tomac | 8 | 3 | 4 |
12 times has the Supercross Champion not won the most races or tied with someone in that category. 2018 marks the second year in-a-row, but Donnie Hansen and Mark Barnett tied in wins.
In both of Jeff Ward's championships he wasn't the rider with the most wins. Ryan Dungey did this in two of his four titles and so did Jeff Stanton.
Eli Tomac is the first rider to ever lose titles in back-to-back seasons in which he had the most wins. He is also the first rider to do it multiple times.
MOTO | TRIVIA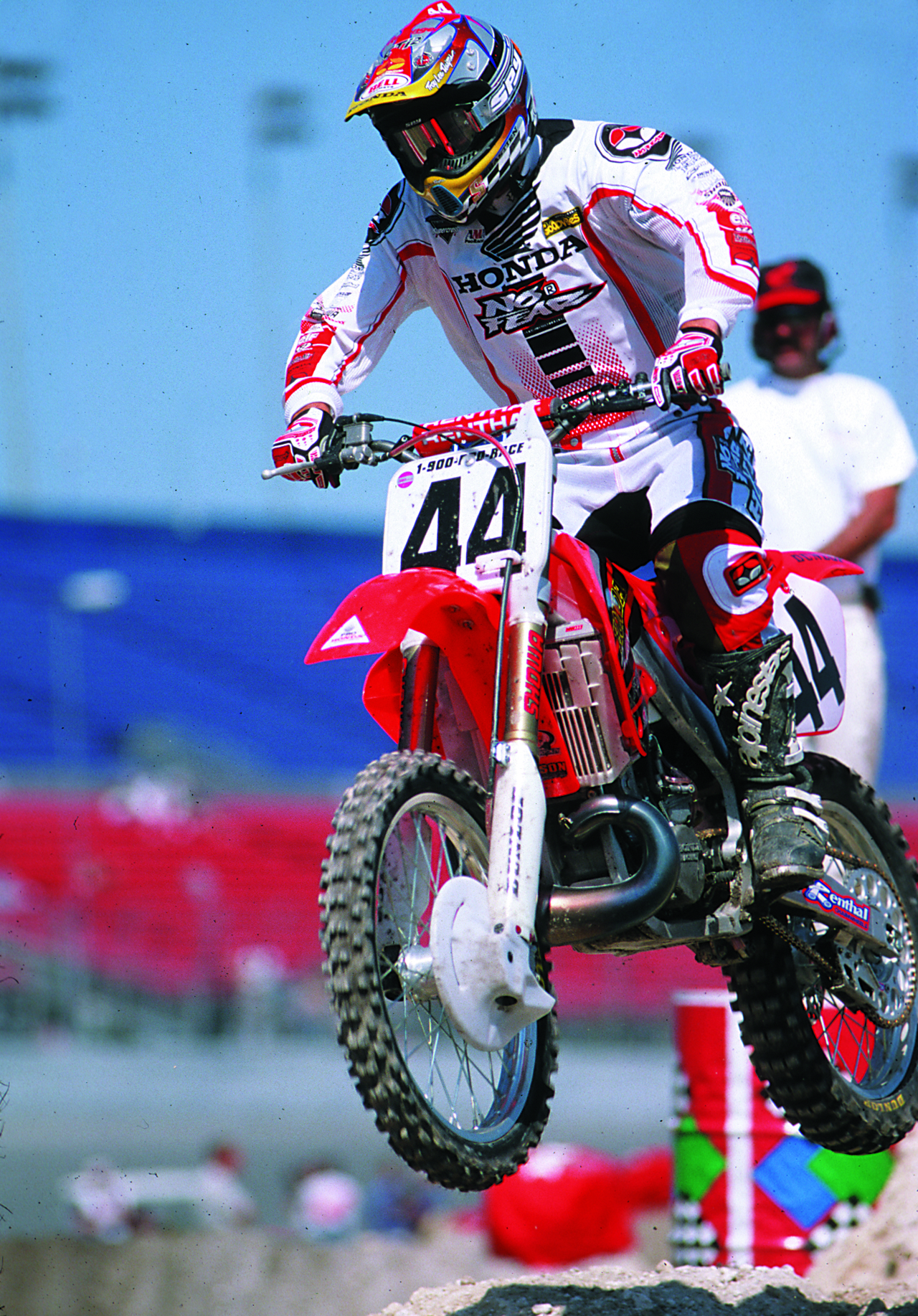 Name the rider and year. Answer at bottom of page.

MOTOCROSS ACTION READER SURVEY: LET US KNOW WHO YOUR ARE
Make sure to take our detailed MXA Reader Survey so we can accommodate to you better. 
DUNLOP MX33 LAUNCH AT ZACA STATION
The Dunlop MX33 tire intro was at the beautiful Zaca Station. 
Story & photos by Spencer Owens
On Tuesday May 8th in Buellton, CA, our friends at Dunlop Tires released their brand new tire to the MX lineup, the Geomax MX33. This tire in particular has a slightly different look than its predecessor the MX3S, and has a few more interesting features within the rubber. We got to witness the global unveiling of this tire, as well as test it ourselves at California's novelty spot, Zaca Station. We'll give you the rundown.
Spencer Clark changing the tires on Spencer Owens RM-Z250. 
First, we checked in to the suite that Dunlop provided at the "Santa Ynez Valley Marriott" in Buellton, California. From there, we were welcomed by the very friendly Dunlop Marketing Team–as they further explained their latest product through a brief presentation and Q&A (we also received an awesome gift bag filled with tire maintenance goodies from the folks at Motion Pro and Mechanics Wear). From there we were offered an endless buffet of freshly prepared BBQ food, and free drinks. After we spent hours on the balcony sharing old stories and bench racing the 2018 outdoor National season with our industry colleagues and friends, it was time to get some rest for the long day of riding ahead.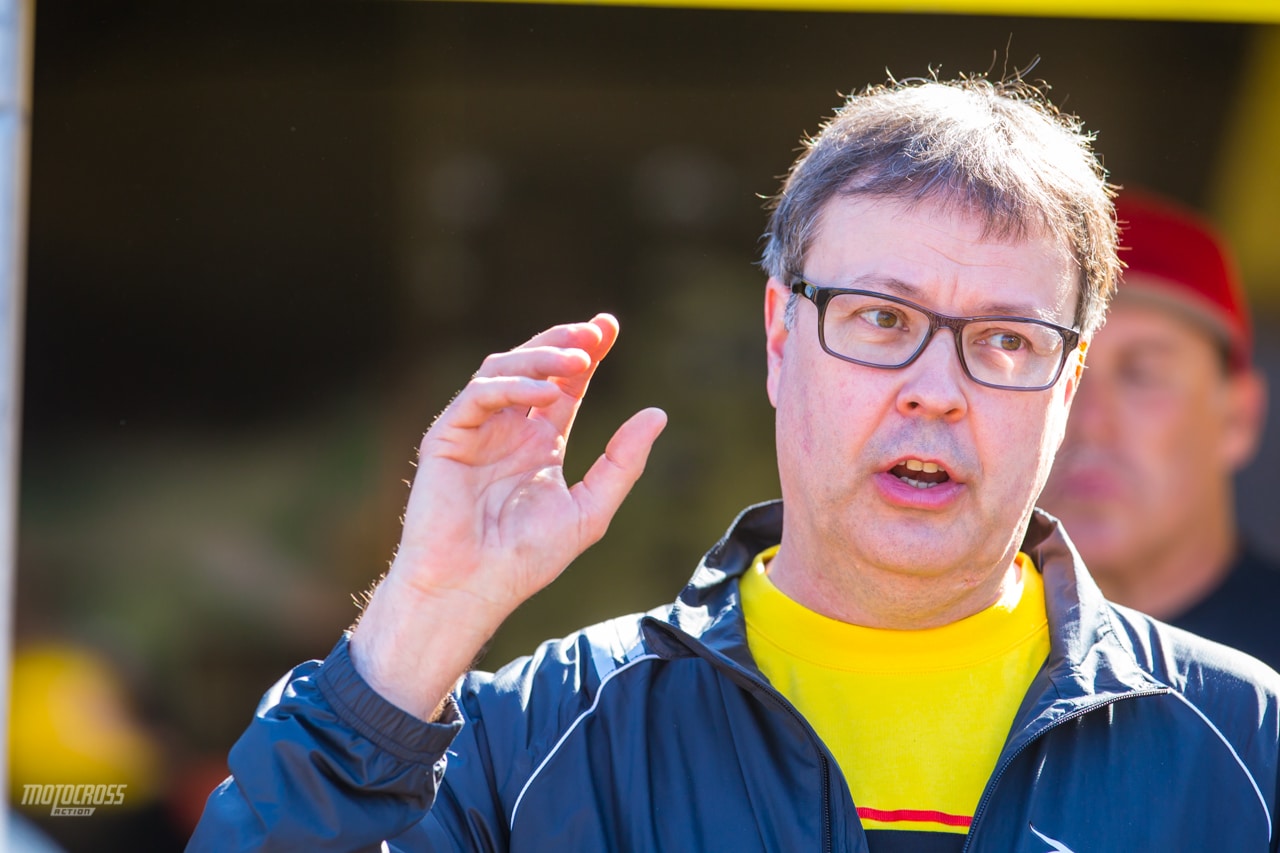 Dunlop's Mike Manning introduced the media to the Dunlop MX33 tires. 
On Wednesday, May 9th around 6:15 am, Chief MXA test rider Dennis Stapleton and myself woke up to begin the day. After we were immersed in the free breakfast buffet and endless supply of coffee, it was time to drive the half-hour to Zaca Station. As we drove through the secret pass and made it past the main gate, we as impressed as always–as the track had greenery for as far as far the eye could see, fresh thick clean dirt, and not to mention the nice cool weather conditions. We setup camp and wheeled our bikes to the Dunlop rig to receive a fresh set of the new Geomax MX33 tires front and rear to try first hand. The Dunlop team replaced the tires in under five minutes and from there it was time to ride.
The rear Dunlop MX33 up close and personal. 
Before we tell you our first impression, lets explain the tire a little bit. This tire was developed with the help of top motocross pros. The all-new MX33 is the new industry standard for soft-to-intermediate terrain. Dunlop's innovative new technologies offer superior grip, slide control, bump absorption and enhanced durability. Although it might be hard to see, the MX33 has all-new small details within the knobs to help improve cornering action and additional slide control. To name just a few, the front tire features Block-In-A-Block technology to aid in linear tracking and improved steering, while the all-new rear features an altered version of a Block-In-A-Block shape to increase surface area of the rear block, while additional tread angles enhance grip, stability and slide control. Although these key features were added to the Geomax MX33 tire, it doesn't take away from the sleek look and reputation of the Dunlop brand.
This is a Husky FC270. This is the bike that will be featured in a future issue of MXA, although it won't be dressed in Dunlop graphics. 
Dennis Stapleton said: "The tire was an improvement from tires past." As for me also noticed a difference right away. I rode a few laps on the Dunlop Geomax 3S' before riding the MX33, and the thing I really liked was how smooth the rear tires felt into the rutts or soft corners. It was almost like a feeling of security. As far as durability, we are told the tire is meant to hold up stronger than the MX3S and past Geomax tires. But this is something that we will need to test to further.
MXA's Dennis Stapleton shredding on the Zaca Station terrain. 
We were very fortunate to be apart of this global release of the Geomax MX33 this past week, and we are excited to spend more time with these tires and put them to use. Look for a full test of the Geomax MX33 tires in a future issue of MXA.
KTM's David O'Connor got to ride for a bit. 
Freestyle rider Jarryd McNeil spun some laps on the new tires.
The Dunlop crew worked tirelessly getting everyone fresh treads. 

ANTHONY RODRIGUEZ LINES UP FOR THE GERMANY MXGP
Anthony Rodriguez.
Yamaha Motor Europe is pleased to announce that Anthony Rodriguez has been drafted in to temporarily replace the injured Vsevolod Brylyakov on the Kemea Yamaha Official MX2 Team until Brylyakov is ready to return.
Anthony Rodriguez: "I can't tell you how excited I am to have the chance to race the MX2 World Championship with the Kemea Yamaha team. Every time I ride I give 100% so my goal is to keep doing that and keep getting better every day that I ride. I tested the bike today, and I have to say I like it a lot. I find that the Yamaha has a lot of torque and that really suits my style."
After landing in Amsterdam, The Netherlands, on Sunday 13th May, the 22-year-old – that originates from Venuzuela but has been based in the United States of America since 2009 – will race at the MX2 Grand Prix of Germany, round eight of the FIM Motocross World Championship, this weekend, May 20th.
Fresh off of the East Coast Supercross season, in which he finished ninth overall in the 250cc class with his best race finish being a fifth-place in Minneapolis, the MXGP of Germany will be the first time Rodriguez lines up for an outdoor motocross race this year.
Last year, he made his MX2 debut when he contested two rounds of the 2017 FIM MX2 World Championship – the MXGP of Lombardia, Italy and the MXGP of Portugal – where his best result was a solid eighth place finish at Portuguese Grand Prix in Agueda.
JOIN MXA'S SNAP CHAT FEED
If you are a Snap Chat user then add us to your stories. Get sneak peaks of everything moto. Our Snap Chat name is motocrossaction. Or just take a Snap of the picture above and it will add MXA automatically to your feed.
2018 GLEN HELEN NATIONAL TRACK MAP
K-TECH SUSPENSION USA LAUNCHES–Division of Orient Express Racing
Press Release: K-Tech Suspension USA, a division of Orient Express Racing proudly launches KTechSuspensionUSA.com. The suspension-only site is a great destination for Road and Off Road premium suspension components, replacement suspension parts and suspension tools. The intuitive Year / Make / Model pull downs make searching for bike-specific fitments, OEM-grade seals/bushings/springs and full suspension upgrades quick and easy. The site includes a convenient dealer and certified service center locator.
Road suspension solutions for all budgets can be found on K-Tech Suspension's branded line of Razor, Bullit and DDS series rear shocks as well as Tracker, IDS, RDS and DDS series cartridges and re-valve kits for fork upgrades.
Users will find a great selection of Off Road applications as well. In addition to premium maintenance components, there is a wide range of spring rates and K-Tech Suspension's ORSS air fork spring conversions, rear shock bladder conversions and HPTP high performance tuning parts.
Users are encouraged to create an account to join the eBlast list and take advantage of special introductory offers. K-Tech Suspension USA welcomes Dealer inquiries. Technical and product info inquiries welcomed as well.
K-Tech Suspension USA has a FaceBook page as well as Twitter and Instagram accounts. There users will find new product releases and news. K-Tech Suspension USA ships daily by 4 PM Eastern for in-stock items. Economical two-day coast-to-coast shipping available. Check out www.ktechsuspension.com.
CLASSIC PHOTO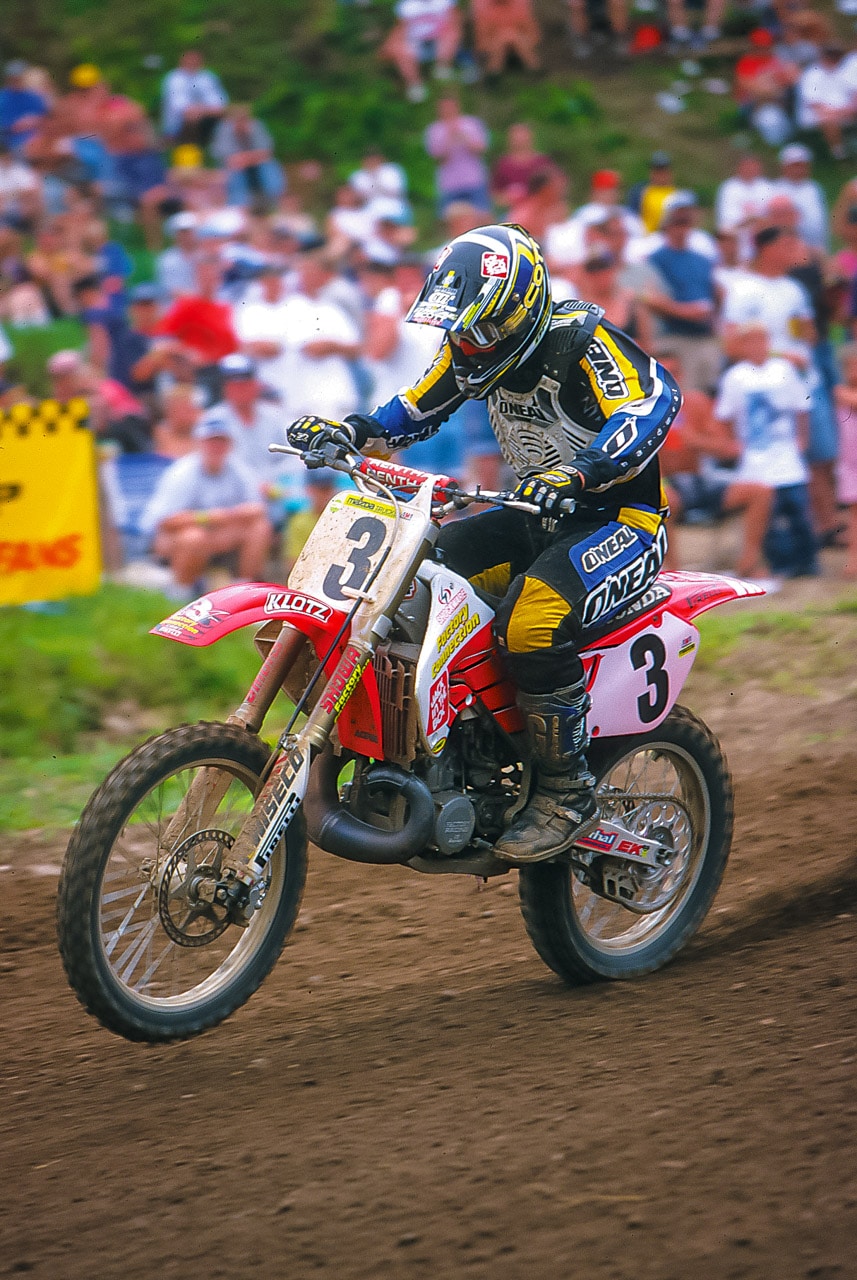 Remember Mike LaRocco's Jack in the Box graphics back in 1999 when he was aboard a 1999 Honda CR250.
Moto Trivia answer: Sebastien Tortelli 1999 on a Factory Honda CR250.