MWR | THURSDAY OF JASON ANDERSON'S INCIDENT & MX-TECH KTM 125SX
#WHIPITWEDNESDAY
Rider: Justin Barcia
Bike: 2018 Yamaha YZ450F
Location: Colorado
Event: 2018 Thunder Valley Outdoor National
Photogeher: Chris "Browndog" Wilson
Lens: 24-70mm f/2.8
Focal length: 38mm
Exposure: 1/8000sec
F-stop: f/2.8
ISO: 400
TWO-STROKE SPOTLIGHT: JEREMEY BOURDAGES' 2013 YAMAHA YZ250 BUILD
2013 Yamaha YZ250 project bike.
"Hey! Just submitting my 2013 Yamaha YZ250 for two-stroke feature. It has been completely stripped down, and rebuilt at 403MX. Spent months working after school as a high school senior to make this thing happen. Everything has been cleaned, replaced, re-greased and freshened up, down to every needle in every bearing on the bike. If this makes it onto the page, please tag me on Instagram: @jstars199 
PARTS AND MODS LIST:
Coating by 403MX:
Frame- black
Subframe- black
Swingarm- black
Upper fork tubes and shock body- black
Hubs- flo yellow
Spokes- black
Rims- black
Nipples- blue
Engine by 403MX:
Full rebuild
Cylinder porting
Head porting
Carb mods, rebuild, notched slide
Case matching
Transmission work
Shift stopper update
GYTR flywheel
VForce reeds
DEP pipe
Pro Circuit R-304 silencer
Pro action Canada Suspension:
Full rebuild
Revalve
(No need for springs)
Upgrade parts and misc:
Kenda tires
Acerbis frame guards
Full R-tech restyle kit in flo yellow
M7 graphics
Flo pegs
Torc1 shifter
Torc1 brake
ASV clutch perch and lever
ASV brake lever
Hinson clutch cover
Guts racing seat cover
Renthal chain and sprockets
Acerbis chain guide and slide kit
Galfer oversized front brake
Works Connection holeshot device
Twin air high flow cage
Pro circuit throttle tube
Cycra skid plate
Renthal Twinwall bars
Editors Note: Please keep those submissions coming. If you would like your bike to be featured in the "Two-Stroke Spotlight," please email me at [email protected]. All I ask is that you give a breakdown of your bike and a detailed description of the build. Please also send a few photos of your steed. By submitting your bike for the "Two-Stroke Spotlight," you agree to release all ownership rights to the images and copy to MXA. Please don't email me spam or try selling me Taylor Swift concert tickets or email me spam. I already celebrate T-Swizzle's entire collective, and there will be "bad blood" if you send me junk mail. See what I did there? Happy submitting your smoker.
MOTO | TRIVIA
Name the rider. Answer at bottom of page.
WHAT WE SAW AT GLEN HELEN LAST THURSDAY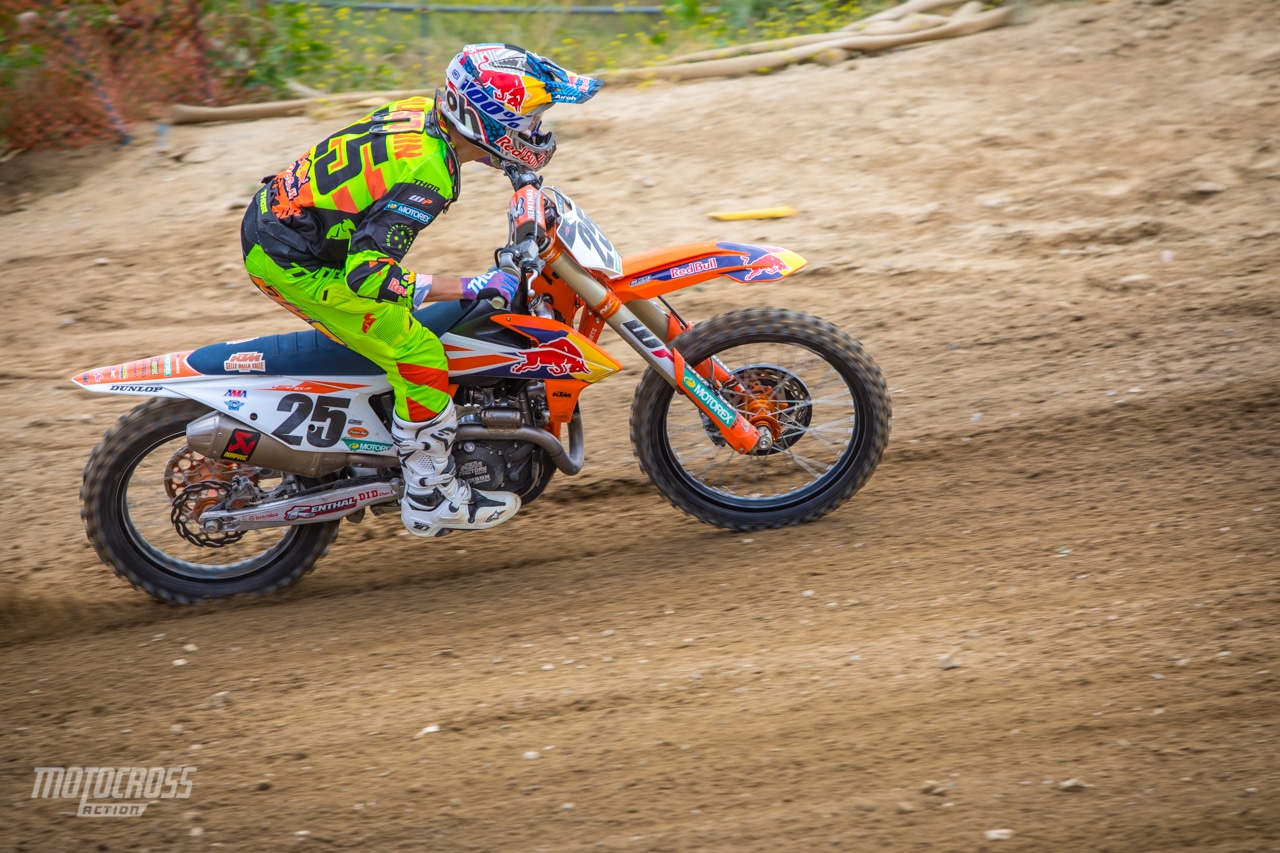 Factory KTM rider Marvin Musquin putting in the laps. 
Cameron MacAdoo 's Geico Honda CRF250 engine. 
The rear-end of Cameron's bike.

The beautiful factory Nissin front brake of MacAdoo's bike. 
Broc Tickle was out riding a pieced together KTM 450SXF that the TLD team got together for him to ride.
The one and only Troy Lee and his team. 
Ken Roczen sporting the Fox Supreme gear. 
Yes this was the same day Jason Anderson broke his foot. We caught some photos of him before, and after the incident. 
The photo directly after the incident of Anderson crawling off the track. 
This is why we were really at Glen Helen. To test this great looking MX-Tech 2018 KTM 125SX. 
This is the MX-Tech shock that they now make. The National shock is a thing of beauty. No stone was left unturned in making it. It retails for $2400 with the spring and is made the for RM-Z, KTM and KXF bikes. 
This is the engine of the MX-Tech KTM 125SX. It is basically stock with the exception of the FMF pipe and Vertex single ring piston. This thing ran crisp.
Here is MXA's chief test rider sampling the MX-Tech KTM 125SX.

The MX-Tech boys brought out four different bikes for us to ride. 
Michael Mosiman passing by. 
Colt Nichols' is back at it riding. 
Alex Ray railing a patch of sand on his Factory Yamaha YZ450F.
Bet you can't guess how old this brand new looking braces are? They were made in 1997! More than 20 years old. Dennis Stapleton had his CTI's refurbished by Össur which made them look brand new again. 
Husky's Jordan Bailey. 
Weston Peick was pounding out laps. 
Dylan Ferrandis on his Star Racing YZ250F. 
We also rode MX-Tech's Rockstar Edition Husky FC450. We rode it with both air and spring forks. 
MX-Tech's Lucky spring forks were a great setup on the Rockstar Edition and are only a half pound heavier than the Showa TAC air forks.
Dennis got to ride the MX-Tech Husky as well.  
THEY SAID IT | THUNDER VALLEY NATIONAL
Jeremy Martin: "It's a pretty cool feeling. It's been three years since I had the red plate. Kind of had goosebumps after that. Really enjoying the moment for having it. It's a lot of struggles since I won my title in 2015. I was in a pretty big hole in 2016 and last year. We were able to dig ourselves out of it and get back to where I belong. 
Ken Roczen: "Being in the battle up front and being in the mix today is awesome. Hangtown was honestly kind of miserable just because I didn't know what to expect, didn't have a lot of time on the bike, and everything just felt so foreign. Here, I basically rode the same bike that I rode at Glen Helen, and though it wasn't totally ideal, I knew what the bike was going to do and how it would react to things. We got good starts and rode up front. It's great to have the racing butterflies again and to be doing good. It's just amazing and the greatest feeling ever and so much better than sitting on the couch. I could have one day or six months of preparation and I'm still going to want to go out there and do what I did today. I want to be up front, I want to battle, and if I don't win, that's fine. I can't expect myself to go out there right away and go 1-1, but to be up front, go 2-2, and be on the podium is beyond amazing. I'm having a blast right now."
 
Weston Peick: "Thunder Valley didn't go as planned. I struggled to find a flow around the track in both motos. I've never been able to get the results I feel that I should be getting at that track. It had a lot of medium-sized bumps that wrecked my injured hand. I can do better than 7-7 for seventh overall. I did learn where we can make some changes with the Suzuki RM-Z450 that will help me late in the motos. We should be looking a lot better for High Point. I'll ride a little bit less this week leading up to the weekend off, and then I'm traveling to JGRMX in North Carolina, where I'll stay for a month and do quite a bit of testing."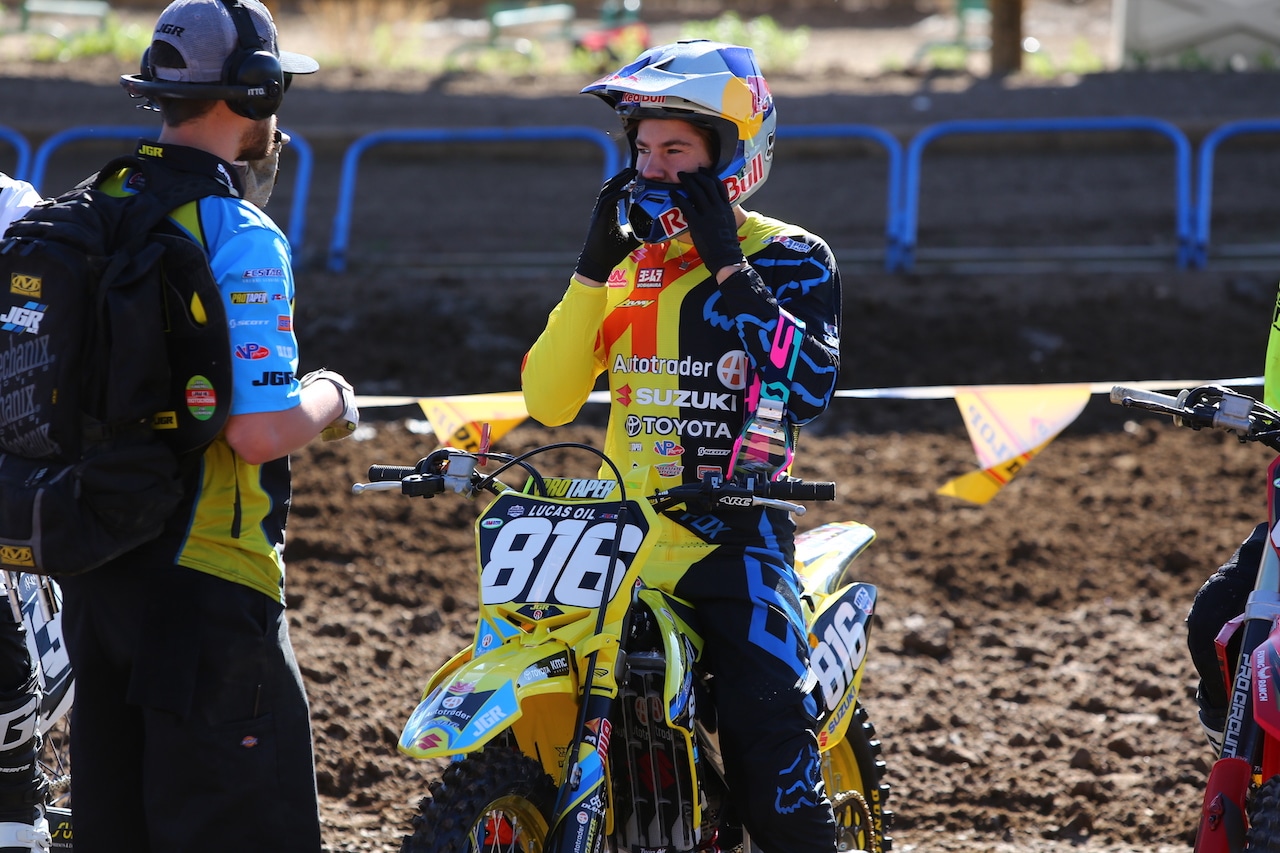 Enzo Lopes: "Qualifying went well. I felt solid on the track, and also with the bike. I was close to the top ten in qualifying, so I was happy. I didn't get the best start in the first moto, but I put in solid laps and was close to 11th at the end. I was happy with my speed. I was around 10th off the start in the final moto, but I couldn't find a good rhythm. As for the track, it was decent in the first moto. The ruts became really long and gnarly for the second moto, which made things challenging. This upcoming weekend off will be spent testing some different settings, training, and preparing for High Point."
Justin Barcia: "It was a very frustrating day. The first moto I got the holeshot and was feeling insanely good in the lead before they red-flagged the race. I didn't get the best jump in the re-start and ended up falling down, so it was a tough pill to swallow because I felt like I could have won that first moto. It's going to be a tough week off just thinking about what I "coulda-shoulda-woulda" done but it's definitely good motivation to go into High Point and get back to where I belong. I've shown people that I obviously have the speed and the fitness, I just need to put it all together. It was a difficult day but all in all we'll take the positives and in two weeks we'll be at High Point to try again."
Alex Ray: "I had some good moments today. I qualified 11th, which is awesome and I got a pretty good start in the first moto. The restart actually helped me out and I got 12th in the first moto, which I figured was awesome. In the second moto, I got a good start again but unfortunately had a mishap where my brake lever got bent under my bike so I started a lap down. All-in-all, I didn't quit and I'm moving forward into High Point feeling good."
Joey Savatgy: "It was an up and down day to say the least. We had a lot of good speed which is encouraging when you look to the rounds ahead, but we really should have at least been on the overall podium today. It's racing and everyone has their bad luck at some point. Mine came today. I'm just hoping we can put this in the past and start putting the team on top of the box."
Zach Osborne: "Today was a learning experience for me. I got off to a good start in the first moto and was able to hold on for a fifth. Then, I was hit in the first turn at the start of the second moto and popped my shoulder out. It took me a second to get it back in before I could get going. I managed to score one point. There's 18 motos left and a lot of points still on the table."
Eli Tomac: "I've had some funky stuff happen here at Thunder Valley, so I just wanted to leave here with a good result. The lines were a bit off early in the day in practice, but it developed and really came around as the day progressed. Winning my home race in the 450 Class is something I have wanted to do for a long time, and today we were finally able to get the job done."
MOTOCROSS ACTION READER SURVEY: LET US KNOW WHO YOUR ARE
Make sure to take our detailed MXA Reader Survey so we can accommodate to you better.
CLASSIC PHOTO
James Stewart and then mechanic Jeremy Albrecht chatting after a Supercross win on a Factory Kawasaki KX125. 
Moto Trivia answer: Tim Ferry in 2004 on  a Factory Yamaha YZ450F