MWR | TWO-STROKES, CASELLI RIDE DAY, 2018-1/2 KTM 450SXF

#WHIPITWEDNESDAY

Rider: Marvin Musquin
Bike: 2018-1/2 Factory KTM 450SXF Factory Edition
Event: 2018-1/2 KTM 450SXF Factory Edition intro
Photographer: Spencer Owens
Lens: 300mm f/2.8
Focal length: 300mm
Exposure: 1/6400sec
F-stop: f/2.8
ISO: 400
TWO-STROKE SPOTLIGHT: STUART TRANTER'S REPLICA JEFF MATIASEVICH 1997 KX250
Editors Note: Please keep those submissions coming. If you would like your bike to be featured in the "Two-Stroke Spotlight," please email me at [email protected]. All I ask is that you give a breakdown of your bike and a detailed description of the build. Please also send a few photos of your steed. By submitting your bike for the "Two-Stroke Spotlight," you agree to release all ownership rights to the images and copy to MXA. Please don't email me spam or try selling me Taylor Swift concert tickets or email me spam. Happy submitting your smoker.
5TH ANNUAL KURT CASELLI RIDE DAY
The life of Kurt Caselli in pictures. 
Driving up to Glen Helen Raceway the day of the Kurt Caselli ride day was like that of an outdoor National. The line to get in was as far as the eye could see. KTM USA president John Hines was the first person you would come in contact with to sign in rolling up to the gate.
Kurt was still with us life size in spirt.
People packed the house with guys like Ryan Villopoto, Cody Webb, Nick Wey, Destry Abbott and Taylor Roberts making their way out to support the KC Foundation. The event is largely organized by FMF's Donny Emler, Kurt's mom Nancy Caselli and Lindsey Lovell. People came from far and wide to come support the foundation. We laughed, we raced, we rode, we won cool prizes and spent time with an amazing group of people.
This is a picture of a strong woman. Nancy Caselli is someone that we all can learn something from. We love you Nancy. 
Red Bull was out with a DJ, KTM had their semi out and many companies came out to show their products. After the day was done and the sun set over the horizon people camped to stay warn by the fire and watch old school movies like On Any Sunday. After the movie they had a live band with dancing.
It was awesome to see guys like Ryan Villopoto make it out to support a good cause. 
For $20 to get in and free camping it is a fun filled day and night. To learn more about the legend of Kurt Caselli and what the Caselli Foundation is all about check out www.kurtcaselli.com.
The Caselli Foundation Team Challenge trophy. 
Kurt's rally bike which we actually tested. 
Did we mention you had to switch boxers with your teammate each lap. Nick Wey tries his on. 
Destry Abbott and son Cooper got their boxers on and ready for battle. 
Here are the teammates of the riders out of the track during the first lap of the Caselli Challenge. Things look like they are going well, right?

Here is a look from lap three. It was a maze to get to the other side. 
Here is Kurt's old mechanic Anthony Di Basilio. If you ever see this guy give him a hug. He is a great dude. 
Cody Webb heading into the tunnel. 
Destry had tough luck with his YZ450F engine blowing up during the race. 
RIP Rich and Kurt Caselli. Two great men that impacted the offroad community.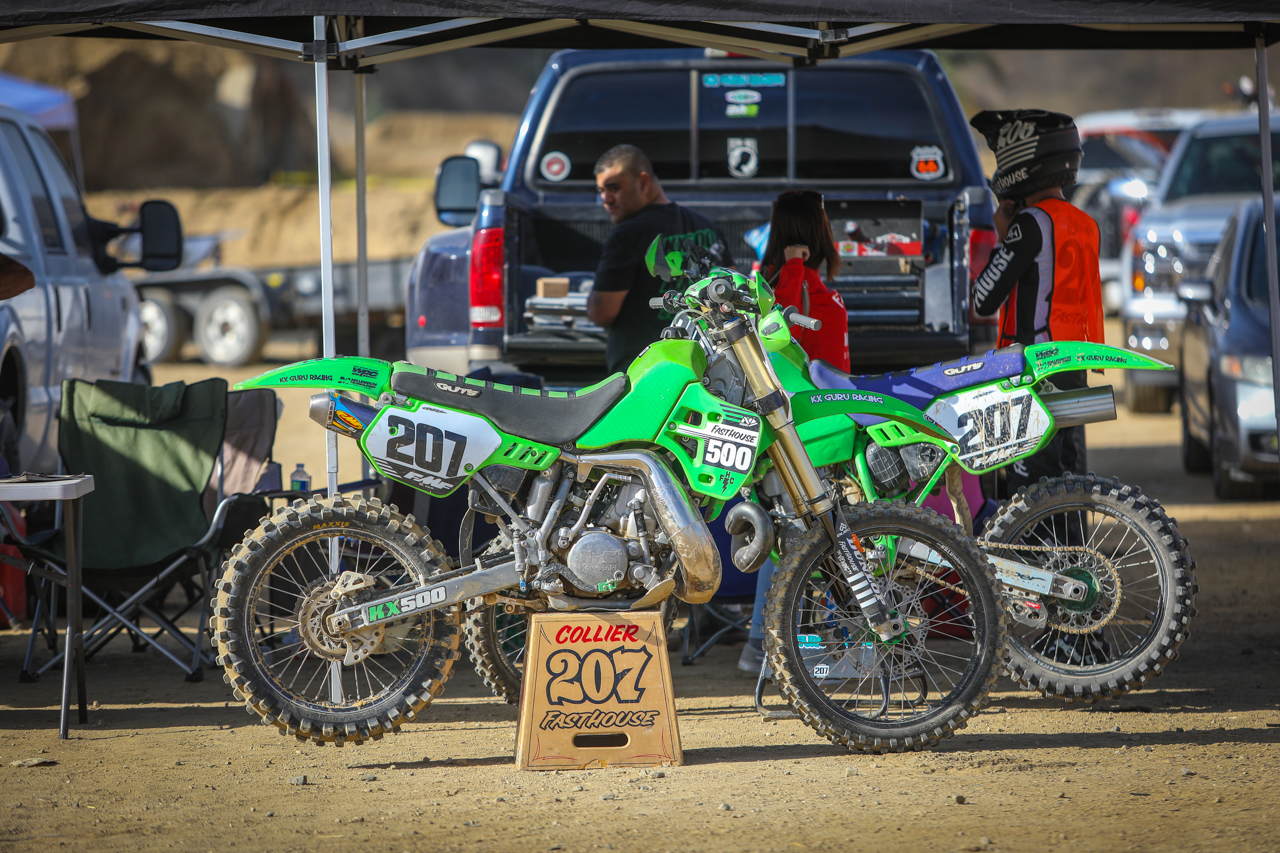 Two-strokes were alive and kicking at the event. 
Donny was a true friend of Kurt's. As busy as he is with FMF he busts his butt to make the Caselli Ride Day the great event that is it. Thanks Donny.

PRO CIRCUIT WORKS MINI BIKE STAND
Press Release: If you're looking for a durable stand that your son or daughter's 85cc or 100cc mini bike can sit perfectly on, look no further, because Pro Circuit has the stand you need. The Pro Circuit Works Mini Bike Stand still carries the same look and features as our other two bike stands but with a better fit for 85cc and 100cc models. With a non-slip rubber top and lightweight extruded aluminum construction for durability, it's easy to see why the Pro Circuit Works Bike Stand has been a favorite amongst professionals and amateurs in the pits for years.
WHAT THE MXA WRECKING CREW IS UP TO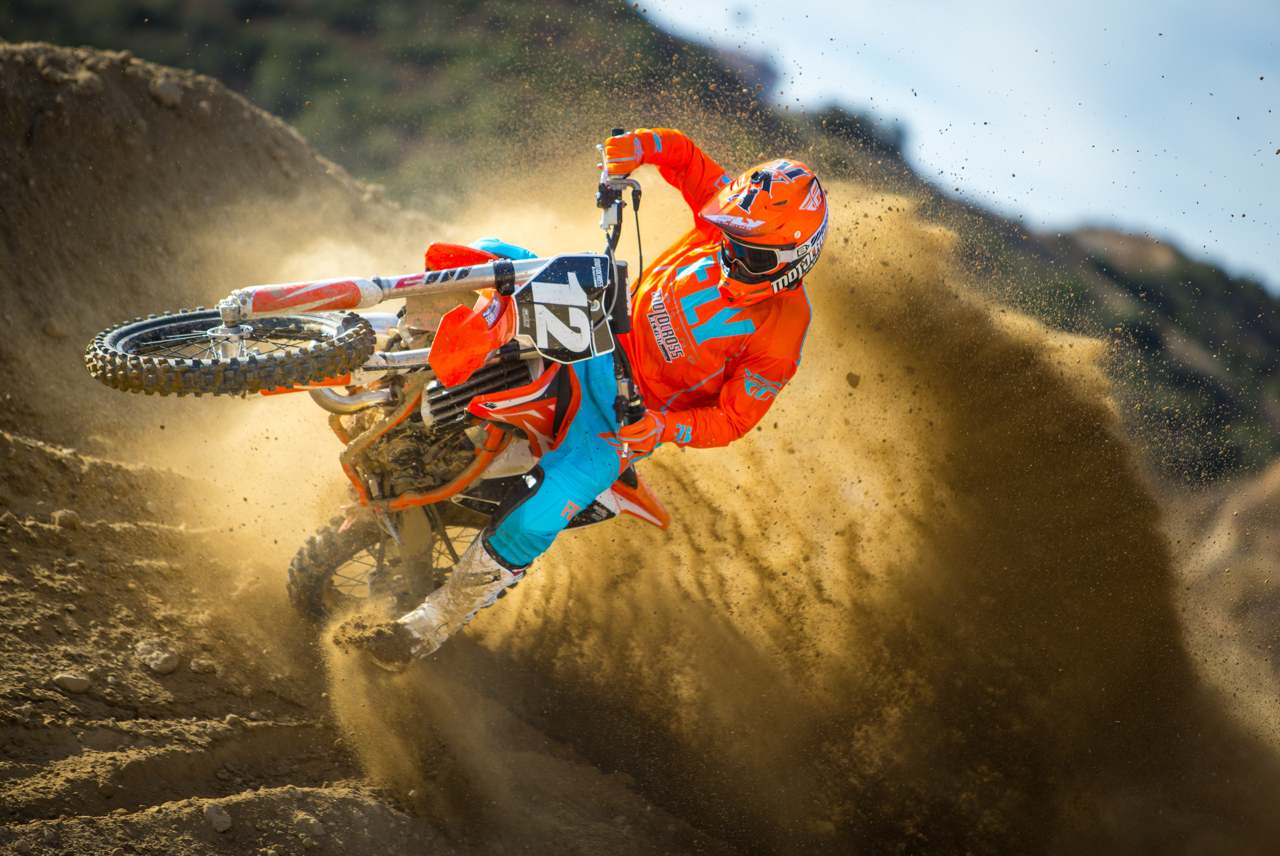 Justin Muscutt rings out the KTM 125SX for Spencer Owens camera. 
Guess what time of the year it is? Christmas season! Well that to, but for us it is two-stroke season. Which we think is better than Christmas. Each week it seems we have got a another new two-stroke that arrives at the MXA towers to test. Last week the MXA wrecking crew got their hand on the YZ125, YZ250, KTM 125SX and KTM 250SX. That sure is a lot of smoker fun. We also got to test Kayaba A-Kit suspension on a KTM 450SXF and try some of Ride Engineerings' links for the 2018 RM-Z450.
Justin Muscutt curves the KTM 250SX over a scrub jump at Glen Helen.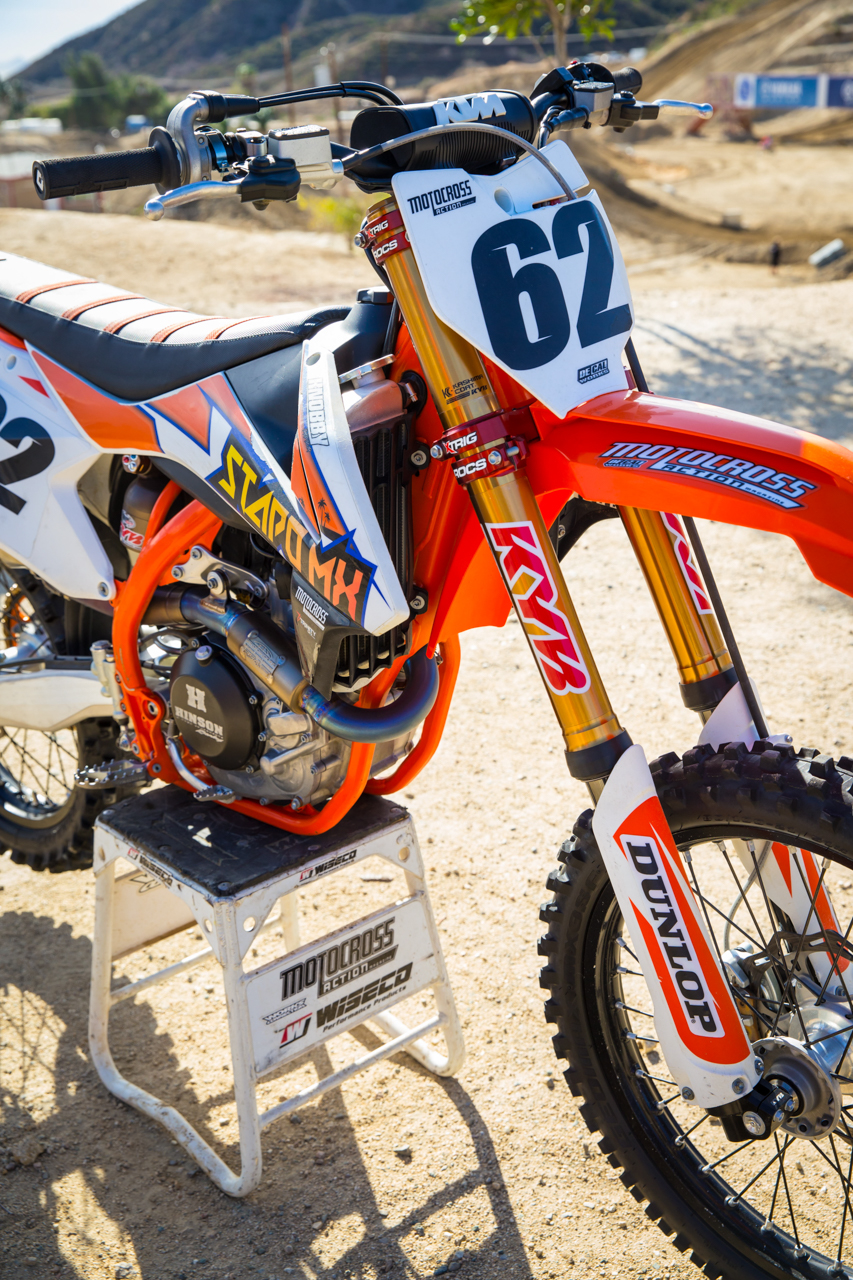 Well this is weird looking. Kayaba components on a KTM 450SXF. We are excited for this.


This shock has a cool factor of 10. Technical Touch were the ones that set us up with the KYB setup.


The KTM 250SX engine. Ain't she pretty. 
KTM 250SX.
 
MXA's Daryl Ecklund loves riding the YZ250. It never seems to get old, or different.
The YZ250 still looks good.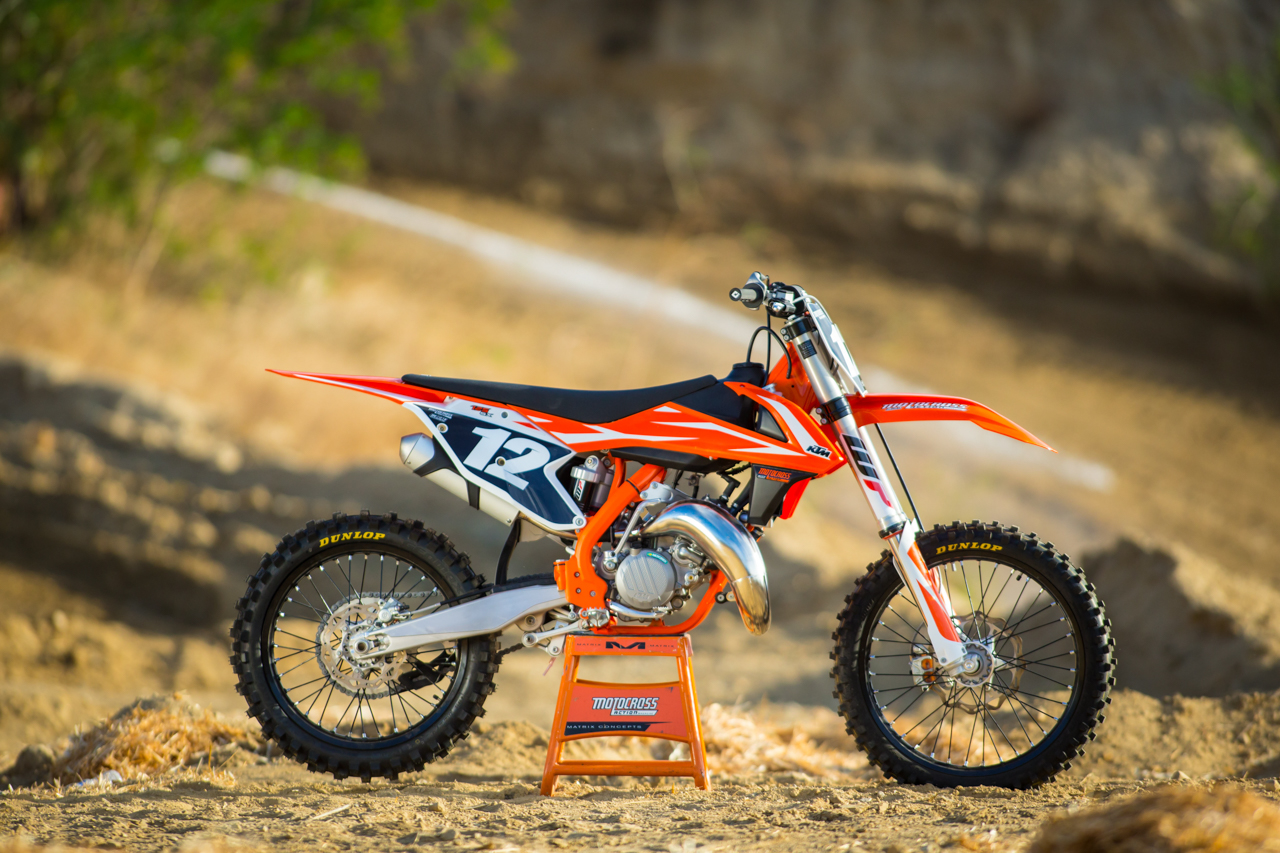 The KTM 125SX.

The longer link we tried on the 2018 Suzuki RM-Z450 from Ride Engineering.

JOIN MXA'S SNAP CHAT FEED

If you are a Snap Chat user then add us to your stories. Get sneak peaks of everything moto. Our Snap Chat name is motocrossaction. Or just take a Snap of the picture above and it will add MXA automatically to your feed.
2018-1/2 KTM 450SXF FACTORY EDITION INTRO
The KTM crew was out in full force. 
KTM always seems to out do themselves. When we arrived at the 2018-1/2 KTM 450SXF Factory Edition intro, we were shocked that their new Supercross test track was in a rocks throwing distance from the KTM shop. Isn't that a nice luxury? We couldn't image the red tape to get this approved through the city.
Marvin Musquin's factory 2018-1/2 KTM 450SXF Factory Edition.
The new KTM 450SXF is a very refined version of the 2017 KTM 450SXF. Many things have changed with the same goals in mind. Shed wight, make a powerful engine that is smooth and manageable and make the bike easy to ride for the masses. For a full shakedown of the 2018-1/2 KTM 450SXF Factory Edition check out the video with KTM director of R&D Casey Lytle  or the web story about the new KTM 450SXF FE. 
Marvin Musquin and Broc Tickle's KTM 450SXF Factory Editions await to rip the new track.
Blake Baggett's Rocky Mountain ATV-MC KTM 450SXF Factory Edition has a new look coming into the new year.
TLD KTM's newest recruit, Sean Cantrell.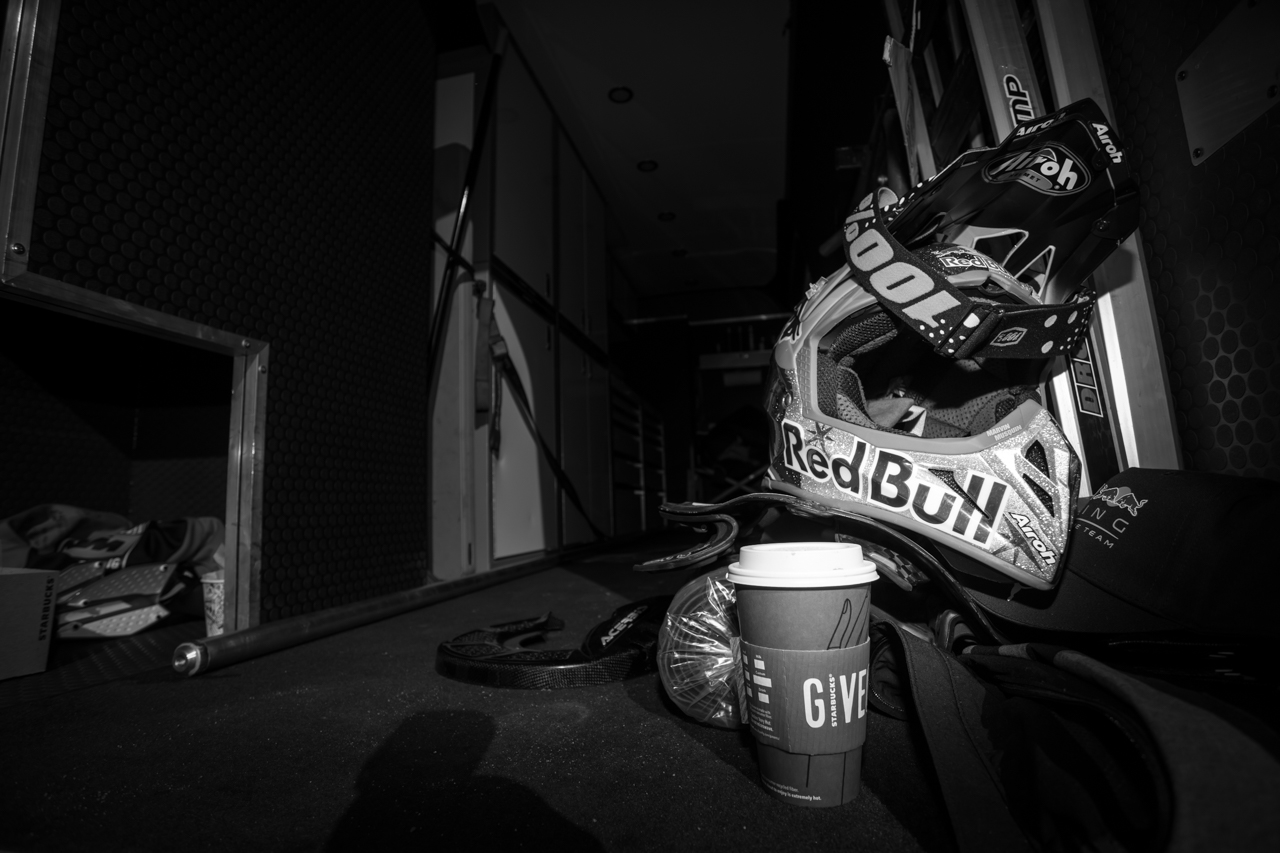 Marvin Musquin's morning essentials.
Broc Tickle and mechanic Jade Dungey doing some pre-moto bike prep.
If we could see Shane McElrath's face, I'm sure he's smiling.
Ryan Dungey came out to support the team. 
Dakota Alix gathered his crew to hit the track.
Elbows up! Alex Martin pictured.
Broc Tickle sure looked comfortable on his new ride. 
The Blue Steel look from Marvin Musquin.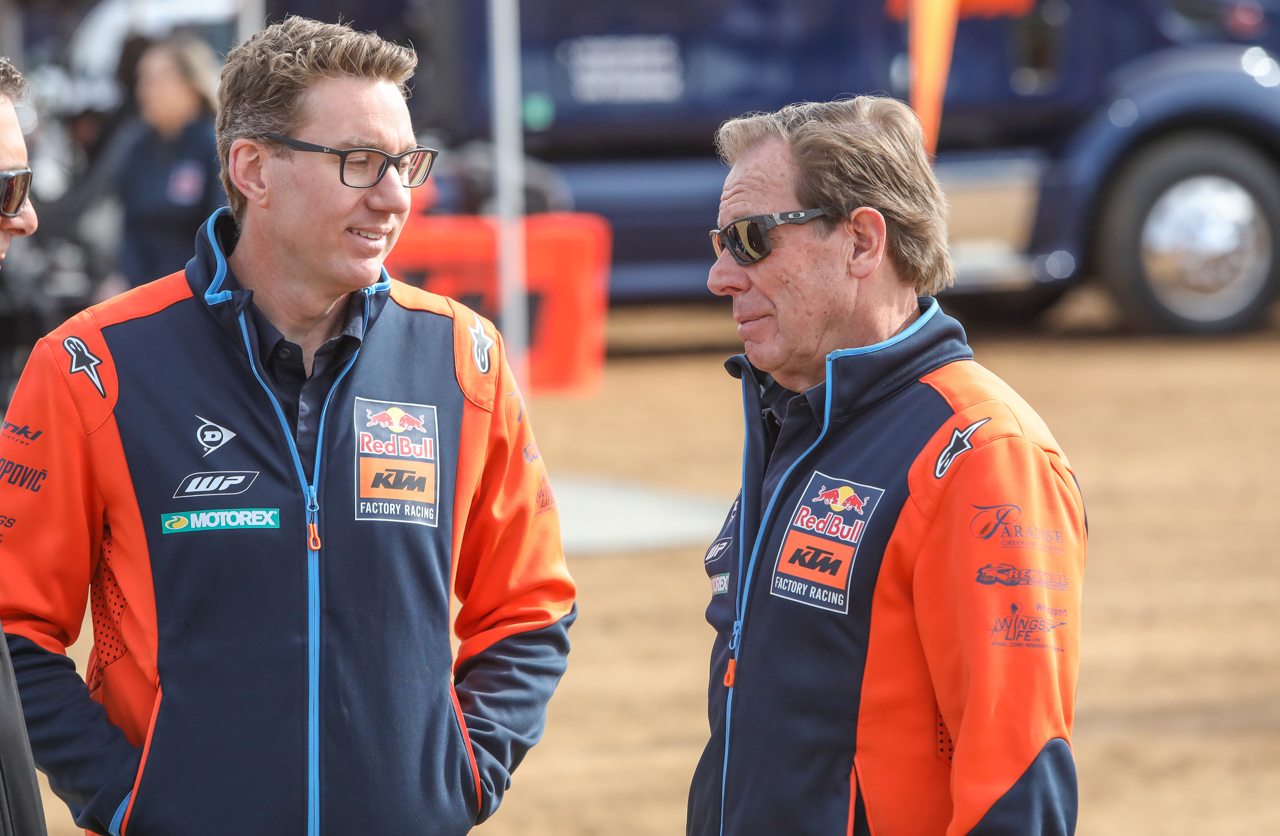 Two bigwigs at KTM, John Hines (left) and Roger DeCoster (right).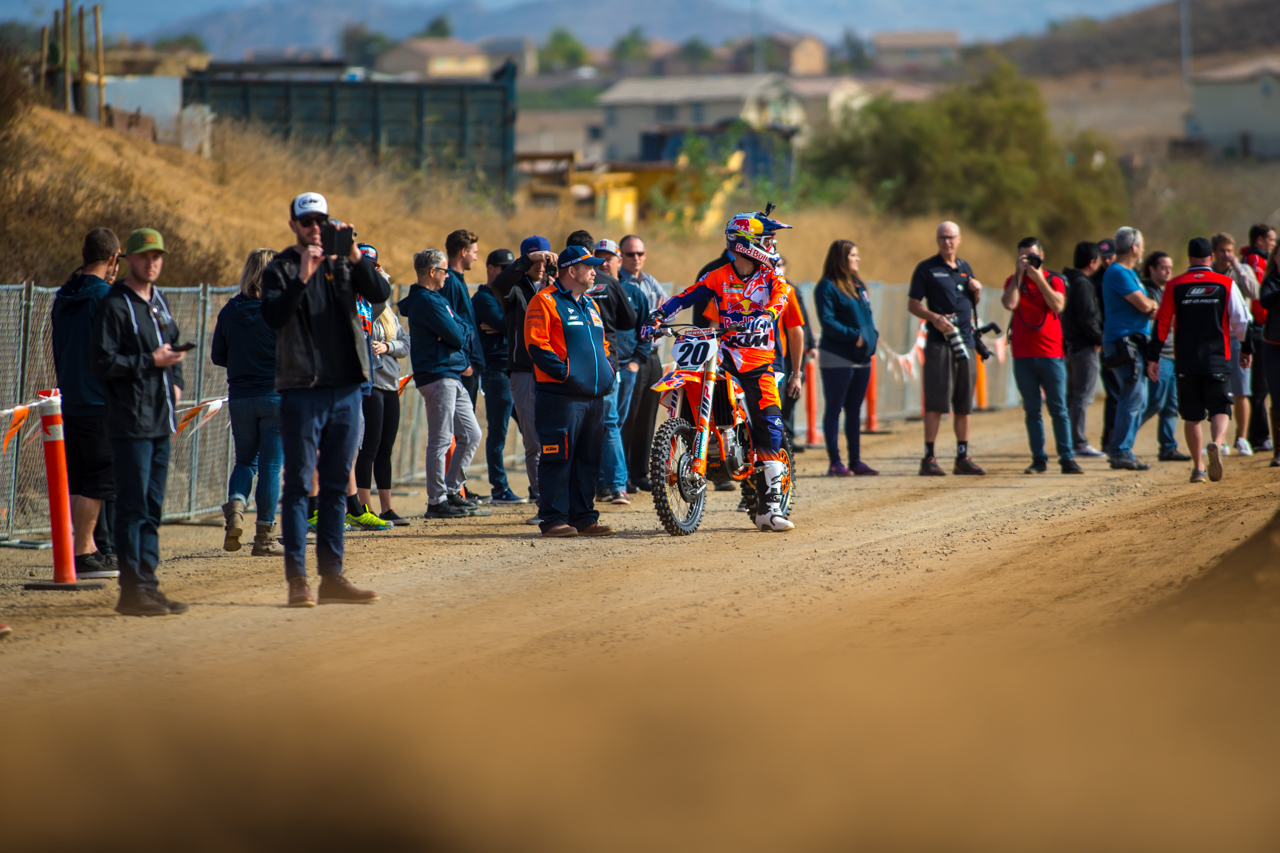 The track wasn't exactly empty during media day.
Blake Baggett is all healed up and 100 percent coming into A1. 

Shane McElrath looked flawless.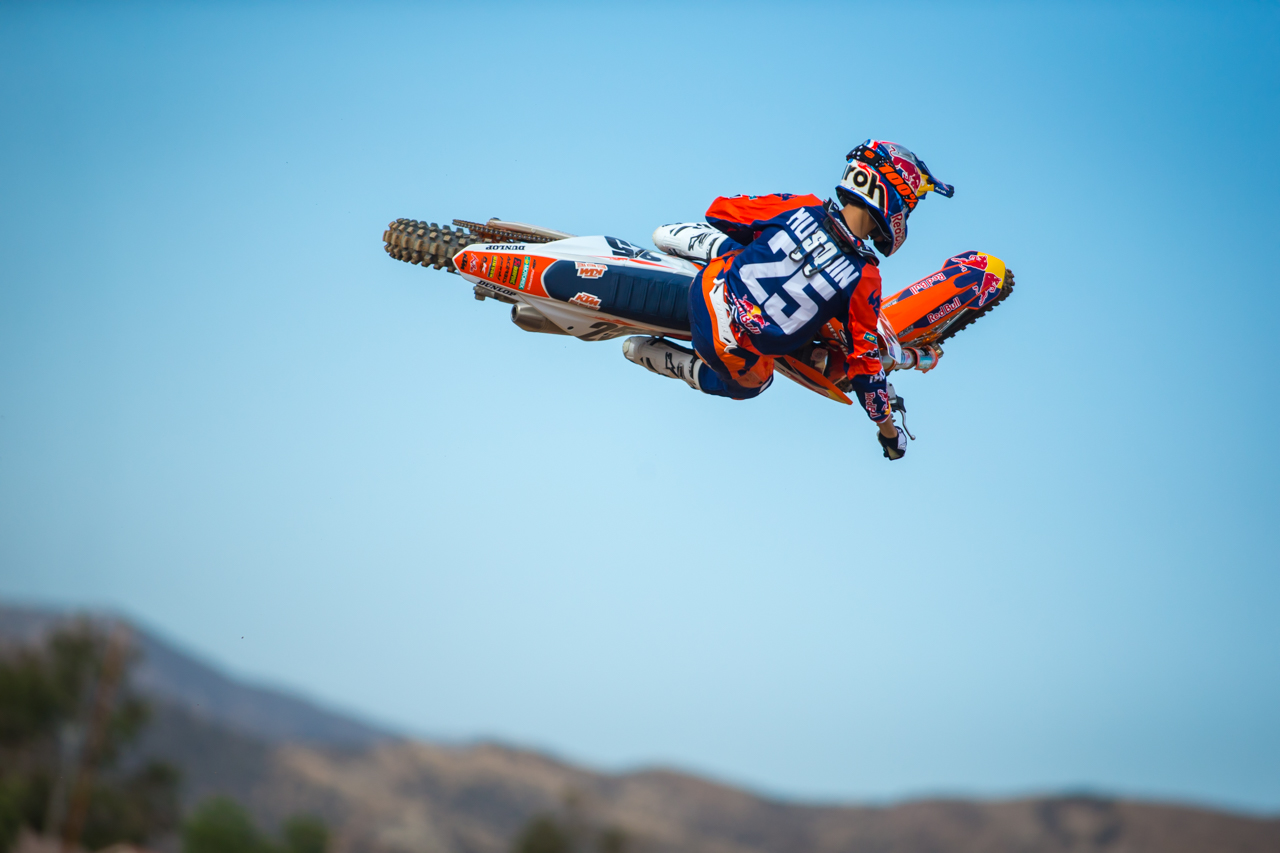 Marvin Musquin has been on a winning streak this off-season. The question is, will he bring that momentum into the 2018 season.
And to end the day, we witnessed the unveiling of KTM's 2018-1/2 Factory Edition 450SXF.
TALK MOTO WITH MOTO MINDED PEOPLE. JOIN MXA'S FACEBOOK GROUP CHAT

We love everything moto and want to bring all moto junkies together into one place to share their two cents, ideas, photos, bike fixes, bike problems and much more. To check it out first you must need to or already have a Facebook account. If you don't, it isn't much work and you could even have an alias so nobody knows it is you. To join click HERE. After you request to join we will accept your request shortly after.
CLASSIC PHOTO
Here is Doug Henry during his supermoto days.