MX FANTASY LEAGUE// CREATE YOUR TEAM BEFORE THE FOX RACEWAY NATIONAL TO WIN A 103-PIECE BOXO MOTOBOX & MORE
MXA is partnering with Fantasizr to do an 11-round Pro Motocross Fantasy League where the fan with the most points at the end of the season will win a 2024 Beta 300 two-stroke with a bolt on FMF pipe and silencer! To add to that, we will be giving out prizes each round to the fan who scores the most points! We have prizes from Nue Tech, O'Neal, Maxxis, Wiseco, MotoMuck, Boxo Tools, Ride Engineering, Acerbis, Viral Goggles, FMF, Guts, Blud, Phoenix Handlebars and Funnel Web Filter. As an added bonus just for creating a team, we will send you a 25% discount code to BLUD lubricants. Click HERE to sign up now.
 FOX RACEWAY ROUND 1 GIVEAWAY // BOXO MOTOBOX 103-PIECE SET—$840 VALUE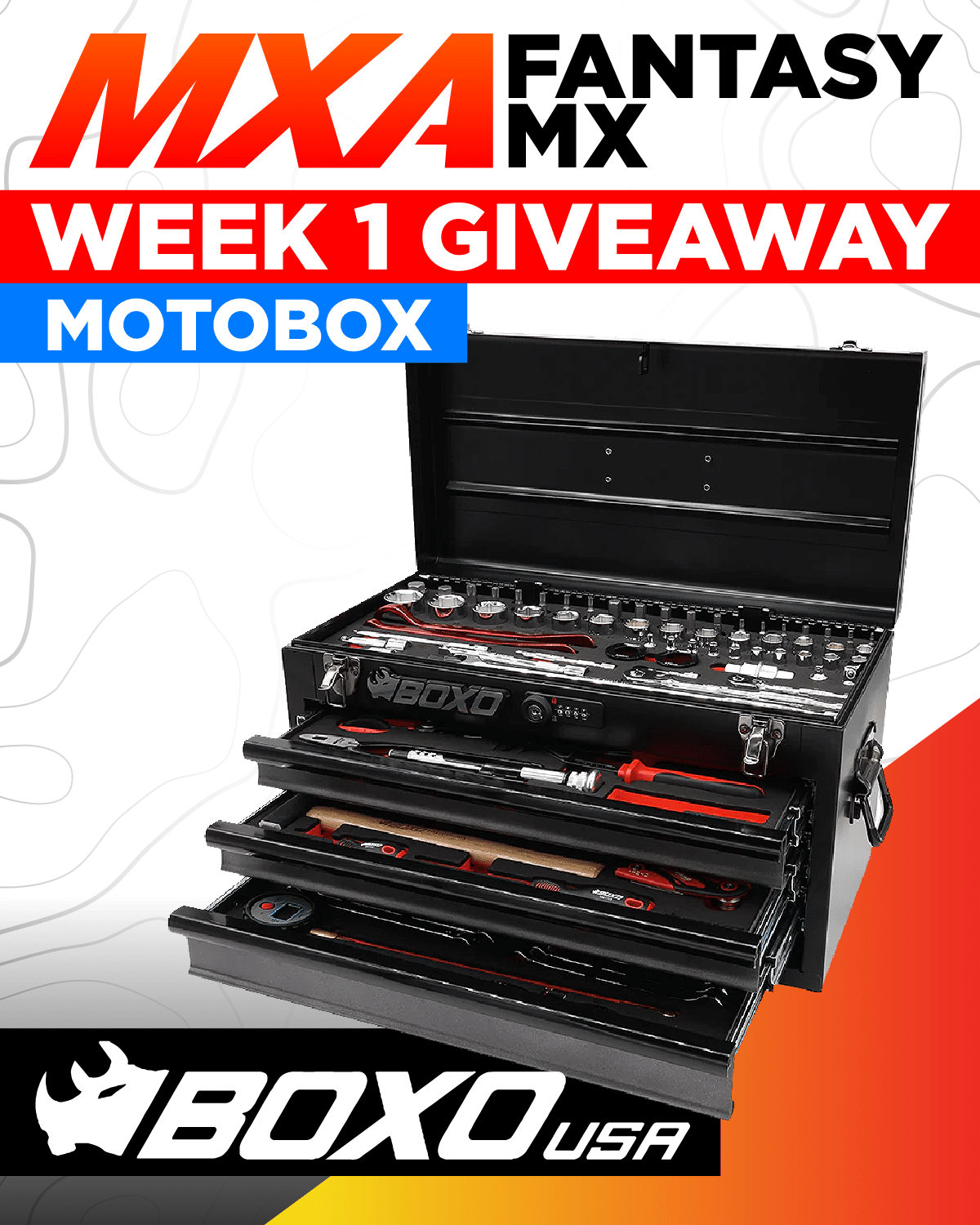 The fan with the most points after the first round at Fox Raceway will win a 103-piece Boxo USA MotoBox toolbox. Make sure to join and create your team through our partners over at Fantsizer to create your team. 
Round 2 // June 3rd: Hangtown National //Sponsored by O'Neal
Prize: A set of O'Neal gear to the round winner 
Round 3 // June 10th: Thunder Valley National // Sponsored by Guts Racing
Prize: Guts Product Prize Pack which includes; 1 X Interactive Rib Seat Cover – Full custom seat cover, 1 X Seat Foam, 1 X Guts Straw Hat, 1 X Guts Umbrella, 1 X Guts Shirt, 1 X Guts Lanyard, 1 X Guts Banner, 2 X Guts Koozie
Round 4 // June 17th: High Point National // Sponsored by Funnel Web Filter, Viral Goggles & Moto Muck
Prize: Funnel Web filter for your bike of choice, a set of Viral Goggles and a Moto Muck package
Round 5 // July 1st: RedBud National // Sponsored by FMF Racing 
Prize: FMF four-stroke muffler or full two-stroke system 
Round 6 //July 8th: Southwick National // Sponsored by Ride Engineering
Prize: Ride Engineering Performance link
Round 7 // July 15th: Spring Creek National // Sponsored by Maxxis
Prize: Set of MX tires

Round 8 // July 22nd: Washougal National // Sponsored by BLUD Lubricants 
Prize: $150 shopping spree  on BLUD's website
Round 9 // August 12th: Unadilla National // Sponsored by Acerbis
Prize: Set of Acerbis plastic of your choice for your bike
Round 10 // August 19th: Budds Creek National // Sponsored by Nue Tech & Wiseco
Prize: To be determined
Round 11 // August 26th: Ironman National // Sponsored By Phoenix Handlebars
Prize: Phoenix 118 bars, 50/50 grips, Logo T-shirt