MXA COMPANY SPOTLIGHT: 2009 Thor Gear, Helmets & Boots
MXA PRODUCT SPOTLIGHT: THOR
ÿ
ÿ
THOR HOODIE

Available in Red, Black, Heather. Clean, classic styling with just the right amount of branding and details to make a statement without drawing a crowd. $49.95
ÿ
ALLY GOGGLE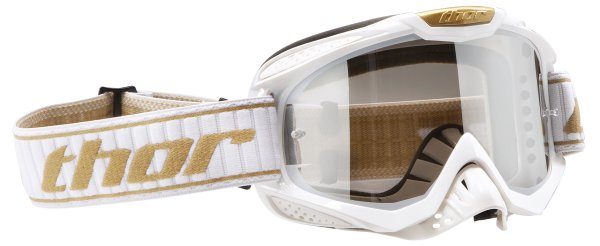 Also available in 7 other colors. Joining forces on the front-line, the Ally goggle is now on your side. Innovative filtered intake and exhaust apertures allow for ideal air exchange while simultaneously preventing dirt from entering the goggle and preventing fog from forming on the lens. Break rank with a removable nose guard and 4 bonus alternative colored interchangeable vent inserts allow you to differentiate your goggle from all others. The thermal molded triple layer facefoam paired with an increased frame curvature envelopes the face and creates a luxurious feel. But if you can't see, what's the point. We designed the Ally frame to generate an increased field-of-vision permitting the rider to have an unobstructed view at all times, coupled with an embossed woven strap backed with 3 strips of silicone to prevent goggle repositioning. Superior optimal performance is further promoted by the Thor goggle standard anti-fog, anti-scratch, UV protected, optically correct Lexan lens. Toss in the 3 post tear off system, extra lens, goggle bag, and the Ally is your best asset when in battle.

PRODUCT FEATURES:
ÿÿ Filtered intake and exhaust apertures allow ideal air exchange while eliminating dirt from entering the frame
ÿÿ 4 bonus interchangeable vent inserts give your goggle a fresh and custom look
ÿÿ Mirrored smoke and a clear optically correct Lexan lenses included
ÿÿ Anti-fog coated and anti-scratch lenses with uv protection for unimpeded vision
ÿÿ Spare lenses and tear-off packs available
ÿÿ Thermal molded triple-layer face foam provides a luxurious feel against the face
ÿÿ Woven embossed strap with 3 strategically aligned silicone strips prevent repositioning
ÿÿ Drilled frame increase ventilation and reduces fogging
ÿÿ Removable nose guard included for roost protection
ÿÿ 3-post tear of system
ÿÿ Molded strap adjustment system
ÿÿ Plush goggle bag
ÿÿ $59.95
ÿ
ÿ
Also available in Black and Blue colorways. The perfect blend of performance and style, the Force Champion utilizes a handlaid composite fi berglass shell construction for superior strength and an industry fi rst 2-tone paint process for a stunning visual effect. The entire upper shell and visor feature a rich gloss coat, and the lower portion of the shell and the entire chinbar are finished in a velvety matte finish for a unique look that's all Thor.

PRODUCT FEATURES:
ÿÿ Meets and exceeds all ama and fim professional racing standards
ÿÿ Hand-laid composite fiberglass / dyneema / kevlar construction for superior strength with minimal weight
ÿÿ Contoured eyeport gasket improves goggle fit
ÿÿ Increased liner and eps ventilation for maximum airflow
ÿÿ Front intake port and rear exhaust vents provide optimal air circulation and venting
ÿÿ EPS material extends throughout chinbar for increased strength
ÿÿ Antibacterial, moisture wicking silvercool? liner is removable/washable and keeps you cool ride after ride
ÿÿ Integrated hi-flow mouthpiece increases airflow while filtering out roost
ÿÿ Integrated roost guard for added protection
ÿÿ Exclusive no-tool, single screw, fully adjustable visor eliminates unattractive side screws
ÿÿ DOT and ECE 2205 approved
ÿÿ $319.95
ÿ
PRO CIRCUIT REPLICA GEAR
Thor and Pro Circuit have a legendary history together and now you can run the same gear used and endorsed by Team Pro Circuit. This is the genuine article, right down to the custom leather knee panels, sponsor logos and sewn-on team patches the team riders wear. Take it to the track and have it autographed as a collectible, or suit up and go for the victory yourself.
ÿ
PHASE JERSEY
Classic performance and fit in a great all-around jersey. Chassis construction features our "Ride-Lite" fabric throughout for a true performance feel and fit. This performance fabric features a small micro-mesh pattern providing increased air circulation around the body and reduces "jersey sticking" due to perspiration. Stitch it all together with durable overlock seams and you've got a proven winner. Available in Youth sizes.

PRODUCT FEATURES:
ÿÿ Raglan style sleeves for a no-bind fit
ÿÿ Sublimated no-fade graphics
ÿÿ Crew collar for comfort and roost protection
ÿÿ Lightly padded elbows
ÿÿ Knit cuffs and collar
ÿÿ 100% polyester micromesh construction
ÿÿ Jersey $49.95 Sizes S-XXL
ÿ
PHASE PANT

The Phase Pant offers an excellent fit with rugged durability. The most important part of a pant is often overlooked? the pattern. No matter how many features you add, if the fit isn't right your riding will suffer. That's why our Phase Pants feature Spandura stretch panels in all critical joint areas for improved mobility and less restriction.ÿAvailable in Youth sizes.

PRODUCT FEATURES:
ÿÿ 4820 nylon construction for extended wear with 500d Kordura butt panel for durabilityÿÿÿÿÿÿÿ
ÿÿ Spandura stretch panels for mobility and airflow
ÿÿ Ballistic knee panel is padded for protection
ÿÿ Aramid fiber inner knee panel for grip and durability
ÿÿ Double and triple stitched for maximum durability
ÿÿ Full length sewn-in liner for comfort
ÿÿ Pant $109.95 Sizes 28-38
ÿ
QUADRANT 2 BOOT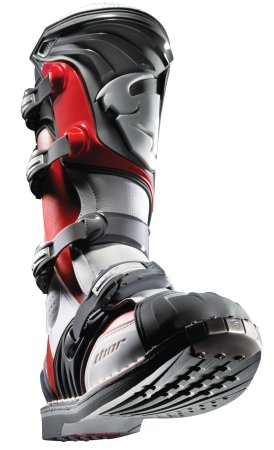 Available in following colors:ÿ Red, Black, White. Sizes 6-13. Completely redesigned to outperform every other boot in its class the Quadrant boot sets a new industry standard. With a superb balance between fl ex, fit and protection the ergonomic curves comfortably wrap the foot, ankle and leg to give you the feel and performance needed. Injection molded medial abrasion plate paired with pre-curved shin plates offer excellent protection against the elements and the abuse incurred while riding in all conditions. Also, the re-engineered buckles balanced with the action-pivot buckle bases provide a comfortable and secure hold while increasing the boot's performance potential. Simply stated, the long list of features make the new Quadrant the best mid-level boot in
the industry. Available in Youth sizes.

PRODUCT FEATURES:
ÿÿ Elastic gaiter keeps out dirt and debris
ÿÿ Pre-curved injection molded shin plate
ÿÿ Split grain Leather heat shield provides protection
ÿÿ Injection molded medial abrasion plate with integrated shift protection
ÿÿ Uni-directional outsole with steel shank insert
ÿÿ Fully adjustable positive lock buckle feature and action-pivot base
ÿÿ $149.95
ÿ
TRANSIT WHEELIE BAG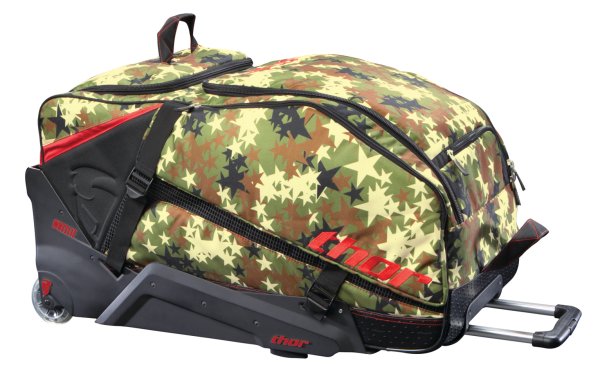 Available in Star Camo and Blk/White. Our new Transit Wheelie bag is ready and able to transport all of your gear to and from the track with ease while rolling in style. This adequately large bag is riveted to a custom reinforced polypropylene base with a 2-stage retractable handle. The base also allows for even weight distribution and easy handling. The oversized, smooth rolling wheels and reinforced wheel housing generates a higher than average ground clearance making this bag great for in and around the pits. Ventilated boot compartment reduces moisture build up and odor. Traveling to your favorite riding spot is easier than ever with the new Transit Wheelie Bag. Dimensions: 30″L x 16″W x 16″H

PRODUCT FEATURES:
ÿÿ Polypropylene molded base for remarkable strength and durability
ÿÿ Retractable handle
ÿÿ Oversized smooth rolling wheels coupled with increased ground clearance
ÿÿ Varying pocket sizes accommodate large and small items easily
ÿÿ Detachable main storage compartment dividerÿ permits large odd shaped items
ÿÿ Designed to accommodate thor helmets, boots and protective gear
ÿÿ Large zippers and zipper pulls on main compartments allow for quick and easy access
ÿÿ Reinforced wheel housing
ÿÿ $189.95
ÿ
ÿ