MXA GOES INSIDE FMF'S 45TH ANNIVERSARY HUSQVARNA FC450
What were you doing in 1973? Born yet? In kindergarten? Flunking 7th-grade math? Getting drafted? Whatever it was, it probably wasn't as pivotal as what Donnie Emler was doing. Donnie was out in his garage in Hawthorne, California, hand-welding an exhaust pipe for his race bike. Emler's own bike ran so well at the local SoCal races that he was suddenly in demand to make pipes for other racers. Demand got so great that Donnie decided that there just might be a real business in making race parts for the fledgling sport of motocross. Very few people can say they got in on the ground floor of the American motocross movement, but FMF's Donnie Emler is one of those guys. Just as Mike Goodwin is the father of Supercross and Edison Dye is the father of motocross, Donnie Emler is the father of the motocross hop-up business (and an actual grandfather).
Donnie, best known as "Uncle Donnie" to the faithful, can rightfully be considered the originator of the motocross hop-up business. He started by working on his own bikes, then making a few parts for friends, and over time he built a powerhouse empire that has included an almost uncountable number of factory riders and teams who depend on his pipes for their power. Donnie's reputation as a wild man has often been overstated, but not by Donnie. He admits that he wasn't the best businessman in the formative days of motocross and, after all of FMF's successes in the 1970s and the down times in the '80s, FMF rebounded in 1988 with a host of two-stroke pipe innovations that included chrome plating, four different powerband styles and even a try-it-before-you-buy-it marketing campaign.
How serious was Donnie about making the best aftermarket products possible? At one point Donnie had a studio apartment built at FMF headquarters so that he could work around the clock. Things haven't changed much. Donnie still spends almost every waking moment in the dyno room trying to squeeze out a few more horsepower and doesn't have to leave FMF if he doesn't want to because he is able to build every piece of his exhaust systems under one roof—and that includes rolling his own titanium tubing and stamping the sheet metal for his two-stroke pipes.
FMF (Flying Machine Factory) got its name from the 1966 movie Those Magnificent Men in Their Flying Machines. Why was a movie about the early years of aviation so important to Donnie? It wasn't the airplanes. To Donnie, the movie was an ode to the men who built crazy contraptions to be part of the new era of flying. They worked with their hands to make planes fly, and Donnie worked with his hands to make 125 two-strokes fly. Thus, he named his new company Flying Machine Factory, which, of course, was turned into the acronym FMF.
That was 45 years ago, and Donnie, now 67 years old, has handed the day-to-day operations over to Donnie Emler Jr. (just call him "Little D"). Little D officially started working at FMF the day he graduated from high school and has been there ever since. Little D learned the ropes the traditional way—from sweeping the floors to driving trucks to managing the production schedules to being the face of the company.
Little D wanted to do something to memorialize FMF's 45th year in business. He says, "I have grown up riding. My dad loved riding offroad, so that's what I grew up doing and still love doing to this day. I love racing, especially the fun races like Day in the Dirt and Mammoth Mountain. Back in 2013, I qualified for Loretta Lynn's, but I always wanted the option to ride offroad as well as motocross. I decided that the best way to celebrate our 45th anniversary in the motorcycle industry would be to build a special bike that I could ride in the desert, at a GNCC race or on a local track. I wanted it to be a fun bike with some historical significance, which is why I elected to use a Husqvarna as my starting point. It is the oldest offroad motorcycle brand in existence. And while FMF is celebrating its 45th anniversary this year, Husky is celebrating its 115th year in the motorcycle business.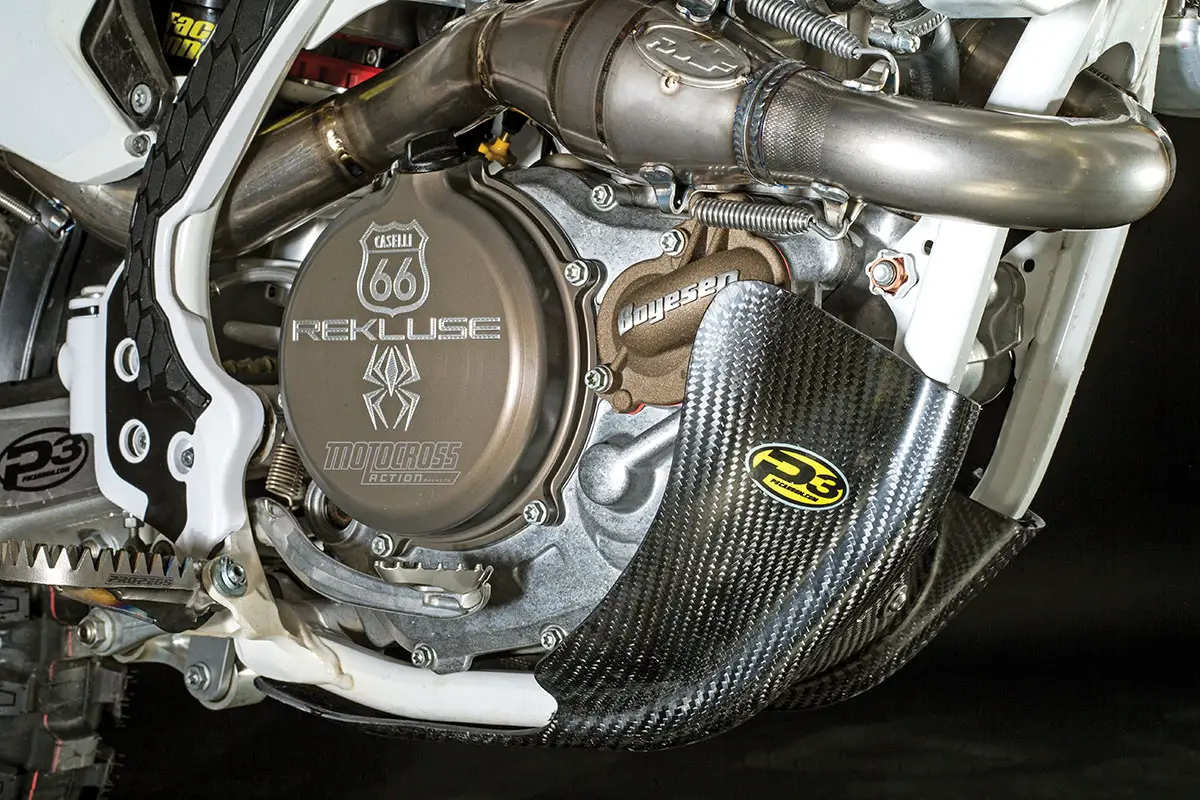 "The number-one thing, and what I learned from my dad, is to give back to the people who have made us what we are. I don't know any other company that sponsors as many events as we do. And not just motocross and Supercross, but every aspect of riding dirt bikes. One of the coolest things about dirt bikes is the people you meet when out riding. My dad was a racer, and he started his company with the help of other racers. I wanted to build a special bike, using products from the people and companies that have been part of our history—not just to highlight our products but theirs also."
Eventually, the 45th Anniversary Husky willl be in Baja, at Glen Helen or at a South Carolina GNCC in the hands of Little Donnie, but MXA got to throw a leg over it first. Happy anniversary!
FMF ANNIVERSARY FC450 SUPPLIER LIST
Dubya Wheels: www.dubyausa.com
Dunlop tires: www.dunlopmotorcycletires.com
P3 Skid Plate: www.p3carbon.com
XTrig Clamps: www.technicaltouchusa.com
Pro Taper: www.protaper.com
Decal Works: www.decalmx.com
Seat Concepts: www.seatconcepts.com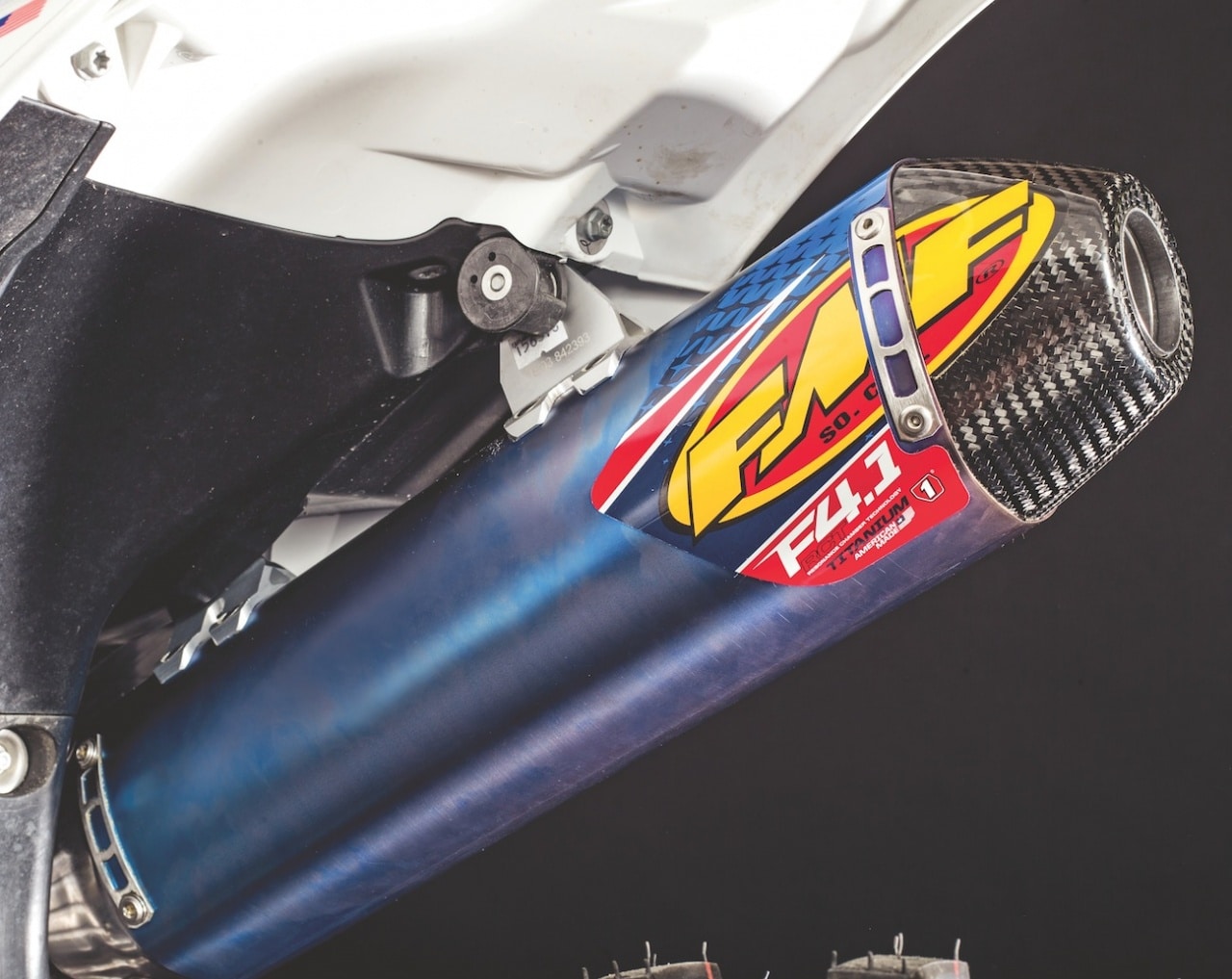 FMF Exhaust: www.fmfracing.com


Motomaster: www.moto-masterusa.com
Boyesen Supercooler: www.boyesen.com
Acerbis: www.acerbisusa.com
Rekluse: www.rekluse.com
Factory Connection: www.factoryconnection.com
Works Connection: www.worksconnection.com