MXA GOES TO JAPAN, 2019 TESTING & MORE IN THIS WEEKS MOTOCROSS ACTION MID-WEEK REPORT

#WHIPITWEDNESDAY
Rider: Chris Plouffe
Bike: 2019 Kawasaki KX450
Location: Glen Helen
Event: 2019 MXA 450 Shootout
Photographer: Daryl Ecklund
ISO: 200
Shutter speed: 1/1600
Lens: 70-200mm
Focal length: 190mm
F-stop: 5.6
TWO-STROKE SPOTLIGHT: LOUCIE MALPELI'S 2001 KAWASAKI KX250
Restored 2001 Kawasaki KX250.
Hey MXA,
Looking to formally submit my 2001 KX 250 for the Two stroke Spotlight!
The bike is all original, bought by my dad Gary back in 2000. We always went racing while I was growing up on the mini's. Unfortunately in 2005 we both got hurt, me with an ACL tear, and my dad with a car accident leaving him paralyzed from the waist down. We both had to stop riding but always loved the racing and the community.
Getting it back on the track.

Instead of gunning for a career in moto I became a professional musician, and recently got surgery to replace the blown ACL (I was too young at the time to fix it, got the surgery in 2014) so we figured why not totally strip and rebuild the original KX250. This is the product of that rebuild. My dad and I finally hit the track this summer to get back out there for some local open practices. Although he isn't out there with me, it's always incredible to be at the track together, especially watching me ride his beloved KX machine.
Hope you guys enjoy the photos as much as I do.
Thanks MXA!
Louie Malpeli
EDITORS NOTE: Please keep those submissions coming. If you would like your bike to be featured in the "Two-Stroke Spotlight," please email me at [email protected]. All I ask is that you give a breakdown of your bike and a detailed description of the build. Please also send a few photos of your steed. By submitting your bike for the "Two-Stroke Spotlight," you agree to release all ownership rights to the images and copy to MXA. Please don't email me spam or try selling me Taylor Swift concert tickets or email me spam. I already celebrate T-Swizzle's entire collective, and there will be "bad blood" if you send me junk mail. See what I did there? Happy submitting your smoker.
PRO CIRCUIT 2019 KTM 350SXF EXHAUSTS AVAILABLE
Available for the 2019 KTM 350SXF model. Every Pro Circuit exhaust system is proudly designed and manufactured in the USA and offers superior performance and power gains for both lines of exhaust. We have built our reputation on championship-winning performance products and the 2019 racing season will be no different. More fun and better performance is what's in store for KTM 350SXF riders when they head to the track with a Pro Circuit exhaust system or slip-on silencer. www.procircuit.com

MXA | MOTO | TRIVIA
Name the rider and year. Answer at the bottom of page.

TWO-STROKE SHOOTOUT RACE IN PA

Press Release: Sleepy Hollow MX Park Inc. host of the 9th Annual 2 Stroke Shootout is excited to announce the addition of "Stank Dog" himself to our annual celebration of 2 stroke mx. It is only fitting for this legendary 2 stroke icon to be in attendance. He will be racing and be an honorary judge at the popular "Best Smell" and "Best Sound" contests.
We have placed a $500 Bounty on Stank's head. Beat him straight up at Sunday's 5K pro open. To nab the $500. He wins he goes home with the $500.
This is a 2 STROKE ONLY EVENT!!! Positively NO 4 strokes all weekend including Friday's open practice. If staff hears one it will be silenced immediately!!!!
2019 TESTING | KTM 250SX & KX250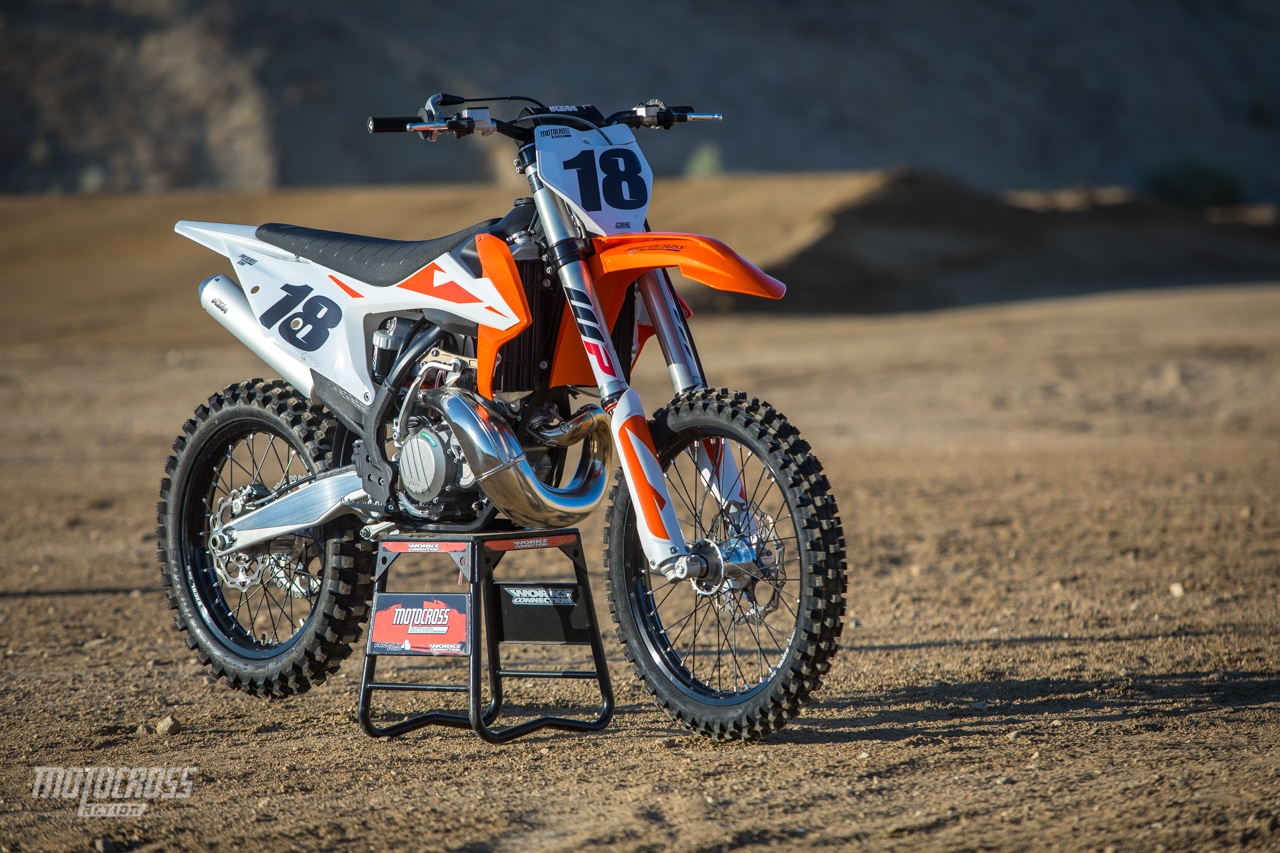 Before the 2019 KTM 250SX hit the dirt. Ain't she pretty.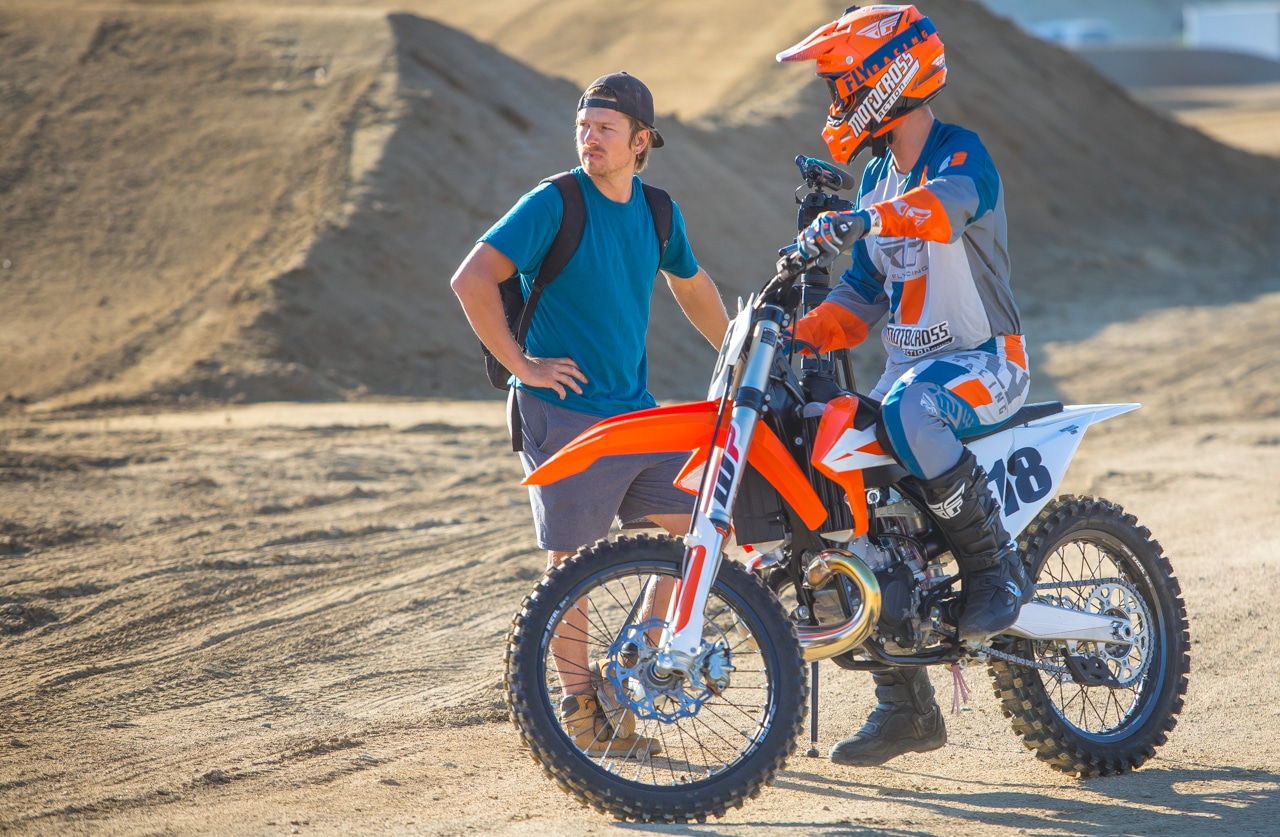 Tye Hames got first dibs to ride the 250SX while Travis Fant filmed him around the track. 
Tye moving some earth. While testing we found that we had to turn the rebound all the way in to get it where our testers felt comfortable. We are in the process to see if it is a defected shock or the clickers have to be set at an extreme position to be comfortable. Also, the bike felt sluggish off the bottom like the rest of the 2019 KTM fleet due to a restricted airbox. We popped it open to let it breath. 
We had ex-pro rider Chris Plouffe shake down the 2019 Kawasaki KX250. 
Chris railing around a right hand corner. 

MOOSE RACING SYNAPSE LITE ROOST DEFLECTOR
Press Release: Moose Racing introduces the all new Synapse Lite Roost Deflector. The deflector features a mesh suspension lining system designed to create large air channels between the protector and rider allowing excellent circulation and comfort. The durable moisture resistant comfort padding allows for easy cleaning. Other features include adjustable shoulder straps for a customized fit and integrated compact quick release buckles. The Synapse will be available in two colorways (Black/Orange & Hi-Viz Black) and offered in two sizes (M/L & XL/2X). MSRP for M/L is $99.95 and XL/2X is $109.95
MXA IN JAPAN FOR 2019 SUZUKI RM-Z250 INTRO
The 2019 Suzuki intro was held in Japan at Meihan Sports Land.
MXA's Dennis Stapleton took the long flight to Japan to ride the 2019 Suzuki RM-Z250. 
The 2019 Suzuki RM-Z250 gets many of the same updates at the RM-Z450 did in 2018. 
The Suzuki Japan crew doing some maintenance on the MXA bike after breaking in a muddy track.
The track that the press get to ride the new Suzuki on.
Dennis getting some seat time on the new bike. 
The Suzuki Japan crew kept up on the bikes throughout the day. 

LOST BUT NOT FORGOTTEN | 1988 YAMAHA YZ250
ENGINE ICE ANNOUNCES 2019 SPONSORSHIP OPPORTUNITIES

Press Release: Engine Ice Hi-Performance Products, the premier choice for powersports coolant and antifreeze, is pleased to announce that they are now accepting applications for 2019 racing support. Applications are available online through their page on HookIt or via the Engine Ice website at engineice.com.
Engine Ice is looking for brand ambassadors in all types of racing including automotive, motorcycle and snowmobile and has programs available for all skill and performance levels.
"More than a sticker on a fender, Engine Ice is looking to support racers that present a positive image and are role models for their competitors," said Engine Ice President Dave Kimmey. "Over the years we've been fortunate to work with some of the best athletes in the racing industry and have considered them as part of the family. Chosen athletes are expected to maintain professionalism and perform to the best of their ability each time they take to the track and if you are still in school, we want to see that you are doing well with your grades and take your education seriously. If you think you have what it takes, send us your resume."
In addition to two levels of support via Hookit, Engine Ice also maintains a Factory Direct program for professional racers and high-level amateurs. These riders receive the product, promotional and marketing support direct from the corporate office and select riders will also be eligible to perform R&D tasks and provide feedback on any new products introduced by Engine Ice during the 2019 season.
For more information visit Engine Ice on HookIt or EngineIce.com
CLASSIC PHOTO
Mike Alessi back on a Yamaha YZ85.
MXA QUESTION OF THE WEEK ANSWER
Shae Bentley was crowned the 125 West Coast Supercross champion in the year 2000. The winner of the FXR swag is Don Jordan out of Fredericktown, MO.

---
Moto Trivia answer: Ryan Hughes during the 2000 MXDN in Saint-Jean-d'Angély, France.