MXA INTERVIEW: AARON PLESSINGER IS LOOKING FORWARD TO THE 2020 SUPERCROSS SEASON
MXA INTERVIEW: AARON PLESSINGER IS LOOKING FORWARD TO THE 2020 MONSTER ENERGY SUPERCROSS SEASON
While I enjoy talking to many of today's top riders, I especially like talking with Aaron Plessinger. The Ohio native is always smiling, and if you talk to him, you'll be smiling as well. Aaron simply loves his job and as evidence by his 250 Supercross and AMA Motocross Championships in 2018 he also takes it very seriously. Although his 450 rookie season this past season may have not gone to plan, Plessinger showed increasing promise as he was racing near the front. A severe heel injury at the Daytona Supercross may have taken the wind out of his sails, but armed with a new Yamaha, and his optimism, the Monster Energy Yamaha Factory Racing rider hopes to be a factor in 2020. 
BY Jim Kimball
AARON, SO LET'S BEGIN WITH THE MONSTER CUP; YOU HAD A BAD CRASH, WERE YOU OKAY? I got slammed pretty good, but it was not too bad. I definitely hit my head, but I don't think it caused anything. I felt good before that, maybe just a little rusty getting the timing, and jumps down. I raced the rest of the night, so it was not too bad, but I did slam pretty hard, and it did hurt. (Laugh). Overall, it was a good test, and I saw where I was compared the competition. I rode pretty well in the last main, it showed me what I needed to work on, and what I was alright at. Since then, we have made really, really big improvements on the bike, and I feel ten times better than I did at Monster Cup, so I am feeling really, really good. 
Click here for a video of Aaron's crash.
Aaron Plessinger during opening ceremonies at the 2019 Daytona Supercross.
WERE YOU HAPPY WITH THE WAY YOU WERE PROGRESSING AS A SUPERCROSS ROOKIE IN THE 450 CLASS EARLIER THIS YEAR? Yes, definitely. It was really unfortunate when I got hurt because I felt like I was making really big gains up until then. Plus I was hurt before the season started out and I was trying to race myself back into shape, so that was difficult. But then to have shining moments like Atlanta was making my confidence go through the roof. I think that I was somewhere around 7th or 8th in championship points when I got hurt in Daytona. I was feeling good and then when I got hurt, it was a big bummer to me. But you know, it happens, and I am going to bounce back big in 2020.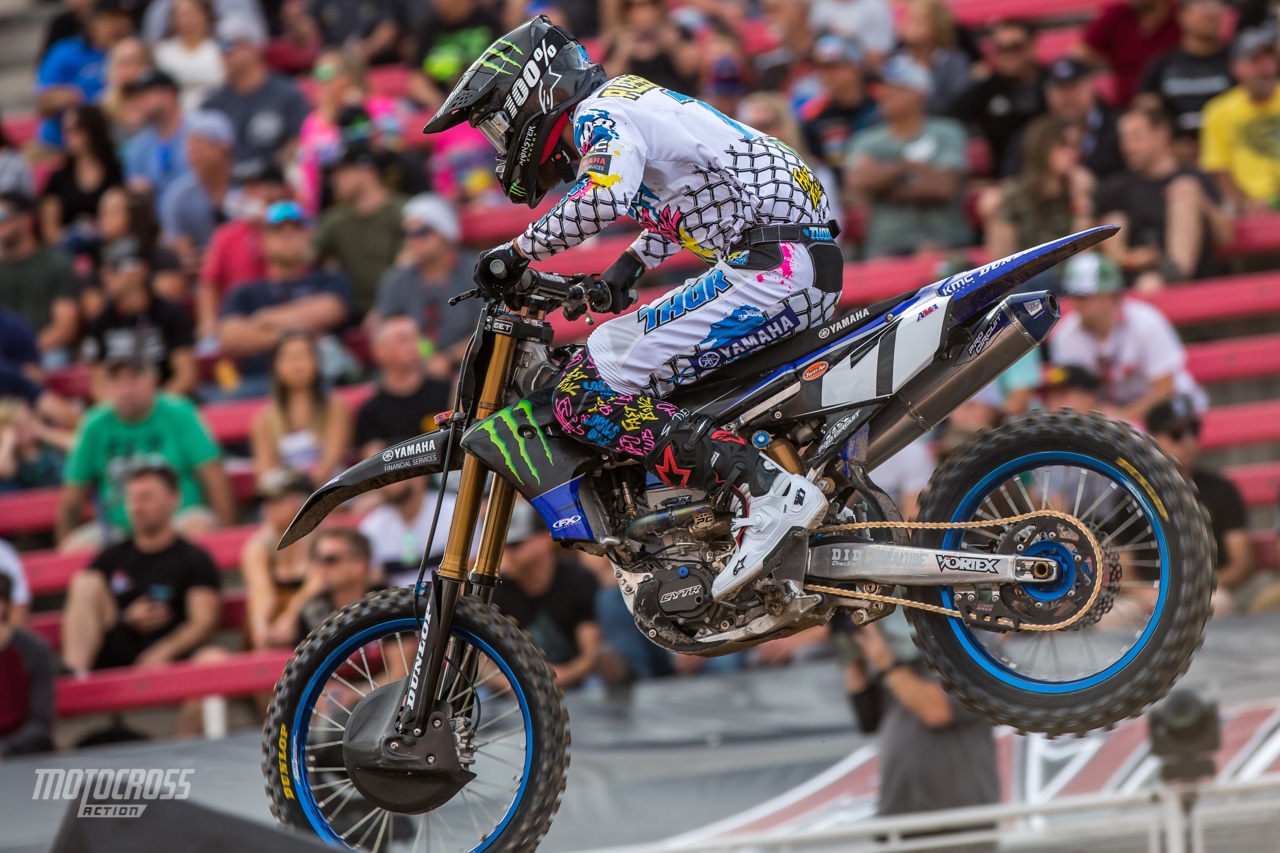 Aaron had a rough go at the 2019 Monster Energy Cup, he went 22-17-8 in the three main event races to finish 15th overall.
WAS THE TRANSITION FROM THE 250 CLASS TO THE 450 AS BIG AS IT SEEMS? Yes, it was definitely a big change, jumping up to that class. Even though I did not do all the races, it is definitely pretty gnarly with racing the full series, even gnarlier than I thought it would be, because everybody knows how to do what I can do. In the 250 class, I had a little advantage over everybody my last year. Then it is like "hit the reset button" and you are back into a class where you are pretty much equal with everybody. Everyone is going so fast, and it was a big change with the bike. Getting used to the bike in a short amount of time was crazy. It was really an up and down off season for me. It got better and better, and then I broke my heel. Now I am looking forward to doing the whole season and getting a whole season under my belt. I am ready for next year for sure.
"The doctor I saw said if I would have waited one more week, they would have had to take the hardware out, and do the surgery over again. So, I got pretty lucky that I went to see him. We then started the process of trying to heal the incision, and overall it took about four months to really get over it. Thinking back on it now, it was a gnarly injury and I am lucky to be back where I am now."
YOUR HEEL INJURY WAS PRETTY SEVERE WASN'T IT? It was really scary; my heel was in six pieces. They went in and put a plate and four screws in there. I was in California for about a month and then went back to Florida and saw a skin specialist because the incision was not healing right, and it had opened up. The doctor I saw said if I would have waited one more week, they would have had to take the hardware out, and do the surgery over again. So, I got pretty lucky that I went to see him. We then started the process of trying to heal the incision, and overall it took about four months to really get over it. Thinking back on it now, it was a gnarly injury and I am lucky to be back where I am now. Now with it behind me, this injury got me thankful for sure. A heel is hard one, when you break it, it is not very fun. 
Aaron Plessinger's Factory Yamaha YZ450F.
DOES BEING A FACTORY 450 GUY ADD MORE PRESSURE? Yes, I think coming off of a year that I had in the 250 class (winning SX and MX titles) and then going into the 450 class being not really that prepared really opened my eyes. I did have a lot of pressure on me, but I didn't really let it get to me last year because I had somethings that did not go right for me in the off-season. Still, it is a lot of pressure on the whole team. They want you to do good, and you do not want to fail them, so it is definitely a lot of pressure.  
Aaron dives under Chad Reed at the 2019 Glendale Supercross. 
YOU SPOKE A COUPLE TIMES ABOUT HAVING SOME THINGS IN THE OFF-SEASON NOT GO RIGHT; WAS THAT YOUR CRASH AT THE MOTOCROSS OF NATIONS? I did crash there, but I did not really get hurt too bad. Later on, after I was riding the 450, I crashed. After the Motocross of Nations, I started riding the 450 in Supercross, so it was a quick turnaround, right off the 250, straight onto the 450. It was just a really quick transition, and initially I really was not gelling with the bike too much. I was going through a set of whoops and the bike pitched me. It spit me off, threw me about ten feet in the air. I landed on my butt, and it compressed a lot of stuff in my back. It was not a good crash, and that set me back for almost two or three weeks. By then, it was already mid-November, almost December, and those two weeks were pretty crucial. I did not get really that much testing on the bike; I just went to the races. 
Aaron recently married his new wife, Kendall Plessinger just one week before the 2019 Monster Energy Cup. The newly weds decided to put the honeymoon on hold until after the 2020 racing season.
TESTING IS SUCH A BIG DEAL, ESPECIALLY IF YOU ARE ON A NEW BIKE. IT MUST BE DIFFICULT TO MISS THAT PRE-SEASON PREP? Definitely, you want to get your bike right, so you can ride it as hard as possible. But you know, things like that happen, so it was alright. I am starting to make a comeback now; I got this year to do that.  
YOUR TEAMMATE JUSTIN BARCIA WON THE PARIS SUPERCROSS. HE GOT A LOT OF ATTENTION WHEN HE TALKED ABOUT GOING BACK TO A STOCK BIKE. DO YOU FEEL THE SAME, IS THE STOCK YAMAHA 450 THAT GOOD? This year's stock bike is so good. The motor and everything is unreal. You really cannot see it with the naked eye, but what they had changed in the chassis makes the bike act so good. It was not even a big change, it just makes the bike handle a lot better in my opinion, and I am gelling with it pretty good. But yes, Justin (Barcia) said he loved riding it over there, and all he had was suspension. Our bikes are similar, but they are pretty different set up wise. He likes some of the opposite stuff that I like. So, some of the parts that we test, like engine components, we both like the same, and other chassis parts we have opposite tastes.

Aaron finished 6th in his 450 Supercross debut at the 2019 Anaheim 1 Supercross. As you can tell, it was a complete mudfest and Aaron has some experience in the mud from growing up in Ohio and racing GNCC's as a young amateur. 
IT SEEMS WITH THE FACTORY TEAMS THAT THEY HAVE SO MANY DATA POINTS TO TEST WITH. DOES IT GET OVERWHELMING SORTING OUT WHICH ACTUALLY WORKS BEST DURING A RACE? Oh, for sure. It is crazy how something so little can make such a big difference on the bike. It does not make sense to me sometimes with the parts that we do try. Some of them are so tiny that you would think "this is not going to make any difference," but it ends up making your bike totally different, it is just crazy. The thought that goes behind these parts that you try, and the engineering that takes place to really make these parts work, is pretty awesome to see.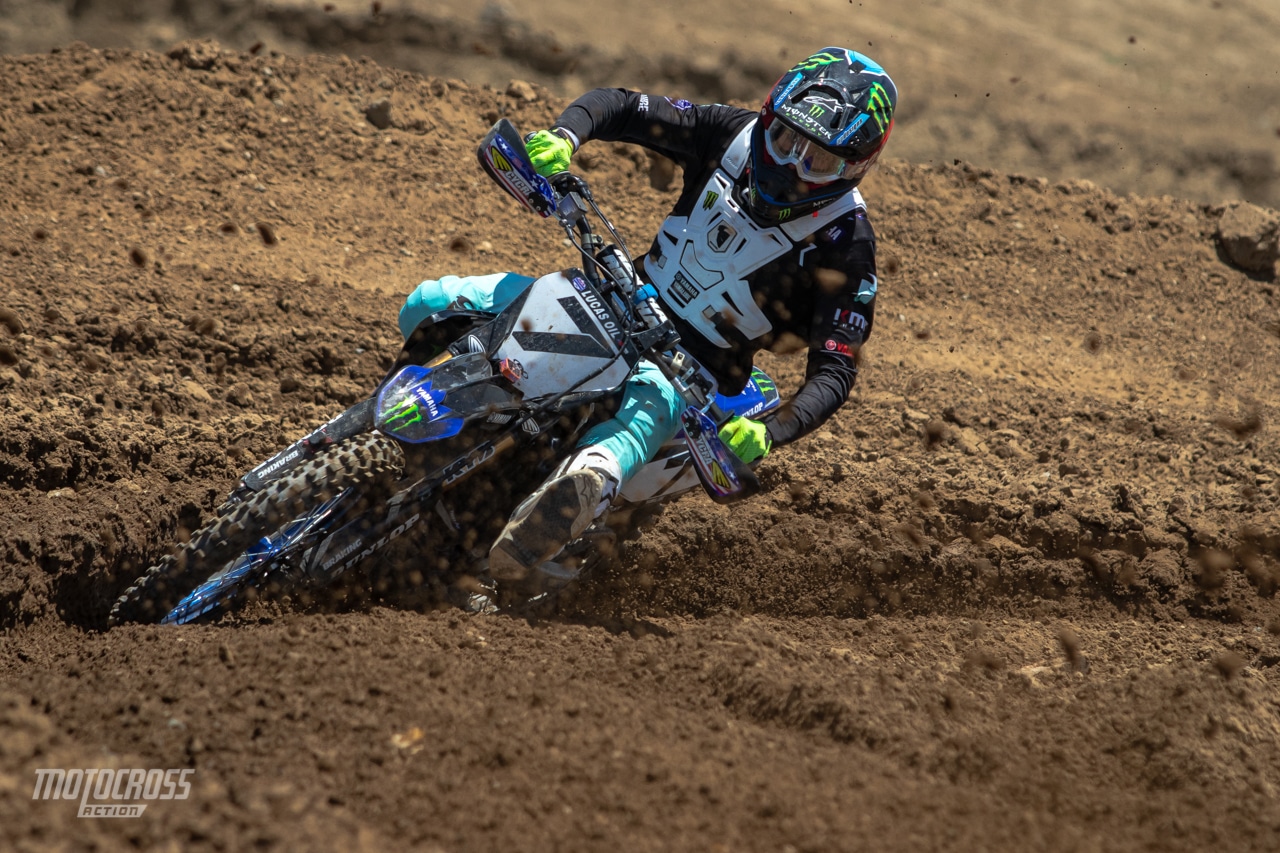 Aaron currently lives and trains in Southern California. He also still works with the Star Racing Yamaha trainer, Gareth Swanepeol.
I WATCHED THE PARIS SUPERCROSS AND I NOTICED JUSTIN LOOKED ESPECIALLY GOOD IN THE CORNERS. IN THE PAST SOME RIDERS COMPLAINED ABOUT THE BIKE'S TURNING PROPERTIES, IS THIS IMPROVED? One thing that Yamaha was trying to improve on was turning, and I say that they hit the nail on the head with that one. As you said, Justin was killing it. He was railing the turns over in Paris. We are putting in the work over here and going to all the test tracks. We are hauling the mail. I would say it is going to be a good season for me and Justin, and the whole Factory Yamaha team.
Aaron during the Atlanta Supercross opening ceremonies.
NOW AT LATE NOVEMBER, WHAT IS YOUR DAILY ROUTINE LIKE? Right now, it's pretty much wake up, eat, ride, go to the gym, and then come back home. On days off, we like to ride our bicycles, and hit the gym again. We are in the boot camp stages of training right now. Once we get a little closer we will step up the training a little more, and then back it down as the season rolls in. But as of right now, we are training pretty hard!  
WRAPPING UP, ARE YOU FEELING GOOD ABOUT 2020? Yes, I am as healthy as I have ever been. No injuries now, and my body feels great. I feel really, really strong, and I feel like I am right where I need to be.