MXA INTERVIEW: AARON PLESSINGER TALKS SUPERCROSS CHAMPIONSHIP & OUTDOORS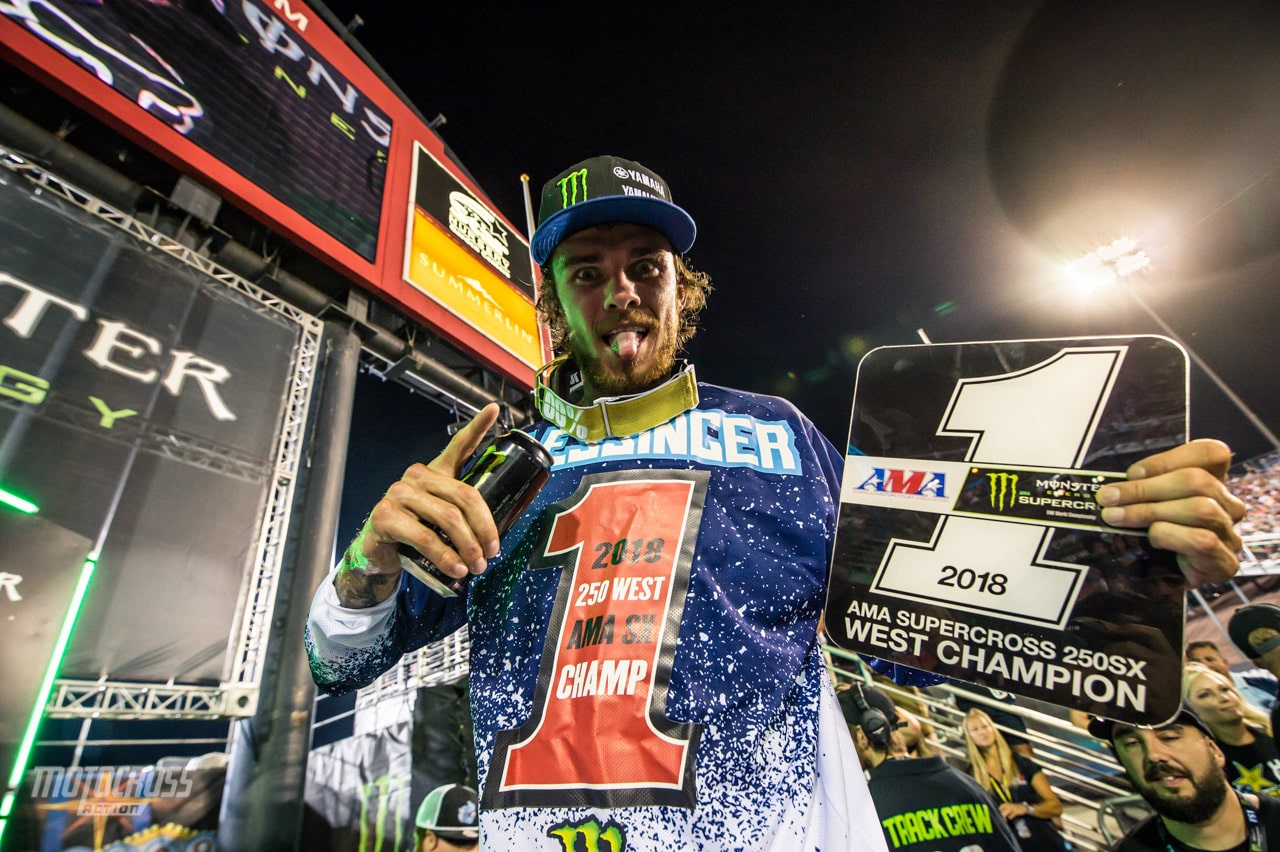 Aaron Plessinger holding his championship plate in Las Vegas.
BY JIM KIMBALL
Early in the west coast 250 Supercross series, we could all see that YamaLube/Star Racing/Yamaha's Aaron Plessinger was ready for a big year. His come from behind win at round two in Phoenix easily showed that. It all came to fruition in Las Vegas when the 22 year old won his first professional championship. Just like in Supercross, at round two of the motocross championship series, Plessinger had another impressive win, capturing the wins in both motos. Co-leading the championship points with Zach Osborne, the Hamilton, Ohio native wants this outdoor championship. We caught up with the 2015 Supercross and motocross Rookie of the Year after a long day of training.
AARON, CONGRATULATIONS ON YOUR 2018 250 SUPERCROSS CHAMPIONSHIP. Thank you. First of all, it was a crazy championship and it was not won easily. At the second race in Houston, where I came through the pack, I knew I was in a good point to challenge for the Championship. I went around the first corner in 18th place, came through the pack, and kept charging. All of a sudden, I was in 5th place going after the leaders. I just kept pushing and pushing, and never gave up. I ended up winning that by five seconds, and that was the race that let me know that "hey I can do this thing." The races after did not come easy, definitely not, but they came easier than the years before.  The last few races, I rode a bit tight, and did not really want to mess it up for myself. I did what needed to be done and we are going to be able to run on the #1 next year.
YOU OFTEN HEAR RIDERS REFER TO "MANAGING" THE POINTS LEAD, DID YOU DO THAT? In the first part of the series I was definitely going for it. If you are not going for it in the first part of the series I mean you are not going to win the championship. The top guys are really going to send it out there in the first couple of races, and then everybody finds their groove. They do not back it down, but they know where they sit. I was trying to establish myself as the man to beat, I definitely did that in Houston, and then I did it again in Phoenix. I think the hardest race I won was Oakland. I was really sick and did not ride the week before. I really do not know how I did it, but I just pushed through the pain, suffered through it, and I think that race won me the championship. It was hard to keep the plate, but once I did have it, I really, really did not want to let it go, and I think I did pretty good doing that.
LETS TOUCH ON THE LAS VEGAS FINALE, WAS THAT NERVE RACKING? I was obviously thinking about the Championship, but not to the point where it messed me up. I definitely was a little nervous, but I think in my mind I knew I could get top 10, and that was what I had to get to win the championship.  The weekend before in Utah was more stressful on me just because I knew that I could win the championship, but knowing that A.C. (Adam Cianciarulo) was right there and he could potentially win it too. In Vegas, I was more relaxed, because I knew I could get top 10, and I knew I was going to do it. I did not really let it bother me and I think I was pretty calm in Vegas, honestly.
YOU CAME OUT SWINGING AT HANGTOWN, SO NO "SUPERCROSS HANGOVER" FOR YOU. Yes, definitely no Supercross hangover. I felt really good in Hangtown. Believe it or not, I was back on the bike Monday after Vegas, and back to getting out there for outdoors. Also, in the middle of the season after the break in Supercross, I switched my focus more to outdoors, and I was happy with my bike. I was just gelling really well with all the motocross tracks we were riding. My teammate, Justin Cooper was also riding, once he got back from his injury. We were putting in the motos, and I think we both had at least two seasons under our belt before Hangtown even came around.
 Believe it or not, I was back on the bike Monday after Vegas, and back to getting out there for outdoors.
SO YOU WERE DEFINITELY READY FOR THE OUTDOOR SEASON. It was pretty crazy all the motos we did leading up to Hangtown. At Hangtown, I felt good in the first moto. Jeremy (Martin) and Zach (Osborne) were more antsy and ready to lay it all out on the line more than I was. I was just trying to get through it. I was obviously trying to do well, and see where I was. Once I knew that I could do really well, I swung it around to Glen Helen. I took advantage of the good starts, the good fitness, and really laid it down.
Aaron Plessinger with his first-ever red plate after Glen Helen. Photo Debbi Tamietti
MANY FELT THIS COULD BE A SERIES LONG BATTLE BETWEEN JEREMY MARTIN, AND ZACH OSBORNE, BUT YOU WANT TO BE IN IT TOO. Oh yes, for sure. Actually at Glen Helen, in first and second moto, Zach got past me in the first corner. In the second moto I passed Alex Martin, Jeremy Martin, Austin Forkner, Joey Savatgy, all some pretty big names and that really excited me. In the second moto I knew where I stood, and that I could really put it to the guys when the time was right. I had some good lines on that track, and my bike was perfect. I just felt really good during that race, and I think that will continue. I have a really good shot this championship. I believe that winning the outdoor title is a bit more prestigious than winning a Supercross title just because you are a gnarly dude if you can win an outdoor title. Going 24 motos and not letting it bother you is pretty gnarly in my eyes.
IN YOUR EARLY DAYS OF RACING MOTOCROSS, IT APPEARED THAT YOU MIGHT GET TIRED BEFORE A MOTO ENDED, BUT THAT'S NOT THE CASE ANY LONGER IS IT? I am certainly in the best shape of my life right now. We put in so much work in during the off-season, and trained so hard during the Supercross break. I got my motos in, and got all the intense work pretty much done. I have to give it up to my trainer because he really knows what he is doing, and it shows out on the track that I have not really gotten tired. So as I said, I am definitely in the best shape I have ever been, and it will only continue to get better. These motos do not bother me nearly as bad as they have in the past years, and I think this is dangerous for those other guys.
YOU HAVE OFTEN BEEN RECOGNIZED FOR YOUR SKILLS ON THE EASTERN, LOAMIER TRACKS, WHAT ARE YOUR THOUGHTS ON THAT? I can smell some trouble for the competition, but I think everybody feels better, and worse on different tracks. I am not going to say that I am going to go over there, and kill everyone on the East Coast. I definitely know that I have a couple years of experience under me, and I am going to do my best. Especially at Muddy Creek, High Point, Unadilla, I am definitely going to put it to them. I am excited to get this season going. We have done the first two West Coast rounds and I am ready to keep moving. I am ready to get the ball rolling, get over on the East Coast, and show you guys what I got. Hopefully I can establish a point lead, and do what I did in Supercross. Keep the red plate throughout the series and establish myself as the guy to beat.
WE ALL RECALL YOU BEING A YOUNG ROOKIE ON THE STAR YAMAHA TEAM, BUT NOW YOU ARE TA VETERAN, WHAT IS THAT LIKE? It is definitely weird. It has gone by so fast, and it seems like yesterday I was just turning Pro. It is crazy to think now that this is my fourth year, and I have a championship under my belt. I have been enjoying every second of it, and trying to take in as much as I can because I know it is a short career. I don't want to sit there and watch it all fly by. I want to live in every moment of it, take in as much as I can, and make as many memories as I can. It is going to be fun, switching up to the 450, and showing them boys what I got.
THAT IS A PERFECT LEAD INTO OUR LAST QUESTION. EVERYONE WANTS TO SEE YOU ON A 450, BUT IT SOUNDS LIKE YOU WILL BE BACK ON A 250 NEXT YEAR. Hopefully I will race 450 outdoors next year, but for right now, it is 250 in Supercross for sure. We will figure out the 2019 Outdoors series later. But I am anxious to move up.