MXA INTERVIEW: ANDREW SHORT WANTS TO SHARE HIS PASSION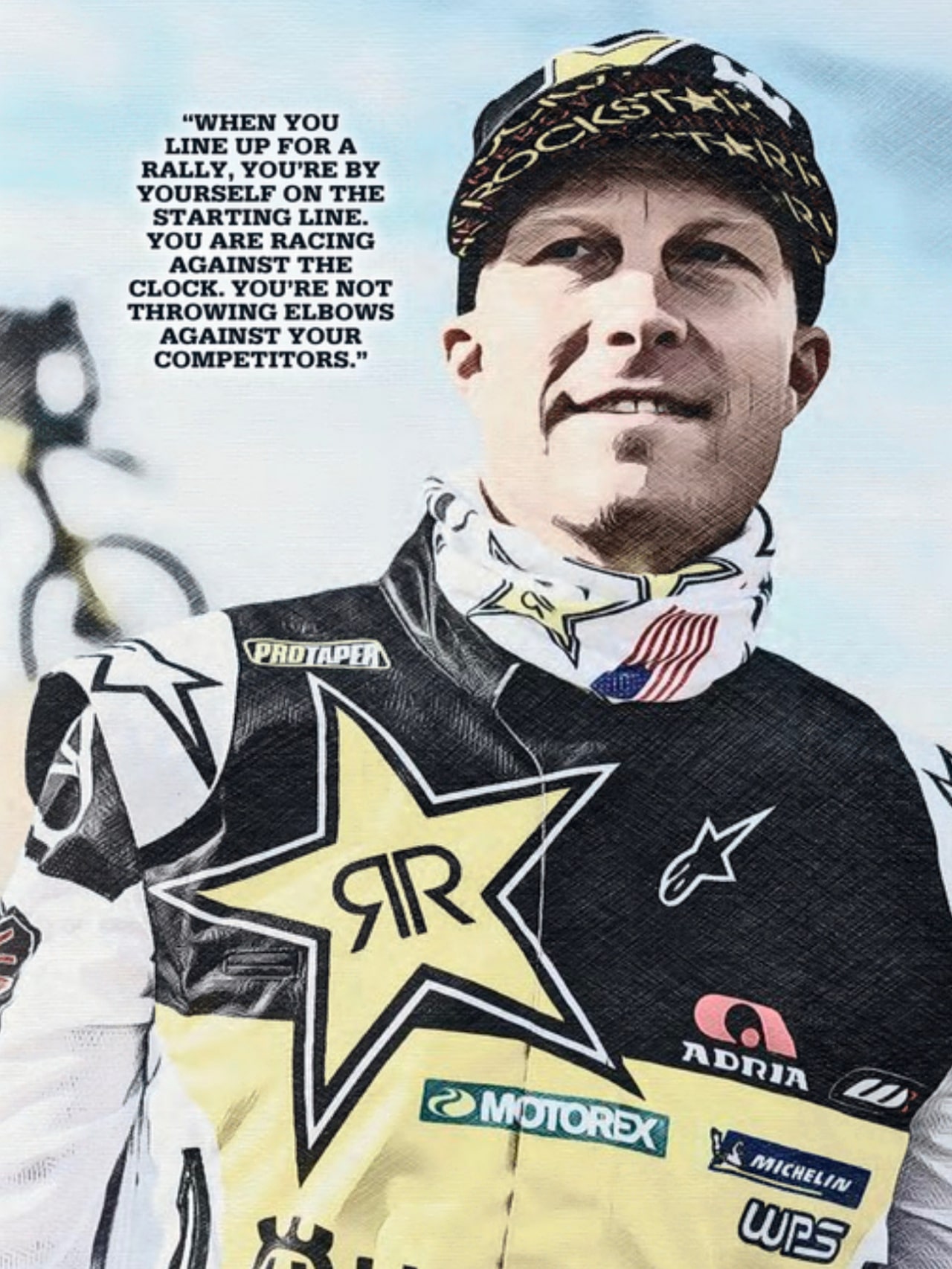 By Josh Mosiman
WHEN YOU FINALLY RETIRED FROM PROFESSIONAL MOTOCROSS, DID YOU THINK YOU WOULD RETURN TO RACING FULL-TIME AGAIN? No, and honestly I don't feel like I am racing full-time. I just kind of race for fun. When I wasn't racing motocross and Supercross, I loved trail riding, especially going to Colorado where I grew up. I've always had that enjoyment, and to me that felt like a vacation. What I do now feels the same way. If I weren't getting paid to do this, these are things that I would pay to go do as a motorcycle enthusiast. Dakar was a dream of mine. The more I race rally, the more I become addicted to it and it intrigues me. I love the opportunity to wake up each morning and think of ways to better myself as a racer but also to learn something new each and every day. When you don't race anymore, especially when you don't race full-time, it's really difficult to find something that you have a passion for on a similar level. So it was a good transition, and I'm delaying any future life problems by racing again. But who knows where this will lead or what will happen. I just love racing. I guess I am racing full-time, but in a sense it's nothing like racing motocross and Supercross. What I do now is not nearly as cutthroat as Supercross. There's no pressure. I'm at a different stage in life, and I feel really blessed to be able to do this.
Andrew made the transition from motocrosser to Dakar Rally racer in a very short time.
WHAT SPARKED YOUR INTEREST IN THE DAKAR RALLY SERIES? I rode a rally bike in the desert for a previous manufacturer I was riding for. I was like, "Ah, this is cool." I wanted to try a rally out for myself, so I signed up for the Sonora Rally in Mexico. It is the only rally in North America that is really good and professional. From that moment on, I was hooked on the challenge, the people, the environment and the vibe. I felt like a kid again on a motorcycle. I had all of these emotions—from being nervous on the starting line to being scared about being alone in the middle of the desert. At that point, it was just fun, and it still is fun. Once I got hooked, I said, "I gotta do more of these." Then I realized how expensive it was, especially Dakar. If you have the money, you can pay teams to support you, but it costs between $75,000 and $150,000 to do a big-time rally. Once I learned the dollar figure, I was like, "I gotta get on a team." It was just the natural progression.
"WHEN YOU LINE UP FOR A RALLY, YOU'RE BY YOURSELF ON THE STARTING LINE. YOU ARE RACING AGAINST THE CLOCK. YOU'RE NOT THROWING ELBOWS AGAINST YOUR COMPETITORS."
In 2001 Andrew did six races on the Pro Circuit team as a try-out for a full-time ride in the 125SX West series and the 250SX class for the East rounds.
DOES IT FEEL DIFFERENT FROM BEING ON THE LINE OF AN AMA SUPERCROSS? The best part about racing Supercross is that when you're on the starting line, everything else disappears in life and you're only focused on what's in front of you. But racing motocross and Supercross is really cutthroat, and you have to make quick decisions and get to the front as quickly as possible. When you line up for a rally that is multiple days on end, you're by yourself on the starting line. You are racing against the clock. You're not throwing elbows against your competitors, and, because of that, everyone is really friendly and you help the guy that's lining up behind you or in front of you. One day you might crash, and that guy could be the one picking you up.
I feel like the Dakar vibe is completely different from motocross and Supercross. There is mutual respect because it's so dangerous. It is more of an adventure. It is like you are climbing Mt. Everest—and seeing a dude who's struggling, you're going to help that person. In motocross, when you see someone crash in front of you, you're only looking for the fastest line around him. It's two different mentalities. You are still competing on a motorcycle at the highest level, but you have to stay focused for hours on end. It has been a challenge for me to keep that intensity up for multiple hours and to know when to push and when to pull back. In motocross, you just pin it the whole time.
"BEFORE I WENT TO DAKAR, THERE WERE SO MANY UNKNOWNS. I DIDN'T KNOW WHAT TO EXPECT. THE DAYS ARE REALLY LONG. YOU DON'T GET MUCH SLEEP. YOU HAVE TO HAVE A LOT OF DIFFERENT STRATEGIES FOR EACH DAY. IN MOTOCROSS, I ONLY HAD ONE STRATEGY—GO FAST."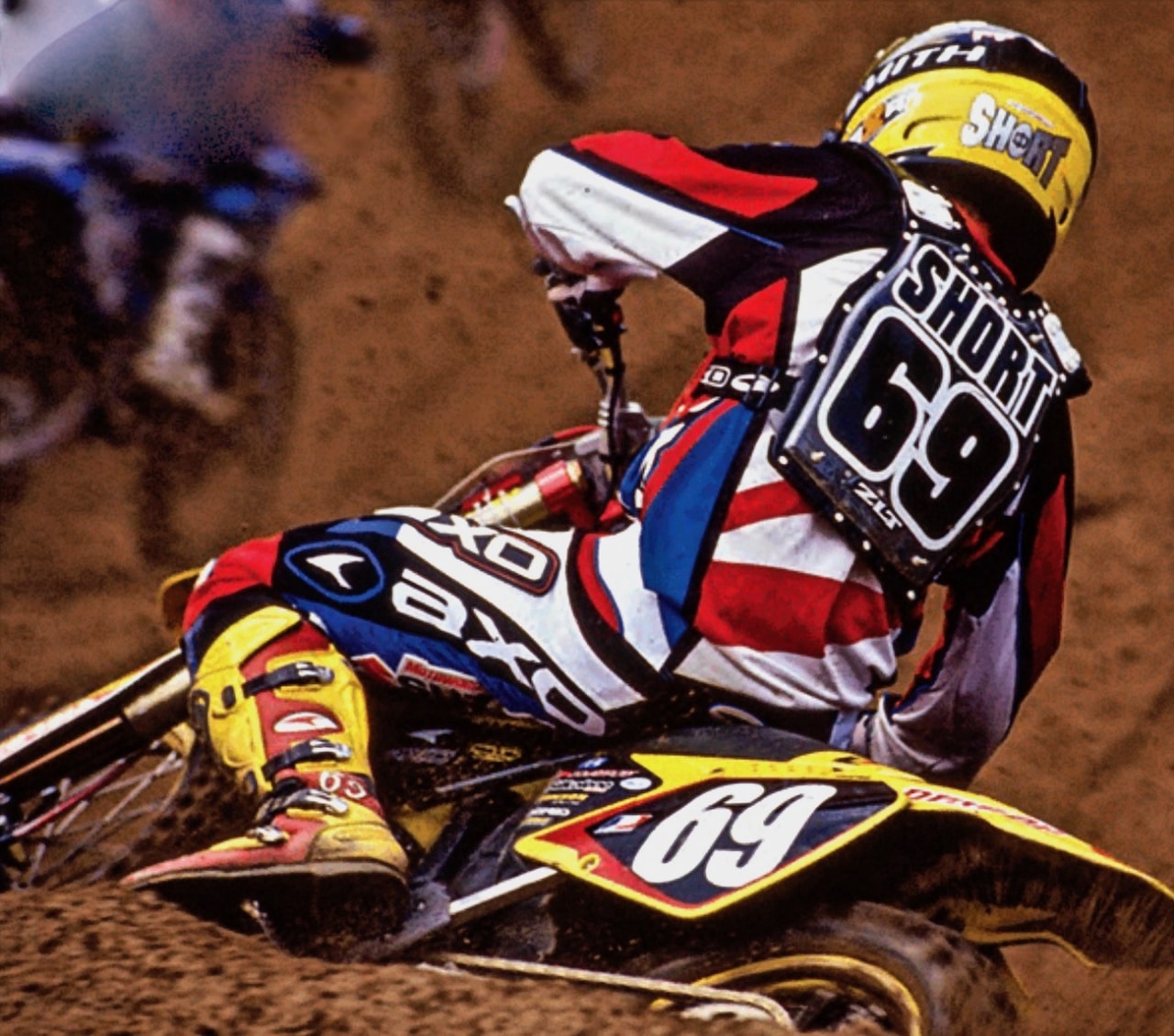 Andrew rode for the Motoworld Suzuki team from 2002 to 2004.
TELL US WHAT IT FEELS LIKE TO RACE THE DAKAR RALLY? It is hard to describe to a normal person. Before I went to Dakar, there were so many unknowns. I didn't know what to expect. You go through a lot of emotions. The days are really long. You don't get much sleep. You have to have a lot of different strategies for each day. In motocross, I only had one strategy—go fast. With rally, you have to pay attention to a lot of things. Sometimes that means not going fast, and sometimes it means going faster than you've ever gone on a bike before.Andrew was best known as a factory Honda rider, he was there 6 years total.
"FOR WORCS, I GET TO GO BACK TO A MOTOCROSS STYLE BIKE. THE HUSQVARNA FX450 IS BASICALLY A MOTOCROSS BIKE WITH A BIG TANK. FOR ME, IT'S PERFECT BECAUSE IT COMBINES MY OLD MOTOCROSS ROOTS WITH THE NEW STUFF I'M LEARNING IN RALLY RACING."
Andrew is best remembered for his time at Team Honda.
YOU HAD A UNIQUE TRAINING PROGRAM WHILE RACING MOTOCROSS. TELL US ABOUT IT. Over my career, I was adapting and training differently. When I was a young kid and didn't have so much direction, I experimented with a lot of things. I put more effort into riding and training, thinking that would equate to better results. That worked for a long time, but sometimes I would show up to a race over-trained and down on energy. Even at Team Honda, I got into a hole where I wasn't showing up on race day at my best. They don't pay AMA points on Wednesday, Thursday or Friday. When I was 21, I trained a lot differently from when I was 35. As I got older and more experienced, there were certain times of the year when I would only ride once a week or not at all, depending on how my energy was. I did this so I would show up on race day at 100 percent. I had to give myself permission to chill out sometimes. You can't compare yourself to other people. What works for a top rider might not work for you. It took me a long time to figure that out. You can see the progression of my career. I wasn't always the fastest Amateur, but I was able to have a great career and ride for great teams and live the dream. I think a lot of that was because of how I approached racing. I didn't necessarily have the most talent, but I had a huge passion for it.
Andrew raced and tested for Team KTM. He was the last rider to race with KTM's ultra-secret air shock.
THIS YEAR YOU ARE RACING THE WORLD RALLY CHAMPIONSHIP AND WORCS OFFROAD CHAMPIONSHIP. THESE ARE COMPLETELY DIFFERENT RACING DISCIPLINES. HOW ARE YOU ABLE TO DO BOTH? With rally, I'm definitely more strategic. I have more experience with it now, and I know how to prepare and schedule everything. I'm more precise in how I train for it. There are only four races in the World Championship, and they are in four completely different parts of the world.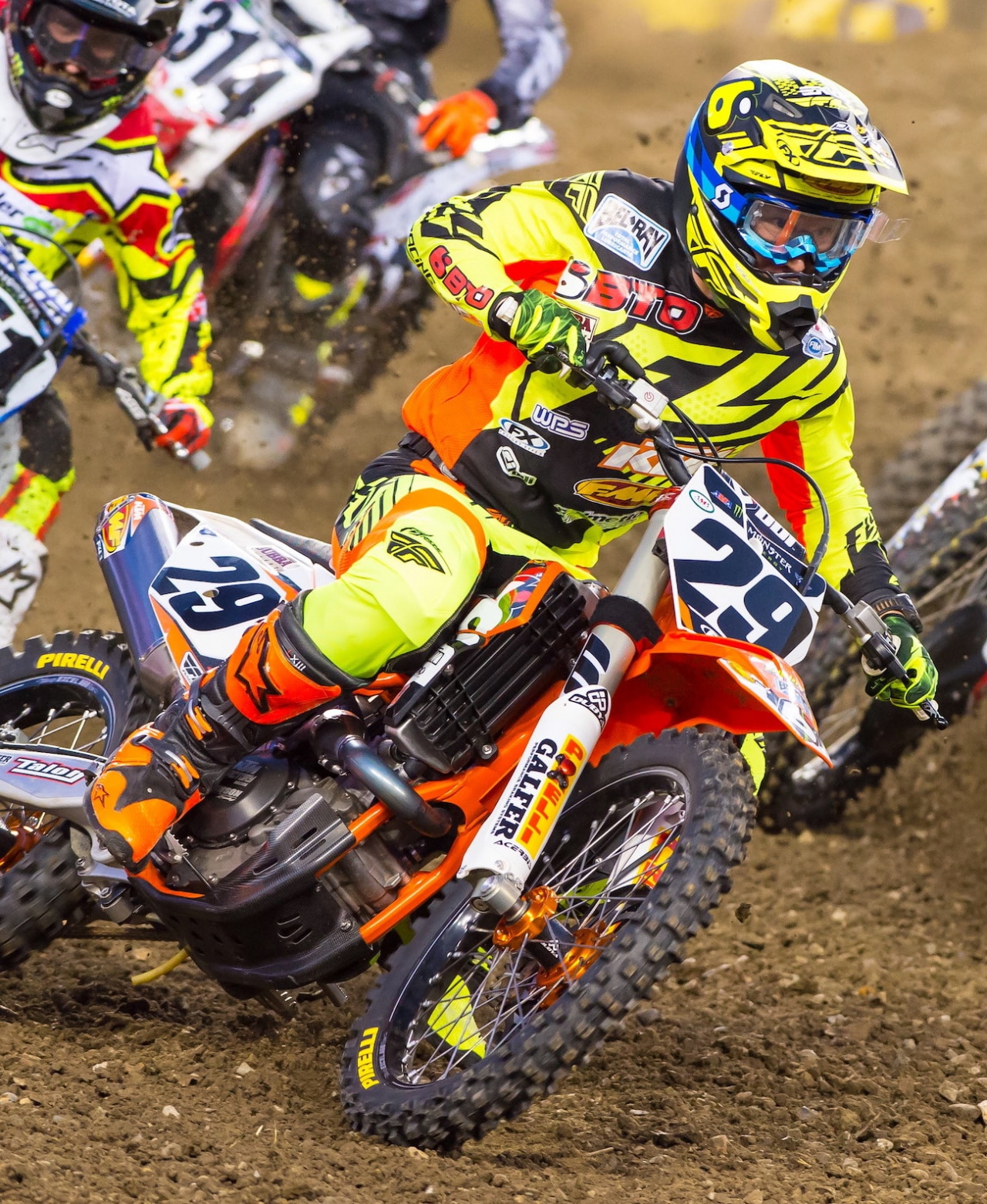 After his KTM factory gig was over, he found a spot on the BTO KTM team.
"AS A KID, I LOVED RIDING. AND IF YOU LOVE RACING, WHETHER IT'S MOTOCROSS, SUPERCROSS, OFFROAD OR DESERT, IT DOESN'T MATTER WHAT THE DISCIPLINE IS. ALL THAT MATTERS IS THAT WE SHARE THE PASSION."
For WORCS, I get to go back to a motocross-style bike. The Husqvarna FX450 is basically a motocross bike with the 18-inch rear tire, big tank and six-speed transmission. WORCS is perfect because it combines my old motocross roots with the new stuff I'm learning in rally racing. But, I've lost a lot of intensity by doing rally over the last few years, so I approach the WORCS series to have fun and be as competitive as I can be as the series goes on. I am jumping into two series where there are guys who have it dialed. Rally is more about having some intensity but being smart throughout the days. WORCS is a two-hour sprint. They are two completely different disciplines, but hopefully they complement each other in the end.
In 2019, Andrew finished 5th overall in his second-ever Dakar Rally.
HOW HAS YOUR MOTOCROSS EXPERIENCE HELPED YOU AS AN OFFROAD RACER? If you have skills on a motorcycle, it's just something you have in the bank. Take Taylor Robert; he's a great off-road racer. If he devoted 100 percent of his time to Supercross, he'd be really good at it. He's an athlete who can compete at a high level, but he grew up in the desert, and that's his specialty. As for me, it's not natural for me to ride over rocks and read terrain at a high speed. Those are skills that I've had to learn. I have the speed from motocross, but I have to have the maturity to know when to back off the throttle in offroad races so I don't get hurt. I have ridden with 50-year-old dudes, with big pot bellies, who can ride really fast. He's not fit, but he can still haul the mail for 10 minutes. I think that shows that riding a motorcycle is a skill sport. It takes skill, but it also requires a lot of athletics to be competitive throughout the race. That's what's cool about our sport being a motorsport. Technology is important, but the rider makes the difference. Yes, you need good equipment, but your approach and preparation are what ultimately make the difference on race day. As a kid, I loved riding. And if you love racing, whether it's motocross, Supercross, off-road or desert, it doesn't matter what the discipline is. All that matters is that we share the passion.