MXA INTERVIEW: BENNY BLOSS NEVER LOVED THE SPORT SO MUCH IN HIS LIFE
Benny Bloss is back at the races, striving to reach his goals and earn a spot on the Rocky Mountain ATV-MC KTM team for 2020. 
Being six-foot five-inches tall, it's hard to miss Benny Bloss when he's on the track or walking around the pits. Although he's taller than the rest of the field, the Oklahoma native is currently the youngest factory rider in the 450 class at only twenty-two years of age. With a great 2018 season under his belt, his 2019 pre-season training was going well until a crash one week before the Anaheim 1 Supercross left him with a torn ACL. Benny missed the entire Supercross season and the first three rounds of the 2019 AMA Outdoor Nationals. We caught up with him after the Southwick National to learn about his journey back to the races.
By Jim Kimball
BENNY, HOW DIFFICULT IS IT TO BE SIDELINED AS LONG AS YOU WERE? It's very difficult. It was nine months that I did not race, which in this sport is a really long time. It is tough to watch the races and see all the people that I feel like I can beat doing so well. But I am back now and ready to get after it.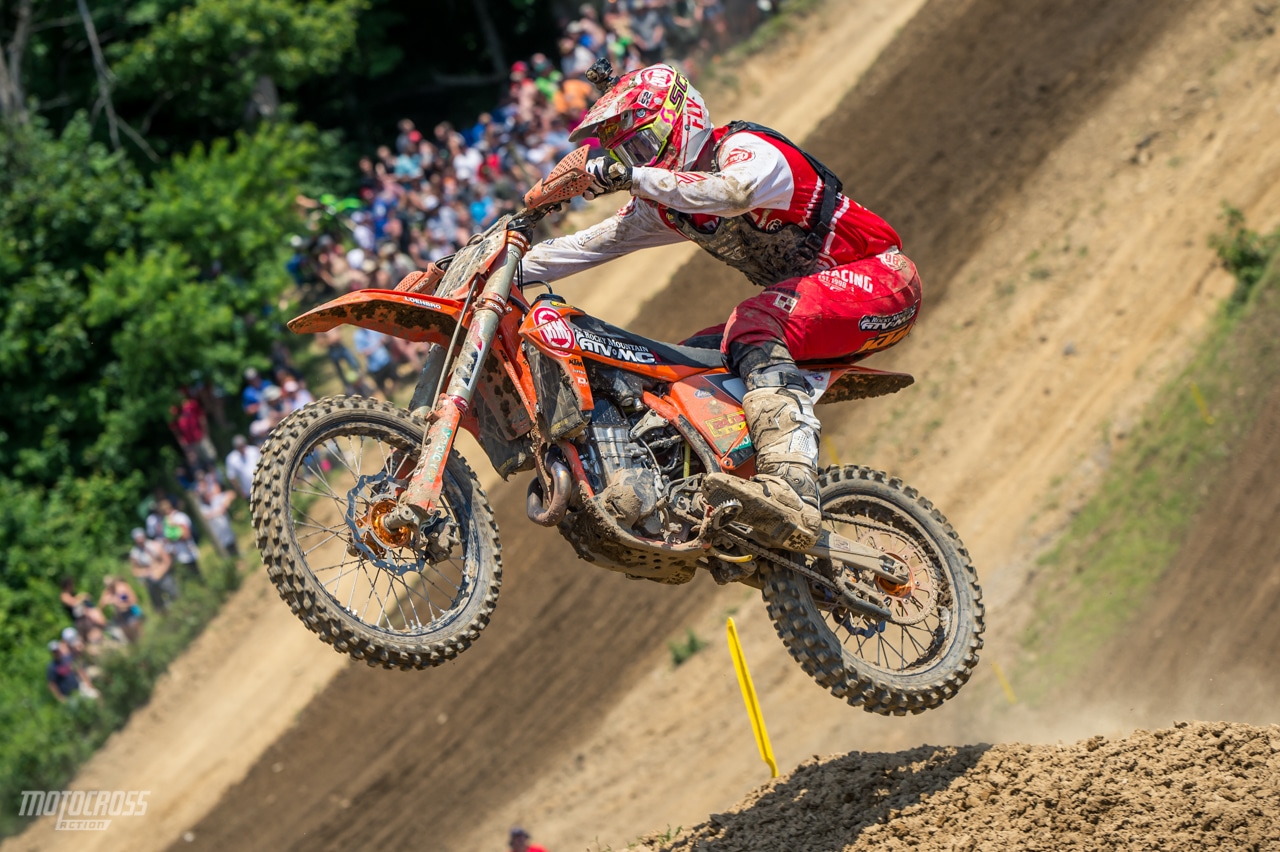 Benny's first race after the injury was at the High Point National and he went 14-9 for 12th overall.
CAN YOU GET BACK TO WHERE YOU WERE IN LAST YEAR'S 450 NATIONALS? I had a good outdoors series last year. I kind of struggled in Supercross, but I ended up the 7th overall in the 450 National series. Plus, I got a podium in the first moto at Red Bud, so it was overall a pretty good year. I am just going to try to do better this year and see if we can get on the podium a couple times.
IN YOUR VERY FIRST RACE BACK YOU FINISHED INSIDE THE TOP TEN IN THE SECOND MOTO. THAT WAS GREAT AFTER NINE MONTHS OFF! It was a good moto. I went 14-9 for 12th overall, which was good. I had some struggles in the first moto and that is to be expected after being out for so long. But, to come back from the bad first moto, and then turn around in the second moto was good (compared to doing it the opposite way).
Does this number remind you of somebody? Andrew Short ran #29 and he spent his final years of MX and SX with the BTO KTM team. Now the same team has a new title sponsor and new riders, Benny Bloss has earned the #29 for the 2019 race season. 
ARE YOU THINKING YOUR IMPROVEMENTS WILL COME IN A GRADUAL PROGRESSION? Oh yes, for sure. My goal was to get in two solid motos every week. My goal is to make the top 10 in every moto and then work my way up. If I get 9th one weekend, then I want to be 7th or 8th the next weekend and then start getting into the top 5. It does not happen overnight. It is not like you do one race to warm-up and suddenly you are ready to battle up front. I am mentally and physically there, but I have to get back up to the race speed (and be able to do it for 35 minutes).
HOW DID YOU STAY FIT DURING YOUR LONG RECOVERY TIME? Actually, I took time off for awhile. I cleaned my diet up to the best it has ever been. I did as much upper body and cardio exercises as possible. I was riding a bicycle indoors only two weeks after surgery. I took the time off from racing to really prepare myself for when I got back on the bike. My fitness is there. It will just take a couple more races to get back up to race speed. My plan is to be back up there at the front with these guys. High Point was a good start, but But Florida was difficult for me. The heat and humidity made it extra tough on me. Southwick was okay until the second moto when I crashed out.
Before he joined the Rocky Mountain KTM squad, Benny rode for the Cycle Trader Rock River Yamaha team.
YOUR CONTRACT EXPIRES THIS YEAR, DOES THAT CREATE PRESSURE FOR YOU TO PERFORM IMMEDIATELY? I try not to think about that, but It is always in the back of your mind, not knowing what you are going to do for the next year. My contract is up after this year, but I have never actually had a true race season. I had one Outdoor season where I was already signed for the next year and didn't have to stress about it. But you know, it's just kind of the normal thing for me. I just have to go out there and prove that I have what it takes to earn my ride — and I feel that I do. If I do my best, I will have no problems securing my ride back.
YOU MISSED THE FIRST THREE 450 OUTDOOR NATIONALS, SO YOU ARE NOT IN THE CHAMPIONSHIP POINTS BATTLE. WHAT ARE YOUR GOALS? It hurts to not be in the points. Going into the Supercross series I felt incredible on the bike. I felt like I could have battled for the top 5 and maybe even for a championship. That did not happen. It is somewhat of a positive for me that everybody else has raced the 17 Supercrosses and first three Nationals because I know what it is like to do that. It is tiring, and sometimes you are feeling like, "I am over this." However, I am ready to get started. I am a little fresher than everybody else, so I feel like that could play to my advantage.
Benny Bloss ran the #60 in 2018. His best overall finish was 5th at Thunder Valley, but his best Moto finish was 3rd in the first race at Red Bud.
BUT THEY HAVE RIDDEN INTO SHAPE AND ARE UP TO RACE SPEED. For sure, but I remember at this time last year, after Supercross and midway through the Nationals, I was in a funk. I was tired every day. But this year I have been away from it the past couple of months, and all I wanted to do is race my dirt bike. I have never loved the sport so much in my life and I feel like that can really play to my advantage.