MXA INTERVIEW | CARSON BROWN THE SUPERCROSS ROOKIE
Carson Brown and his Red Bull Straight Rhythm winning JMC Husqvarna TC150. 
BY JIM KIMBALL
With the 250 West Coast Supercross series on a short four-week break, we took a minute to track down JMC Racing's Carson Brown while he's at home in Washington. Previously known for his pit bike and two-stroke skills, Brown is gaining experience as a Supercross rider. It should be no surprise that Carson is extremely quick on a pit bike as his father owns BBR Motorsports. However, he is quickly making strides in Supercross. His best overall finish so far in his rookie season is a fourteenth at the muddy San Diego round.
Growing up in the Pacific Northwest, Carson Brown is naturally a good mud rider.
CARSON, YOU WERE A LITTLE BIT UNDER THE RADAR COMING INTO THE 2019 SEASON. I KNOW THAT YOU HELPED TEAM USA WIN AT MOTOCROSS OF NATIONS PIT BIKE RACE. AND YOU WON AT THE 2018 RED BULL STRAIGHT RHYTHM IN THE 150 CLASS. HAVE YOU EVER COMPETED IN ANY OTHER PRO RACES PRIOR TO THE 2019 250 WEST COAST SUPERCROSS SEASON? Yes, I turned Pro and raced four Outdoor Nationals in 2018 just to see how things were going and get used to it for this year. I just wanted to get a few gate drops under my belt. And like you said, I ended up getting picked for the Team USA Pit bike race at the Redbud Motocross of Nations and that ended up being super cool. That was an awesome event and after that we hit the Red Bull Straight Rhythm.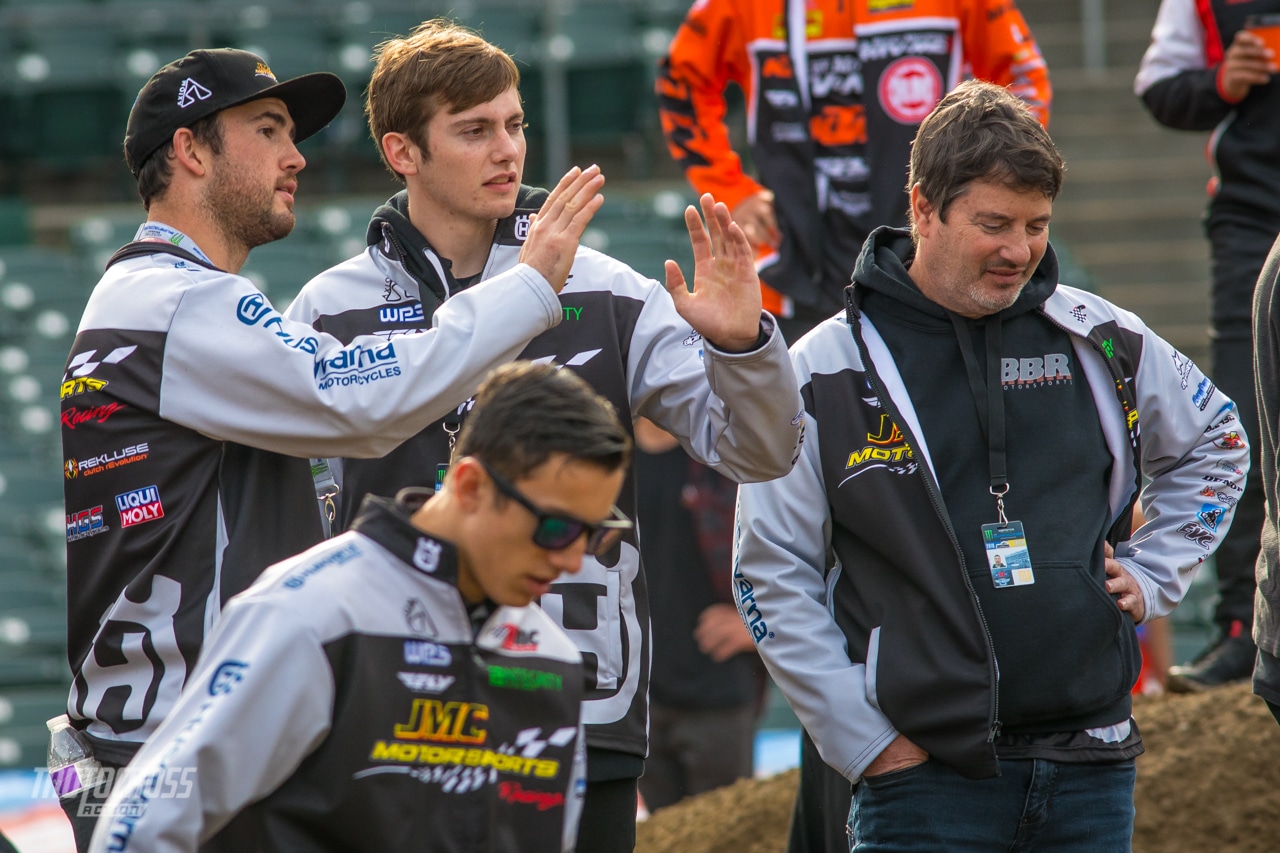 Carson and his teammate Chris Howell talking about lines during the Oakland Supercross track walk.
I DIDN'T KNOW THIS UNTIL RECENTLY, BUT YOU'RE THE SECOND GENERATION OF BBR MOTORSPORTS, THE COMPANY THAT REVOLUTIONIZED PIT BIKE RACING. Yes, definitely, my dad and his brothers started that up, and it has been super cool growing up around the business and everything, getting to see how it all works. It has been super fun riding pit bikes growing up and that is how I started. I started out playing on pit bikes in our backyards, and my love for dirt bikes progressed up to this, it definitely has been really cool to have my dad and his brother support me all the way through this thing.
It's normal to see Carson Brown lay his bike flat on just about any jump. 
YOU BEAT EVERYONE AT THE 125 TWO-STROKE INVITATIONAL RACE AT WASHOUGAL A COUPLE YEARS AGO RIGHT? Yes, I did the 125 two-stroke invitational the first year they had it at Washougal, and that was definitely super cool to experience that. They still put on the original 125 Dream race every year and that is always fun. We always try to hit that each year.
Carson let us test out his Red Bull Straight Rhythm TC144 two-stroke and then afterwards he tore apart the Milestone Supercross track on it. Click here for the video.
WHEN DID YOU SIGN WITH JMC, AND ACTUALLY GET ON THE HUSQVARNA 250? A little before the Straight Rhythm, we had been talking to them for a while.  They are a Washington based team and that's where I grew up. We saw them putting in a big effort and they have been super cool to us. We tried the team out at Straight Rhythm and it went really well. Joel, Michele, Jensen and everybody over there are really putting in the work this year and they are building it up to be a big team. So, it has been really cool to be able to be a part of that for Supercross. The bikes are really good and everything feels really smooth over there.
Carson rode a Honda CRF450 at the Washougal National in 2018 and he scored 21-19 moto finishes to place 23rd overall. 
DO YOU GUYS GET MUCH SUPPORT FROM THE ROCKSTAR HUSQVARNA GUYS? You know, they have been super cool to us, but as far as officially I don't believe too much, but they definitely will try to help if we have any questions or anything. They are a super cool group of people and I know Joel is working on getting in with them a bit more, so hopefully that can happen in the future. It would be super cool to see a collaboration there.
YOU ARE SEVENTEENTH IN THE POINT STANDINGS AND YOUR BEST FINISH WAS A FOURTEENTH IN SAN DEIGO, HOW DO YOU FEEL ABOUT YOUR RESULTS SO FAR? I am feeling pretty good about it. My focus was to make the mains this year. I have been feeling better each week and I am trying to learn every week as I go too, it has been a process. Learning the system of Supercross has been crazy. It's one thing to ride laps on a Supercross track, but it is another thing to race on one. I was feeling really good in the mud in San Diego. I was in the top ten on the last lap and I made a few mistakes and ended up dropping back a few spots, but you know, I am pretty happy with how things have been going. I am definitely looking forward to the rest of the season.
The 250 West riders will race next in Atlanta for the 250 East/West shootout at round nine of the 2019 Supercross season.
YOU APPEAR TO BE ONE CLICK AWAY FROM SCORING A TOP TEN FINISH. WITH THE COMPETITION IN SUPERCROSS RIGHT NOW, YOU ARE DOING GREAT FOR A ROOKIE. Yes, the classes are stacked this year. There are a lot of big names you know. When I'm sitting on the line, looking to my left and my right it's a stacked field. It's kind of crazy to see. It has been a dream of mine to race with all of these guys. So, it is awesome to finally do it. I am feeling good about making the mains and hopefully I can finish this year healthy and then hit it a little bit harder next year.
Finding intensity in Supercross is not easy, but Carson is learning quickly. We're excited to see his progress throughout the rest of the season.
WHAT HAS BEEN THE BIGGEST THING YOU'VE LEARNED IN THE 250 SUPERCROSS CLASS? The biggest thing I'm learning is about the intensity that the top guys have and that they keep it going throughout the whole day. It starts early with practice, and then going right into the timed qualifying and all of that. You have to be able to throw down right off the bat and learn the tracks really quickly. That is something that we had to learn, and it is something that I have to get more experience with. It is different than an amateur race because there you get a lot of practice before your race and then you get multiple motos. But for Supercross, you know, it is boom, boom, boom all day. You have to be throwing down, so that is what surprised me the most.
FINAL WORDS, IS THERE ANYONE YOU'D LIKE TO THANK? Thank you to everybody that has supported me in the Northwest. It has been super cool throughout this whole year to have everybody cheering me on. Like I said, the JMC guys have been super cool, my dad and BBR Motorsports and everybody has helped me out. I really appreciate it.