MXA INTERVIEW | CHAD REED TALKS RETIREMENT, HIS WORTH, TESTING & HIS PODUIM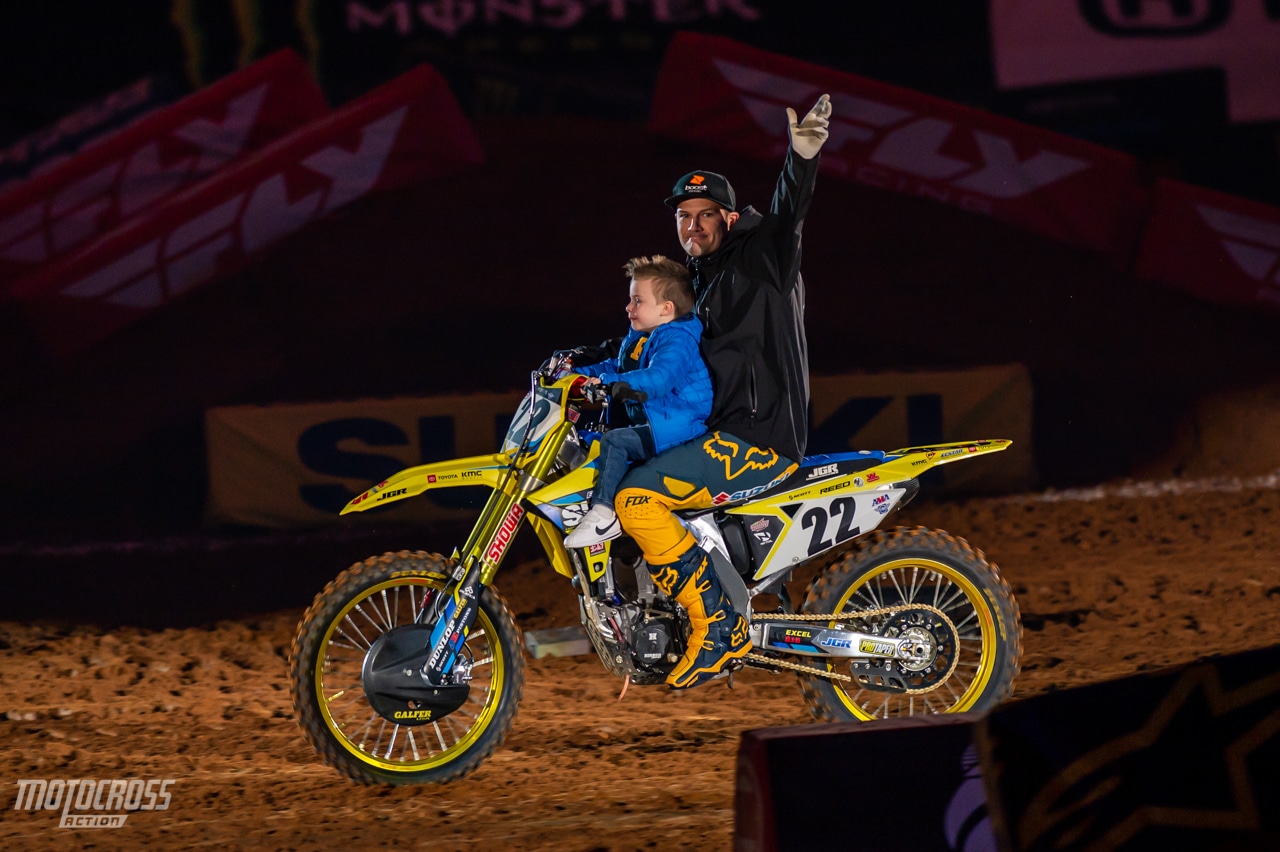 Chad Reed and his son during opening ceremonies during the 2019 Detroit Supercross.
Although he may not technically have won the 2019 Detroit Supercross, Chad Reed was certainly the people's champ. Go to any Supercross race and you will hear the loudest cheers for Chad Reed. by finishing third overall at Detroit, Reed now sits eighth in the 2019 450 SX Championship points. This was Chad's first podium in two years, and although he is happy, he would like a win. We caught up with the soon to be 37-year-old at the JGR/Yoshimura/Suzuki rig after the race.
BY JIM KIMBALL
CHAD, ONCE AGAIN YOU GOT THE BIGGEST CHEERS FROM THE CROWD. DOES THAT EVER GET OLD? No, it feels good. It is something that has been happening the last few years, and I somewhat inherited that from KDUB (Kevin Windham). I'm just real proud and honored. That is where I am at right now. When you leave the stadium and everyone is chanting your name, it is a pretty damn cool feeling. So, yes it does not get old. I'm just really proud, honored, thankful, and I am going to try to embrace it.
YOU SIGNED WITH JGR SUZUKI SOMEWHAT LATE, HOW MUCH TESTING DID YOU GET? We got quite a lot in actually, I was a big part of the testing. I did the Japanese test which I believe was in September. It was fun. I truly love testing. It is one of my favorite things. I just figured it would be a great time. You know, it was like I did not know that I was doing it for the thought that it was all for myself, but generally speaking, it was cool.
AT YAMAHA YOU OFFERED TO TEST THE NEW YZ450F FOR COOPER WEBB, BUT THEY SAID NO. COULD YOU IMAGINE HOW HE MAY HAVE DONE IF YOU HAD TESTED THE BIKE? I think it is a totally different conversation that is being beat up enough already. For myself, I am proud. I am proud to be a part of this JGR family. the whole team has been super awesome to me, getting the opportunity to work with the Japanese, and Suzuki Factory Racing. It is really fun! My career started at Suzuki when I was 9 or 10 years old. My first-ever professional championship was on a Suzuki, if I could end my career here, I think it would be a real honor.
NOW AFTER THIS PODIUM, DO YOU SEE YOURSELF UP HERE MORE FREQUENTLY. You just have to take it one race at a time. Honestly, I have known that this was in me, I knew that this was possible, but I have not executed it until now. So, you have to take it like in a lot of ways, you are somewhat rebuilding yourself. I have always been huge in believing in myself and that is why I stick around. But for me, it is like a relief to get a night like this. Unfortunately, the racer in you is already dissecting and thinking about the things that I did tonight that were not stellar. Also reflecting on where I was strong, what I did that allowed me to be a third place guy tonight. And then just being confident that "Okay, I was not crazy." It did actually happen, and I was able to get third. I generally think that I the one moto format is a little bit better for me. Three motos is just not my favorite, but it is what it is. I generally enjoyed the race track tonight. It was quite simple, but yet technical, so it was a lot of fun.
THIS IS YOUR FIRST PODIUM SINCE 2017 IN PHONIX. THE ATTENTION YOU BRING TO THE TEAM IS FANTASTIC. I feel like that is a no brainer. It has been like that, but that has not progressed into me getting a job on a factory team until this year. I think that in a lot of ways I am riding on the unfortunate misfortunate of Weston (Peick) It makes me proud to put them on the podium, honor them, and a guy like Weston, who is a fighter and for me, that is it. You can only do your job, be the best that you can be, and currently, I am the best guy on the team, so I hope at some point that pays down the road.
YOU HAVE HINTED THAT 2019 MAY BE YOUR LAST YEAR RACING. Well, it is where we end up from here. But first and foremost, I love racing, so the day that I say this is it and it is enough, I am fulfilled. It is going to be a fun, weird, exciting, sad day. Is it this year? I don't know. I would like to stay around, but at this point I feel all I can do to control my own destiny is do performances like this. It starts out with people like Suzuki, JGR, Toyota, and Fox. All of these people see the same value in me and want to keep me around.