MXA INTERVIEW | CHASE SEXTON HAS SHIFTED HIS FOCUS TO HANGTOWN
250 East Coast Champion, Chase Sexton wasted no time celebrating. He was back to training with his eyes set on Hangtown the Monday after Las Vegas. 
There is little doubt in my mind that May 5th,2019 will always be a big day for Geico Honda's Chase Sexton. After his first Supercross win the weekend prior, Sexton took control of the points lead going into the Las Vegas finale. It was there, that the 19-year-old claimed the 2019 250 East Coast Supercross title by finishing fourth. While battling with his 250 West teammates Rj Hampshire and Cameron McAdoo, Sexton maintained a gap over championship challenger Justin Cooper, and garnered his first of what could be many championships. With Las Vegas now a distant memory, we tracked down the 2018 Supercross 250 rookie of the year in California while testing to get his take on his Supercross title, and the upcoming motocross series.
BY JIM KIMBALL
CHASE LET'S BEGIN WITH THE DAYS LEADING UP TO THE LAS VEGAS SUPERCROSS FINAL; WERE YOU NERVOUS? Firstly, it was definitely cool to only be 19 years old and win the Supercross Championship! But it was definitely nerve racking, leading up to it, the week before the race, I lost a few hours of sleep for sure. I just tried to focus on what I had been doing the whole season, and finally know how to win. I found my stride with three races to go from Nashville to Las Vegas, so I felt really good. I was confident that I would get the job done, and it worked out in Vegas.
Pure joy from Chase Sexton after the race in Las Vegas.
YOUR TEAMMATES WERE NOT GIVING YOU ANY SLACK DURING THE RACE, WERE THEY? Oh, my teammates were a little all over the place in the East/West Shootout, but I was just honestly riding a smart race. I was not really pushing. I was just trying to get through the Main Event as I knew that I was in front of Justin Cooper, and I needed to be around him. I was just kind of riding my own race, trying to stay out of carnage. I was right behind Adam Cianciarulo and he had that crash, so from there on took it pretty slow. Seeing the checkered flag was a good feeling for sure.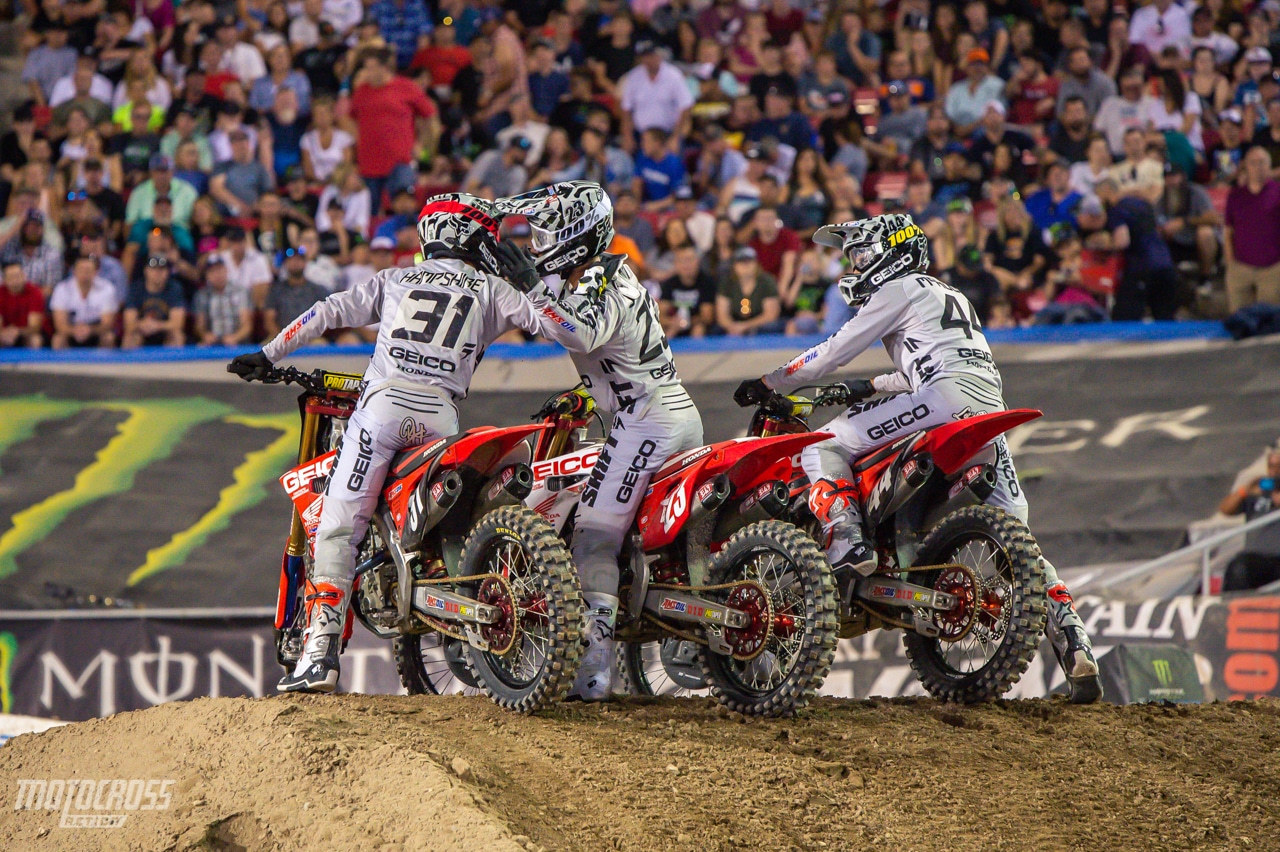 Geico Honda teammates, Rj Hampshire and Cameron McAdoo congratulate Chase Sexton after battling with him during the East/West shootout in Las Vegas.
HOW DID YOU CELEBRATE AFTER THE RACE? I celebrated with the team after the race. It was cool to see how happy those guys were, and how hard they work. To give back to them was definitely a cool feeling, and just to be able to celebrate with them was awesome. I have been on this team for four years now, two years as an amateur and two years pro, so it has been fun to see all the work these guys put in. It is awesome to give back to them and celebrate it with them. We kept it pretty low key and just went back to the hotel, hung out, and it was a great night. It is something that I will definitely remember forever.
Chase finished 6th overall in the 250 Outdoor Championship in 2018, his best finish was at the final round in Indiana when he placed 3rd overall.
TALK MORE ABOUT YOUR PAST TWO YEARS AS A PRO. I raced a handful of Outdoors in 2017, and I got hurt in Supercross at Atlanta that year in the second practice, which was not ideal. My second full season, which was last year I got 5th in West Coast. I felt like that was a good step in the right direction, and a good building year. Coming into this year, I knew I had a chance to win. I felt really good on the bike coming into the season, but had a little hiccup with breaking my collarbone on the mountain bike prior to the West Coast season opener. But in the long run, it seemed to work out pretty good with racing the East Coast Championship. It was definitely a good year, and I believe I am going to keep getting stronger. Like I said, being only 19 years old, I am hoping I have some more good years in me, and I am looking forward to Supercross next year already.
Chase finished on the podium 6 times out of the 9 rounds in the 250 East Championship. His worst finish of the season was 5th place at the opening round.
YOU ARE TEAMED UP WITH RIDERS THAT HAVE BEEN RACING FOR A WHILE, AND YOU ARE SOMEWHAT THE ROOKIE. THEN YOU WIN THE CHAMPIONSHIP. DO YOU THINK YOUR TEAMMATES THINK ABOUT THAT? Well, like you said, there are a lot of guys here that have been working on it for four or five years now in the Pros. I don't really know how to put it. I don't want to make anyone mad. I guess if I was in their shoes, I would not be upset, but maybe feel more like "I need to work harder" or something like that. Overall, I have a solid set of teammates behind me, and I am looking forward to the Outdoor season. We have a good team, a strong team. I feel like Rj and Cameron put on a really good show in the West Coast Shootout, and obviously the East Coast Supercross Championship.  We had pretty strong Supercross season overall, and the whole team dynamic has been really good. I am pumped to be here!
With only one weekend off in between the Supercross finale and motocross season opener, Chase didn't have anytime to celebrate after his Championship win in Las Vegas.
I IMAGINE THAT YOU HAVE BEEN TESTING FOR MOTOCROSS, AND HAVEN'T REALLY TAKEN ANY TIME OFF SINCE SUPERCROSS. Actually, the Monday after Vegas, I was back to the grind. There are only two weeks in-between Supercross and Motocross and there is really no downtime until after the season. You want to celebrate but you have to get ready for Outdoors. I am going to go out and do my best and try to get another one of these things (championships), and we can celebrate in the off season. I got three podiums last year and the same amount in Supercross, so I am just trying to get better every year. I feel like this year, I made big steps in Supercross, so hopefully it translates to Outdoors too.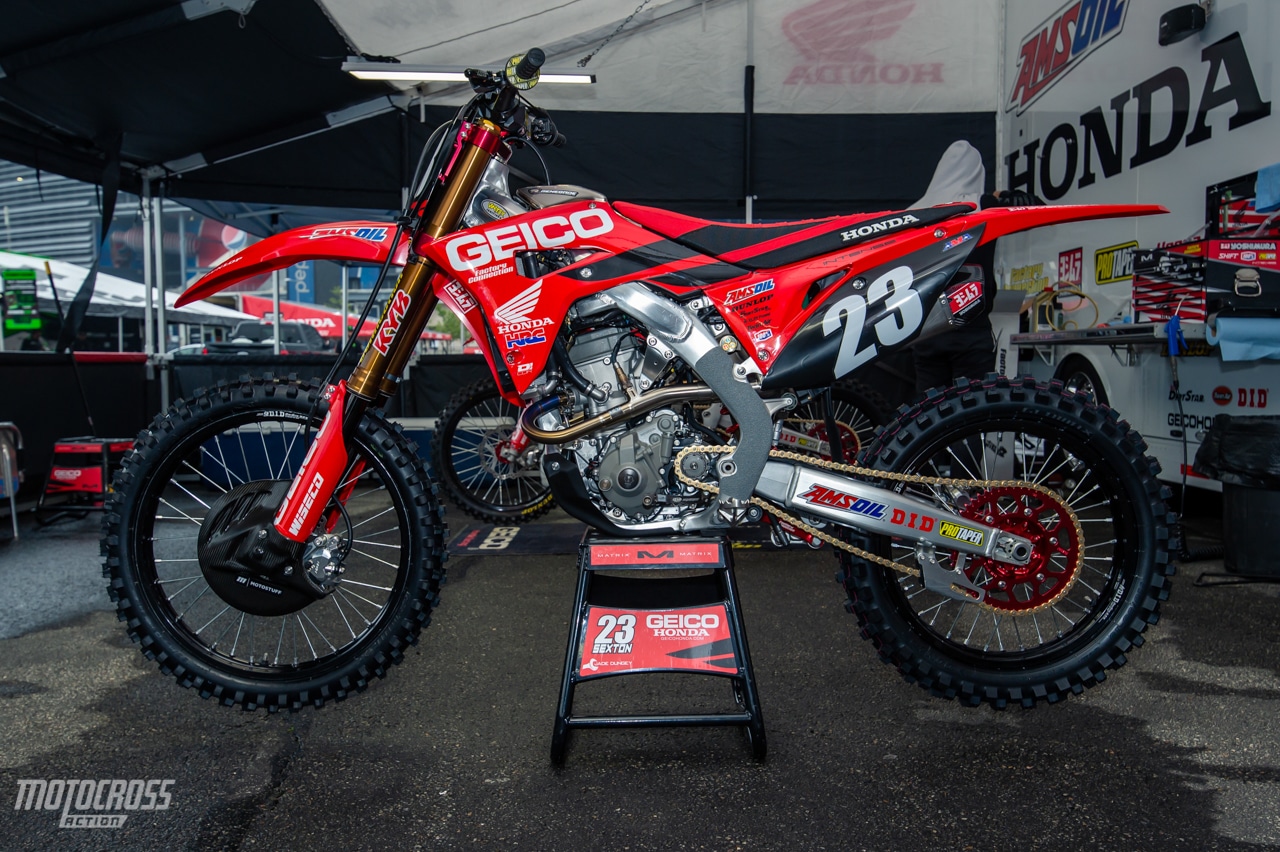 Sexton's factory Geico Honda.
WHEN THE NEW GENERATION HONDA CRF250 FIRST CAME OUT, IT MIGHT NOT HAVE BEEN THE FASTEST BIKE. IS THE BIKE PRETTY FAST NOW? It was a little slow at the beginning of last year, but I think all around the chassis is better on this bike and our motor is a lot better than what we had last year. So, I feel like this year we are going to be another step up from where we were last year. We have four solid guys on our team, so I would like to see Geico Honda up front.
WHEN DO YOU RETURN TO FLORIDA? I have been in California since Vegas, like you said. The game plan is after Colorado, to go back to Florida, but we will see how these first two rounds go. That is going to kind of play a big part. If they go well then, I might be headed back to Florida after Pala. If we need to work on the bike, we will probably stay here, and do a little testing. I am just playing it by ear. The test tracks are out here, but testing has been pretty good so far. So, we will see how the bike is, and if we need to do testing, I will probably end up staying until after Colorado and then going home.
Coming into Hangtown, Chase's goal is to finish on the podium. 
WRAPPING UP FOR NOW, WITH ROUND ONE COMING UP, DO YOU HAVE A MENTAL GAME PLAN? For me right now, going into the first round, obviously to be able to win would be awesome. I feel like I could definitely win, but to be on the podium first and foremost would be great. I really like Hangtown. I got to race there for the first-time last year, so I am excited to go race this weekend. Just going to try to get off to a good start or two good starts and put my bike up front. Ideally, my goal is to win. Every time I line up, my goal is to win, but I really would like to be on the podium.