MXA INTERVIEW | CHASE SEXTON TALKS ABOUT HIS FIRST FULL SEASON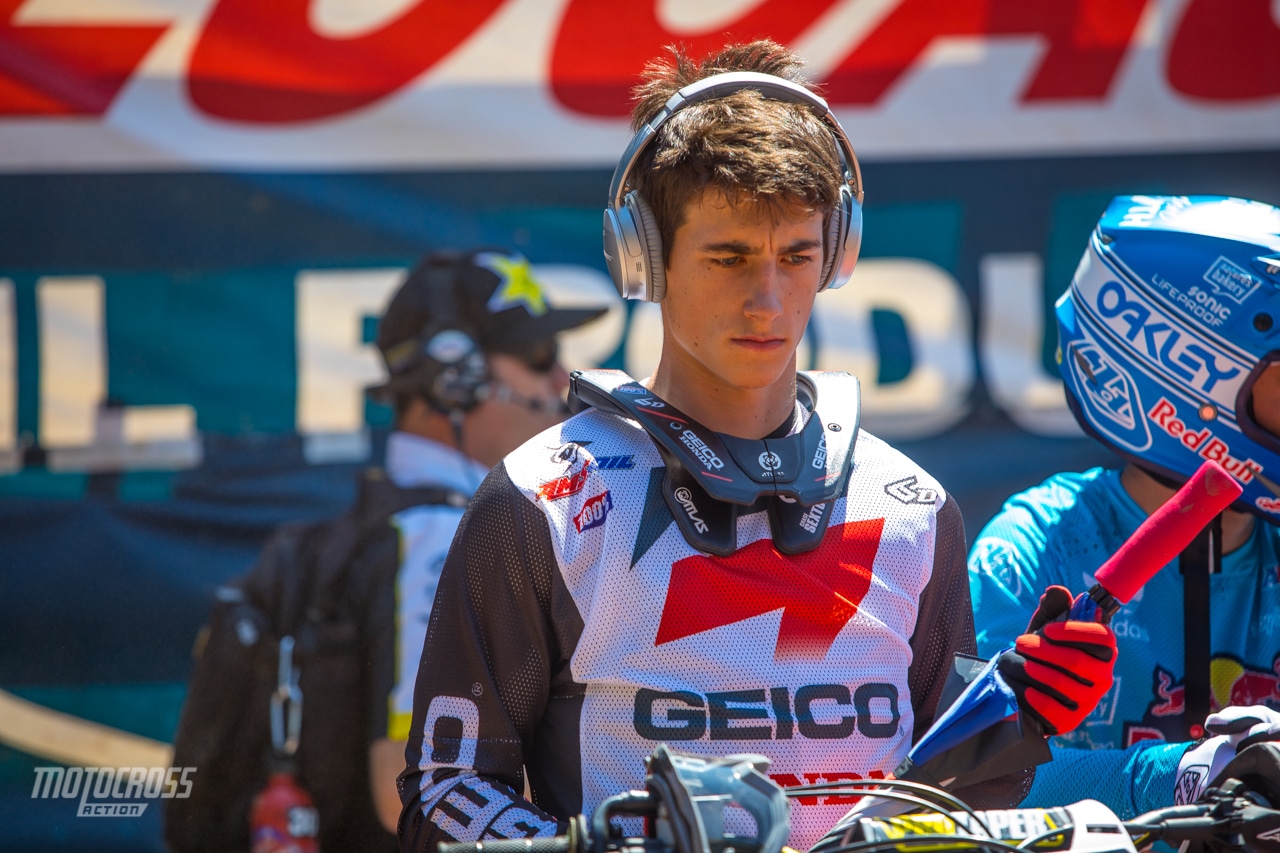 By Jim Kimball
Although Geico Honda's Chase Sexton finished sixth in the 2018 250 outdoor Championship, he was only 29 points out of third. What this says is that there was a lot of competition behind champion Aaron Plessinger, and that chase has a bright future. I say bright future because Sexton just completted his first full season as a pro. Along the way, the Illinois native had a couple of podium finishes, and always looked to be charging. With his combination of speed, fitness, and style, I expect Sexton will be a constant podium threat in 2019.

CHASE, LAST YEAR WAS YOUR ROOKIE SEASON AND YOU CAME INTO THE MOTOCROSS SEASON LATE RIGHT? I came in four rounds late, I think. So, I had about seven rounds or so in me after the season was over last year. I think it helped a lot for Supercross this season, and definitely took the nerves out of it a little more. This is my first whole season, and I am pretty happy. I have gotten six podiums this season between Supercross and motocross.
WEREN'T YOU UP FRONT IN ONE OF THE MOTOS AT IRONMAN LAST YEAR? Yes, I actually ran third the whole moto until the last lap, and then ended up crashing with a lapper coming towards the finish line. That was a bummer, but I think I ended up sixth overall at Ironman last year, so, it was not bad. I feel like the class is a little more stacked this year which makes it a little harder, but I was looking forward to another good race, and like I said, getting that win.
THE 250 CLASS IS STACKED — THERE ARE SO MANY FAST RIDERS. Yes, for sure. There is definitely a widespread of age in the 250 class. Zach (Osborne), and all those guys like A-Mart (Alex Martin) are almost ten years older than I am, so it is definitely widespread. But you got to do what you got to do, and they have to make a living somehow. It is nice having those guys though. I actually ride with A-Mart a lot. It is cool to beat him at times, and have him in the same class.
BUDDS CREEK WAS A GOOD RACE FOR THE GEICO TEAM. Yes, definitely. It was cool with R.J. (Hampshire), and myself going one-two. It was  awesome. I would have liked to be the guy to win though. It has been a while since the team has had two guys on the podium.
AS A TEAM YOU GUYS HAVE REALLY STEPPED IT UP. I feel like we had the speed all summer. Although it was kind of inconsistent, with us having good motos and bad motos. But we pulled it together for the past weekends for the first time, and it was cool to be on the podium.
THE  HONDA CRF250 SEEMED TO IMPROVE OVER THE SUMMER. Yes. We made big improvements. I think it was Millville or one of those races, where we were kind of struggling with the engine. I was bummed out, but we made big improvements with the bike, and it is back to where it is either better, or as good as it was last year. The overall handling the bikes ten times better than last year. It is definitely a good bike, and it is going to be really good next year.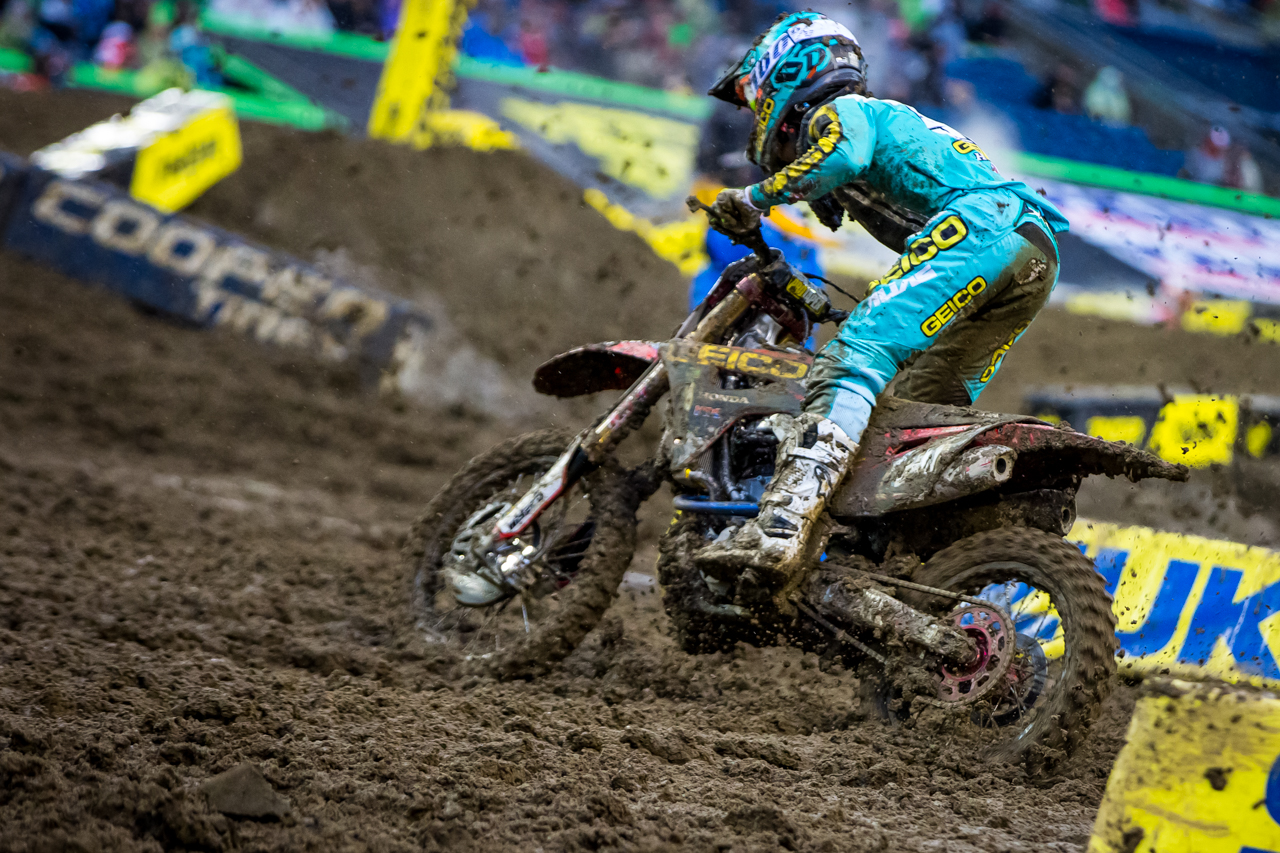 ANY TIME THERE ARE MAJOR MODELS CHANGES, THERE ARE BUGS TO WORK OUT. Having a new bike is tough. You start from ground zero and have to build your base to get the bike back to where you think it is good enough to go race. We had a good Supercross season, but the power is not as a big deal in Supercross as it is in motocross. We had a rude awakening at the first couple rounds in the outdoors, so the team put some work in. They did all the work and we just tested. I was at Glen Helen for one day from 9-5 testing engine stuff and getting the bike back to where I thought was a good spot. We are definitely at a better spot than we were, and I am happy with the bike for sure.
IS THE TEAM ATMOSPHERE GOOD AT GEICO HONDA? The team atmosphere is really good. We all get along. Cameron, me, R.J., we get along really well and it is nice being able to talk to your teammates. We are truly able to talk and feed off each other. It is nice and definitely the last couple weeks were cool with R.J. and I on the podium. It has been a Star Yamaha show most of this outdoor season and it is definitely nice to beat them and get us both up on the podium. Next year is going to be good for us!