MXA INTERVIEW | CHASE SEXTON TALKS ABOUT HIS SEASON THUS FAR
Chase Sexton is third in the 250 East Coast point standings, twenty points behind Austin Forkner.
The 2018 Supercross Rookie Of The Year entered this season with big expectations. Although a pre-season injury forced him to move to the East Coast series. Certainly, the Illinois native would be fast. Even though he didn't have the pre-season that some of his rivals had, still Sexton has proved his mettle. Going into round five of the 250 East Coast series Chase is sitting a close third in the standings. Now at the mid-point in the series, we expect the constant podium contender to take his first win. We chatted with the 19-year-old to hear his thoughts on the season thus far as he prepares for Daytona. 
BY JIM KIMBALL 
We remember Chase from his amateur days on mini bikes. He has always had great technique. It's fun to watch him ride and it's easy to take photos of him.
CHASE, YOU HAVEN'T WON YET, BUT YOU ARE RIGHT THERE. Yes, I definitely am. The first few rounds have been hit or miss. I think the first round, I was riding good and just made mistakes. The second round, I really put myself in a good position to win and riding my best I felt so far and then I stalled the bike, which took me out of my flow. Then I ended up making another mistake and finished third. Then I took another third overall at the Detroit triple crown. Finally, at the East/West Shootout in Atlanta I took fourth overall, and second in my class. But I am looking forward to moving on and getting on top of the box.
Up close on Chase Sexton's Geico Honda CRF250.
THE TOP THREE OR FOUR OF YOU GUYS ARE ALL CLOSE IN SPEED, SO EVERY LITTLE COMPONENT OF THE RACER IS VERY CRITICAL RIGHT? Yes definitely; I feel like Jordon (Smith), Austin (Forkner), and Justin Cooper have been really good this year so far, and I think we have all been pretty close. There are a lot of guys like (Alex) Martin, and (Mitchell) Oldenburg and all those guys; they are all right there too. It is definitely a tight field and I think it all comes down to the start and not making mistakes. It seems like we are really close to the same speed, so it's all about finding that little edge that you can get on them. And of course, you're going to need a good start to win.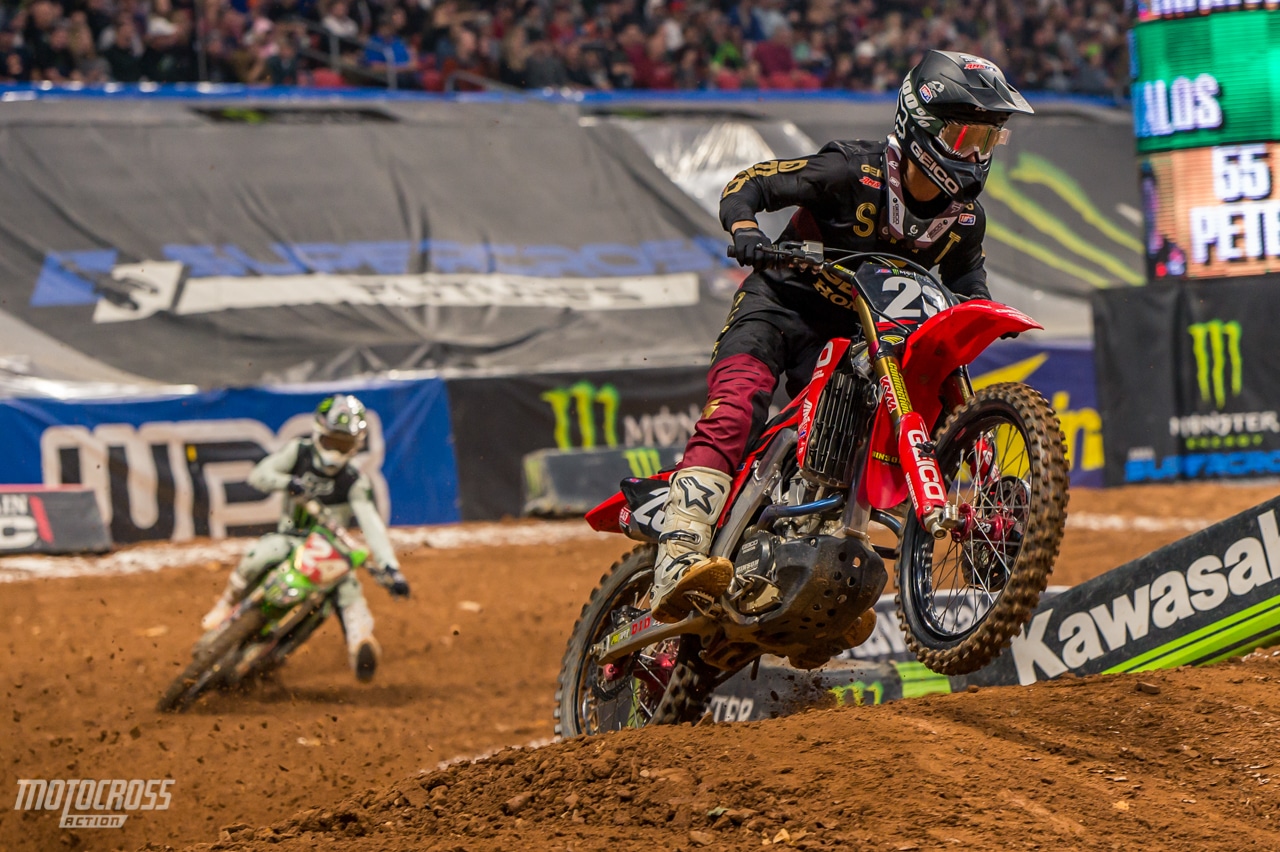 Chase has led Austin Forkner two times in main events this year, but he hasn't been able to keep the #24 behind him for a full race yet. 
ALL OF YOU GUYS ARE GENERALLY PRETTY YOUNG AND AGGRESSIVE, BUT YOU HAVEN'T MADE ANY ENEMIES AT THIS POINT. I think we all respect each other to a certain extent, we all like to race each other clean. We are all young and trying to do the best we can, but at the same time, you want to stay clean, and not try to make enemies. Like I said, we are young still, so you do not want to have an enemy throughout your whole career. So, you just try and keep it clean, and try to race. If you have to make a pass that's a little aggressive that's what you have to do, but for the most part, we try and pass each other clean and be respectful.
Chase goes flying during a qualifying session in Arlington. Although the crash was spectacular, he got up quickly and ended up finishing third in the main event that night. 
AS A FINAL QUESTION, THE EAST COAST SUPERCROSS IS SO SHORT. IS THERE MUCH STRATEGIZING IN THE 250 EAST COAST SERIES, OR IS IT ALL GOING FOR THE WIN? For me, I have not really thought about it too much. Every time I go out there, I try to go for the win, but right now, we are pretty early in the series. like you said, it's really short, but I feel like especially in this series, you want to win or try to win as much as possible, because it is so short. Anytime I get a chance for it, I am going for the win, so I'm not going to try to settle for second or anything. I just go out there and do the best I can every time.