ENZO LOPES INTERVIEW: THE BRAZILIAN TALKS ABOUT SX, GOING FROM FACTORY TO PRIVATEER & MORE
ENZO LOPES INTERVIEW: THE BRAZILIAN TALKS ABOUT 2020 SUPERCROSS, GOING FROM FACTORY TO PRIVATEER, CORONAVIRUS  MORE
After struggling a bit in his rookie 2019 Supercross season, Brazil's Enzo Lopes was having a breakout year in 2020 Supercross before everything came crashing down. Just as Enzo and his crew arrived at their Indianapolis hotel, they were informed the race was cancelled, and then they made their nine-hour drive back to North Carolina. As a member of the Club MX 250 Supercross team, along with teammates Joey Crown and Josh Hill—Lopes has shown that with a year of Supercross behind him, he was making the next step forward to being a top five threat. Interested in hearing from one of the sports top young privateers, we phoned Enzo as he was hanging out at home in his apartment. Wise beyond his twenty years, Lopes a good perspective on what's important right now.
By Jim Kimball
WHERE WERE YOU WHEN YOU GOT THE NEWS THAT THE INDIANAPOLIS SUPERCROSS WAS CANCELLED? It is crazy to even talk about it. I was already there. We had driven to Indy from North Carolina. We drove my van for about nine hours to get there. On the way, we started hearing the rumors about no public being able to attend, so it was going to feel like a practice day and going to be all weird without the fans. As soon as I pulled into my exit for my hotel there, I found out it got canceled. So, we drove nine hours there, and nine hours back for nothing basically. It was a pretty tough day.
Enzo blasts through the white beach sand at the Tampa SX.
I AM QUITE A BIT OLDER THAN YOU AND I HAVE NEVER SEEN ANYTHING LIKE THIS IN MY LIFETIME. I HAVE TO BELIEVE IT IS REALLY CRAZY FOR YOU. Yes, for sure. To really put it in perspective it is really something that started in a small town in China, but now it hit every single country. It is pretty crazy. It's not ideal for us to not be racing, but it is for everyone's health. For myself, if I get the virus, it is not that bad, but that is not the only problem, it is about infecting other people. You can infect others that may get the illness much worse than you, and that is the tough part. I am just trying to stay home.
YOU HAVE SOME FAMILY IN BRAZIL. DO YOU KNOW MUCH ABOUT HOW CORONAVIRUS IS AFFECTING BRAZIL? I believe that it is going to peak in the next few days. It is going to be huge for everyone to stay at home, so it does not spread as quick, but it is starting. Where I live, a really small city in the south of Brazil, there is already one case. My family is there, and I am planning to go back if I can soon.
Enzo Lopes grew up in Brazil, but he spent a lot of time in America racing the amateur nationals.
DO YOU HAVE ANY FAMILY MEMBERS WITH YOU HERE IN AMERICA? My sister lives with me. My parents usually come to the races, but this year, my mom has been the only able to come to one round. She came for Daytona and she was going to stay for Indy and Detroit which got canceled, so she flew back.
THIS HAS BEEN YOUR SECOND YEAR IN SUPERCROSS AND YOU HAVE MADE SOME REALLY BIG STRIDES. Yes, it has been a great season so far. Tampa was terrible though; I was expecting a lot because I was feeling really, really good, and I just let the emotions get the best of me. For the Arlington round, I just tried to keep calm and it helped. I got a sixth place at Atlanta, and I am sitting seventh in points right now, which his awesome. But I know I can do more, it is just one step at a time. I know what I am capable of, but last year was a big struggle for me. Growing up in Brazil, we never had anything like Supercross. My rookie year was learning everything, but this year has been really, really good and I am loving Supercross now.
SO, EXPERIENCE HAS PLAYED A BIG PART OF YOUR IMPROVED RESULTS IN 2020. Experience definitely has played a big part. You know what to expect every single weekend. Last year, I would show up to the races, not knowing what I would face, and how the track would develop. I now know how everything works, and it is easier. You know how the whoops are going to break down. It is just experience, and training wise, my team has now helped me hugely.
The ClubMX Yamaha team has been very successful in 2020, especially for being a newly configured privateer team. Enzo Lopes' and Josh Hill's best finishes were each sixth place while Joey Crown's best was a seventh.
LET'S TALK ABOUT YOUR TEAM WITH CLUB MX. IT HAS REALLY BEEN A GOOD YEAR, NOT ONLY FOR YOU, BUT FOR JOSH HILL, AND JOEY CROWN. Our bikes are really, really good. As you said, we are a privateer team, but our equipment is really good. Our bikes are really fast power wise. Jamie Ellis of Twisted Development Engines in California does the motor work. So, we got the bike working really, really good.
HOW WAS IT LAST YEAR ON THE JGR SUZUKI? Last year, our bikes were really, really good too at JGR. But this year, I would not say that our bikes are slower just because they are privateer bikes. I don't really remember the power difference from my Factory Suzuki to my Privateer Yamaha, but it is pretty much the same. The first time I had ridden my Yamaha, it was amazing. I did not expect it to be that good because it was a privateer bike, but it blew me away. We are still working on it, and we can make the bike a little faster. But overall, it is already amazing, and Jamie has been working with the team a lot, so it has been fun.
Enzo Lopes on his JGR Suzuki RM-Z250 in 2019.  
IS YOUR TEAM GOING TO DO THE OUTDOOR SERIES? We don't know, but I am still working on it. I would love to but like you said, I just need an opportunity. We will see what happens.
WE WERE TALKING ABOUT EXPERIENCE. PARTICULARILY WITH SUPERCROSS, YOU NEED TIME TO LEARN RIGHT? Oh yes, that is 100 percent the case. It is tough man. In the Pro ranks, the intensity is like no other. Most of the rookie kids grew up on a factory team throughout the amateur ranks, then they turned pro with that team, and get a one or two-year contract. My case was different, in that I grew up through the amateur ranks being a privateer my whole life. Then the last minute before turning pro, I got the call from JGR. I got a one-year contract for Supercross, but it is just hard learning Supercross so quickly. But there are different cases, like Austin Forkner, who came through the amateur ranks, and he was also killing it in the pros right away.
LAST YEAR YOU WERE FACTORY SUZUKI, THIS YEAR YOU ARE PRIVATEER YAMAHA. I IMAGINE THAT YOU ARE COMPENSATED DIFFERENTLY, ARE YOU EARNING ANY TYPE OF SALARY RIGHT NOW WITH THE RACING BEING SUSPENEDED? To be honest, no. Well, there are no races, so the only money I make is from bonuses, so it is not easy, but yeah, it is what it is.
Enzo Lopes and Joey Crown's (335) ClubMX Yamaha's in the pits at Tampa.

I DOUBT THAT THEY HAD ANY SUPERCROSS TRACKS IN BRAZIL LIKE THEY DO IN TAMPA OR DAYTONA? Not even close. We have an Arenacross series in Brazil, but the jumps are so small, and there are no true whoops section like in real Supercross. It is really, really small, but amateur racing there is really strong. There are like a lot of fast kids. In the championships in Brazil, there are three to four guys who are really good, but in America there are eight or nine of them. So, it's just been hard to adapt quickly. Motocross came easy to me, but I would say after this year, Supercross suits my style better, and I like Supercross better now. So, it has been a really hard process, but I am glad I am here now.
THIS YEAR YOU'VE ALSO SWITCHED GEAR SPONSORS, HOW DO YOU LIKE WORKING WITH FXR RACING NOW? Oh, it is awesome. They are a great group of guys and they have really, really cool gear. It fits very well. They made some custom gear for me for Indy, I was going to have a Brazilian flag somewhere on the gear. Unfortunately, I was not able to race, but it was really, really cool and the gear is amazing.
"When I go practice, if something happens, you have the risk of having to go to the hospital. We cannot risk that right now because if we go to the hospital, maybe we are going to catch the virus, or we are taking someone else's place that could be in the hospital that has the virus, like someone that is older than us."
WHAT ARE YOU THOUGHTS ON SUPERCROSS RESUMING IN THE FALL? I think that is a really good idea, and you can see the Olympics in Tokyo got postponed and that was supposed to happen in July or August. It is crazy because things are changing so quick and you don't know what really to expect. I think the timetable for September and October is really good. It is hard, and I don't know how it is going to happen. As I said, I would like to race outdoors too, and I think my teammate Joey Crown would too. Maybe we could get on a factory team as a fill in for outdoors. We are still under contract with Club MX for supercross. And if the Supercross races are only going to be raced at the end of the year and with outdoors before,I don't know how that is going to play out, but for now, I think it is the best decision to finish off the Supercross season.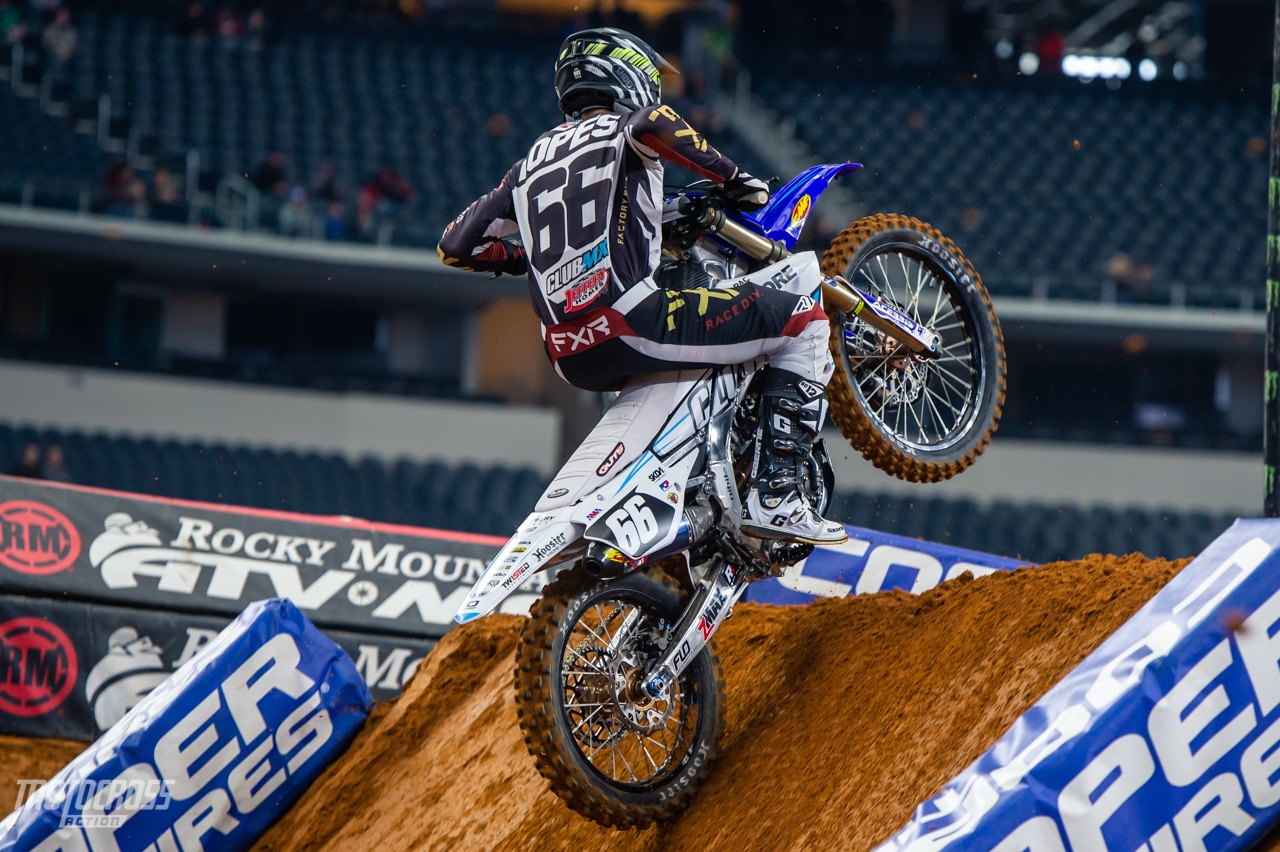 The ClubMX Yamaha riders stand out from the crowd with their white and blue color scheme on their YZ250Fs.
ENZO, LIKE YOU SAID BEFORE, YOU REALLY HOPED TO RACE OUTDOORS IN SOME FORM RIGHT? My plan is to race outdoors. Like I said, outdoors always came easier to me because that is what I grew up racing. And now with the confidence I have from Supercross, it always helps. It does not matter if it is Supercross or Outdoors, it helps so much to have confidence. I think that I can do great things, but we will just have to see how it goes and hopefully I am lined up in Florida.
WITH YOU BEING AWAY FROM MOST OF YOUR FAMILY IN ANOTHER COUNTRY AT AGE TWENTY DURING THIS WILD TIME, IT MUST BE A DIFFICULT FOR YOU? It is not easy to just be sitting at home. At the same time, I am just not riding all out, and just taking it easy. When I go practice, if something happens, you have the risk of having to go to the hospital. We cannot risk that right now because if we go to the hospital, maybe we are going to catch the virus, or we are taking someone else's place that could be in the hospital that has the virus, like someone that is older than us. So, I have not been riding that much, but you know it is for a great cause. I am seeing the GP guys that are doing the same thing. It is a tough time for everyone, but it is definitely hard to be just sitting at home, and it is hard for my family.  Like I said before, hopefully I will get to go home soon and be with my family.