MXA INTERVIEW | COOPER WEBB STILL LEADS GOING INTO THE 2019 ATLANTA SUPERCROSS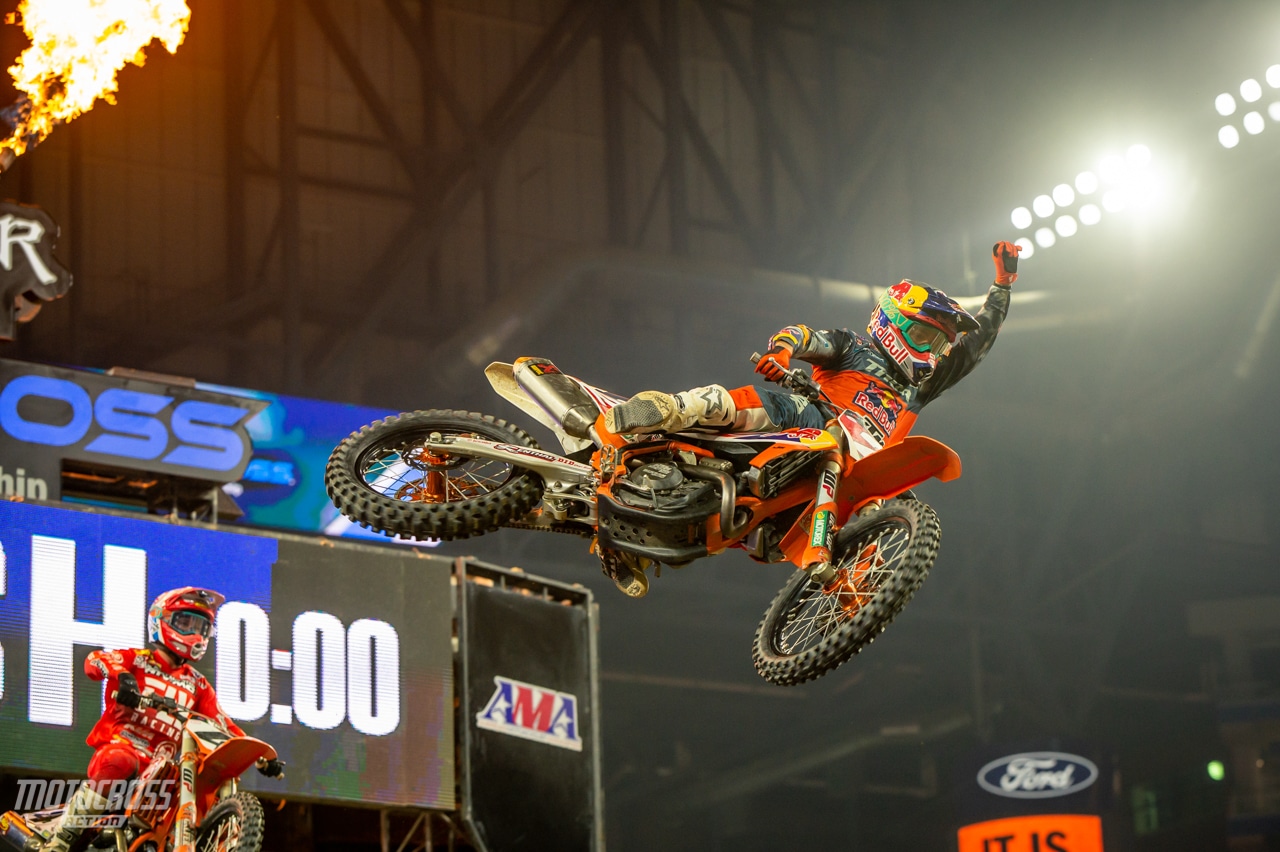 Cooper Webb celebrates as he wins the final main event and places second overall at the Detroit Triple Crown formatted Supercross.
One of the many highlights of the 2019 Supercross season has been the reemurgence of Cooper Webb. When he left the 250 class behind, and moved to the 450 class, many were predicting big things. And of course, it was very logical that Webb would stay with Yamaha. Cooper didn't do terrible in his first year on a 450 and he earned a Supercross podium. But eventually it became clear that Webb needed a change. And that is exactly what happened when the 23-year-old signed with Red Bull KTM and moved from North Carolina to Florida to train with Aldon Baker. Is it the bike, the training, or Cooper himself that has changed? Maybe it's fair to say it was a combination of everything. We caught up to Cooper after his second overall in Detroit to learn more about the current 450 points leader.
BY JIM KIMBALL
COOPER, YOU SCORED 6-2-1 MAIN EVENT FINISHES IN DETROIT, CAN YOU TALK ABOUT HOW YOU IMPROVED EACH TIME YOU WERE ON THE TRACK? I didn't start out the best. I was struggling with the track a little bit and I qualified ninth. So I went to the first main event with a ninth place gate pick. It wasn't the best position to be with the Triple Crown. It wasn't like normal where you qualify ninth and you would still be fourth or fifth gate pick in a heat race. It was a little difficult. I got a good start in the first one, but I made a lot of mistakes and did not ride that well. So, in the first one I went backwards, ended up sixth and then just regrouped.
WHAT EXACTLY DOES REGROUP MEAN? As a team, we came together really well, and figured out some things. I got better in the second main and rode well. I was able to ride behind Eli. Then in the last race, I was riding my best and was able to get main event win, which was awesome. Looking back, it was like man, I wish I would have done a little better in the first one and I would have potentially gotten the overall. But that is racing, and it's good to be on the podium with a second place, and then to get another main event win was really nice.
We've seen Cooper Webb smiling on the podium a lot this year, he's now won four times and placed second once. Cooper leads the 450 Championship by six points over Ken Roczen, twelve points over Marvin Musquin and thirteen over Eli Tomac. With nine rounds to go, the top four are still very close.
WHAT IS IT LIKE HAVING MORE WINS THAN ANYONE ELSE THIS YEAR? It is obviously great to be the most winning guy this year, so hopefully we keep it going. I have been working hard this year with Aldon and the team, and just feeling good overall, so hopefully we can keep it going. Obviously, it is good to win, and then you are motivated to work harder that week. So, as I said, it is nice to have the most this year, but I have to keep it going.
Cooper Webb set a new record in Arlington when he won the 450 main event by .028 over Ken Roczen. It was the closest Supercross finish ever.
CAN YOU KIND OF TALK ABOUT HOW YOU ARE FEELING ON THE BIKE? I feel really good. Obviously, my abilities the past couple years, I don't think ever went away. It was more of comfort and lacking that confidence and trust, I guess. You know, getting on a team with a great history, and doing everything right this year, helps that. Once I got on this bike and this program, my confidence came back and it has just been getting better every race. Obviously after my first win, confidence was high again, so it's nice. I mean sometimes you question your talent and your ability, but for me, I felt like it never went away. I just needed to put myself in the right position. I almost feel better than in my 250 days. I feel like I have matured a lot, and actually calmed down some, but I still have that aggression. This year, I feel like I fixed my starts and I am riding with confidence, but also maybe a little more race craft and also maturity.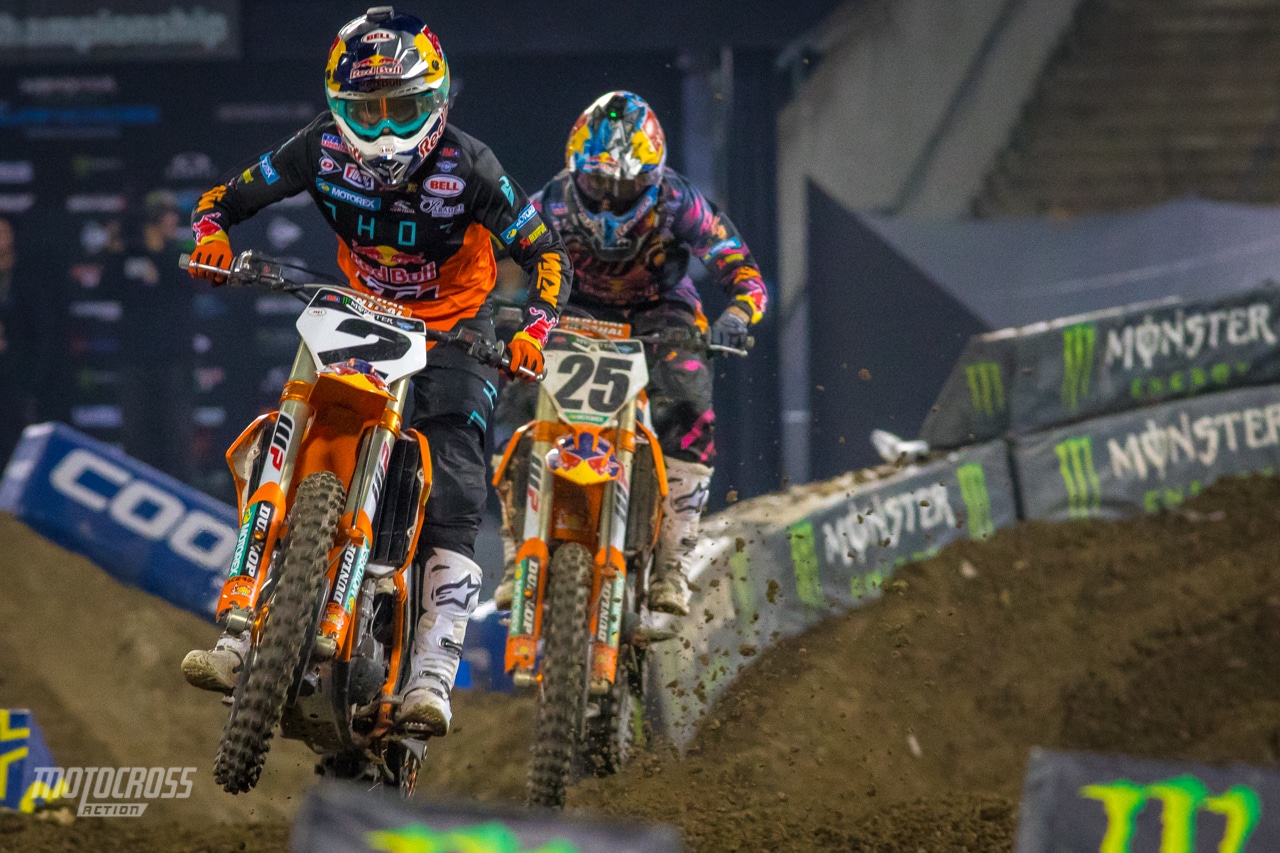 When he signed with the Red Bull KTM factory team, most of the focus was on #25 Marvin Musquin to be KTM's top 450 rider. If you would've told us in December that after eight races, Cooper Webb would have four wins and Marvin would have zero, we would think you were crazy.
WHAT IS IT LIKE TO HAVE THE RED PLATE AFTER EIGHT RACES? I mean it is tough, and it is close still.  I was able to extend it a little bit, but I am still close in points with the four of us. So, you have to win, but you have to be smart and all of that. I think Detroit was the half-way point, so there is still a lot of racing. Obviously, you think about the championship. It was a goal of mine to keep the red plate tonight, and I did, so that is always nice. The last time I had it, I lost it right away, so it's cool to have it going into next week, along with more of a points cushion. But the guys are on it, actually we are all right there. You have to be smart, but winning pays the most points, so you have to stay up on it.
All eyes are on Cooper Webb to see how he will perform in the second half of the Supercross season. 
HAS IT BEEN DIFFICULT SWITCHING BACK AND FORTH BETWEEN STANDARD AND TRIPLE CROWN FORMATS? Not really, I think it's just a different style of racing. Instead of that one long main event, it's more stretched out. Fitness comes into play, especially in the last one. I think it's unique, but it's also like tonight, I messed up the first one, and this format gives you an opportunity to bounce back and do well. But, at the same time, I got a second and a first in the last two races, and I still lost the overall by one point. I still got points as if I placed second. It's a little different, but it keeps it fun, it's interesting and keeps us on our toes.