MXA INTERVIEW | DAVE PRATER TALKS CANCELING SX EVENTS & HOW TO FINISH THE SUPERCROSS SEASON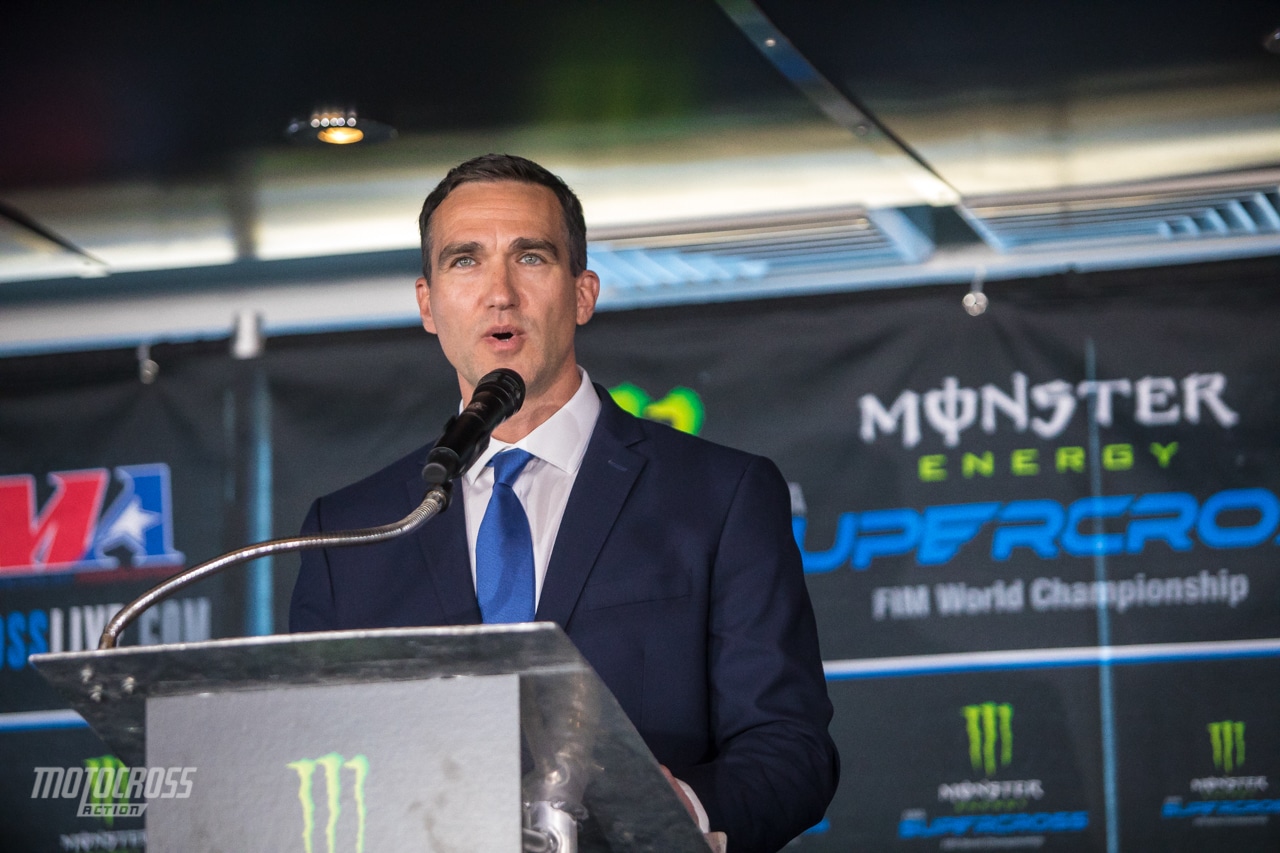 DAVE PRATER GIVES HIS INSIGHT INTO CANCELING SX EVENTS DUE TO COVID-19 & HOW THEY WILL FINISH THE 2020 SUPERCROSS SEASON
In these unprecedented times, Supercross, like the world, in general, have been thrown for a loop. And while in the big picture of health, and humanity, our sport of Supercross may seem trivial, nonetheless it's very important to many of us. As I was driving to Indianapolis for the Lucas Oil Supercross I got word that the race was cancelled. My thoughts quickly turned to the following race at Ford Field in Detroit as I planned to meet up with many friends. Unfortunately, Detroit would soon be cancelled, and then shortly after the rest of the series. However, cancelled isn't the right word, it is more like delayed. We had the chance to call Dave Prater, the Senior Director of Operations two-wheel, at Feld Entertainment last night to get his take on 2020 supercross.
---
By Jim Kimball
DAVE, LET'S BEGIN WITH AN INTRODUCTION. I KNOW YOU HAVE BEEN WITH FELD FOR SOME TIME; HOW LONG HAS IT BEEN? It is not only with Feld, but with Supercross for twenty years. I started in 2000, which makes it easy to keep track of the years. I began as an Event Manager and just worked my way from there. I then became an Assistant Director of Operations, and from there it has continued growing. I am now the Senior Director of Operations and oversee the live event as well as television broadcast. Not a lot of people know, but we actually produce the television show for NBC Sports as we did for Fox prior to that. We work with all the teams and sanctioning bodies like the AMA and FIM, just to make sure we are all on the same page and moving forward together.
THERE MAY HAVE BEEN SOME CONTROVERSY IN SUPERCROSS OVER THE YEARS, BUT NOTHING LIKE WHAT'S HAPPENING WITH CORONAVIRUS HAS THERE? Yes, you are right. I don't know if controversy is the right term, but there have been some challenges over the twenty years, but nothing like this. Obviously, it is affecting the world, not just our industry. A buzz word that describes this situation and has become popular is "unprecedented". We are in uncharted territory, so we are all working through this together and doing the best we can with what we know today, which seems to change every hour.
Our best bet is to pause the Supercross season, have the Outdoor Motocross season take place, and then we will resume and finish the Supercross season after motocross. Of course, this is obviously completely non-traditional.
FACTS AROUND THE COVID-19 VIRUS ARE CONSTANTLY CHANGING, AND IT'S CERTAINLY A DIFFICULT TIME FOR EVERYONE. BUT IT MUST BE VERY TOUGH FOR YOU AS YOU ARE TRYING TO MANAGE THE SUPERCROSS SERIES. WHEN DID THINGS REALLY BEGIN HAPPENING? On Thursday morning prior to the Indianapolis round, I was driving to the office about 7:30, when I got a call from Lucas Oil Stadium. They informed me that they would like to get a larger group on a conference call at 9:30. I got to the office, got the Supercross group together in our conference room, and got on the phone. That is when Indianapolis told us that they expected the mayor to come on in a couple of hours and limit gatherings of 250 people or more – so that was obviously a shock. We waited for the governor, who then banned public gatherings of 250 or more. At that point, which was about noon we made the call to race in an empty stadium without fans, and just broadcast it on NBC. So, I made that call with the race teams and let them know that this was going to be the situation. But just after we hung up the phone with the race teams, I got another text from Lucas Oil Stadium saying that they needed to chat again. I gathered the group, got on the phone and they let us know that the Governor's restrictions were pretty tight and pretty detailed in the numbers and the vicinity. Once we got those numbers and realized it was 250 people in the entirety of the stadium, meaning the loading docks and the concourse and everywhere, the reality is with the number of people it takes to physically open the stadium and to race, we were just never going to get under that number. So, at 5 O'clock we finally made the call to cancel the event. It happened so quickly, from 8:00 a.m. status quo all systems go, normal Thursday prior to a race on Saturday to 5:00 p.m. pulling the plug on the event. It was just a crazy, crazy day and obviously we have all seen what has transpired since and it just continues to evolve.
Dave Prater (left) and Todd Jendro (Vice President Operations right).
I WAS LITERALLY DRIVING TO INDIANAPOLIS WHEN I HEARD THAT THE RACE MAY BE HELD WITH NO SPECTATORS, AND THEN WAS EVENTUALLY CANCELLED. WHEN THAT HAPPENED I QUICKLY WONDERED ABOUT WHETHER SUBSEQUENT ROUNDS WOULD BE CANCELLED. It was in the back of our minds for sure. It was the last thing we wanted to do, but obviously we wanted everyone to be safe. We wanted our athletes and race team members, our staff and fans to all be as safe as possible. It really hits when you are making a call to cancel an event. Once that happened, we started digging into the next several rounds. Detroit was after Indy and after chatting with the local government there, we realized why not just be out in front of it and do the right thing in the interest of everyone's health and let's cancel those next couple too. Now we were making plans to send everyone home but the trucks. We would send those to Denver, in three weeks we will be through this and get back to normal life. But obviously everything has changed, so once we realized how serious the situation was, we made the decision to postpone the season, and just pause if you will. We are planning on finishing round 11- 17 but until we know more, we are waiting along with the rest of the planet. Until we know more about when and if we are going to see these restrictions start to be loosened, we are just in a holding pattern.
Someone made the joke that Kawasaki might have been voting to cancel the series. But the reality is that Kawasaki, nor Eli, wants to win a championship under those circumstances. The goal right now is to work towards the 17 and finish it out.
YOU ARE WORKING WITH SPONSORS, WITH YOUR FELD EMPLOYEES, WITH DIFFERENT STADIUMS, NOT TO MENTION THE RACE TEAMS AND THEIR RIDERS. WHAT IS IT LIKE WORKING WITH SO MANY MOVING PARTS? It has been challenging. It has always been a challenge because just as you said, there are so many moving parts and so many different things going on. It sounds crazy to say this, but it has really been great to see how everyone has pulled together in the situation. If there is a positive that comes out of it, I think we all realized more so than we ever have that we are all interdependent in our little industry or Supercross universe as well as the world. The biggest thing is communication and trying to continue doing conference calls whenever we can. Mike Muye, who is the Director of Operations for Supercross and me have been holding bi-weekly conference calls with the race teams and the OEM's. Our Supercross team has been keeping our partners informed, so it has really just been a lot of phone calls, a lot of communication and a lot of patience on everyone's behalf. Everyone involved has been extremely patient and extremely understanding. This is uncharted and we are trying to work our way through it together, and so far, it has been definitely that. We have truly come together on that and it has been tremendously positive on my end.
THEN YOU HAVE THE OUTDOOR MOTOCROSS SERIES AND THE FIM WORLD MOTOCROSS CHAMPIONSHIP. DO THOSE TWO GROUPS COME INTO PLAY WITH WHAT YOU ARE TRYING TO DO WITH SUPERCROSS? Yes, we have the FIM, our international sanctioning body, the AMA, who has been heavily involved with all of this, and we touch base with MX Sports. You mentioned the Outdoor Nationals, and MX Sports has been great through all of this. Actually, that Thursday when we canceled Indianapolis, I called Davey and Carrie Coombs, who own MX Sports. We had a long conversation and really it was just more me informing them of the facts and how everything happened. Then the next day, on Friday, they called back and we had a longer conversation and we realized we were not looking at a one- or two-week situation. They were able to push back their season, Outdoor Motocross season to June 13th, in hopes that we could still get the seven rounds in prior to motocross starting. This was an amazing gesture, and we were very appreciative of it, but unfortunately, it does not appear with the timeline right now that we are going to be able to get those in prior to June 13th. It just goes to show you the cooperation and now everyone has pulled together through this.
IS IT FAIR TO SAY THAT SUPERCROSS WILL GO ON AFTER THE OUTDOOR MOTOCROSS SEASON? Yes, that is fair. The challenge is, and I would go into detail with you if I had more details, but it is a moving target. As I said, the Nationals are going to plan to start June 13th so then we are going to have to fall into that window between the Outdoor Nationals and January 1st, 2021. So, it would appear that this window is probably going to be in the fall. Again, I don't think anything is off the table at this point, because of how fluid the situation is and how things have been changing. Our best bet is to pause the Supercross season, have the Outdoor Motocross season take place, and then we will resume and finish the Supercross season after motocross. Of course, this is obviously completely non-traditional. It's something we would have never considered in the past, but extraordinary times call for extraordinary things, so I think that is probably what we are going to have to do.
DAVE, WAS THERE ANY TRUE CONSIDERATION THAT THE SERIES WOULD END AFTER DAYTONA AND CHAMPIONS BE CROWNED? No, it was really never brought up so from that first phone call which was just to inform the teams that we were going to race in front of no fans at Indy before we had to cancel. From that first phone call through our last phone call that was yesterday, that has never been brought up. Everyone on the phone, as far as OEMs and independent race teams, everyone thought it was important to finish the 17 rounds. Initially, I anticipated that there would be some teams that would say let's get two in, or let's get five in. But everyone thought it was important to do all 17 as did we. The goal when we started at Anaheim was to have a 17-round championship, so that is still the plan; it was never really on the table to cancel the championship. Someone made the joke that Kawasaki might have been voting to cancel the series. But the reality is that Kawasaki, nor Eli, wants to win a championship under those circumstances. The goal right now is to work towards the 17 and finish it out.
I THINK EVERY PHYSICIAN OR DOCTOR HAS A DIFFERENT THEORY ON COVID-19, BUT MANY SEEM TO AGREE THAT HEAT AND HUMIDITY DETER IT. IF THAT IS TRUE, SUPERCROSS IN THE FALL SHOULD WORK.
Dr. Bodner is our Supercross physician, but we did not really speak about that. It will be interesting because I have heard that quite a bit and you may or may not know that we are located in Tampa, Florida. It has been 89/90 degrees for the past week and a half. If that is the case, we should all be looking to Florida because if we start seeing a downturn in the cases, there may be something to that. But again, I am no doctor and I am not qualified to say this. But that is my hope, whether it is heat or a vaccine or whatever will start to slow this whole thing down.
WITH EVERYTHING THAT IS GOING ON, DO YOU HAVE ANY VENUES OR LOCATIONS FOR HAVING THE REMAINING SUPERCROSS ROUNDS? We have quite a few that we are looking at. The challenge is going to be that so many leagues in sports are on hold at the moment. As soon as these restrictions are softened and people are able to get back into stadiums or arenas, it is going to be a rush to get everything done and accomplished. Major League Baseball has not obviously started their season yet, but we don't know what is going to happen. Are they going to play an abbreviated season and still finish in September or October or are they going to continue to play their normal season and finish, you know in November/December? There are so many different variables, and all of the stadiums we race in have other events. So, even pushing to later in the fall makes it challenging because college football and NFL. There are just a lot of moving pieces right now and it is really too early to say where we are eyeing one or two particular venues because so much can change in the meantime.
DAVE, AS A WRAP-UP, WE ARE ALL MISSING SUPERCROSS. FROM THE RIDERS TO THE SPONSORS, TO THE FANS. WHAT CAN YOU TELL US? All I can tell the fans out there is that we are doing everything we can to complete the 2020 season and finish these next seven rounds. In the grand scheme of things, it is small, but for us Supercross fans, it is a big deal. I can tell you that it has made all of us here at Feld, and if I can speak for the AMA and race teams as well, talking to them weekly, it has made us all much more appreciative. This is not saying that we were not before, but I think it really drives home the fact that we are privileged to get to be a part of this sport. Whether you are Ken Roczen or just your average everyday fan, it is just something that we all love, and it is near and dear to our hearts. It is a big part of our lives, all of us included. You start going through your everyday life and it becomes a bit of a routine. Then when it is taken away, it definitely drives home how much of a privilege it is to work in this space and really work in something that you have loved or been a part of all your life. If anything, I think I would just tell the fans to be patient. We are all frustrated and missing the sport and just be confident and know that we are doing everything we can on our end to get it back on and get dirt bikes in stadiums as soon as we can.