MXA INTERVIEW: DAVI MILLSAPS IS A PRODUCT OF HIS STRUGGLES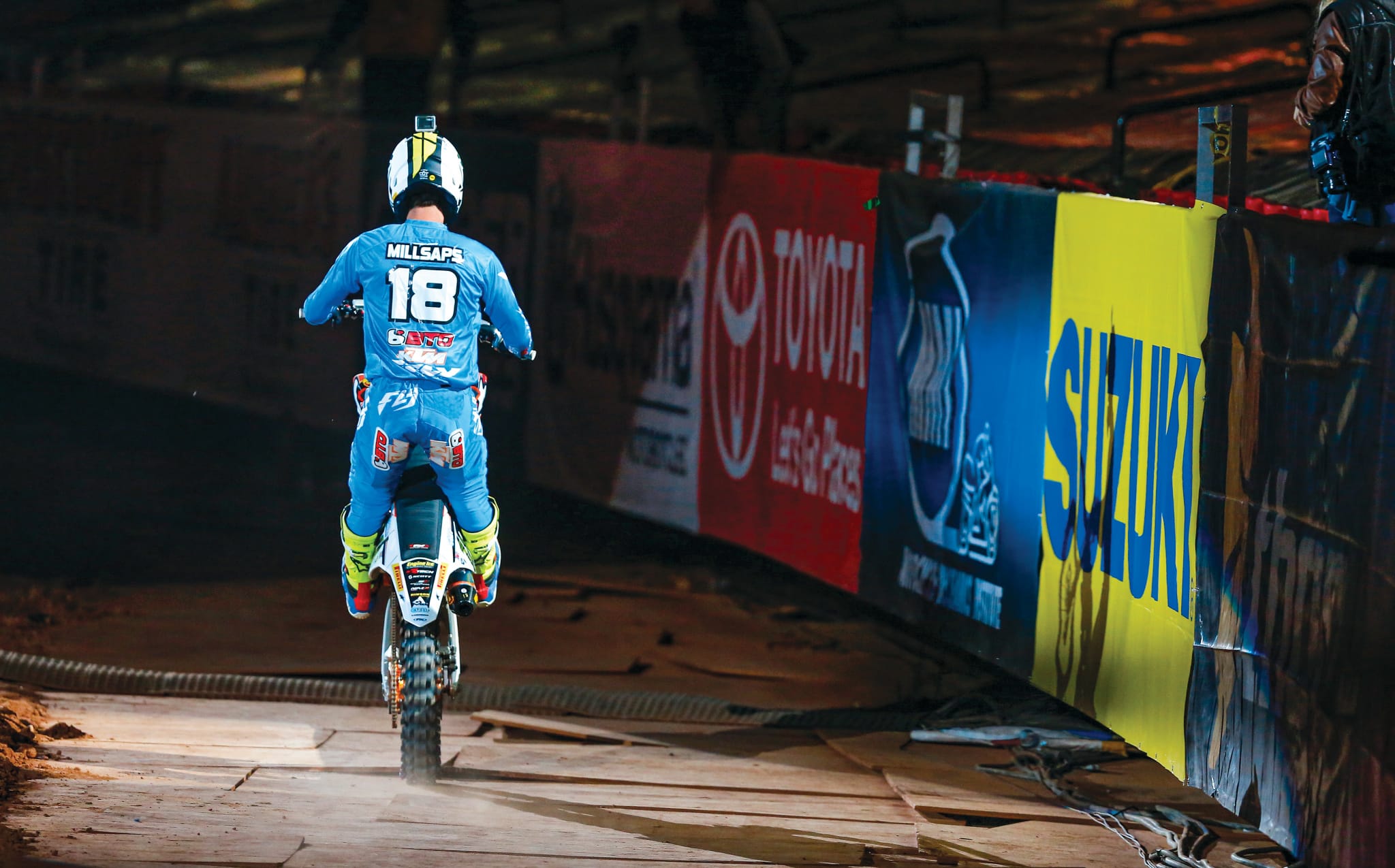 BY JIM KIMBALL
DAVI, DID YOU PROGRESS QUICKLY IN MOTOCROSS? I got a Yamaha PW50 for Christmas in 1991, and that is how it started. In 1994, I was racing at Loretta Lynn's in the 50 class. I went there as an alternate, and the next year I raced, my bike blew up all three motos and I had 40/40/40 scores. 1996 was the first year that I won. 
WERE BOTH OF YOUR PARENTS INTO MOTOCROSS? My dad raced, as well as my mom. The story that I was told was that my sister and I were in the backseat driving with my dad after he had just raced. Driving home, we saw a PW for the first time in the back of someone's truck, and we said that we wanted that bike. The next thing we knew, we had one. I was three years old when I got the PW50 for Christmas. I still remember waking up and how the whole Christmas morning went. I remember riding the bike for the first time.
YOU FIRST RACED LORETTA LYNN'S IN 1994, AND TWO YEARS LATER, YOU ARE WINNING A CHAMPIONSHIP. THAT WAS QUICK! Yes, progression-wise, it happened fast. Loretta's was one of those places that people knew that I was coming there to win. They did not have much on me at Loretta's due to the heat and the humidity that I was already used to. The stamina I had was from already training hard. The years that I did not win were the years that I was hurt, or the Alessis were protesting me. 
WASN'T MIKE ALESSI YOUR BIGGEST RIVAL? Yes. Everyone talks about Alessi and me or Alessi and Josh Grant. I have nothing against Mike, Tony or Jeff anymore—all that stuff is water under the bridge. I can't dwell on my amateur career for my whole life.
WHEN DID YOU FIRST SIGN A CONTRACT WITH A MANUFACTURER? I signed with Suzuki's amateur team in 1997. I did Lorettas, Mini-Os, Lake Whitney, Mosier Valley and the World Mini. I never raced at Ponca City.
"I MISSED THE FIRST RACE BECAUSE I WAS TOO YOUNG. I WASN'T 16 YEARS OLD YET. IN HINDSIGHT, I WISH I HAD STAYED DOWN AS AN AMATEUR FOR ANOTHER YEAR."
WHEN YOU TURNED PRO, YOU HAD TO SIT OUT THE FIRST ROUND OF THE 250 EAST SUPERCROSS. WHY? I missed the first race because I was too young. I wasn't 16 years old yet. In hindsight, I wish I had stayed down as an amateur for another year. I broke my elbow testing for Supercross in October and missed two months of preparation, so I went into my first Supercross way under-prepared. Not only that, but I was also 175 pounds on a two-stroke. Why would they give Broc Hepler, who weighed 130 pounds soaking wet, the four-stroke and me the two-stroke?
SINCE YOU HAVE DOUBTS NOW, WHAT MADE YOU GO PRO SO SOON? My contract with them was one year as an amateur and two-years as a Pro. They would not agree unless I signed that contract. I had a Kawasaki contract offer at the same time, and it was for the same terms. There was no clause that would allow me to stay an amateur. I just said, "I will go Pro; no big deal." But, I was young and under-prepared. Without my injury, I would have been way more prepared. I can't go back and change it now, but I wish I would have stayed down, just to get more experience on a big bike. 
DO YOU WISH YOU HAD TAKEN KAWASAKI'S OFFER INSTEAD? I wish I had gone with Kawasaki to be under Mitch Payton. I felt like it would have been a better place for me because I knew Mitch. He had better control of his bikes as opposed to Suzuki. But, out of respect and loyalty to Suzuki, as I had been there as an amateur for nine years, I went that route. I have always been that loyal person and, later down the road, I stayed with No Fear out of loyalty, and that backfired too. 
MODERN AMATEURS TURN PRO AT THE OUTDOOR NATIONALS, BUT YOU WENT STRAIGHT TO SUPERCROSS! Nowadays, you get to do a couple AMA outdoor Nationals and then go back to Loretta Lynn's. How that makes sense, I have no idea. Today, a top amateur rider gets to race the last four outdoors after Loretta Lynn's is over. I did not get that chance; it was race Loretta and then straight to Supercross. I was 15 years old at the start of the 2004 AMA 250 East Supercross series. I turned 16 around six days later, so I could race round two.
Seeing all those people in the middle of the track that you grew up watching was crazy. I finished 14th at that first Supercross. It scared the living hell out of me. I got control of it as it went on, and I got my first podium two rounds in at Daytona.
YOU HAD A COUPLE DECENT SEASONS ON SUZUKI. Yes, I had some decent results in my two years in the 250 class. In 2005, I won a couple 250 Supercross rounds. I was close to winning a championship in 2005 but ultimately finished third in points. I was starting to get some podiums outdoors, too.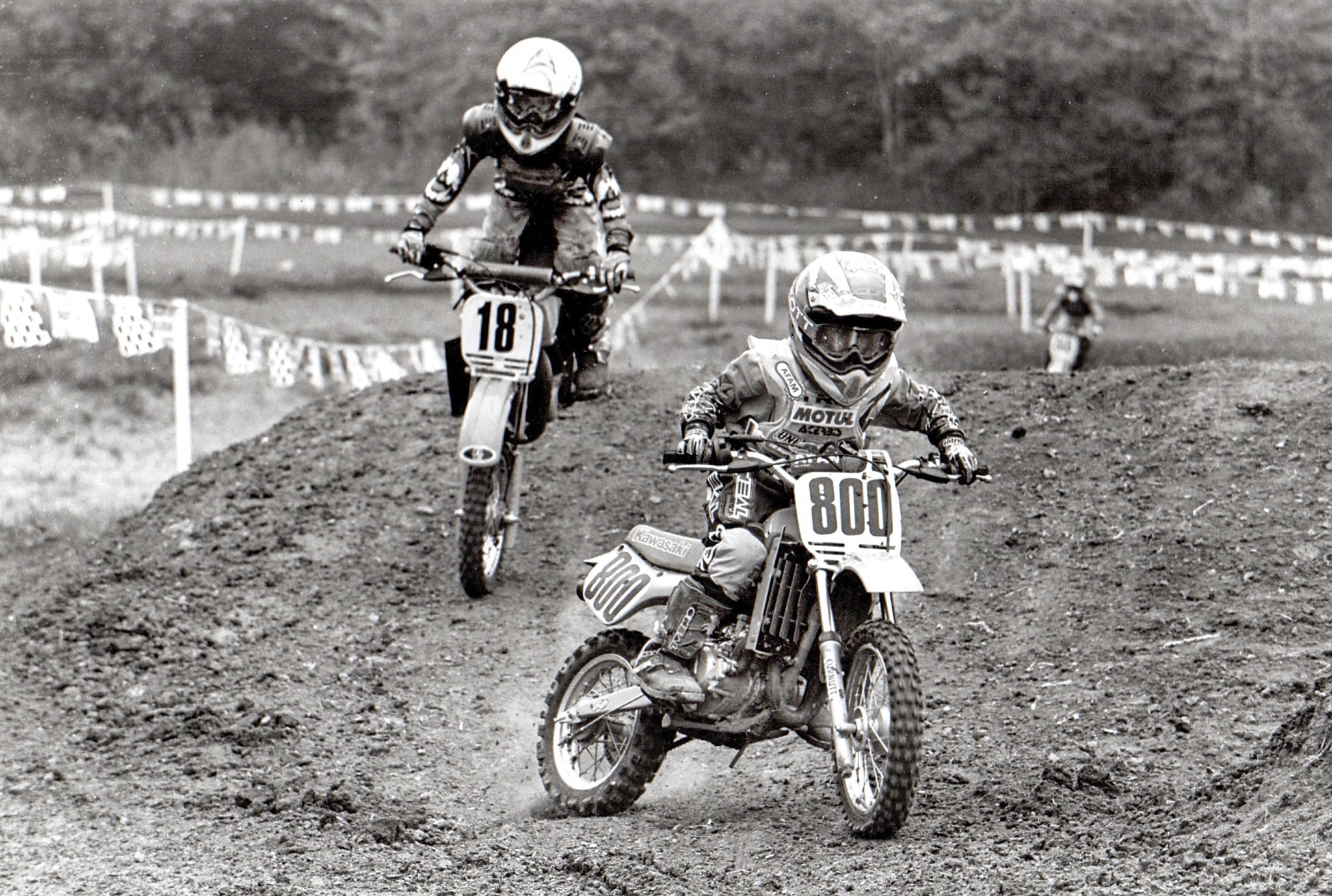 WHAT DREW YOU TO HONDA IN 2006? Well, for one thing, it was Honda! Suzuki, Honda and Yamaha all wanted to sign me. Honda and Yamaha both came down to my house. Suzuki did not need to because I was already riding their bike. Yamaha came down first. I rode their bike, which was a Yamaha of Troy bike. It was all right; it was better than my Suzuki, but it was not like, "Wow." It was not worth switching and learning everything new again. Honda came down and let me ride Andrew Short's bike, whose bars were the highest bars I had ever seen in my life. It was like riding a chopper! If Andrew reads this, he knows exactly how high his bars were back in 2005. Besides the bars, I got on that bike and did not have anything else I wanted to change. I was a second faster on a bike that was not even set up for me. I felt so good and thought, "Where do I sign?"

YOU WON THE 2006 AMA 250 EAST SUPERCROSS CHAMPIONSHIP AND SWITCHED TO A 450 FOR THE OUTDOOR NATIONALS. WAS THAT THE PLAN? No, that was not the plan. That was the year when Ernesto Fonseca got hurt during the Supercross season. Honda needed to fill his spot and they moved me up. I had never raced a 450 as an amateur, and I never practiced on them, but I was 185 pounds, 6 feet, and needed to be on a bigger bike.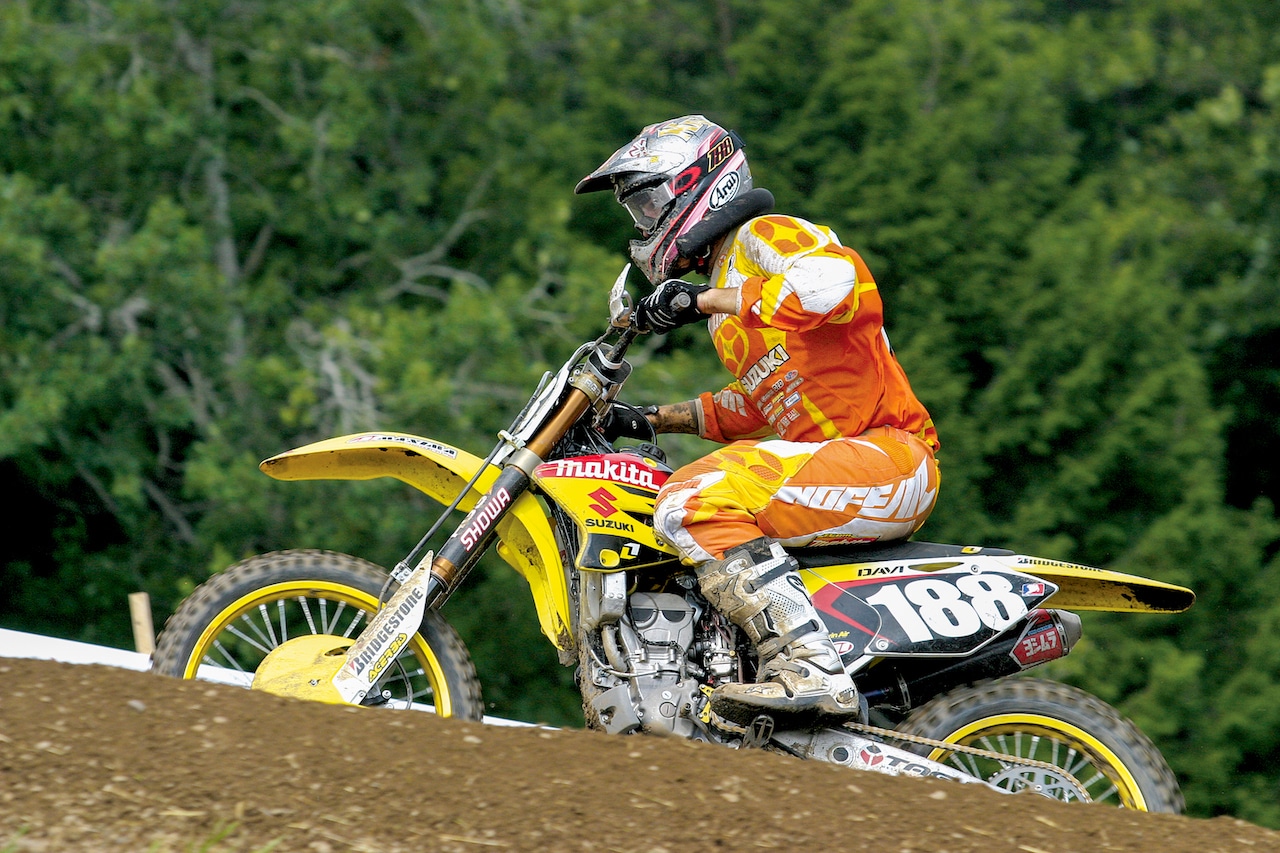 FROM THEN ON, WERE YOU A 450 GUY? Well, in 2007 I wanted to go back down and defend my 250 East Supercross title, because I had broken my femur late in 2006 and sat out for four months. I could have defended my 250 Championship or at least tried before returning to the 450 class again for outdoors, but they said they needed me in 450 Supercross. They looked at it as, "We are paying you a lot of money. You are going to do what we tell you to do as far as where and when you race." I had signed the contract, so I could not argue that. 
WHAT WERE THOSE NEXT COUPLE OF YEARS LIKE FOR YOU AT HONDA? Up and down for 2007 and 2008. I had a lot of family stuff happen, and I got mixed up with some people that were taking me down the wrong path. There is no doubt that 2007 and 2008 could have been way better. Then 2009 and 2010 came around and Honda changed the bike. 
I THINK EVERYONE KNOWS NOW HOW BAD THE 2009 HONDA CRF450 WAS. DIDN'T YOU TEST-RIDE IT? No. I got hurt at the end of the 2008 outdoor season and was unable test the bike before I re-signed with Honda. I had other contracts that I could have signed, but I wanted to stay at Honda. I loved my 2008 CRF450. I loved my bike. I hit up Jeremy McGrath because he was a test guy for that bike, and he was adamant, "That bike is amazing. It does everything better!"
He was wrong and admitted it afterwards. The 2009 and 2010 Honda CRF450s were probably some of the worst bikes that Honda ever made for motocross—and that is not just being mean. Ivan Tedesco and I were on the same page, but Andrew Short was saying, "It's great. It's awesome." He was contradicting everything we were saying, so Honda leaned more towards his positive side.
"IN 2010, I LOST MY KIDNEY, BROKE MY BACK, BROKE MY THUMB, BROKE SIX OR EIGHT RIBS, KNOCKED MYSELF OUT AND WAS UNABLE TO RACE. I FOUND ANOTHER RIDE FOR 2011."
I REMEMBER WHEN MXA CALLED THE 2009–2012 CRF450 "A SCIENCE PROJECT GONE AWRY." We called it the "Jack Hammer." It was absolutely terrible. Ray Conway, who was the head guy at the time, was a "my way or the highway" type. I wanted to be there, and I wanted to stay. I just could not stay under that management, especially when there was no give. It became an "If you don't like it, then leave deal." In 2010, I lost my kidney, broke my back, broke my thumb, broke six or eight ribs, knocked myself out and was unable to race. I found another ride for 2011. 
IT'S COMMON FOR YOUNG RIDERS TO SURROUND THEMSELVES WITH THE WRONG PEOPLE. DID THAT HAPPEN TO YOU? I was only 19 years old, and I needed people around me who would lead me down the path of being strict, smart, and wanting to win championships If you don't feel like riding today, we don't have to." It took me years to get out of that hole. I am not blaming anyone. I could have stopped it myself, but with the money and everything else, it was fun! Looking back, I was an idiot. There is no denying that.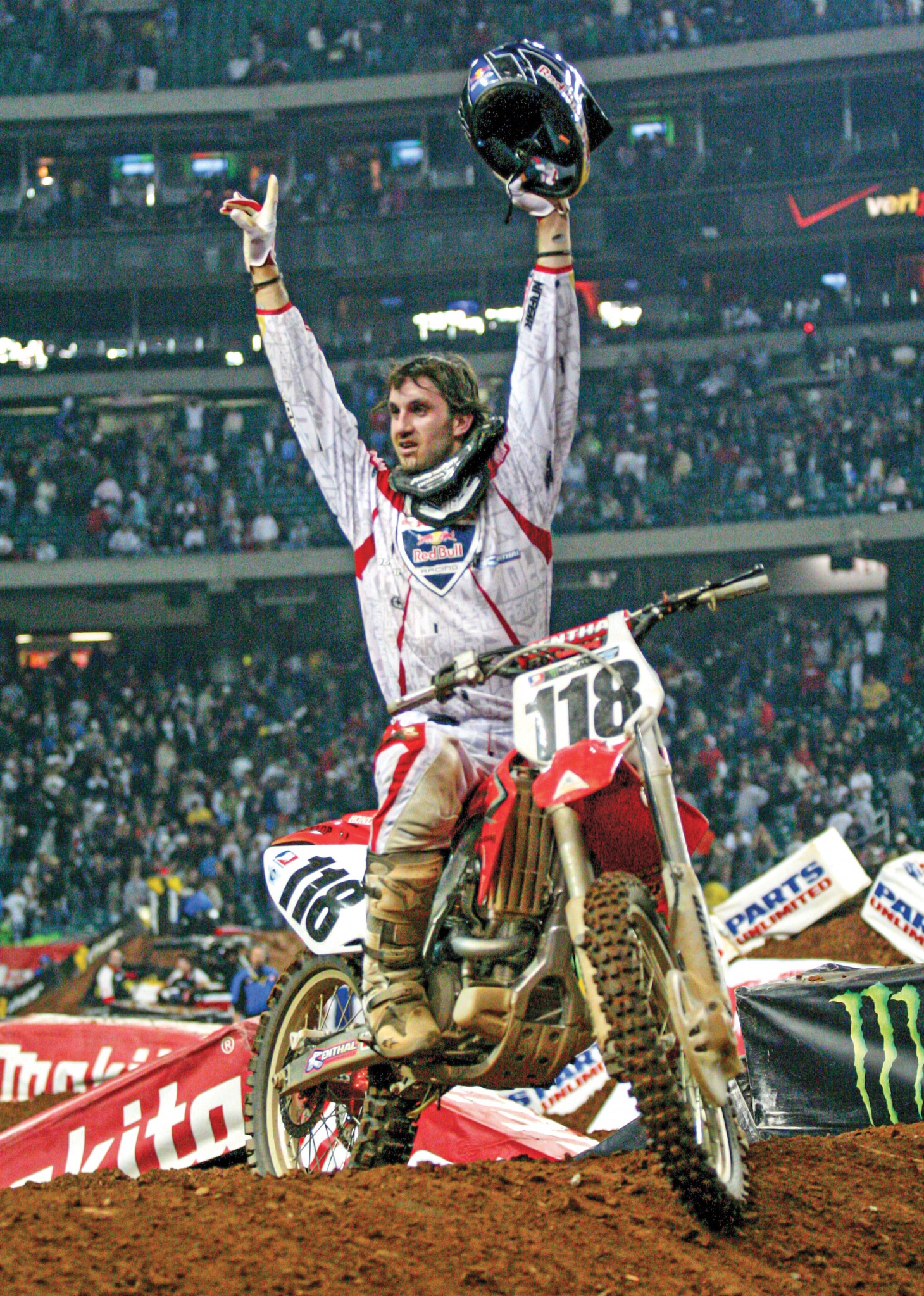 WHAT ABOUT YOUR PARENTS? THEY WERE INVOLVED WEREN'T THEY? My mom and dad got divorced when I was 12. My dad no longer came to the races after that, but my mom was a huge part all the way up until Southwick in 2007.
WHAT HAPPENED AT SOUTHWICK? My mom and I had a full-blown blowout at Southwick just as I was getting ready to race. It was between me, her and my best friend's dad, Brian, who was her boyfriend. It all stemmed from her not liking my wife. It escalated way out of proportion, and today, I have a wife and two kids, and that to me is what matters most over what happened in 2007.
THEN YOU LEFT HONDA AND JOINED THE JGR YAMAHA TEAM. I was already under contract at Honda, but 2010 came around and I was not happy with Honda. So, I took Joe Gibbs' offer for 2010 and 2011. I loved the team. The trainer they had was a great trainer, just not the right trainer for motocross. There was not a lot of guidance, and I did not have much knowledge when it came to training or nutrition in those days. I was reliant on everyone else around me. 
Halfway through the Supercross season, I could barely finish inside the top 10. I was struggling so bad that I went rogue and hired another trainer without anyone knowing. It got better, and I started podiuming. I podiumed once in Supercross and later outdoors a few times. Leading into 2012, I stayed with my trainer, and James Stewart came to the team. I lost all the weight, and I got second in points in 2012. Then I got a new ride for 2013.
BEFORE WE GET TO YOUR NEW RIDE, TALK ABOUT JAMES STEWART AT JGR YAMAHA. I have known James my whole life. We are both from Florida. I loved that he was coming to the team because he brought control, and they wanted to do what he wanted. I was like, "Yes, finally!" James was the one that got everyone to not have to live in North Carolina. He was the one that got everyone the right to train with their own trainer. James got all the A stuff, whereas I got B and C stuff. When James left, I got all the A stuff [laughter]. But, I was not complaining. I was just pumped to have a ride. I was already doing pretty good before he left the team.
When James started struggling at JGR, I could get in and out and not be yelled at. He was taking all the hits then. When James left, Coy sat me down and tried to hire me for two more years. I said, "Coy, I can't. You guys treated me like I was the red-headed stepchild for half the year because James was on the team, and he got all the love. That is fine. I get it. He has the name. But if you are a team, you want all your guys to be good. I was beating him and doing better, and I stayed. Only when he left did I get the good stuff. I have a better opportunity elsewhere, and that is the route I want to go."
FANS ALWAYS WONDERED WHY YOU LEFT JGR AFTER DOING SO WELL THERE. It was one of those places that was not the right fit for me. I needed to be somewhere that had my back. I used to tell them, "You are not the rider. I am the rider. You might have all this data that shows what the suspension and engine are doing, but I'm telling you it's not working that way on the track." So when Rockstar Suzuki became available to me, I jumped all over it. 
HOW DID YOU KNOW THE ROCKSTAR DEAL WOULD WORK? I didn't. But I had known team owner Bobby Hewitt for my whole amateur career. At the 2012 Supercross banquet, I mentioned to Bobby that I heard he was starting a 450 team for 2013. I asked him, "How about you give me a shot?" During the summer, I got a phone call from Bobby, and we got a deal done within a week. 
DIDN'T YOU TAKE A RISK GOING TO A START-UP 450 TEAM? Oh yes, 100 percent. I even got phone calls from Suzuki's Pat Alexander, who said, "You know that is not a factory team, right? If you go there, you are not getting anything from us." But it was where I wanted to go. I didn't want to be under a big corporation again. I wanted to do something completely different. I wanted to change the course of my career. It was one of the best decisions I made. 
BUT YOU HURT YOUR KNEE EARLY IN THE 2013 SEASON? I had messed up my knee before Daytona, and it became one of two choices, "just keep riding and be in a lot of pain" or "get my knee fixed by re-breaking my femur to straighten the leg out." I chose breaking my femur and straightening my leg out. Then in 2014 I tore my ACL and my MCL, dislocated my ankle, and broke my foot. I had to have five surgeries on my foot, and my knee surgeries were spread out through the whole 2014 season. Along with that, I had to have some stuff done on my upper extremities and had carpal tunnel syndrome in both arms. That took 2014 away from me.  
AND THEN FOR 2015 YOU SIGNED WITH MONSTER ENERGY KAWASAKI. It was always in the back of my mind that when I stayed with Suzuki in 2002 that I should have gone with Kawasaki and Mitch Payton. So, I'm not going to pass that chance up twice. I ended up taking it.
YOU WON THE MONSTER ENERGY CUP IN YOUR KAWASAKI DEBUT, BUT THINGS WENT SOUTH AFTER THAT. Yes, I got Epstein Barr, which basically took me for a ride. It was bad. I did not know what to do, but I was doing whatever I could to get rid of it. I called Kawasaki before Anaheim and said, "I am sick. I don't think I should race. Let me sit out and get better. Then I will come back and get going." They said, "No, we need you to race."
So, I did, and obviously not for the better. It was to the point where the jumps seemed close or far. My motor skills were not there, and I was getting so tired so fast that I did not really know how to make 20 laps. I felt good at Monster Cup and was ready to go. It just took a hard left-hand turn. That is pretty much when things started going sideways. Then, I got fired. Once I got fired, I was able to rest and get it under control. I was fine, felt normal and was ready to go. If they would have given me a month off to regroup and get everything situated, I could have come out swinging way harder, but I was not given that opportunity.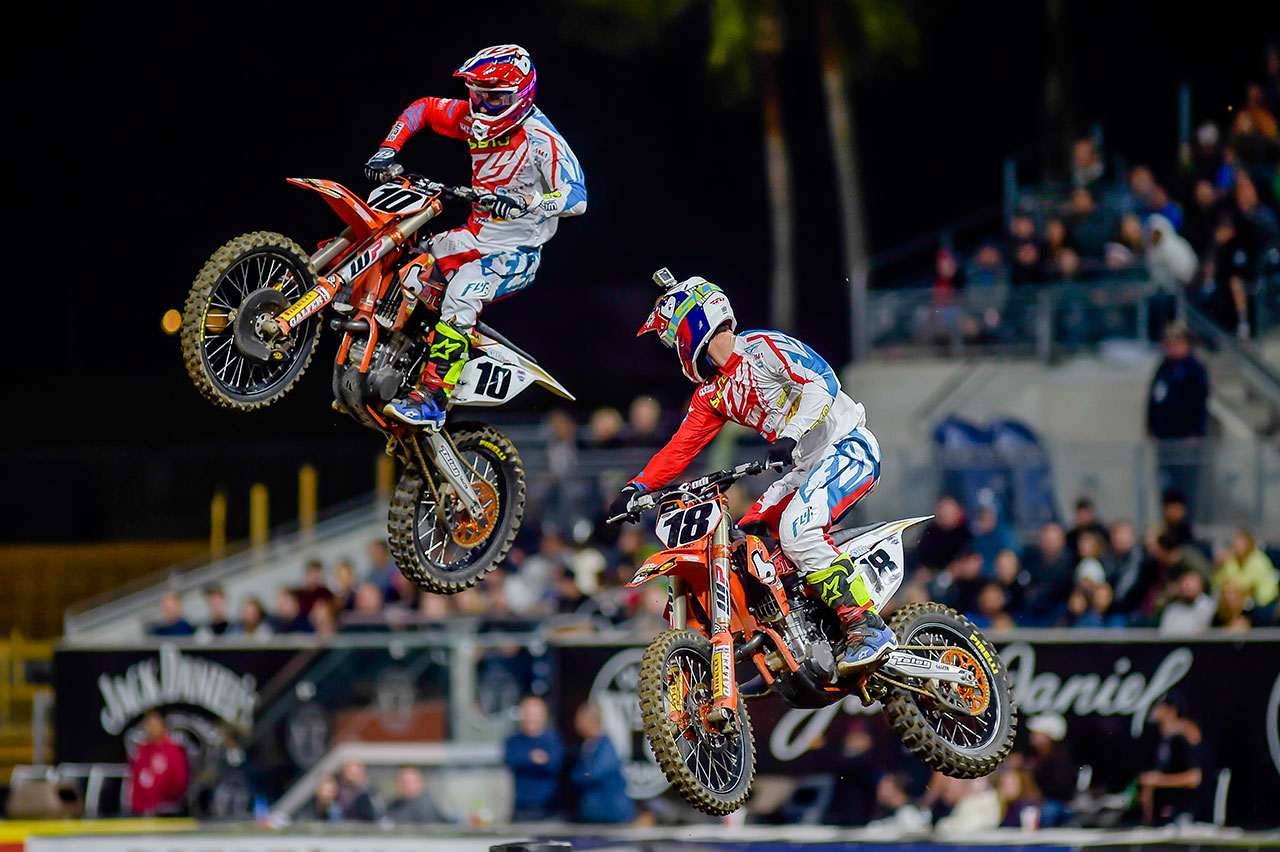 "MOST PEOPLE WOULD KILL FOR MY CAREER. YES, I WISH WOULD HAVE DONE SOME THINGS DIFFERENTLY, BUT I HAD A GOOD CAREER, AND I'M ACCEPTING THE FACT THAT I WON ONE AMA SUPERCROSS CHAMPIONSHIP, A CANADIAN NATIONAL CHAMPIONSHIP, AND THE MONSTER CUP"
HAD YOU BEEN WINNING RACES, THEY MIGHT NOT HAVE FIRED YOU FOR WHAT THEY FOUND IN YOUR LOCKER. If I was doing what I did at Monster Cup, I wouldn't have been fired. It was not illegal; it was not anything like that. It was a legitimate prescription. I am not allowed to speak about what it was because of an agreement we came to, but it wasn't anything that I should have been fired for. It does not matter at this point. It is what it is.
It hurt my name for a bit. People thought that I had all sorts of stuff in my locker, whether it be marijuana or HGH. What good is that stuff going to do me the day of the race, so why would it be in my locker?
It had been in the semi since Phoenix, which was the second Supercross that year, then suddenly, they decide to fire me with three rounds to go. It does not make sense, but they wanted me gone. If they would have said, "It is not working out and we are not gelling," it could have been handled appropriately. I did not like the bike at all, and I would have gladly gone and found a different ride. It would have been perfectly fine, but they had to go about it the wrong way.
LATER YOU SIGNED WITH ROCKY MOUNTAIN KTM AND IN 2016 WON THE CANADIAN 450 CHAMPIONSHIP. Yes, the Canadian rounds were some of the most fun that I have ever had on a dirt bike. I felt good going into the 2017 Supercross season, except again, I had some nagging injuries that just would not go away. I ended up crashing two weeks before Anaheim 1, breaking some ribs. Then I got sick and had a rough start to the season but ended up fifth in points. It wasn't great, but with having two broken ribs, I was proud to be able to push through the whole series. I had surgery right after Supercross, then signed with Yamaha in the middle of outdoors.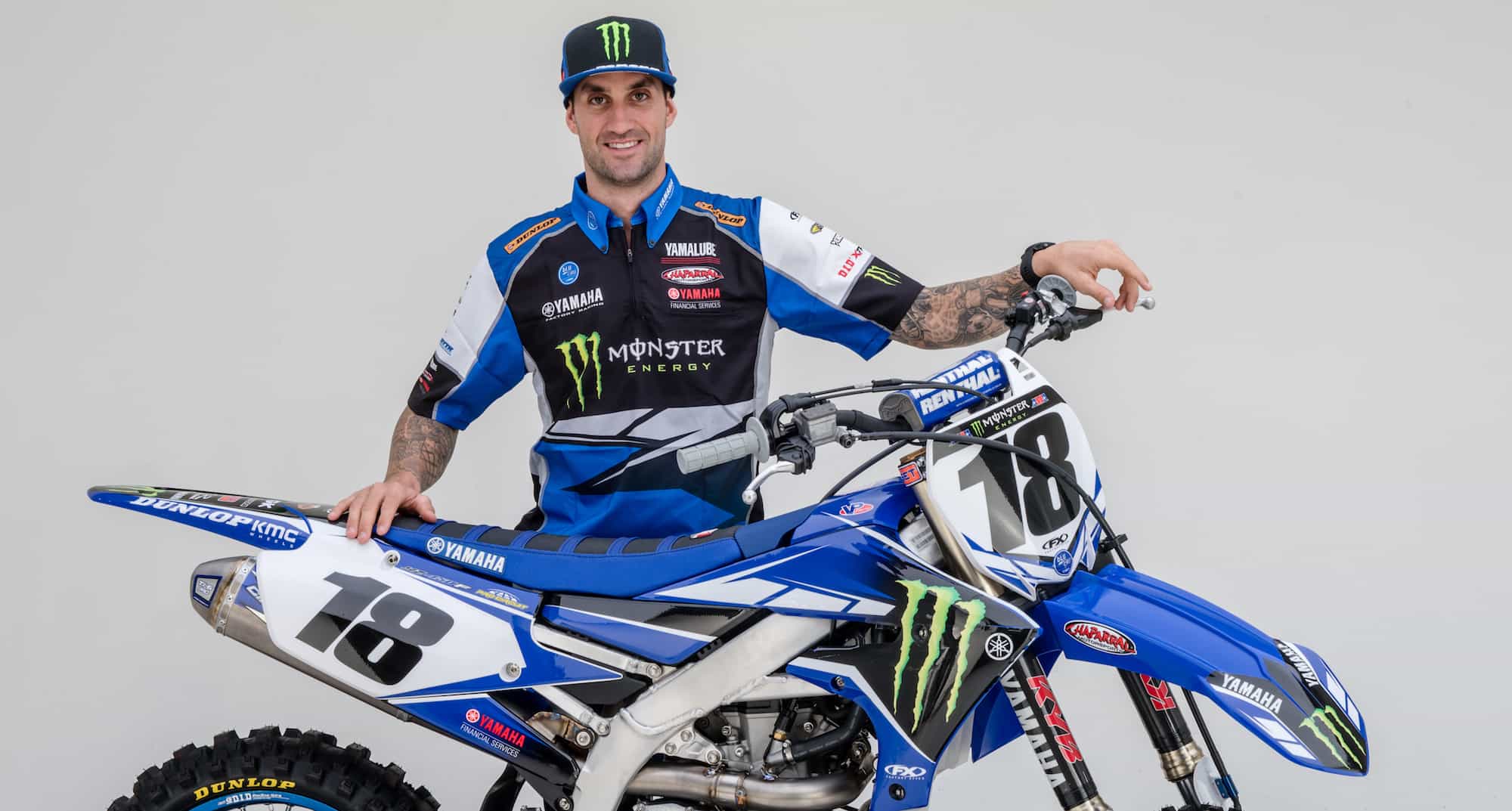 BUT YOU NEVER GOT TO RACE THAT YAMAHA BECAUSE YOU GOT A SEVERE CONCUSSION WHILE OUT RIDING THE YAMAHA? Yes, it was October 6th when I had my crash. I suffered a brain injury, totally disintegrated my elbow, broke my shoulder, and tore my ACL. There was no coming back from that. 
WHAT DO YOU REMEMBER FROM THAT DAY? I know I crashed, hit my head, and was knocked out for some 8 to 10 minutes. As far as how long I was in the hospital, I want to say it was three or four days. It was not very long, but I lost about three months from my memory. It took me three years to even come close to being myself.
YOU REALLY HAD SOME DARK, DEPRESSING TIMES AFTER THAT, RIGHT? Yes, I did. I was always the happy-go-lucky guy, and this about ruined me. I did not think that there was really an end in sight with it. I got to the point where ending myself was almost easier than figuring out how to deal with it. I became very suicidal. But, I thought of my kids and my family and began doing research and started figuring it out. I started coming back to being somewhat myself, and that is where I am now.
WERE YOU SEEING MANY DOCTORS? There were not many doctors involved with my recovery whatsoever. It was all based on my own research. It was just one of those things that I had to try and, if it did not work, I would switch and keep trying until there was something I felt a difference with. Then I stuck with it, and that is what got me to where I am. 
YOU STILL RIDE SOME, AND DON'T YOUR KIDS RACE? My son does, and he likes it. He wants to race, but I have not gotten that far with him yet. My daughter is in gymnastics, and she loves that. She does not really care about dirt bikes. My son does soccer and swimming as well, so he is very athletic. We will see where that ends up.
DO YOU THINK ABOUT ALL YOUR INJURIES WHEN YOUR SON WANTS TO RACE? No. You can get hurt doing anything. You can get hurt walking down the street, driving in a car or falling out of bed. The injuries don't scare me as much as him not being able to chase his dreams, being able to chase what he wants to do, and me not giving it to him.
LET ME ASK YOU A STEREOTYPICAL QUESTION. WHAT WAS YOUR GREATEST MOMENT IN RACING? 2013 was the greatest season for me, and Anaheim 1 obviously was an amazing race. But, for me, the 2013 Salt Lake City Supercross was probably one of my best races. I did not win it; I got second. But, the fact that I had to come from the back and got into second, with Villopoto, myself and Dungey first, second, and third, was a big accomplishment. It was one of my best races, just for the fact that Villopoto did not yank it from us. We were all crossing the finish line at the same time.
YOU'VE HAD GOOD AND BAD TIMES IN YOUR RACING CAREER. ARE YOU HAPPY? Most people would kill for my career. Yes, I wish I would have done some things differently, but I had a good career, and I'm accepting the fact that I won one AMA Supercross Championship, a Canadian National Championship and the Monster Cup. I am happy with my career. Now it is on to figuring out what to do with the rest of my life.