MXA INTERVIEW: DEAN WILSON TALKS HIS INCIDENT WITH BROC TICKLE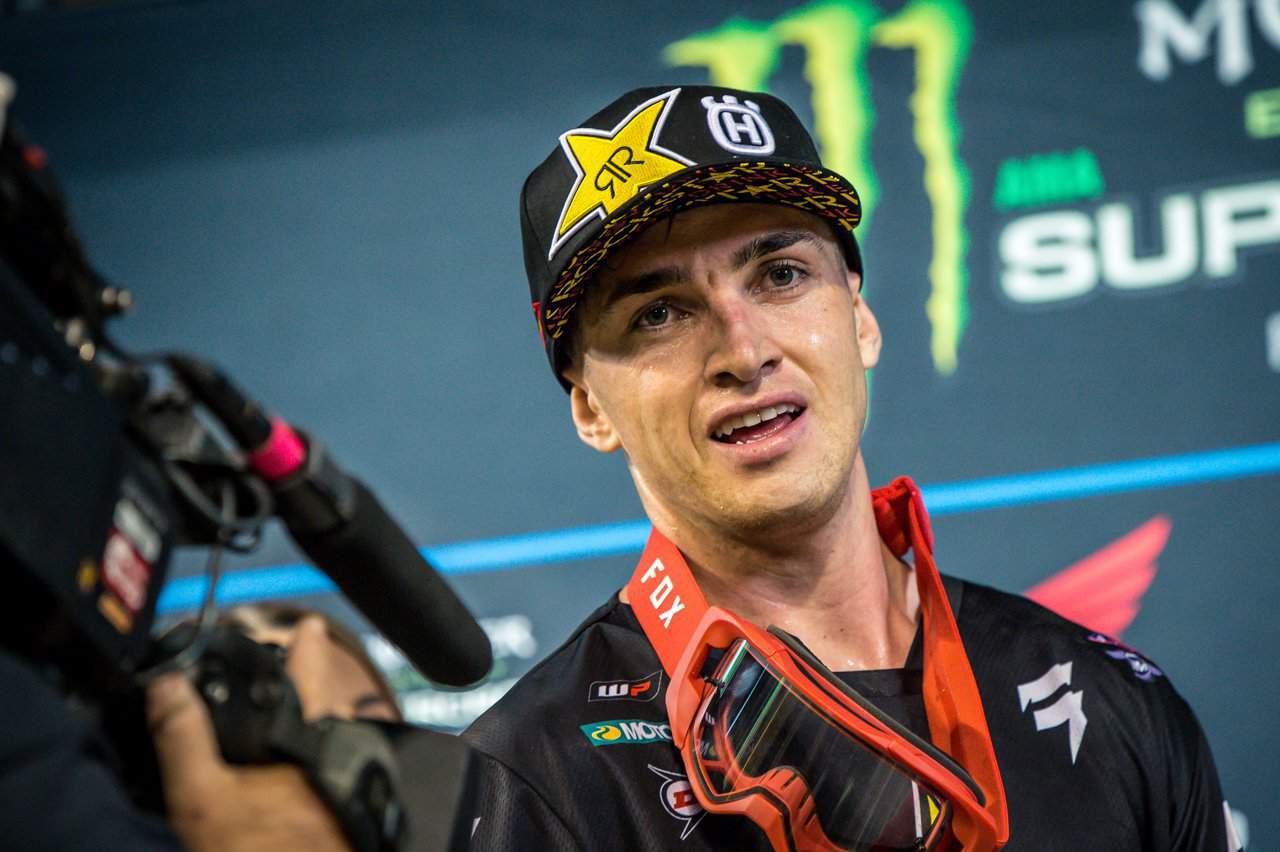 I still recall meeting Dean Wilson in his rookie season as a pro back in 2010, and in many ways he is still the outgoing, happy go lucky kid I first met. Of course over the years Deano has certainly seen the sports ups and downs, culminating in him be pushed aside as a privateer after the 2016 season. The 2010 250 Rookie of the Year had then won the 2011 250 Outdoor Championship and looked poised to defend it, until sidelined by injury. Later Wilson's foray into the 450 class resulted in two full seasons of injuries as a Red Bull KTM 450 rider. Still, the currently 26 year old wasn't done and did the Privateer route until picked up by the Rockstar Husqvarna Team. It was at this point that the now Florida native was maybe known primarily for his beautiful girlfriend – which good be very good, or very bad, depending how you look at it. Wilson finished 2017 with a third place finish at the Monster Energy Cup, and many felt 2018 would be Wilson's year to shine. But a sever crash at the season opener left him with an injured shoulder. After sitting out several Supercross rounds, Dean made his race return, but to all it was evident his shoulder was still hurting. But now, at Indianapolis 2018 Wilson finished an impressive second overall, earning his first true 450 Supercross podium. Wilson may have damaged his friendship with Broc Tickle in the process, but I'm confident the two riders will move beyond that. We caught up with Wilson well after the trophy ceremonies, and press conference.
BY JIM KIMBALL
DEAN, WAY TO GO WITH GETTING YOUR FIRST EVER 450 PODIUM HERE IN INDIANAPOLIS! It is really cool, and I am just stoked. I have worked really hard, and trying to get this for the past four years, but it has been a really tough tricky road just racing with these guys and battling with them. so I am really happy, and I just had to put myself in that position of being up front off the start. I did that and I made a good couple of passes at the beginning, and just trying to knock off my laps. It was a tough gnarly race, but I am happy how it turned out, and to get my first podium and is awesome.
MANY HAVE OVERLOOKED THE SHOULDER INJURY YOU GOT AT ANAHEIM 1, AS YOU HAVE CONTINUED RIDING, BUT ITS BEEN BOTHERING YOU A LOT RIGHT? Yes, it is tough. Racing is our job, you know, but I take as little time off as I could, but had already missed three races, and that is just difficult man. Just trying to heal, race, train, and all of that, and my shoulder have not really been healing like it should be. So, it is very tough, but you know it is what it is, and I am just doing my best, which is all I can really do.
 "Just trying to heal, race, train, and all of that, and my shoulder have not really been healing like it should be."
I KNOW YOU ARE RACING THE LATEST GENERATION MOTORCYCLE, SO HOW IS THE NEWEST HUSQVARNA 450? The bike is awesome, and I really love my bike. We made a few changes the last few weeks that have made me more comfortable on it, but really, I've been just focused on trying to get back in my groove, and feeling healthy; that is it really. Like I said, it is a tough injury. It is so hard when you are in field that is so deep. I know there a few guys out, but I was one of the guys that were out, so it is tough missing race season and coming back in, but I am still trying to recover.
I HAVE THE IMPRESSION THAT ALL THE RIDERS WITHIN ROCKSTAR HUSQVARNA ESPECIALLY YOURSELF, JASON ANDERSON, AND ZACH OSBORNE AS YOU ARE ALL IN FLORIDA ARE PRETTY CLOSE, ARE YOU ABLE TO SHARE MUCH ABOUT THE DIFFERENT SUPERCROSS TRACKS YOU HAVE RACED? Yes, we communicate with each other, and help each other out. You know, Jason is always going to talk to, and get his take on different track section. He is pretty good with that, and I am not, so there is just a respect level really. It is all good, and we are cool.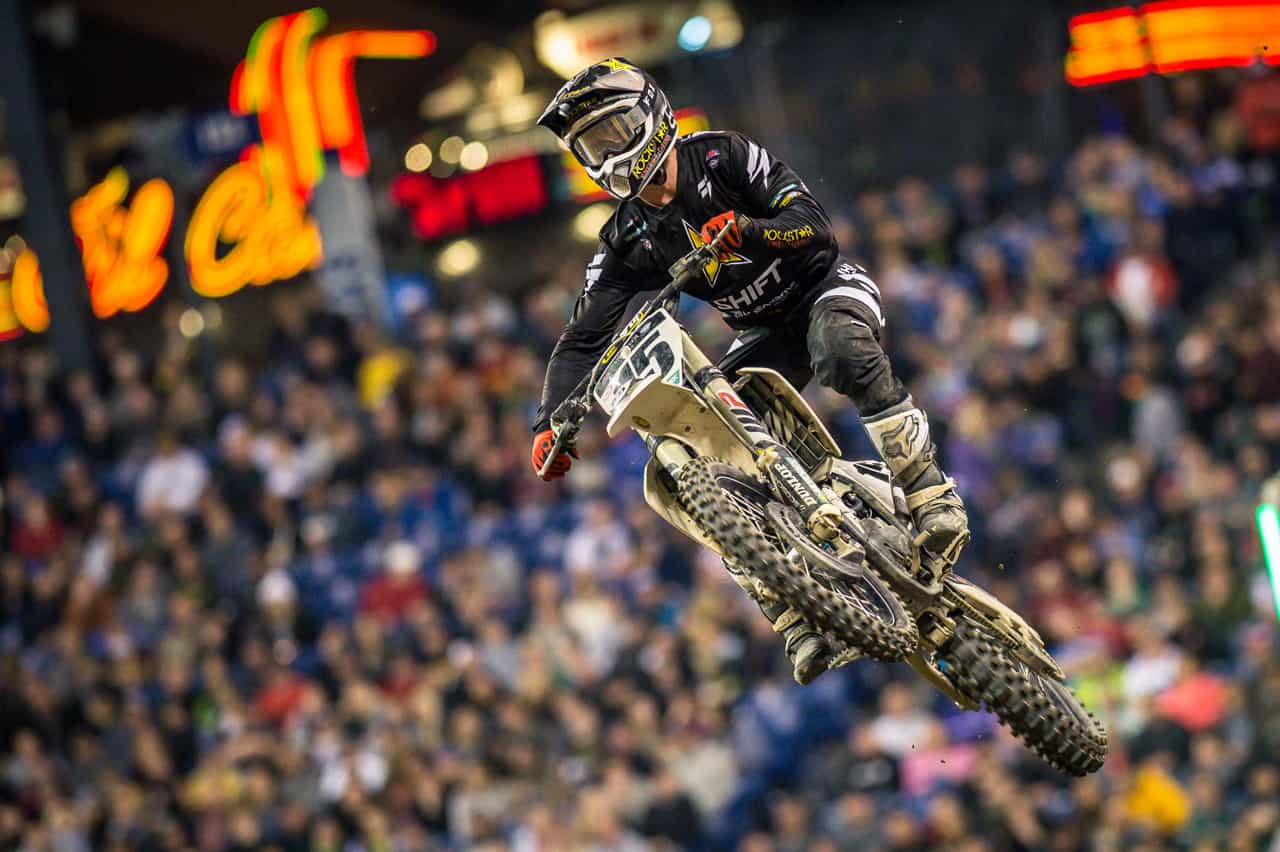 YOU HAD THAT INCIDENT WITH BROC TICKLE THAT LEFT HIM ON THE GROUND, AND YOU SEEMED TO FEEL PRETTY BADLY ABOUT IT. It was a racing incident because it was in a race. It was just a mistake on my part. I came through the whoops pretty hot. He was turning sooner than I expected, and I rammed him. I feel bad about it, and if the roles were reversed, I would be pissed off about it too. But I am not going to dwell on it. I feel bad, and it is what it is. I will apologize to him once things have cooled down, but I don't really want to talk about it anymore. It is beating a dead horse and everyone saw it. It was a mistake and that is it.
OBVIOUSLY YOU ARE PAID TO WIN RACES, BUT NOT THE KIND OF RIDER THAT WOULD PURPOSELY TAKE ANOTHER RIDER OUT. No, I am not and that is always going to be my problem. I am too much of a nice guy, but it is what it is.