MXA INTERVIEW: ELI TOMAC TALKS ABOUT HIS SEASON, CONSISTENCY AND HIS NEW TEAMMATE
Eli Tomac is your 2019 AMA Outdoor National Champion in the 450 class.
Three 450 AMA Outdoor National Championships in a row for Monster Energy Kawasaki's Eli Tomac is a pretty impressive. Eli came into 2019 with a goal of being more consistent and although it didn't work out for him in Supercross, Eli was able to make it happen once again when the Nationals started. Even though Tomac clinched the 2019 AMA Outdoor National Championship one week earlier at Budds Creek, he still came into the finale at Ironman ready to win, and win he did. It was several hours after the post-race press conference when we finally caught up with the very happy three-time Champion as he was cruising the pits.
BY JIM KIMBALL
ELI, GREAT JOB WINNING THREE OUTDOOR CHAMPIONSHIPS IN A ROW. YOU JOINED A SMALL ELITE GROUP OF RIDERS. Yes, it was an unbelievable year that way, and three in a row is special. Just the fact that we stayed healthy, did it against the guys that were out there. It has been a really good team effort from us all, and each championship has been totally unique in its own way. This year, I feel like we really worked on our consistency, and it was there. Never had the big zero-point motos. You know, the bike was solid all year, as well as the team. I still feel good. I still feel motivated, and I want to go after another one.
Eli's main focus for 2019 was consistency and it paid off in Outdoors. His next goal is to have the same consistency in Supercross.
IN GENERAL, YOU HAVE RIDDEN WELL ALL YEAR, BUT THERE HAVE BEEN SOME RACES LIKE WASHOUGAL WHERE YOU WERE SIMPLY ON ANOTHER LEVEL. I felt like this year, those were really good tracks for us. Like Washougal, and Budds Creek were really good for us, and those are the days that you have to go out there, do your damage and really attack. We were able to do that this year. I felt like there were some other tracks that we were not so good at, but we maintained our composure and got good points on those weekends, but the weekends that we were good, we made the best of it.
IF YOU HAVE A BAD MOTO OR AN OFF RACE IT SEEMS LIKE YOU CAN TAKE IT PRETTY HARD, HOW ARE YOU ABLE TO BOUNCE BACK AND REGROUP? Well, it is just believing in what you do, what you have, and that is all you can really do. Our worst finish this year was seventh place, so that is not bad. I mean that those races would not sit well with me, but I knew they were good enough for points, and if those were our bad days, that was fine.
The Eli Tomac vs. Ken Roczen battles were great this year, but Eli had another gear at the hot and humid nationals.  
YOUR PRIMARY COMPETITOR WAS KEN ROCZEN WHO SEEMED TO BE SO FAST SO EARLY IN THE MOTOS. IF HE WAS INSIDE THE TOP FIVE AT THE START, HE WAS OFTEN LEADING BY THE END OF LAP ONE. HOW DO YOU DEAL WITH THAT? You know to be that way; you have to have a lot of confidence. He also has a lot of speed. It is really all about speed, and the fact that he is finding lines early on, and right away too, to get around guys. That is one of Ken's strength, attacking early. Everyone has their thing, you know. So, that is something you know that I will look out for (laughing).
BESIDES THAT, YOU SEEM TO HAVE THE DETERMINATION, DESIRE, FITNESS; EVERYTHING NEEDED TO WIN. We were solid this year. I felt like we really excelled even in the hot races. A lot of people have been questioning me staying in Colorado even though it's not humid, but if anything, I felt like I was one of the best guys in the humidity this year. That was just good to be strong on those really tough days, and that is where I felt like we really won this championship, the last half of those motos.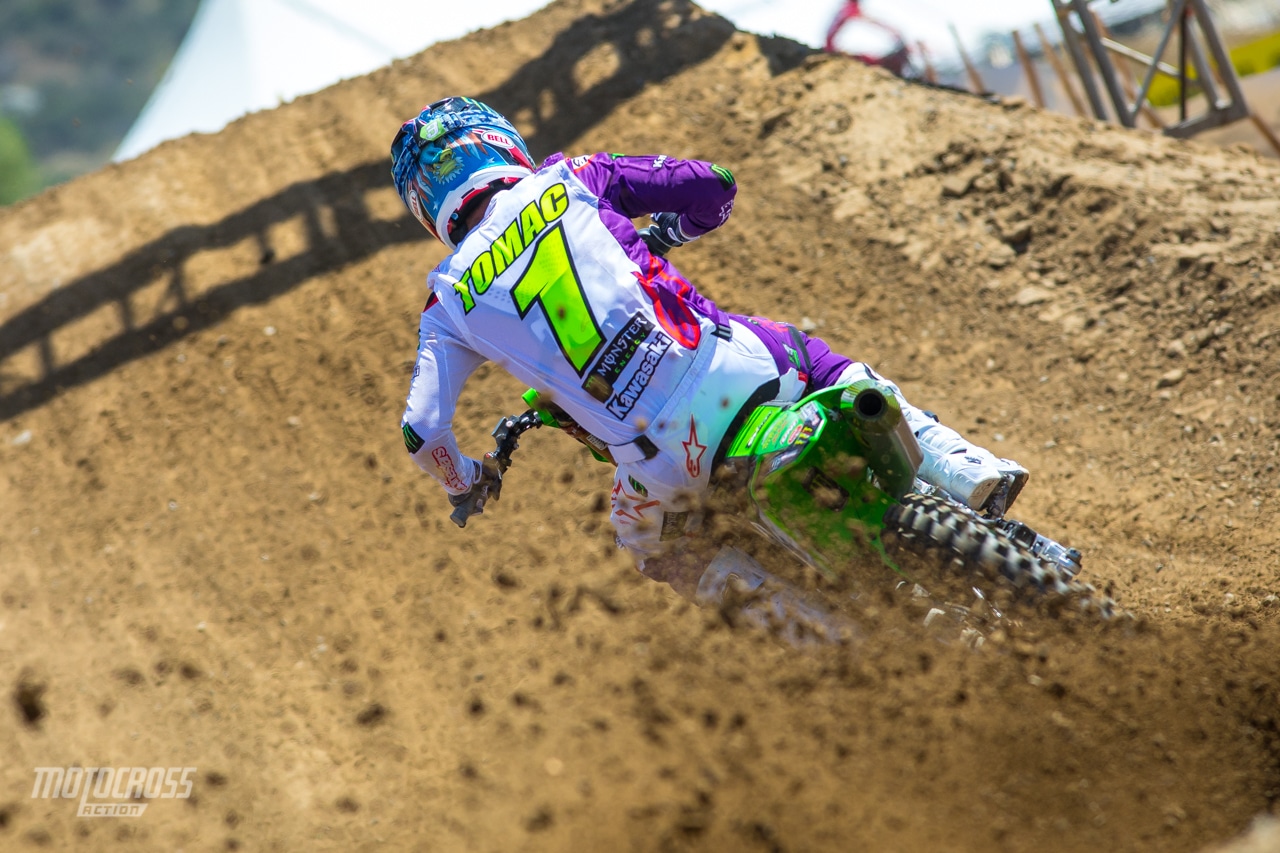 Eli won the championship by 58 points over Ken Roczen.
I WOULD SUSPECT THAT MORE SO THAN MOST RIDERS, YOUR TRAINING IS VERY EXTENSIVE. YOU MUST BE LOOKING FORWARD TO SOME OFF-SEASON RELAXING. Yes, absolutely! I always lay it all out on the line. But , I'm really looking forward to the off season. We have 30-race weekends in a year, and you just get stuck in the groove of doing the same thing every weekend, but that is what we are here for. It is what we love doing, but it will be a good time off.
YOUR CONTRACT WAS RECENTLY UP, AND I WOULD EXPECT THAT YOU WERE VERY SOUGHT AFTER, BUT YOU REMAINED WITH MONSTER ENERGY KAWASAKI. IS IT SAFE TO SAY YOU FOUND YOUR HOME? Yes, that was it really. Kawasaki has been my home and then during Supercross we did the extension of two years, and that is where I am at.
For the third time in a row, we will be seeing the red number one plate on Eli's factory Kawasaki KX450 at Hangtown. 
NEXT YEAR YOU WILL BE TEAMED UP WITH ADAM CIANCIARULO WHO JUST CLINCHED THE 250 OUTDOOR CHAMPIONSHIP; WILL YOU TEACH HIM THE 450 ROPES? I don't want to teach the guy too much. We are going to be competitors, but yes, he is a really great guy and he had a really good farewell season on his 250. That is all I have to say, it is always a learning experience, that first season on a 450.
HOW ABOUT A QUICK SUMMARY OF 2019? It's been unbelievable really. This season was different for us. Everyone pegs me as more of the inconsistent guy, and I felt like we were the consistent guy this year in moto, so that was a nice change. Like I said, the worst place was a seventh on a bad day, in a single moto, so that was the big improvement this year. And 2020, once again, we are going to be doing all we can to go for a Supercross championship. We have won a heck of a lot of races, and I just will give all I can for Supercross.I know that we are going to try to bring this moto consistency into Supercross, and just be healthy from the beginning. Last year, I was playing catch-up, so hopefully we will not be playing catch up this year.