MXA INTERVIEW | FREDRIK NOREN GOES FROM PRIVATEER TO FACTORY
Fredrik Noren will fill-in for Justin Hill on the JGR Suzuki team for the remainder of the 2019 AMA Nationals. 
HOW DID THE OPPORTUNITY WITH JGR COME UP? After the second Moto at WW Ranch, Jeremy Albrecht and Buddy Auntunez from the JGR Suzuki team came over to my van and asked me if I was interested in riding for them. Obviously I was interested in a factory ride, especially because I've been doing everything on my own. All of my sponsors and everyone helping me out has been huge for me, but in general I've been going racing on the weekends on my own. So we decided to come and do a test day with them on Monday after the race. We did that and I was very happy with the bike and everyone on the team, I'm really excited about this opportunity.
Freddie Noren has scored top 10 overall finishes in the 450 class at the AMA Nationals 18 times since he made his Pro Debut in 2011.
YOU WENT 9-8 FOR 9TH OVERALL AT THE FLORIDA NATIONAL, TELL US ABOUT IT. After High Point I was a little bummed about my results. So we decided to take a little step back coming into WW Ranch so I could get a little more fired up and excited about it. I had a good qualifying time early on, I was 7th in the first session and then I was 10th in the next session and I got 10th overall in qualifying which I was happy with. In the first Moto, I started 15th and I passed a couple guys before Eli Tomac passed me. After he got around me I was able to follow him through the pack and pass a few more guys together with him. Then I actually got to do some battling with him, once the track cleared up a little bit, he didn't pull away like I thought he would at that time. So he went outside in a corner and I went inside and I was able to pass him and hold him off for a while. Eventually he passed me back and then Blake Baggett passed as well and I finished 9th that moto. In the second Moto I was able to come from another mid pack start and finish 8th, so it was an awesome weekend for me.
So far Freddie's best finishes of 2019 have been 9th overall at the Fox Raceway and Florida Nationals. 
WHAT WAS YOUR PROGRAM LIKE LEADING UP TO THIS OPPORTUNITY? We've been staying and training at ClubMX in South Carolina and with some help from Honda and some great sponsors my wife, Amy and I were able to drive to the first five rounds and go racing. I had help from friends at most of the rounds to help me on the starting line and work on my bike in between motos. Actually, at the Florida National we didn't have anyone to go to the starting line with me, so my wife Amy did it and she did the pit board for me in the first Moto. After the first Moto, Isaac Teasdale's Dad came over and saved the day by changing my air filter and filling my bike up with gas for the second Moto, because I was pretty beat. It has been kind of a friend/family kind of racing effort leading up to this opportunity with JGR. It has been awesome, but it took a lot of energy for me and Amy to do it all. It's challenging to be a privateer.
Freddie's career best finish came when he was a fill-in rider on the factory HRC Honda team in 2016. He placed 6th overall at the Unadilla National. 
WHAT WAS YOUR JOURNEY LIKE COMING FROM SWEDEN? I was born and raised in Sweden and I raced there all the way up until 2011. I was the Junior Championship in 2009 and then the Pro Championship in 2010. After that my coach I had at that time asked if I wanted to go to America and race and I was like 'heck ya!' I came over here in 2011 for sixth months to race the AMA Outdoors and then instead of racing Supercross, I went back home to Sweden to work during the winter. Then I came back in 2012 to do the same thing, I raced outdoors and then worked in Sweden over the winter again. In 2013 I raced outdoors and went home again during the winter but ever since 2014 I've been in America full time.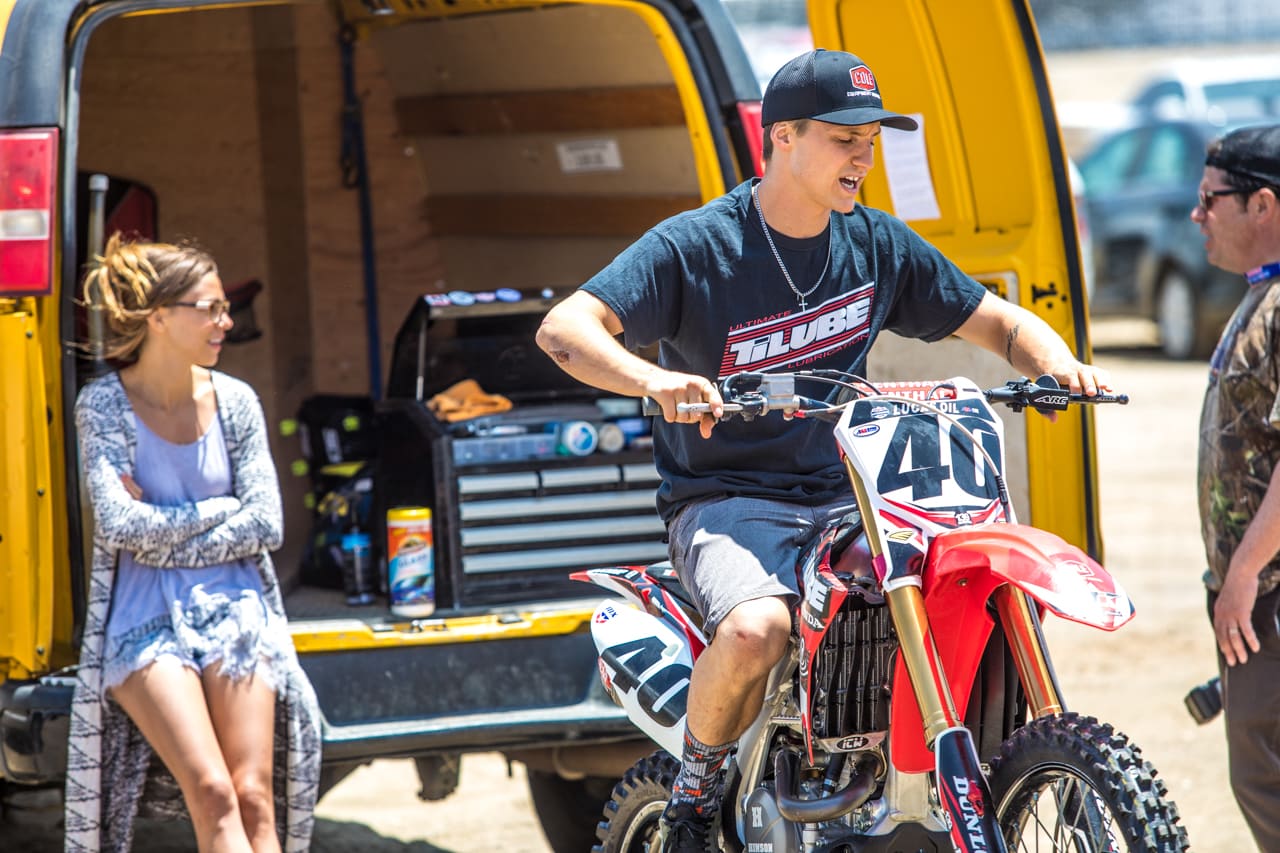 Freddy has traveled many miles in this yellow van with his wife Amy. They are both very excited to be able to fly to the rest of the rounds this season thanks to the JGR Suzuki team.-Photo by Jon Ortner.
WHEN DID YOU FIRST FILL-IN ON THE FACTORY HONDA TEAM? I did six rounds with factory Honda during the 2014 AMA Outdoors when Justin Barcia got hurt and they needed a fill-in rider. Then I signed to be their test rider. Then in 2015 I did ten rounds with the team and three rounds for them in 2016 filling in again. My best finish was at Unadilla in 2016 when I scored a 6th overall. That was my best finish and I'm trying to chase that now and do better than that. The 450 class is stacked right now, not to say it wasn't stacked before, but there is a lot of fast guys right now.
Freddie Noren, his wife Amy and their new baby daughter Jolie.-Photo by Jon Ortner.
WHO WOULD YOU LIKE TO THANK? I would like to thank my wife Amy, my friends, family and my sponsors who have all helped me and encouraged me along this journey. I'm very proud to join the JGR Suzuki team for the rest of the season.