MXA INTERVIEW: GARRETT MARCHBANKS TALKS TURNING PRO
By Jim Kimball
If you have been watching the early races of the 2018 Lucas Oil Motocross Nationals, and wondered whom number 182 on the Monster Energy Pro Circuit Kawasaki was, look no further. That rider is Coalville, Utah, native Garrett Marchbanks. Hand picked by the team only a month before the pro outdoor motocross season started as a fill in for the injured Martin Davalos, the 16-year-old has proven he deserves the ride. Three races into the series, he has finished as high as 8th overall, and currently resides tenth in the 250 championship points. While there are several new rookies in this class (who we will talk to later) Marchbanks has proven to be the best so far. It was after yet another solid top ten finish at Thunder Valley when we caught up with Garrett – and be reminded he is only 16-years-old, but with a huge future!
GARRETT, WHAT WAS IT LIKE GROWING UP IN UTAH AND RACING MOTOCROSS? The sport of Motocross was pretty small when I first started. I just mainly began competing in fair races, and later up into the bigger local stuff. It just got bigger every year for me, and I just eventually moved into the Amateur Nationals.
YOU WON EIGHT CHAMPIONSHIPS AT LORETTA LYNN'S. I HEAR LORETTA LYNN'S CAN BE MORE OF A MEAT GRINDER THAN THE PRO OUTDOOR RACES. Oh yes, for sure. Loretta Lynn's is really important to get a win there, a lot of wins, and especially a championship.  It is more important than an outdoor National because that is where you get to see a handful of the many little kids move up into pros. It is just a really important race for all amateurs.
WHEN YOU WERE AN AMATEUR, AT WHAT POINT DID YOU GET HOOKED UP WITH TEAM GREEN? My second year on a 65, which was my last year on that bike. I won my first championship there, which was in 2011. I got picked up in 2012 and since then, I have been on my Kawasaki.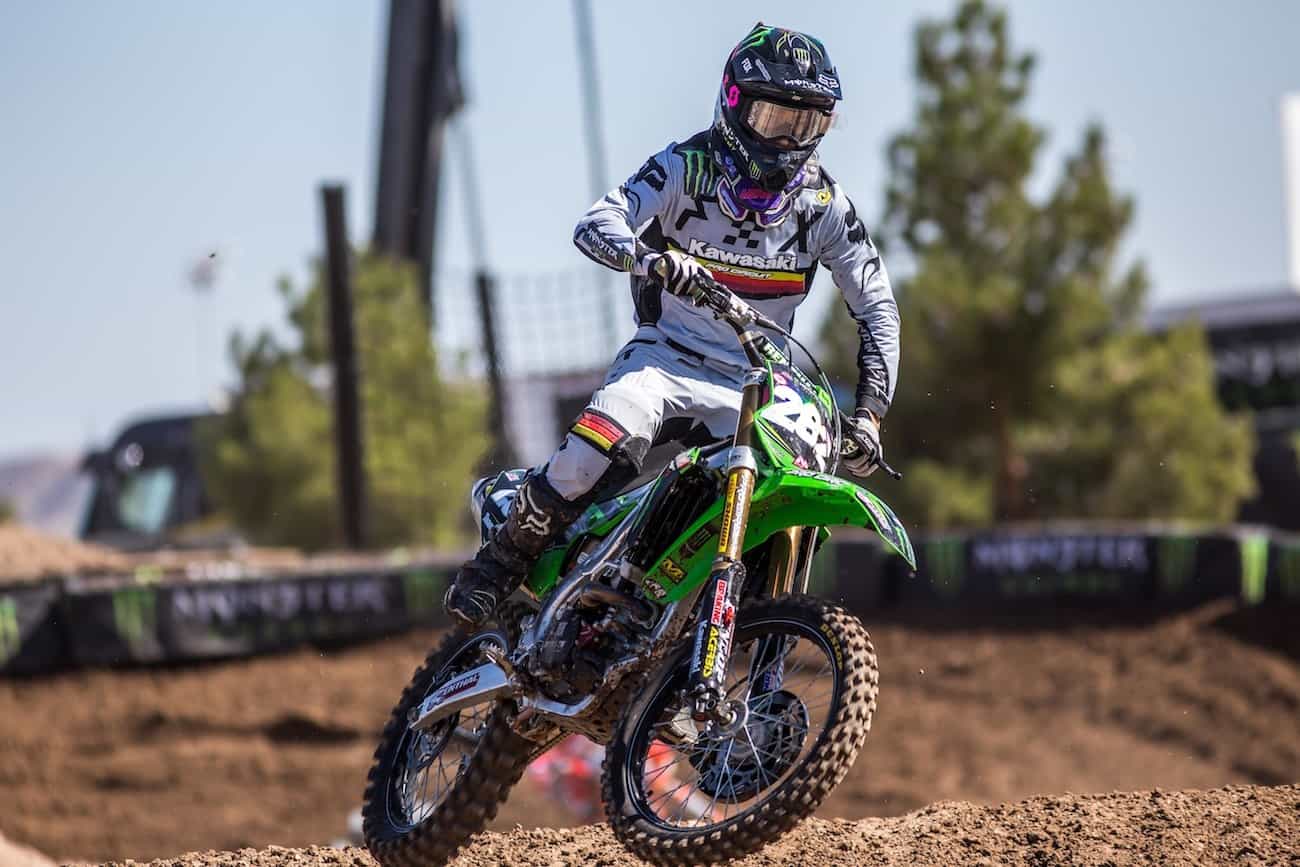 GEICO HONDA, STAR YAMAHA AND PRO CIRCUIT KAWASAKI REALLY USE LORETTA LYNN'S TO DEVELOP THEIR PRO RIDERS. Yes. Kawasaki is huge into that. They lead you into the Pro Circuit ride if you do great enough. But yes, nowadays Geico, Star Racing, JGR, and a bunch of new teams are focusing on Loretta Lynns.
WERE YOU GOING TO TURN PRO AT HANGTOWN EVEN BEFORE MARTIN DAVALOS GOT INJURED? Honestly, they just wanted to see how I did at the Ricky Carmichael Amateur race in Daytona. But yes they were going to try to push for a five-rider team, but they were not sure how my endurance or riding was going to be. Then they watched me at Freestone where I won all my motos. Honestly, we were really pushing for it this year, but in my head, I did not know what was going on.
YOUR FINISHES SO FAR IN THE AMA NATIONALS HAVE BEEN INCREDIBLE. Yes, I have been just really happy with the team, and just been happy so far, this year. My goal this year has been to just race every single round, stay as happy as possible, and finish within the top ten.
WHAT IS THE BIGGEST DIFFERENCE FROM THE AMATEUR RANKS TO THE PROS? It is much more of a structured program in the Pros than as an amateur (where you only race maybe every other month). As an amateur you can take time off, mess around or train here and there—and still do really well. In the pros, you have to have a good program and you have to be on your A-game at all times.
BEING FROM UTAH, WHERE ARE YOU TRAINING NOW? My first true training began at Club MX, and I think I was there for 3-½ years. But I went to Ricky Carmichael's for almost a year. I wanted to try something new, so I went out to California, and stayed there for a couple of months. Then we got a call from South of the Border MX and went there—and have been out there ever since. It has been a really good fit for me.
ARE YOU HAPPY WITH THE RESULTS FROM YOUR FIRST THREE AMA NATIONALS? Yes. I had gone 12-6, for 10th overall at Hangtown and it was a really good finish for me. I set the goal for top 10 and took 10th over there, and then Glen Helen I think I went 7-10 for 8th overall. At Thunder Valley I finished ninth. Every weekend, I am just trying to get better and better.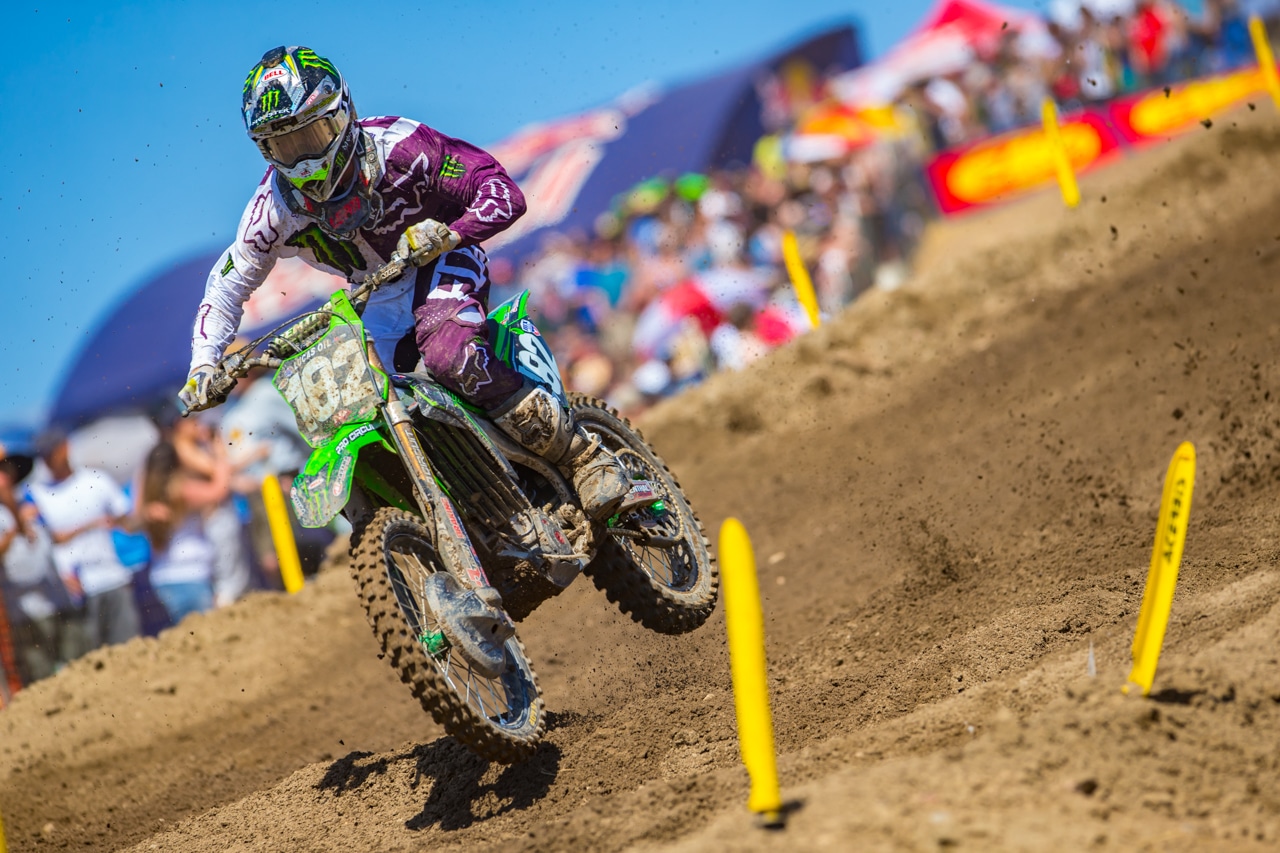 YOU DON'T SEEM INTIMIDATED BY THE BIG-TIME. I have just been trying to stay level headed. Honestly, I try not to be too nervous with the races. To be 16 and racing these guys is a huge experience, and a great goal for me. I just do the best I can, and that is what I have wanted to do.
DO YOU THINK THE ESTABLISHED STARS RACE YOU HARDER BECAUSE YOU ARE A ROOKIE? Definitely. For sure. They race me harder. I definitely know the veterans do not want to be passed by a rookie. Just going out there and doing my best is awesome, but last week, Joey Savagty, Shane McElrath and a couple of the other guys were battling for a 6th place spot. I was in 6th the whole time until the last lap, made a bobble, actually had to make a U-turn on the track, and Joey got by me. But these older guys that have been in the class for a while definitely make it tougher on you, and it's definitely a lot harder than what amateurs are.
DO YOU HAVE AN EXPERIENCED PRO RIDER THAT IS MENTORING YOU? No, there are not many people that race Nationals who give me advice. I might talk to some of the guys on the team, but mostly I just keep to myself. I have my trainer, who has come to the past three races, and been training with me. He definitely watches my lines, and what I do really closely, so he has been definitely been doing a great job with that, and been very good at telling me what to do.

 I might talk to some of the guys on the team, but mostly

I just keep to myself.
IS THERE MUCH COMPETITION TO BE THE TOP ROOKIE? A little bit. I try not to worry about the other rookies. I want to be the best at what I can be. I am happy in my first year just to be in the top ten. I know that not too many rookies experience a top 10 in their first season. So, whenever I see a new rookies in front of me, I tell myself, "you have to pass that guy."
IS IT DIFFICULT LEARNING TRACKS THAT YOU HAVE NEVER RACED BEFORE? It is very difficult racing them. My first year is a big learning curve. But I feel like I learn pretty quickly by following these guys in the first practice, trying to follow all the fast guys that had been there the past four years. We see what the lines are, what the jumps are like, and everything like that.
OTHER THAN MOTOCROSS, DO YOU HAVE ANY HOBBIES? I like to go fishing, hunting and camping, whenever I get the chance too.
WHAT ARE YOUR GOALS FOR THIS SUMMER? My goal is the top 10 at every race this year. I'd definitely like to push into the top five position, and finish fifth overall. My biggest goal is to finish top five in the 250 points this year as a rookie. That would be a huge for me.