MXA INTERVIEW: GARY JONES WAS THE ULTIMATE HIRED GUN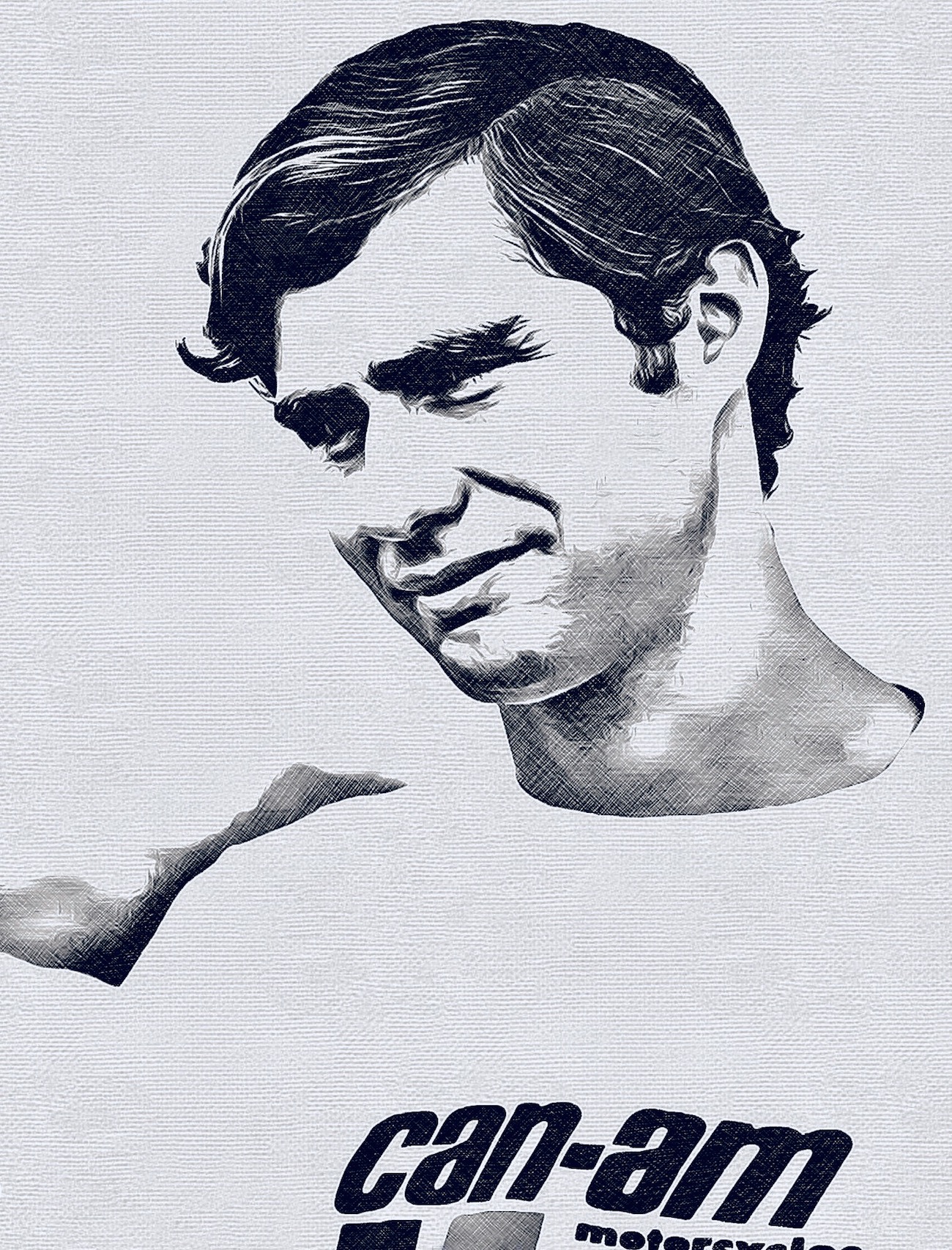 BY JIM KIMBALL
WHAT WAS THE FIRST MOTORCYCLE YOU EVER RODE? It was a Villiers Dot 125. My brother DeWayne and I pushed it more than we rode it. We did not know anything about bikes. My dad would buy old, crashed and broken bikes, fix them and sell them. Used motorcycles were where the money was. My dad became a Yamaha dealer when Yamaha first came to the States. When they came out with the DT1, I started racing that. But before that, I rode BSA Goldstars, 441 Victors and a 650 Twin. I won hill-climbs and desert races before I ever started riding Yamahas.
DID YOUR DAD SPONSOR YOU? I was lucky that my dad was a BSA dealer. He sponsored a couple of flat-track guys. Anything that he learned from the racing, he handed down to me. Later, my buddy Gary Sewell bought a BSA from him for me to race because he saw potential in me. That is how I started riding big bikes. There was no motocross at that time. You had one bike and rode a flat track one week, then the next week you would change the tires and ride a desert race or you would ride a TT.
Gary racing dirt track on a Triumph.
WERE YOU COMPETING IN ALL FORMS OF MOTORCYCLE RACING? I was racing everything that I could (flat track, TT and scrambles races) where I could ride the same bike. Then a buddy said, "Let's buy Gary a speedway bike so he can race that." He bought me a JAP, and I raced speedway and was making money. Then motocross started coming out, and I began racing the 441 BSA and making more money there.
Gary racing speedway on a JAP.
WAS MOTOCROSS CATCHING ON? It started in Southern California. I raced the Europeans at Hangtown. I was on my 500 BSA, and they were on 360 CZs and Husqvarnas. I thought I was a great racer, but I did not even see which way they went! They knew how to get through the rough stuff. My dad said, "We need to get you a lighter bike." So, we got a BSA 441, which was a great bike. I read about Jeff Smith racing them. He was my hero when I first started riding motocross. Of course, Torsten Hallman was riding Husqvarnas when he came over here. I was on the 441 BSA, and he was on his lightweight motocrosser and smoked me! I said, "That is not going to happen again. I have to figure out how to go faster."
"MY DAD BECAME A YAMAHA DEALER WHEN YAMAHA FIRST CAME TO THE STATES. WHEN THEY CAME OUT WITH THE DT1, I STARTED RACING THAT. BUT BEFORE THAT, I RODE BSA GOLDSTARS, 441 VICTORS AND A 650 TWIN."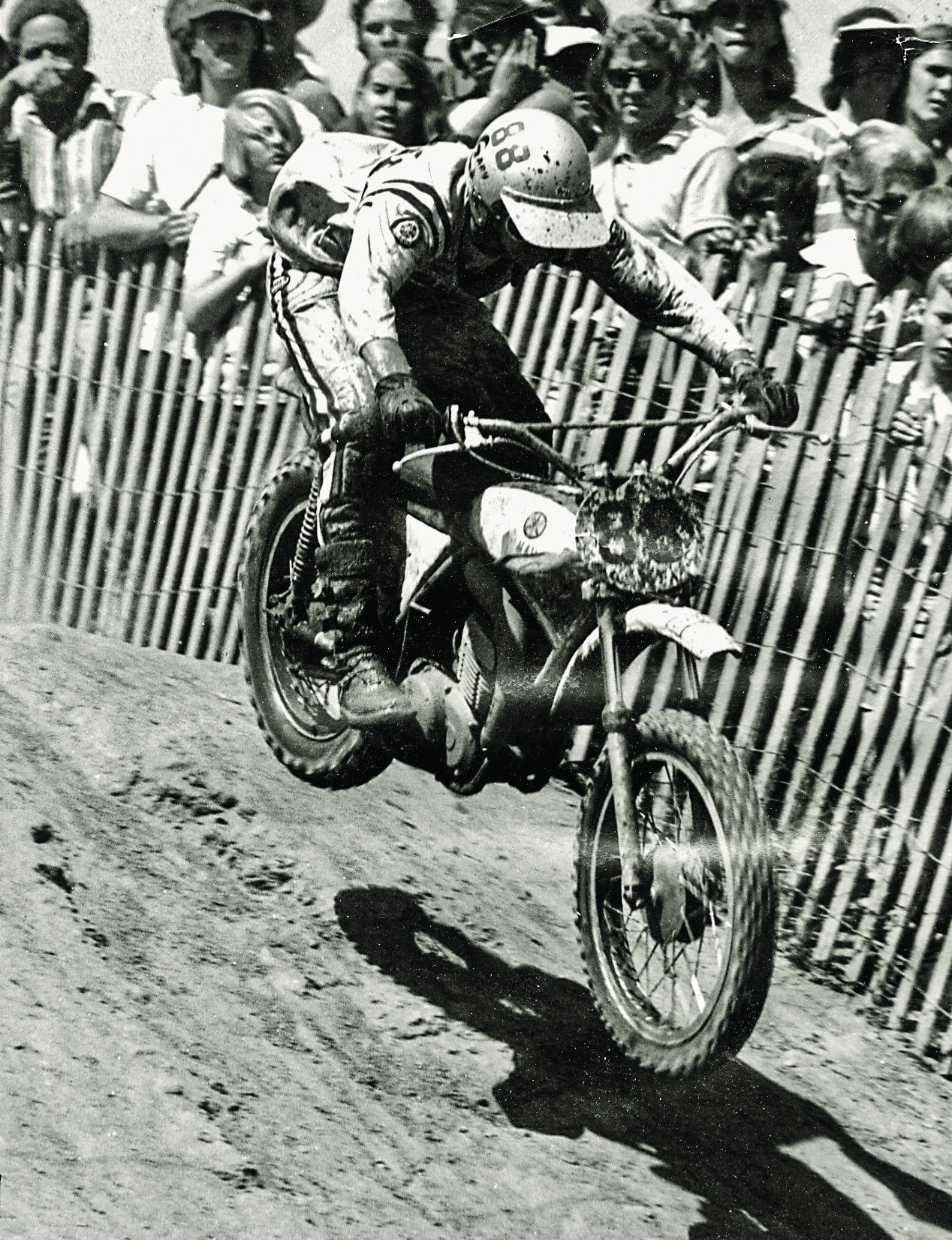 Gary racing the DT-1 based YZ250 prototype.
DID THINGS CHANGE WHEN YOU GOT ON THE YAMAHA DT1? It was a super lightweight bike, but it would throw me off for no reason. So, we started lowering the frame and changing the fork angle, the angle of the swingarm, moving the footpegs back, and a bunch of different things on the DT1. We made lighter fiberglass gas tanks and later made fiberglass fenders. Back then, if you wanted better footpegs, handlebars, levers, controls or chain guides, you had to make them yourself because they were basically street bikes that we were racing in the dirt. Nowadays, you can't buy a bad bike. Everything is good.
HOW DID YOU COME TO THE ATTENTION OF YAMAHA? We were racing these DT1s and had them working well. My dad had a buddy from the Jet Propulsion Lab. He worked at missile welding. He knew where to get trick titanium and how to weld it. He and my dad were drinking buddies. They said, "Let's build a really trick bike." When they were done, it had a titanium frame and axles, with magnesium side cases and heads, hard-chrome cylinders and titanium shift shafts and shift drums. It weighed 186 pounds wet. Every nut and bolt on it was Ti. My dad named it "A–Z" because we changed everything on a Yamaha DT1 from A to Z.
WHAT WAS YAMAHA'S REACTION? We won a bunch of races on this bike, and Yamaha said, "We will give you $1500 if you can win this Cal Expo Motocross (the first one that Mike Goodwin promoted)." It was at the California State Fair. We won that on the Yamaha. Yamaha asked if they could borrow my bike, but I never saw it again. Of course, they gave me new bikes and said, "Here, do some more racing." Later, when the YZ version came out, which looked a lot like my old race bike, they gave us some of those. We started racing those and doing more modifications to them.
WHAT HAPPENED WHEN THE EUROPEAN GP RIDERS CAME BACK OVER FOR EDISON DYE'S INTER-AM? I won the 1971 series overall. I was the first American to win an international series. But, it did not officially count as an AMA Championship that year, although in many minds that series was the first official 250 National Championship. My series didn't count as the 250 National Championship but Mark Blackwell's identical win in the 1971 500cc Trans-AMA series did, which bothered me. I still believe I won four 250 National Championships, not three.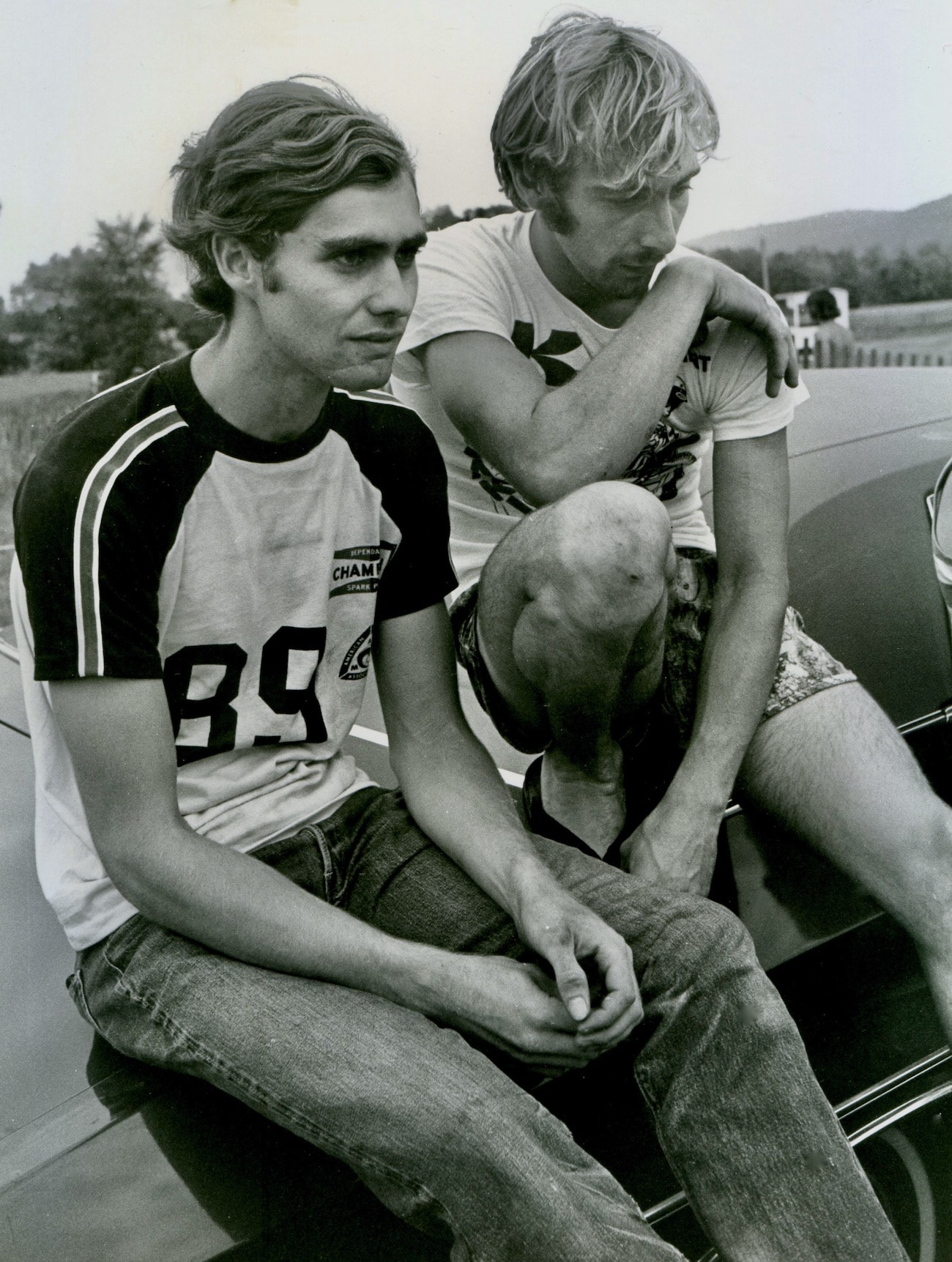 Gary and Jimmy Weinert.
IN 1972, YOU WON THE FIRST OFFICIAL AMA 250 CHAMPIONSHIP. Yes, that one counted. That was with Torsten Hallman, Hakan Anderson and many other Europeans. Jimmy Weinert was on our team, along with Marty Tripes. Well, Tripes was on the team before getting pushed off because he was not old enough to race an AMA National. His dad had lied about his age his whole life, but he got busted this time. Then three days before the Superbowl of Motocross, he had his birthday. The race was part of the series, and he won. That was his rookie race and he won it. Marty was such a great rider.
THEN HONDA CAME AFTER YOU? Yes, at the end of 1972, Honda asked us to test their bikes. They would pay us to test a bike on the sly, and, of course, we would do that. It was a pretty good bike. Later, before I went to Can-Am in 1974, Harley-Davidson was hiring me on the sly to ride some of its Harleys while I was racing for Honda. This still happens today, but nobody knows about it. Tomac didn't switch to Yamaha without riding the bike while under contract to Kawasaki. I am sure he rode that blue bike many times without anyone knowing.

"WE WERE HAVING TROUBLE WITH YAMAHA BECAUSE THEY JUST WANTED ME, NOT MY DAD AND NOT MY BROTHER. THAT WAS NOT GOING TO WORK. MY BROTHER AND I WERE TEAMED TOGETHER. THEY HAD TO TAKE THE FAMILY DEAL OR NOTHING."
Gary on the #1 Honda getting cooled down at Rio Bravo.
WHEN HONDA HIRED YOU IN 1973, WERE THEY SAYING, "WE WANT YOU TO DEVELOP THIS BIKE?" No. They were not talking development. They just wanted me to race it. We were having trouble with Yamaha because they did not want to have my dad as the team manager. They just wanted me, not my dad and not my brother. That was not going to work. My brother and I were teamed together. They had to take the family deal or nothing.
At Honda, we flew to all the races. There were all kinds of cool things in the Honda contract, but Honda did not follow through on many of them. At the end of the season, after I won the 250 National Championship, we did not have any Open-class bikes for the Trans-AMA Series. I wanted to race it, so Honda bought me out of my contract.
LETS HEAR MORE ABOUT THIS. The Honda contract read that I was going to race an Open-class bike in the Trans-AMA series. They built me one, and I rode it at a Grand Prix. I was leading when the frame broke in half. We went to the first Trans-AMA race, and they said, "We don't have a bike for you to race." I said, "What are you talking about? You must have a bike for me. You had one a few months ago. Where is it?" They replied, "We are not going to race that bike. You have to ride the 250 Support class." That was wrong. I was the National Champion. I was not going to race the Support class. I had been lapping most of the Support-class guys in the Nationals, and I wanted to race against the best guys.
Gary raced Maicos when he was between factories.
WHAT HAPPENED NEXT? I bought a Maico but took the stickers off. The first time I raced it, it blew up. Maico was embarrassed, so they offered me Adolf Weil's spare factory works bike. I raced it through the rest of the Trans-AMA series races. I holeshot a bunch of races, but it always broke.
IS THAT WHEN CAN-AM ENTERED THE PICTURE? Maico did not have the money that we had been getting from Honda. Then Can-Am called. I had never heard of a Can-Am before, but I looked into it, and they made a 125 and 175 but they didn't make a 250. I asked them, "How am I going to race a 250 class if you don't have a 250?" They said, "We'll build anything that you want."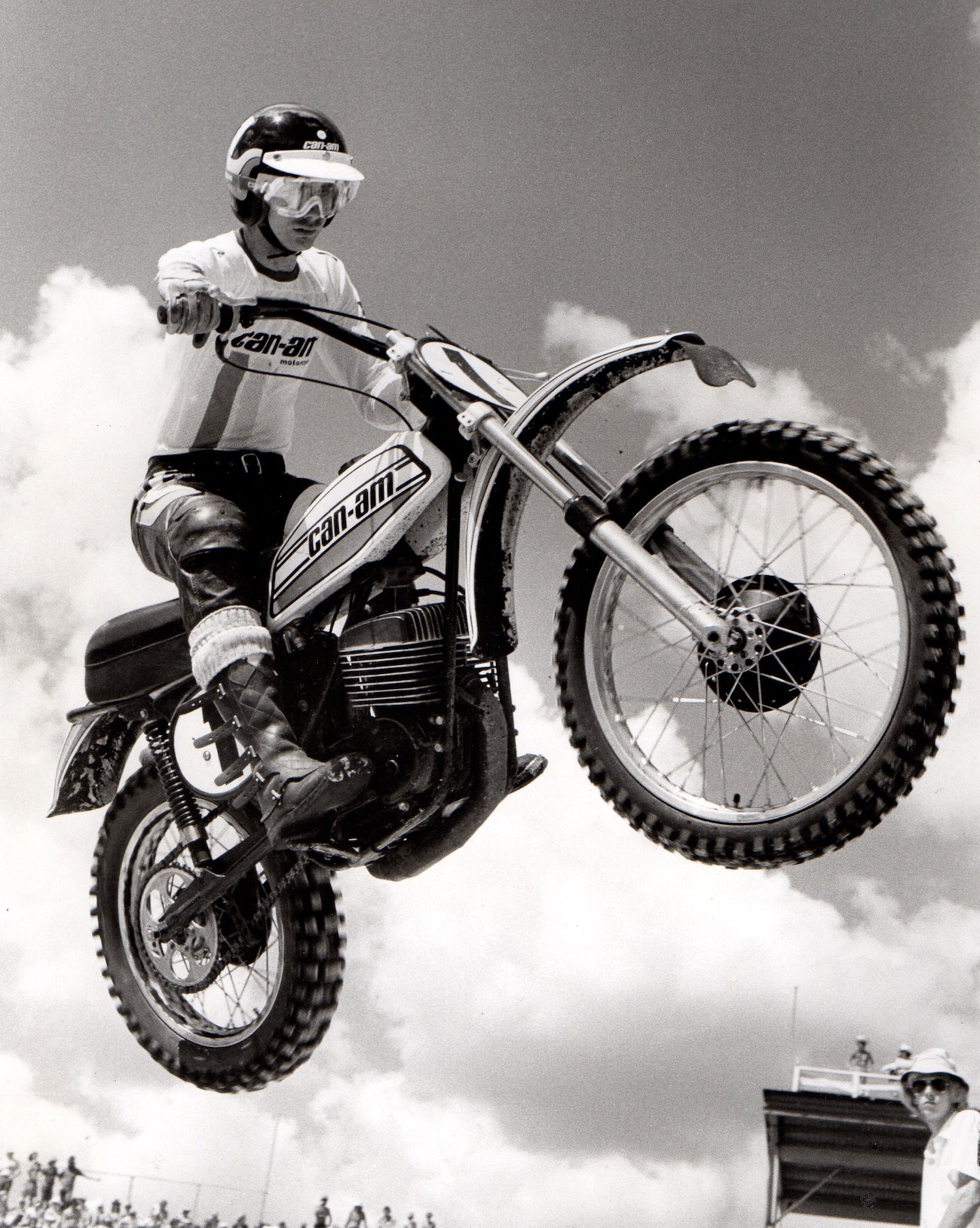 Gary flying the rotary-valve Can-Am 250.
WHAT ABOUT THE MONEY PART? When we got down to the contract talks, Can-Am said, "We have plenty of money." So, I gave them some outrageous dollar figure—a really big number. Double our Honda salary, double the number of bikes we needed, triple the expense account, flying to all the races, and they kept saying, "Yes, we can do that." I still had no clue who Can-Am was, but they were one of the largest snowmobile manufacturers in the world. Motocross racing was chintzy to them compared to the kind of money Can-Am, Rotax and Bombardier had. I signed a contract without riding their bike. I never even saw the bike at the time.
HOW WAS YOUR FIRST RACE ON THE CAN-AM? The first AMA race, they showed up without the promised 250, so I rode the Can-Am 175, but I won. I even raced another 250 race on their 125. We had to get permission from the AMA to race a 125 in the 250 class. They must have thought I was joking because they said, "Go ahead; we don't care." I got second on the 125.
YOU WON THE 1974 250 CHAMPIONSHIP ON A CAN-AM. Yes. Originally, Jimmy Ellis and I were the Can-Am team. Jimmy and I were having a great season. I was in the points lead and Jimmy was running third. Marty Tripes was running second in the Championship on a privateer Husqvarna. Marty had made good money when he was at Team Honda, but he was riding the Husqvarna for free. He was winning AMA 250 Nationals on it, but he did not even have enough money to get to the races. My dad and I gave Marty money to get to the races' and he was our toughest competitor.
BUT YOUR DAD PULLED THE COUP OF THE CENTURY THAT SEASON, DIDN'T HE? My dad, who was the Can-Am team manager, said to Marty, "I see you are driving a brand-new van. If you want to come over to Team Can-Am, we will pay that baby off and give you this kind of money." I don't remember what the money was, but Marty signed on the spot. At the series end, Can-Am became the first manufacturer to go one-two-three in the AMA 250 National Championships.
AT CAN-AM, YOUR DAD WAS INSTRUMENTAL IN HELPING IMPROVE THE BIKES YOU RACED, WASN'T HE? At Can-Am, he would suggest that if they changed this or that Gary would be faster and they would do it. We needed a longer swingarm to test and—boom—we had one the next week. We wanted a different kind of axle, and we would have it the next week. The biggest issues we had were with their wheels and hubs. Jeff Smith, who was the head of R&D at Can-Am, said, "No, these wheels are good enough." But we still broke them, so my dad told Can-Am, "Make it like this." And we quit breaking spokes and wheels.
WAS THE 1975 BIKE CONSIDERABLY IMPROVED? Absolutely. It was way, way better. In 1975 they introduced many of the changes we did the year before. I don't know if you have ever seen photos of the 1974 Can-Am I raced, but at one point we had three shocks on it. Two of the shocks were Koni adjustable shocks with little coolers on them that you could adjust. But, when we adjusted them, the shocks would get so hot that they would blow out the seals. My dad added an extra shock, without the spring, to have more damping late in the motos.
HOW WAS THE 1975 SEASON? In 1975 I only rode two races. Then I went to Daytona and broke my leg. It got caught in Peter Lamppu's rear wheel. He had fallen in a berm, and I fell on his bike and stuck my foot in his rear wheel. His bike was running wide open, and it sucked my leg through it. They had to cut his swingarm and spokes off to get my leg out. I was done for the year. My brother was still racing for Can-Am, along with Marty Tripes and Jimmy Ellis. Can-Am bought me out of my contract. Luckily, in my contract it said that if I was not able to race, they had to pay my full contract amount. So, I got the money, and we started talking with Frank Cooper about this new motorcycle.
WAS THERE A CHANCE OF RETURNING TO CAN-AM FOR 1976? We did not even try. My leg was badly broken, and back in 1975, they did not have the medical techniques they have now. At one point they wanted to amputate my foot because it was so bad it would not heal. It took 2-1/2 years to heal completely.
WE HIRED MARTY MOATES TO TEST THE BIKES' WHICH WE NAMED AMMEX BECAUSE THEY WERE AN AMERICAN DESIGN BUILT IN THE MOTO-ISLO FACTORY IN SALTILLO, MEXICO. THUS, AMERICAN/MEXICAN EQUALS AMMEX.
Gary in the Ammex at the San Diego Supercross.
AFTER CAN-AM, WHAT HAPPENED? We decided to buy Cooper motorcycles from Frank Cooper. The Cooper 250 Enduro was a kind of a hodge-podge of parts. It had a copy of a Maico frame but not with the best possible steel. We knew it would be better with chromoly. The shocks were made in Mexico. We lightened the flywheels and changed the ignition, and since it had the same bore and stroke as a Yamaha YZ250, we put a Yamaha reed valve on it. I hired Marty Moates to test the bikes' which we named Ammex because they were an American design built in the Moto-Islo factory in Saltillo, Mexico. Thus, American/Mexican equals Ammex.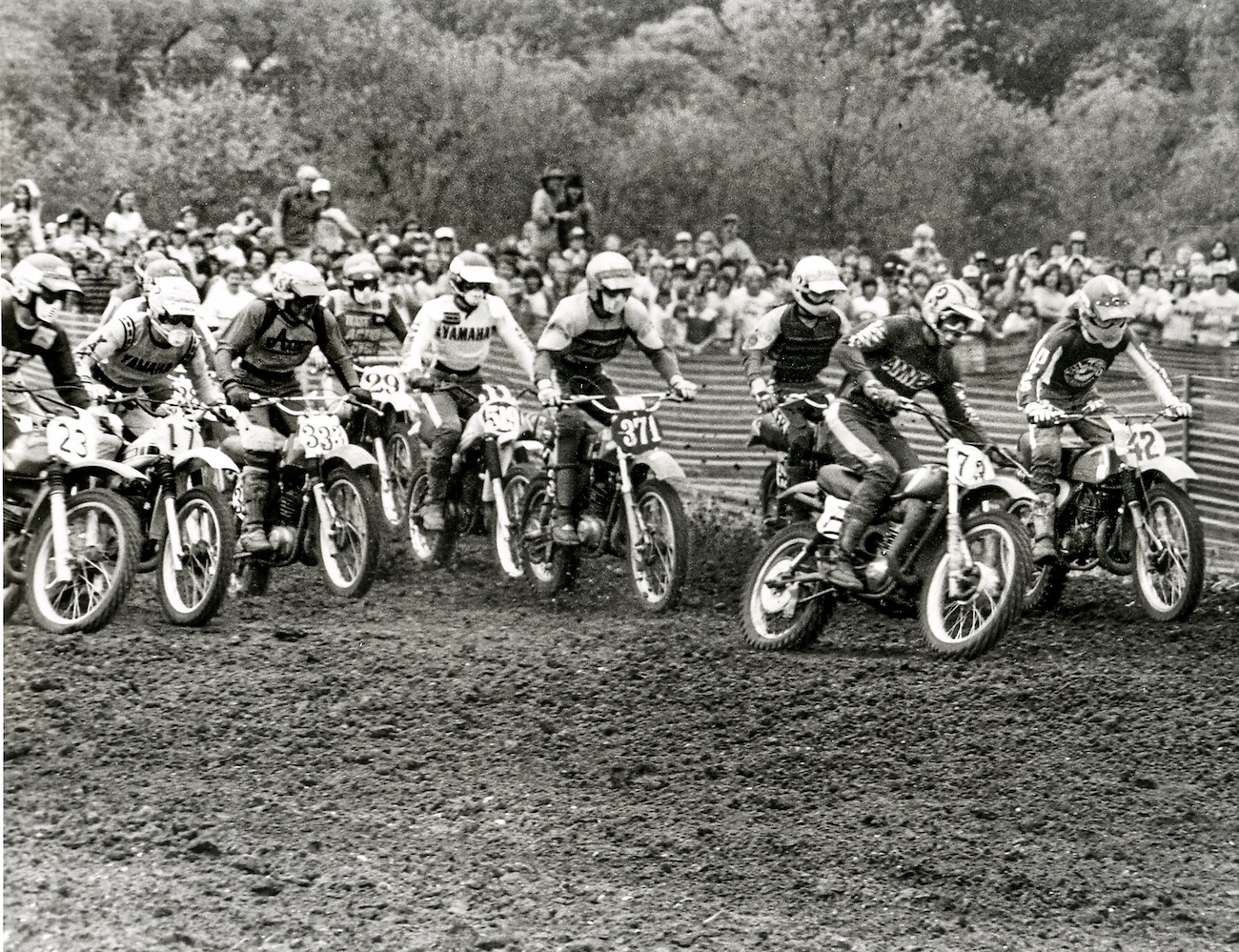 Gary (73) getting the holeshot on the Ammex against Ken Zahrt (42), Broc Glover (17) and Warren Reid (23)
We sourced the finest components we could buy back in the day—Diamond chains, Sun rims and Mikuni carbs. We were hampered by the fact that the Mexican government insisted that 65 percent of the motorcycle be sourced in Mexico for it to be a duty-free import to the USA. If it would have worked out, I like to think that we would be as big as KTM right now, but it did not. After a couple years of R&D and trial and error, we got the Ammexs running well. The bikes handled well. I made 360s and 400s, which were easy to build because Yamaha parts could be slid onto the Ammex cases. We sold 1500 motorcycles the first year. We were getting ready to go big when the Mexican peso was devalued by 67 percent, making our investment in a Mexican company worthless. We lost all our money. I was broke.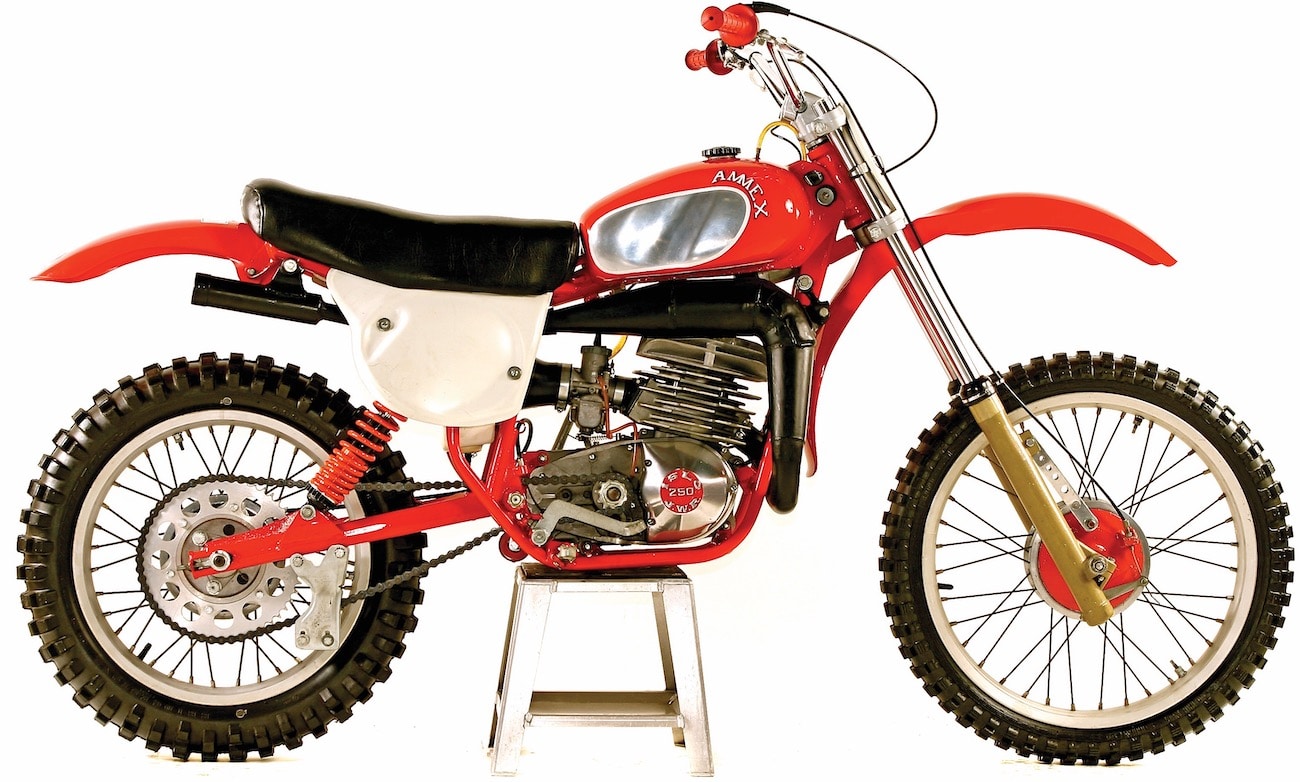 The 1976 Ammex 250 in production form.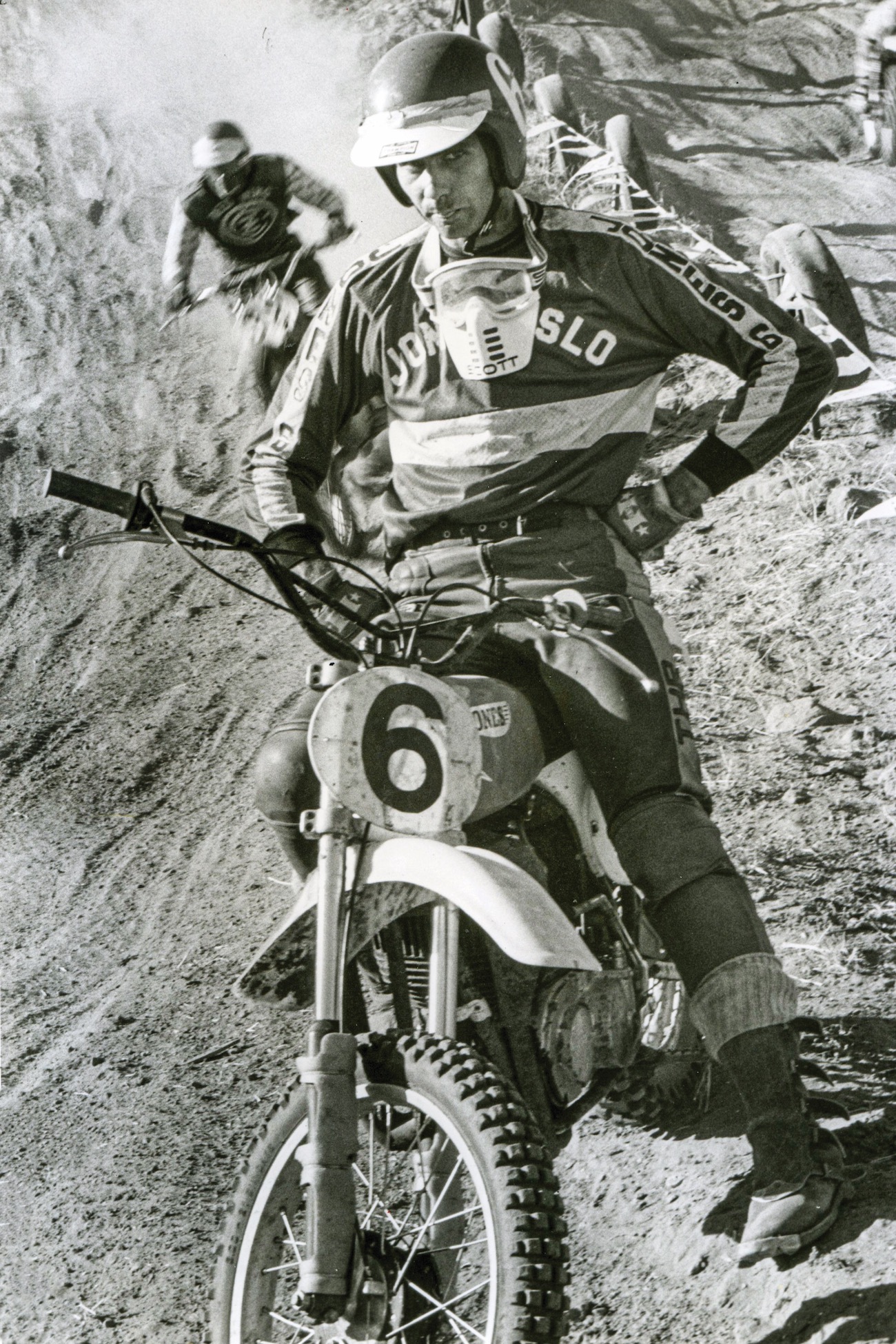 Developing a new motorcycle by racing it often leads to failures.
WHAT CAME NEXT? When I lost all my money, I lost my car and my house. I was living on the enclosed front porch of Jody Weisel's house. He gave me a place to stay, lent me his Volkswagen Baja Bug and let me ride MXA bikes. Back then, you could race three or four times a week. I was making $500 a week in purse money, goofing off and hanging out with Jody. I was having a great time. One day, I decided that I wanted to race the Anaheim Supercross race, so we went out to Jody's garage and took a Kawasaki KX250 and made it red. We put on a plastic gas tank and Ammex decals. I made the main, but just hanging out made motocross fun again.
After Ammex went under Gary raced MXA test bikes. Here is Gary on a Vertemati/VOR at the San Bernardino Supercross.
DID YOU DO ANY OTHER TYPES OF RACING? When I was younger, I did dirt track, scrambles, the Mint 400 and speedway. I did the Bol d' Or in France. I was on Team USA at the 1972 Motocross des Nations. After Ammex folded, Mitch Payton asked me if I wanted to do a couple of desert races on a Husqvarna. I hooked up with desert racer A.C. Bakken, and we raced the Vegas-to-Reno race and won. That year I ended up being the SCORE Off-Road World Champion. I have won my class at the Baja 1000 several times. I am in the AMA Hall of Fame and received the Edison Dye Lifetime Achievement Award in 2003. I never really quit racing, proven by the fact that I won the World Vet Motocross Championship eight times. I'm proud to be the only rider to win World Vet titles in the Over-30, Over-40, Over-50, Over-60  and Over-70 classes.
"WE ARE A RACING FAMILY. MY DAD RACED, MY BROTHER RACED. MY SONS RACED. MY DAUGHTER RACED.
MY NEPHEWS RACED. EVEN MY BROTHERS-IN-LAW RACED."
Gary and Justin Jones.
I SEE YOUR SON JUSTIN'S NAME IN THE NEWS ALL THE TIME. DID YOU PUSH JUSTIN AND GREGORY TO RACE? We are a racing family. My dad raced, my brother raced. My sons raced. My daughter raced. My nephews raced. Even my brothers-in-law raced. In truth, I really did not want my kids to race professionally, but we were at the races our whole lives. Justin had no interest in racing until he was 12 years old. He'd ride along on his quad and watch his brother and sister race. Then, one day he said he wanted to race and won the very first race he ever rode. Justin raced motocross for fun but focused on off-road racing. He has won the Baja 1000 four times for Honda, and in 2014 he led the Junior World Trophy team to the overall victory at the ISDE. This past summer he said, "Dad, I have a bucket list. I want to race a couple AMA 450 Nationals." He's in college now and has a wife and kid, so he only had about two months to prepare. He raced Pala 2 and Hangtown and qualified for both.
The late DeWayne Jones. Gary and DeWayne made history when they became the first brothers to go one-two in an AMA National.

IF YOU DON'T MIND, CAN WE TALK ABOUT YOUR OLDER BROTHER DEWAYNE? Man, DeWayne was fast in flat track and TT. He was one of the best starters ever was in flat track' whether it was a flag start or gate start. He was a very good motocross racer, and at the 1973 Lake Whitney National, DeWayne and I made history by being the first brothers to go one-two in an AMA 250 National. DeWayne loved racing and kept racing into his 50s. Sadly, he was diagnosed with colon cancer when it was too far advanced to be stopped. It just ate him up. But, two weeks before he died, I took him to race a flat track with him wearing his colostomy bag. It was heartbreaking to see him waste away that quickly.
Gary is still racing today and turned 70-years-old  in 2022, he won the Over-70 World Vet Championship to go with his 30, 40, 50 and 60 crowns.
DID THE EUROPEAN GRAND PRIX SERIES EVER INTRIGUE YOU? I had a simple approach. If it paid money, I would have done it, but nobody ever offered me enough money to race the GPs. I was making more money in America than most of the GP guys made. I was the first American rider to get paid what he was worth. It was big money for the time.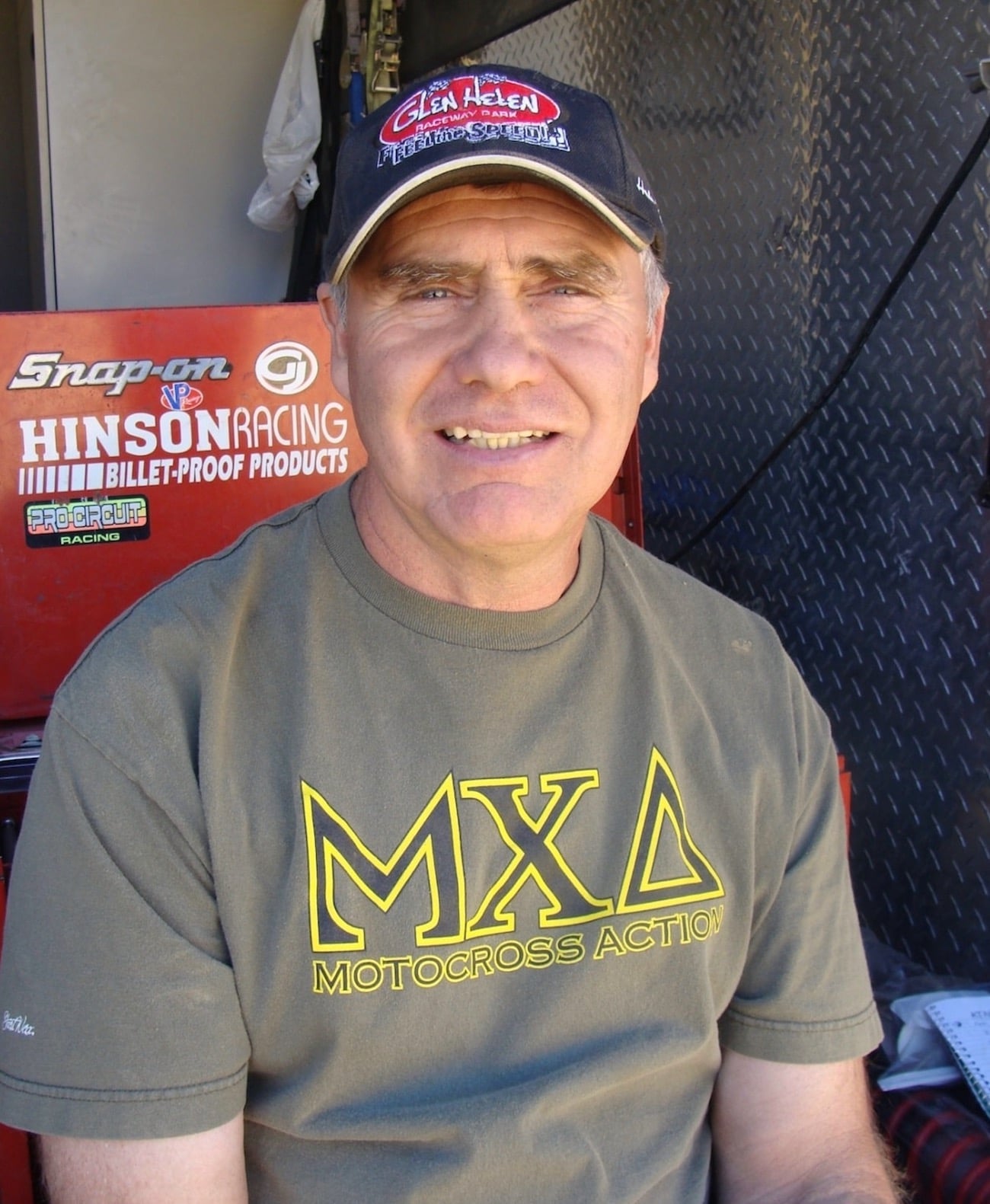 Today, Gary Jones helps Glen Helen with their off-road courses for the 6-hour, 10-hour and 24-hour races endurance races. If Gary asks you to go on a off-road ride with him in Glen Helen's back country, don't go! He will take you down impossible trails—laughing the whole way down.
IS THERE ANYTHING DIFFERENT YOU WOULD HAVE DONE WITH YOUR CAREER? I would have controlled my money more closely. I just signed the checks and gave them to my dad. I would probably not have done the Ammex deal. I should have waited, gotten hired by another manufacturer and tried to race again. When I was racing Ammex, I was still in pretty good condition, and I could get top five.
Gary with Tom White at the Edison Dye Awards with his National Championship Can-Am.
YOU ARE IN THE AMA HALL OF FAME AND WON AMA NATIONAL CHAMPIONSHIPS, WHAT IS YOUR BIGGEST ACCOMPLISHMENT? My three kids. I really enjoyed them the most. We really had fun. All through their growing up, we went to the races together as a family. It was fun, and now we are all separated, and they are taking care of their own families. I miss it.