MXA INTERVIEW: GRANT LANGSTON'S LONG, LONG JOURNEY
By Jim Kimball
GRANT, HOW DID YOU GET STARTED IN MOTOCROSS? My dad's friend owed him some money, and my dad took a bike in lieu of that money—that is how it started. Motocross very quickly became my life. At 6 years old I was on video saying, "I am going to go overseas, and I am going to dominate and be a World Champion." You can hear people chuckling in the background, but that is how I felt from an early age.
YOU MOVED TO EUROPE TO RACE THE GPs. THAT MUST HAVE BEEN A BIG STEP? I went to Europe in 1998, and it was my first year of doing GPs. I actually did not qualify for that first race. It was frustrating to chase your dream and then have to watch the race from the sidelines. It was like the end of the world for me. Here we were in a foreign county and my dad was telling everyone how his kid could ride, and I did not even qualify. I was 15 and the youngest rider there. But, I soon progressed to qualifying, then to qualifying in the top 20, and then to finishing in the top 10. In 1999 Factory KTM picked me up. There was no salary, but they provided a motorhome, bikes, housing, travel expenses and everything we needed.
WAS THERE CULTURE SHOCK BETWEEN SOUTH AFRICA AND EUROPE? Yes. When my dad and I moved in 1998, I rode for Harry Everts, and we lived in a one-bedroom apartment in Belgium. I was going to any local race to make money whenever there was not a GP. Moving to Europe was a big adjustment. I was dealing with being homesick. We did not speak the language. We didn't have any money, and I didn't know anyone. Plus, it was much colder than South Africa.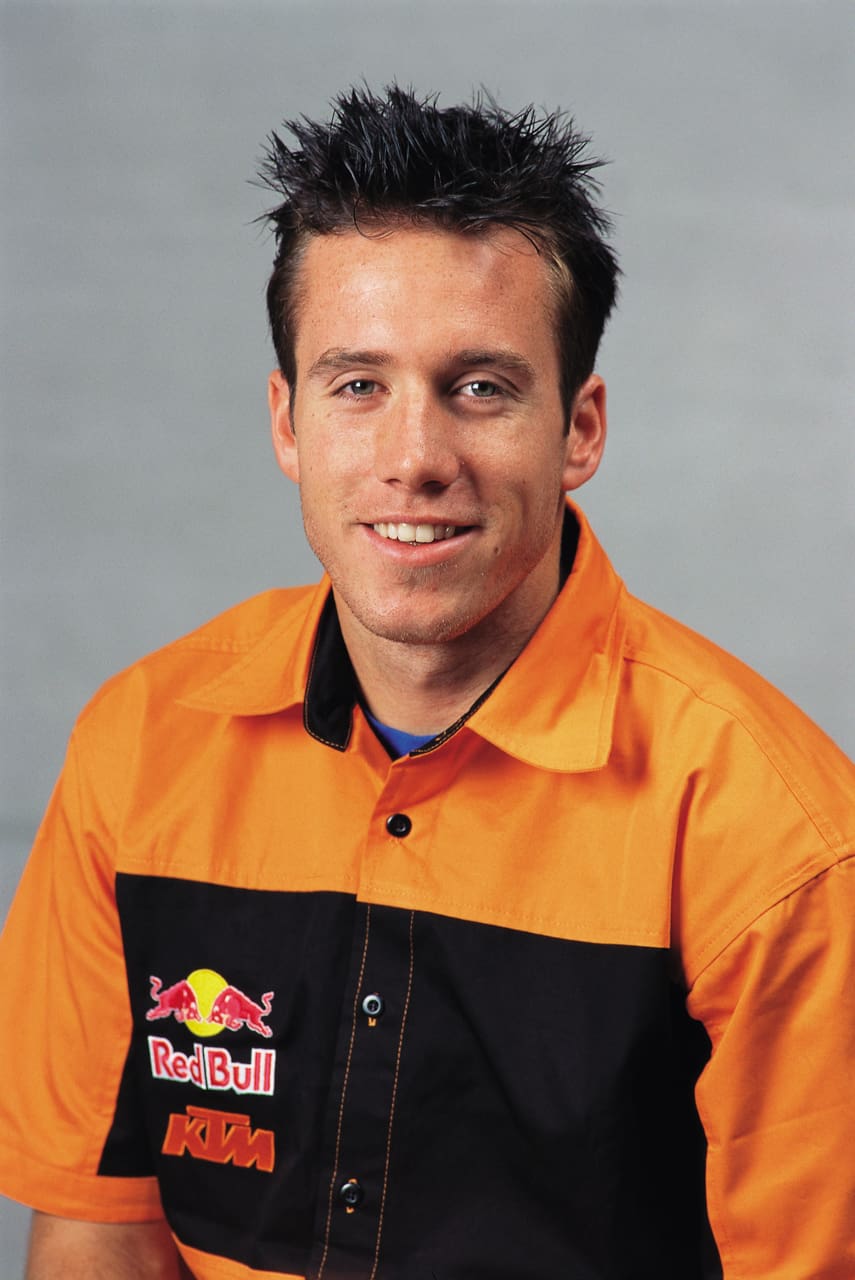 WHEN DID YOU REALIZE THAT YOU COULD MAKE IT IN GRAND PRIX RACING? In 1999 it started feeling like I was becoming a true contender. I had some top 10s and then a couple top fives, then I broke my wrist and I missed a few GPs. But, being young and training hard, I returned quickly. Towards the end of the season, I was on the podium a few times and then dominated the German Grand Prix. Going into 2000, I ended up re-signing with the team for another one-year deal. I got my first paycheck. I went into 2000 thinking, "I have the speed to win this Championship," but not many others believed me. Kurt Nicoll, the team manager of KTM, was saying, "The kid is fast, but he has a lot to learn. He might win a race or two, but he is a little erratic."
WHAT WAS THE TURNING POINT? I had just turned 17 in 2000. It was a good year. If I did not win, I was usually second or third, so I got the points lead early. I just held on to it and did not do anything crazy or stupid. I won seven GPs that year out of 15. Then in June, not even halfway through the season, I got a phone call out of the blue from Mitch Payton, asking if I wanted to race for him in 2001. Of course I said, "Yeah."
THEY SAID, "YOU'RE NOT GOING ANYWHERE. YOU CAN DO WHATEVER,
AS LONG AS IT IS ON A KTM."
WHAT DID YOUR DAD SAY? After I hung up, my dad said, "Well, you said your dream was to be World Champion. What if you don't win this year?" I was a little cocky and arrogant and just said, "Oh no, I am going to win and then leave; it is that simple. I've got this. We are going to go win this title."
WAS COMING TO AMERICA YOUR BIG DREAM? Yes. I wanted to follow in Greg Albertyn's footsteps. I wanted to be in America. I told KTM that I spoke with Pro Circuit Kawasaki and was planning on going to America. They said, "You're not going anywhere. You can do whatever, as long as it is on a KTM." So, they offered me the choice of racing the 125 GPs, 250 GPs, 125 AMA Nationals or 250 Nationals in the States. It was a nice offer, but I said, "I have made up my mind. I want to go to the U.S."
SO YOU TURNED MITCH PAYTON DOWN? I negotiated a while with KTM, and even Mitch some. Then I had to make that hard call to Mitch and say, "Thanks, but no thanks." I told him my reasons for staying at KTM but said, "You never know. Maybe one day we will work together and it will be cool," which later ended up happening. With KTM, I just felt like it was the best decision at the time, sticking with what you know and whom you know. Obviously, when I came here, things were not quite the same, because with the production rule, the handmade factory bike I had been racing in the GPs was useless over here. It was weird to go back to a production bike, because it felt like taking two steps back.
YOU HAD NO DESIRE TO DEFEND YOUR 125 WORLD CHAMPIONSHIP? No. I achieved that goal, and once I accomplished it, I wanted to move on. I admire guys like Tony Cairoli who can be motivated to race the same class, the same tracks and the same people year after year. I chose to walk away in search of something new.
HOW WAS THE RED BULL KTM 125 U.S. TEAM'S EFFORT WHEN YOU ARRIVED? In the GPs, the Kawasaki KX125s were getting smoked. My Factory KTM could easily pass them on the straights. I believed that the KTM was a better bike and had more power than the Kawasaki. But, the AMA production rule leveled out the playing field. In the USA, Mitch's Kawasakis were the bikes to have.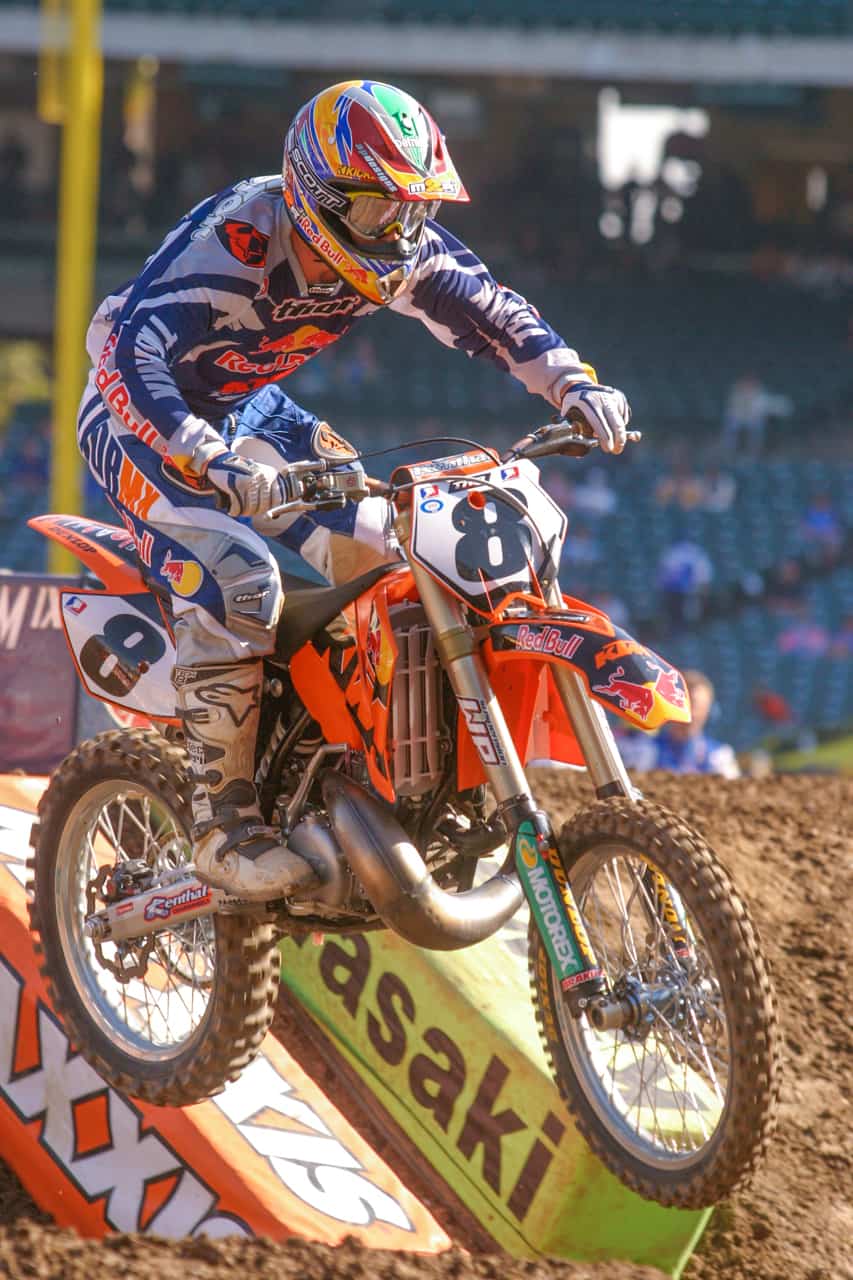 WHAT WAS THE BIGGEST PROBLEM WITH THE KTM 125 IN THE USA? We still had fast bikes. The biggest issue was that the PDS shock did not work in Supercross.
BUT YOU CAME CLOSE TO WINNING THE 125 NATIONAL CHAMPIONSHIP THAT FIRST YEAR; WHAT HAPPENED? It was about 30 minutes into the second moto of the final race of the year. If I would have crossed the finish line, I would have won the Championship over Mike Brown. During that second moto I knew the rear wheel was collapsing. I tried everything to keep from slamming the rear wheel down. I even quit doing the big double. Worse yet, Mike Brown had gone down on the first lap, and it was my Championship to lose. It was a slow nightmare unfolding. I was an 18-year-old kid, and I was thinking that I was going to be the first guy to win a World Championship followed back to back by a U.S. Championship.
AFTER AN INJURY-PLAGUED 2002, YOU MOVED TO THE PREMIER SUPERCROSS CLASS IN 2003. KTM had promised Jeremy McGrath and me a new 250 two-stroke for 2003, but it never came. Jeremy left, but I had just signed my contract. Supercross was a nightmare. The only silver lining was that because KTM realized how frustrated I was getting, they gave me the option to ride the 125 Nationals. I jumped on it just to get off of the 250.

THE GUY SAID HE WAS FROM THE AMA AND WANTED TO CONGRATULATE ME. I SAID, "IF YOU GUYS ARE MESSING WITH ME, THIS IS NOT FUNNY."
AND YOU WON THE 2003 AMA 125 NATIONAL CHAMPIONSHIP, BUT IT WAS CONTROVERSIAL. That year it seemed like I could not win a race but was always in the points. Heading into the last race in Ohio, I thought, "I can finally win this Championship." But, the race got rained out. I didn't know what the AMA was going to do. I assumed it would be rescheduled. I was staying at Brock Sellard's house in Ohio when the phone rang. Brock's wife answered the house phone and said, "Hey, Grant, the last race is canceled. You are a champ."
So, I got on the phone and I was pretty sure it was a prank call. The guy on the other end said he was from the AMA and wanted to congratulate me. I said, "If you guys are messing with me, this is not funny. You are toying with my emotions right now."
HOW DID IT FEEL TO WIN A CHAMPIONSHIP OVER THE PHONE? That was not how you envision winning a championship. You envision going over the line with your hands in the air. It was really strange.
YOU WON OVER THE PHONE AND YOUR TEAMMATE RYAN HUGHES LOST OVER THE PHONE. WHAT WAS YOUR RELATIONSHIP WITH RYAN LIKE? Ryno had the kind of personality where he wanted to hate his competition. His way of hating his competition was to run his mouth. There was a lot of tension at the KTM truck, and it made everyone on the team feel uncomfortable. Towards the end of the Championship I moved over to the 250 truck with Joaquim Rodriguez, while Hughes and the other 125 guys stayed in their truck. At one point, Ryno complained that the engine builder was giving me the best engines, so KTM gave us both separate engine and suspension guys.
IN 2004 YOU HAD A MEDIOCRE YEAR AND SAT OUT THE NATIONALS; IS THAT WHEN YOU DECIDED TO SWITCH? In 2004 things were not good. I was not in a happy place. KTM offered me a deal to ride the 250 for 2005 and 2006. I just said, "No, this is over. I am moving on." I wanted to ride for Mitch Payton because I wanted to win. I knew I wouldn't make as much money as KTM was offering, but Mitch and I talked, and I signed the contract. I needed to reinvent myself.
WITH MITCH PAYTON, YOU STARTED WINNING 250 EAST/WEST SUPERCROSS CHAMPIONSHIPS. That was the first time that I ever felt comfortable in Supercross. I won the 125 East Supercross titles in 2005 and the 125 West in 2006. I remember 2006 the best. It was the most fun that I had in Supercross. I loved the bike, loved the team and I loved being on the West Coast. When you win that second Championship, it makes it all that much better. From the opening round in 2006, I was the guy to beat. And, I started getting some 450 offers.
WHO WERE THE 450 OFFERS FROM? Obviously, I could have stayed on green and rode for Monster Kawasaki—and been second to James Stewart. Or, I could go to Yamaha and be "the guy." At Kawasaki, they let me know that I was going to be the number-two guy. That did not sit well with me. Call it ego, but I felt like the best step was for me to go to Yamaha.
YOU WON THE AMA 450 NATIONAL CHAMPIONSHIP FOR YAMAHA IN 2007. I had a gearbox issue at the Supercross test track and broke my collarbone. I ended up missing about seven or eight rounds of Supercross. Going into the AMA 450 Nationals, the only guy who concerned me was James Stewart. I felt like I had these guys covered. James had a decent points gap on me, but the day James got hurt, he was trying to catch me. He was pushing it because he was not used to anyone running away from him. He tweaked his knee, and all of a sudden this was anyone's Championship. I got on a nice roll at the end after we switched from the 2007 chassis to the 2008. I had been struggling with the turning on the YZ450F. It was my biggest gripe. My worst result in the next five rounds after the chassis change was a second. I won the final three Nationals of the season to win the title.
WAS THAT YOUR GREATEST MOMENT? The Europeans might say the GP Championship is the most important, but many of their World Champions come over here, including me, so I personally think the biggest feather in anyone's cap is the 450 National Championship. I felt confident going into 2008, and then the wheels came off.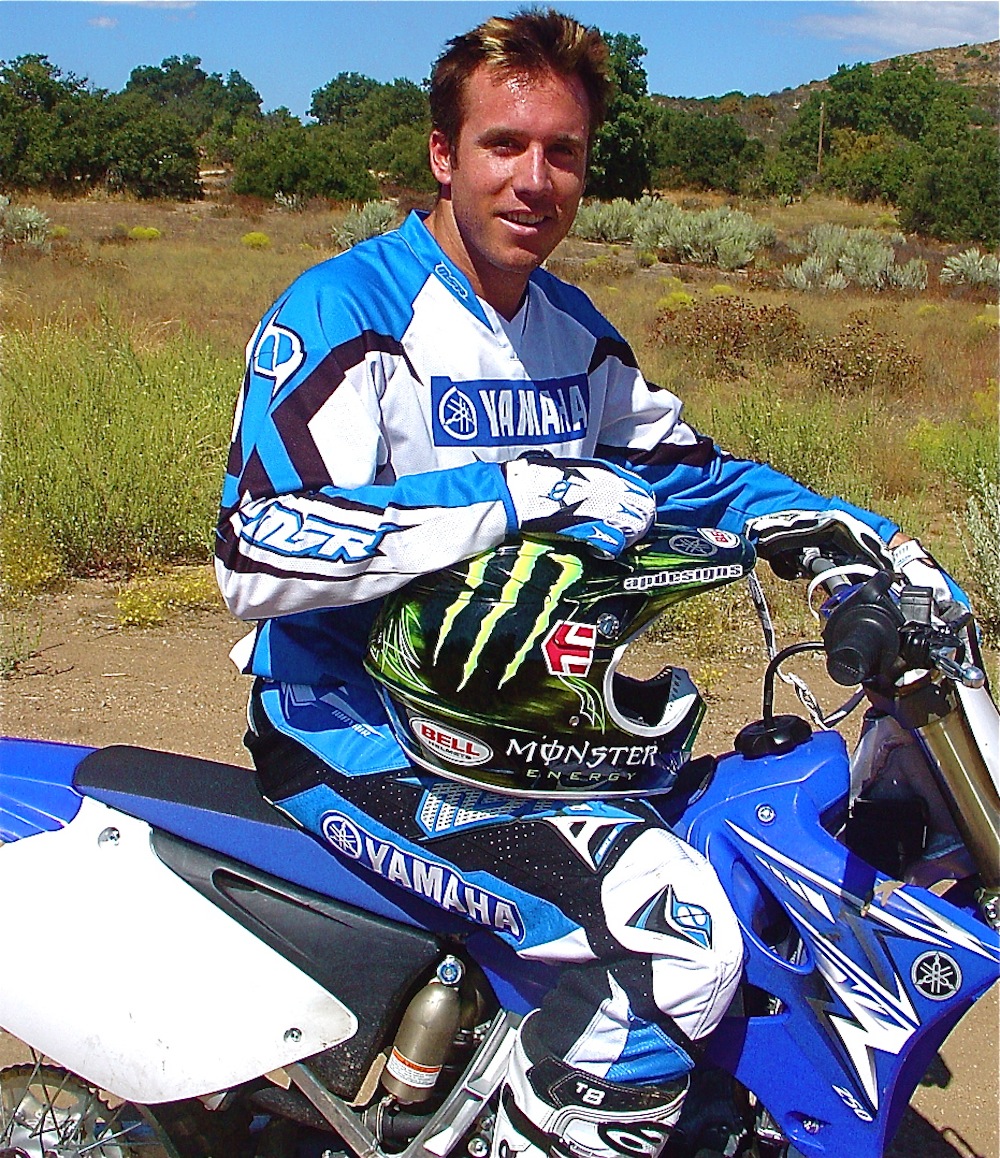 THAT IS WHEN YOU HAD YOUR EYE PROBLEM, RIGHT? I got diagnosed with a melanoma tumor in the eye. When you are in great shape and you hear the word "cancer," it is scary. I felt angry at the world, but eventually you have to put your big-boy pants on and tackle the next thing in life. I only raced the first four Supercrosses in 2008 and took the rest of the year off to sort out my problem. It took all of 2008 and half of 2009 to sort it out. I planned to do the 2009 Nationals with Factory Yamaha, but I crashed at Glen Helen just before the start of the outdoors and had to have my knee reconstructed.
I CAME BACK AS A PRIVATEER, BUT I WAS NOT THE SAME.
"PRETTY GOOD VISION" IS NOT GOOD ENOUGH.
BUT YOU CAME BACK IN 2010. I came back as a privateer, but I was not the same. "Pretty good vision" is not good enough. I had one good eye, but I just kept crashing and crashing. A lot of people remember the big crash that I had at the Daytona Supercross. It was right then, after I woke up in the hospital, when I just started crying and said, "I am done. I can't do this anymore."
ANY FINAL THOUGHTS ON YOUR MOTOCROSS CAREER? I am glad that I got through all the hard times, because it made me appreciate everything. There was a point in Europe when I did not qualify for a couple of GPs. It was cold. We were broke. It was raining, and we did not have any friends. I remember saying to my dad, "I just want to go home. I think I am done."
I will never forget what he said: "You don't have a home. I sold it to get you here, and we are going to stick this out." It was probably the best thing he ever said, because I would have probably given up and that would have been the biggest mistake ever.