MXA INTERVIEW: HAKAN ANDERSSON ON MONOSHOCKS, MXGP & SUPERCROSS
Hakan Andersson was not an unknown when he won the 1973 250 World Championship. He had finished second on a Husqvarna behind Joel Robert in 1971 and 1972.
HAKAN, TELL US HOW YOU GOT STARTED IN MOTOCROSS IN SWEDEN. We had our own World Motocross track in my hometown of Uddevalla. We have done many World Championship events there over the years. For me, it started back in 1957. I was just a little boy and looking at this new sport called motocross. I started to be curious about it because my father brought me to the races. I was very interested in that from the beginning. I grew up surrounded with motocross in my neighborhood and in my town.
SWEDEN HAD MANY GREAT RACERS. WHO WERE YOUR HEROES? My heroes were Bill Nilsson, Sten Lundin, Rolf Tibblin, Torsten Hallman and Jeff Smith (who was from England). I had seen all of them race at my home track, so I started riding myself. I was 14 years old when I first began riding, and I started racing when I was 16.
WAS TORSTEN HALLMAN STILL RACING WHEN YOU STARTED? Hallman was six years older than I, and he was finishing up his motocross career when I began. He was my mentor in the beginning, and I looked up to him. He was a four-time World Champion.
"FOR ME, IT STARTED BACK IN 1957. I WAS JUST A LITTLE BOY AND LOOKING AT THIS NEW SPORT CALLED MOTOCROSS. I STARTED TO BE CURIOUS ABOUT IT BECAUSE MY FATHER BROUGHT ME TO THE RACES."
DID SUCCESS COME QUICKLY FOR YOU? Yes. I started racing motocross in 1963 as a Junior rider, and I was a factory rider three years after I started racing. The Husqvarna factory was in Sweden. Eventually, I became a factory rider for Husqvarna together with Hallman, Ake Jonsson, Bengt Aberg and Arne Kring.
DID YOU RACE AGAINST BENGT ABERG? Yes, we raced against each other all throughout my career. We had a lot of good races between us. He passed away too early last year. He had very bad diabetes. He was both a great rider, with two 500 World Championships, and a great person
YOU CAME ON THE WORLD CHAMPIONSHIP RADAR IN 1972. Right. I was second in the 1972 250 World Motocross Championship, but I was good beginning in 1968. I was running second in the 1968 250 World Championship. I broke my leg in Holland. I think I would have been World Champion in 1968 if I hadn't broken my leg.
HOW DID YOU BREAK YOUR LEG? My handlebar broke, and I crashed in the woods section. My leg was so bad that I had to stay in the hospital in Holland for six weeks before they moved me back to Sweden. Then I got a very bad infection in the leg. I was out of racing for almost two years.
DIDN'T YOU RACE THE TRANS-AMA RACES IN 1969? Yes, that was my first trip to America. Husqvarna believed in me because I had such a good 1968—until I broke my leg. I raced the 1969 Trans-AMA, but I was not that fit. I rode slowly and just worked on getting my overall fitness better. It was almost two years that I was gone from motocross. I got slowly better and then, finally, I finished second in the 250 World Championship in 1971 and 1972.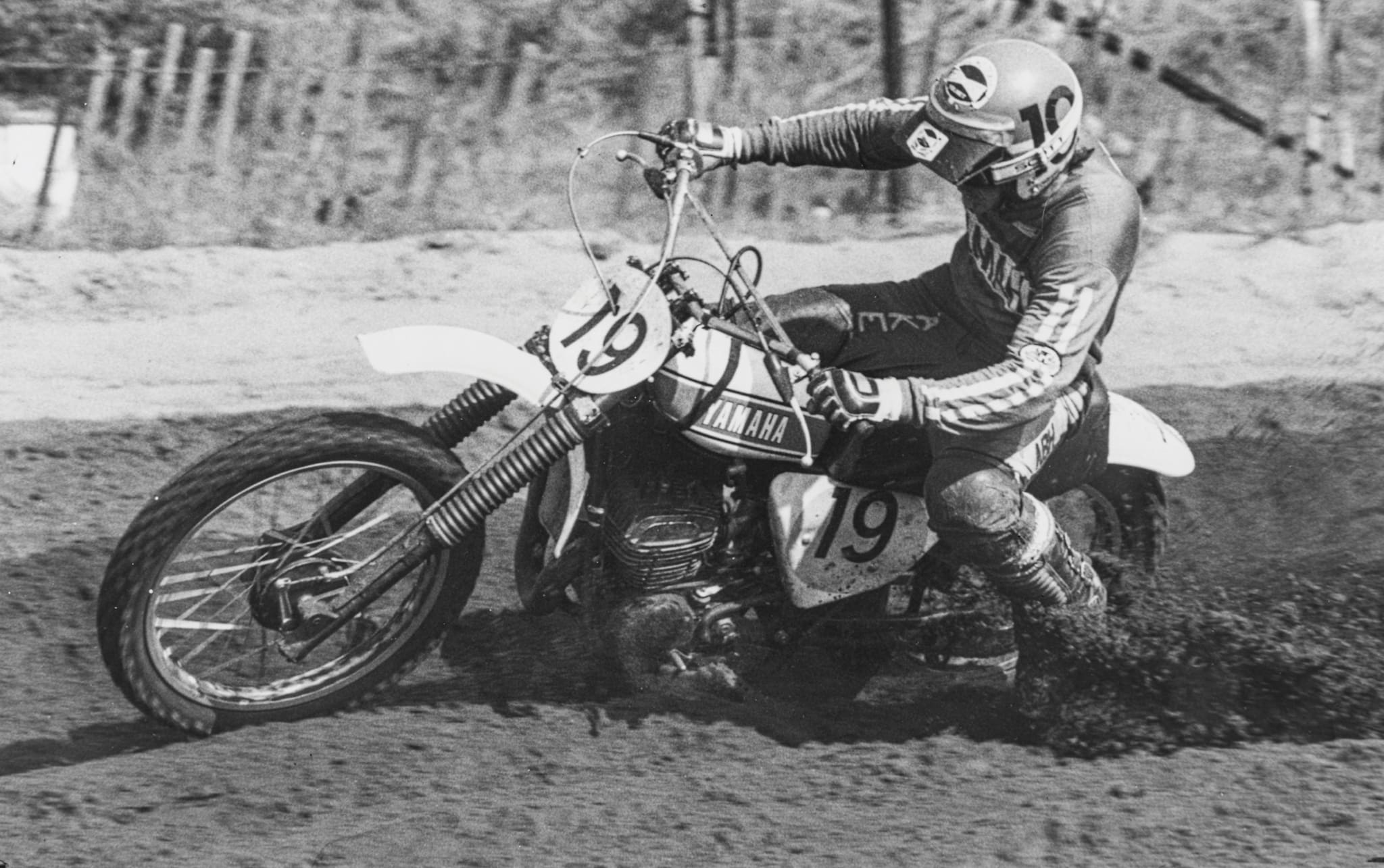 Hakan Andersson won the 1973 World Championship on a bike that he refused to race in the first two GPs of 1973 because he was afraid the Monoshock would break. It never did.
YOU WON YOUR 1973 250 WORLD MOTOCROSS CHAMPIONSHIP ON A YAMAHA. WHAT WAS IT LIKE RIDING FOR A JAPANESE BRAND? I was on Husqvarna until 1972. Husqvarna was very good to me, and the bikes were great, but the Japanese had new ideas and new products. I had been second in the 250 World Championship twice, and my contract with Husqvarna was up. That is why I had a chance to sign with Yamaha in 1973.  
Hakan Andersson raced the 1973 Trans-AMA series, finishing sixth while rehabbing from a back injury. Here, Hakan is chased by Tim Hart (2) and Adolf Weil (8).
YOU WERE THE RIDER CHOSEN TO RACE THE FIRST MONOSHOCK? Yes, the Monoshock system started the whole suspension revolution because everybody eventually went to a single shock. Yamaha was the first factory to recognize that increasing rear-wheel travel would allow you to go faster over the bumps and jump higher. That changed the whole sport. The Monoshock was one of the biggest advancements ever in motocross history.
WERE YOU SKEPTICAL WHEN THEY ASKED YOU TO RACE THE MONOSHOCK? I was very skeptical, because it was a completely new system. I remember the first time I tested the Monoshock, it was on a little track in Belgium. No people were there, and it was in the woods. It had a strange feeling the first time because it was not ready. It was stiff, but I thought it could be something good for the future.
 YAMAHA WANTED YOU TO RACE IT RIGHT AWAY, BUT YOU HELD OUT, DIDN'T YOU? Factory Yamaha wanted to use it in the first Grand Prix of 1973. Also, Torsten Hallman, who had tested it before me, said that I should use it in the first Grand Prix, but I was not ready. I waited until the third Grand Prix in Belgium. I won there, so it was good! Then I almost won all the other motos that season on the Monoshock. The main reason that I did not use it in the beginning was that I was afraid it would break it and I would score no points. 

DID IT EVER BREAK DOWN? Yes, only in one moto in Yugoslavia, but that was the frame not the Monoshock. It was hugely successful. I am sure that it was the biggest thing ever in motocross history up to that time.
YOU WERE YAMAHA'S FIRST WORLD MOTOCROSS CHAMPION. The Yamaha factory was very happy, and I was happy, too! Torsten Hallman was happy. For myself, Yamaha was a very nice factory ride. They did everything possible for me in the years I was a factory rider. Unfortunately, they stopped racing in 1975. I had a three-year contract for 1972 through 1975. But when the oil crisis came, they decided to stop all racing after 1975. Originally, I asked for a new contract for 1976, and it was no problem. Then I think it was in September or October of 1975, they decided to stop all racing. Suddenly, I had no bike. All the other factories had already signed their riders for 1976. I had to move to Spain to race for Montesa.
When Yamaha pulled out of racing at the end of the 1975 season, Hakan spent two years at Montesa before returning to Husqvarna. He retired after the 1979 season.
BEFORE TALKING ABOUT MONTESA, YOU HAD A BAD INJURY IN 1974, DIDN'T YOU? Yes, I had an injury while practicing. When you are the World Champion, everybody goes after you and tries to follow your lines. I was going slowly in practice, and I had a small crash. Then a Czech rider, who was right behind me, rode over my back.
DID YOU RETURN LATER IN THE SERIES? Yes, but my World Championship hopes were gone. I ultimately finished sixth in the championship. But later in the year I was on Team Sweden, and we won the Motocross des Nations. Sweden had won many times before me being on the team.
"I HAD BEEN GRAND PRIX RACING SINCE 1968. IT WAS A LONG TIME TO RACE PROFESSIONALLY BACK THEN. YOU HAVE FAMILY, BUT YOU ARE NEVER HOME. YOU AREN'T AS HUNGRY WHEN YOU ARE OLDER, ESPECIALLY AFTER INJURIES."
HOW WAS THE CHANGE TO THE MONTESA? It was completely different. We had to start from scratch again. There were a lot of problems in the beginning with materials. The bike was not bad, but often the material was of poor quality. I did two years with Montesa, and with them I changed classes from the 250 class to the 500 class in 1977. I was fifth overall in 1977 in the 500 class on the Montesa. It was not so bad; the bike was good.
DID YOU HAVE ANY MAJOR WINS ON THE MONTESA? At the 1977 Motocross Des Nations in Cognac, France, I won the first moto and finished third in the second moto. That was my last race with the Spanish factory, and then I changed to Husqvarna in 1978.
WHY DID YOU SWITCH FROM MONTESA TO HUSQVARNA? I got a better offer from Husqvarna, and I was Swedish and lived not too far from the Husky factory. Montesa was in Spain, and it was far away from where I lived. I was getting older. I did two years with Husqvarna. Then I quit.
WHAT PROMPTED YOU TO RETIRE? I had been Grand Prix racing since 1968. It was a long time to race professionally back then. You have family, but you are never home. You aren't as hungry when you are older, especially after injuries. That is the main thing. It is natural to want to stop.
DID YOU STAY INVOLVED IN MOTOCROSS? On a club level, yes. I practiced with riders in my club for many years. I have been around there forever, and I am still involved because I love motocross racing. It has been a long time for me, and I would like to continue for as long as I can. Uddevalla is a beautiful track with big mountains and a lot of scenery.
Hakan was on the winning Swedish team with Bengt Aberg, Arne Kring and Ake Jonsson at the 1974 Motocross des Nations.
WHAT HAPPENED TO SWEDISH GP RIDERS? SWEDES DOMINATED IN YOUR DAY, BUT YOU DON'T SEE THAT TODAY. I don't know what it is, because we have a lot of riders, but they are just not good enough. I have no idea why. Sweden needs to have somebody up there. It would be good for the sport. When we have a World Championship event in Sweden at Uddevalla and no Swedish riders near the front, it is bad for the public.
IS IT TRUE THAT YOU WERE WINNING SO CONVINCINGLY IN 1973 THAT YOU WERE PROTESTED—NOT YOUR BIKE, BUT YOU? Yes, it is true. It was the only time that I was blood tested. It was in France, with a very nice track but very dusty. In the first moto after the start, I crashed. I could not see anything. I was in last place, and if I would have had one more lap, I would have won. They thought I was using some drugs or something. That is why they checked me, but it was nothing. I won the second moto, so I won the overall with a 2-1.  
"I PRACTICED WITH RIDERS IN MY CLUB FOR MANY YEARS. I HAVE BEEN AROUND HERE FOREVER, AND I AM STILL INVOLVED BECAUSE I LOVE MOTOCROSS RACING. IT HAS BEEN A LONG TIME FOR ME, AND I WOULD LIKE TO CONTINUE FOR AS LONG AS I CAN. "
DID YOU EVER HAVE THE CHANCE TO RACE A SUPERCROSS? Yes, I did the first Supercross ever. It was in the Los Angeles Coliseum in 1972. It was fantastic! There were 30,000 spectators in the grandstands. I thought it would grow to be something good in the future. Now, it is very big. Motocross and Supercross are two different sports; there is too much jumping in Supercross. And, it is dangerous—very dangerous—but the racers are fantastic riders.
WHAT IS THE BIGGEST CHANGE FROM RACING IN YOUR TIME TO TODAY? The cost of traveling, the bikes, entry fees and everything are just too much. Today I see GPs on TV with only 20 riders on the starting gate. That is bad for the sport and doesn't look good. In my day, we had full 40-man gates at every race. It's not good to see so many empty gates.
ARE YOU RETIRED? Yes, I am an old man. I am 77 now, and I have done my time. I have been married for 47 years, and I have two daughters and four grandchildren, so I am happy. I had a good career, good friends and good family, and being with Yamaha was a very exciting time. I enjoy my current involvement with the motocross club at Uddevalla, and I don't know that I will ever leave that.