MXA INTERVIEW: HRC HONDA'S NEWEST RIDER MITCH EVANS
MXA INTERVIEW: HRC HONDA'S NEWEST RIDER MITCH EVANS
You might not have heard of him yet, but the Australian MXGP rider Mitch Evans has begun to make a name for himself on a global scale and now the twenty-one year old has landed his dream ride with the prestigious Factory Honda HRC team. To many people the signing of Evans might come as a surprise since there are many top MXGP guys still searching for rides and Mitch is still young enough to compete in the MX2 class. But after watching Evans earn a podium in his first ever MXGP race in Patagonia-Argentina and then back it up in Portugal, the Team Honda Gariboldi Racing crew has high hopes for the young Aussie. Unfortunately an injury caused him to miss almost a third of his rookie season season, but even so, he was still able to finish in eleventh place in the championship, with only five riders having more podium placings. 
By Josh Mosiman
CONGRATULATIONS ON THE NEW RIDE! HOW DOES IT FEEL TO BE A FACTORY HRC HONDA RIDER? Thank you! It's a good feeling knowing the work I have been doing is paying off but I also know this is only the beginning of it. I think every kid when they first start racing always dreams about riding for a factory team in Europe or the US, so for me it's a dream come true. I knew coming from Australia it would be more difficult to achieve, so for me that makes it extra special.
HOW DID YOU GET HOOKED UP WITH THE 114 HONDA TEAM TO RACE MX2 FOR 2019? Livia Lancelot was keeping an eye on the Australian MX National's results and kept seeing my name pop up. Then after seeing my riding and results at the Red bud MXDN they gave me a call and we started discussing about making the move over. As soon as I got the call I wanted to jump on a plane and head straight over!
Tim Gajser and Mitch Evans joined World Champion road racer Marc Marquez and World Champion trials rider Toni Bou joined Rally riders Ricky Brabec and more on stage at the EICMA show in Milan, Italy.
WHAT WAS IT LIKE TO RACE THE MXGP'S THIS YEAR, WAS IT EVERYTHING YOU EXPECTED? I felt quite comfortable straight away to be honest. After racing two Motocross des Nations I had a bit of an idea of what to expect. I underestimated the amount of races and travel you have to do and that caught me off guard a little. Everyone warned me about it but you don't really understand it until you do it. It was a big learning year and I will be more prepared for it next year!
WHAT WAS IT LIKE TO BE ON THE PODIUM AT YOUR FIRST MX2 RACE?T o get a podium in MXGP's is pretty cool but to get it in my first try was just awesome! Not many people achieve that so it was pretty special to me. It was funny because people were asking me if I was happy about it because they thought I didn't look too impressed on the podium but to tell you the truth I was more nervous on the podium than before the race because I didn't know the routine. 
DID YOU THINK YOU WOULD BE ABLE TO EARN A RIDE ON A FACTORY 450 TEAM THIS SOON, OR DID YOU THINK IT WOULD TAKE SOME TIME? I always believe in myself so I was motivated to make it happen as soon as possible because I really like the bigger bike. For me being a bigger guy, I enjoy the extra power and I like to ride the bike in low rpm's so that is why I think the bigger bike suits me. I did however think it would take me another year or two before it happened.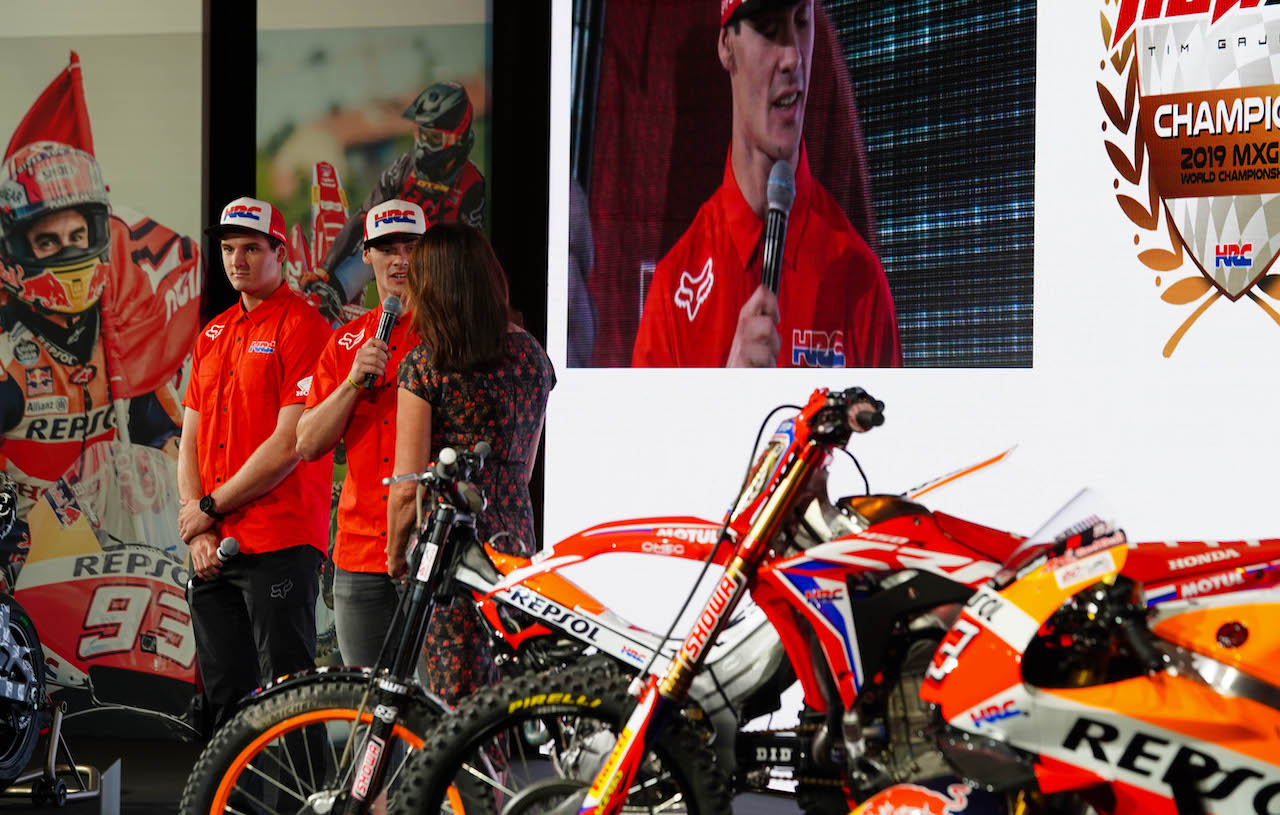 Mitch Evans on stage at the EICMA show with his new teammate MXGP World Champion Tim Gajser.
HOW DID THIS OPPORTUNITY COME ABOUT? DID YOU CONTACT THE TEAM OR DID THEY COME TO YOU?The team came to me about it. They knew from my results at Red Bud that I can ride the 450 well. At first there was talk about being on the 450 quite early on and then there was talk about staying on the 250, but in the end they wanted me on the 450 which I had no complaints about.

ARE YOU EXCITED TO BE LIVING IN MILAN, ITALY? WILL YOU BE ABLE TO TRAIN WITH TIM GAJSER?Yeah I am excited about living in Milan! I like Italy. The food and people are really good so I'm looking forward to it. I will be living close to the team and the mechanics and I already built a good relationship with the team this year so it should be a lot of fun. I will get to do some training with Tim in Sardinia during the winter. Everyone knows Tim is a really nice guy and we already got on really well so I am looking forward to being teammates with him and learning from him as much as I can!
Mitch Evans came to California back in 2018 to prepare for the Red Bud Motocross des Nations. He spent time training at Glen Helen, Fox Raceway and other SoCal tracks before he went on to finish 7th overall in the 450 Open class and helped team Australia earn 4th overall in the Nations classification.
WHAT IS YOUR FAVORITE PART ABOUT EUROPE AND WHAT DO YOU MISS ABOUT AUSTRALIA? My favorite part about Europe would have to be seeing all the difference cultures and getting to make new friends. It's crazy how different all the cultures are in such a small area. I miss a lot about Australia. For me the food is a lot easier when I am home and just getting to spend time with family, friends and my dogs it probably what I miss most. But I am getting to travel the world and I'm doing what I love so I can't complain.
Mitch Evans during a training day on his Team Honda 114 Motorsports' CRF250. Next year he will be on the factory HRC Honda CRF450.
DO YOU HAVE ANY ADVICE FOR OTHER YOUNG RIDERS WHO ASPIRE TO BE LIKE YOU? My advice to young riders would be to enjoy riding and racing and keep it fun. You first start riding for fun and you always ride your best when you are having fun! Getting to ride a dirt bike is a privilege so make the most of it every time you are on one!