MXA INTERVIEW: HUNTER LAWRENCE ON OZ, THE GPs & AMERICA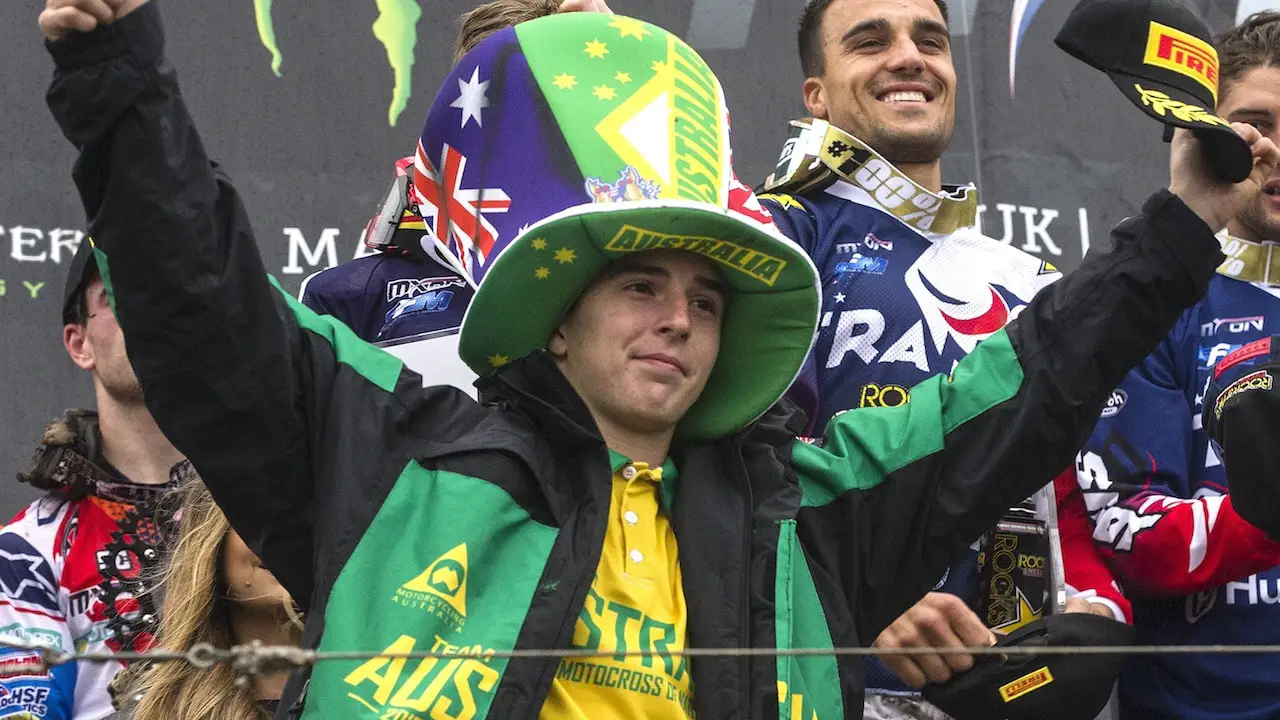 Hunter Lawrence on the podium at the 2017 Motocross of Nations.
Australian Hunter Lawrence was second overall at round four of the AMA 250 National Championship at Mt. Morris. The young Australian has moved into seventh overall in the 250 motocross standings. The young rider spent two years racing in Europe before being signed by Geico Honda to race in the USA. Unfortunately, he got hurt before the 2019 AMA Supercross series started, so the Nationals are where he gets his first chance to show his full potential.
By Jim Kimball
YOU MISSED MOST OF THE SUPERCROSS SERIES, BUT HOW DO YOU FEEL YOUR FIRST OUTDOOR NATIONAL AT HANGTOWN WENT? It did not go how I planned. But the morning started off good. I was 5th in my group for qualifying which was good. I was happy with that, with only having 30 minutes on press day to get used to the track. Even then, we did not have the full track. It was alright, just crashes in the races, and my starts slowed me down. We worked on that and after Hangtown, we started on bike settings as well. We changed a lot on the bike, and I came to Pala a little happier, and it showed that we were in a better position as well. My riding was really good in Pala. It was unfortunate and a bit of a bummer that my oil filter broke in the first moto. There was nothing I could do; it was just a shame. Thunder Valley was okay, and High Point was great, with winning a moto, and taking second overall. Hopefully, I can continue to string two good motos together, and get two good starts. That is what I am aiming to do.
The AMA National rookie, Hunter Lawrence sits 7th in the 250 Championship point standings after round four.
IN THAT SECOND MOTO AT PALA YOU APPEARED TO BE THE FASTEST RIDER. I like to think so! The first moto, I was super bummed. I put myself in a really good position. I got off to a great start thanks to my Honda. It was really good, but then I lost my oil. I was just stewing about the whole thing, about what could have been that day. It could have been a podium or maybe even a win. You never know, but that it is in the past. High Point worked out well. I am very happy, although I wish I had started better in moto two and taken the overall win. But, every weekend is a new weekend. I just looking forward to the next weekend and the future.
HOW HARD IS IT TO GO FOR THE CHAMPIONSHIP IN YOUR FIRST YEAR IN A NEW COUNTRY? It is difficult. I am not trying to get 4ths and 5ths. I am not happy with that. I want to win, just like everyone else. As of now, we have had a DNF, and a few pretty bad races. It is definitely not easy. I am pretty far back in points. Now, it is weekend by weekend.
Hunter's win in the first moto at High Point confirms that the Geico Honda team's investment in the young Australian was not made in vain. 
IF YOU WERE LEADING THE 250 POINTS RIGHT NOW, WOULD IT PUT UNNECESSARY PRESSURE ON YOU? Yes, for sure. It depends who you are as a person. I have not been in a position like that before, so, I would not know what the feeling is. I've haven't experienced that, so I can't comment on what it would be.
WHAT IS THE BIGGEST DIFFERENCE BETWEEN RACING IN EUROPE AND AMERICA? There was a lot more track time in the GP's. On Saturday, we had a 20-minute free practice and 20-minute timed practice. Then on Sunday morning we had a 15-minute warm-up and then the two motos. The tracks are a lot different as to how they are prepared. The GP tracks form up a lot more flowy, and there are a lot of tracks that are too hard to rip. Since they cannot get machinery on it, they just water it and that creates different kinds of bumps. I had never ridden a track like the AMA Nationals tracks when I was in Europe, so I struggle a little bit with that. I'm pretty much flying blind for now, as I've never been to most of the AMA National tracks. I am watching as much as I can, and that definitely has a different aspect to it. In Europe, you almost didn't even bother walking the track, because you knew you had an hour to learn it. So that is definitely different.
Hunter Lawrence won the MX2 class at the 2017 Motocross of Nations and he finished second in the MX2 class at the 2018 Motocross of Nations. 
THE GEICO HONDA TEAM RIDERS ALL DO THEIR OWN TRAINING PROGRAMS. WHAT IS YOUR TRAINING PROGRAM LIKE? That is an awesome thing. The team let us go wherever we want. If I said I wanted to move to Illinois for example, they would be fine with that. It is really good that they trust their riders. You know, a happy rider is going to get good results. There are two Geico boys over in Florida, and I'm in California, but my training regimen is definitely different compared to how it was in Europe. If I am being honest, that was due to the weather in Europe, it almost feels like your body can take on more work load here, as its nicer. It was always so cold there.
AT THIS STAGE IN YOUR AMERICAN CAREER, BEING IN SOCAL, CLOSE TO THE RACE SHOP, IS PROBABLY THE BEST PLACE TO BE. Yes, I think so, although it is arguable. Either way, California doesn't have the rough and gnarly tracks that they have in Florida. California doesn't have the humidity, and the heat of Florida. You have a dry heat in California, and in Florida there is more humidity. With Supercross, I think they are just as good as each other. Obviously, being next to the team workshop is so easy. They have an amazing gym, but for the outdoors, it gets challenging.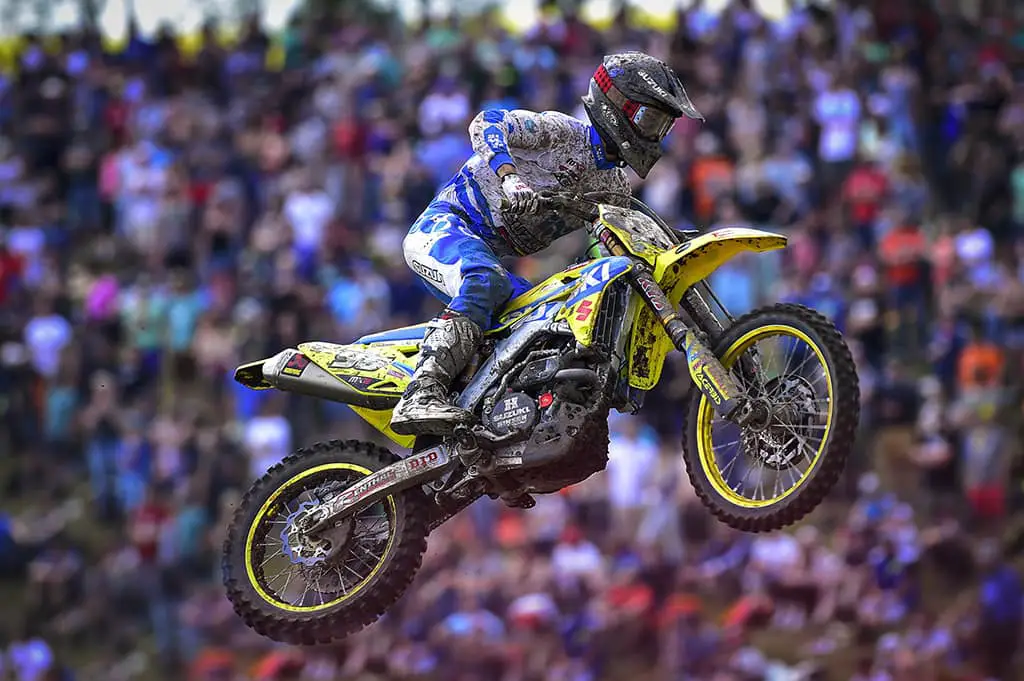 Hunter finished 9th overall in the MX2 class at the 2017 MXGP World Championship. His best finish of the year was at the final round when he went 4-1 for 2nd overall. 
CHALLENGING IN WHAT WAY? In all honestly, it has been challenging trying to find the right bike set-up for a National-level track with National bumps, ruts and lines. It is difficult to get a set-up like that when you are in Southern California and you have 30 amateurs on the track the same time as you. It gets difficult, and you don't always have really, really rough tracks like in Nationals, because it just does not get ripped deep enough. If it was like Baker's Factory, all of those riding compounds, they have the majority of factory guys, professional riders, so the track just forms up a lot more gnarly and rough. That is my opinion on it.
DO YOU HAVE A MENTOR THAT YOU HANG OUT WITH TO SHOW YOU THE ROPES IN THE USA? No. In Europe I worked with Heiko Klepka, Kenny Roczen's dad. I lived with him for like 2-½ years, but he was more focused on the physical side of it, and obviously how Kenny had done it. I came from Australia and then was dropped into the deep end of the pool racing at the GP series. I really had no idea, so he showed me a little bit of the ropes in that way, but I mean as far as mentor wise, it is me and my father. We do everything at the track together and we are always bouncing ideas off each other but no, I never hired a trainer, coach, mentor or anything like that over here.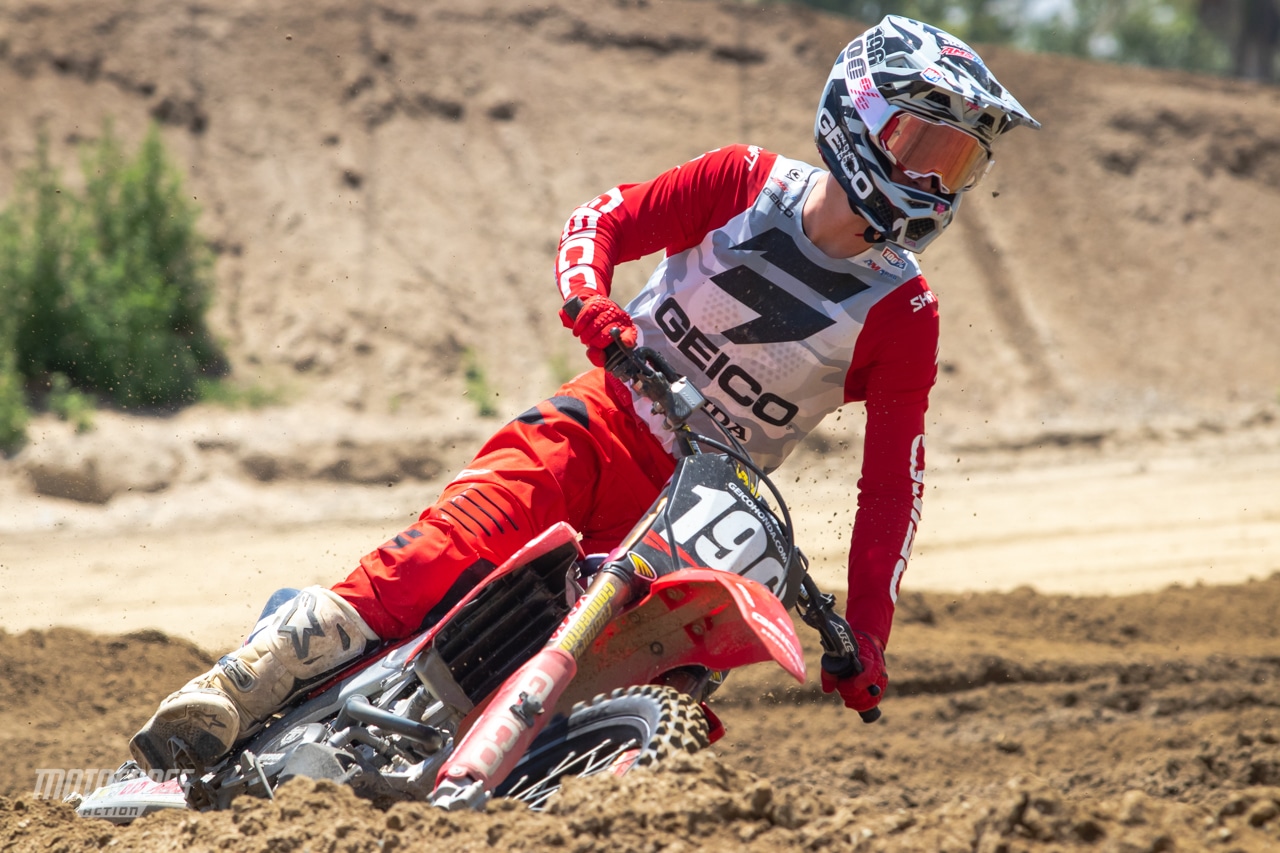 Hunter's riding style is almost picture perfect. He likes to stand through the corners and keep his feet on the pegs. His style is similar to Ken Roczen's which is no surprise because he spent 2-1/2 years living with Ken Roczen's dad in Europe. 
AMERICAN MOTOCROSS FANS DON'T FOLLOW THE MXGP SERIES VERY CLOSELY. YOU CREATED BUZZ AT THE 2018 MOTOCROSS OF NATIONS. SO, THERE HAS BEEN ADMIRATION OF YOUR TALENT HERE. DO YOU HAVE MANY AMERICAN FANS? Obviously I don't have many now, but I am building a fan base. One thing about the American fans versus the European fans is that there is always that rivalry where they always butt heads. I think everyone is competitive and they always want to be the best, but I think the USA versus Europe thing needs to go away. Europeans do motocross all the time—that is all they do. America is more so focused on Supercross. I think at the end of the day if you can build up each Championship worldwide, it is going to grow our sport. That way more American fans will tune into the GPs and more European fans will tune into American racing. I think it would be really good because I have experienced it on both sides. There is so much rivalry; the Motocross of Nations is the rest of the world versus America. You ask anyone in Europe, and it is always "we want anyone else to win but America." It should not be like that. It should be every single country against each country, not just an all-out butt heads rivalry.
AT LAST YEAR'S MOTOCROSS OF NATIONS YOU FINISHED SECOND OVERALL IN THE 250 CLASS, TELL US ABOUT THAT. It was an amazing event. I will go ahead and say that it favored the Europeans, 100 percent, that is for sure. You cannot prepare for that when you are training in America. Simple as that, you cannot train for European sand and European conditions when you are training because they are two different worlds. There is nowhere here that has sand like Europe. You just cannot explain European sand to anyone. You have to go there and experience it first hand. I don't know where Team USA was training, but I was fortunate enough to go to the Red Bud National last year and it was a completely different track from the one they had for the Motocross of Nations. But, it is racing and you always get surprises and stuff.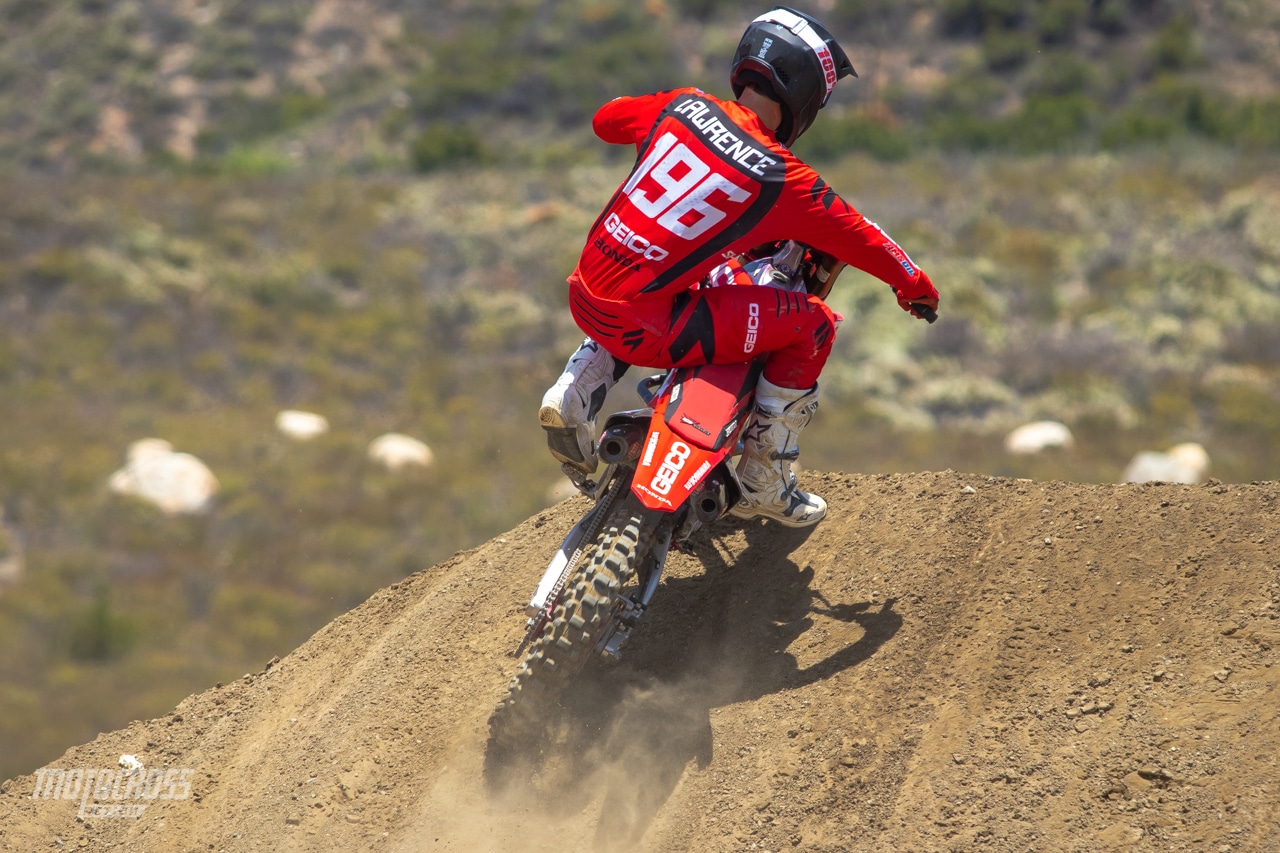 It has been impressive to watch Hunter Lawrence and his younger brother Jett Lawrence train together at the local Southern California tracks. They stay later than most of the Pros and they ride a lot of laps.

CAN YOU COMPARE YOUR GEICO HONDA TEAM TO THE FACTORY SUZUKI TEAM YOU RODE FOR IN THE GP'S? Suzuki was comparable for a while, but then the budget started to significantly affect us. With Geico I don't really think a budget exists. Back at Suzuki, the 450 was the main priority and then whatever was left from the 450s got delegated to the 250 team. Stefan Everts was relying on a very tight budget, compared to say KTM in Europe. Suzuki was a factory team. It was really good, and everything was done at a high level, until the Japanese stopped a lot of development and stuff, and the team ended.
BY THAT TIME HAD YOU ALREADY MADE YOUR MIND UP TO MOVE TO AMERICA? Yes, my Geico deal started in 2019 and my Suzuki contract was finished at the end of 2018. Theoretically, I had one more year on Suzuki after it shut down. It was going to be 2017 and 2018 on Suzuki and then shift to America in 2019. When Suzuki stopped their racing effort I signed up with the 114 Honda team in Europe and rode most of the GP's. It was a new team, so we had some on and off issues.
After the factory Suzuki team pulled out of the MXGP's, Hunter Lawrence switched over to the new Honda 114 team with support from the American Geico Honda team to compete in the 2018 MXGP series. 
WAS IT DIFFICULT TO SEE SUZUKI PULL OUT OF MXGP DUE TO FINANCIAL ISSUES WITH THE TEAM. It is not good for the sport. When Suzuki pulls out, you have Kawasaki, Yamaha, and Honda in there saying "gee, they pulled out, so do we really need to keep continuing?" It is not good for the industry. I hope we keep all the manufacturing brands in the sport as long as we can.
GIVE US YOUR THOUGHTS ON THE AMA 250 SUPERCROSS POINTS SYSTEM OR THE AGE RULE IN MX2 GP'S? I am not too familiar with the AMA rule because this is my first year, but it is not a bad thing. Obviously, in Europe and America it is difficult to keep forcing guys up, especially when there are not many places to go. It does not phase me too much right now. I am really happy to finally be here. My Geico Honda contract goes for three years.
WHAT IS THE ATMOSPHERE LIKE IN THE GEICO HONDA TEAM? FRIENDLY? It is only normal that we want to beat each other. But it is not "I want to beat that person no matter what it takes." We are all friends off the track, so it is good.
Hunter navigates a rutted wall jump at Hangtown.
WILL WE SEE LOTS OF AUSTRALIAN MOTOCROSS RIDERS MOVING TO AMERICA? Yes, we are going to see it for sure. I had gone to Europe and now I am in America. Everyone sees the path and they are thinking, "I can do that as well." We have Mitch Evans and Jed Beaton in Europe at the moment. We have Dean Ferris, Todd Waters and Wilson Todd over here doing some rounds, so it is good for our sport. The Motocross industry is not real big in Australia, so it is good for our up and coming sport in Australia. It gives the kids something to look forward to. For Australia I think it is important that we have riders competing in America to look up to. It is always good to have that reminder that motocross is all over the world. There are guys back in Australia doing the Australian series and killing it, which is fine. Some people just want to do that, but it is easy to get complacent when you are down there, because it is such a small arena. So, it is always good to have role models that you can try to emulate. That is what Chad Reed was; I want to beat his records. I don't know if I will be able to go as long as he has, but it gives me some fire, and something to aim for.
YOU ARE NOT IN THE AMA CHAMPIONSHIP POINTS BATTLE AT THE MOMENT, SO WHAT DO YOU HOPE TO ACCOMPLISH? To be honest, I just want to win races. I want to gain experience, learn the tracks, and win. That is all I want to do.