MXA INTERVIEW | JACOB HAYES ARENACROSS CHAMP TO SUPERCROSS TOP 5 FINISHER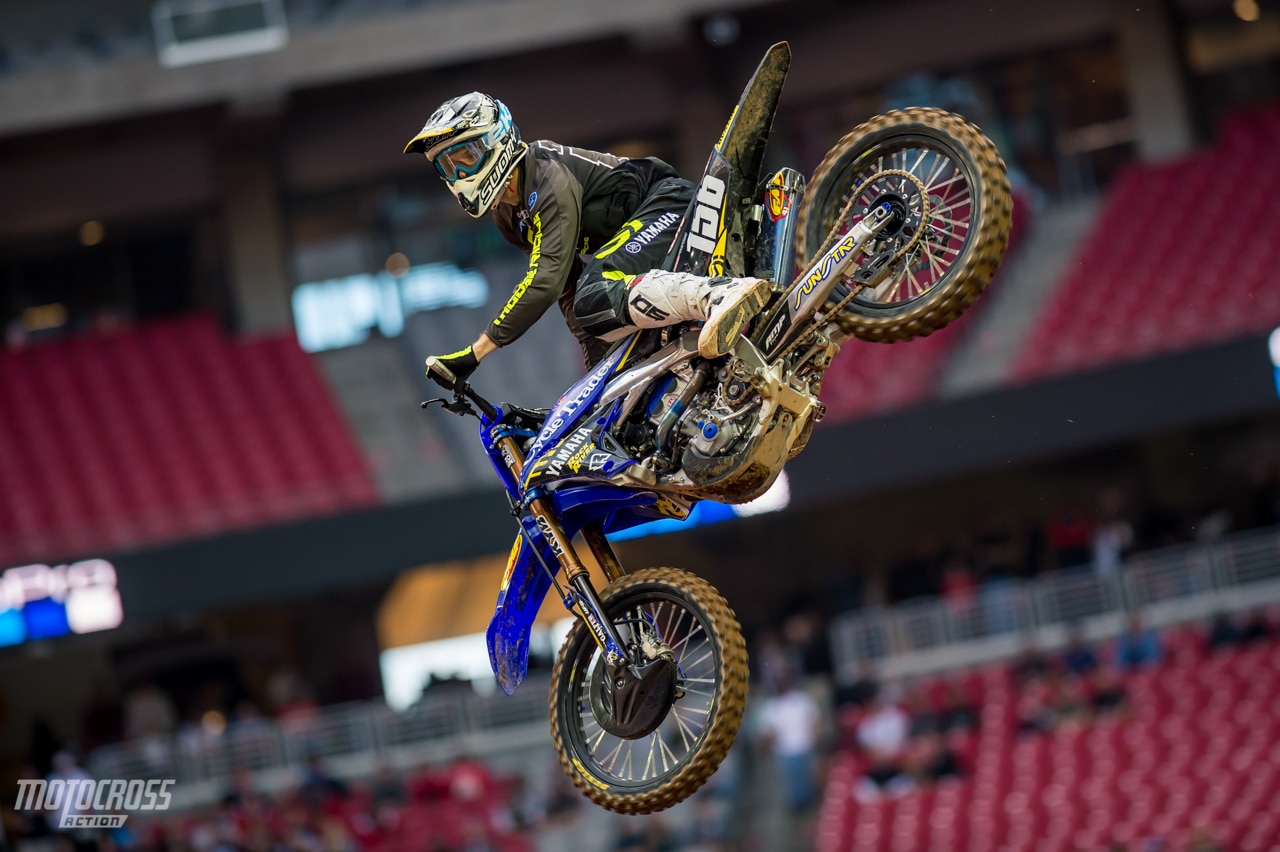 Cycle Trader Rock River Yamaha rider, Jacob Hayes (156) has transitioned from Arenacross to Supercross and his results have been impressive.
Derailed by the Arenacross Championship going away, Jacob Hayes had his eyes on the prize, or prizes in this case. First, he was determined to win the outgoing championship, and secondly, he was focused on finding his way into Supercross – and the 25-year-old succeeded on both accounts. After racing Supercross in Australia, Hayes returned to America with both Supercrosss and Yamaha experience. Eventually signing with the Cycle Trader Rock River Yamaha team to race the 2019 West Coast 250 Supercross series, Hayes has proven his worth with a solid top five finish in a stacked field dominated by factory bikes. Now with a short break in the 250 West Coast series we caught up with Hayes to learn more about his Supercross adventure.
BY JIM KIMBALL
WHILE YOU WERE WINNING THE 2018 ARENACROSS CHAMPIONSHIP,  DID YOU KNOW THE SERIES WAS OVER? I would say that I heard rumors of it ending pretty early in the season. But then we were just focusing on racing, and stuff. Later as it was getting close to the end, I started talking to Denny (Bartz, Team Manager) and he was reassuring me and Gavin (Faith) that it was not going away. I had even asked the director of Arenacross at the time, Bill Harris, if it was going away and he said, "no." So, I felt pretty confident that it was going to stay around.  It just seemed like such a strong series, and they were getting really good turnouts. So, I was at the race in Reno, right before Vegas, and Dave Prater was there, and it came out that Vegas would be the last Arenacross. So, it was a wild rollercoaster feeling. You know, I had been with the Babbitt's guys for a long time, it was my fourth-year with them and just felt like home. That was where I restarted my career, so to see it go was tough.
From Arenacross Champion in 2018 to Supercross racer and top five finisher in 2019, Jacob Hayes is moving his way up the ranks.
IN THE SUMMER OF LAST YEAR, YOU RACED AN OUTDOOR NATIONAL RIGHT? Yes, I did Muddy Creek on a 450. Before that my last Outdoor race that I did was in 2013, so it was five years since I did an Outdoor in the states. I did some racing in Canada and over the summer and I just wanted to continue my program. I knew it was going to take a lot of hard work to just try to keep my program rolling. In previous years I just raced Arenacross from January to May and pretty much just took off the summer until the next Arenacross season started up. With Arenacross being over, I knew that it was going to take a lot of phone calls and a lot of hard work on my part. I just wanted to go racing to see what I had to offer in the Pro Motocross series and I went to Muddy Creek and got a eleventh. It was somewhat of a home race for me. I have been there many times, so I knew the track pretty well and what I could do. And I was lucky enough to get a bike from Babbitt's. They let me use a 450, and I just went out there and had some fun and got an eleventh and that was it. It was so expensive just with my entry fees, trying to get all the paperwork done, trying to get the bike ready, and stuff like that. I was like, "wow, I just wanted to go race my dirt bike, you know?"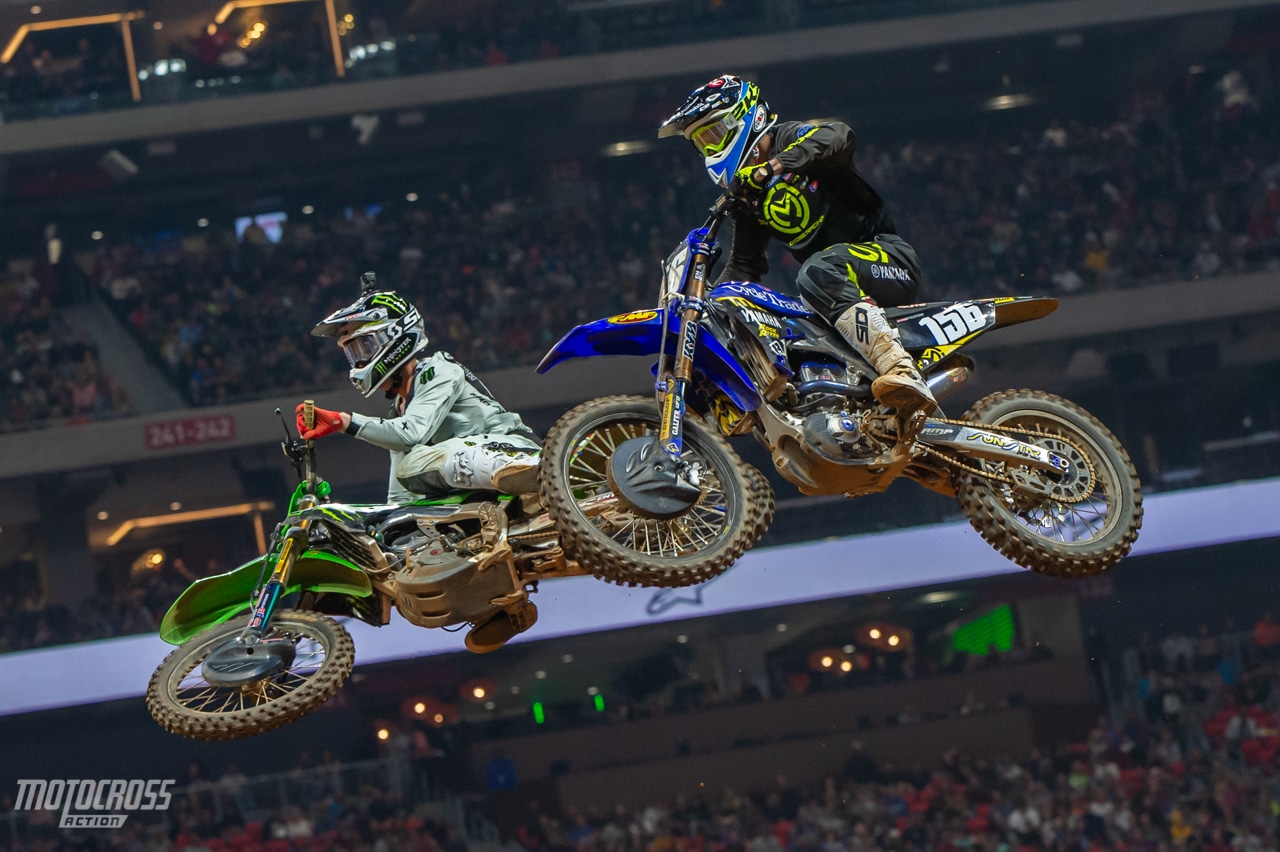 Jacob currently sits eleventh in the 250 West point standings and he is only nine points behind fifth.
HOW COME YOU ONLY RACED ONE NATIONAL? It was close to home, and it was already a very expensive weekend. I wanted to go do more, but I don't know; I did not want to spend all my money trying to kill myself to do the outdoors privateer-style. But then I got a call pretty quick to go over to the Australia Supercross series for the Serco Yamaha Team, so I was really excited for that. I had been wanting to do that for a couple of years, so I got that call, and went over to Australia and it was fun.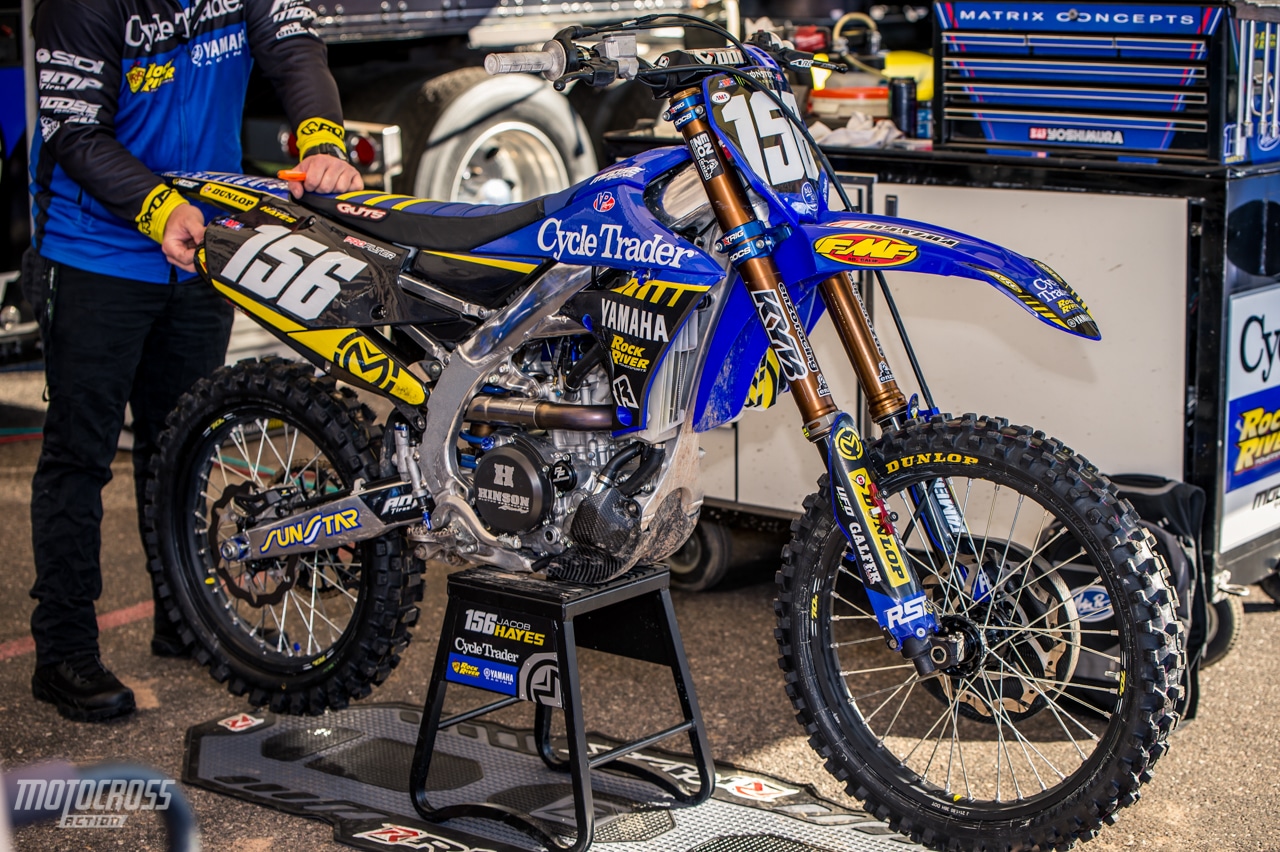 Jacob's Cycle Trader Rock River Yamaha.
WAS THE AUSTRALIAN SUPERCROSS SERIES MUCH DIFFERENT THAN ARENACROSS? For me personally, you have Arenacross track with a 20-25 second lap time. You only really have the rhythm section, one set of whoops and a basic catapult, so it's pretty generic. Then when I went to Australia it was kind of a stepping stone. It is not like our Supercross here in the states, but it is a little bit bigger scale tracks than Arenacross. So, I was able to learn some about myself, and apply it to what I knew I was going to be facing when I got back over to the states and started racing the Supercross series, so it was good for me. It was a great learning curve. I did not have the results I wanted to have there, but I had a great time and the series was really cool. I would love to go over there and race again.
Jacob is no stranger to whoop sections, Arenacross was known for whoops that were big and tough. 
WHEN DID YOU START TALKING TO THE ROCK RIVER TEAM? I tried to get on the team last summer. I had called Christina (Denney, Team Manager) and I had my trainer calling her as well, just trying to get my foot in the door. I know they had a fill-in spot that they were trying to fill, so I was trying to get in there, but we could not make it happen. So, coming into 2019 I had already had a lot of communication open there, between myself and her. She had heard my name and it had been kicked around quite a bit for that fill-in spot, but Hayden Mellross ended up getting it. Then Carl Van Niekerk from Moose had contacted me and said, "Hey, what are your plans for 2019?" I said, "I want to race Supercross. Obviously, this is my goal and that is what I want to do, but I don't have anything put together yet." He said, "I think Christina wants to talk to you." So, she got a hold of me and we just laid out both of our goals. It matched up and it was a perfect fit.
Jacob Hayes was at the San Diego lime gate race, he was one of the many riders who chose to take their goggles off.
THE CYCLE TRADER TEAM HAS BEEN  A GOOD STEPPING STONE TO FACTORY RIDES. Yes, everyone works really hard on the team to give the riders the best they can do for us to go out and get the best result we can get. When I got back from Australia, we got right to work. I went to California and just started testing immediately with suspension and engine stuff. I knew we had a good amount of time before Anaheim 1, but I knew it would come up quick. I knew one morning I would wake up and it would be Saturday morning of Anaheim 1, so I felt that pressure leading up to Anaheim 1. I was just trying to get the bike the best as it could be, and for myself I was trying to prepare my body, my mind and everything. I am 25, so for me to race my first Supercross at this age seems pretty wild, so we got ready to go and started clicking races off. While racing we were learning with the bike, and some stuff that I needed to work on personally, so I think right now we are in a good spot.  We are not where I personally want to be.  It has been amazing so far and I have gotten some really good results, but I still find that I am a little off the pace. I am working hard to get better.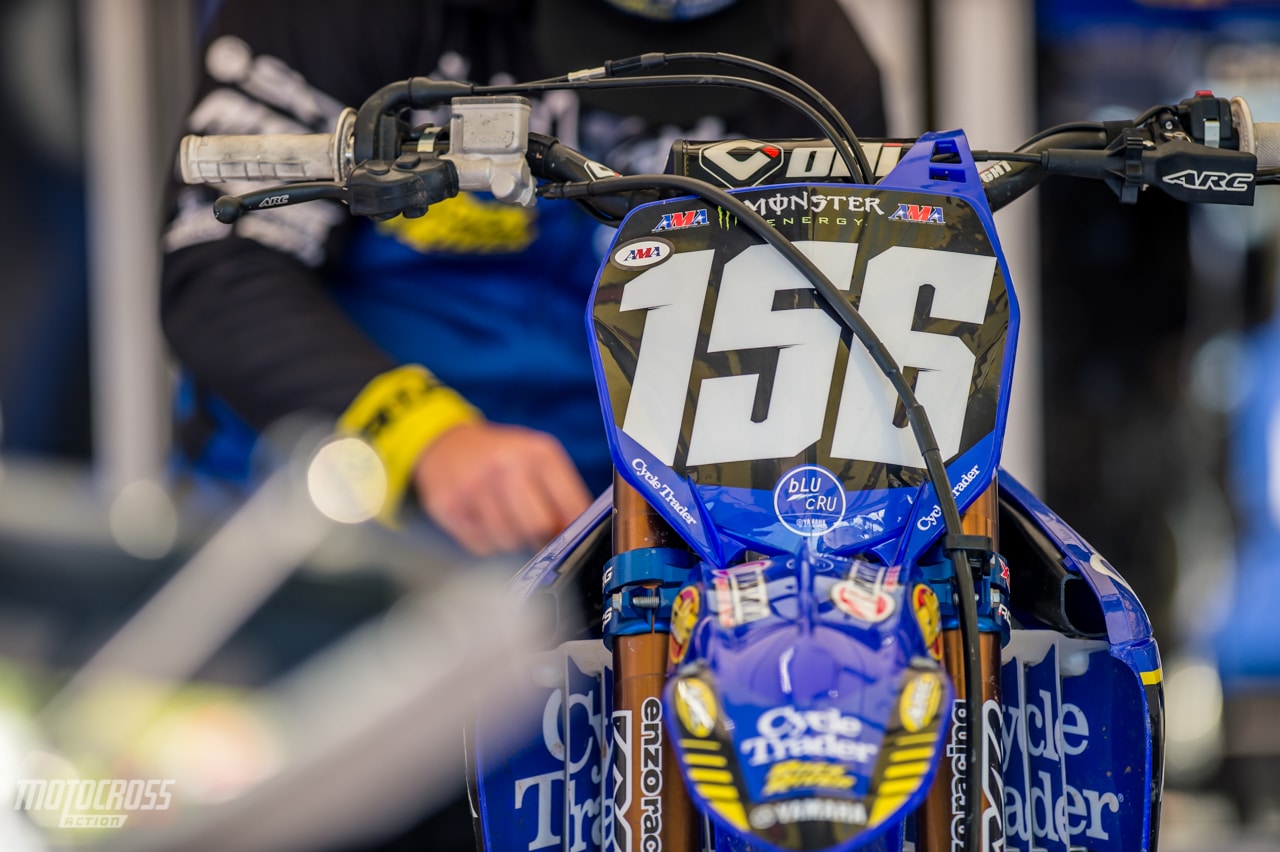 Jacob's bike all shined up and ready for another round of Supercross. His next race will be round twelve of the Supercross season in Seattle, Washington, on March 23.
AT ANAHEIM 1 THERE WERE MANY PEOPLE THINKING, 'WOW, WHO IS THIS #156 RIDER?' I hope so. That was my goal to go in there and exceed everyone's expectations. I don't think anyone really knew what I was capable of. But I knew what I had set out to do. I had goals in my head, and I knew that if I met those goals that some people's eyes would be opened, and people's heads would be turned. It just goes back to that, I learned so much in Arenacross, but it is not like I had only rode Arenacross in the offseason. I had done a lot of Supercross riding, and I felt like I was stronger at Supercross. My technique and my skills kind of shine more in Supercross just because you have more areas to make up time with more rhythm sections, and more corners. Coming into Anaheim 1, I am not going to lie, I was really nervous. I was just anxious to see where I stacked up against the best guys in the world. I was not where I wanted to be, but I am very thankful, and humbled to be up there fighting with all of the top 250 guys. Those guys are really, really fast and I have had some good finishes, but like I said, I still have some work to do.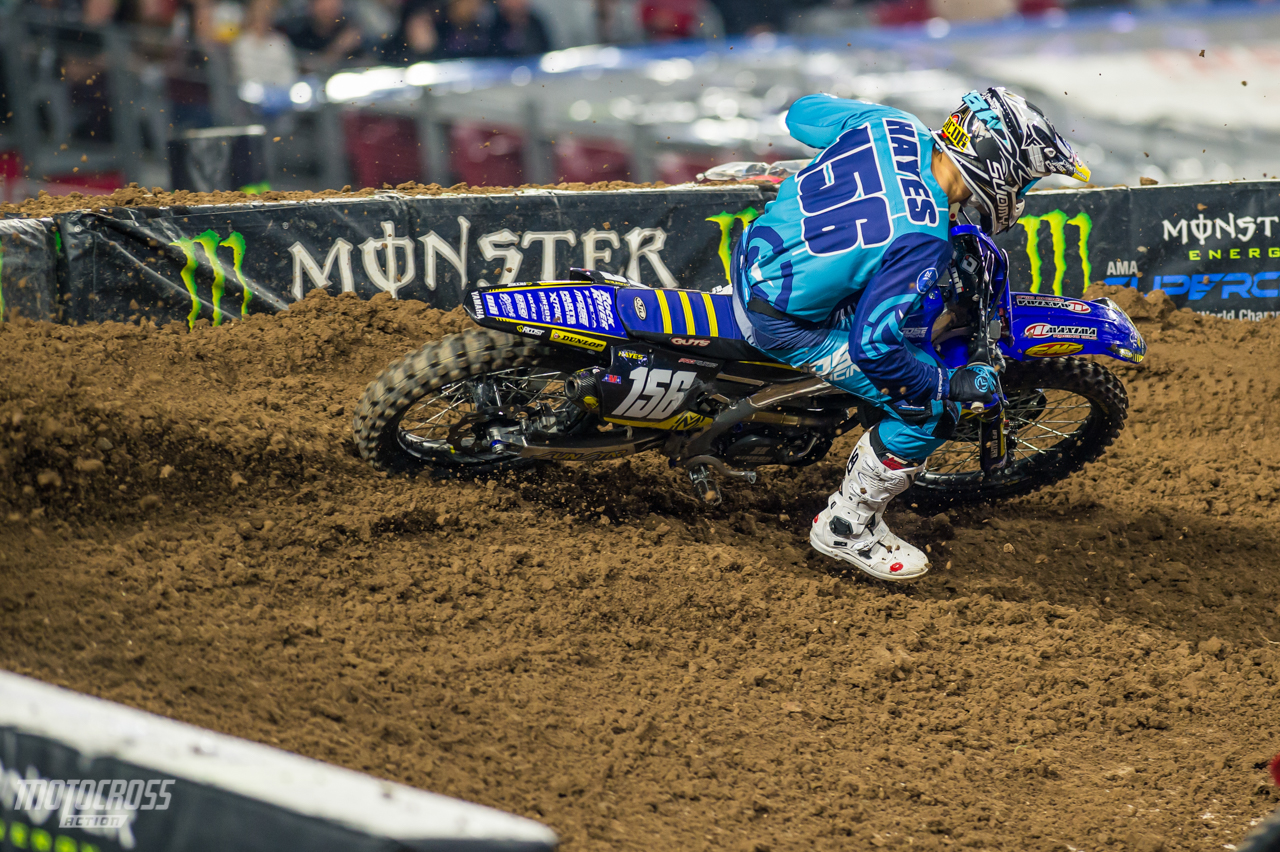 Jacob's best main event finish so far has been a fifth place in Oakland 250 West race. 
YOU TOOK A FIFTH IN OAKLAND, WHICH WAS AWESOME WHEN YOU CONSIDER HOW STACKED THE 250 SUPERCROSS CLASSES ARE. I actually had my best weekend overall there, just with qualifying, heat race and then main event. I qualified fifth that day and then got third in the heat race. I was a little mad at myself with the heat race, as I think I left the win on the table. I was just being lackadaisical and not attacking the track. It was the first heat race of the night and everyone was going pretty fast and  I was just not attacking how I should have been. But then in the main event, I knew what I needed to do and just worked my way through there. Cameron MacAdoo and myself were battling pretty hard right at 6-7 minutes into the main event and I got around him. Then I just tried to focus forward, and I ended up with my first top five in Oakland.
Jacob and his trainer Seth Rarick talking about lines on the Anaheim 2 track walk. 
I IMAGINE THAT THE TEAM IS PRETTY HAPPY. YOU HAVE TAKEN THE BEST FINISHES FOR THE TEAM SO FAR THIS YEAR. Yes, they just all really worked well together from day one. Christina let me know right off the bat that "hey, we are here for you. We are here to give you the best opportunity to do well and if you want something, please do not hesitate to speak up and say, 'hey, I want to change this about my bike or I want this.'" With me being 25, I am a little more picky about certain things, whether it be suspension, or how I want the engine to feel. We went through a little period where we were changing quite a bit of stuff. My trainer Seth Rarick makes me do a lot during the week, and it is very rewarding to get out there and repay him, myself and the team, because we all work so hard. To get that fifth was very rewarding.

During the 250 West coast break, Jacob has been training and testing with his team to prepare for the AMA National Motocross series. 
HOW TO YOU VIEW THIS LITTLE BREAK BETWEEN 250 WEST AND EAST? It has been good. But I like to race. I think I get better and better each weekend, but it has been good to give us a little time to get some settings for Outdoors. I think it is one of the benefits of racing West Coast is that you get a little more time to work on outdoor settings and get to set up your bike, and we have just been trying to build my fitness too. I know it is going to be a battle each weekend because it's hot and it's the great outdoors, so it gets gnarly. I feel in Supercross my fitness has been really good, but we have just been trying to make some big gains since we have had a big break. The only reason it feels like a break is because Saturday, I am sitting on the couch watching the race, instead of being there racing.  During the week, it is the same stuff, but on the weekends, we get to relax a little bit more. But I miss the starting gate and I miss being out there.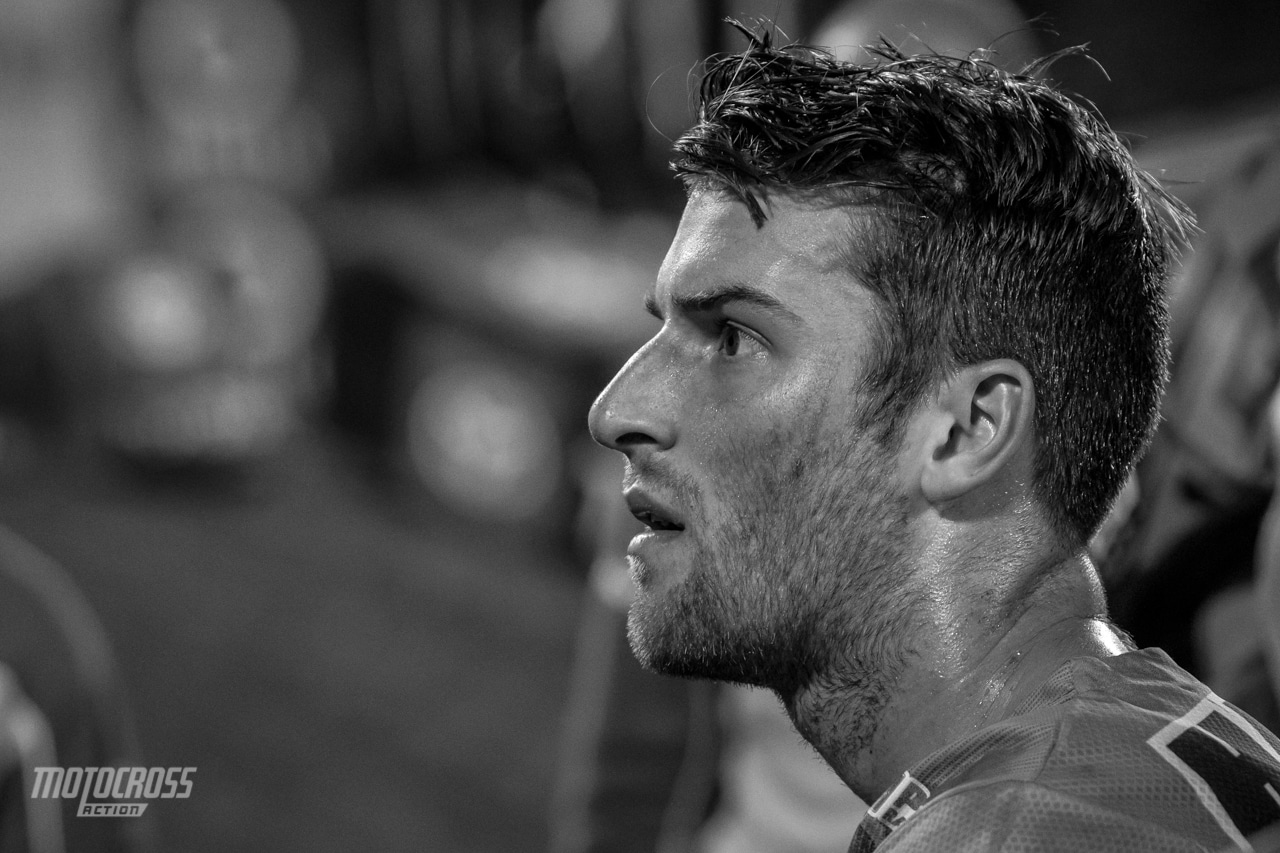 With only four more races left in the 250 West division, Jacob has four more chances to try and get on the podium in his first season of Supercross. The 250 West series will be racing in Seattle, Houston, Denver and Las Vegas.
REALISTICALLY, CAN YOU GET A PODIUM BEFORE THE SERIES ENDS? It is going to take a lot of work on my part, getting that good start, putting myself in that good position, and running with those top guys. They really, really attack the track and that is something that I have had to learn and try to apply during the week. How hard they attack the rhythm sections, and everything else in the first few laps is how they break away. You have to be able to respond to that, get out there, sprint with them, and maintain that throughout the main event. My goals are to get on the podium.