MXA INTERVIEW: JEREMY MARTIN ON WHY 2017 IS BETTER
Click on images to enlarge
Photos by Debbi Tamietti, Kyoshi Becker and Daryl Ecklund
Jeremy Martin is back on the top of his game again.
By Jim Kimball
In spite of team problems last year at Star Yamaha, and a disappointing 2017 Supercross season (save for his second place finish at Daytona on the CRF450) Geico Honda's Jeremy Martin is more motivated than ever to get his third 250 National Championship this summer. After a very close exciting day at Thunder Valley where Martin would finish third overall, and move into third in the points championship we caught up with Jeremy.
THE 250 CLASS HAS BEEN WILD SO FAR IN 2017! It has been a pretty crazy season so far. Other than the moto DBF that I had at Hangtown I have been right there. I have one moto win, and obviously need to get some more, so that is what I am focused on.
Jeremy won two number 1 plates for the Star Yamaha team, but wasn't happy there in 2016.
IN FIRST THREE RACES THE SCORES HAVE BEEN INCONSISTENT. WHO DO YOU THINK THE CHAMPIONSHIP CONTENDERS ARE? I think my brother Alex is one, and guys like Austin Forkner and Joey Savatgy are contenders. Obviously, Zach Osborne, who is leading the points, is good too. But all this stuff works out eventually, and will be separated as the season goes on. I don't really worry about any of this stuff though.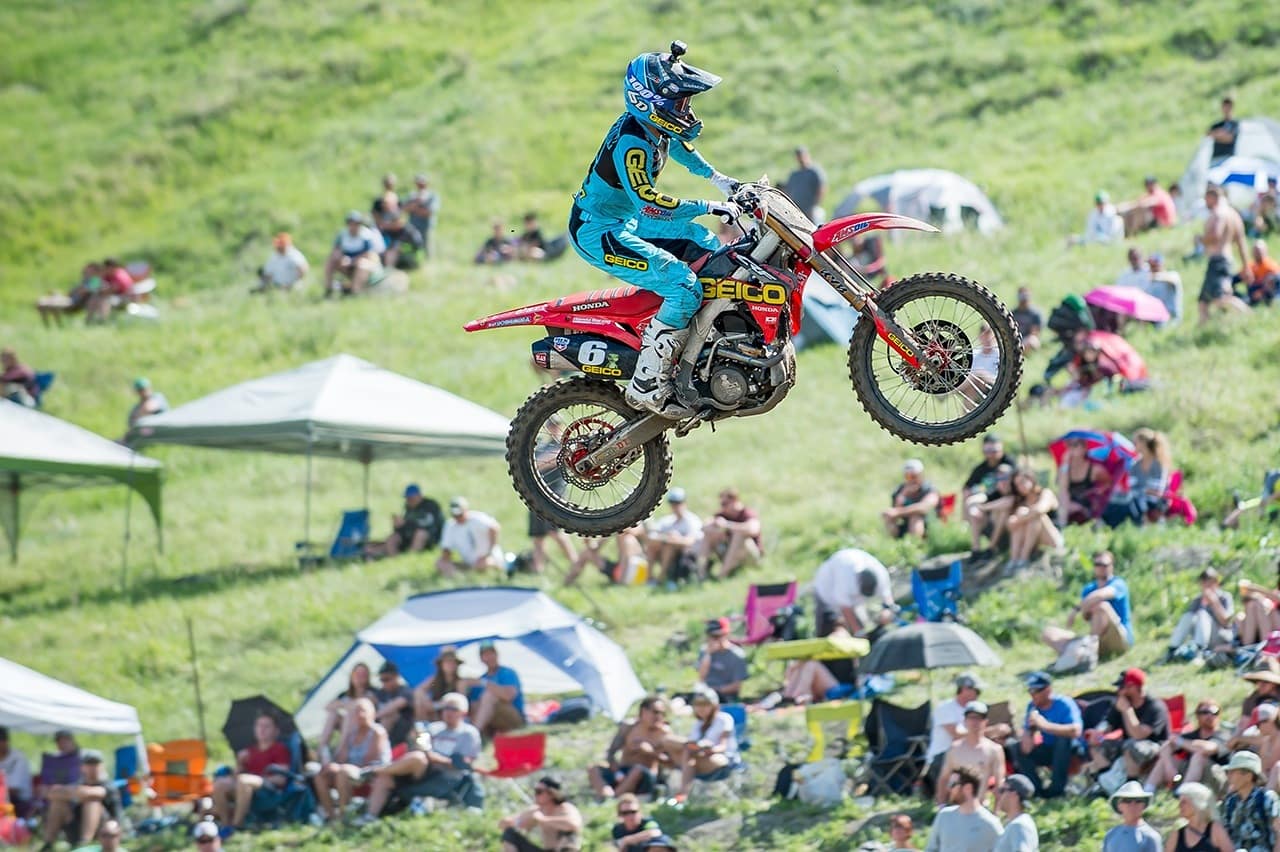 HAVE YOU EXPERIENCED ANY SERIOUS BAR BANGING SO FAR? There have been lots of different guys up front, so I have already experienced some pretty tight racing so far. Often there are several good lines to take, but they often come together, and we bump – but that is normal.
MANY PEOPLE QUESTIONED YOUR BIG BIKE SKILLS, BUT YOU TOOK A SECOND OVERALL AT DAYTONA ON THE CRF450, WHY DIDN'T HONDA MOVE YOU TO THE 450 CLASS AFTER THAT? The commitment to Geico Honda and the 250 class was there. Geico wanted to have a lot of success in the 250 class, and that was their main focus. At the end of the day, I had signed on to race the 250 class. I like my Geico Honda CRF250, but that Honda HRC CRF450 was amazing and at another level!
YOU APPEAR TO BE THE ONLY GEICO HONDA GUY WHO COULD GIVE THEM A CHAMPIONSHIPS THIS YEAR. I am comfortable on the bike, and really starting to jive with it. Many of the other Geio guys are injured or coming off injuries. It may be a little bit safe to say that right now I may have a little bit better chance to win than the other Geico guys.
YOU MUST FEEL GOOD ABOUT YOUR 450 FUTURE ON THE CRF450? There are many people in this sport that question riders choices and say, "Why didn't this rider move up?" But you can't go to your employee and say, "I want to move up now." You have to work with the manufacturers anf then take advantage of the opportunities that you do have. I had the opportunity to race the 450 at Daytona, and I have always felt that I rode a 450 better than the 250. So when I had that opportunity to prove myself, but sometimes you just need to prove it to others.
LAST YEAR YOU AND ALEX WERE ON THE SAME TEAM, BUT NOW YOU'RE ON DIFFERENT TEAMS, DO YOU STILL TO HANG OUT TOGETHER? Last year at Star Yamaha he worked with team trainer Gareth Swanepoel, while I did my own thing, so there was somewhat of a divide. Actually there was a pretty big divide in that team. Everyone trained with Swanepoel, while I didn't, so I could feel a big division there.
WAS IT TENSE AT STAR IN 2016? It didn't really feel that welcome, so I always did my own thing. But getting back to what you were saying, yes it has changed some, but maybe for the better. The main thing with my brother is that I am so proud to see him where he is. At the end of the day, we are family. And, if I can be successful that is great, and if he can be successful that is even better. When we get home together in Minnesota, and put the boots away, we are family.

WITHOUT TRYING TO BE DISRESPECTFUL, HOW HAS IT BEEN MOVING FROM THE HIGHLY RESPECTED YZ250F TO THE OLDER CRF250? Honestly after looking at the new 2018 CRF250 on-line it looks badass. I have not ridden it , but I have heard that it is even a bigger improvement than what the 2017 CRF450 was over the 2016. And I can say that after riding the all-new CRF450 at Daytona, that the bike was amazing! The CRF350 that we have now is good, but over the last few years the Yamaha has evolved, the KTM has evolved, the Husqvarna has evolved, and even the Kawasaki has evolved. Now it is Honda's turn.
THAT'S GREAT, BUT MAYBE SOMEWHAT A MOOT POINT AS YOU WILL RIDE A CRF450 IN 2018, RIGHT? Yes I am contracted to go to the 450 next year.
DOES THIS YEAR FEEL DIFFERENT THAN THE OTHERS? I am still underestimated, even though I am two-time AMA 250 National Champion. People still doubt me, but I love it. I thrive off proving people wrong. No one expected me to do what I have done so far. I love the position that I am in. We still have lots of racing to do, I am I'm looking for many more Saturdays to come.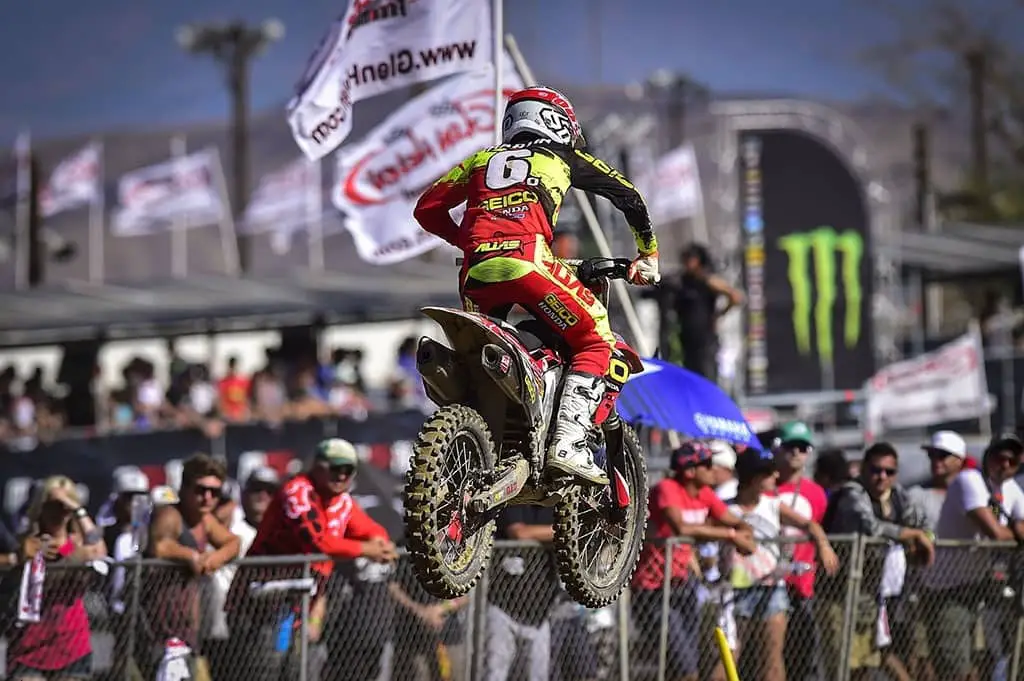 Jeremy's first race on the Geico Honda was that the Glen Helen USGP last September.
WHEN YOU WIN CHAMPIONSHIPS AND THEN DON'T, PEOPLE ARE BOUND TO ASK, "JEREMY, WHAT'S WRONG?"  Oh for sure . When they asked, "Why isn't J-Mart winning?" I always say that it's easier to win the is that it is really easier to win the first championship, than it is to always stay on top. It is a very small slope up to the top—there is no room for mistakes. You have to have the backing of a really good team, and everything has to be "right there." I had to go through a lot last year, and face a lot of things that I didn't want to. What I am trying to say is that so many people say, "It is hard to win a championship." And that is true. Every kids dream is to win races and Championships, but what happenes after that? How do you remotivate yourself? Maybe it is similar with Justin Hill who recently won a 250 West Supercross Championship. He was the best dude two months ago, but but things move on. People forget very quickly.
WHAT DO YOU THINK THE KEY TO WINNING THE 2017 AMA 250 NATIONALS CHAMPIONSHIP? The key to winning is  focus on myself. I am a two-time champ. I can suffer with the best of them. I have the fitness. I have the speed. I am going to get better. I can tell you that right now I am mentally stronger than I have ever been. I am loving this team, and it is a much better place than I was at last year. You know what? Last year with Star Yamaha was bad and my 2017 Supercross series was bad, but I know that I can win this summer! I can say that last year we were not all treated equally at Star. At Geico we are all treated the same, regardless if you may be the top finishing rider or not.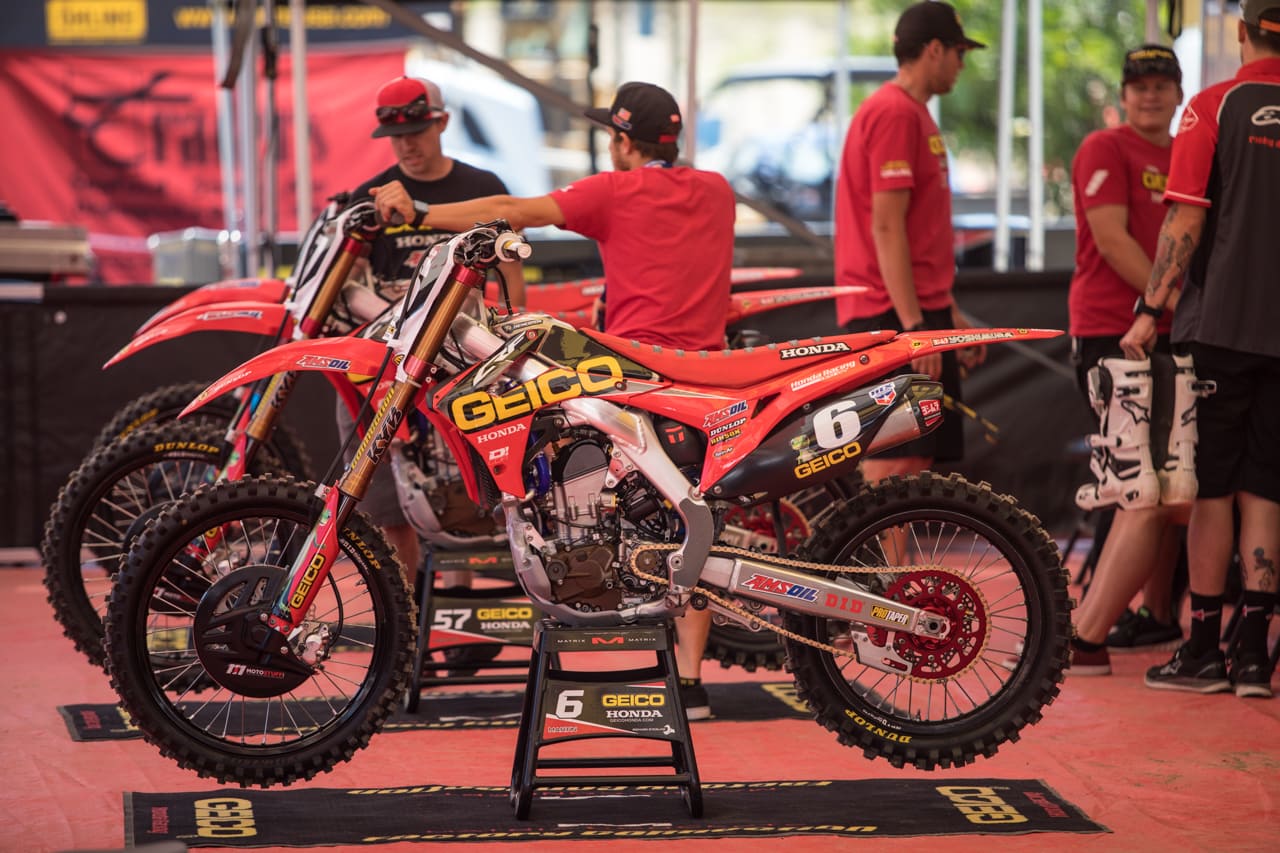 WHY WASN'T EVERYONE TREATED THE SAME AT STAR LAST YEAR? It's probably best to just say "no comment."