MXA INTERVIEW: JEREMY MARTIN
Jeremy Martin after the overall win in High Point. 
By Jim Kimball
Many of us remember Jeremy Martin dominating the 2014 National 250 Motocross scene. In 2014 J-Mart was on fire. Then in 2015 he backed it up with another Motocross Championship! 2016 wasn't quite as kind to Jeremy as inter-team struggles, and illness derailed his year – but still Jeremy was in contention for a three-peat up until the bitter end. Now on a new team, and new bike with Geico Honda, J-Mart is battling for another National 250 Motocross title. Although an early DNF upset his chances, there is still time for Martin to take this title. At any given race, Jeremy can be the fastest rider; he just needs some luck on his side. We caught up with the 24 year old just before his home race.
JEREMY, LETS BEGIN WITH THE OFF-WEEKEND; DID YOU DO ANYTHING FUN? No, not really. I am pretty predictable, and you know, it was just the usual routine that I do. I went and checked out the X-Games on Saturday afternoon, and that was frickin cool to watch all of those guys jump the big jumps, and all that stuff, so that was pretty neat.
I TALKED TO YOUR BROTHER, ALEX A COUPLE DAYS AGO, AND HE SAID YOU GUYS LIVED TOGETHER IN FLORIDA. Actually, I am up in Minnesota right now, but yes, we are basically living together when we are in Florida, so, it has been good, but after Southwick I headed to Minnesota.
HOW ARE YOU FEELING ABOUT YOUR HOME RACE? Good, the home town race is great, but you know, honestly it can take more out of you than any other race, just because so many people want to come up and talk to you. And the media wants to interview you more often than normal, so it is constantly like you are getting pulled and prodded at. Now that I have been doing this a little longer, I always try to hide out a little more at Millville, just until I get the job done right you know?  Obviously, at the end of the day the interviews and seeing everyone is great, but we are in it to get the results. So I make sure that I am friendly and stuff, but I also have a job to do as well.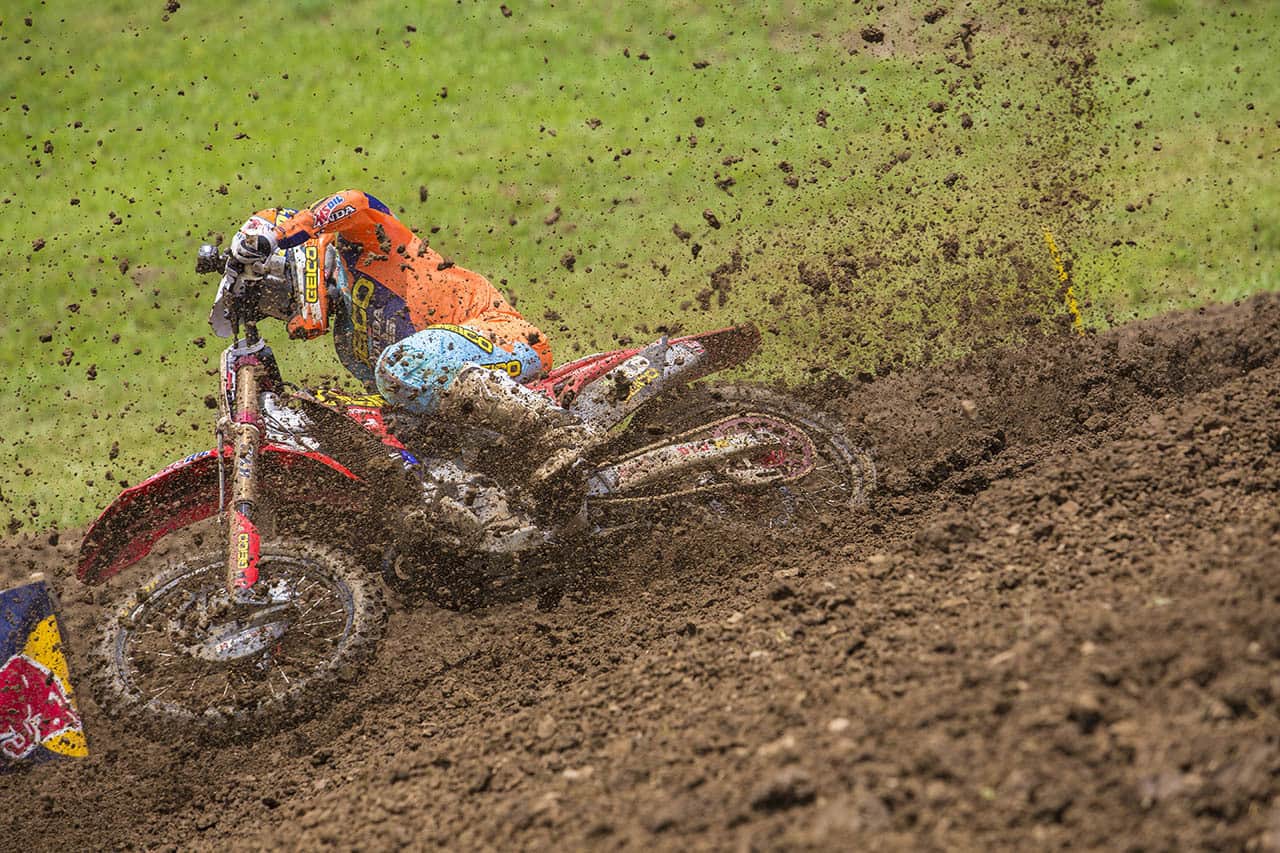 Heading into Millville, Jeremy Martin site 3rd in points and 59 points behind points leader Zach Osborne. 
I KNOW THAT YOU RIDE WITH A GROUP OF OTHER FAST GUYS WHILE YOU ARE IN FLORIDA. ARE THERE ANY FAST GUYS TO RIDE WITH IN MINNESOTA WITH YOU? I am kind of doing my own thing, like I basically did back in my own thing in 2015, so it is not at all different. It is good to ride with people if you do not know how to push yourself, and there are a lot of times like right now where I am riding by myself. I race the stopwatch right now. You know you race the track, you learn how to push yourself, and you learn how to motivate yourself. When you are getting a little tired, you find ways to keep the pace going, and to try to drop the lap-times. It is good to ride with people, but I am in the season, and I know the race pace. I have been around enough people to where it is okay to be alone and if anything it benefits me more being myself right now.
ONE OF THE GEICO HONDA TEAM OWNERS LIVES IN MINNESOTA, DOES THAT CREATE ANY EXTRA PRESSURE? No, not at all. It is funny because a lot of people ask me if I have ever felt pressure from the team, or from anyone through the years of racing and honestly I can say no. I feel pressure from within myself to win, and to get the job done. Millville is the hometown race, but I race to win for myself. With that being said, there is no added, extra pressure.
HOW DO YOU FEEL ABOUT YOUR SEASON AT THIS POINT? I look at the season so far and think it has been pretty good. Even with the DNF at round one, I was able to get right back up there in the points. I was only 18 points down on Zach, going into Muddy Creek, but I just felt off all day at Muddy Creek. I was really sick at Southwick and I had a pretty bad head cold, but other than that, I have been right there and battling. We are fighting for it. So, it has just been one of those years. I really had it when I won the Championships in 2014 and 2015, when everything came together, and it actually felt easy. I say this year has just been a scrap. Supercross was a knockout, drag out deal and it is kind of the same thing with the Outdoors right now, but it is what it is. It is a good character building year. You just need to keep pushing forward, and try to get better. We have lots of racing ahead, and there are plenty of opportunities to get more wins, and more overalls. That being said, that is what we are going for. The championship works itself out.
Jeremy started out the first moto of the season at Hangtown with a DNF. He has been playing catch up ever since. 
YOU MENTIONED SUPERCROSS BEING A LITTLE TOUGH, BUT MAN YOU TOOK 2nd IN DAYTONA ON YOUR FIRST 450 RACE! Yes, I know, it was great. I have always ridden the 450 decently, and I think it suits my style really well, especially for Supercross. I don't have to rush things quite as much, and I have the power to be really smooth and fluid. But I will get my chance to ride the 450 here soon, for now, we are on the 250 and that is the main focus. I love the 250, and I love the 450. I think that I ride them both really well and I look forward to one day being on a 450.
ZACH HAS A LITTLE BIT OF A POINTS LEAD, BUT HE HAS YET TO HAVE A MOTO THAT IS TERRIBLE. Yes, no doubt, but you can't plan for that or expect that to happen. Zach has been flawless this year, as I was nearly flawless in 2014, when I won my first Outdoor Championship, so, you can't expect for that to happen. You have to act like it is going to be tough. You just keep plugging away, and doing your homework and focus on getting better. I cannot control my brother; I cannot control Osborne or anyone else on race day. I just worry about me, and what is best for me on race day. I want to get the bike in the ballpark so we can race with those guys on race day. Alex and I have had speed with Osborne. He has been able to stay clean of all of the problems; which is a big thing in motocross.